Amazing tasting chocolate chip cookies that are gluten free, dairy free, vegan and contain no refined sugars? Yes, such a thing does exist! What makes this healthy chocolate chip cookie recipe even better is that it's so easy and only consists of a handful of ingredients.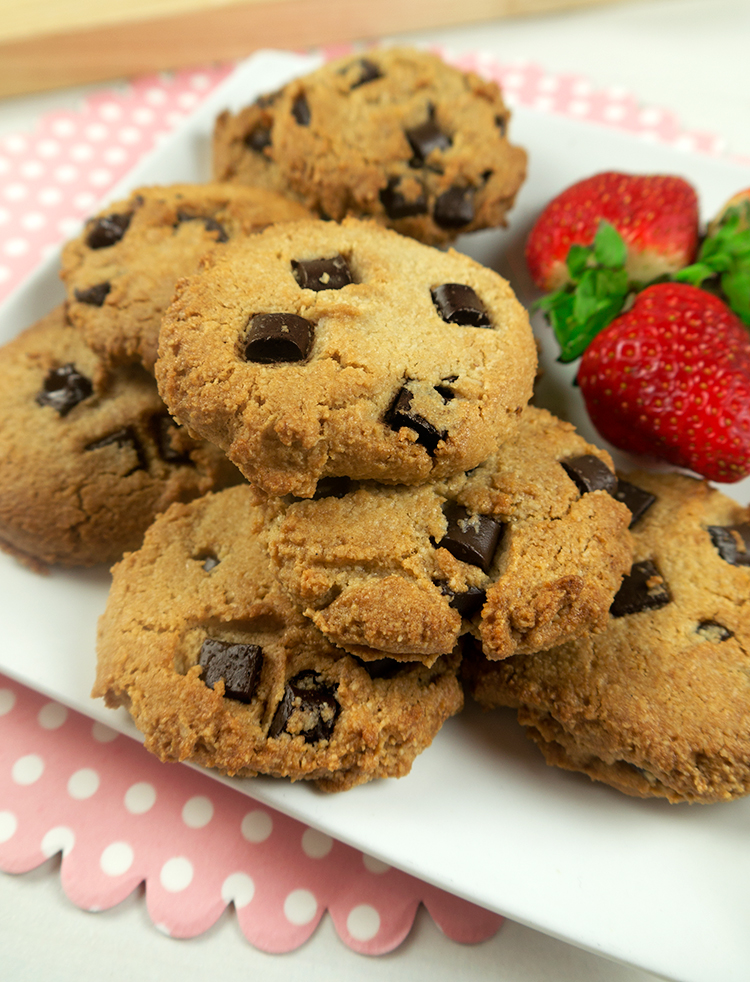 So Instead of using white, refined, bleached flour I'm using ground almonds, or almond flour. It's quite difficult to find almond flour in the UK but ground almonds will work just as well. Almonds are high in vitamins and minerals and they're also a good source of protein and healthy fats.
I'm also using coconut oil which has been hailed as a 'superfood' because of it's many health benefits. I use it in most of my baking and recipes. I even use it on my skin as a moisturizer, make sure you get a good quality coconut oil – organic extra virgin coconut oil is the best. I'm using ¼ cup, which is about 4 tablespoons.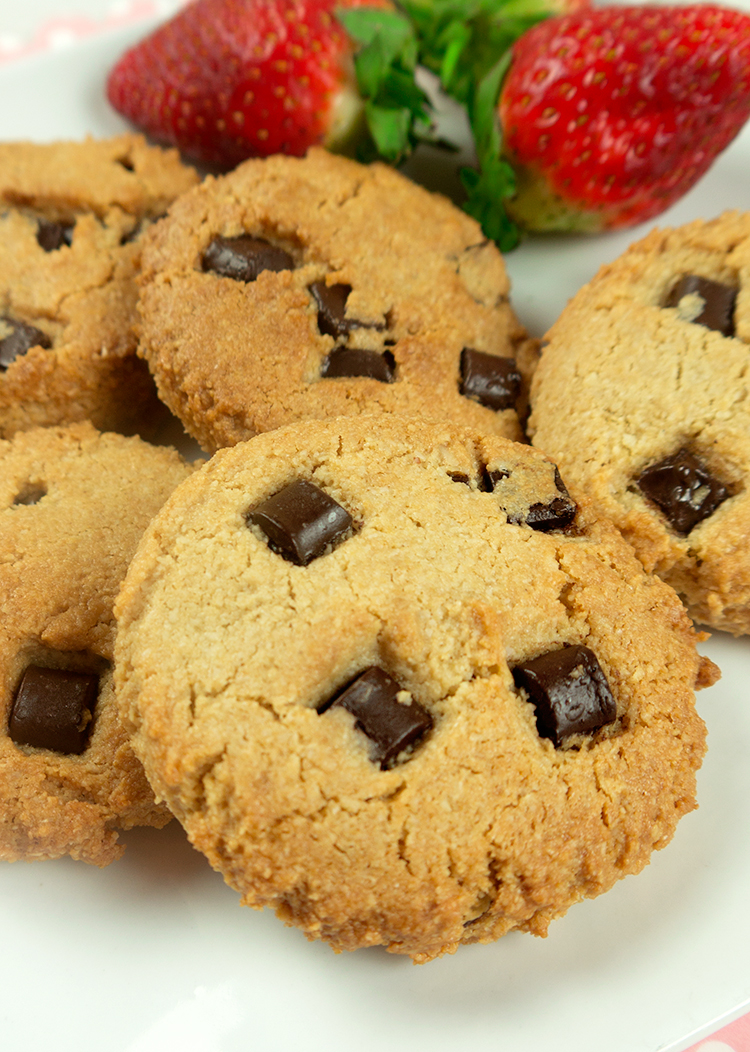 To sweeten, I'm using pure maple syrup, which is a lot less processed than white bleached processed sugar, and I'm only using a ¼ cup of that which is about 4 tablespoons.
Instead of using chocolate chips, I found these 70% cocoa dark chocolate chunks, but you can use anything you prefer like dairy free chocolate chips or even raw cacao nibs for an even healthier option!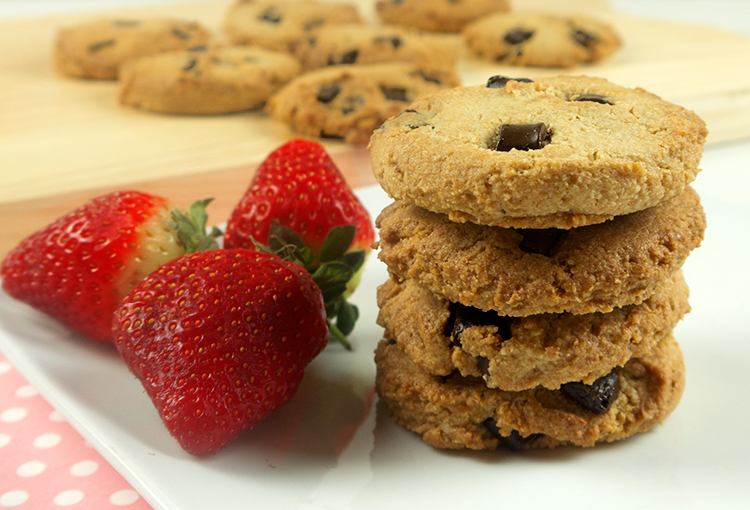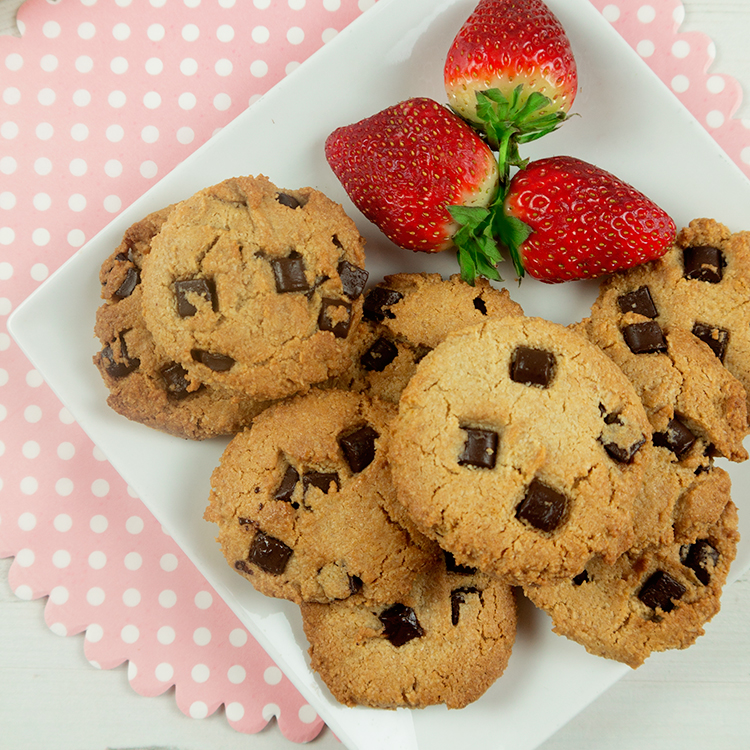 Healthy Chocolate Chip Cookies
2015-08-21 13:23:35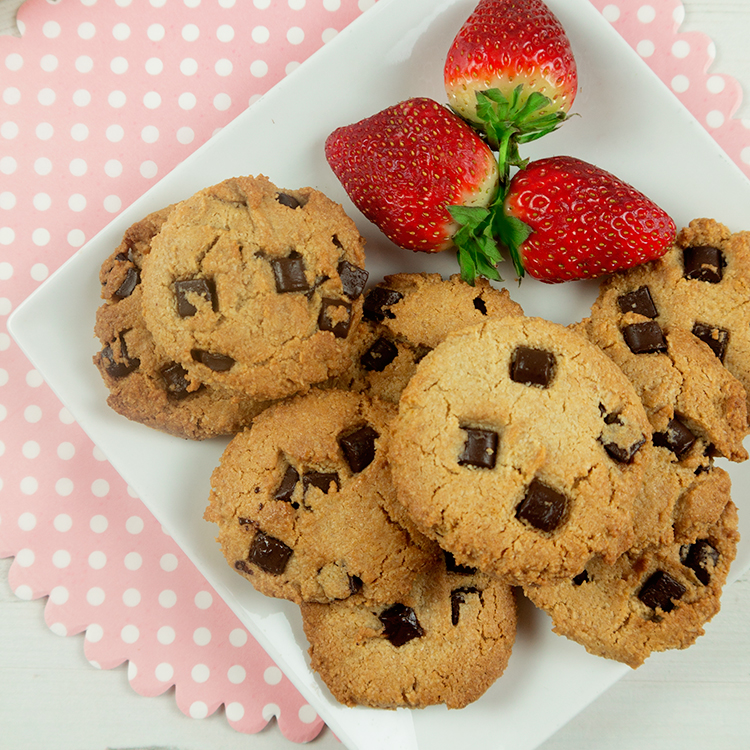 Serves 14
Dry ingredients
2 cups ground almonds (almond flour)
1/4 tsp salt
1/4 tsp baking soda
1/3 cup chocolate chips (I'm using 70% cocoa chocolate chunks, you can use dairy free chocolate chips or even cacao nibs)
Wet ingredients
1/4 cup coconut oil
1/4 cup maple syrup (or any other liquid sweetener like honey, rice syrup…etc)
1 tbsp milk or water
1/4 tsp vanilla paste (or 1 tsp vanilla extract)
Instructions
Preheat your oven to 180*C (160*C fan assisted)/ 350*F
In a large bowl, mix together the ground almonds, baking soda and salt
Melt the coconut oil in another bowl then add in to the bowl of dry ingredients
Now add in the maple syrup, milk/water and vanilla paste
Fold in the chocolate chips
Place a tablespoon of the dough for each cookie on a tray covered with parchment paper. I used an ice cream scoop to make sure they're all the same size. Press down with the back of a spoon to flatten them out. These cookies don't spread much in the oven so the shape they go in will be the shape they come out!
Bake for 10-12 minutes until the edges of the cookies are golden brown, place them on a cooling rack and leave to cool completely.
Nadia's Healthy Kitchen https://nadiashealthykitchen.com/
Still hungry for cookies? Have a look at some of my other COOKIE RECIPES