Vegan Custard Tarts
When I started cutting out dairy, one of the many things I stopped eating was custard, and it's one of the many things I really missed!
I had no idea how easy it was so make my own, homemade dairy-free version. It's ridiculously easy! AND it tastes just like 'normal' custard. How I wish I tried this recipe months and months ago! I missed out on so much custard goodness! I just realised this paragraph is full of exclamation marks!! Moving on…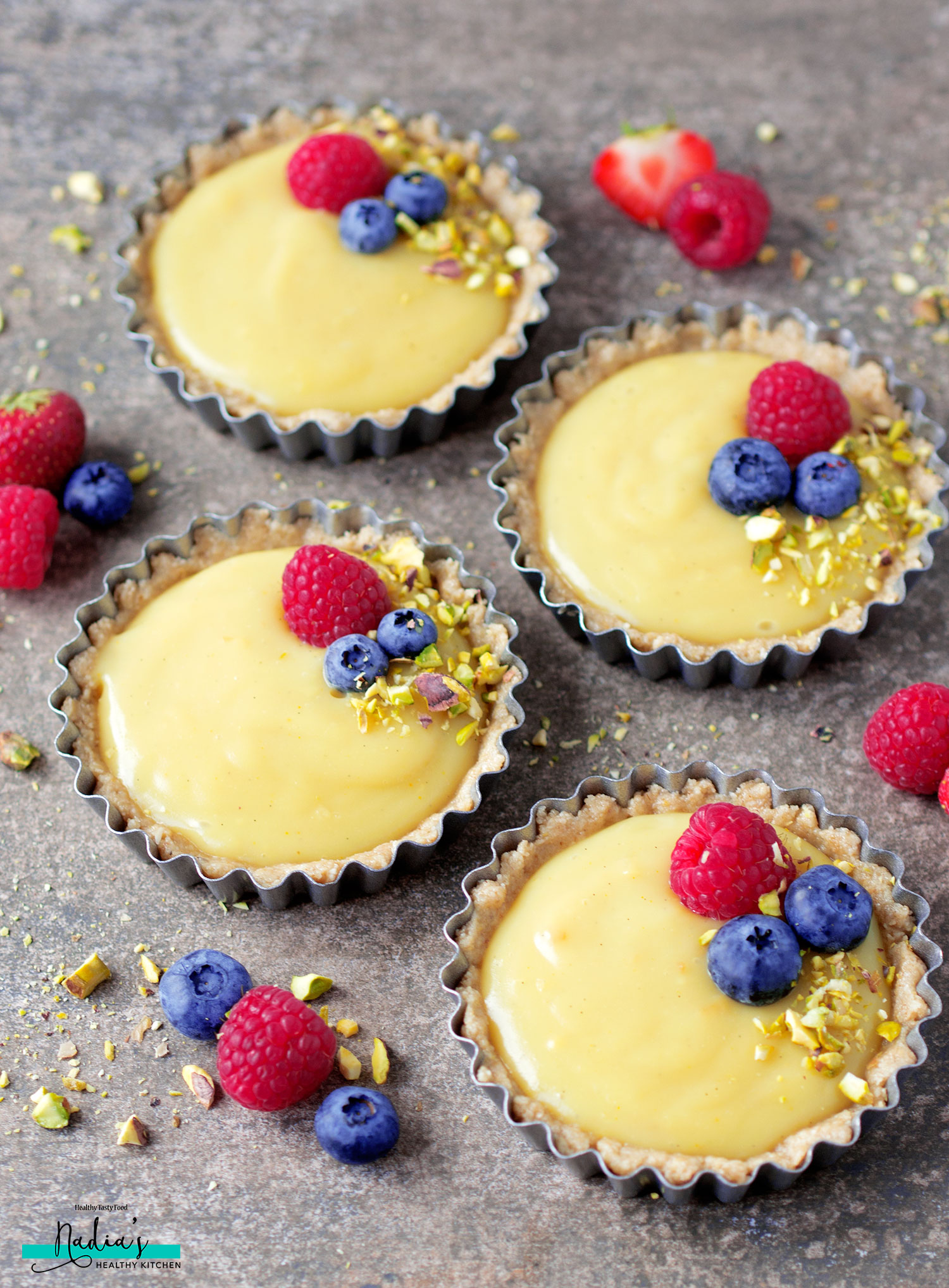 These vegan custard tarts taste like the 'real thing' and the custard part definitely tastes like the custard I remember and love. Sweet, thick and…vanillary? OK I think I just made that word up but it should definitely be added to everyone's vocabulary, because vanilla is a must in every sweet recipe. So I think it would be very helpful to have the word 'vanillary' as a recognisable adjective. Anyone agree with me?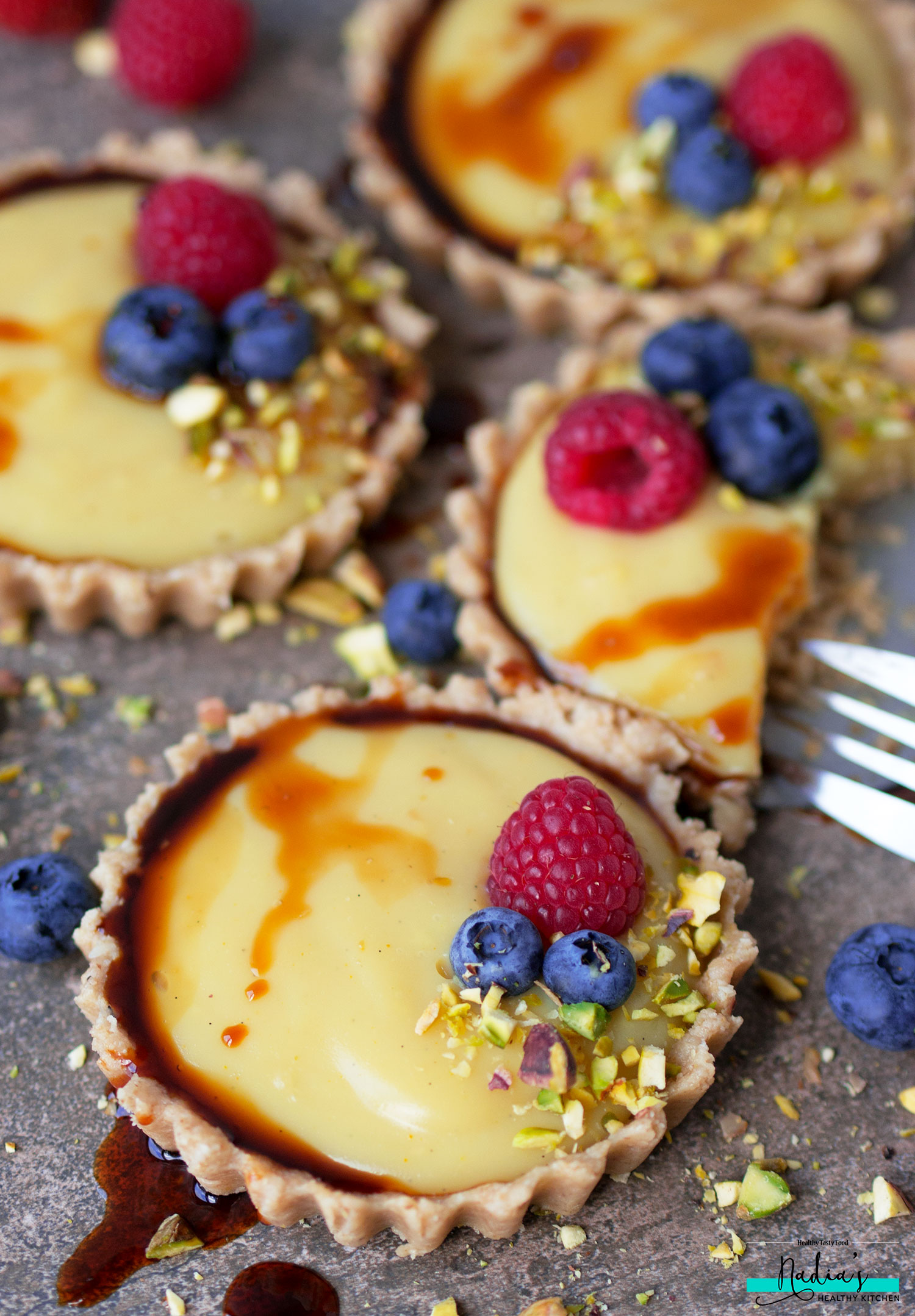 I used soya milk to make the custard because of it's creaminess. Using something like almond milk won't give you anywhere near as creamy a texture.
To turn the milk into a custard, I used a mixture of cornstarch and agar agar to help thicken the mixture. If you can't get hold of agar agar you can leave it out; however, it will mean that your custard won't be as firm. The turmeric powder was solely used for the purpose of adding a yellow hue to the custard. You only need the tiniest amount otherwise the custard will turn orangey/brown which is not the best of looks! Don't worry, you won't be able to taste the turmeric.
I kept the base pretty simple by mixing gluten-free oat flour and ground almonds and using a bit of coconut oil and maple syrup to help it stick together.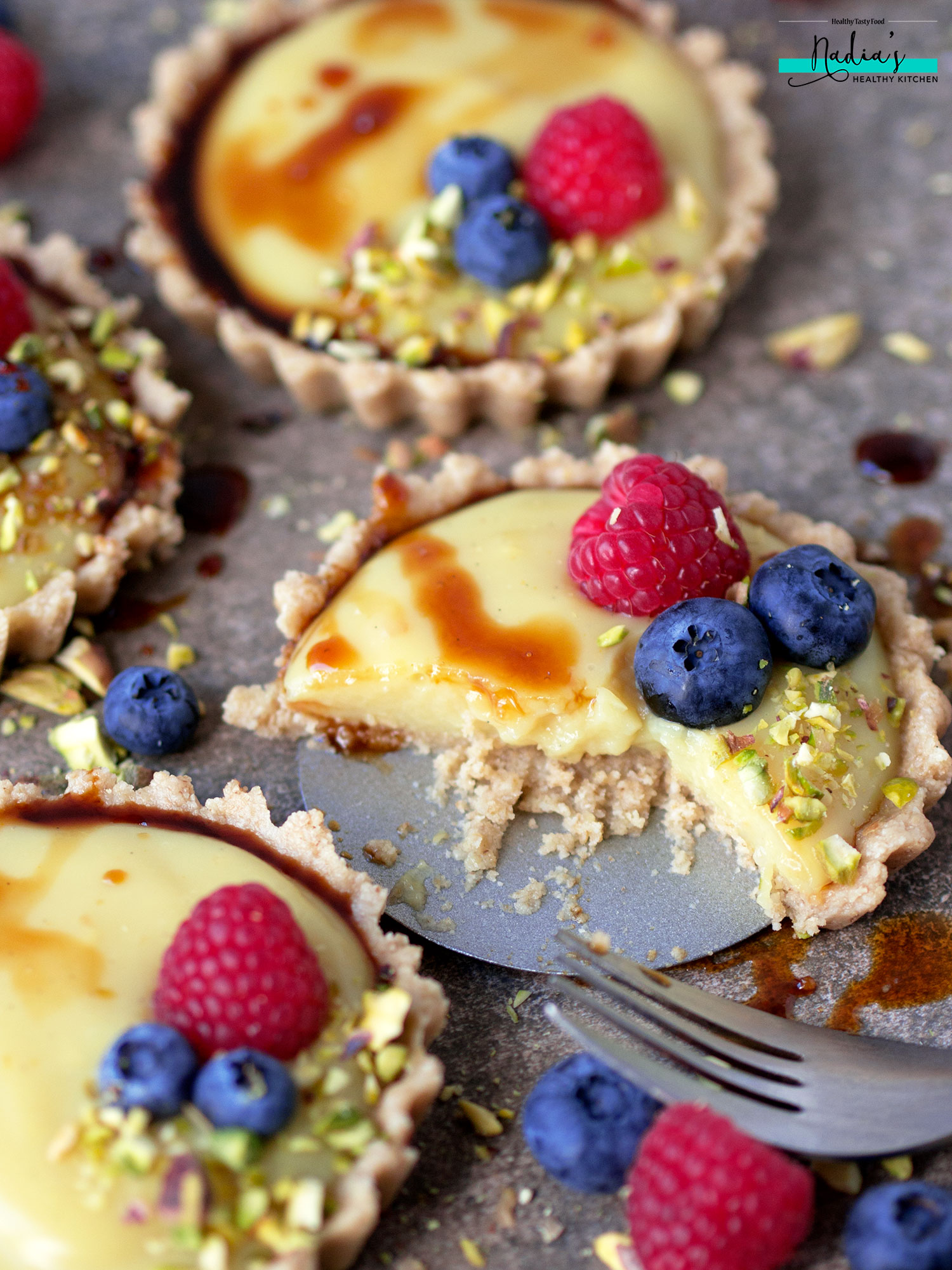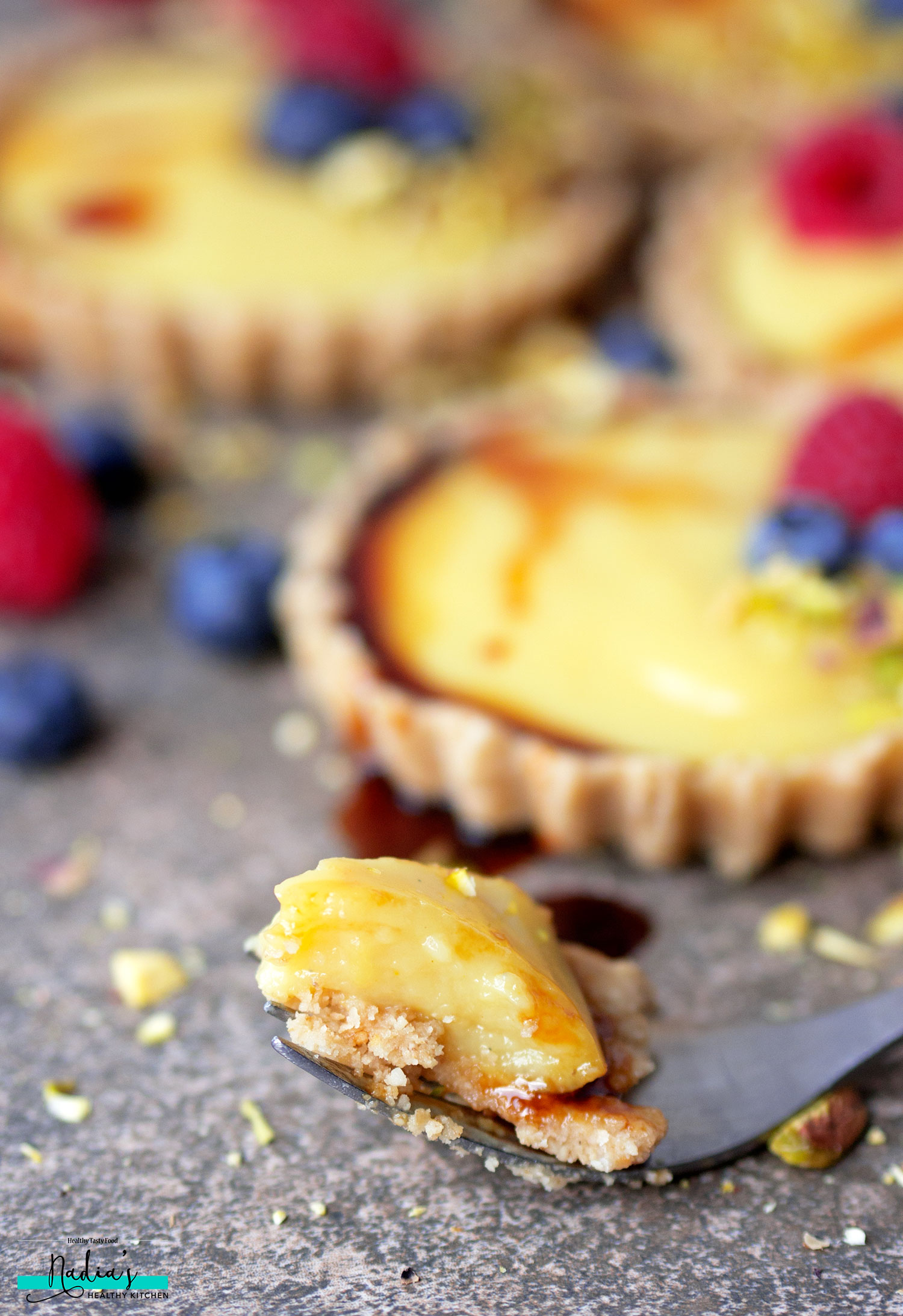 These vegan custard tarts are also dairy-free and gluten-free.
---
Vegan Custard Tarts (Gluten-free)
For the Crust
1/2 cup (55g) oat flour – use gluten-free oats if you're allergic/intolerant
1/2 cup (45g) ground almonds
1/4 tsp salt
2.5 tbsp coconut oil, melted
1.5 tbsp maple syrup or liquid sweetener of choice
For the custard
1 cup (235ml) soya milk
2 tbsp corn starch
1/2 tsp agar agar – you can leave it out if you can't get hold of any, but the mixture will won't be as firm.
Pinch of turmeric
4 tbsp maple syrup or liquid sweetener of choice
1 tsp good quality vanilla paste or extract
To make the base
Mix the oat flour, ground almonds and salt in a bowl, then mix in the coconut oil and maple syrup until everything is well combined.
Press into tart tins and freeze for 30 minutes.
To make the custard filling
Pour the milk into a small pan and add the corn starch, agar agar and turmeric. Mix until the dry ingredients have dissolved.
Mix in the maple syrup and vanilla paste/extract.
Cook on a medium heat stirring continuously until it starts to simmer, then take off the heat and immediately pour into the tart cases.
Top with berries and nuts and leave to chill in the fridge until they set.
Enjoy!
---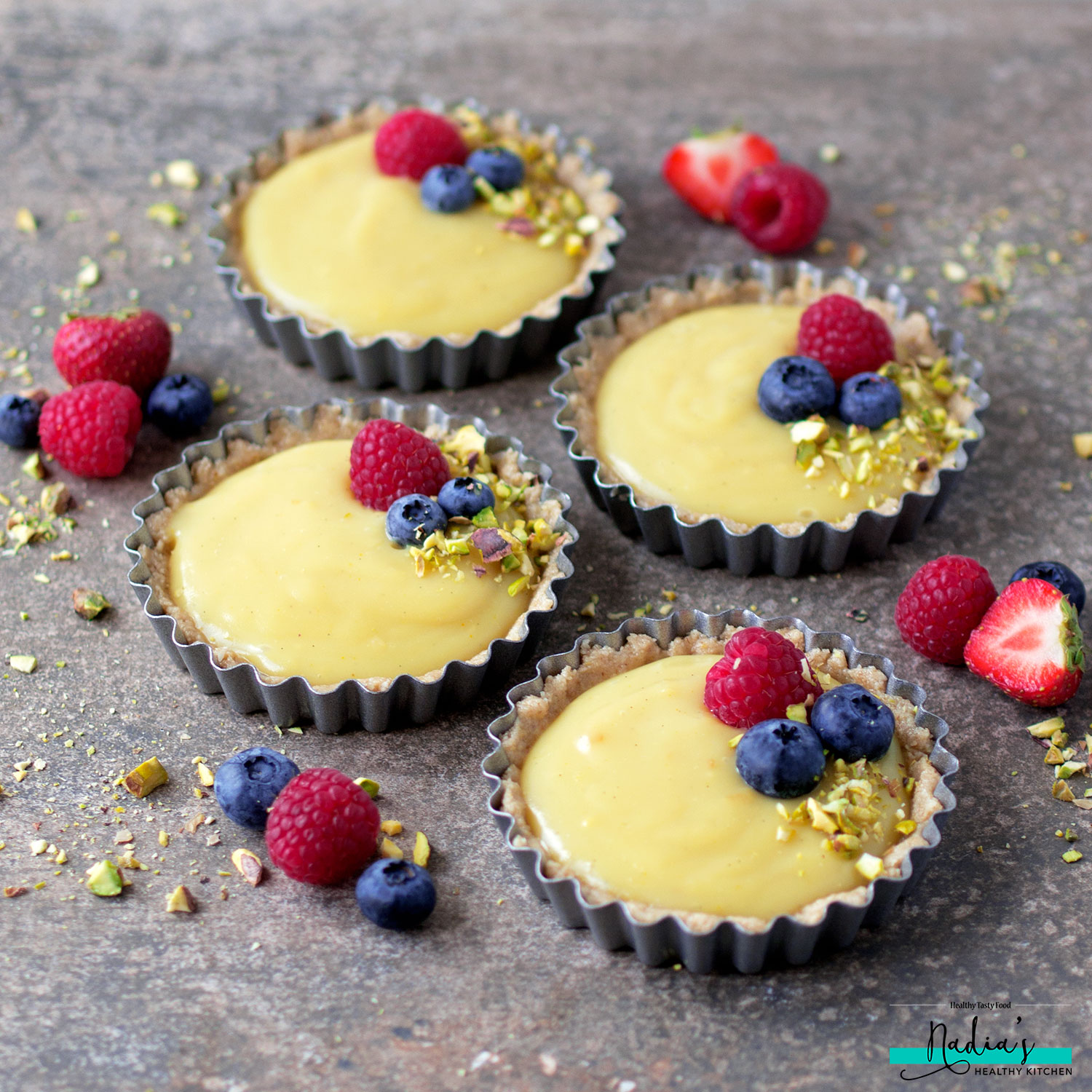 Share This Post