A soft oaty bake filled with blueberry yumminess! These blueberry soft baked bars make a great on-the-go breakfast or handy snack. They taste like a treat, but are much better for you than your average shop bought snack bars.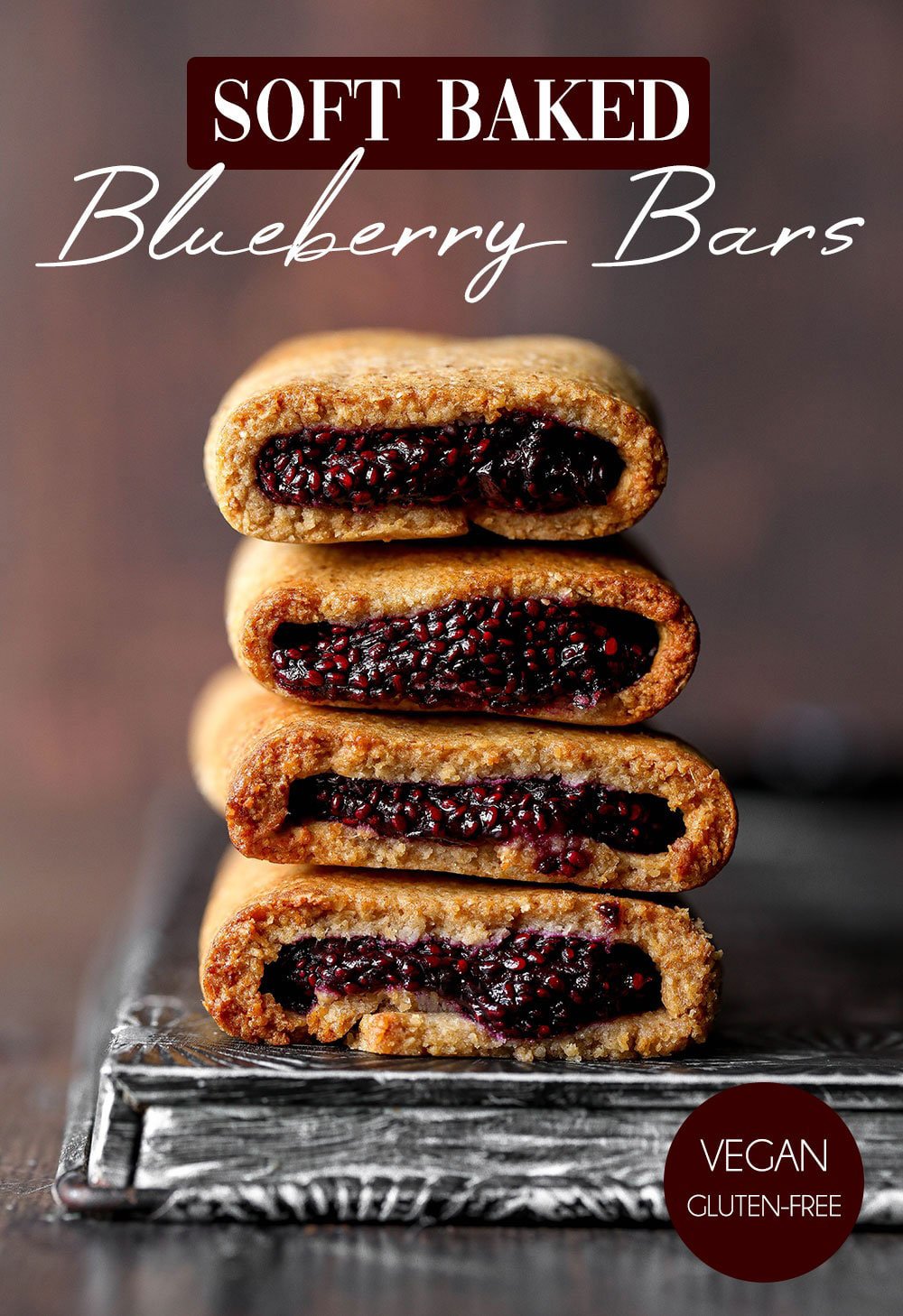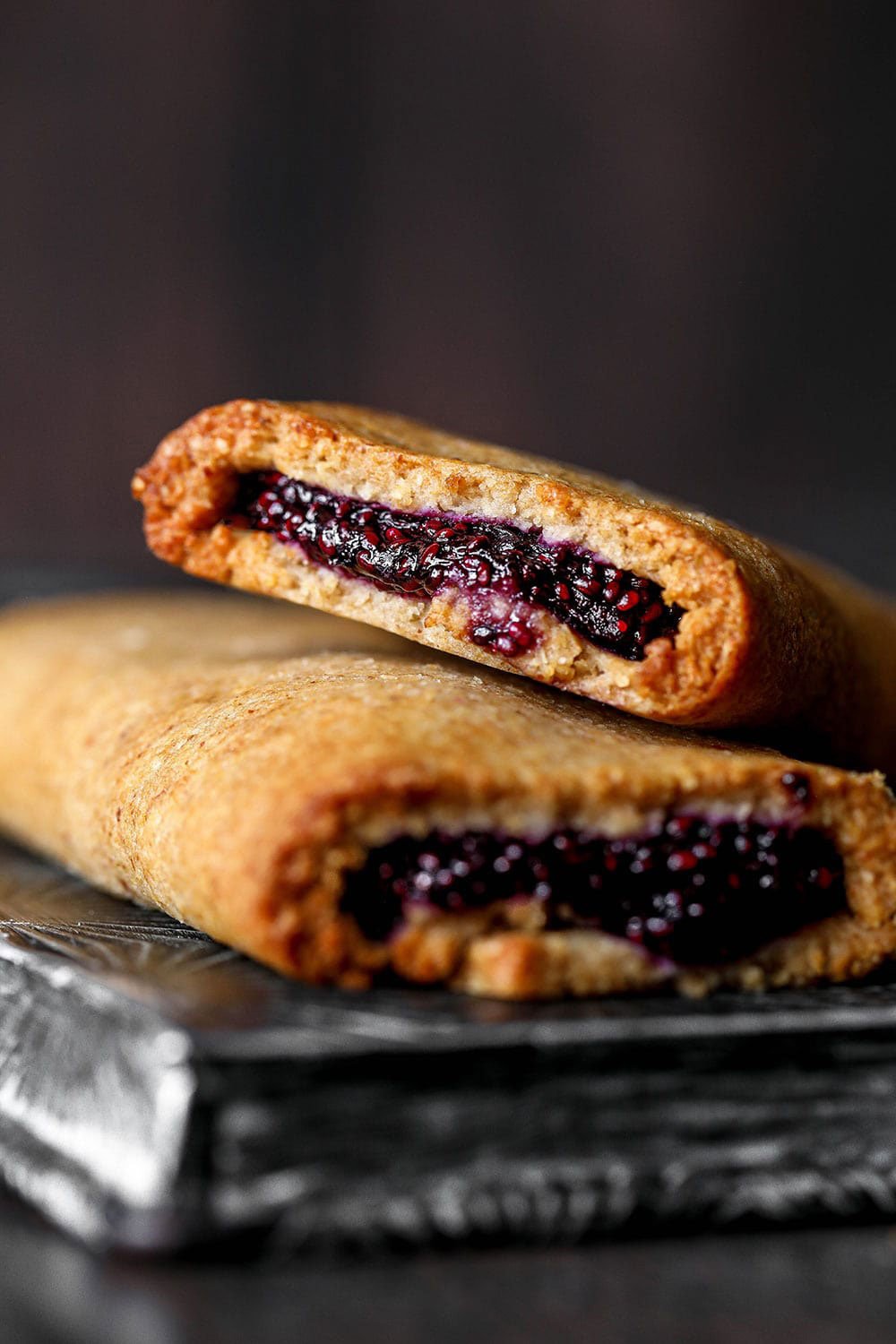 When I first moved to the UK, one of the things I absolutely loved eating for breakfast were breakfast bars, specifically the soft baked kind with the fruity fillings. I loved the softness of the outer case and the sweetness of the jammy tasting filling. I hadn't had one of those bars in years, but was recently reminded of them when I was scanning the supermarket snack isle. I had this overwhelming urge to recreate something similar, but with a healthier twist of course 😉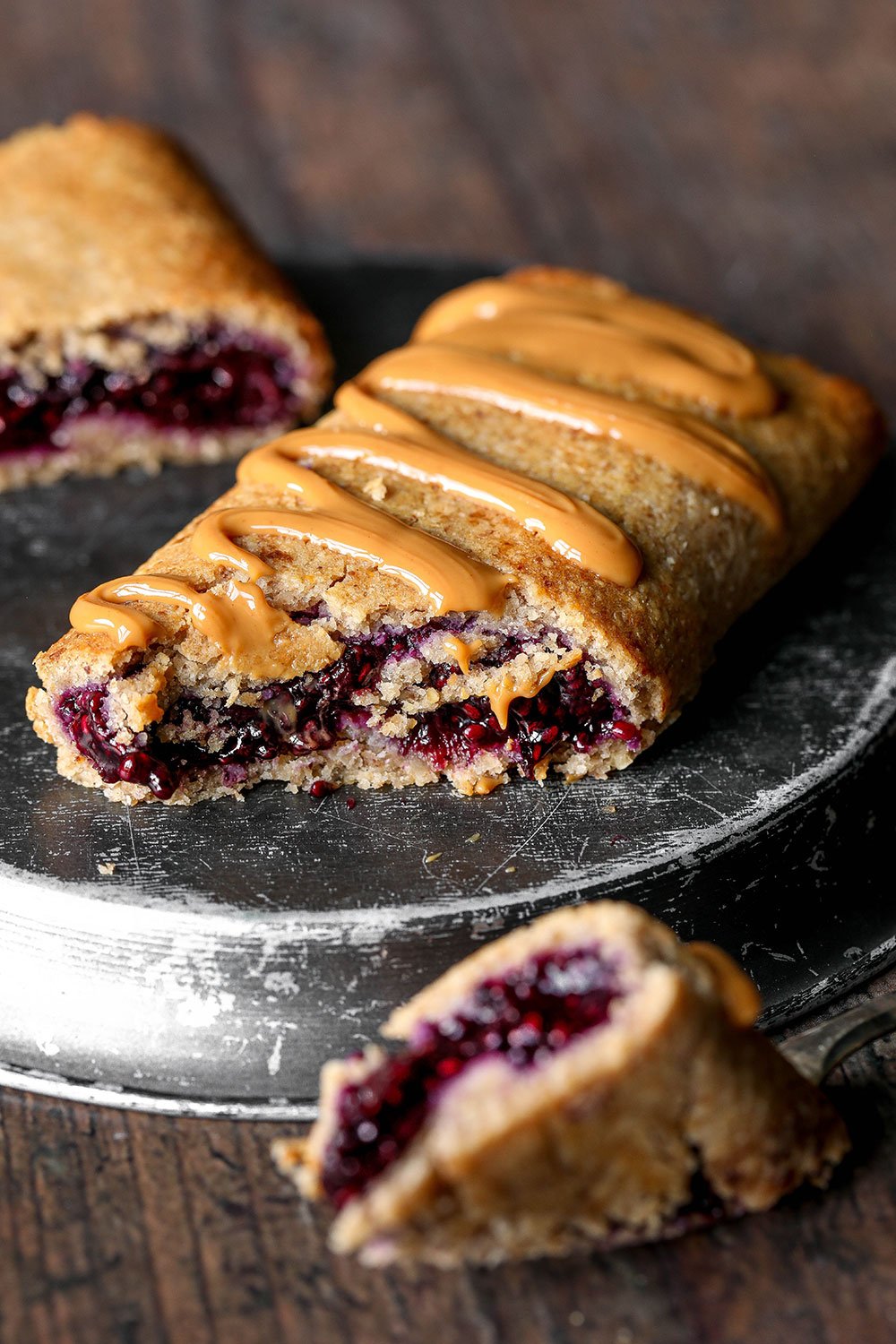 I always try to make a conscious effort to prepare a healthy breakfast in the morning to make sure I get a good nutrient boost first thing in the morning, but recently I'm finding breakfast a struggle. I've been so overwhelmed with work, clinic assessments and now an upcoming exam that I don't feel I have much time in the morning (or mental energy) to spend on breakfast. So making a breakfast in advance is working best for me at the moment. I also know that many struggle with breakfast because they simply don't have the time in the morning to throw something nourishing together. So making a batch of something like these oaty, chia, blueberry bars is a great time saver.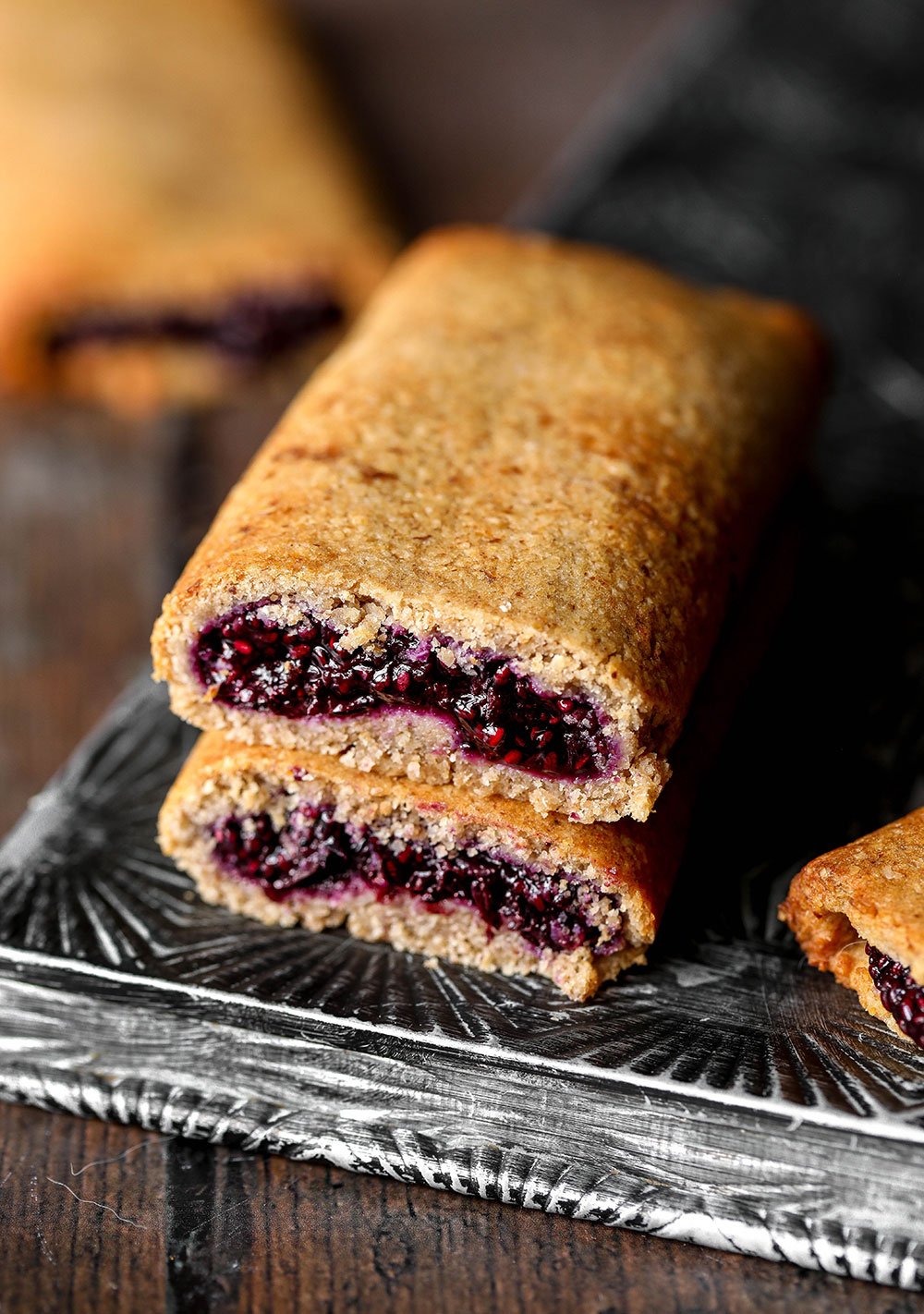 What you need to make these blueberry soft baked bars:
Oats – Ground into a flour, oats work really well as a flour alternative, especially when making breakfast/snack recipes.
Ground almonds – adds a bit more moisture to the dough without needing to add too much oil.
Maple syrup – a little to sweeten, but also to help bind the dough together.
Coconut oil – Also helps hold everything together, but also adds some moisture to the bake so the dough isn't dry and cardboard like.
Ground flaxseed – a great source of omega-3 fatty acids, flaxseed also works really well as an egg alternative. You can use a regular egg if you don't need the recipe to be vegan.
Blueberries – I always have blueberries in my freezer and try to add them to my breakfast everyday. They're Low in sugar and packed with antioxidants. You can use frozen or fresh, however; frozen is cheaper and more convenient. It doesn't have to be blueberries, any berry will work.
Chia seeds – another great source of omega-3 fatty acids. They also work really well to make a homemade jam alternative with less sugar.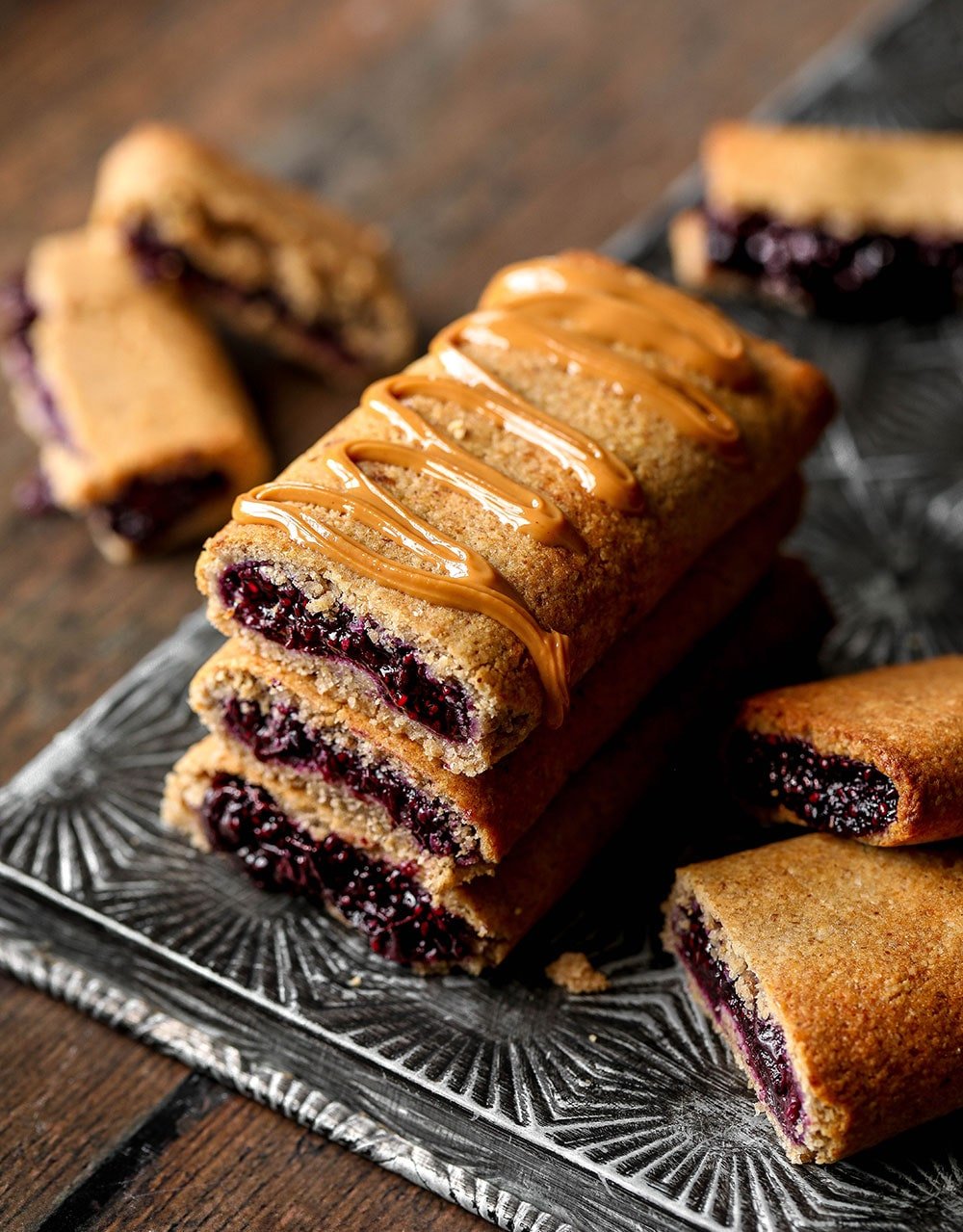 The dough is made up of oats and ground almonds instead of flour, and the filling is packed full of blueberries and chia seeds. You can enjoy them cold, or they're also really nice as a warm dessert served with a little bit of custard 😀
I recently made this raspberry almond baked oats recipe and so many of you seemed to like it, so I thought I would make another baked breakfast recipe. If you're struggling to find a healthy convenient breakfast, then you NEED to give these blueberry soft baked bars a try 😀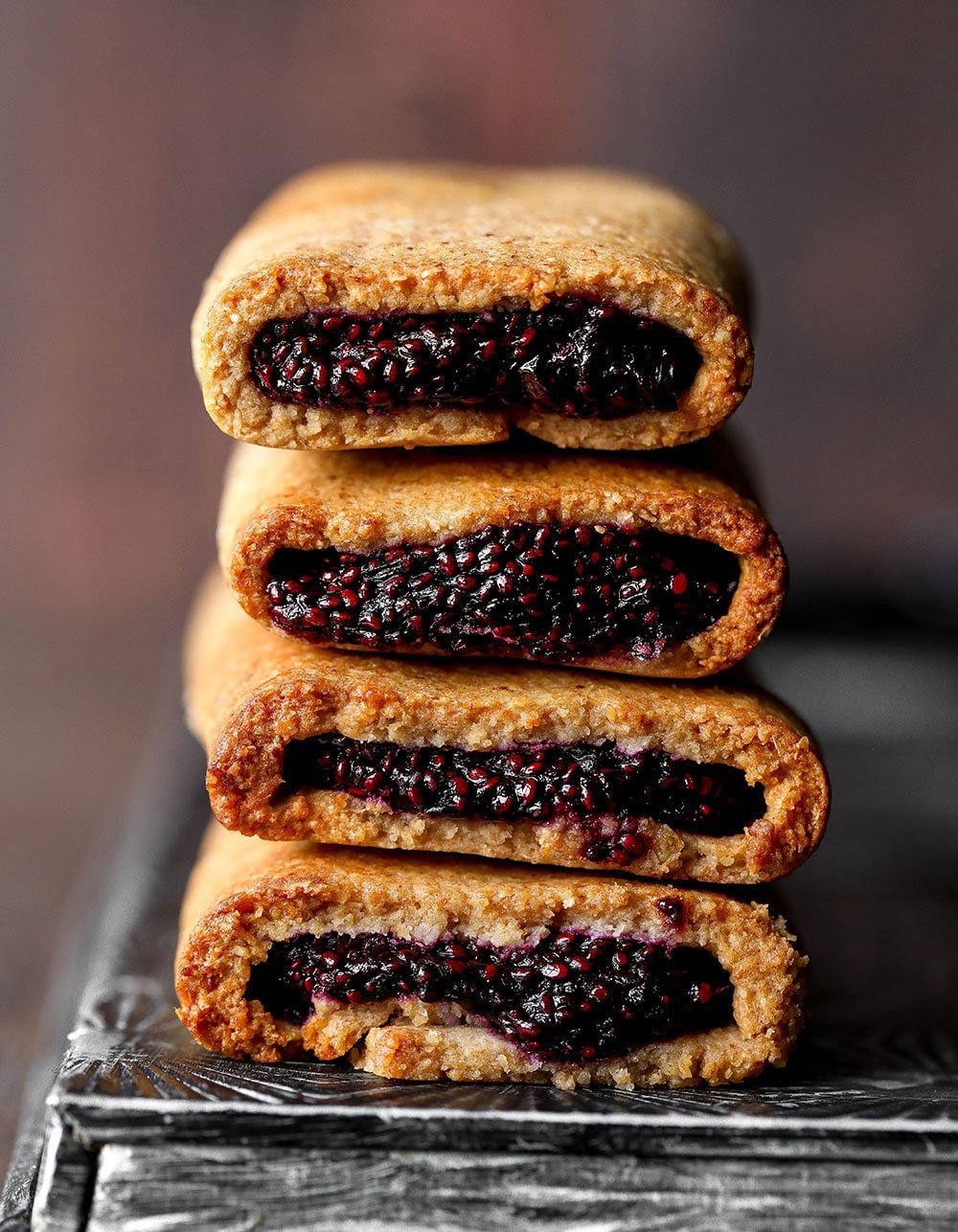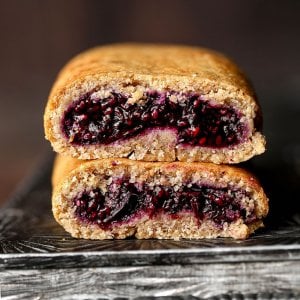 Blueberry Soft Baked Bars
A soft bake filled with blueberry yumminess! They make a great on-the-go breakfast or handy snack. They taste like a treat, but are much better for you than your average shop bought snack bars.
Ingredients
110

g

oat flour

oats ground up into a fine flour in a high-speed blender

50

g

ground almonds

1/4

tsp

baking powder

1/2

tsp

cinnamon

Pinch of salt

2

tbsp

maple syrup

or honey

2

tbsp

coconut oil

melted

1

tbsp

milled flaxseed

or ground chia seeds

3

tbsp

water
For the blueberry filling
200

g

frozen blueberries

other berries will also work

2.5

tbsp

chia seeds

1-2

tbsp

maple syrup

or to taste

1

tbsp

lemon juice
Instructions
To make the chia jam filling
Add the blueberries to a small saucepan along with the maple syrup and lemon juice.

Gently cook over a low/medium heat while mashing the blueberries with a wooden spoon.

Once the blueberries are all mashed up, take off the heat and fold in the chia seeds. Leave to cool completely. The jam will set as it cools.
To make the dough
Mix the milled flaxseed and water in a small bowl and leave to set for 10-15 minutes.

In a large bowl, mix together the oat flour, ground almonds, cinnamon and salt. Pour in the maple syrup, coconut oil and set flaxseed mixture. Mix to combine.

Divide the dough in 2 and roll out between two sheets of parchment paper into a rectangle (about 1/4″ thickness) and cut off any ragged edges. 

Spread the set blueberry jam along the centre of each rectangle. Fold one side of the dough on top of the jam and press on it very gently, then fold the other side to enclose.

Gently roll the log so the seam is on the bottom, then slice into 3 bars (you should have 6 bars in total)

You can bake them in an air-fryer at 180C for 10-12 minutes.

Alternatively you can bake them in a preheated oven at 180C/160C fan/350F for 20-25 minutes until the bars are golden brown.
Notes
Store in an air-tight container in the fridge for up to 4 days.
You can eat it cold, or reheat it in the oven/air-fryer.
Nutrition
Calories:
241
kcal
Carbohydrates:
28
g
Protein:
6
g
Fat:
13
g
Saturated Fat:
5
g
Polyunsaturated Fat:
3
g
Monounsaturated Fat:
4
g
Trans Fat:
0.01
g
Sodium:
26
mg
Potassium:
205
mg
Fiber:
5
g
Sugar:
10
g
Vitamin A:
22
IU
Vitamin C:
4
mg
Calcium:
90
mg
Iron:
2
mg