Healthy Linzer Cookies
Two raw, soft and sweet heart shaped cookies with a layer of tangy raspberry chia jam sandwiched in between them – The perfect healthy sweet treat to make for that special someone whether it's for valentine's day, an anniversary, or just as cute gesture of love and appreciation.
Not in a relationship? Make these healthy linzer cookies to impress your friends and family, or make them as a treat for yourself!
Linzer cookies are traditionally made using ground almonds, whereas I'm using cashews as the base of my version of the cookies. I wanted to maintain the contrast in colour between the cookie itself, and the jam filling and felt that cashews would work best to achieve this.
This healthy linzer cookies recipe is gluten-free, dairy-free, no-bake, contains no processed/refined sugars and vegan (if you use the maple syrup). The cookies are raw but I cooked the raspberries to make the chia jam so if you want a fully raw cookie, use a raw spread for the filling.
To fill the cookies, I made my own healthy 'Raspberry Chia Jam' using only 4 ingredients:
Frozen raspberries
Chia seeds
Maple syrup
Lemon juice
It's so delicious and will only take you a few minutes of cooking. You can use any other type of jam, preserve or spread. You can even go crazy and use peanut butter or Nutella!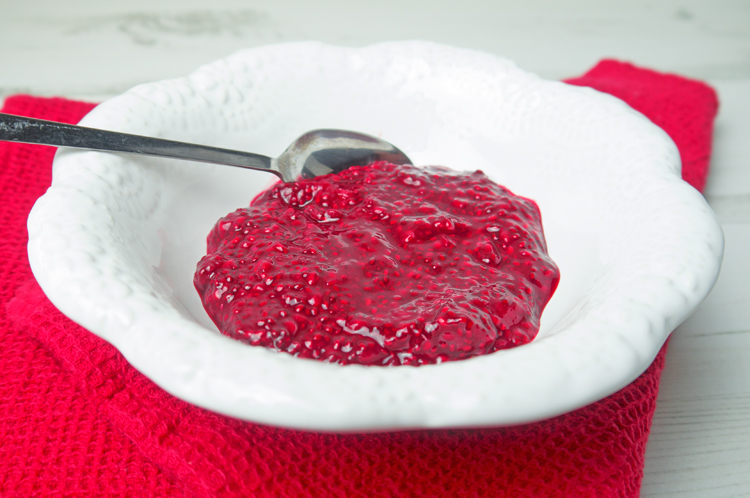 Raspberry Chia Jam
2015-02-13 07:10:11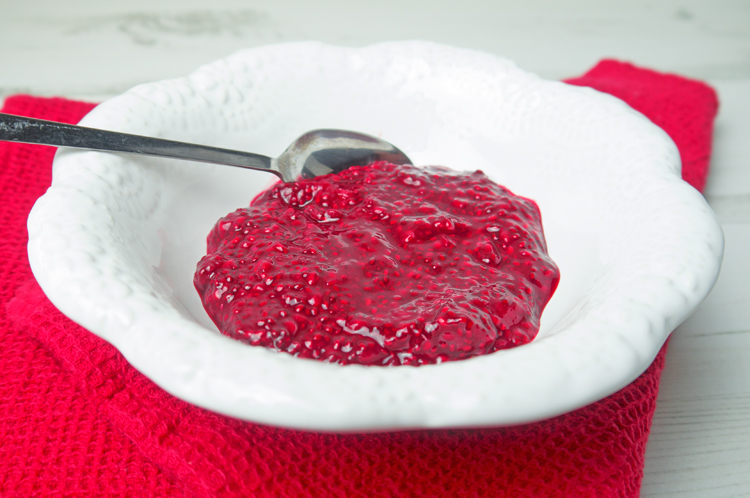 Ingredients
1 cup (130g) frozen raspberries
2 tbsp chia seeds
2 tsp maple syrup (more to taste)
1 tsp fresh lemon juice
Instructions
Add in the raspberries to a small pan and cook over a medium heat for a few minutes until the raspberries have softened. This should only take a few minutes
Mash the raspberries with the back of a wooden spoon as they cook
Mix in the lemon juice, maple syrup and chia seeds
Take off the heat and leave to cool
Place in the fridge for an hour to set
UK Health Blog - Nadia's Healthy Kitchen https://nadiashealthykitchen.com/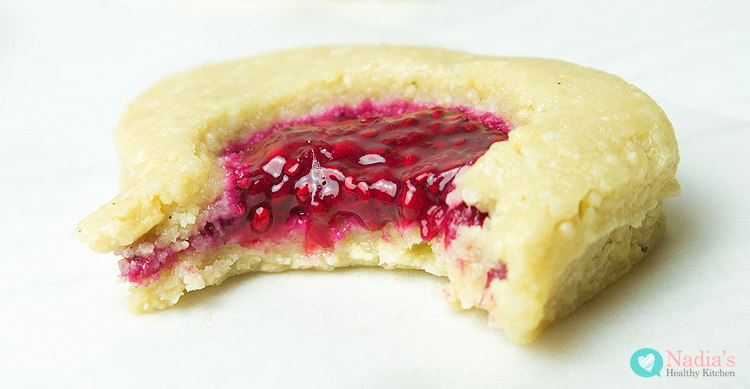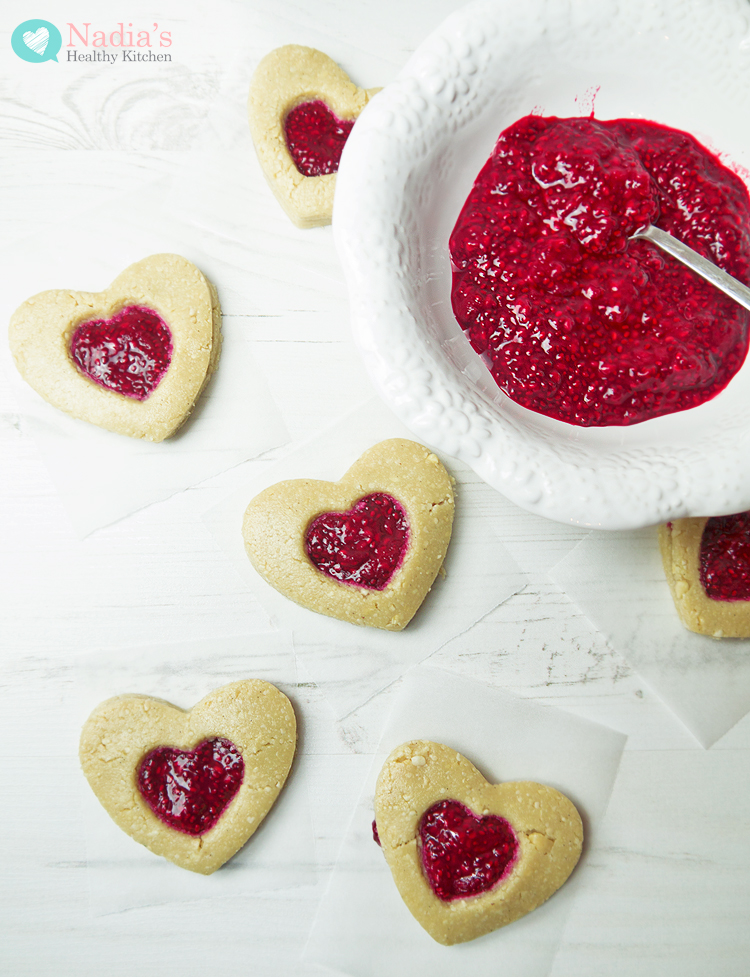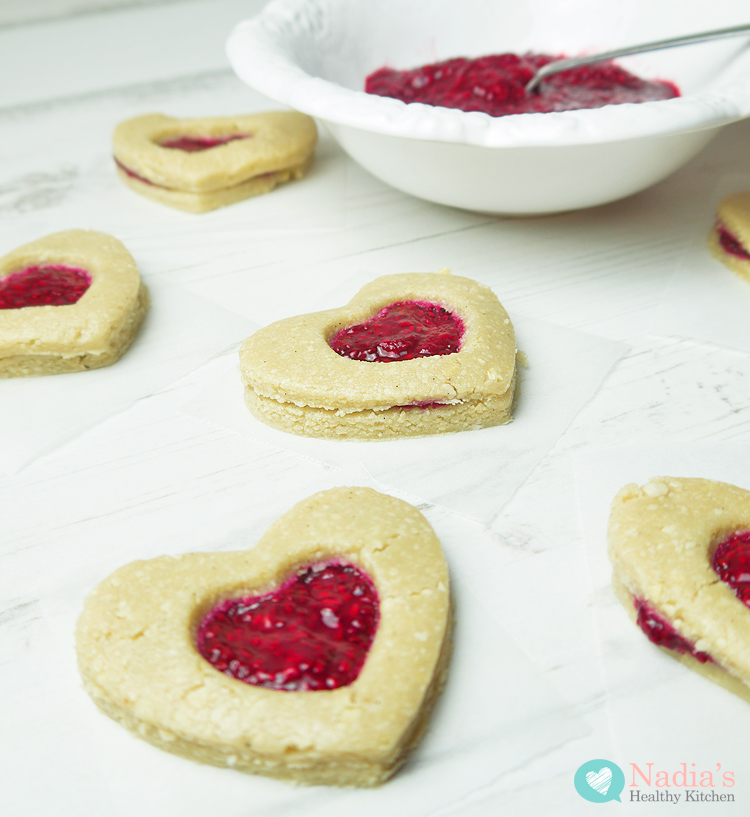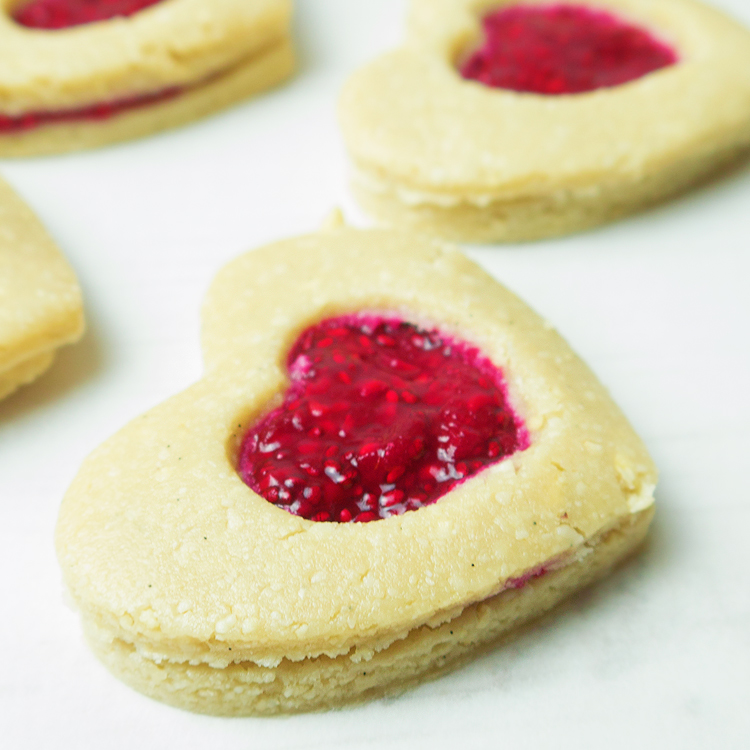 Healthy Linzer Cookies
2015-02-12 18:35:32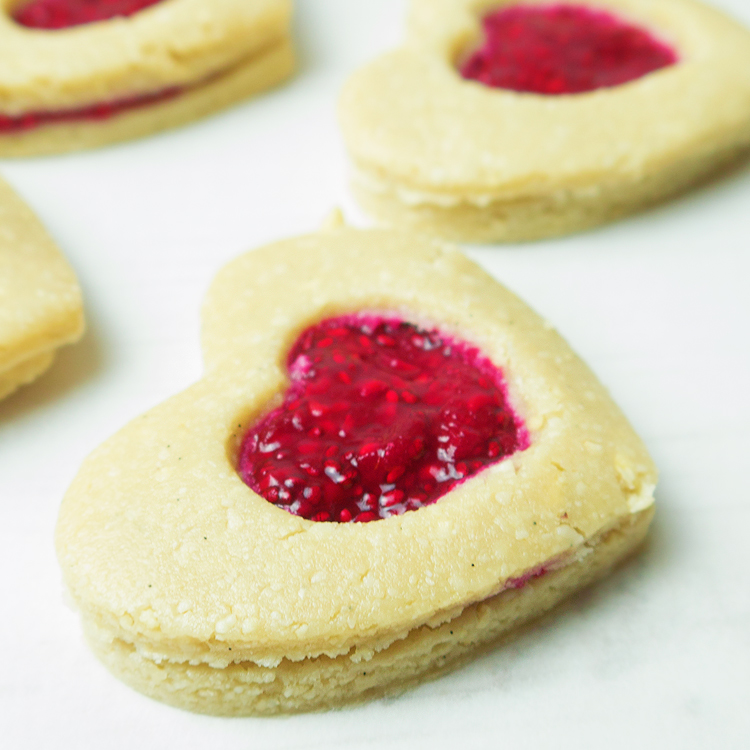 Makes 8 large cookies No-bake, gluten-free and dairy-free. They're so easy and quick to make and taste delicious!
Ingredients
1 cup raw unsalted cashews
1/4 cup coconut flour
3 tbsp honey or maple syrup
1 tsp coconut oil, melted
1/4 tsp vanilla paste (or 1 tsp vanilla extract)
1/8 tsp salt
Chia jam (scroll up for the recipe), or any other type of jam/spread you prefer
Instructions
Add the cashews, coconut flour and salt to a blender or food processor and pulse until it reaches a fine consistency.
Add the honey, coconut oil and vanilla paste and pulse again until the mixture is well combined.
Transfer the mixture into a bowl, cover then place in the fridge to set for an hour.
Take out the dough and place it on a big piece of parchment paper (this will make the process of rolling out and cutting into shapes much easier)
Roll out the dough as thin as possible without it breaking (the dough will be fragile so take your time!)
Use a medium/large cookie cutter (heart, round, star...whatever shape you prefer) cut out your cookies and place them on plate/baking sheet covered with parchment paper. Use a smaller cookie cutter to cut out the centers of half of the cookies then re-roll any scraps to make more cookies.
Place the cookies in the fridge for 30 mins to firm up
Take cookies out and spread about 1 tsp of the jam onto the bottom part of the cookie sandwich, then place the cut-out cookie on top.
Store in the fridge until you want to serve them. Enjoy!
UK Health Blog - Nadia's Healthy Kitchen https://nadiashealthykitchen.com/
Share This Post