Kleicha – Date Cookies (كليجة)
Last year I made a healthier version of my favourite cookies – Kleicha (كليجة) which are Iraqi date cookies that are traditionally served on Eid (A religious holiday to celebrate the end of the month of Ramadan where muslims fast from sun rise to sun set for a whole month). Even though I loved the version I made last year, I wanted to outdo myself by making an even better and healthier version!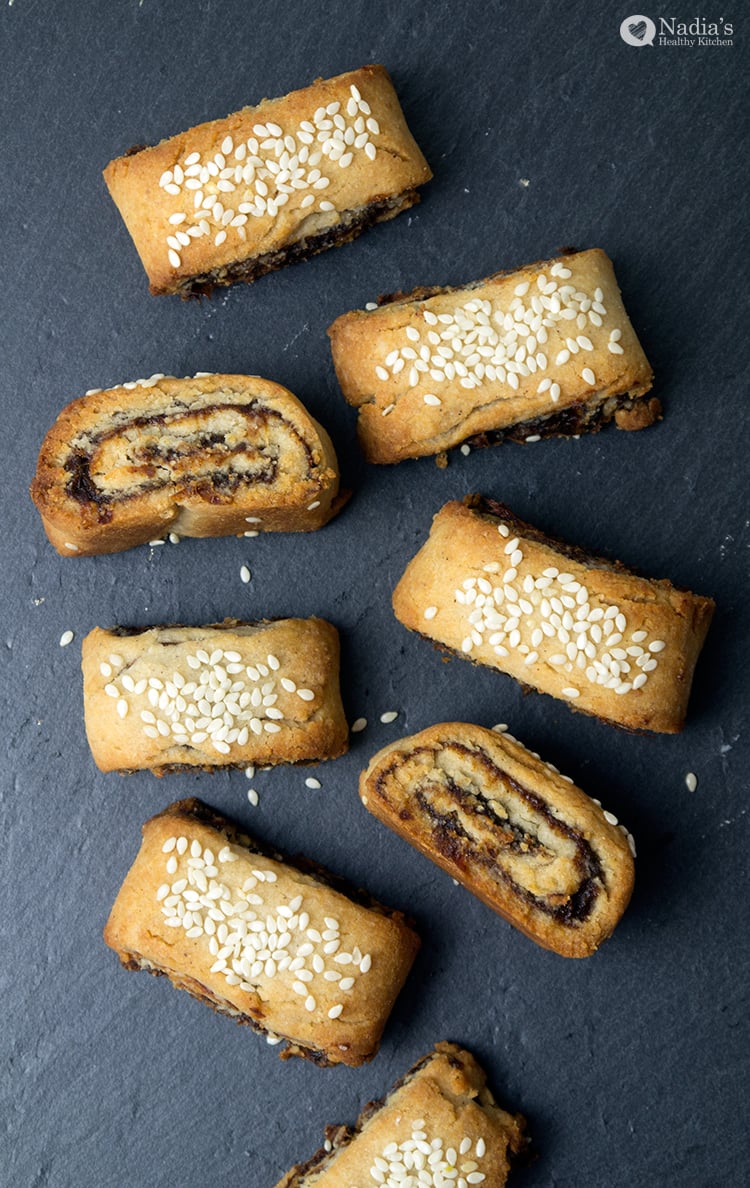 I grew up eating Kleicha. It was my favourite sweet treat and definitely my favourite cookie. Date paste spiced with cardamom and cinnamon wrapped in a crumbly pastry, what's not to love?! These Iraqi date cookies are similar to ma'moul, also date cookies popular throughout Middle Eastern countries but the dough is slightly different. Of course I'm going to be biased and say I think the Iraqi version is so much better!
So to make the dough for last year's kleicha, I used a mixture of wholemeal flour and spelt flour, which resulted in a dough which was slightly on the bready side. This year, I decided to make a gluten-free version, so I'm using a mixture of ground almonds and rice flour the result of which is much closer to the traditional recipe. I'm so pleased with the way they've turned out!
As well as being gluten-free I also made sure these cookies are dairy free so everyone can enjoy them. I used honey to help the dough stick together but they can easily be made vegan by substituting with another form of liquid sweetener like rice syrup or date syrup.
Who's celebrating Eid this year? And do I have any Iraqi readers?
Eid Mubarak to those of you celebrating xx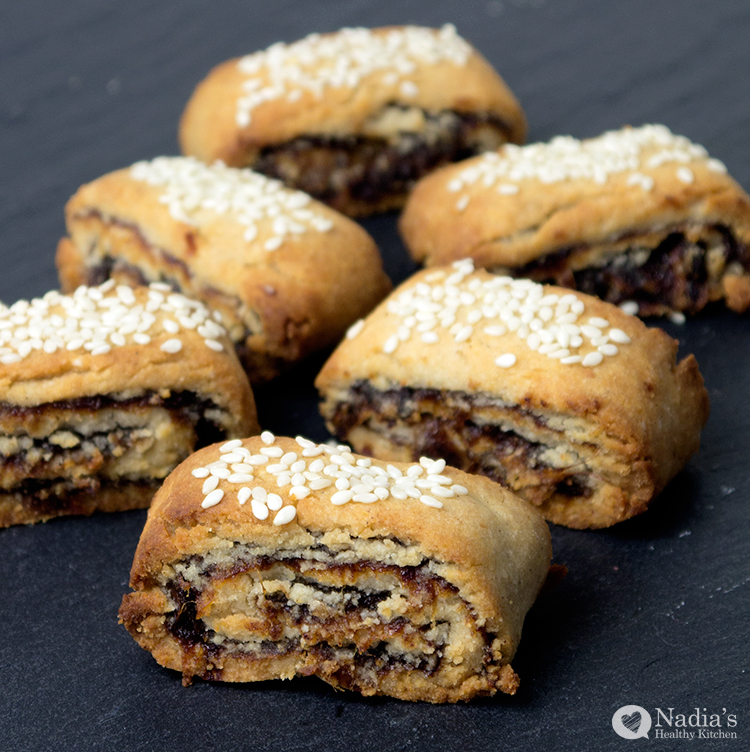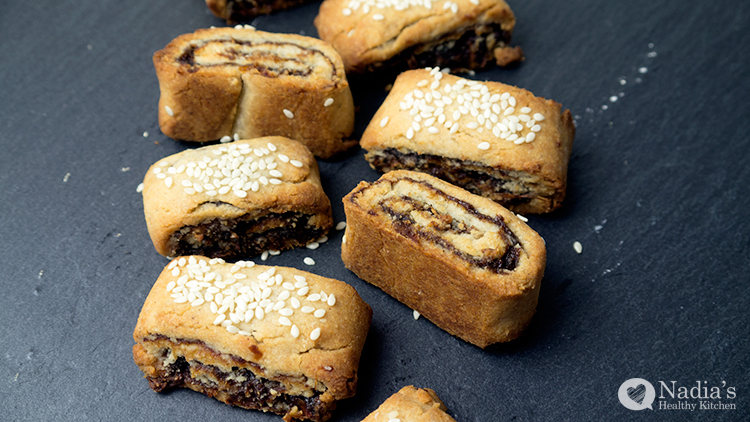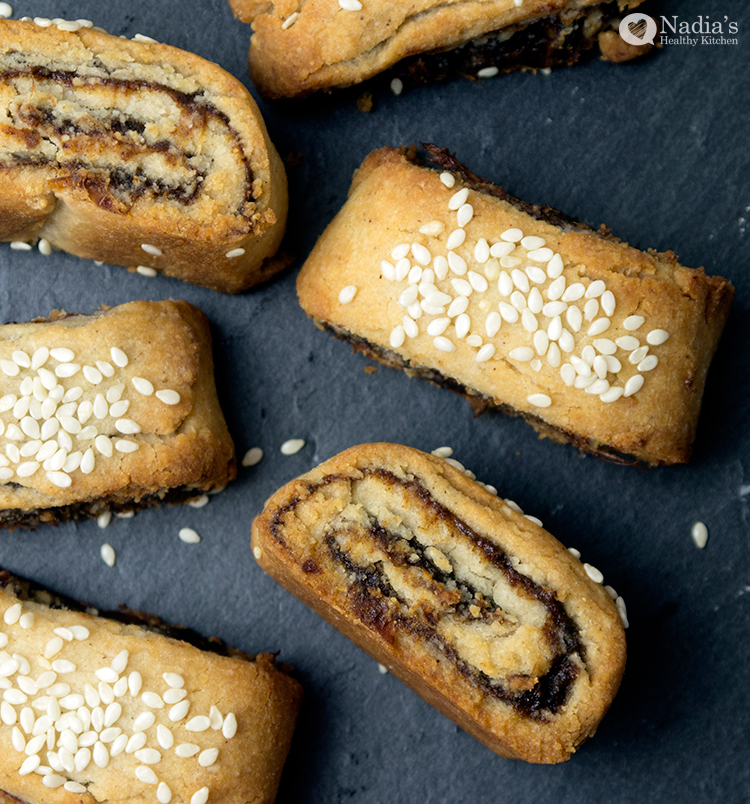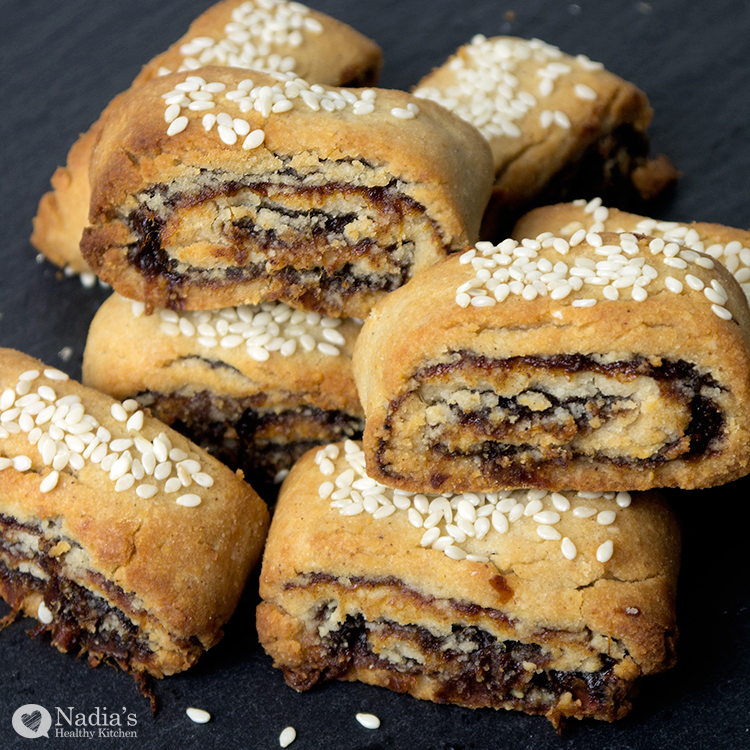 Kleicha - Date Cookies (كليجة)
2015-07-13 18:49:09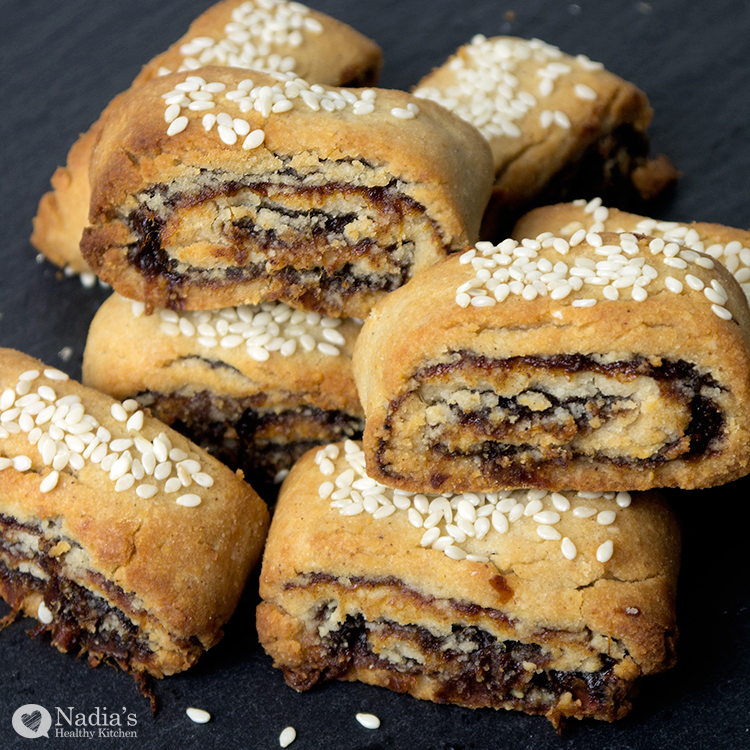 Serves 18
For the date filling
1 cup (140g) dates
1/2 tsp cinnamon
1/2 tsp cardamom powder
1 tsp cocoa powder
1/4-1/2 cup (4-8 tbsp) water
Sesame seeds to top
Instructions
In a large bowl, mix together the ground almonds, rice flour, salt and spices.
Add the melted coconut and honey. Mix until well combined
If the dough is not sticking together and looks crumbly, add milk, 1 tbsp at a time. I found that 2 tbsp of milk was perfect.
Place in the fridge and leave to chill for 30-60 minutes
For the date filling
Add the dates, spices and cocoa to a pan and pour in the water - the amount of water will depend on how dry your dates are. I used fairly dry dates so I added around 1/2 cup of water, but I would suggest adding a little at a time. Heat the pan and start mashing the dates with the back of a wooden spoon. Continue adding water until you have a smooth, but still thick and sticky mixture. You want it to be just thin enough to spread.
Preheat your oven to 180*C (160*C fan assisted)/ 350*F
Take the dough out of the fridge and place it on a piece of parchment paper. Place another piece of parchment paper on top and start rolling out the dough into a ¼" thick rectangle.
Spread the date filling over the dough leaving the edges clear.
Now start rolling! Take one side of the dough and use the parchment paper to roll the dough into a log.
Using a sharp knife, slice into 1 inch thick pieces.
Carefully transfer the cookies onto a baking sheet. Sprinkle the sesame seeds on top.
Bake for around 20 minutes or until the tops of the cookies are golden brown.
Leave to cool completely, then enjoy!
Notes
I like to store mine in the fridge - they taste so much better in my opinion and the texture is so much better as well 🙂
UK Health Blog - Nadia's Healthy Kitchen https://nadiashealthykitchen.com/
You may also like these cookie recipes
Share This Post