Vanilla Chocolate Sandwich Cookies
It's no secret that I love cookies (or biscuits as we refer to them here in the UK) they're my favourite sweet treats and the kind of recipes I enjoy creating the most. I've made so many cookie recipes over the years from tahini chocolate cookies, no-bake thumbprint cookies and Nutella filled cookies to more adventurous cookies like chocolate & strawberry S'mores, cinnamon roll cookies and doughnut cookies more recently. I also love recreating vegan and gluten-free versions of classics like Jaffa cakes, Wagon Wheels and Jammie Dodgers.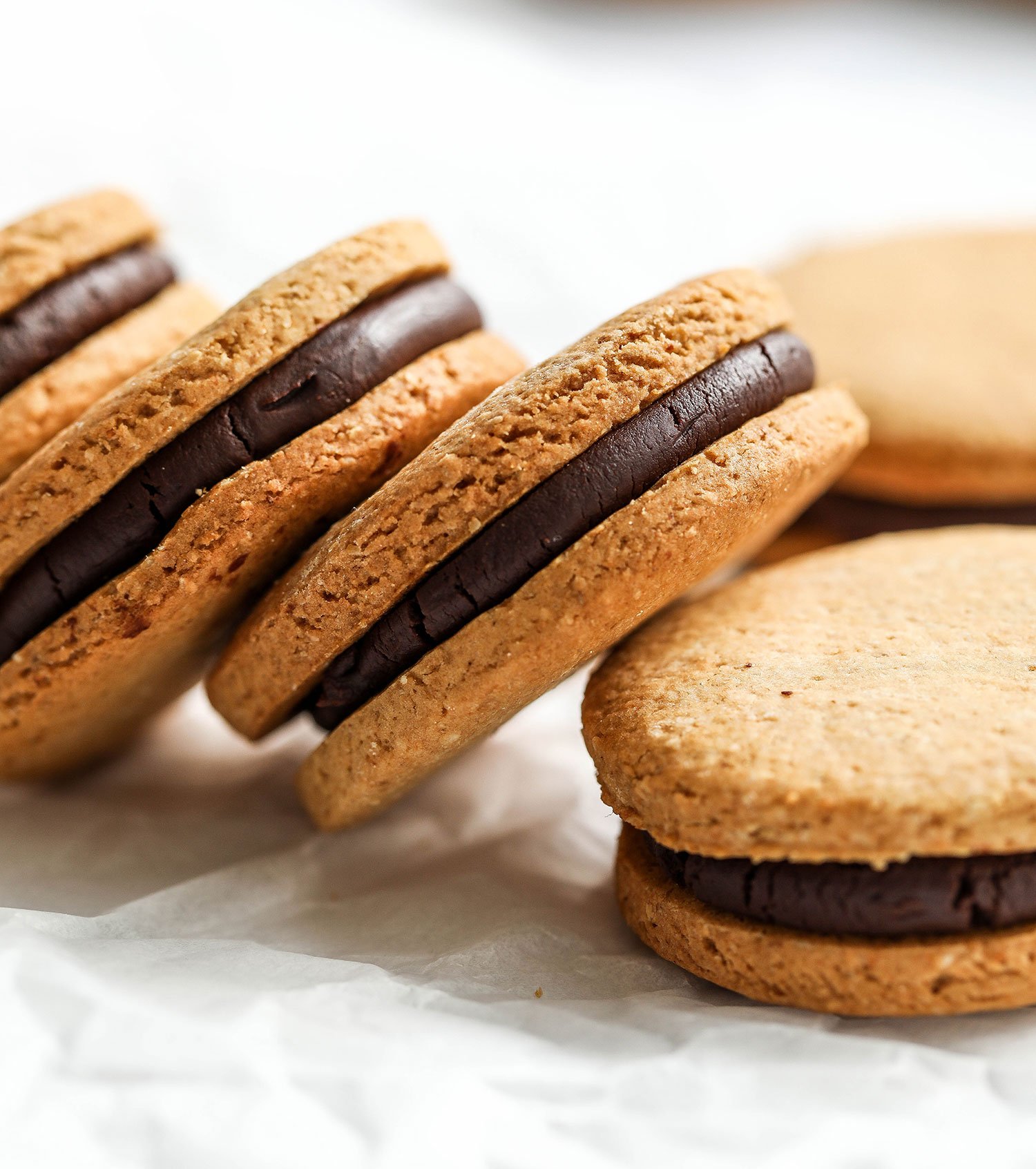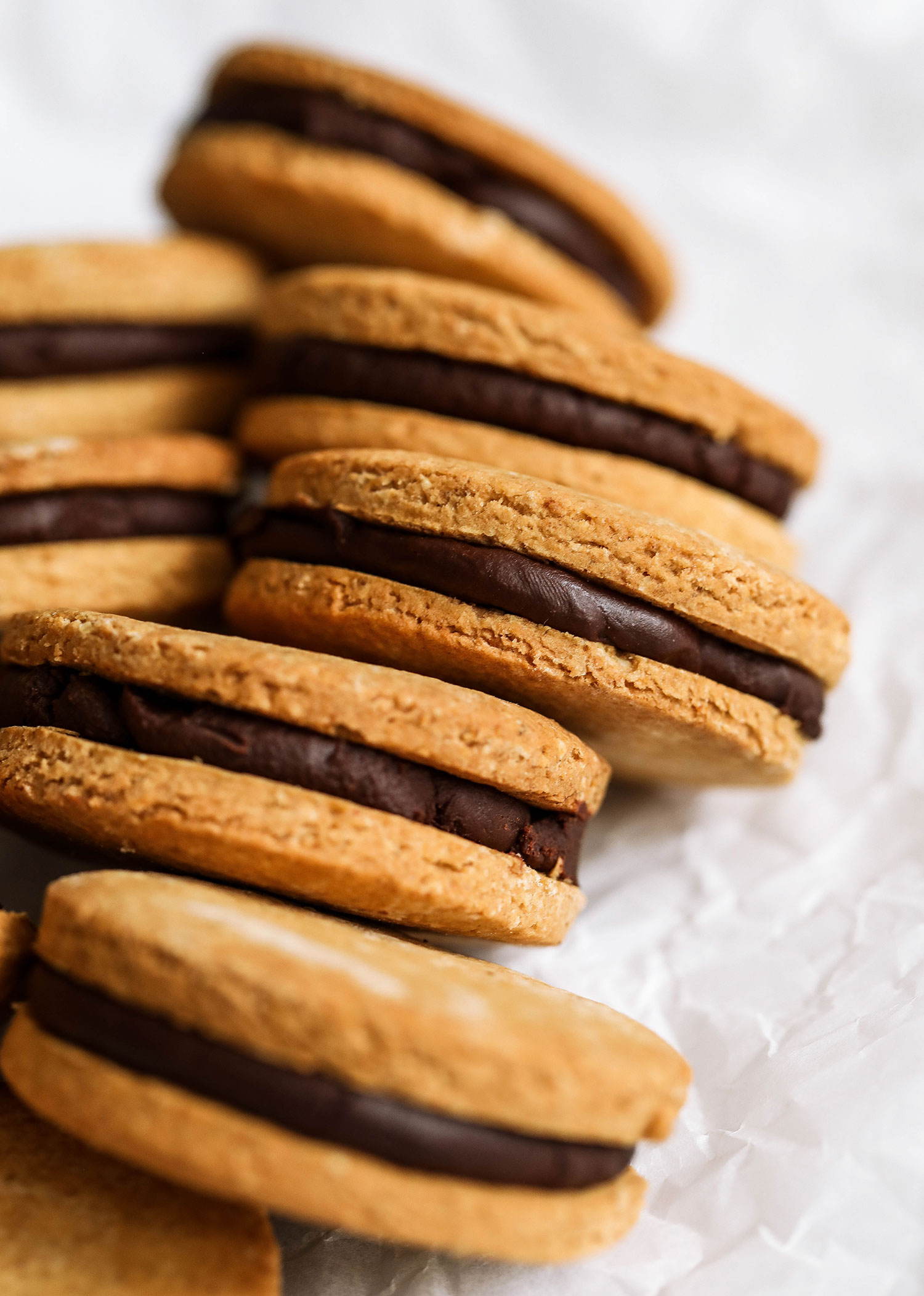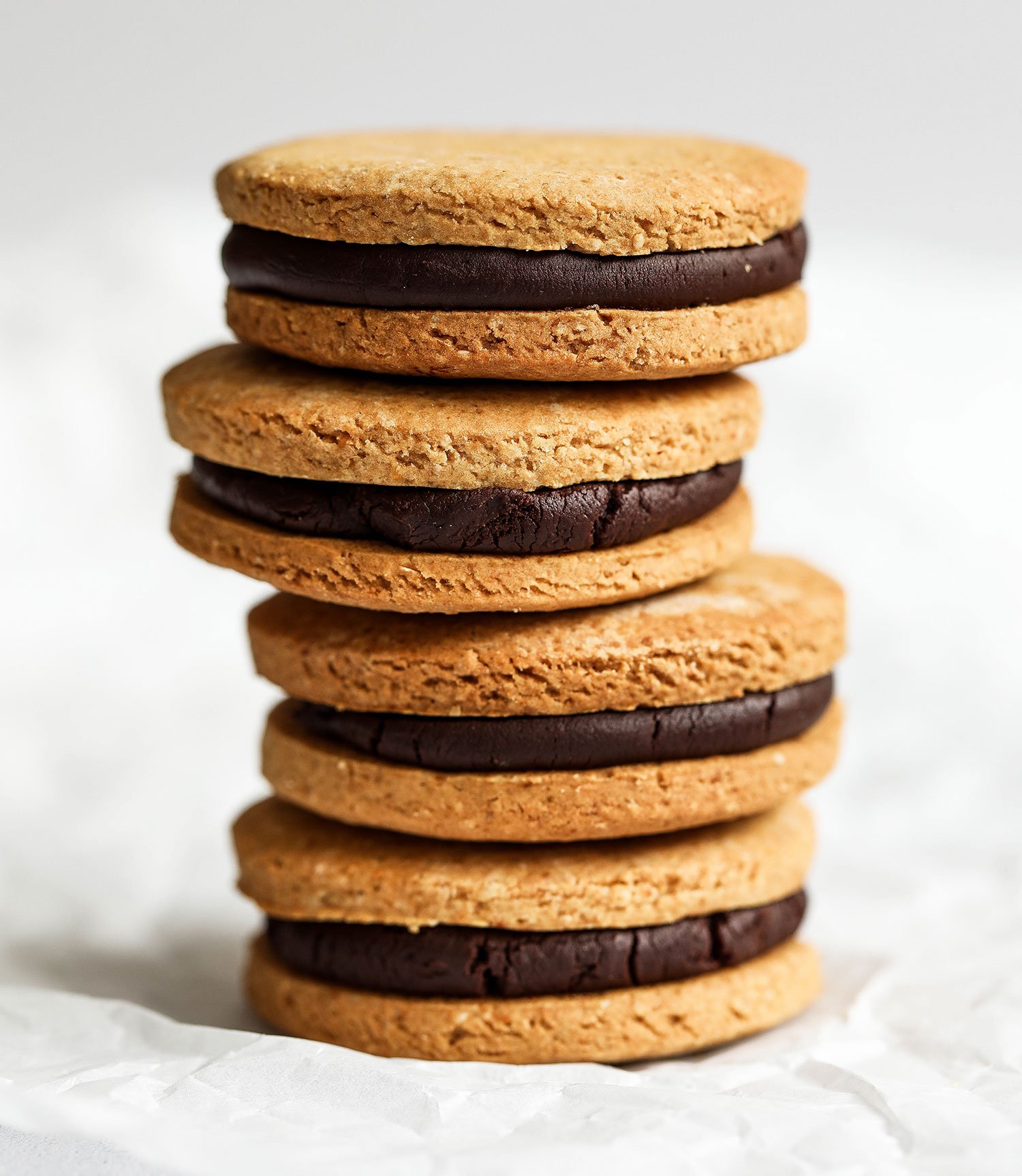 So yeah, I'm a cookie monster and proud of it!
Another big love of mine is chocolate. Add chocolate to any dessert and I'll eat it! I think what I love about it the most is the fact that the bitterness of the chocolate balances out the sweetness of a dessert. I can't stand overly sweet desserts. It just gets too sickly for me if it's too sweet. Chocolate takes the edge of that sweetness and balances it out perfectly.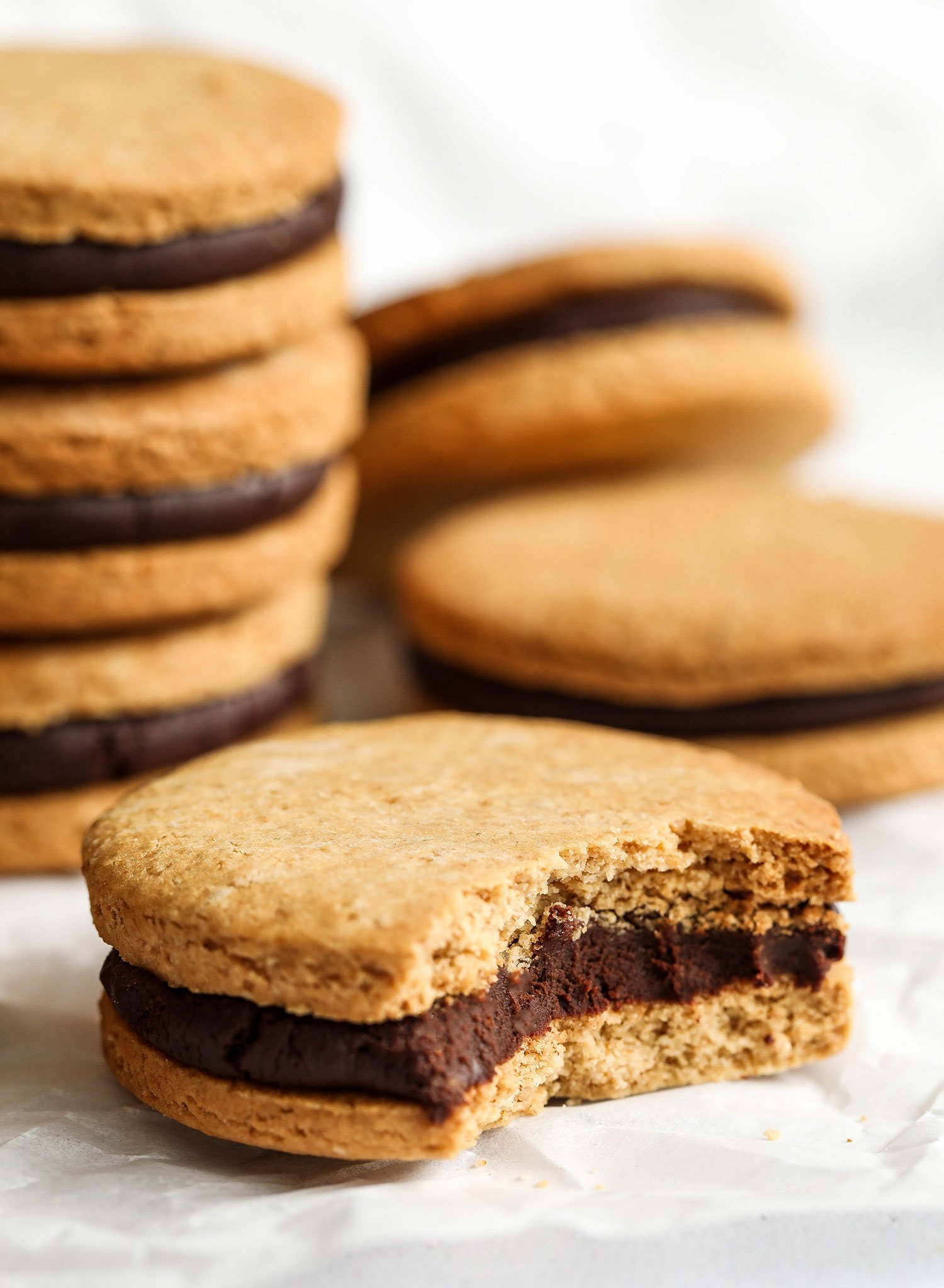 Today I felt like creating a cookie sandwich recipe since I haven't posted one of those in a hot minute. I wanted to create a rich, smooth chocolate cream sandwiched between two crunchy vanilla cookies, and that's exactly what I did!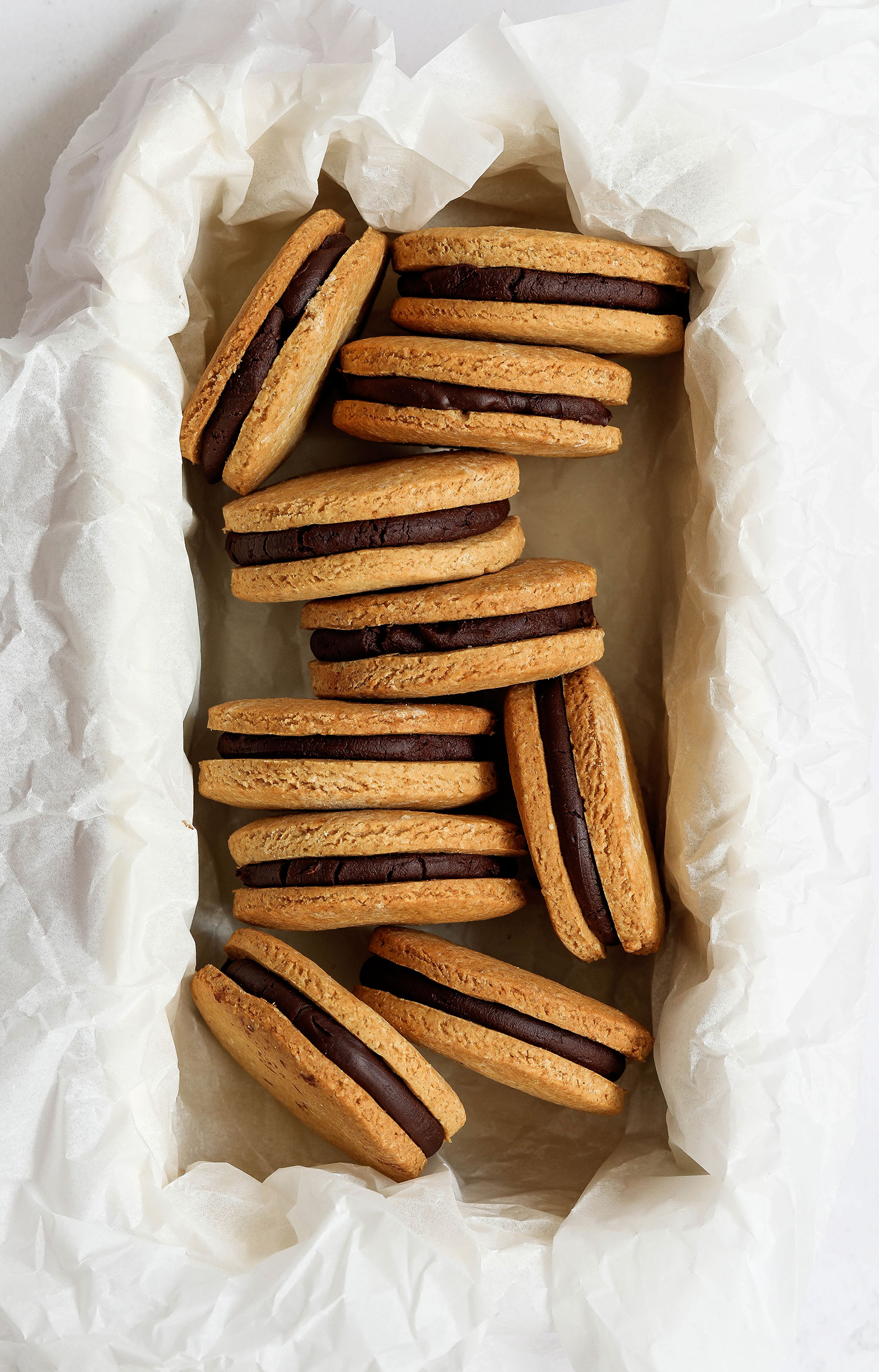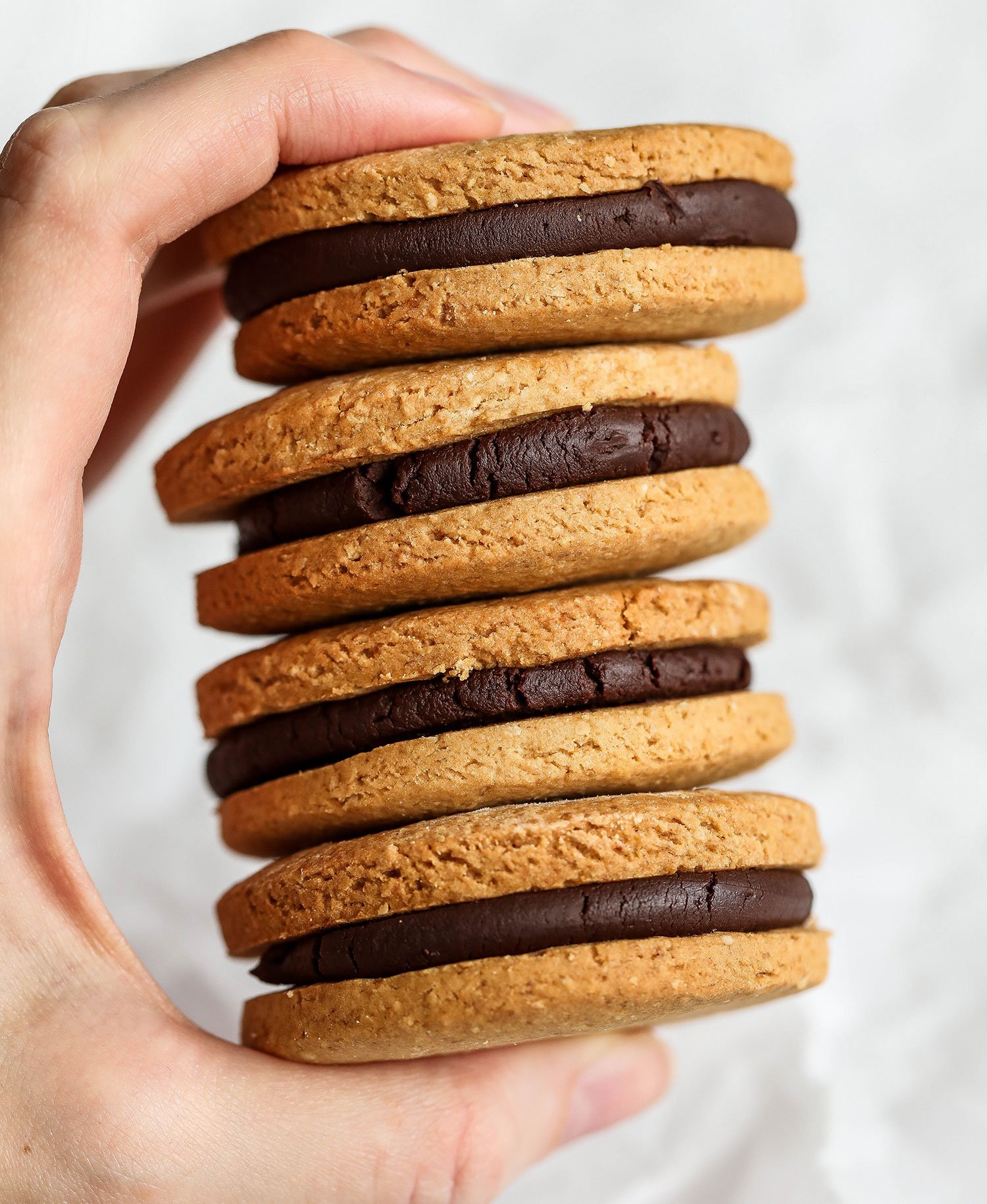 These Vanilla Chocolate Sandwich Cookies are
Vegan
Gluten-free
Dairy-free
Soy-free
Nut-free
And so difficult to say no to!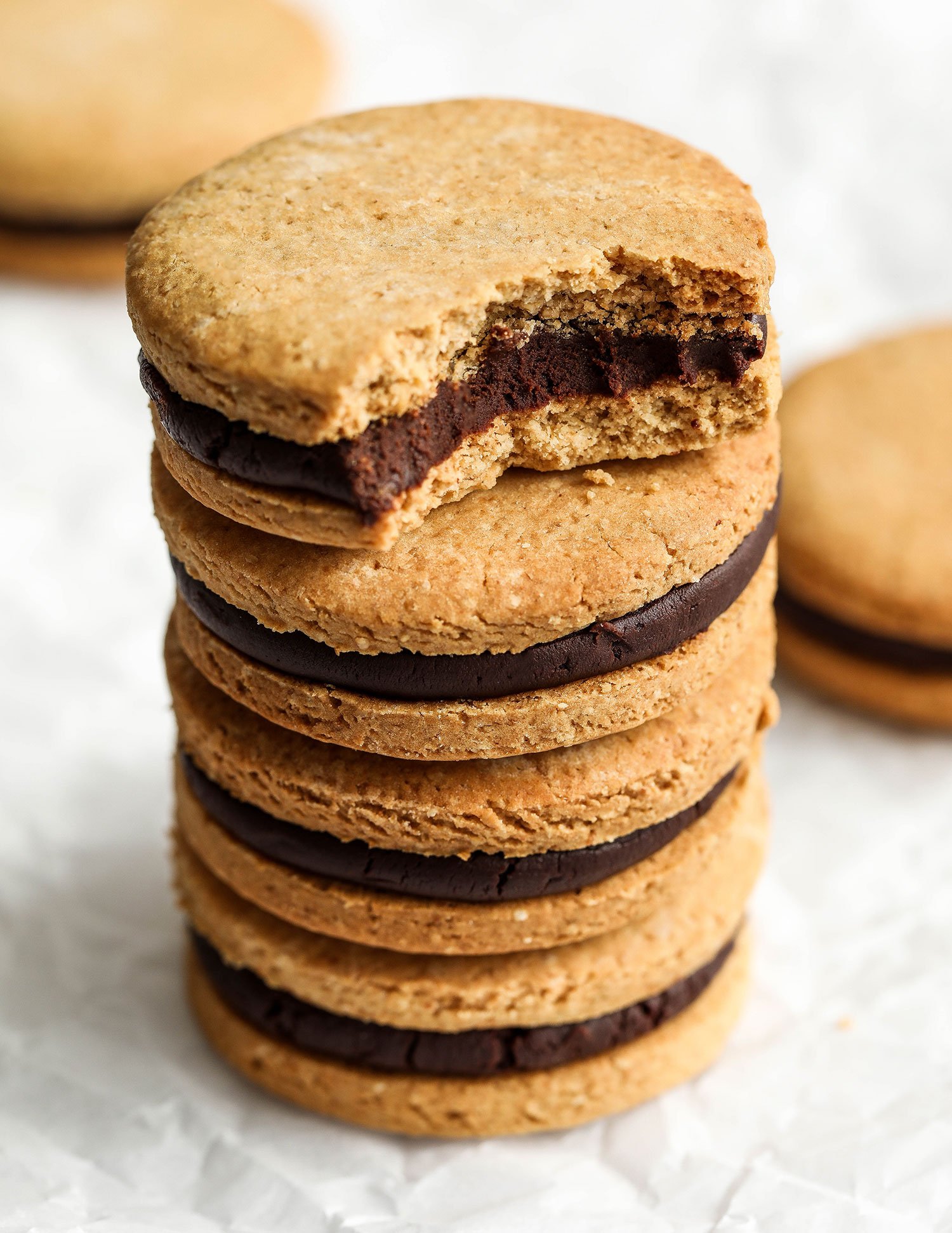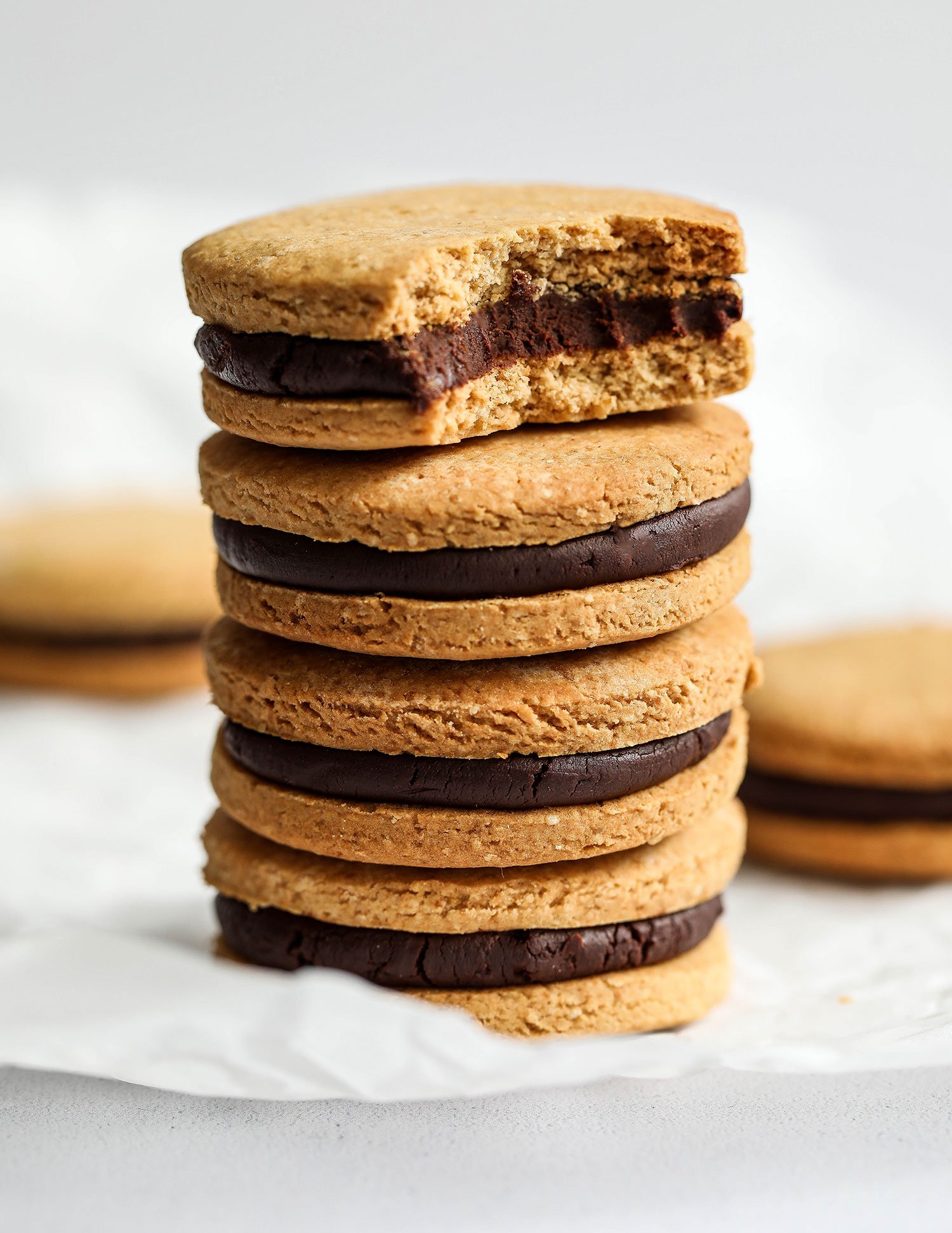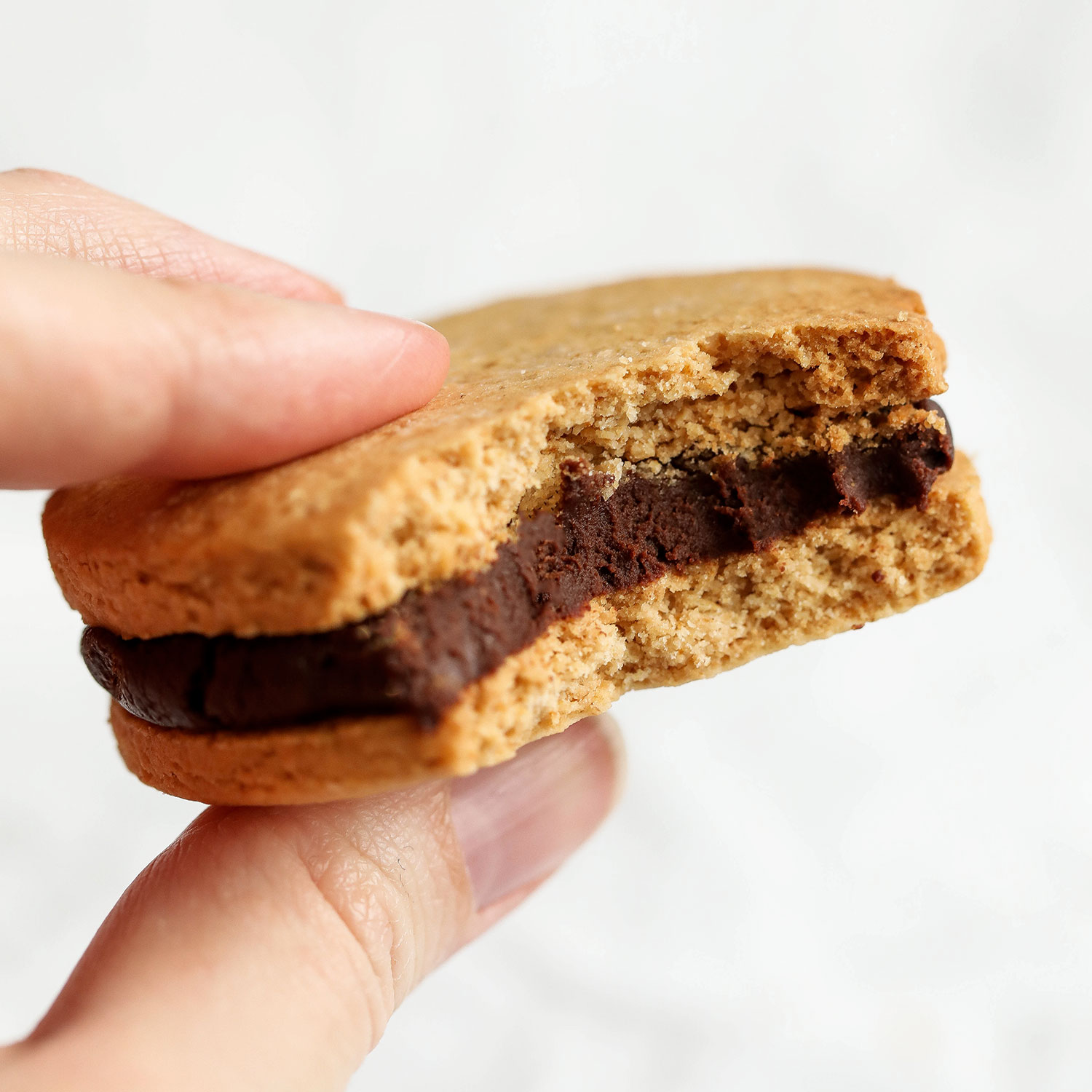 ---
Vanilla Chocolate Sandwich Cookies
Makes: 12 sandwiches
Ingredients
For the vanilla cookies
1 cup (110g) gluten-free oat flour – make your own by blending oats into a fine flour in your food processor/blender
¾ cup (135g) gluten-free plain flour
¼ cup (4 tbsp) brown sugar
¼ tsp salt
1 tsp baking powder
¼ cup (4 tbsp) maple syrup
¼ cup (4 tbsp) coconut oil, melted
3 tbsp milk of choice
1 tsp vanilla paste or vanilla extract
For the chocolate filling
120g dark chocolate (I used 70%)
2 tbsp maple syrup
2 tbsp milk of choice (I used oat milk)
Method
Preheat your oven to 180°C/160°C fan/350°F.
In a large bowl, mix together the oat flour, GF flour, sugar, baking powder and salt
Pour in the melted coconut oil, maple syrup, milk and vanilla. Mix to combine.
Chill in the fridge for 15-30 minutes to make the dough easier to roll out.
Place the chilled dough on a lightly floured worktop. Roll out between two pieces of parchment paper to a thickness of about 1/4 inch.Use a round cookie cutter to cut out the cookies.
Arrange on a baking sheet lined with parchment paper and bake for 15-20 minutes. I like mine super crunchy so I left mine in for 20 minutes. Bear in mind the baking time will also depend on the size of your cookies.
Leave to cool completely.
To make the filling
While the cookies are baking, break up the chocolate into smaller pieces and add to a heat-proof bowl. Microwave on high for a few seconds until melted. Give it a mix every few seconds to ensure it doesn't burn.
Add the milk and maple syrup and mix to combine.
Chill in the fridge for 5-10 minutes to thicken the mix.
Assembling the cookies
Spoon the filling into a piping bag and pipe a layer onto the base of half the cookies, then sandwich together with the other cookies.
Enjoy!
---

Share This Post