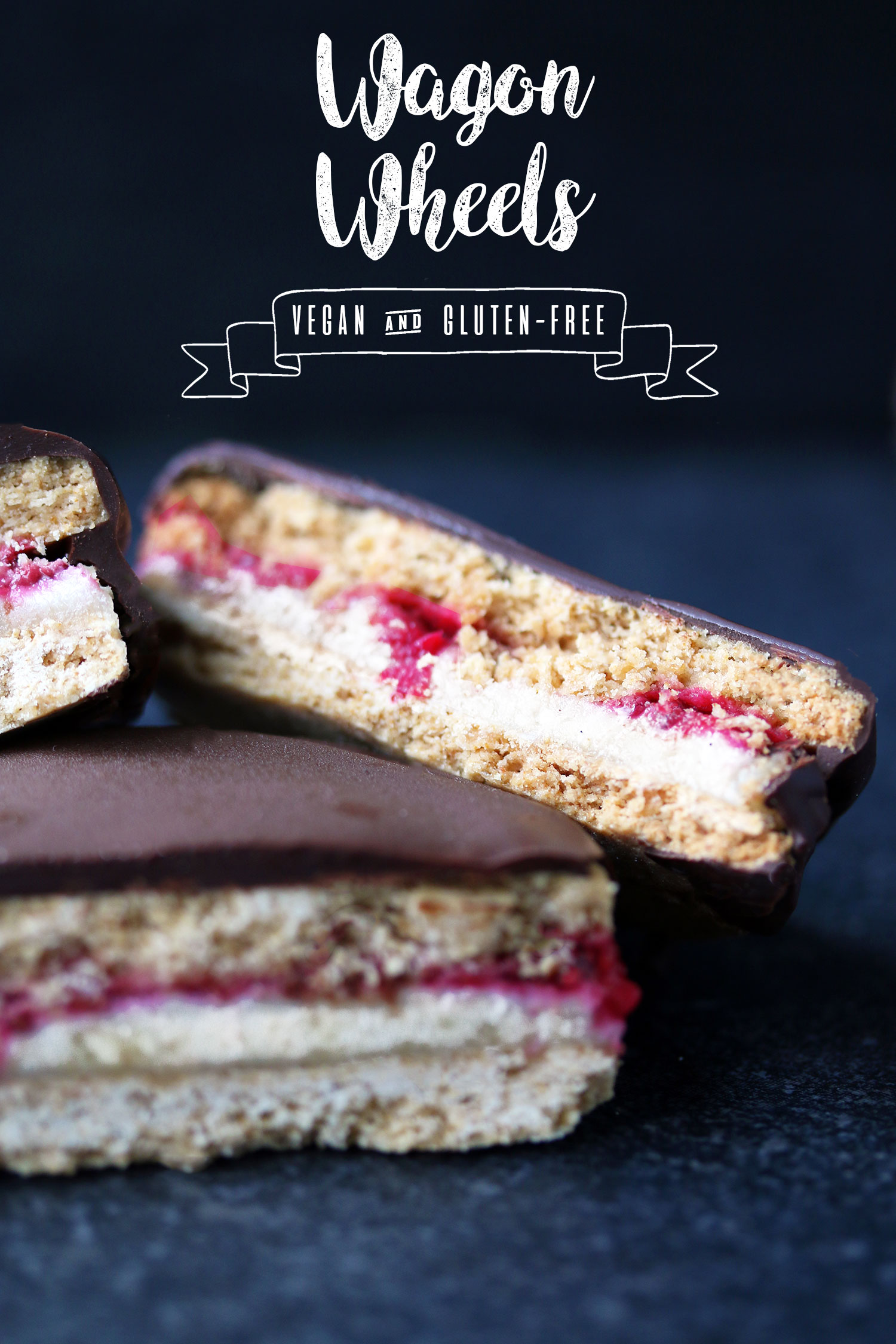 Vegan Gluten-free Wagon Wheels
Wagon Wheels – another classic British treat I just had to recreate. Do you sense a theme here? It seems I'm drawn to making healthified, vegan and gluten-free versions of some of Britain's favourite treats at the moment. So far I've made my own versions of Oreos, Twix, Snickers, Bounty Bars, Ferrero Rocher, Hobnobs, Jaffa Cakes and now Wagon Wheels! What's next? Who knows, but I'm really enjoyed experimenting with such classic sweet treats, and you seem to be enjoying them too!
I say a British classic, however; a quick search online tells me that Wagon Wheels actually originated in Australia before moving base here. Now they seem to be popular the world over, and that doesn't surprise me one bit. A marshmallow and jam centre sandwiched between two crumbly cookies, what't not to like?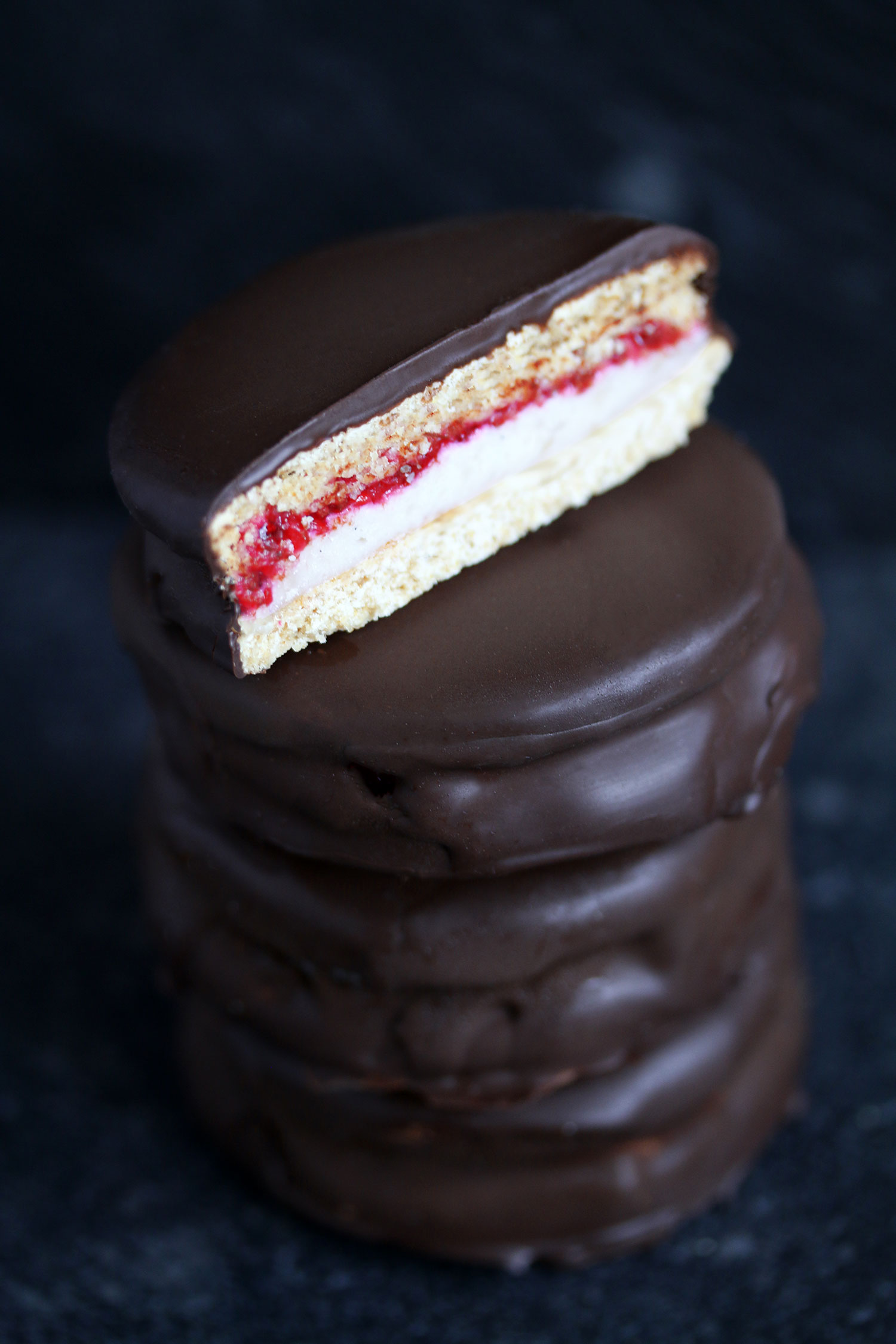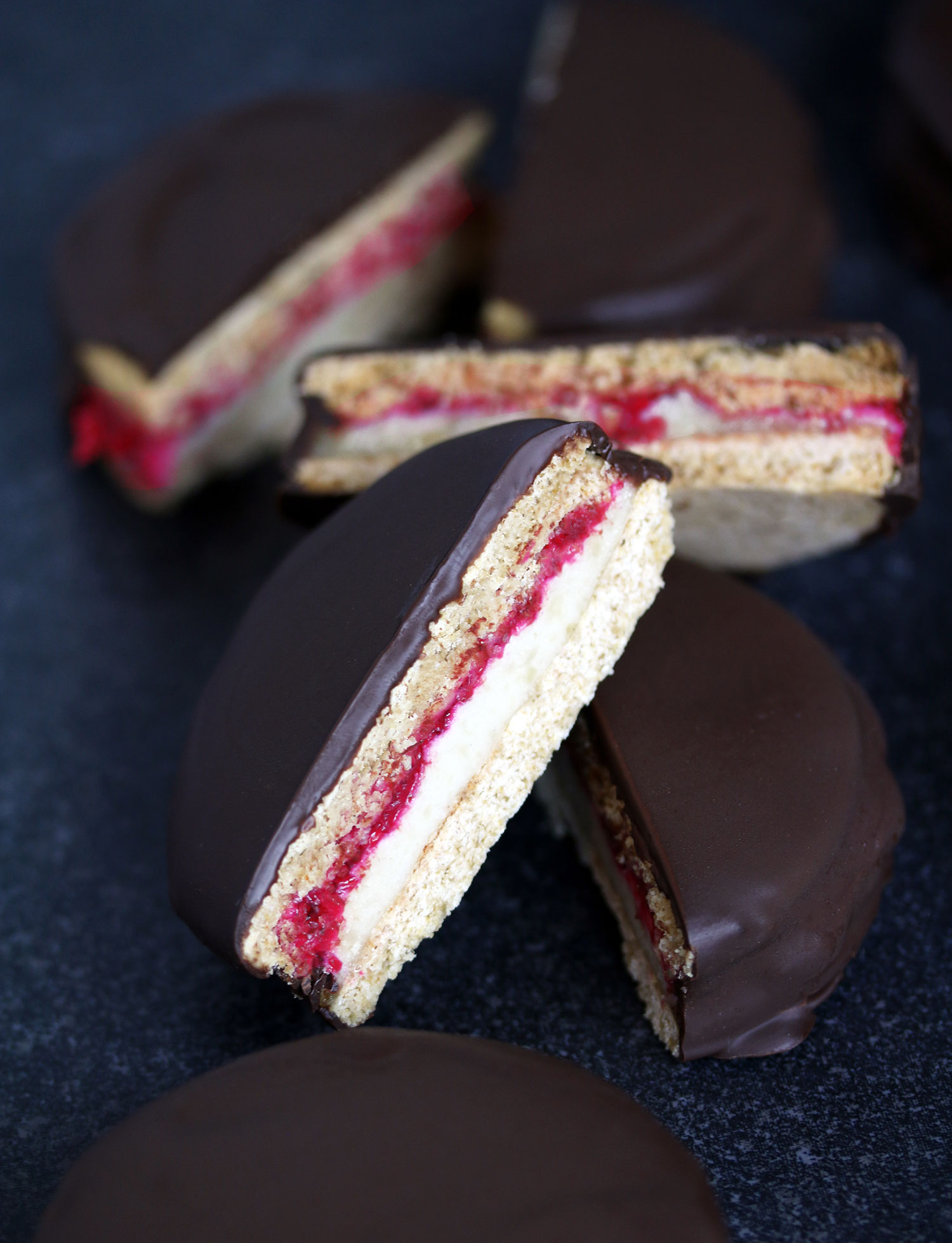 I'm sure everyone knows Wagon Wheels aren't vegan, but something that I only recently found out is that they're not even vegetarian as the marshmallow layer contains gelatine. That's why it's so important to read the labels on the food we eat. You just have no idea what you might find hiding in there! Needless to say I haven't actually had a Wagon Wheel in years so that doesn't really affect me, but I can imagine many vegetarians picking up a pack without realising they aren't suitable for vegetarians!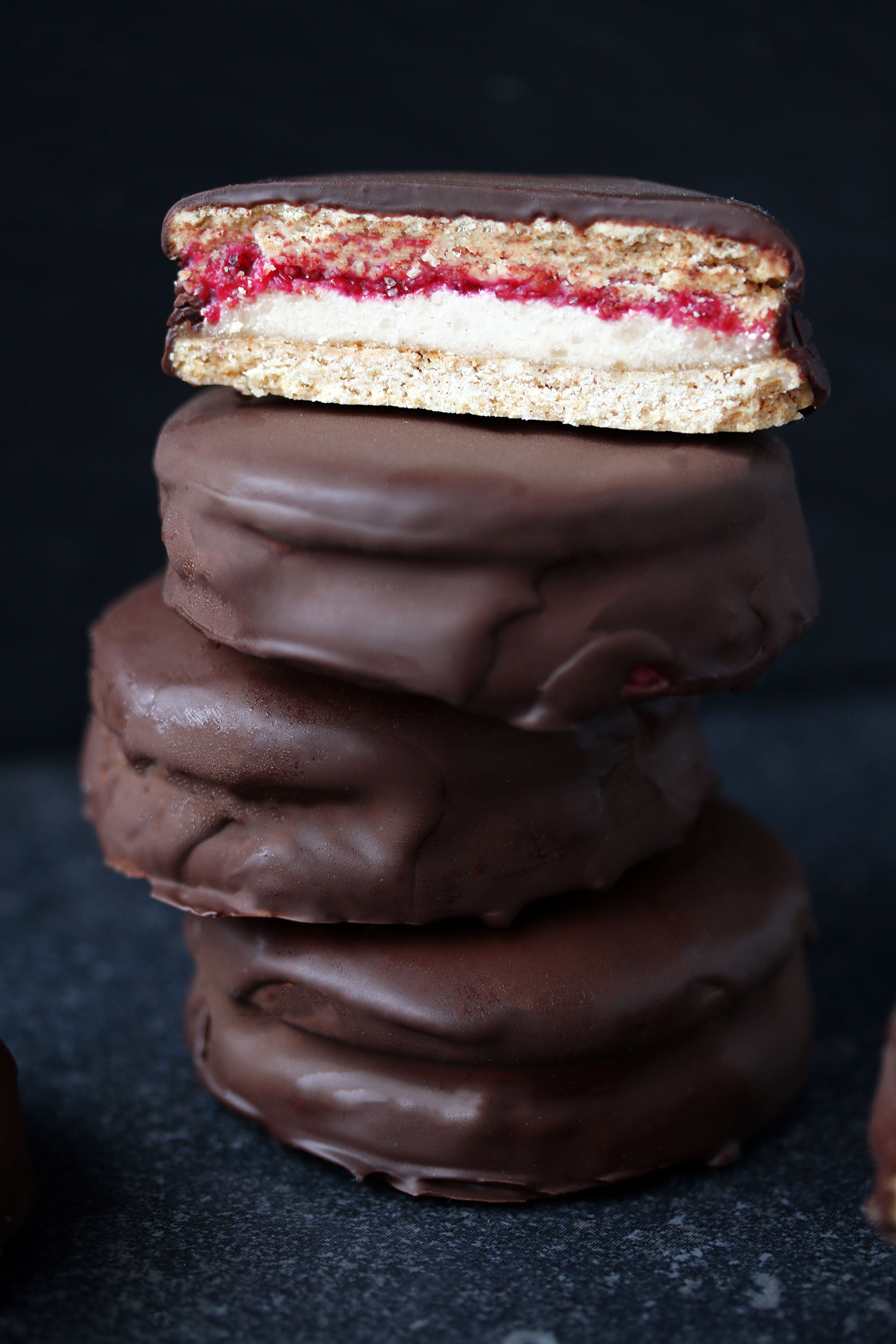 Just like many of my recipes, these Wagon Wheels are meant to be a treat to be enjoyed every now and then and after you've eaten all your veggies, fruits, proteins, beans, pulses, nuts seeds and wholegrains! Just because a recipe is vegan and gluten-free doesn't necessarily mean it's bursting with nutrition. These vegan gluten-free Wagon Wheels are 'healthier' treat with some fibre and nutrients, but they're not exactly vegetables so don't go gobbling the whole lot in one go! But as I always say, if you're going to treat yourself, why not have a treat that will also give your body something it needs rather than just empty calories.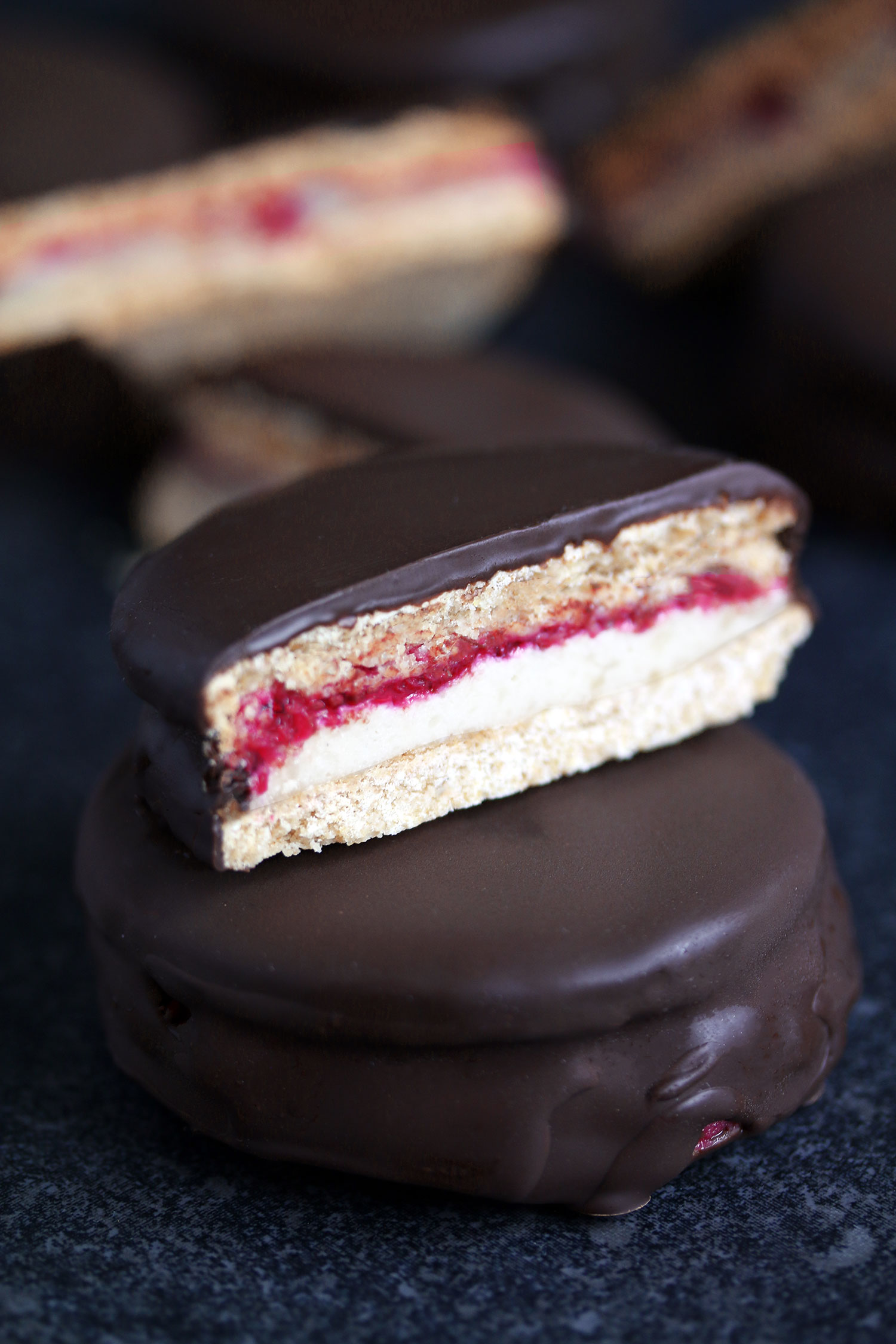 ---
Vegan Gluten-free Wagon Wheels
Makes: 14-16
Ingredients:
For the cookies:
1 batch homemade vanilla biscuits
For the 'marshmallow' centre:
1 cup (130g) raw cashews, preferably soaked for 4 hours for a smoother texture
1/4 cup (4 tbsp) full fat coconut milk
2 tbsp creamed coconut or coconut cream, melted*
1 tbsp maple syrup
1/2 tsp vanilla extract
* You can use coconut oil instead but the mixture won't be as creamy
For the Jam layer:
1/4 batch homemade chia jam
For the chocolate coating:
200g dairy-free dark chocolate, melted. I used 72% cocoa solids
Method:
Make the cookies and leave to cool completely.
Blend all the 'marshmallow' ingredients in the food processor until smooth.
Spread a layer of the marshmallow cream on one of the cookies, followed by a thin layer of jam. Top with another cookie.
Freeze cookies for 4 hours or overnight – this will help the chocolate set more smoothly.
Place one wagon wheel onto a spoon and use another spoon to drizzle the melted chocolate on top and along the sides. Place on a chopping board covered with parchment paper.
Store in the fridge until ready to serve.
Enjoy!
---