Strawberry Chocolate S'mores
S'mores aren't really a thing here in the UK, but they really should be! Two crunchy biscuits (aka cookies) with a melted marshmallow and melted chocolate. I can't think of anything better 😀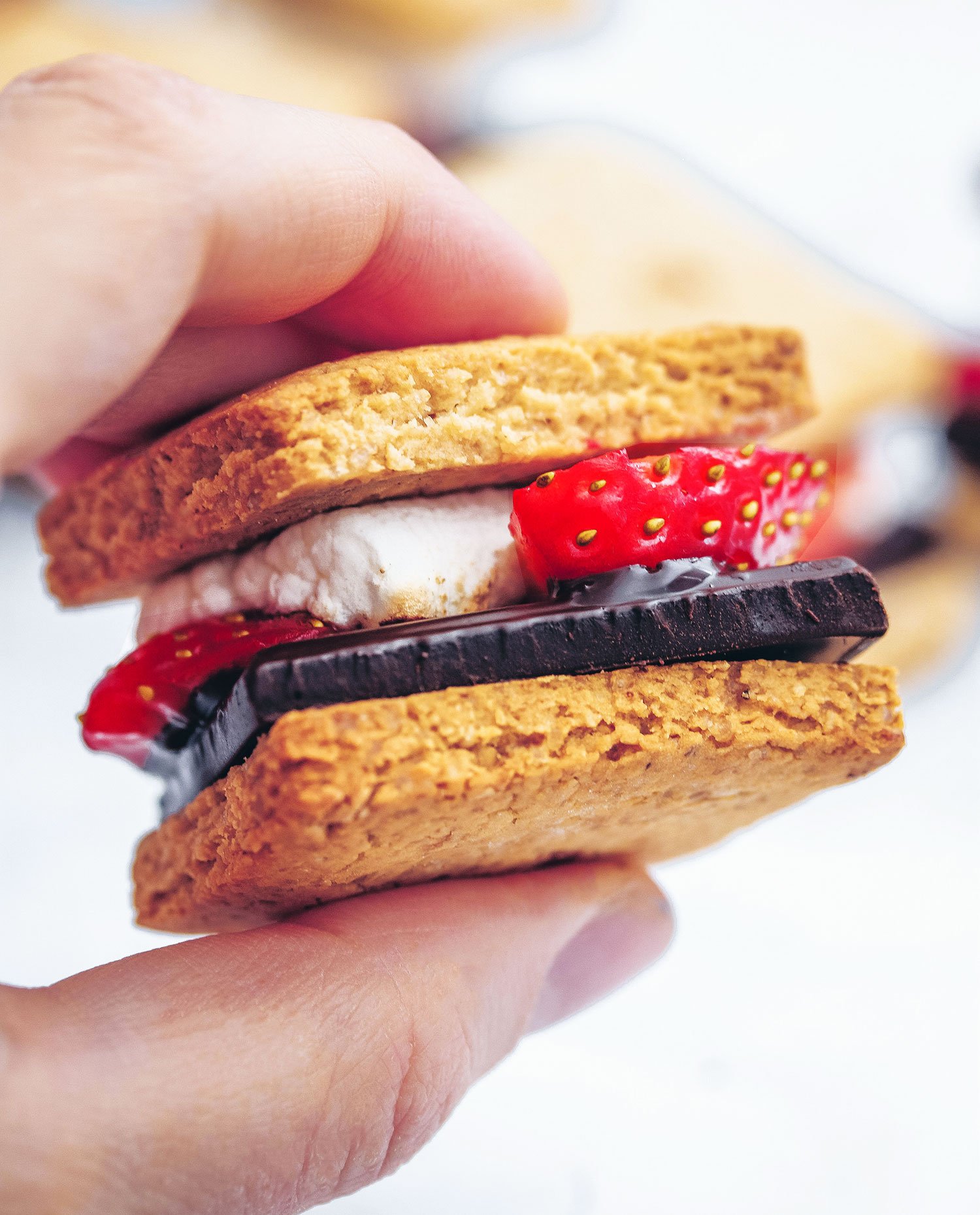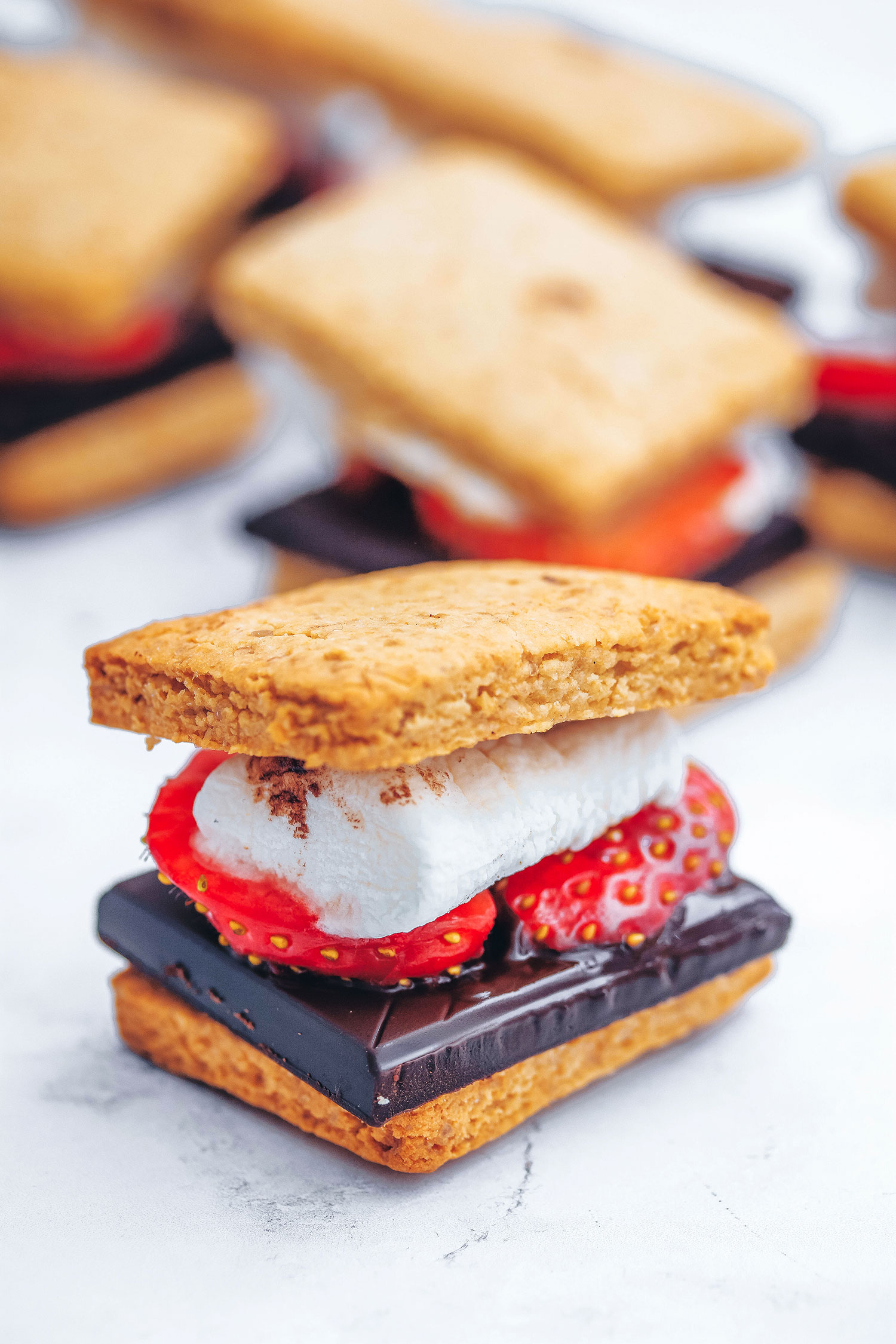 I missed out on so many years of toasted marshmallow goodness. I really didn't know what I was missing out on until I tried one for the first time and I was hooked! Really puts the regular, un-toasted marshmallow to shame. And now you can get gelatine-free marshmallows too (yay!!).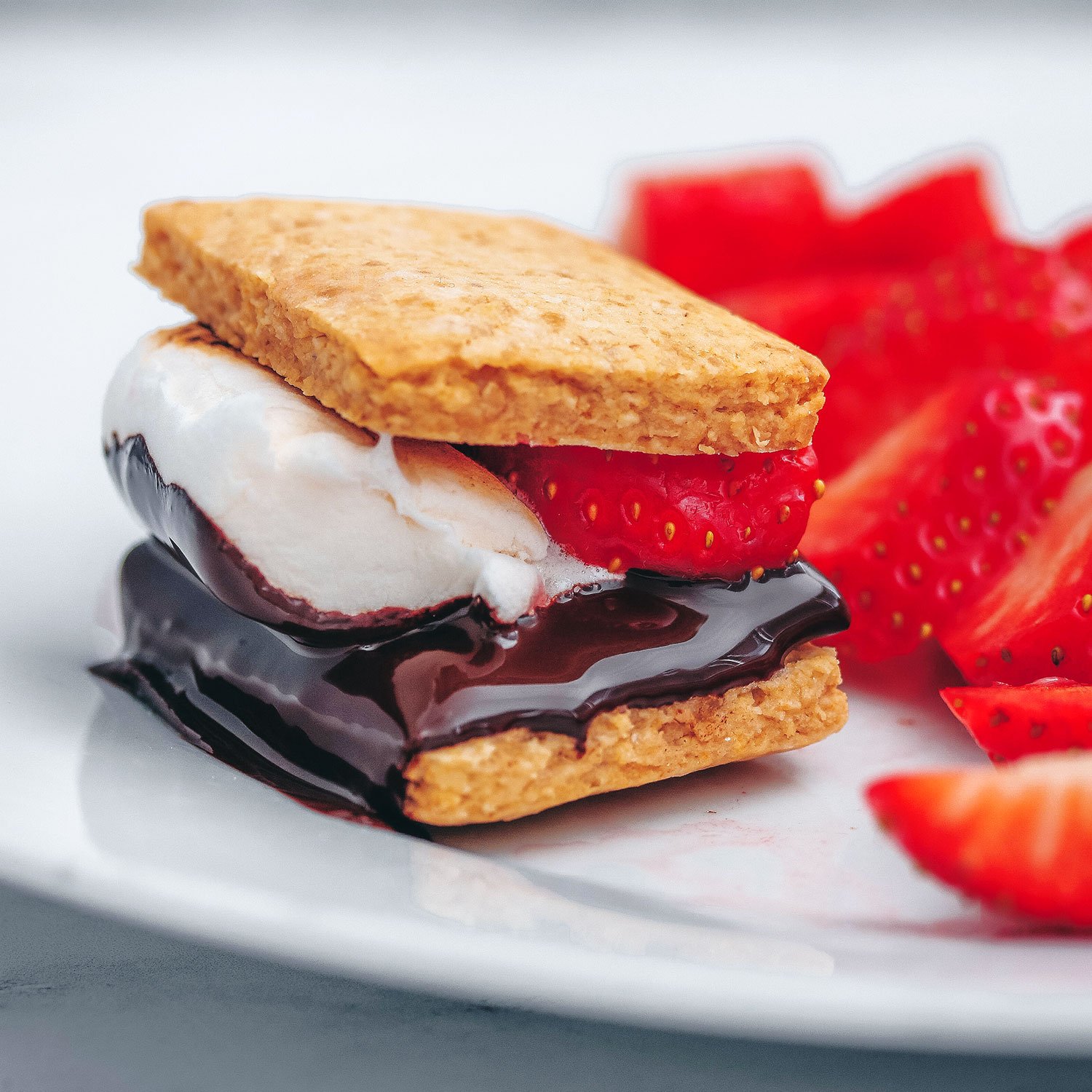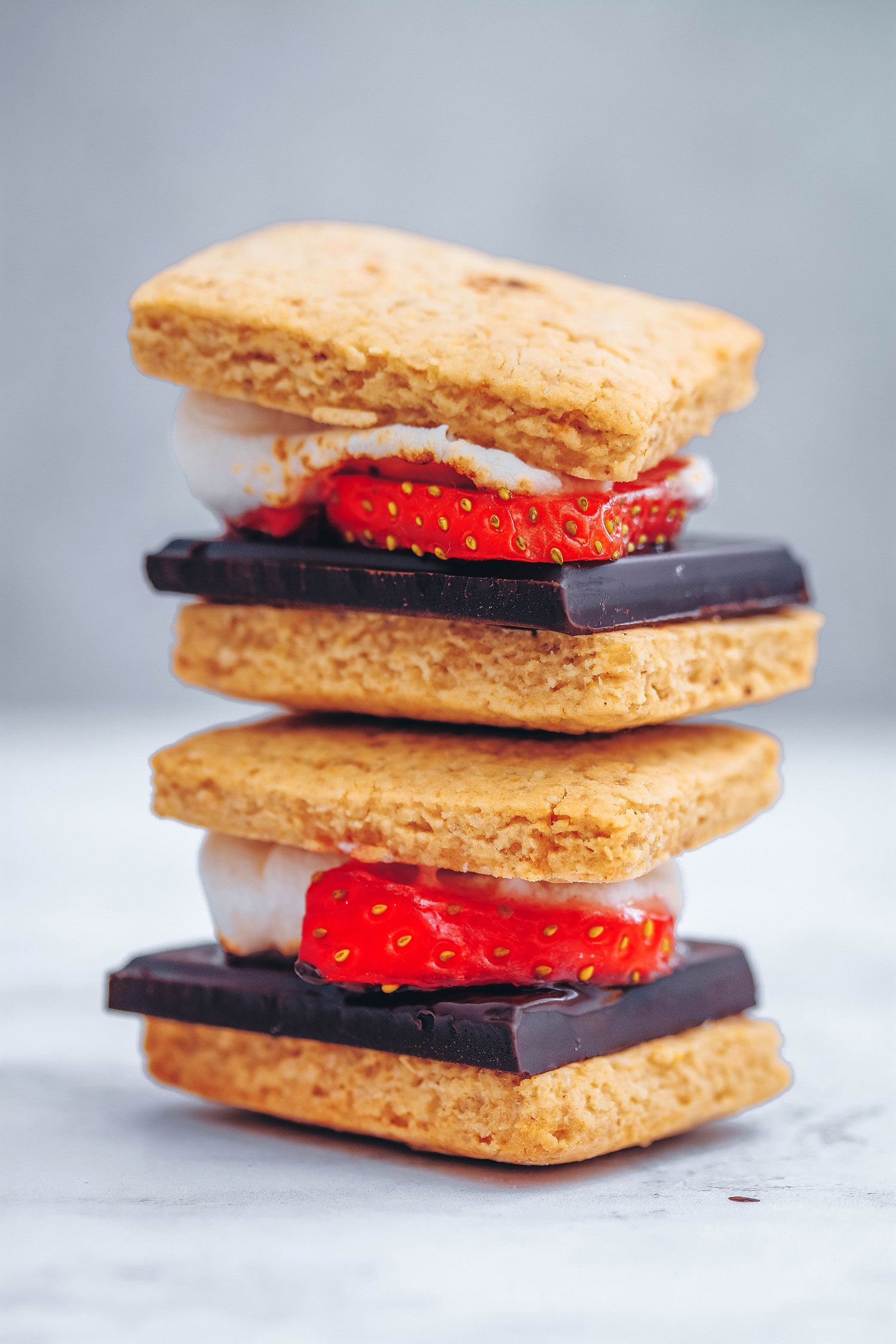 In celebration of the Royal Wedding, I've created a traditional American recipe with a British twist by adding in some chopped strawberries to give them a 'strawberries and cream' feel. Everyone is in agreement that strawberries and chocolate are the perfect match, so to me adding strawberries to chocolate and marshmallows seemed like the natural thing to do. Especially now that strawberries are now in season! Gotta love strawberry season 😀
These strawberry chocolate s'mores are completely vegan and gluten-free for those of you with allergies/diet preferences, but anyone and everyone can enjoy them really.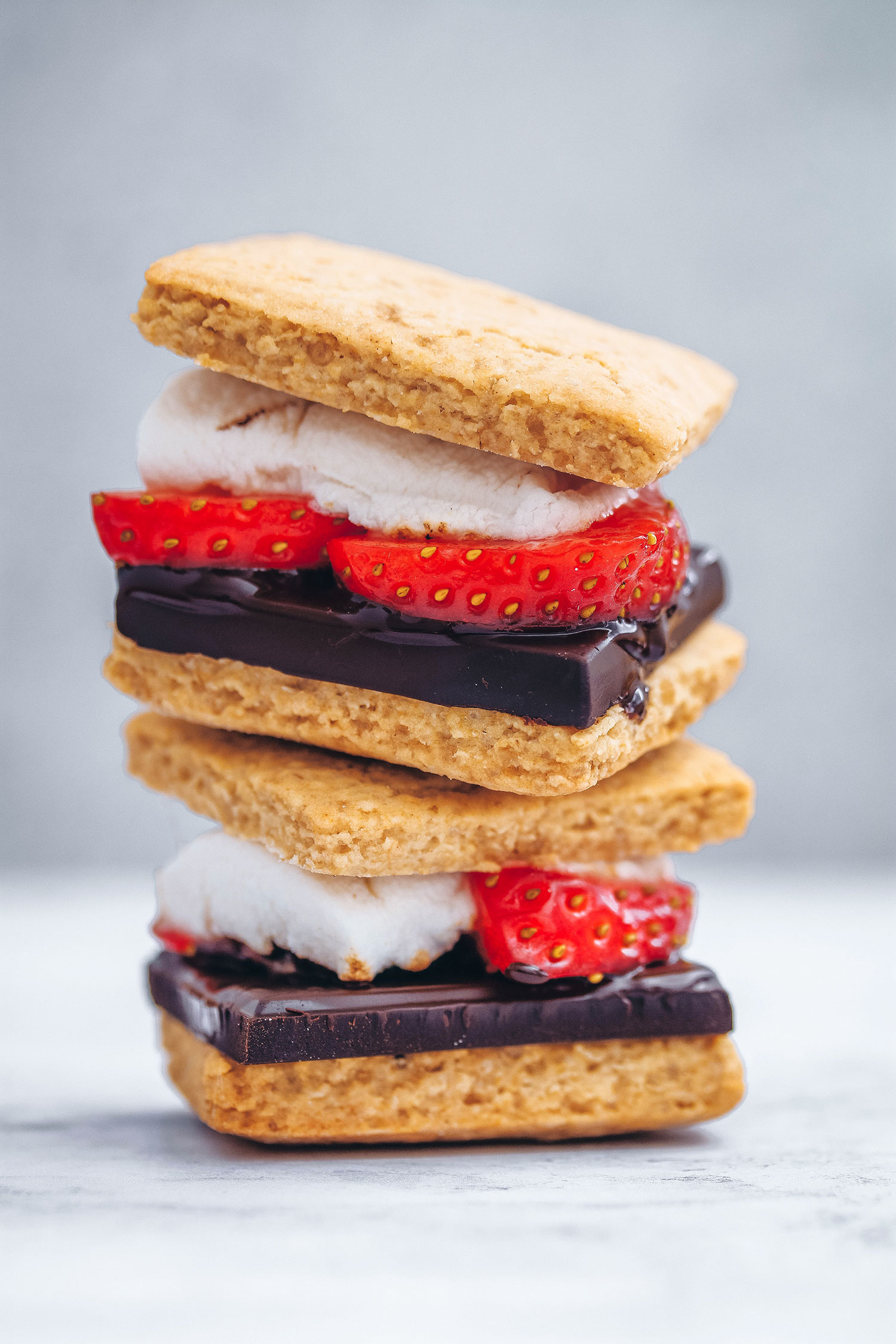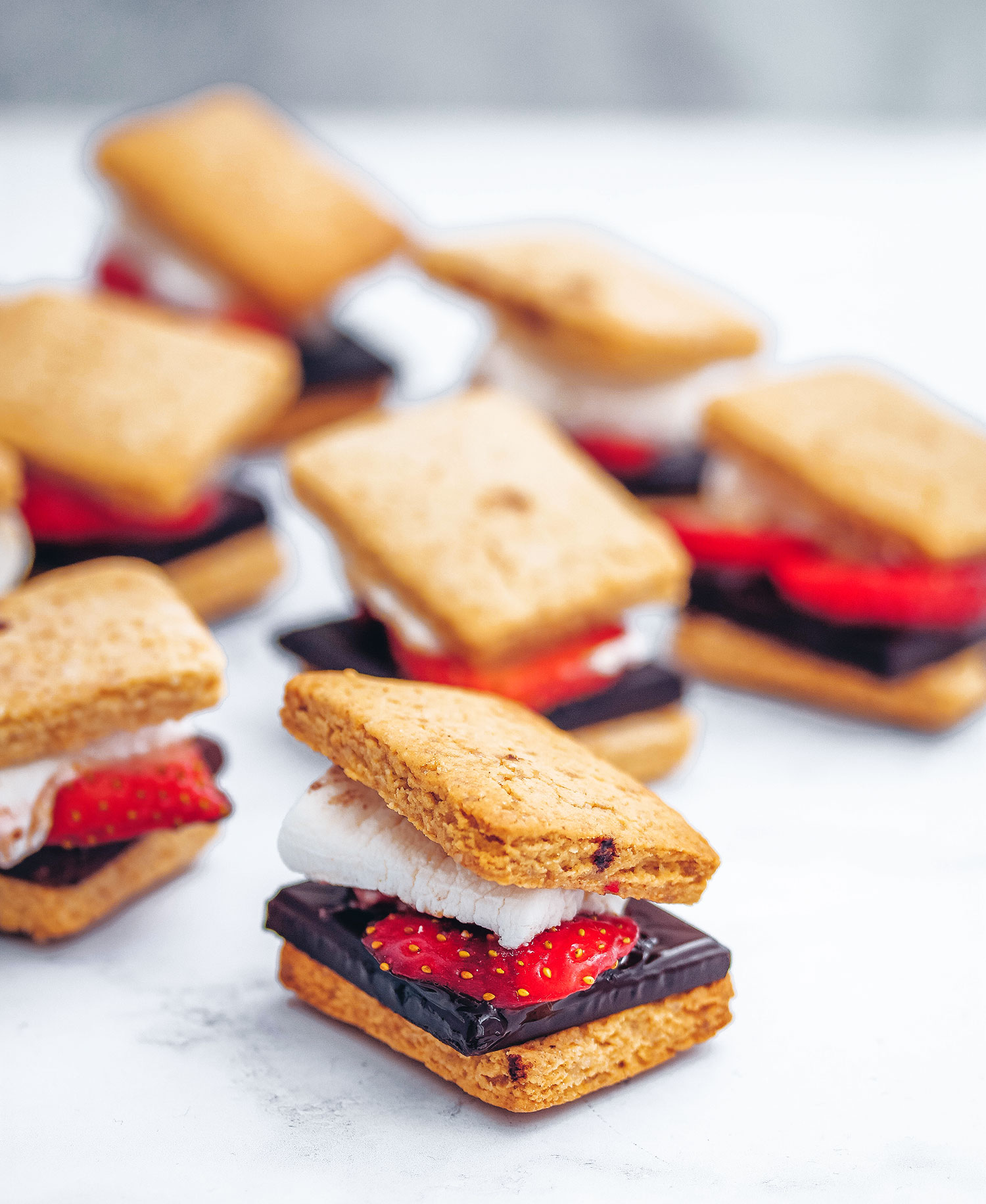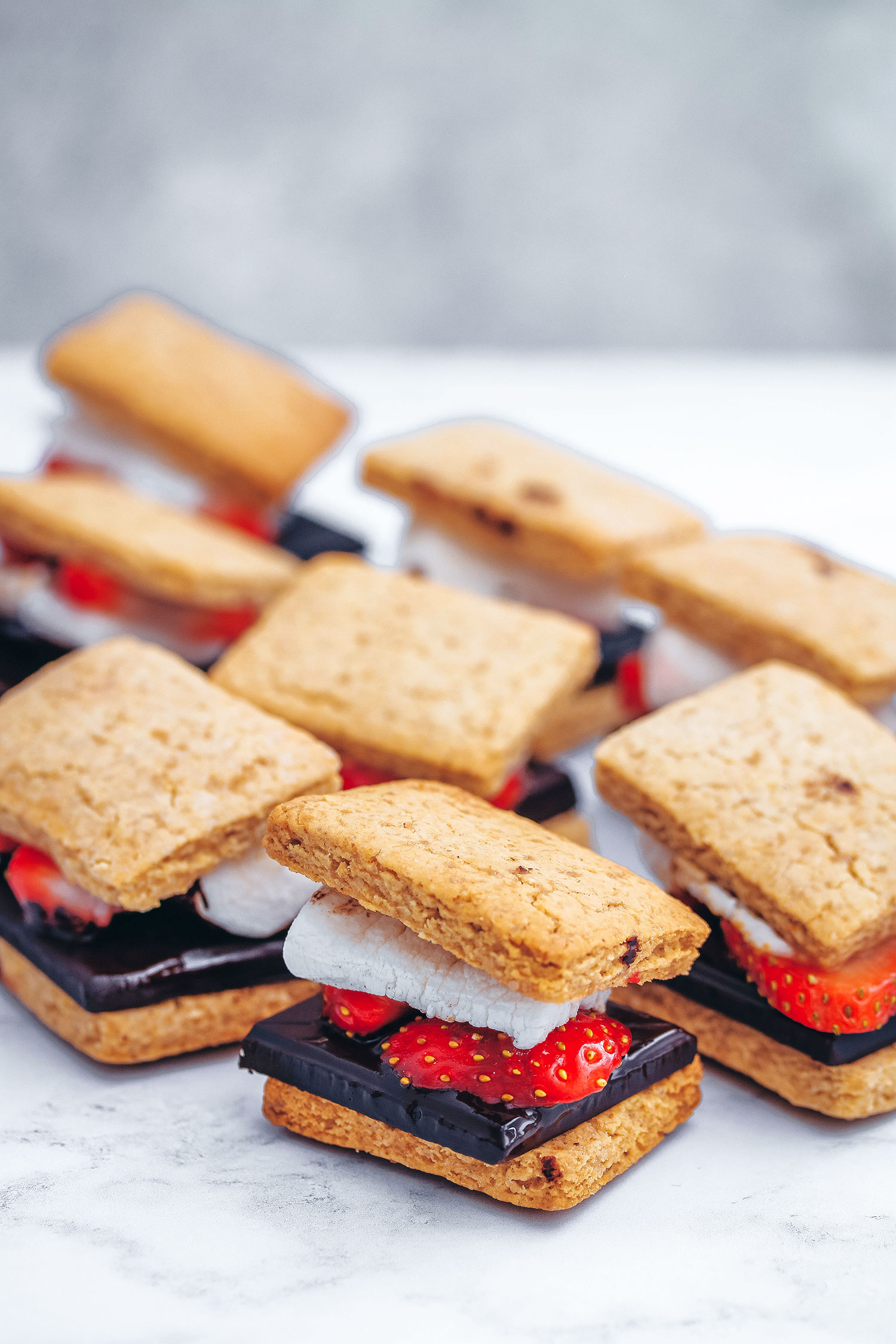 ---
Strawberry Chocolate S'mores
Makes: 20
For the Graham crackers
1 cup (115g) gluten-free oat flour – make your own by blending oats into a fine flour in your food processor/blender
¾ cup (135g) gluten-free plain flour
¼ cup (4 tbsp) coconut sugar or brown sugar
1 tsp baking powder
¼ tsp salt
¼ cup (4 tbsp) coconut oil, melted
¼ cup (4 tbsp) maple syrup
3 tbsp milk of choice
To assemble
20 marshmallows. For a vegan version you can use these or these.
20 squares of dark chocolate
Chopped strawberries
Method
Preheat your oven to 180°C (160°C fan assisted)/ 350°F.
In a large bowl, mix together the oat flour, GF flour, sugar, baking powder and salt
Pour in the melted coconut oil, maple syrup and milk. Mix to combine.
Wrap up the dough in cling film and chill in the fridge for 30 minutes.
Place dough on a lightly floured worktop. Roll out to a thickness of about 1/4 inch.
Use a star shaped (or any shape!) cookie cutter to cut out the cookies.
Arrange on a baking sheet covered with parchment paper and bake for 15-20 minutes. I like mine super crunchy so I left mine in for 20 minutes. Bear in mind the baking time will also depend on the size of your cookies.
Leave to cool completely.
To assemble:
Top one of the biscuits with a square of dark chocolate and chopped strawberries.
Toast a marshmallow over an open flame soft. Alternatively you can use a torch. Place the toasted marshmallow on top and sandwich the top biscuit on top. Press down slightly to help the marshmallow ooze out the sides a little.
Enjoy!
---

Share This Post