Delicious, healthy and balanced breakfast for coffee lovers. This vegan tiramisu overnight oats recipe is a great prepare-ahead-of-time breakfast to ensure you have the best start to your day.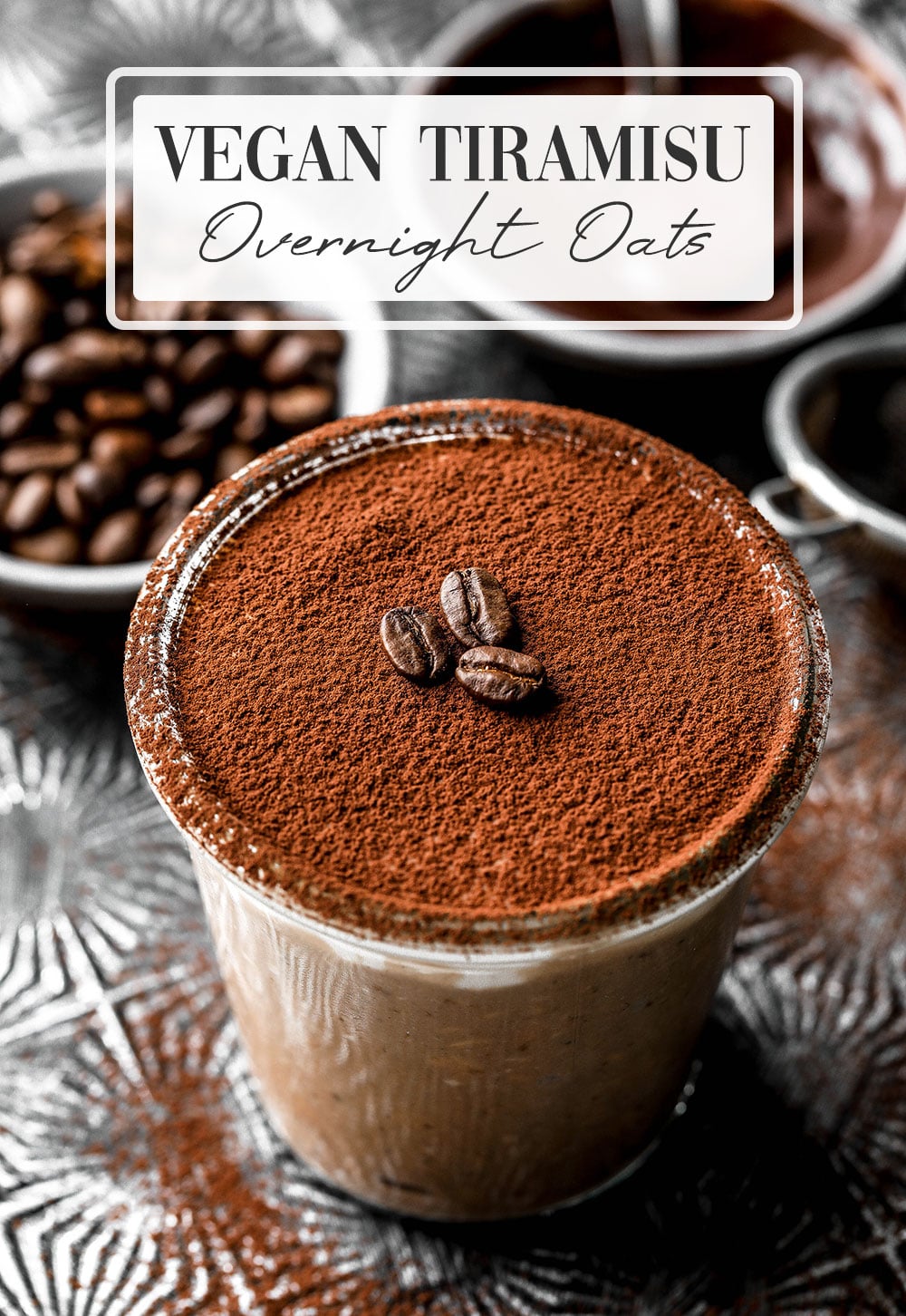 Overnight oats is such a life saver on busy mornings. I like waking up knowing I don't have to figure out what I'm having to eat. I also like knowing I don't have to lift a finger to prepare it! Especially if I'm rushing to get ready and step out of the door.
I'm the type of person that goes to bed already dreaming about breakfast. That can't be just me, can it? I wake up excited to eat breakfast, especially when I know it's already prepped. The beauty of making overnight oats is that you can change it up literally everyday and feel like you're eating something new, different and exciting. All the while knowing you're eating something nutritious AND delicious.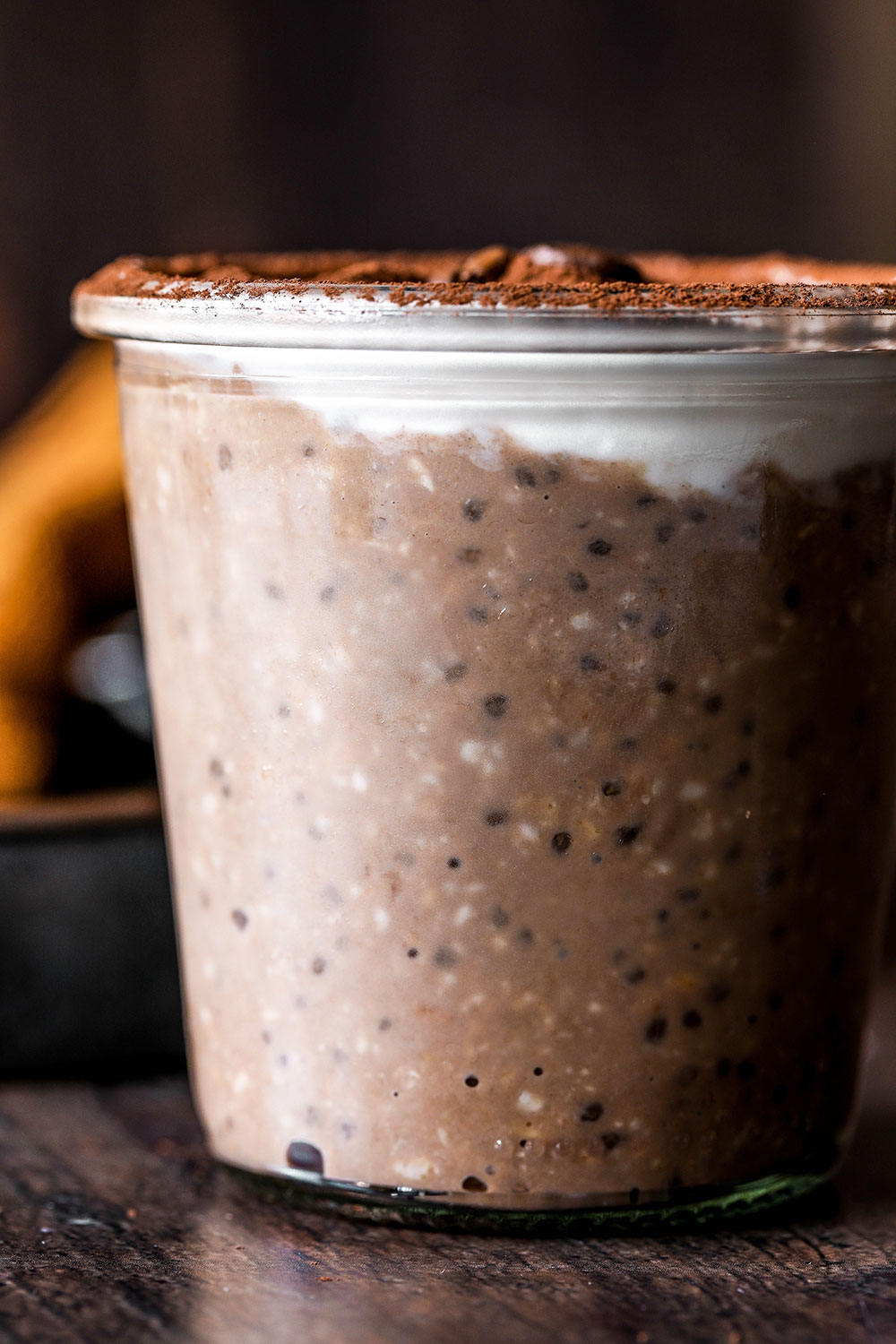 I usually make my overnight oats with some sort of fruit/berries and tahini or peanut butter. I've been getting back into drinking coffee lately after cutting it out for a long time. Reasons being I felt caffeine in general was making me feel jittery – something a person with anxiety doesn't really need. I decided to cut it out for a while and see how I get on.
Months went by without even thinking about coffee, but one day I was in a cafe and decided to order an iced coffee for a change. I was relived to discover it wasn't followed by an episode of jittery restlessness. That's when I decided to start drinking it on a daily basis again and I'm so glad I was able to. As a HUGE coffee fan, I really started to miss it, even the smell of it.
To celebrate the fact I've been able to reintroduce it into my diet, I've been using coffee in a few of my recent recipes, like these coffee chocolate magnums and no-bake cheesecake. This time I wanted to incorporate it into a breakfast recipe – that's when this vegan tiramisu overnight oats recipe was born.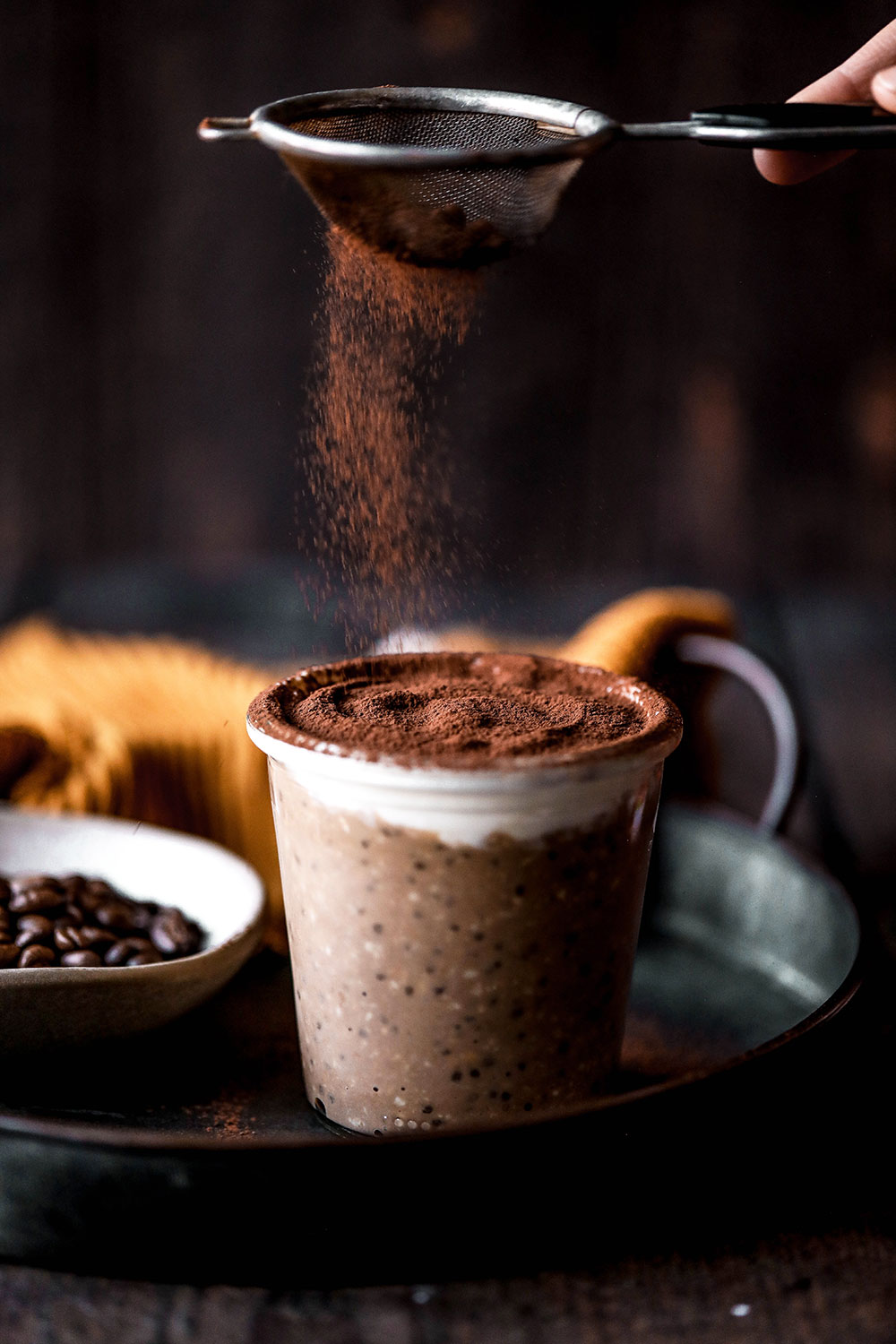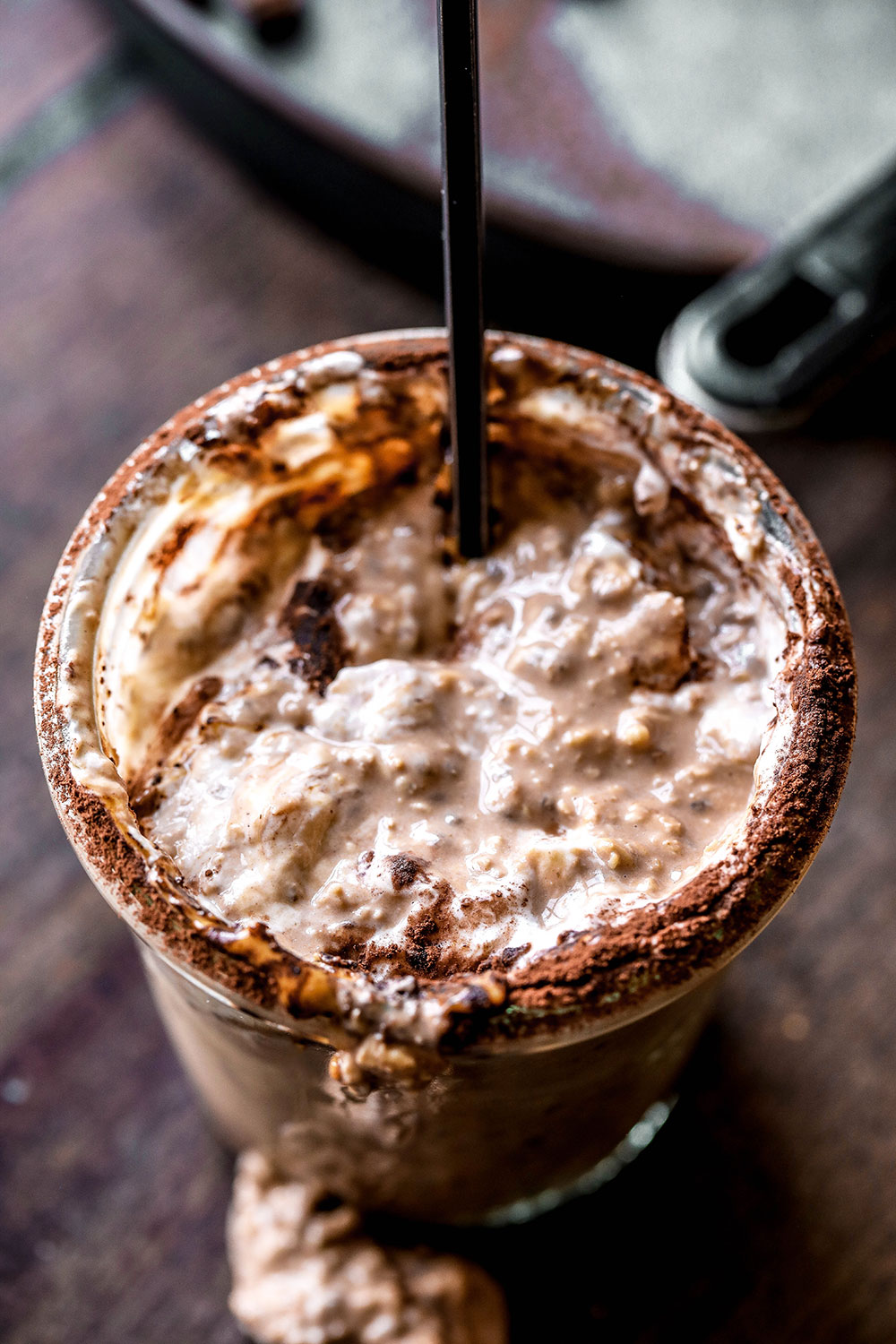 What you need to make this vegan tiramisu overnight oats recipe:
Oats – a great breakfast option to keep you feeling full and sustained. It's high in fibre, meaning it's broken down slower in your digestive tract releasing glucose more steadily throughout the morning.
Protein powder – I always make sure there's a good source of protein in my breakfasts to keep me satiated. Protein is an essential building block in muscle, bone, skin, hair, etc. Did you know that almost all hormones are protein in nature? It's an essential macro nutrient used in virtually every part of the body. That's why it's important to include it in every meal and ensure you meet your daily recommended requirements.
Any protein powder will work. I like to use either vanilla or chocolate flavoured.
Yoghurt – any type of yoghurt will work. I love the plant-based Greek style yoghurt because it's thick and creamy. Choose one with live cultures if you can to get the benefits of probiotics.
Milk of choice – again, any milk will work. I usually use oat or almond milk.
Coffee – A shot of coffee is essential in any Tiramisu based recipe. I would recommend adding 1 shot of espresso. I don't own a coffee machine, so I used 1 tsp of instant espresso powder and mixed it with 2 tbsp of hot water. If you're avoiding caffeine, you can use decaf coffee of choice.
Almond butter – to add extra creaminess and to balance the carb, protein and fat content of this meal. You can use any nut butter you like. I find almond butter works well since it has a milder taste compared to things like peanut butter or hazelnut butter.
Chia seeds – another source of healthy fats and fibre.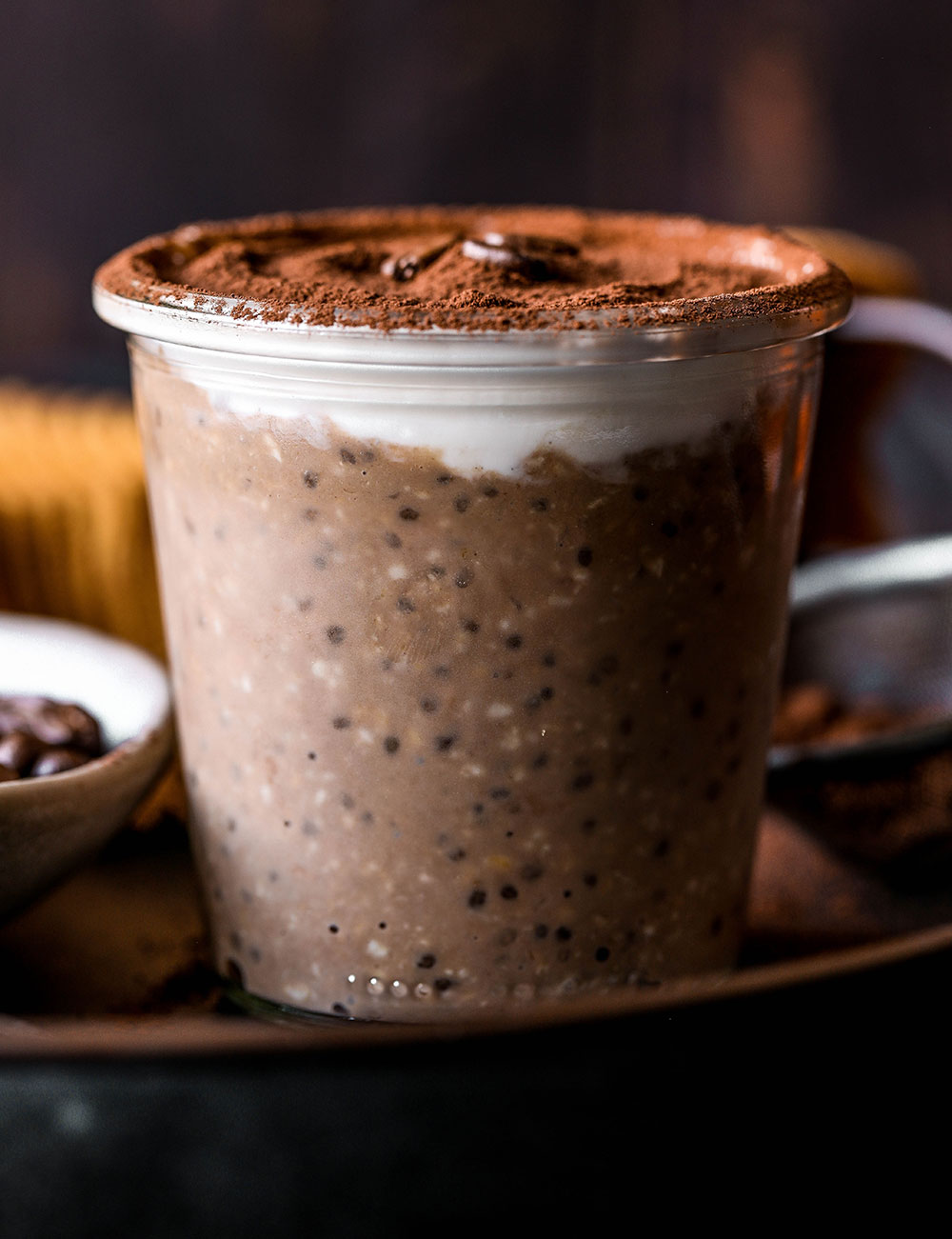 Reasons why you need to try this vegan tiramisu overnight oats recipe:
It's easy to make – all you have to do is mix everything together in a bowl/container.
It's healthy – you know you're starting your day with a balanced breakfast with good amounts of carbs, fat and protein.
It's satisfying – the protein and fat content will ensure you don't get a blood sugar spike followed by a crash. A balanced breakfast also means you'll feel full and satisfied until lunch time!
It's convenient– I've already mentioned how great it is waking up in the morning knowing breakfast is ready and waiting for you in the fridge! It's also handy to take on-the-go if you don't have time for a sit down breakfast.
It's delicious – The balance of coffee and chocolate with the creaminess of the oats makes for a super yummy and satisfying sweet breakfast.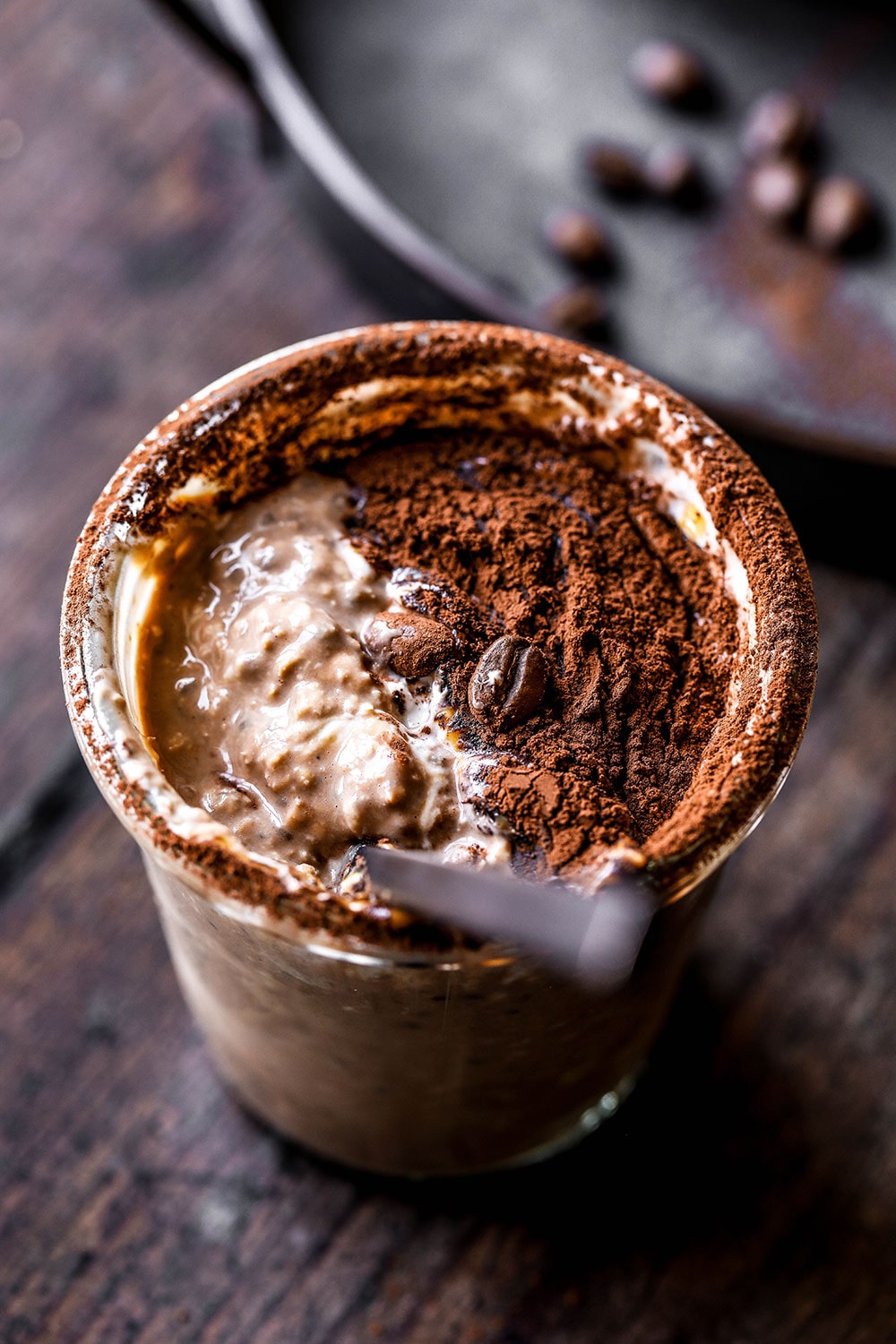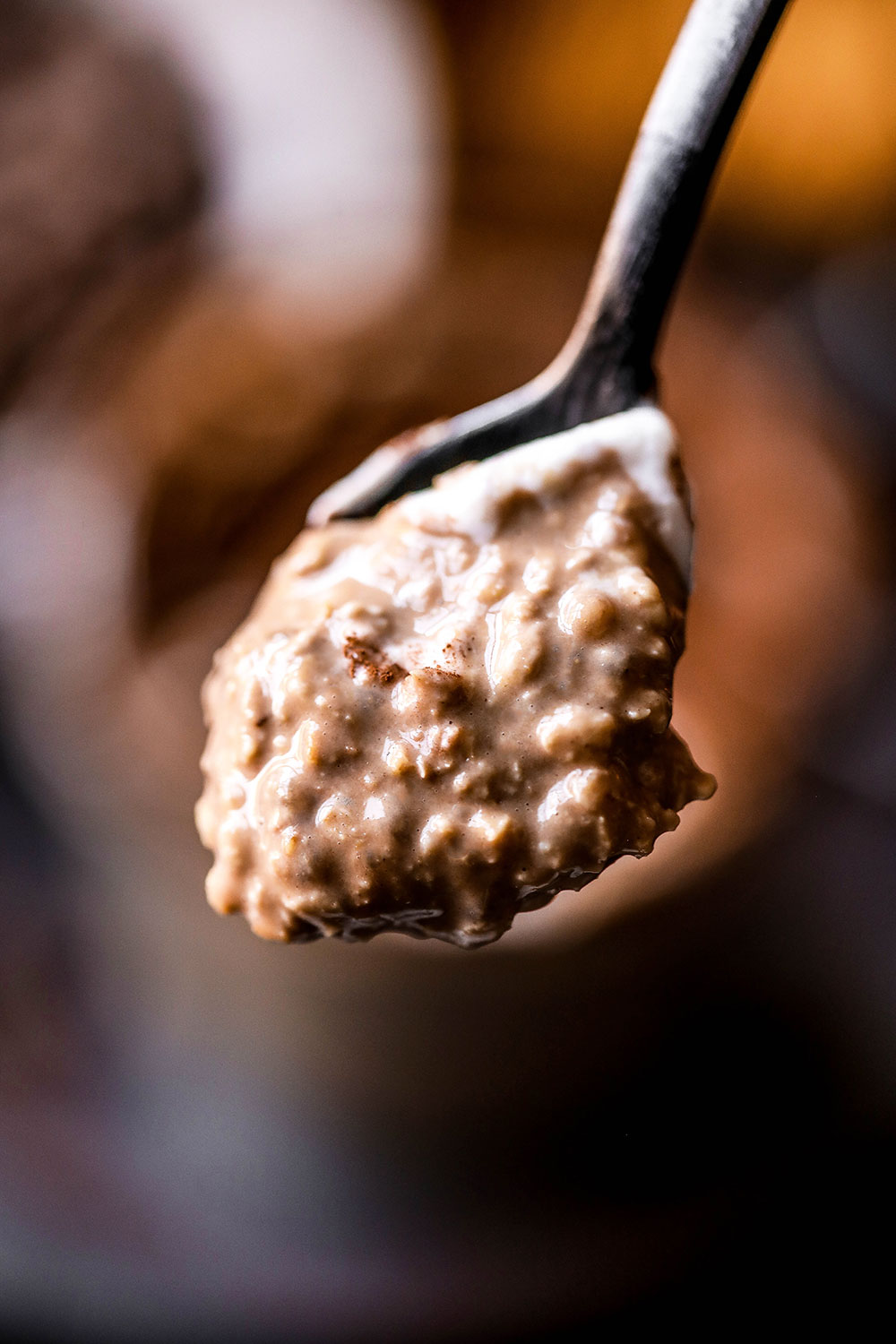 Vegan Tiramisu Overnight Oats
Vegan Tiramisu Overnight Oats - convenient make-in-advance breakfast that's delicious and healthy! It's also high in protein. Perfect for coffee lovers.
Ingredients
40g

rolled oats

use gluten-free oats if necessary

2

tbsp

vegan protein powder

vanilla or chocolate flavoured

1

espresso shot

120ml

milk of choice

60g

yoghurt

any type will work

1/2

tbsp

almond butter

or nut butter of choice

1/2

tbsp

chia seeds
For the topping
2

tbsp

yoghurt

any type will work

1

tsp

cocoa powder
Instructions
Mix all the ingredients together in a bowl or Tupperware. Cover and leave to chill in the fridge overnight or at least 4 hours.

In the morning, transfer into a jar/bowl and top with 2 tbsp of yoghurt and a dusting of cocoa. Enjoy!
Notes
You don't have to use protein powder if you don't have any, but I would recommend using it as it makes it a much more balanced meal.
I used chocolate protein powder, which added a bit of sweetness, so I didn't feel the need to add maple syrup. If you like a sweeter breakfast you can add a little bit of your sweetener of choice.
Any nut butter will work, although I prefer almond butter because it has a milder flavour.
Nutrition
Calories:
354
kcal
Carbohydrates:
30
g
Protein:
23
g
Fat:
15
g
Saturated Fat:
2
g
Polyunsaturated Fat:
3
g
Monounsaturated Fat:
1
g
Sodium:
93
mg
Fiber:
10
g
Sugar:
1
g