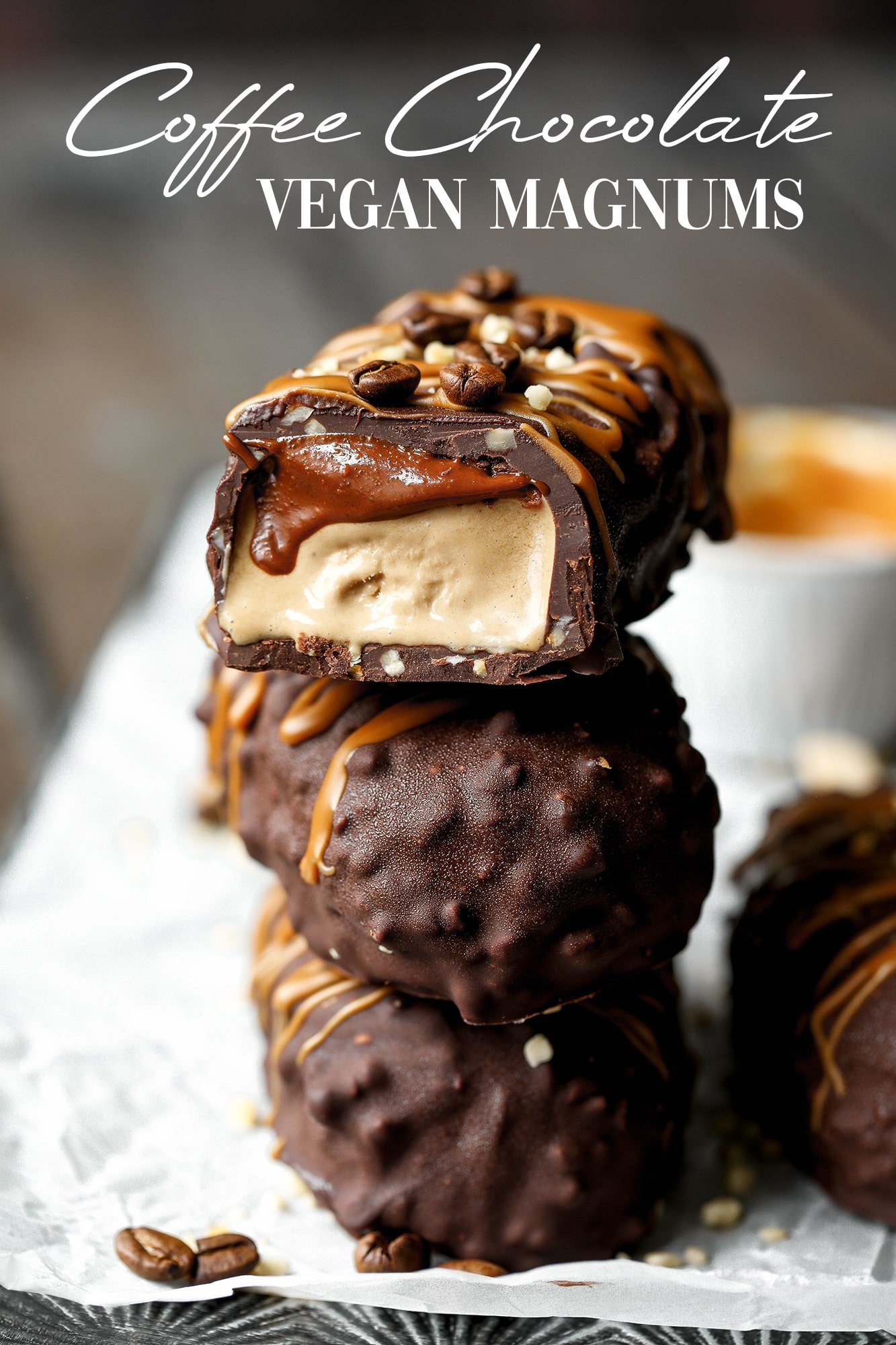 A magnum ice cream for adults! These vegan coffee chocolate magnums are perfect for coffee and chocolate lovers and make a nice change to the usual magnum flavours that you get in the shops.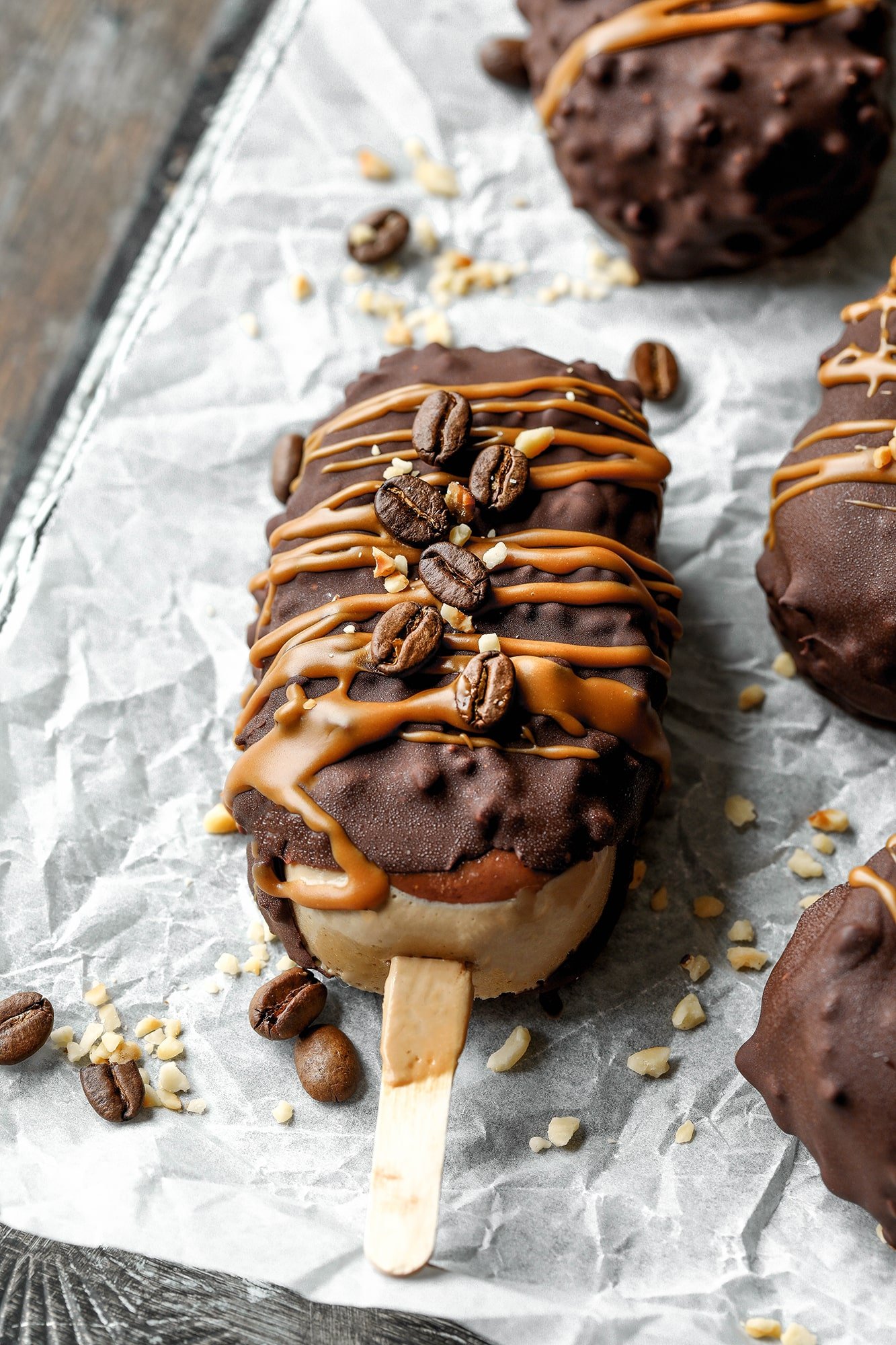 There's nothing more delicious and satisfying on a hot summer day than ice cream. Am I right or am I right?
When it comes to ice cream, magnums will always be my number one choice. It's the chocolate shell that does it for me. I Just can't resist anything with a bit of a crunch, and that applies to ice cream too. The crunch in that first bite is just too satisfying! Plus you know how much I love my chocolate, so chocolate + ice cream is always going to be a winner in my books.
When it comes to ice cream flavours, I honestly think coffee is so underrated. My partner and I were lucky to be able to visit Rome a couple of months ago for his birthday, and I didn't realise how important coffee was in Italian culture. They're also really big on coffee flavoured ice creams, which isn't really a thing here in the UK.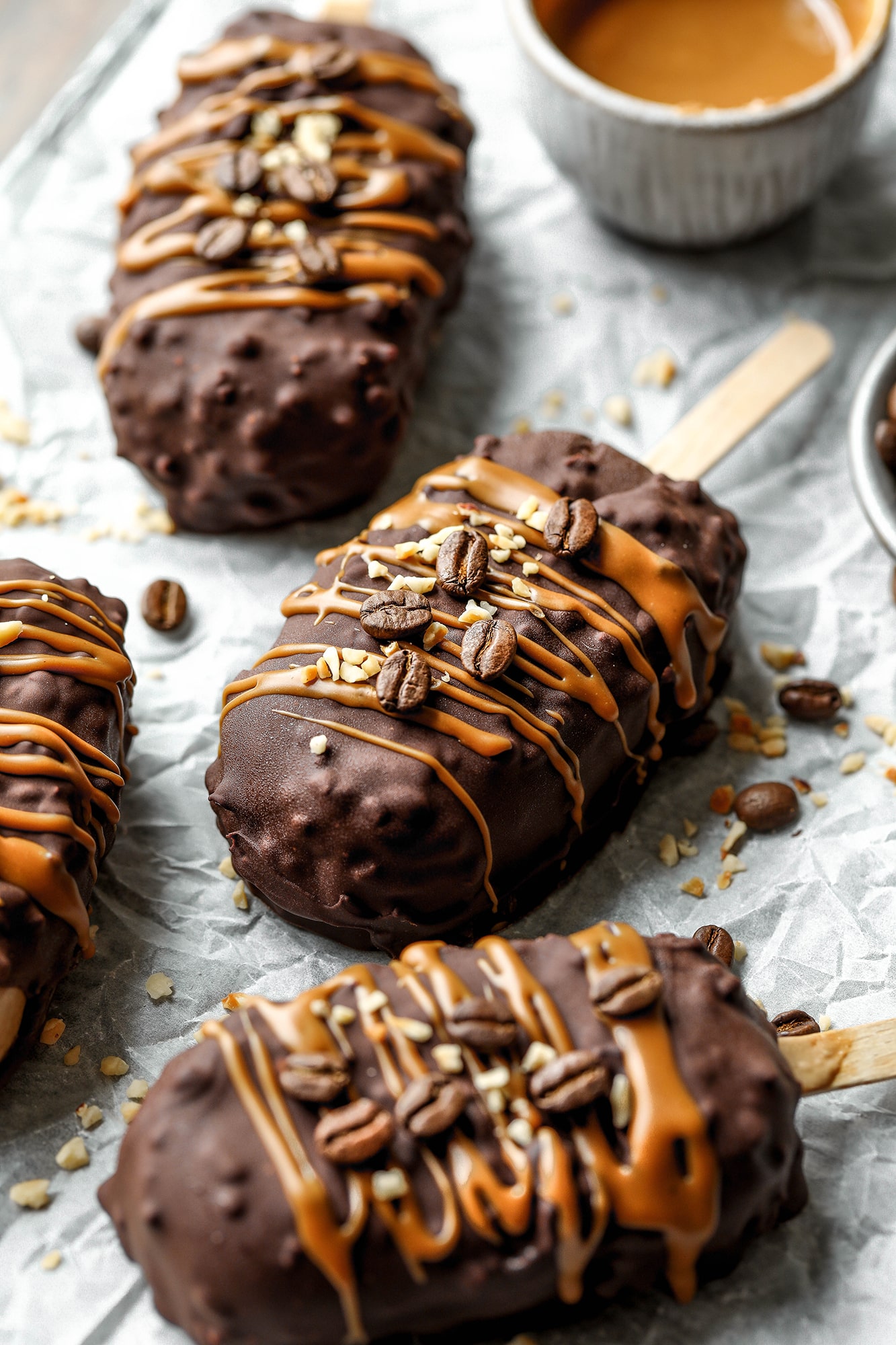 I love coffee, but unfortunately it doesn't sit well with me. I can only drink it when I know I'll be out and about or doing something where I'm burning energy, otherwise it leaves me feeling jittery, anxious and on edge. Thankfully coffee ice cream doesn't have the same effect. I guess there just isn't as much caffeine in flavoured ice cream as there is in a cup of coffee. If I'm out somewhere and I see coffee ice cream, it will always be the first flavour I go for. Like chocolate, the bitter taste of coffee goes so well with the creaminess of ice cream, but also it makes it so it's not so sickly sweet like other ice cream flavours can be.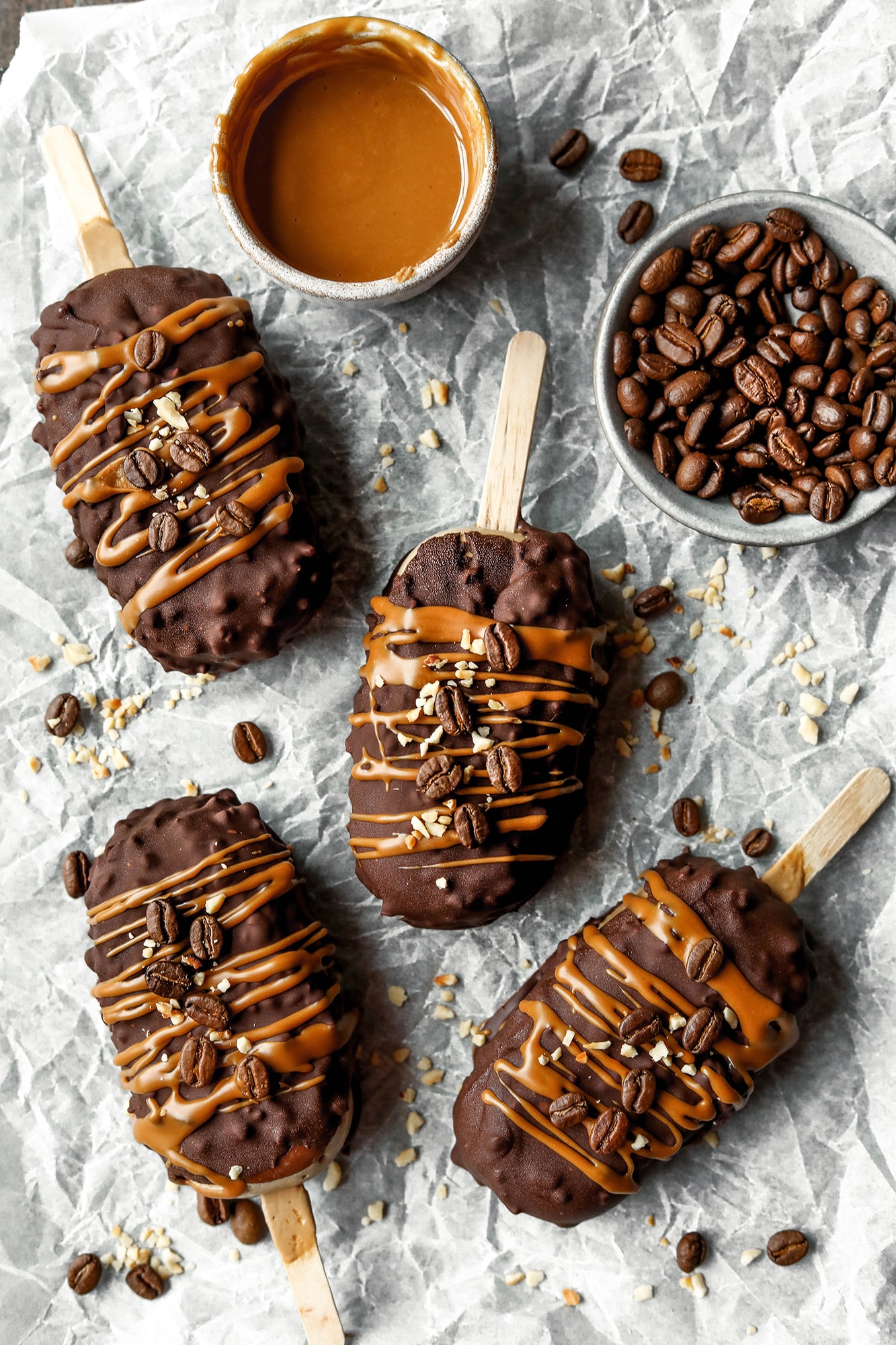 To make these vegan coffee chocolate magnums, I used full fat canned coconut milk and cashews to create a creamy filling without using any dairy. I don't like my treats overly sweet, so I only used 5 tbsp (60ml) of maple syrup for the whole recipe. You can use as much or as little maple syrup as you like depending on your preference.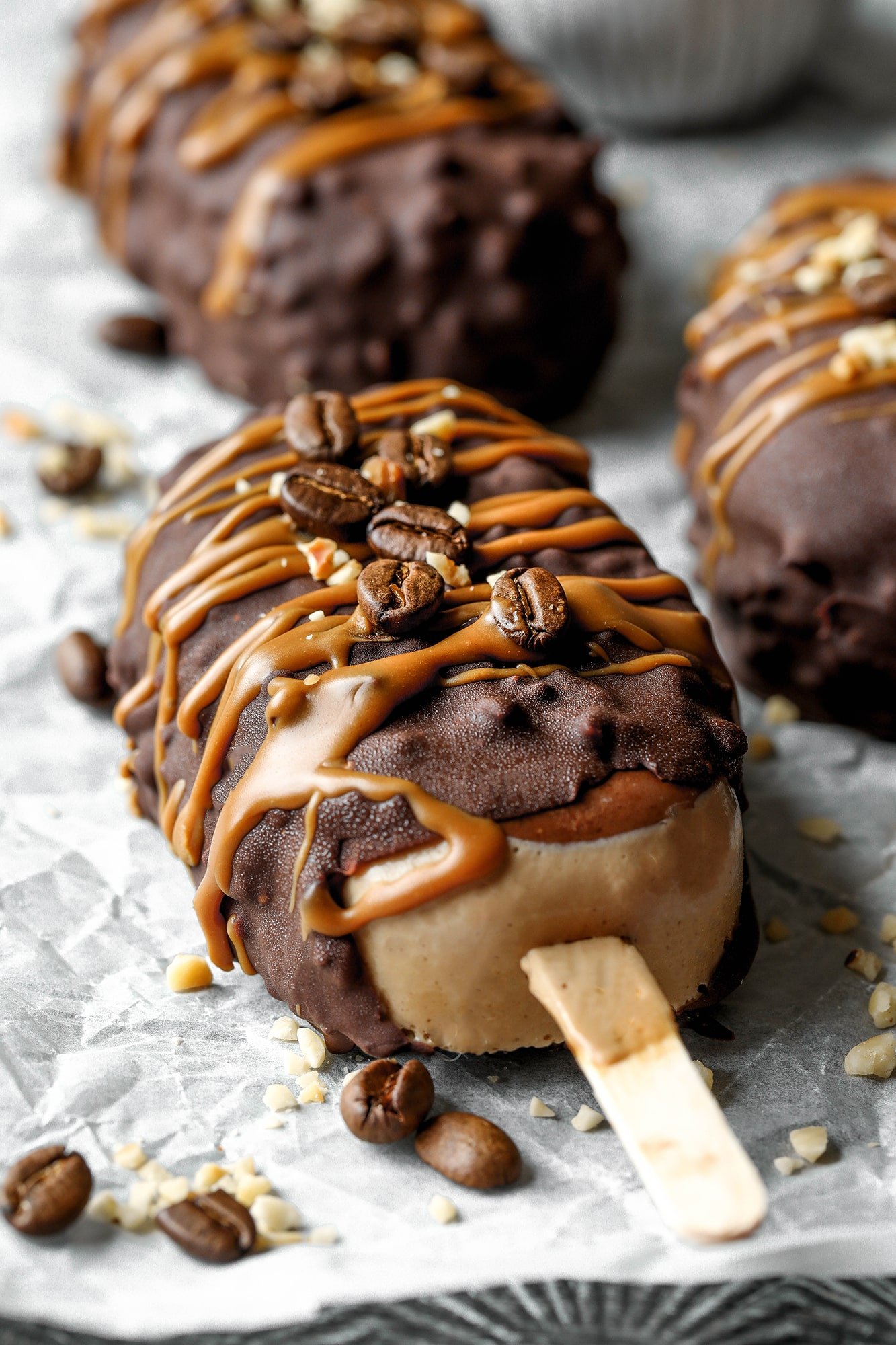 I also added a layer of chocolate peanut butter in my coffee magnums to make them even more yummy and interesting, but you can leave that step out or use another nut butter/spread. I also decided to add some chopped hazelnuts in the chocolate coating for even more of a crunch – the more crunch the better!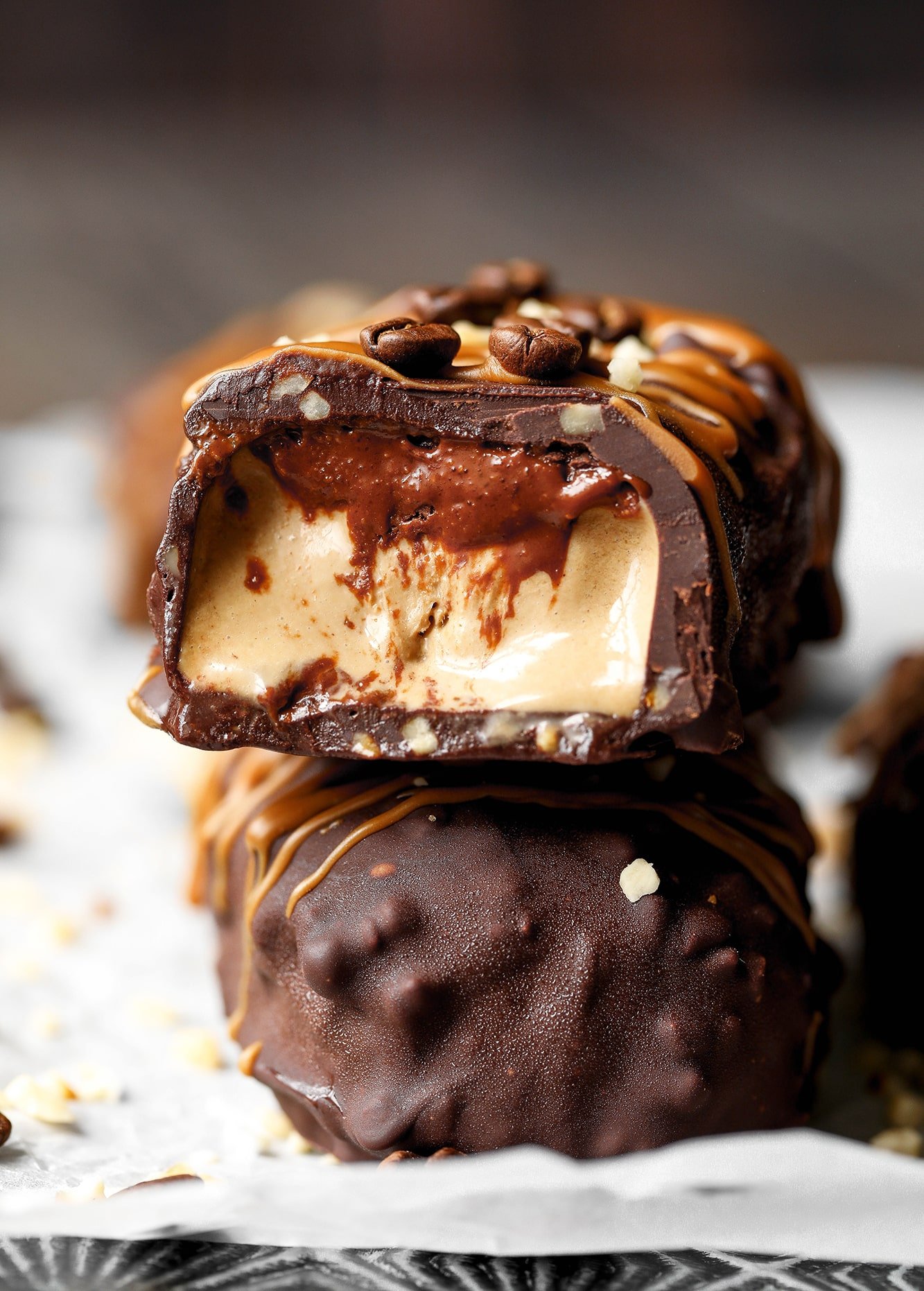 Vegan Coffee Chocolate Magnums
Makes – 4
Ingredients
250g (1 cup) canned full fat coconut milk*
65g (1/2 cup) cashews, soaked overnight
80ml (1/3) cup maple syrup
2 tbsp instant coffee
A pinch of salt
4 tsp chocolate peanut butter (I used Bulk chocolate brownie peanut butter)
For the chocolate coating
150g dark chocolate, melted
2 tbsp chopped hazelnuts
Method
Refrigerate 2 cans of coconut milk overnight, then remove the solid part of the coconut cream and discard the water.
Drain and rinse the soaked cashews and add to a high speed blender along with the rest of the ingredients (minus the chocolate peanut butter). Blend on high until smooth.
Spread 1 tsp of the chocolate peanut butter in each of your magnums moulds (I used these moulds), and top with the coffee ice cream.
Freeze for 4 hours, or until set.
Melt the dark chocolate and transfer into a long glass (make sure to use one wide enough to dip the magnums in), and fold in the chopped hazelnuts.
Dip the frozen magnums in the chocolate mixture, then arrange on a sheet/chopped board lined with baking paper. Allow the chocolate to set (you can place them in the fridge for a few minutes to help speed this along), then they're ready to serve!
* For a creamier ice cream, you want to use the creamy part of the coconut milk. The way to do this is to refrigerate a can of full fat coconut milk to allow the cream part to solidify. This was you can use the coconut cream and discard the watery part.