Healthy Homemade Ferrero Rocher
Chocolate + hazelnut is one of the best sweet flavour combinations ever! Think things like Nutella and Ferrero Rocher. I don't know anyone who dislikes either and they're equally decadent and moreish making them extremely difficult to resist. Once you have a spoon of Nutella, you just HAVE TO have another one. The same goes with Ferrero Rocher. I'm never satisfied with just the one, I have to have at least ten two.
Over Christmas and new year's is when I need to fight my urge to inhale all the Ferrero Rocher presented in front of me. They're literally everywhere! At the entrance of supermarkets and department stores, at relative's houses and at least one person will give you a box as a gift.
Needless to say I didn't actually have any this time around. I made a conscious decision that my digestive health came first and I didn't want to do anything to upset it. But now, I'm left with this intense craving for one. I've basically been thinking about them non-stop since December. OK, perhaps I'm exaggerating a little there :P, but I have been wanting to create a healthier version of Ferrero Rocher for weeks now. The time has come for me to share with you my own healthier version.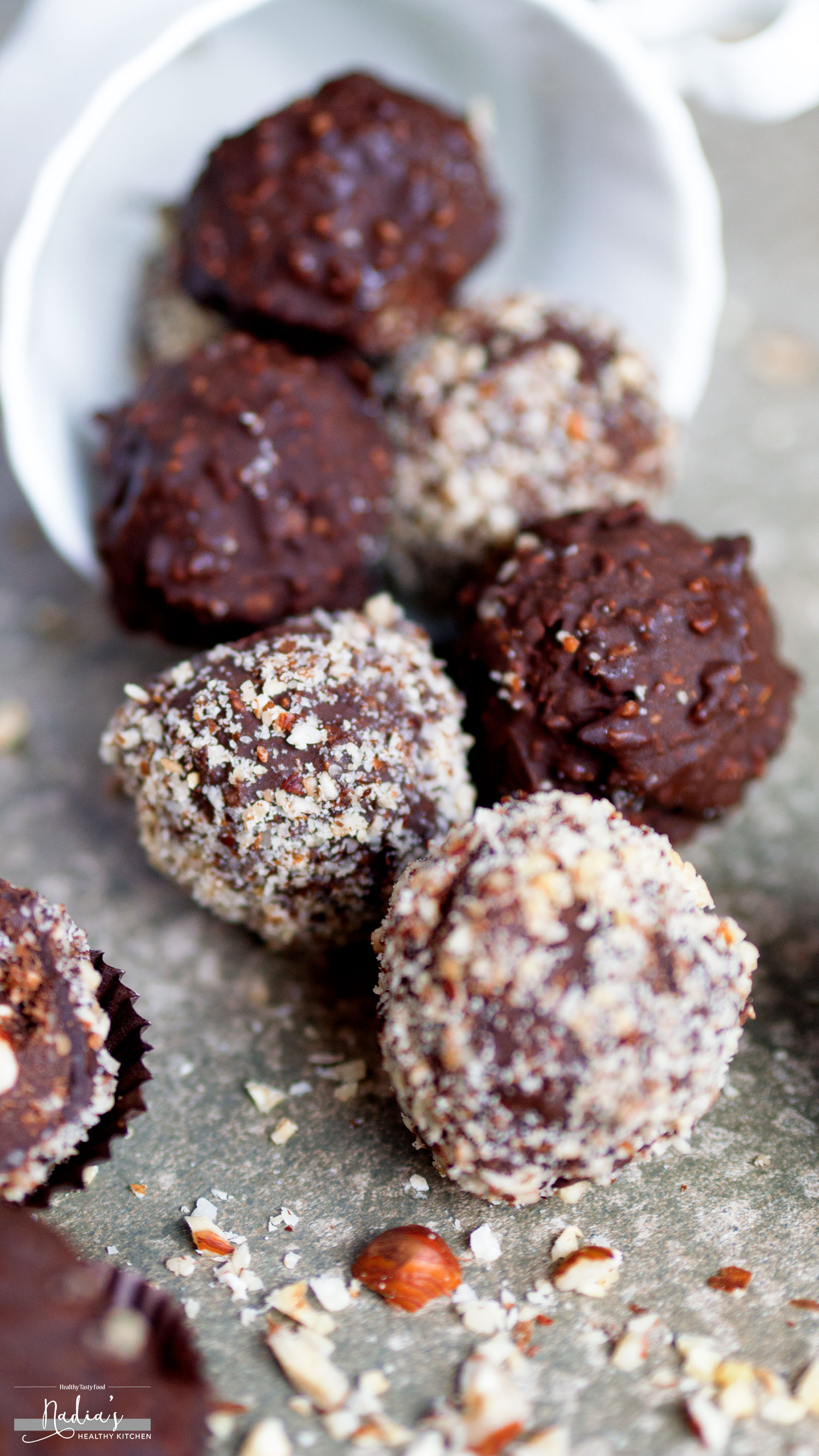 They're simple, sweet, delicious and definitely moreish – exactly the kind of qualities I look for in a healthy treat. Made with 70% dairy-free dark chocolate, hazelnut butter, hazelnuts, a little bit of coconut oil and Real Health Manuka honey.
Manuka honey is harvested from the Manuka bush native to New Zealand and Australia. Containing anti-bacterial properties and high in antioxidants, Manuka honey is very different to the honey you buy from the supermarket shelves. Manuka honey contains a substance called methylglyoxal, which acts as an anti-bacterial and inflammatory agent. It also contains the antioxidant pinocembrin, which helps boost immunity. Regular honey is usually pasteurised so would have lost this property in the packaging process.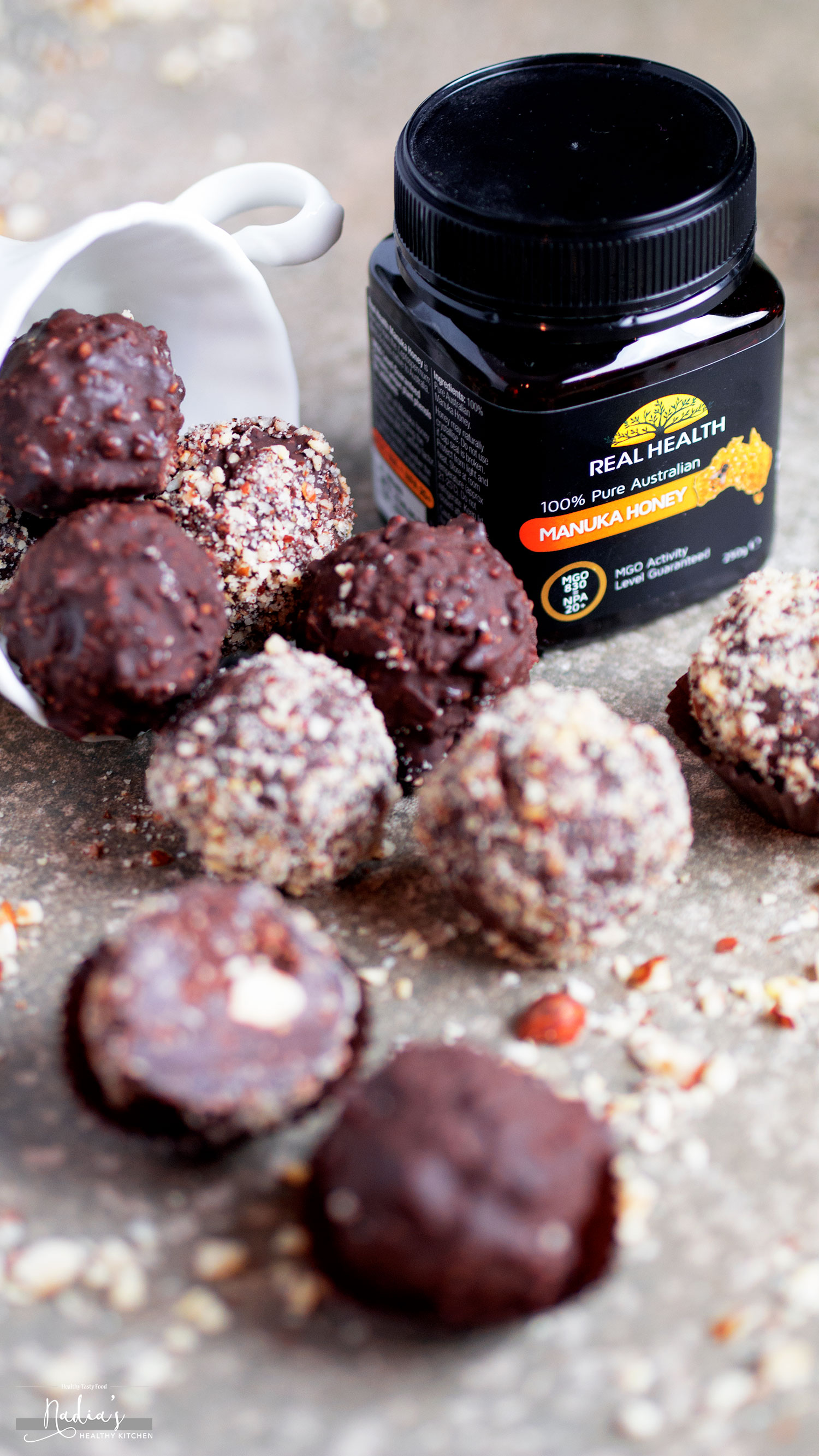 When buying Manuka honey, look for a MGO number. This refers to the concentration of methylglyoxal in each individual tub of honey. The higher the MGO the higher the concentration of the substance.
To make sure I get the most out of the benefits Manuka honey has to offer, I try to use it in raw/no bake recipes to make the most out of the benefits it has to offer. It was the perfect sweetener option for this healthy homemade Ferrero Rocher recipe.
This recipe is the perfect treat for anyone with a massive sweet tooth and the best cure for your chocolate cravings! Full of healthy fats and antioxidants from both the honey and dark chocolate!
You can get Real Health Manuka honey from Boots and Holland & Barrett. Make sure you get a tub with a higher MGO number, preferably 500 (NPA 15+) or above.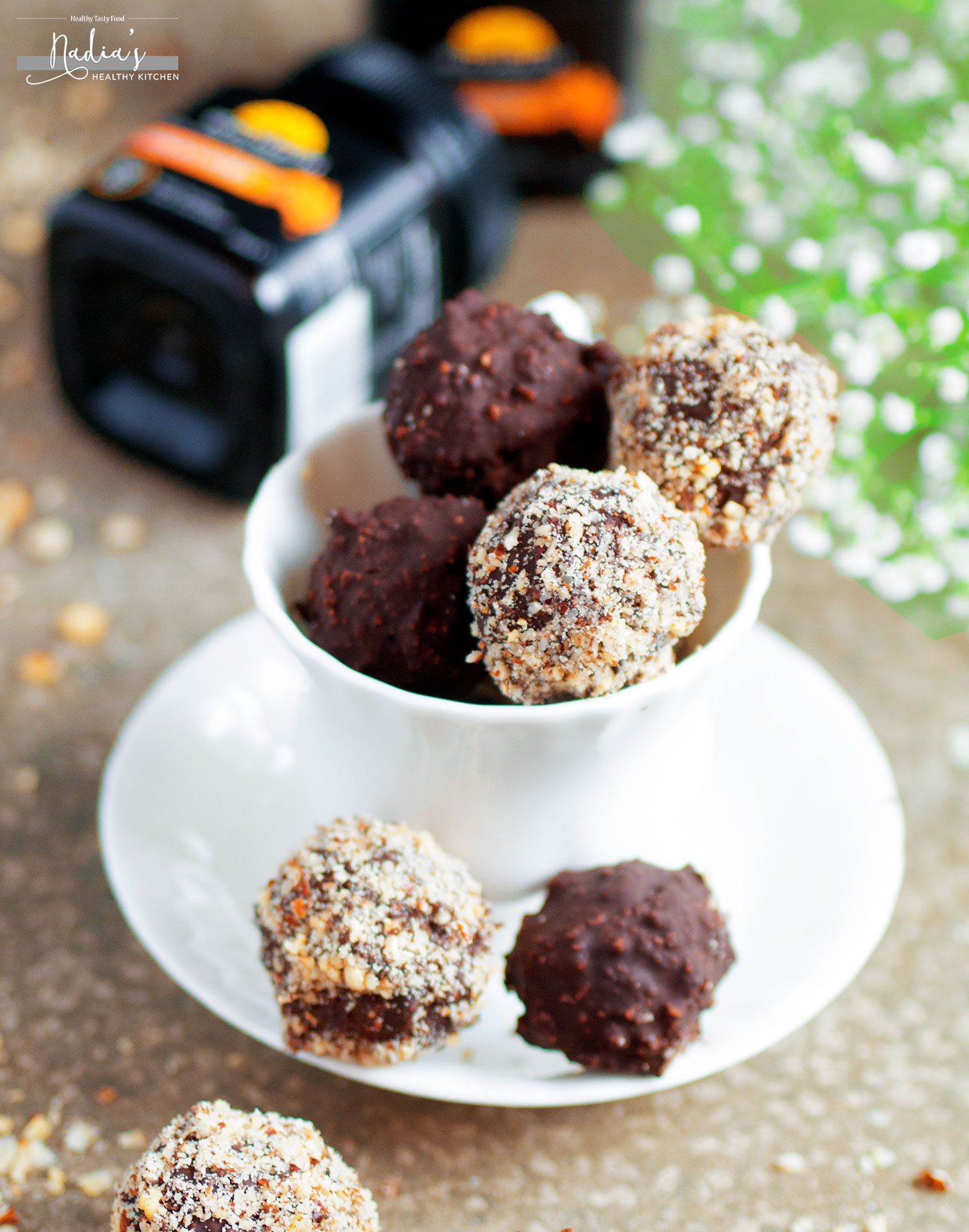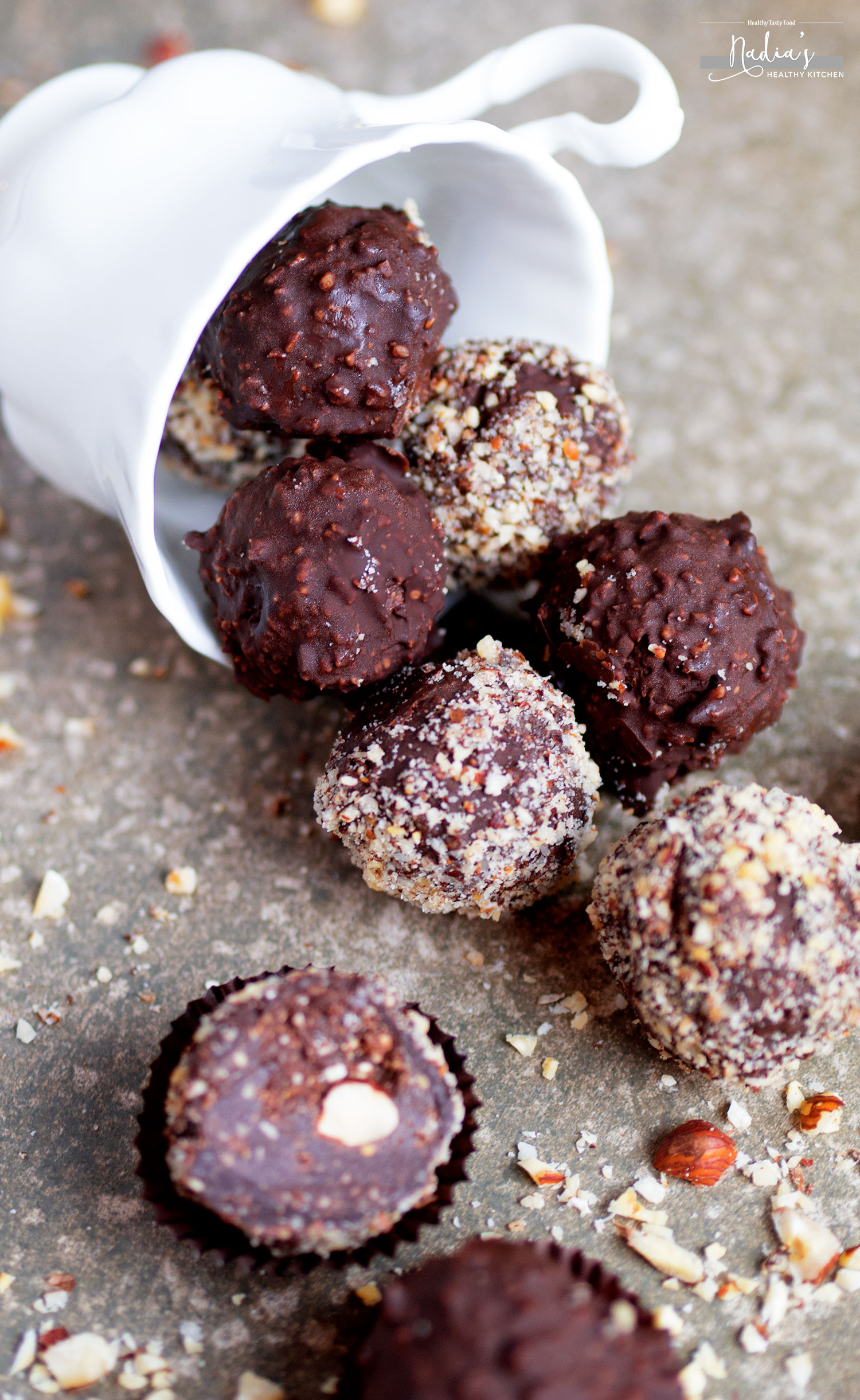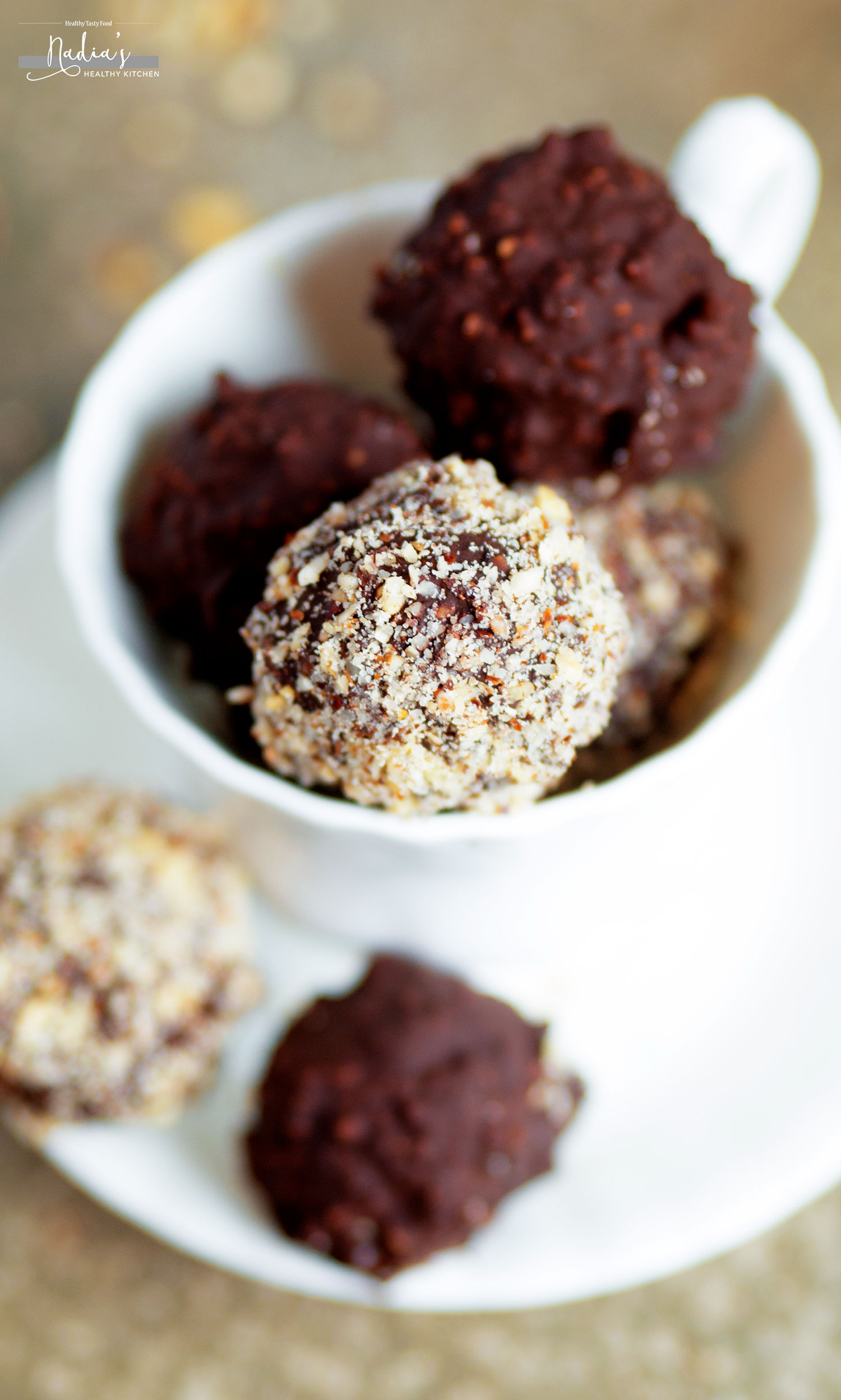 Healthy Homemade Ferrero Rocher
2017-01-08 17:55:01
Serves 12
To decorate
80g dark chocolate, melted
6 tbsp ground/chopped hazelnuts
Instructions
Break up the dark chocolate into a heat-proof bowl. Add the hazelnut butter, coconut oil and Manuka honey.
Place the bowl over a pan of gently simmering water (make sure the bowl doesn't touch the water). Heat the mixture until completely melted.
Add the chopped hazelnuts along with an optional pinch of salt.
Leave the mixture to cool slightly then transfer to the fridge and leave for 2-3 hours to set.
Use an ice cream scoop to scoop out the mixture. Press a hazelnut in the middle and roll between the palm of your hands into a ball.
Place the balls on a tray covered with parchment paper and chill in the freezer for 30-60 minutes.
Melt the dark chocolate and mix in the ground hazelnuts - this will give it the classic Ferrero Rocher look.
Dip each ball into the chocolate making sure it's well coated.
Place back onto the tray and return to the freezer until the chocolate has set.
Enjoy!
Notes
Store in the fridge. Keeps for at least 5 days.
Nadia's Healthy Kitchen https://nadiashealthykitchen.com/