Matcha Mint Mango Smoothie
On warm days like today, all I want to eat is ice cream and frozen treats, which is the exact opposite to what I should be eating. My body is craving nourishment and hydration, things that calorific, sugary and fatty ice creams won't exactly supply me with!
So I like to make smoothies instead. Thick smoothies to be more specific. Ones that you eat with a spoon rather than drink with a straw. Why? Because they feel so much more satisfying to me. Even if I make the same exact smoothie with the same exact ingredients and the same quantities and the only difference being one has more water than the other, which in theory should make me feel even more full, the thick smoothie will always leave me feeling more satisfied. It must be something to do with 'eating' it rather than drinking it that fools my brain into thinking my stomach is more full.
This matcha mint mango smoothie is perfect for the warmer weather. It's bursting with flavours and jam packed with vitamins, minerals, antioxidants and fibre. What else could you ask for in a 'dessert'? Even though technically it isn't a dessert since this is the kind of thing I would have for breakfast. And who wouldn't want a breakfast that tastes like a dessert?
High in vitamin A, C, K and some of the B vitamins as well as copper, calcium, magnesium and manganese. It also offers almost 30% of the daily recommended intake of fibre. All of this and only 235 kcals per serving!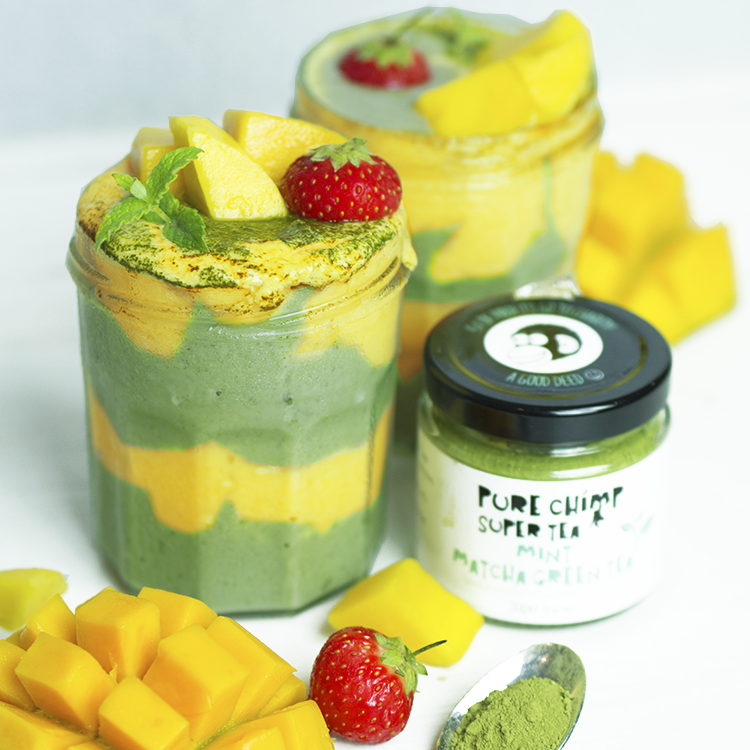 Matcha Mint Mango Smoothie
2016-08-24 17:48:22
Serves 2
For the matcha mint layer
2 ripe frozen bananas
1 tsp mint matcha green tea powder (I used PureChimp)
120ml milk of choice - use more or less depending on your preferred consistency
For the mango layer
300g frozen mango chunks
120ml milk of choice - use more or less depending on your preferred consistency
Instructions
WATCH THE VIDEO ABOVE FOR INSTRUCTIONS
Notes
Nutritional information (estimated per serving)
Calories: 235 kcals
Protein: 6.4g
Fat: 2.9g
Carbs: 52g
Fibre: 7.1g
Nadia's Healthy Kitchen https://nadiashealthykitchen.com/
If you liked this
matcha mint mango smoothie
be sure to check out these smoothies: