This is one of my new go-to post workout breakfast recipes.
Some days I love working out in the morning – I feel so motivated and I like the idea of getting it out of the way early on so I can get on with my day. Other days I just can't get myself to exercise when I wake up, I feel week and if I force myself I start feeling sick! Anyway, on days when I do exercise in the morning, I've recently been making myself this healthy chocolate banana smoothie.
I like to add a shot of espresso to this smoothie for an extra energy boost that will keep my going until lunch time. I also feel it's important to have some sort of fat in every meal, including breakfast. It keeps you feeling fuller for longer and for someone like me, an eczema sufferer, healthy fats and oils are even more important to keep the skin hydrated and keep flare-ups under control.
This smoothie tastes so so good, kind of like a chocolate milkshake! But all the ingredients will nourish and feed your body. The healthy carbs (from the banana) and protein (from the added protein powder) make it an excellent breakfast or post-workout meal.
All you have to do is throw all the ingredients into a blender, blend and that's it! It's also a great option if you need a breakfast or snack on the go – pour the smoothie into a flask and off you go. There is no excuse not to have breakfast!
Everyone is into green smoothies at the moment, but if you're new to smoothies or healthy eating, start off with something like this healthy chocolate banana smoothie. It's much sweeter – it literally tastes like a dessert! I would imagine even fussy eaters would love this.
This healthy chocolate banana smoothie is vegan, dairy free and gluten free.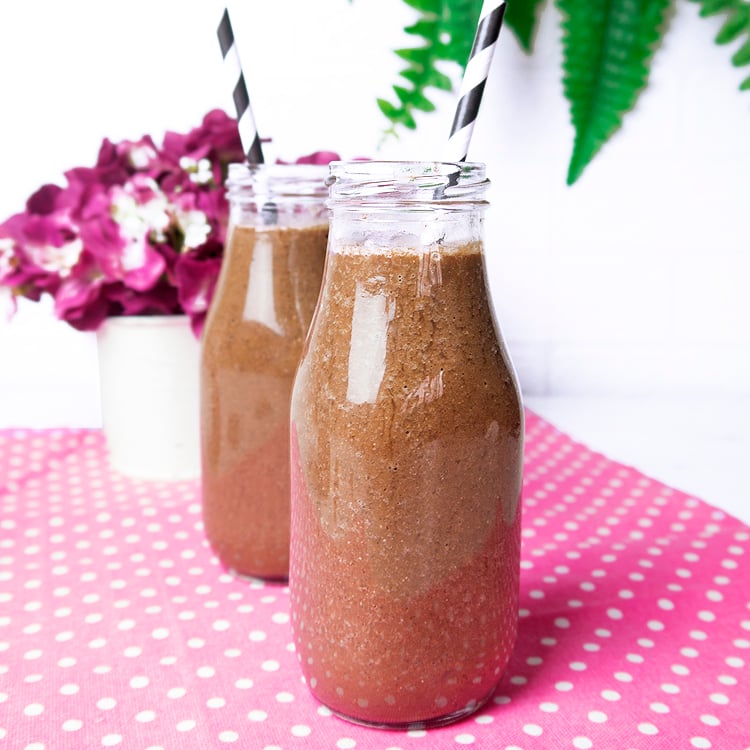 Healthy Chocolate Banana Smoothie
Serves – 2
Ingredients
2 ripe bananas
2 scoops (1/2 cup) protein powder (I used a vegan chocolate blend, but any type should work)
2 shots espresso
2 tsp cacao powder (or cocoa powder)
2 tbsp chia seeds
Milk (I used almond milk but any type will work – the quantity will depend on how thick you want your smoothie)
2 soft dates (optional if you want extra sweetness)
Method
Add all your ingredients into a blender, blend until smooth. I used my Optimum 9400 powerful blender for a smooth, bit-free result!
Serve immediately, or you can pour into a flask and enjoy it on the go!