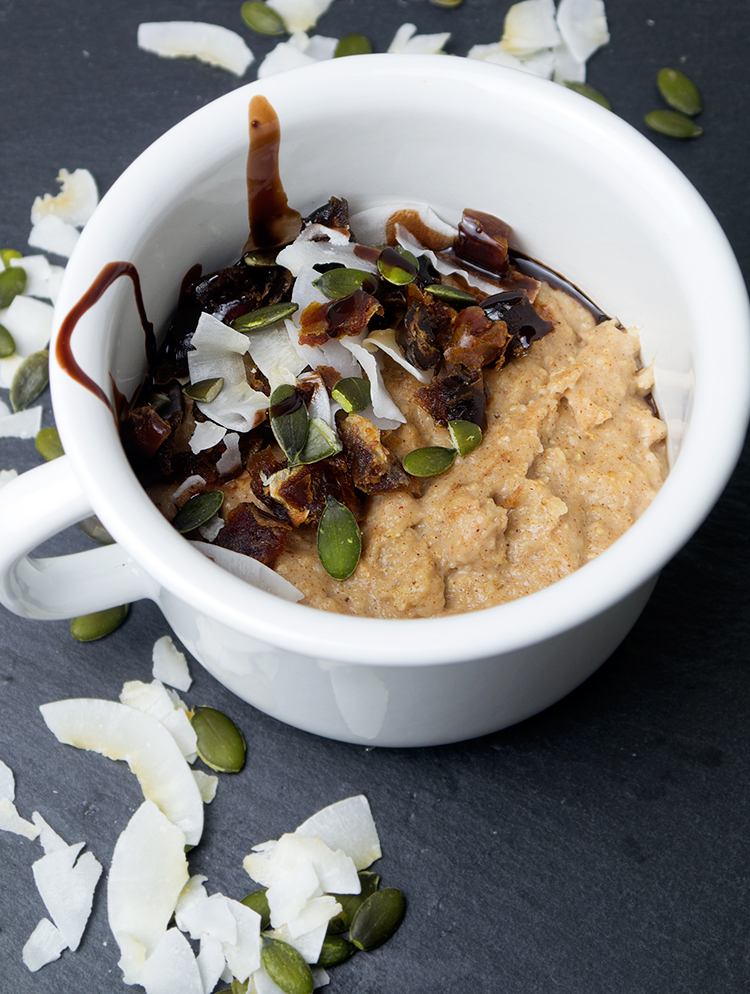 Chai Spiced Porridge
Autumn is here and it's time to bring out the festive spices. Cinnamon, cloves, nutmeg, ginger and of course not forgetting my favourite spice of all…cardamom!!
It's also the time of year when all I really fancy for breakfast is a nice, hot and comforting bowl of porridge. What would make it even more comforting? Spices, of course!
Chai tea or 'latte' is one of the drinks I usually get at a coffee shop. That's when I'm not being boring and ordering my usual cup of English breakfast tea. It gives me a fuzzy feeling inside and reminds me of the festive season, Christmas markets (I can't wait for the Christmas markets next month!) and being wrapped up in a coat, scarf and gloves.
This chai spiced porridge recipe can be easily made gluten free if you're intolerant to gluten. It can also be made vegan and dairy free. I actually didn't add any sweetener as I topped mine with a few chopped dates and that was sweet enough for me. The beauty of porridge is that you can change a recipe around, take out ingredients you don't like and add whatever you fancy.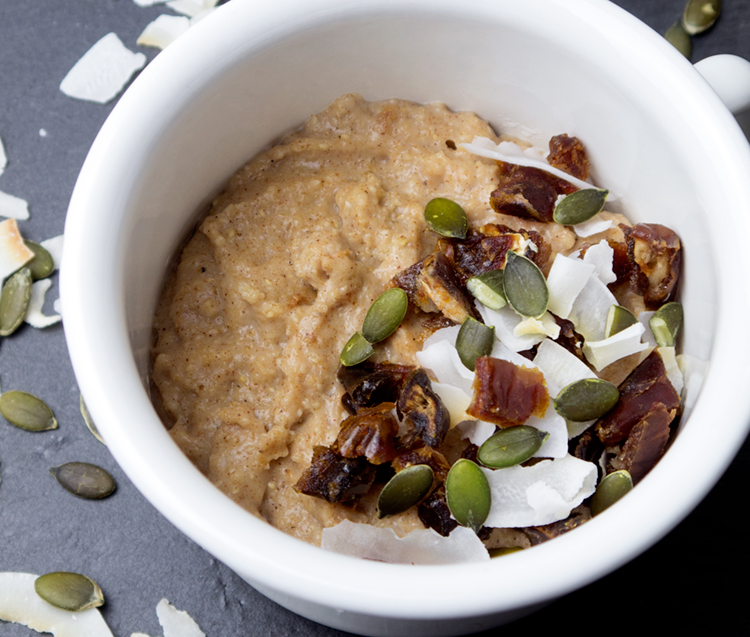 Chai Spiced Porridge
2015-10-24 05:27:09
Serves 1
Ingredients
1/3 cup (35g) oats
1/3 cup (80ml) milk
1/3 cup (80ml) water
1/2 tsp cinnamon
1/4 tsp cardamom - some find cardamom too strong so start off with 1/8 tsp and add more if you like
1/8 tsp nutmeg
1/8 tsp ginger
1-2 tsp sweetener of choice (I used honey)
Pinch salt
Toppings: coconut chips, dates, seeds or anything else you like
Optional - add protein powder or nut butter to bump up the calories and protein
Instructions
Add the oats and milk to a pan and start heating over a medium heat.
Add the spices, sweetener and salt.
Continue cooking, stirring occasionally.
Once it reaches the consistency you like, take off the heat and serve.
Mix in the protein powder or nut butter (cashew or almond) if using any.
Go crazy with the toppings.
Enjoy!
Notes
Nutritional Information (estimated before adding toppings, protein powder or nut butter)
Calories: 163 calories
Protein: 4.1g
Crabs: 31.9g
Fat: 2.8g
Fibre: 3.9g
Nadia's Healthy Kitchen https://nadiashealthykitchen.com/
If you liked my
chai spiced porridge
recipe you may also like these other porridge recipes: