Chocolate Orange Oatmeal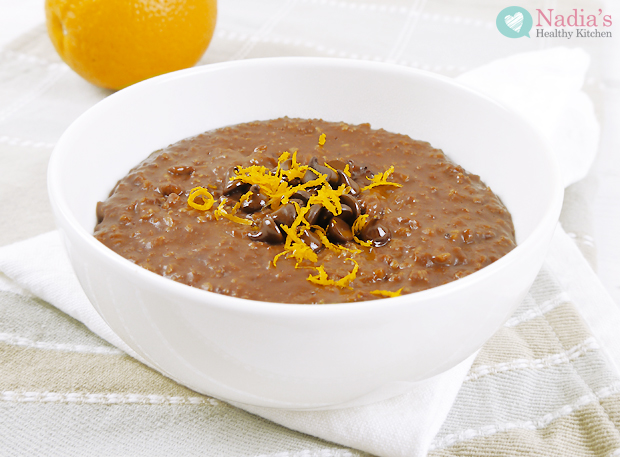 Are there any Terry's Chocolate Orange fans in the house? If you live in the UK, you'll probably be getting one in your Christmas stocking next month, but for those of you not familiar with Terry's chocolate orange, it's an orange flavoured chocolate that's a festive staple in many UK households. Round in shape with separated segments, just like an orange!
The flavour of this chocolate orange oatmeal was actually inspired by terry's chocolate orange dark, which is made using dark chocolate. If you're a dark chocolate lover then this oatmeal recipe is definitely for you! I'm a huge fan of dark chocolate. I find it a lot more satisfying and don't tend to overeat it the way I would with milk chocolate. Also, the darker the chocolate is, the higher the percentage of cocoa the better it is for you! Cocoa has high levels of antioxidants and also has a positive impact on blood pressure and cholesterol levels. It's a good excuse to eat more chocolate, not that I need one 😛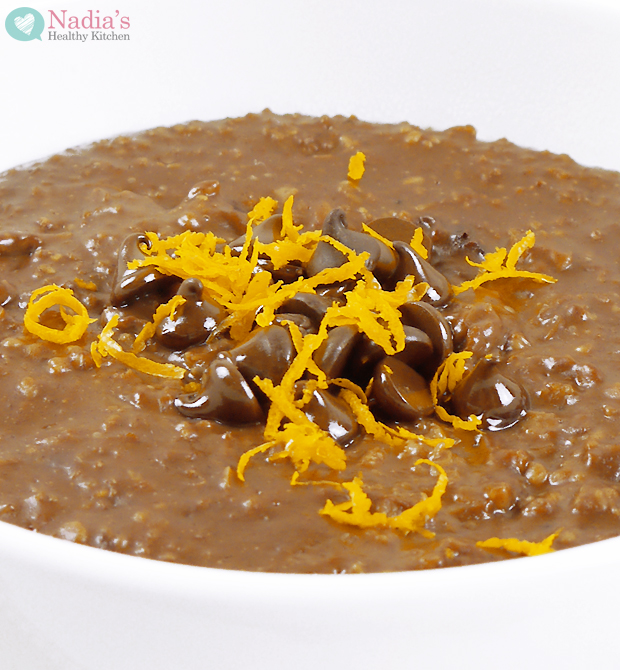 [recipe_box]
Chocolate Orange Oatmeal
Serves: 2
Ingredients:
2/3 cup plain rolled oats
2/3 cup milk (I used unsweetened almond milk)
Juice of 1 orange
1 tsp orange zest
1 tbsp honey* (check notes below)
3-4 tsp cocoa* (check notes below)
1/3 cup water
1 tsp coconut oil* (check notes below)
pinch of salt
Chocolate chips (optional)
Directions:
Add the oats, water and milk to a pan and cook over a medium heat for a few minutes.
Once it starts to thicken, add in the cocoa, orange zest, orange juice, coconut oil and salt. Mix and cook for a further 1 minute.
Once it reaches your desired consistency, take off the heat and mix in the honey/maple syrup and chocolate chips (if using any)
Transfer to a serving bowl and enjoy!
[/recipe_box]
Notes:
Just like with dark chocolate, this chocolate orange oatmeal is slightly bitter but that's to be expected when using cocoa powder. I don't mind a little bitterness, but if you prefer a sweeter option feel free to use more of your chosen sweetener and reduce the amount of cocoa.
I added in a tsp of coconut oil to make it creamer. You can add more if you like or you can leave it out all together.
For a vegan option, use maple syrup instead of honey and a milk alternative (almond, soya, hemp…etc).
Nutritional information: (estimated per serving)
Calories: 217
Protein: 5.3g
Carbs: 40g
Fat: 5.3g
Fiber: 6.2g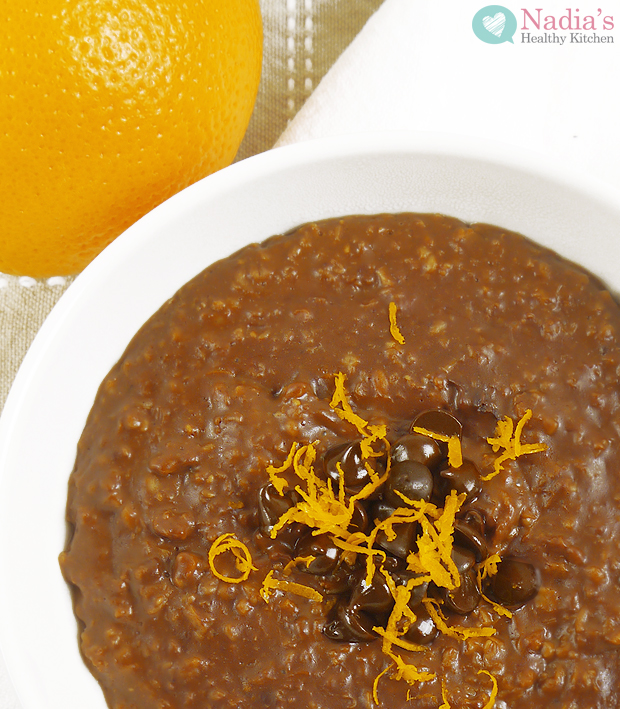 Share This Post