This viral chocolate date bark is one you will definitely want to try out. I made some tweaks inspired by my Middle Eastern upbringing and the results are insane!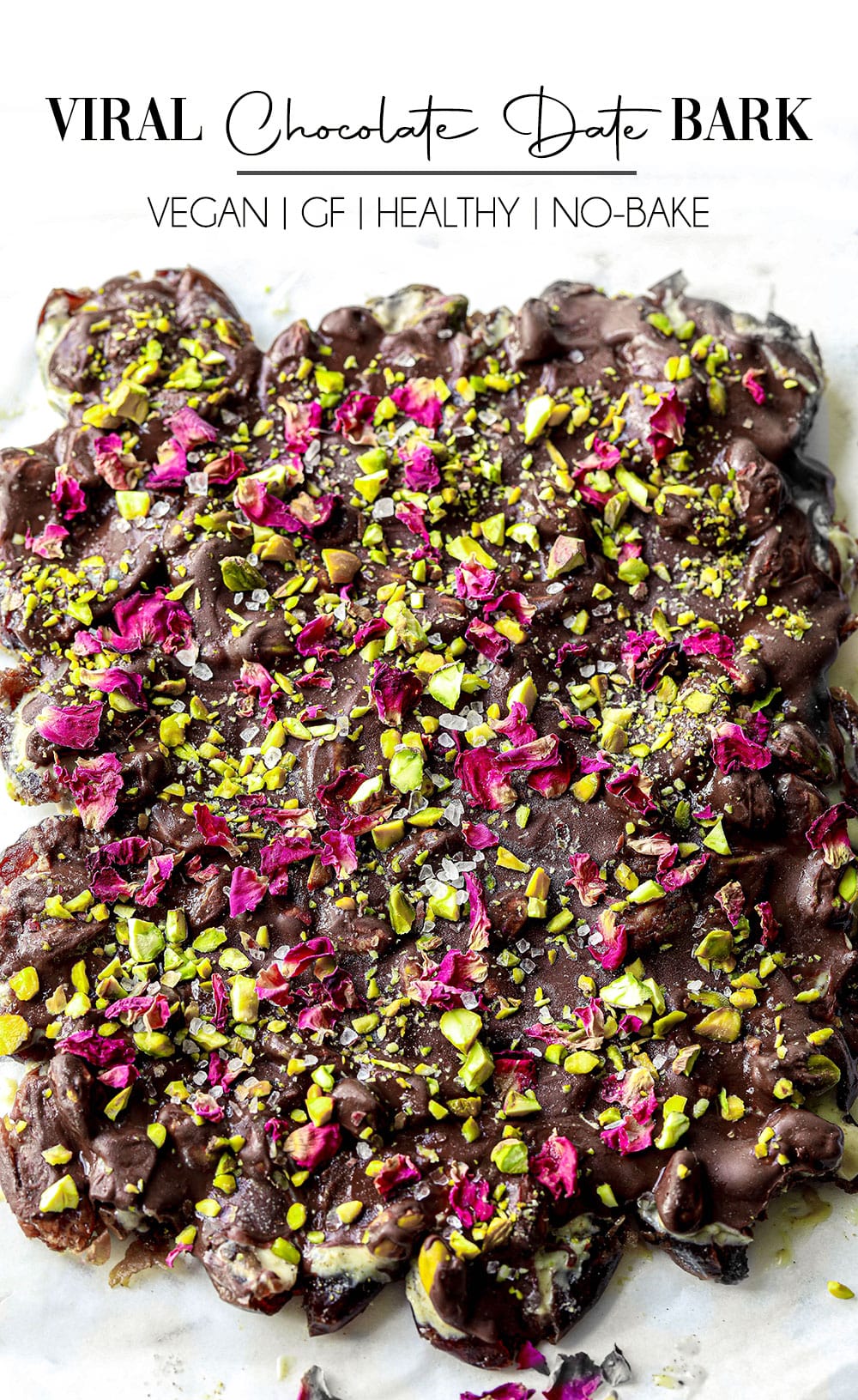 I'm not one to follow viral trends – I'm a firm believer in creating unique content. Otherwise we all end up creating exactly the same thing. Unfortunately that's the way social media is heading with the rise of TikTok and Instagram changing to compete with its rival.
Gone are the days when social media rewarded unique, individual and creative ideas. Content creators are now being encouraged to copy each other so we end up creating exactly the same content, which is baffling to me.
Having said all that, this is a viral trend I HAD to take part in. A date & chocolate bark – that has my name written all over it.
I grew up eating dates – like most people in the Middle East, it was an essential part of my diet. I can't imagine my life without them, they're one of my favourite things to snack on. Paired with a source of good quality fat, they make a nutritious (& delicious!) treat.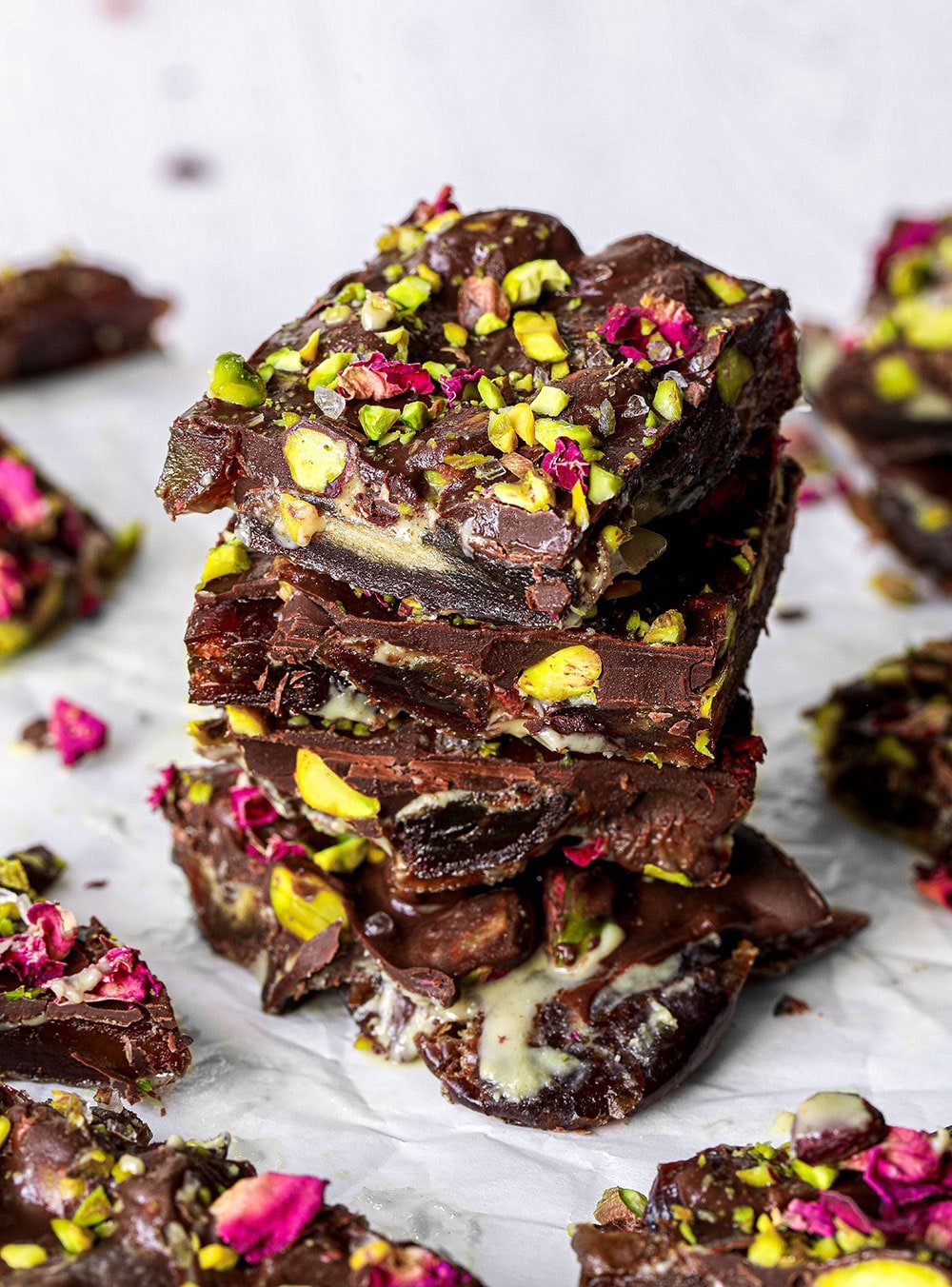 Date desserts in the Middle East are usually paired with things like tahini, pistachios and cardamom. A flavour combination made in heaven! I also had to include a sprinkle of rose petals (another dominant flavour in Middle Eastern desserts).
The combination resulted in the most decadent treat that reminds me of a mixture between baklava (pistachios & cardamom), halva (tahini) and Turkish delight (rose petals).
The concept of this viral chocolate date bark is so simple. All you need to do is arrange some soft dates (I love to use Medjool dates) on a baking sheet. Press them down to create an even layer with no gaps in between the dates, then top with tahini, a sprinkle of cardamom & pistachios. Top it with melted chocolate and finally a sprinkle of rose petals & a pinch of salt to enhance all the flavours.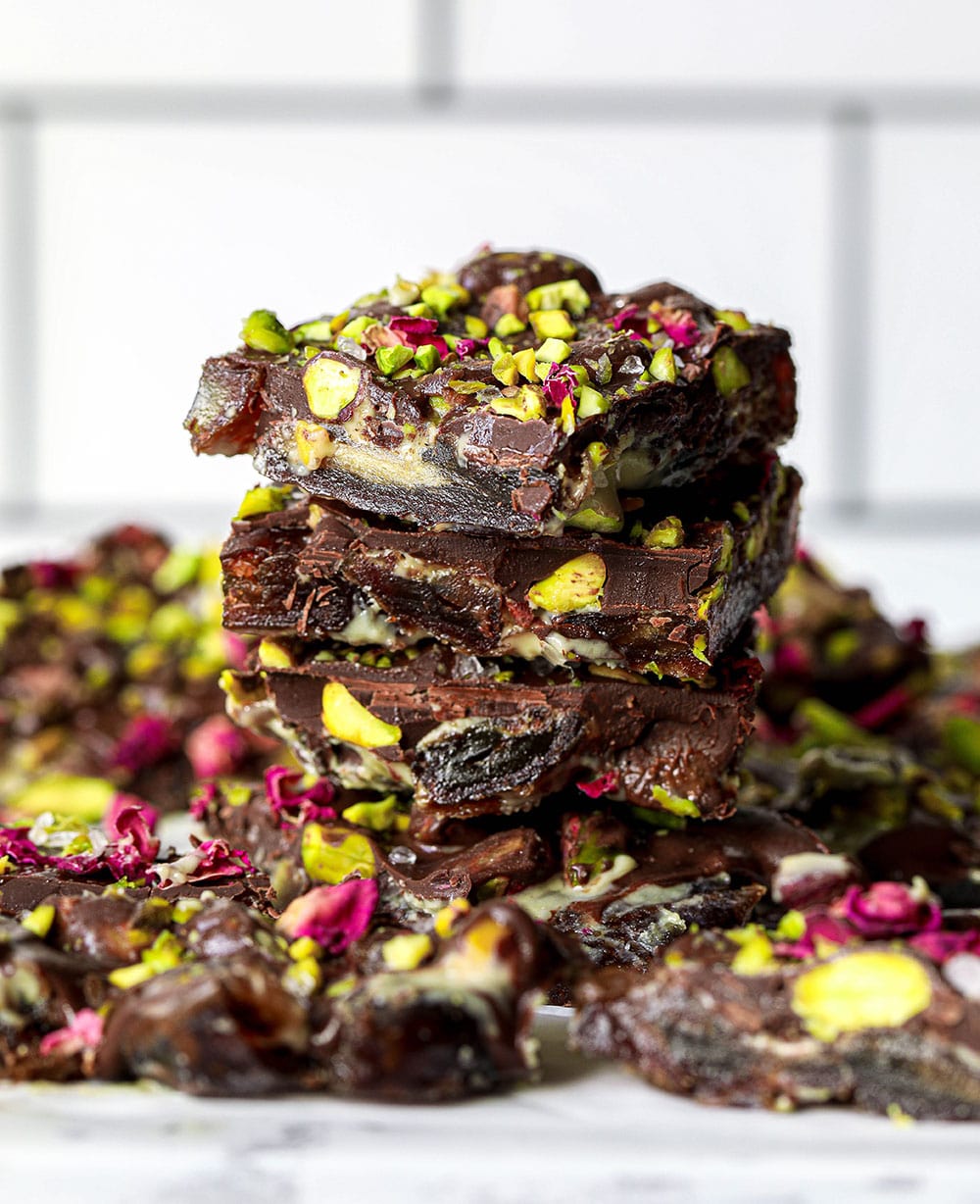 What you need to make this viral chocolate date bark:
Dates – Any soft dates will work – I love using Medjool dates as they're juicy & fudgy, making them perfect for a recipe like this!
Tahini – I've been saying this for years and I'll say it again, dates + tahini is the most delicious sweet combination EVER! I use that combo in so many of my dessert recipes. Inspired by a breakfast I grew up eating 'Dibis wa rashi', which is basically tahini mixed with date syrup & served with bread.
Pistachios – Heavily used in Middle Eastern desserts, pistachios are another perfect flavour that goes so well with both dates & tahini.
Cardamom – Probably the spice that's most commonly used in the Middle East. Like cinnamon, when added to a sweet recipe, it almost enhances the sweetness of the dish it's in. That's why it works so well with dates.
Dark chocolate – A good quality dark chocolate (70% or above) is not only good for you, it also adds so much richness & depth to this viral chocolate date bark!
Rose petals – Adds a subtle hint of rose that reminds me of Turkish delight (which if you've never tried, you need to get your hands on some asap!)
Salt – A pinch goes a long way to enhance all the flavours.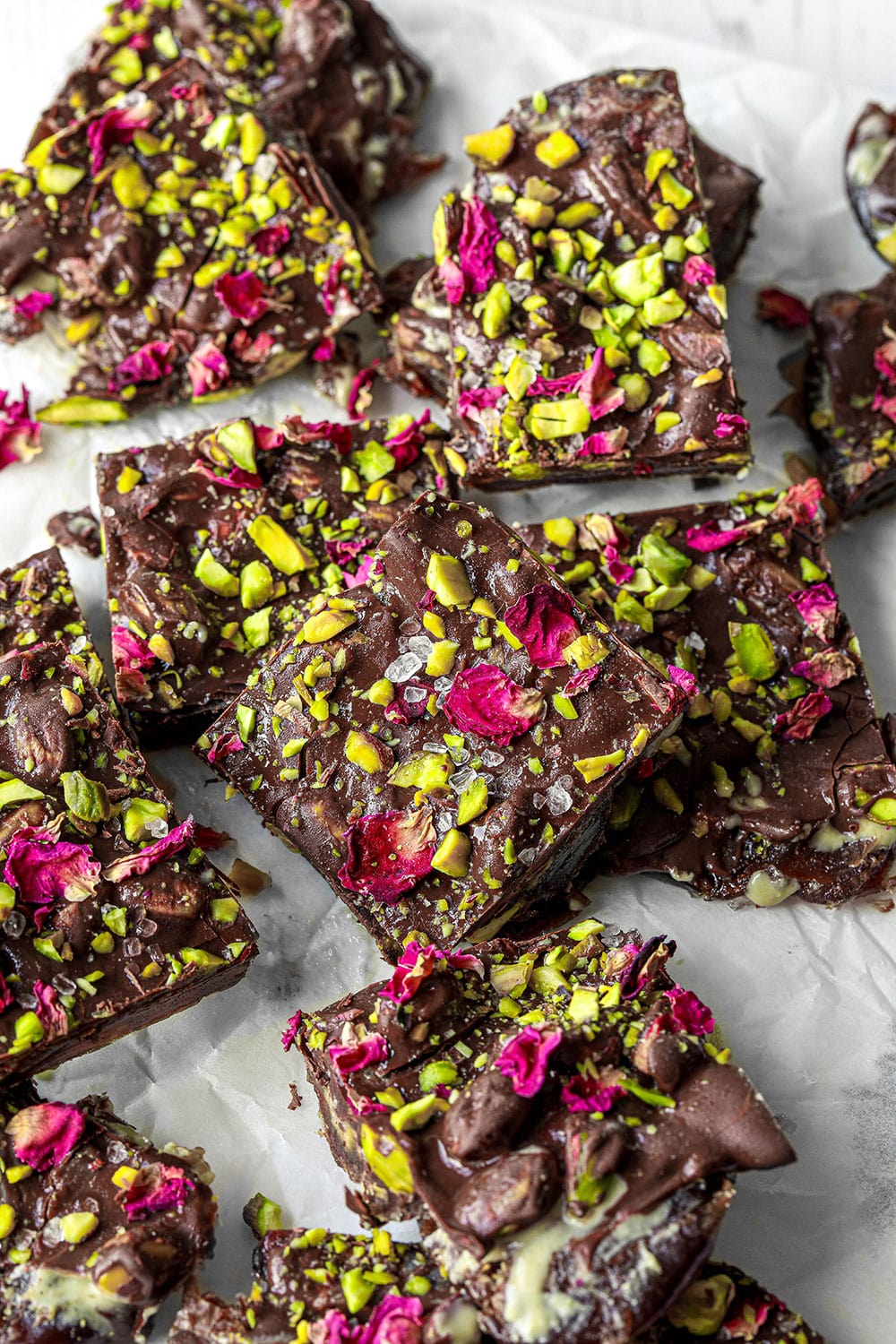 This viral chocolate date bark is:
Vegan
Gluten-free
Can be made nut-free (replace the pistachios sesame or pumpkin seeds)
Healthy
A great snack idea
A great healthier dessert idea
Easily adaptable to likes/dietary requirements
Ready in 30 minutes
Freezer friendly
So delicious!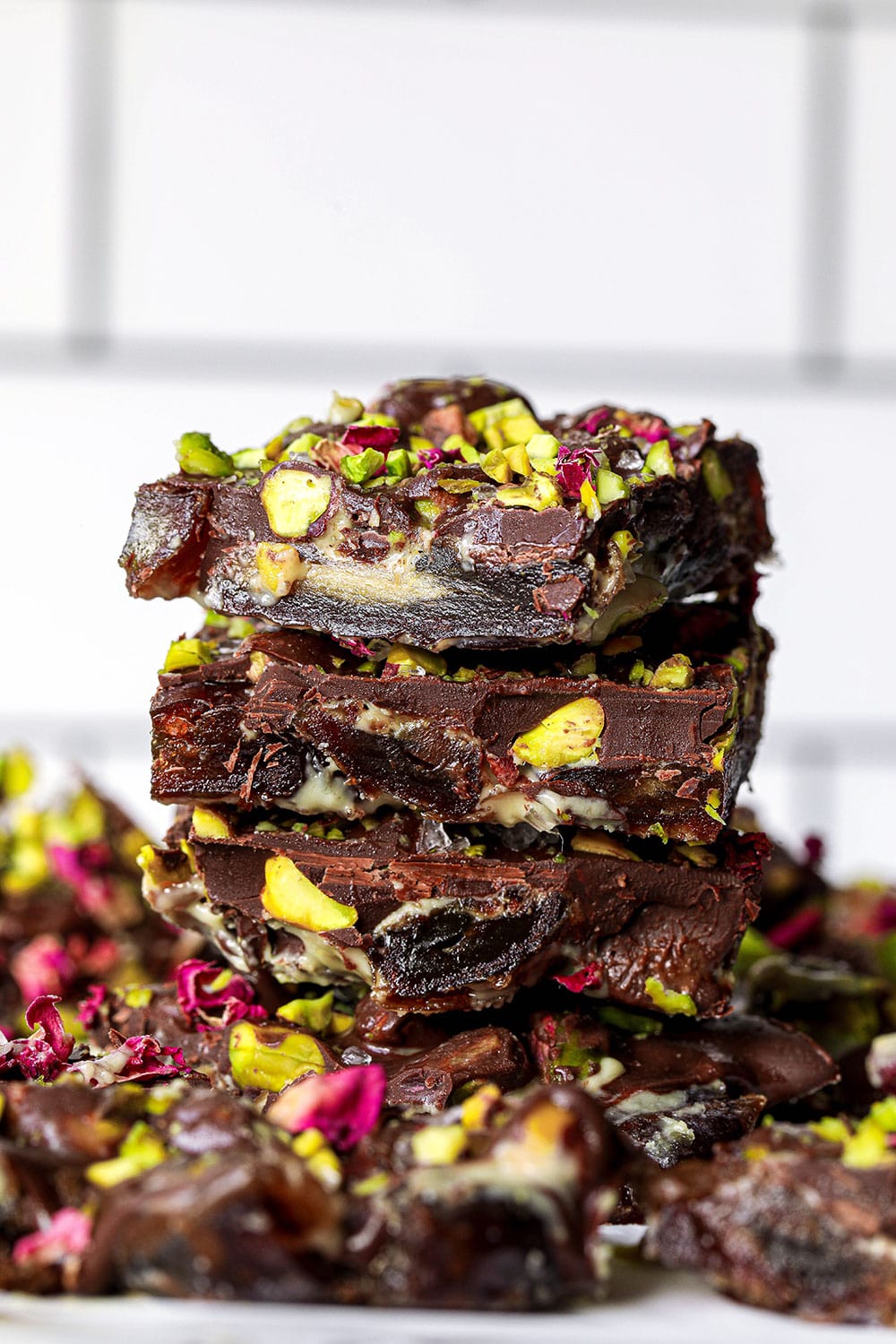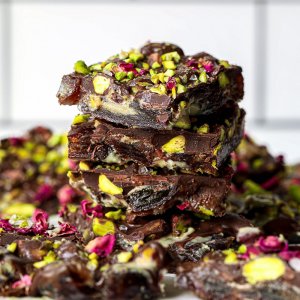 Viral Chocolate Date Bark
This viral chocolate date bark is one you will definitely want to try out. Chewy, crunchy, sweet and salty all in one easy to make, no-bake treat! I made a Middle Eastern inspired version using all the flavours I grew up eating and loving. I have to say, the results were amazing!
Ingredients
20

Medjool dates

4

tbsp

tahini

I love using Lebanese tahini

1/2

tsp

ground cardamom

40g

raw pistachios

80g

dark chocolate

Rose petals

I used these

Pinch of salt
Instructions
Line a baking sheet/chopping board with baking paper. Remove the date pits and press them onto the baking sheet.

Place another baking sheet on top and press down using a rolling pin or a jar/glass to flatten the dates and make sure there are no gapes in between them.

Spread the tahini on top, then dust the cardamom on top and sprinkle the pistachios.

Pour the melted chocolate on top and spread over using a spatula to make sure it coats everything.

Sprinkle some rose petals and an optional sprinkle of chopped pistachios on top and a pinch of salt. Freeze for 30 minutes, then break up or chop into squares or uneven pieces.

Store in an air-tight container in the fridge for 1-2 weeks or the freezer for up to 3 months.
Nutrition
Calories:
200
kcal
Carbohydrates:
35
g
Protein:
3
g
Fat:
7
g
Saturated Fat:
2
g
Polyunsaturated Fat:
2
g
Monounsaturated Fat:
3
g
Trans Fat:
0.002
g
Cholesterol:
0.2
mg
Sodium:
4
mg
Potassium:
384
mg
Fiber:
4
g
Sugar:
28
g
Vitamin A:
79
IU
Vitamin C:
0.4
mg
Calcium:
41
mg
Iron:
2
mg
If you enjoyed this viral chocolate date bark, you may also like the following recipes: