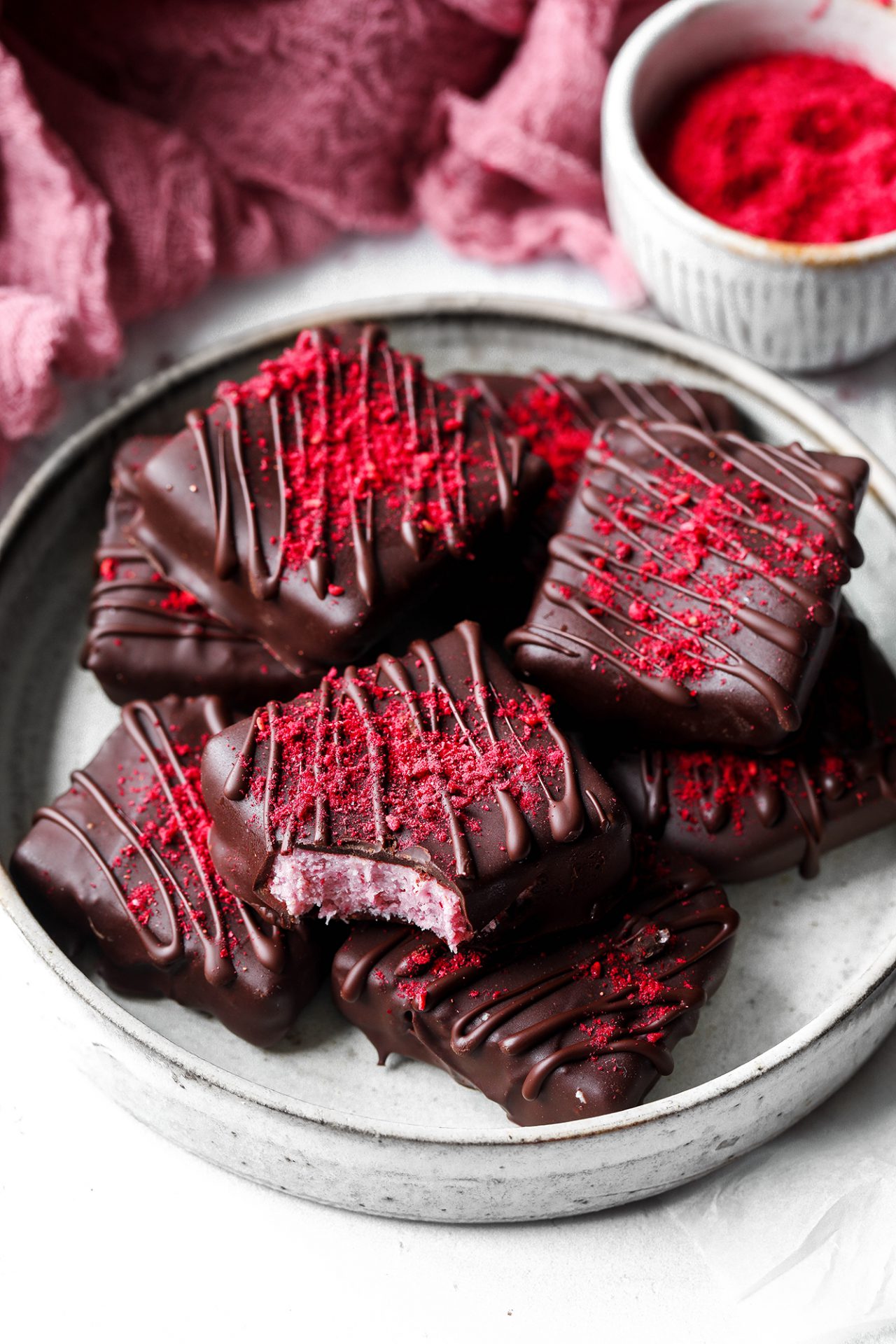 *This post is sponsored by KoRo*
A delicious creamy chocolate bar with a hint of berry goodness – these raspberry coconut bars are so easy to make and so tasty!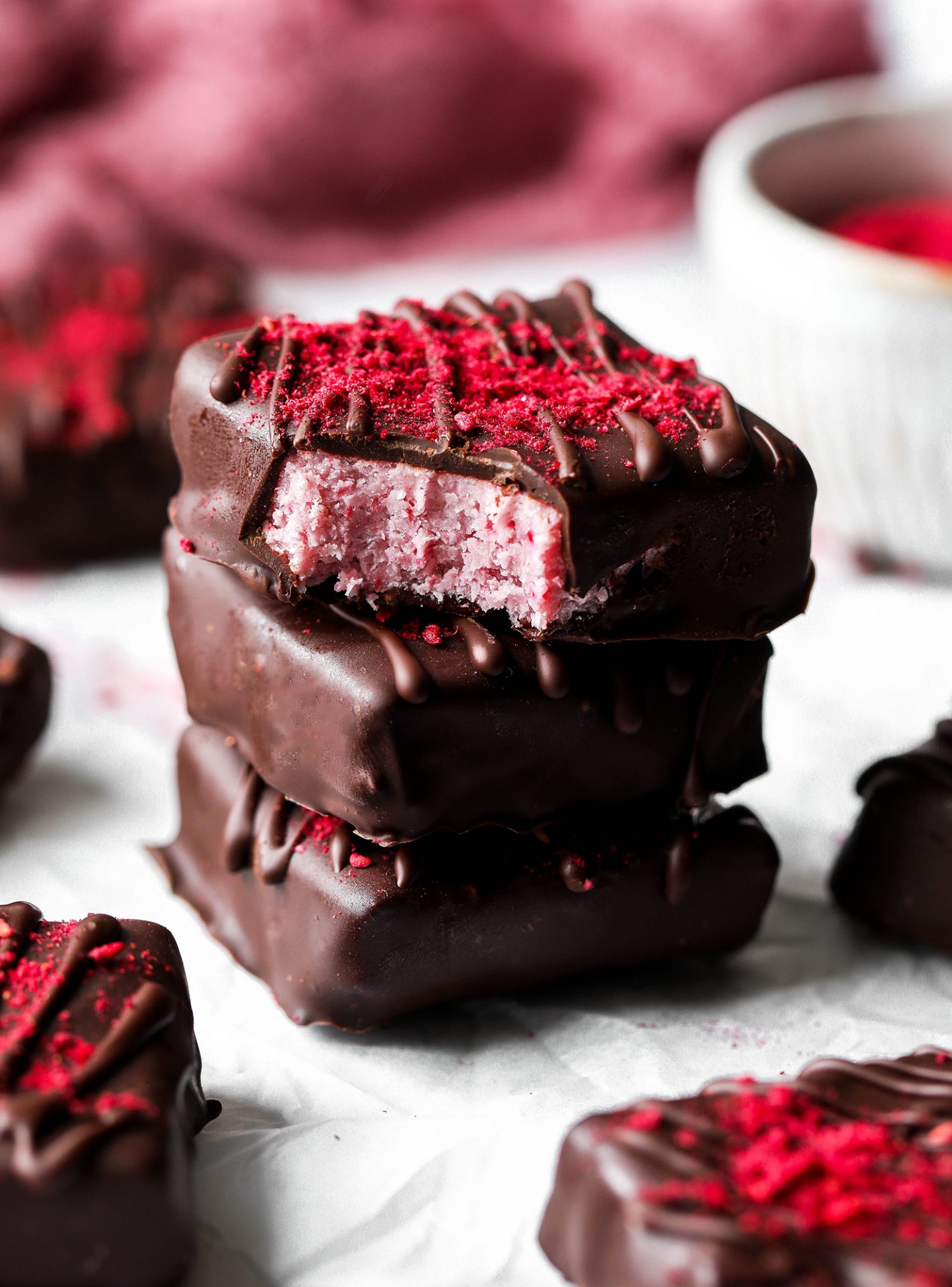 These bars are perfect anytime of the year, but they're a particularly fitting treat for your loved one(s) this Valentine's Day! Even though you can serve any kind of dessert on the day that's also known internationally as the day of love, I do think that something chocolatey with a hint of pink/red just makes it so much more special. You're only making one Valnetine's Day dessert, so why not make event specific to show your special someone how much they mean to you!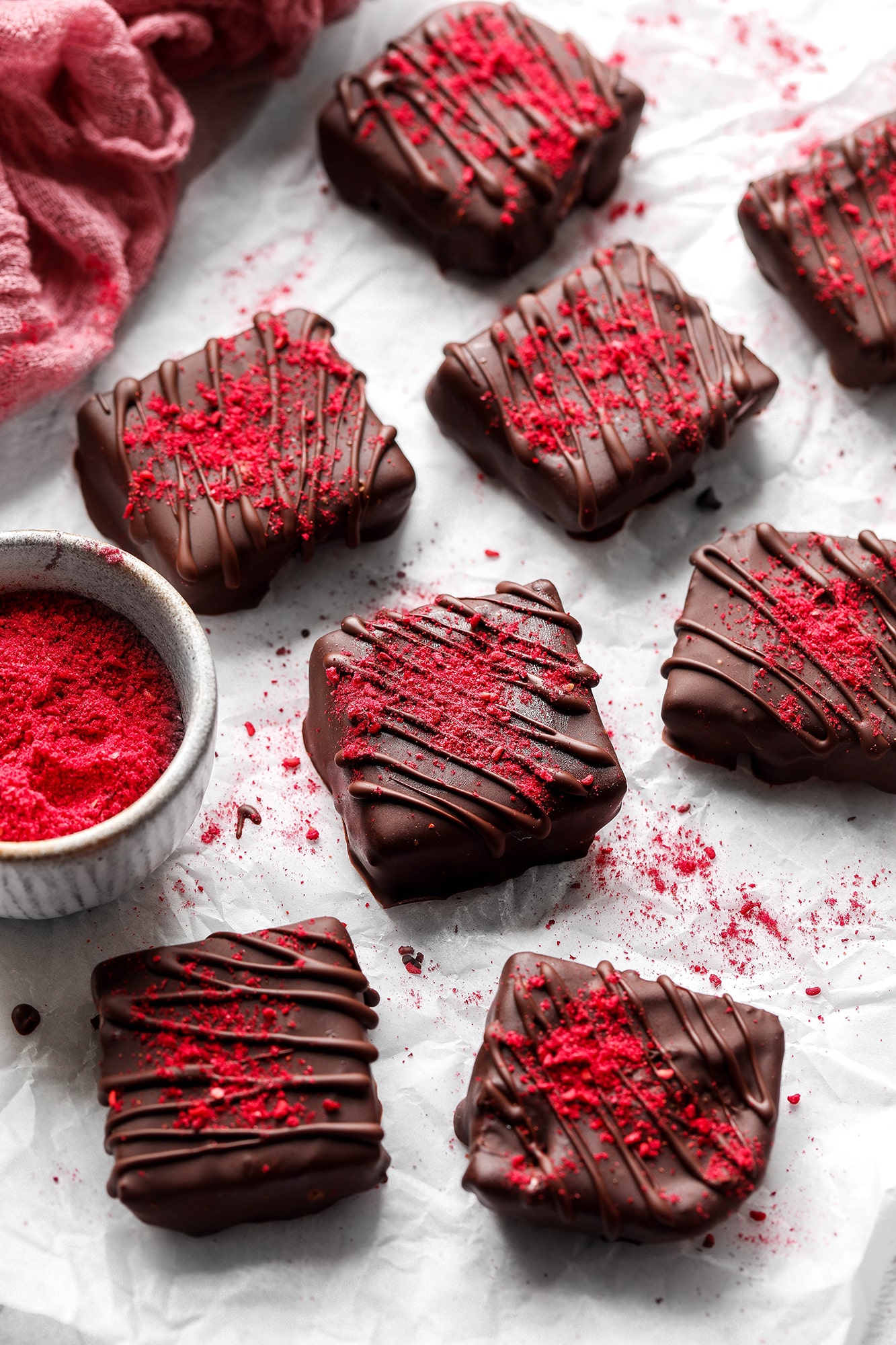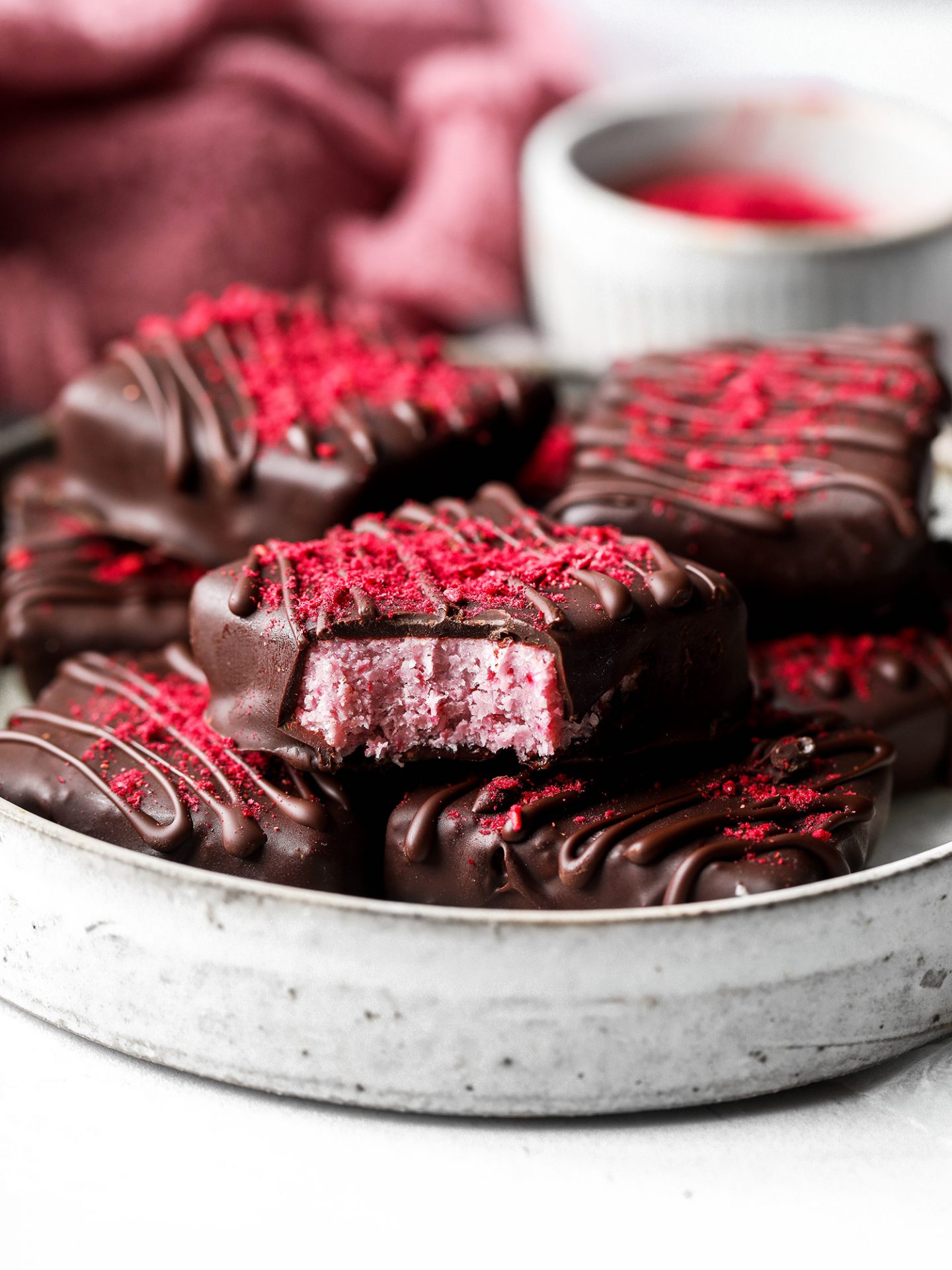 I do enjoy making heart shaped desserts like these no-bake brownie hearts and raspberry cream filled chocolate hearts, but this year I wanted to keep it more neutral as I'm aware not everyone is the biggest fan of heart shaped treats. You have the option of shaping these bars into hearts by using a heart shaped cookie cutter, but I'm keeping it simple and slicing mine into squares instead.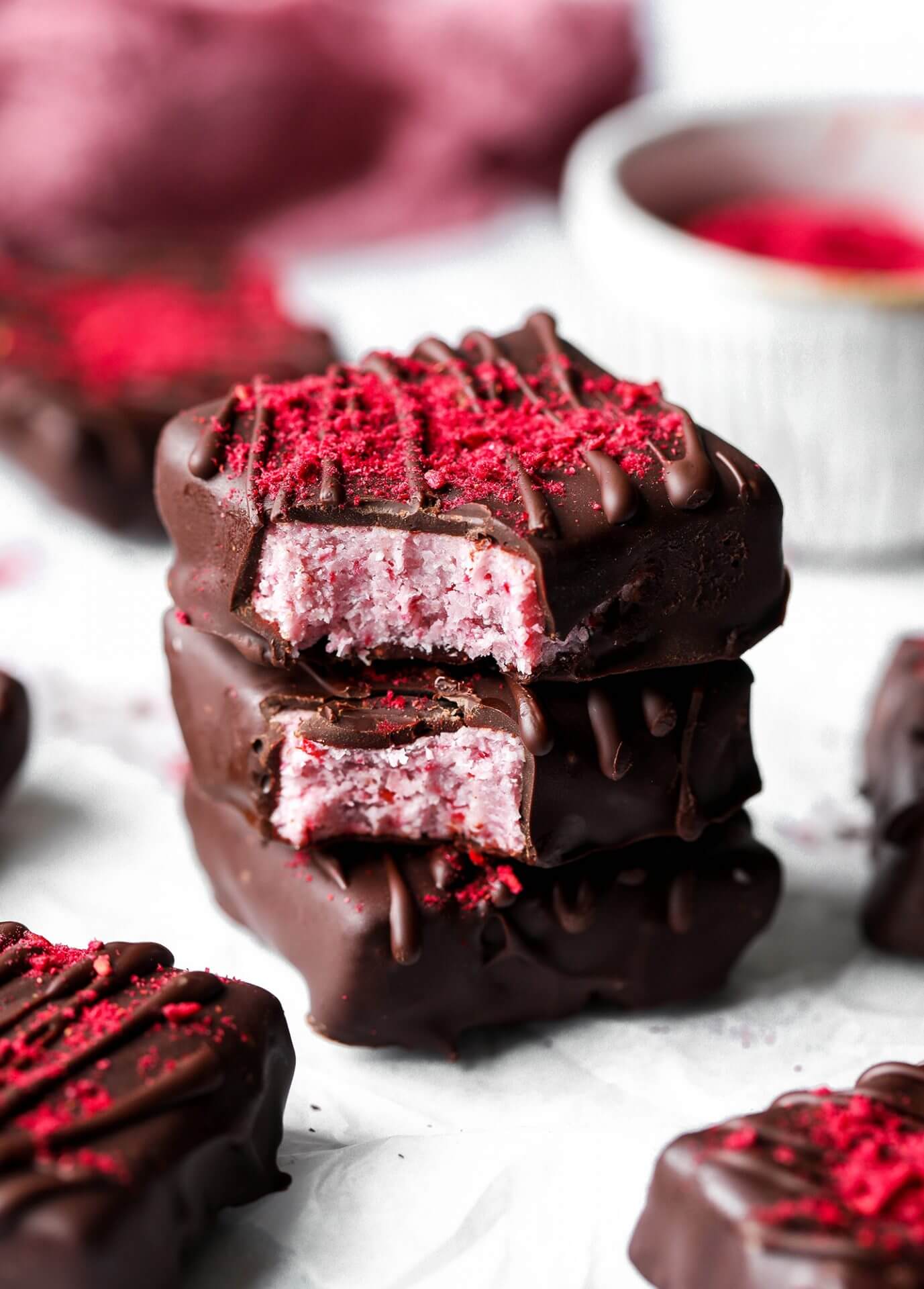 These vegan raspberry coconut bars are so easy to make. You only need a handful of ingredients and there's no baking involved. I dipped them in chocolate because heart shaped or not, I don't think any Valentine's day dessert is complete without some chocolate. You can omit the chocolate step if you're looking for a slightly healthier treat. Although you know me and my obsession with chocolate, so I wouldn't recommend leaving it out.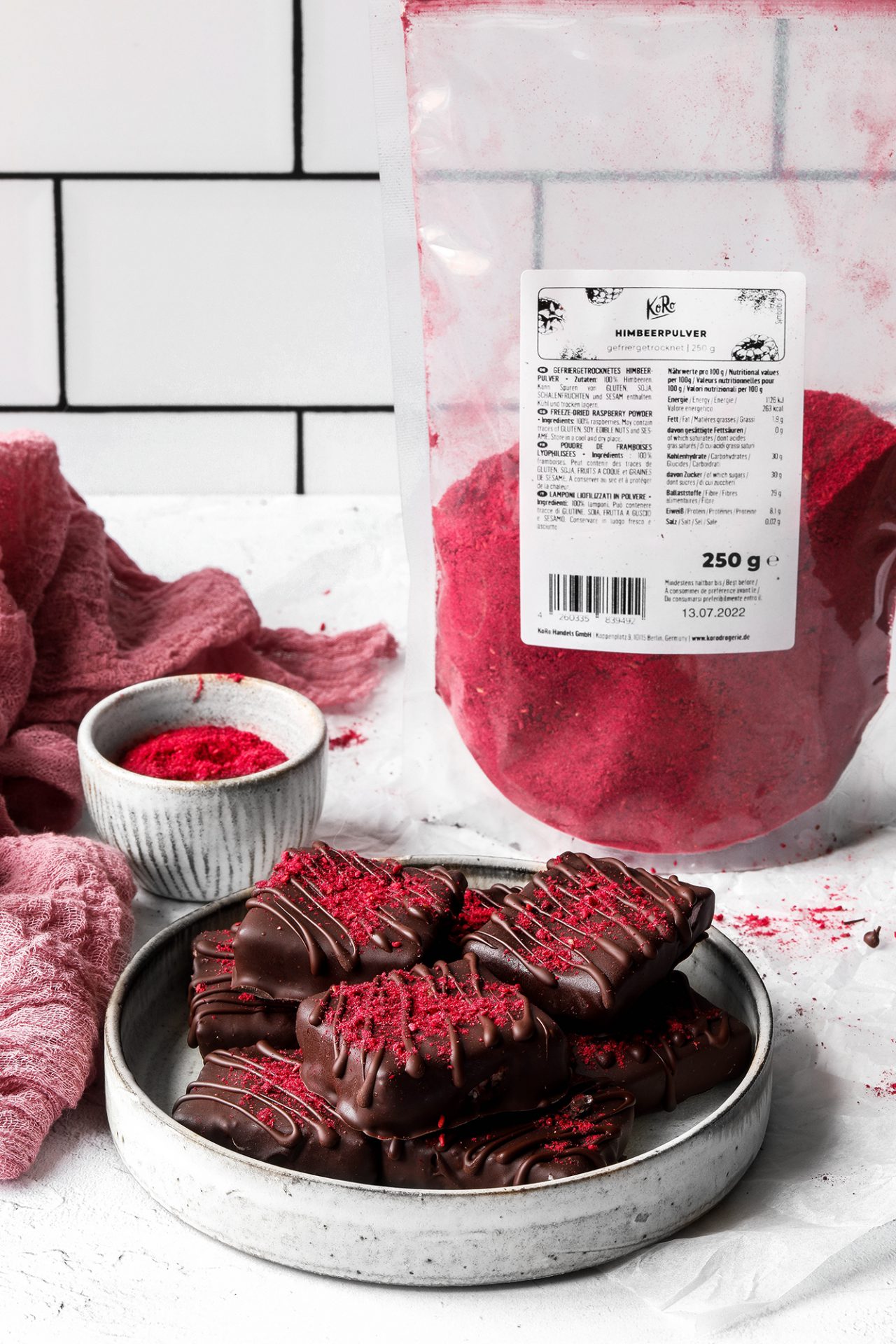 I used desiccated coconut and freeze-dried raspberries that I got from KoRo – they have an AMAZING range of health foods that make your healthier treat making so much easier. They also have a massive range of snacks, treats, superfoods and baking essentials. They stock a lot of products that you can't find anywhere else in the UK. I can honestly spend hours browsing their products! Make sure you have a browse and if you decide to order anything, make sure you use my code NADIA5 at the checkout to get 5% off!!!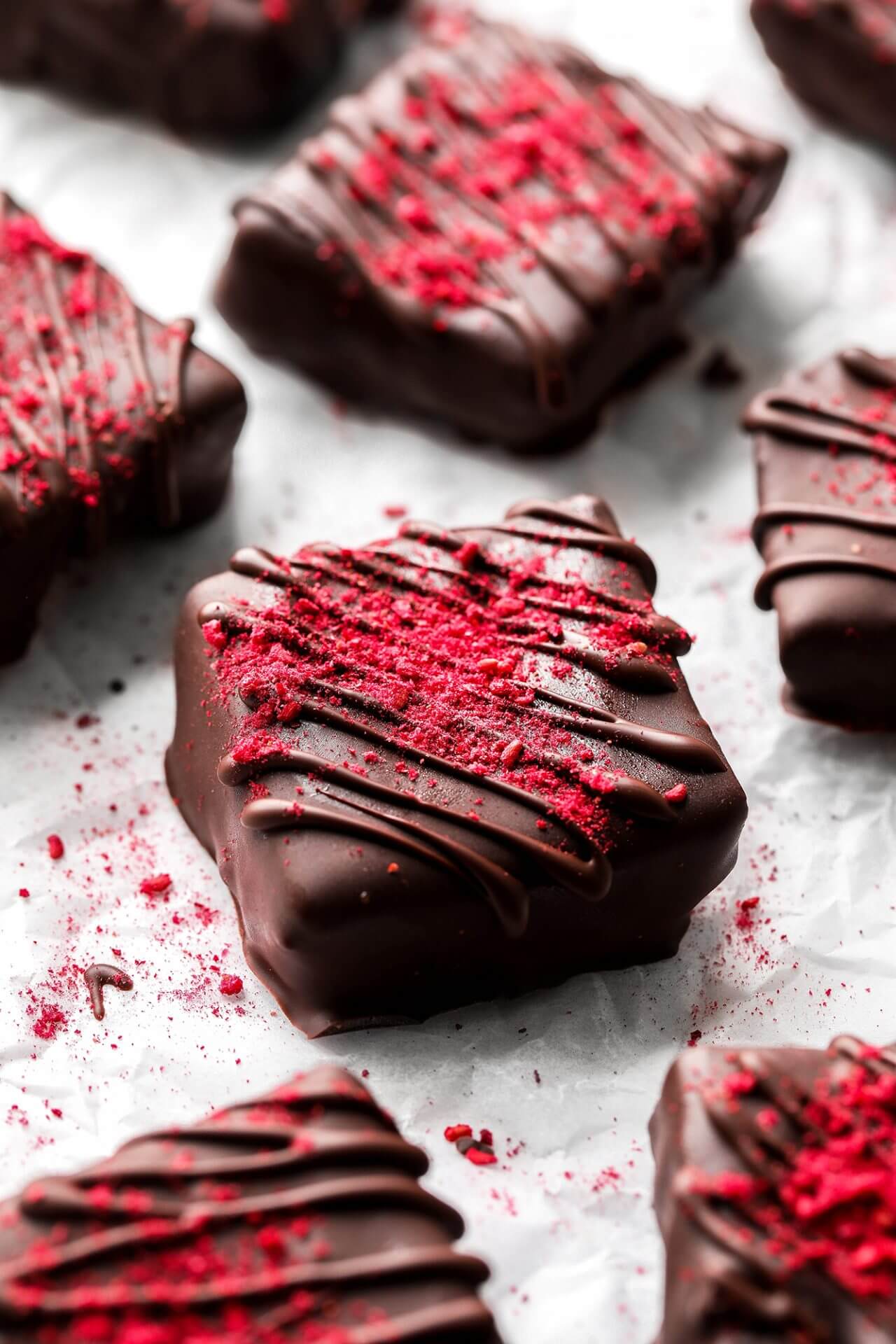 Vegan Raspberry Coconut Bars
Makes – 8 bars
Ingredients
65g (1/3 cup) coconut cream from a chilled can of full fat coconut milk
80g (1 cup) desiccated coconut (I used KoRo desiccated coconut)
4 tsp raspberry powder (I used KoRo freeze-dried raspberry powder)
2 tbsp coconut oil, melted
2 tbsp rice syrup or maple syrup (I used KoRo rice syrup)
Pinch of salt
150g dark chocolate, melted
Method
Place a can of full fat coconut milk in the fridge overnight, then weigh out 65 grams of the solid part of the cream (not the water).
Blend together the coconut cream, desiccated coconut, raspberry powder, coconut oil, rice syrup and salt in a food processor until smooth and creamy.
Transfer into a loaf tin lined with baking paper and freezer for an hour.
Slice into 8 squares, then dip in melted chocolate to coat.
Place on a baking sheet/chopping board lined with baking paper and refrigerate until the chocolate is set.
Optional – decorate with a sprinkle of raspberry powder