These pistachio butter chocolate bars are my new favourite thing to make! They're simple, no-bake and only call for 5 ingredients. They also happen to be vegan, gluten-free and packed with nutrients – not bad for a delicious dessert.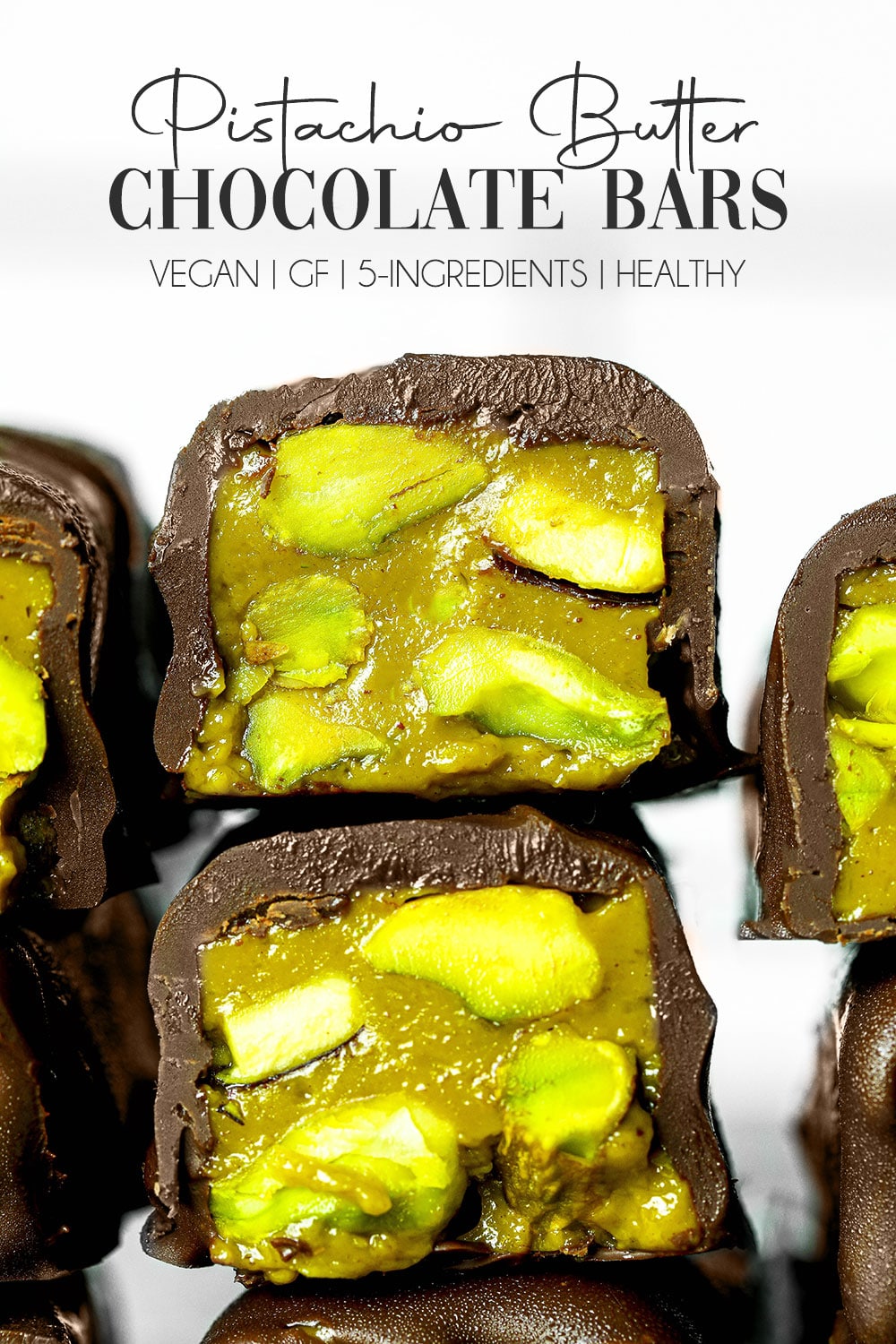 Pistachios are such an underrated and under-appreciated nut in my opinion. I may be a little biased in saying this, but they're THE BEST nut out there. I say that because I grew up eating them, so they have a special place in my heart. Now that I live in the UK, it pains me to see how little they're used/eaten in the west in general.
What makes matters worse is how expensive they are, so I guess I can see why they're not used as much, especially since they don't hold any cultural importance in the west. Regardless, I want to show everyone how delicious they are and how they can be utilised to make so many unique and delicious recipes!
These pistachio butter chocolate bars were inspired by the pistachio brownies I made last year. The pistachio layer of the brownies was so delicious, I thought it was strong enough as a stand alone dessert. I decided to dip them in dark chocolate for good measure, but honestly they taste amazing without!
Because we're not adding any liquid (water/milk), these pistachio butter chocolate bars will last around a week in the fridge, making them a convenient make-ahead-of-time snack or dessert. You can make them into bars, squares or even 'rounds' using a muffin tin.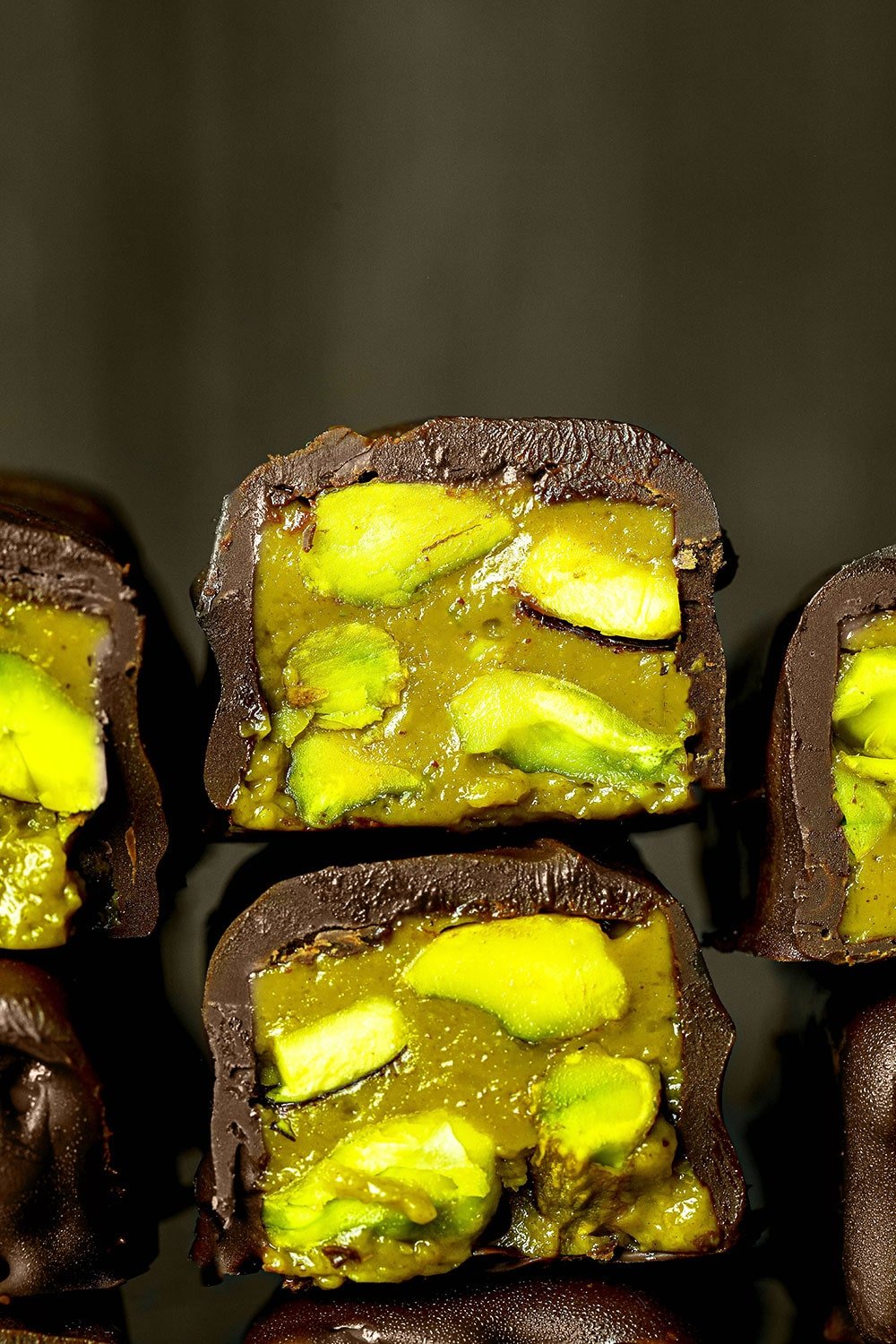 Why I love pistachios so much:
Pistachios are native to the Middle East, so I grew up eating them in Iraq. They were usually shelled, salted and roasted. We considered them a treat since they were more expensive compared to other nuts. I have a vivid memory of taking my time to search through a big bag of mixed nuts to try find every last pistachio. I also remember trying to use my teeth to bite through the shell of ones that were fully closed, which probably wasn't the best idea. I also have a memory of my dad telling me off when he caught me doing so 😅.
Pistachios feature very heavily in Middle Eastern desserts, everything from baklava, knafeh, halva as well as a garnish for many other sweet treats. They were also used heavily as a garnish for savoury dishes, mainly rice based dishes. As well as adding a delicious nutty taste and crunch, they also added the most beautiful vibrant green pop of colour that made every dish look extra special.
They have a unique nutty flavour that's like no other nut. They also have a natural sweetness that balances out the nutty and earthy notes. The sweetness is more pronounced when the nuts are roasted. Pistachios have a creamy/buttery texture, which is why they're a popular choice for desserts & ice creams.
As well as tasting good, pistachios are packed with health benefits and nutrients. They're a great source of phytosterols (helps reduce cholesterol), healthy fats (monounsaturated and polyunsaturated) and protein making them satiating and great to help balance blood sugar levels.
They're packed with essential vitamins and minerals like vitamin B6, potassium, magnesium, and phosphorus. Pistachios also have a good amount of fibre in them, also helping with satiety, gut health and blood sugar balance.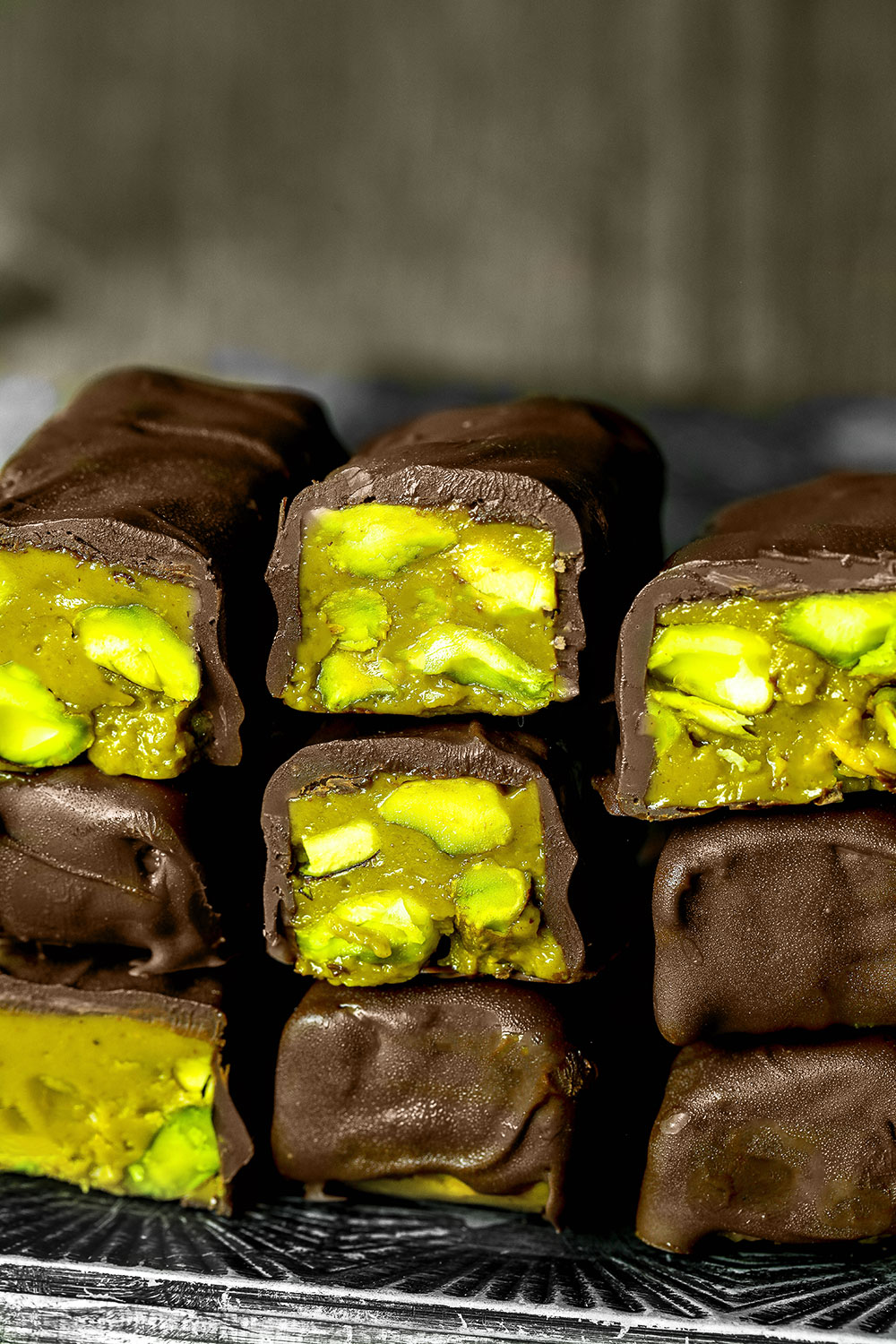 What you need to make these pistachio butter chocolate bars:
Pistachio butter – if you've never tried pistachio butter, this is your sign to try it asap! It's so delicious and a great way to make the most of the health benefits we mentioned earlier. I get mine from Bulk, they often have a discount or 2 for 1 offers.
Pistachios – unsalted, raw shelled pistachio kernels work best. You can use unshelled roasted pistachios, but it would be a nightmare/time consuming to try to shell so many pistachios. If you do use roasted and salted pistachios, you can omit the salt, otherwise the bars will be way too salty!
Coconut oil – I'm using coconut oil to help the bars set in the freezer/fridge. It's solid when cooled, which helps the pistachio bars firm up creating more of a fudge consistency.
Maple syrup – I only used 2 tbsp in the whole recipe to add a bit of sweetness. I don't think you need more since we're dipping the bars in chocolate, which is already sweetened.
Salt – a pinch of salt goes a long way in bringing out/enhancing the taste of the pistachios and pistachio butter.
Dark chocolate – I like to use 70% or over. The darker the chocolate the better really as, but it depends on your preferece.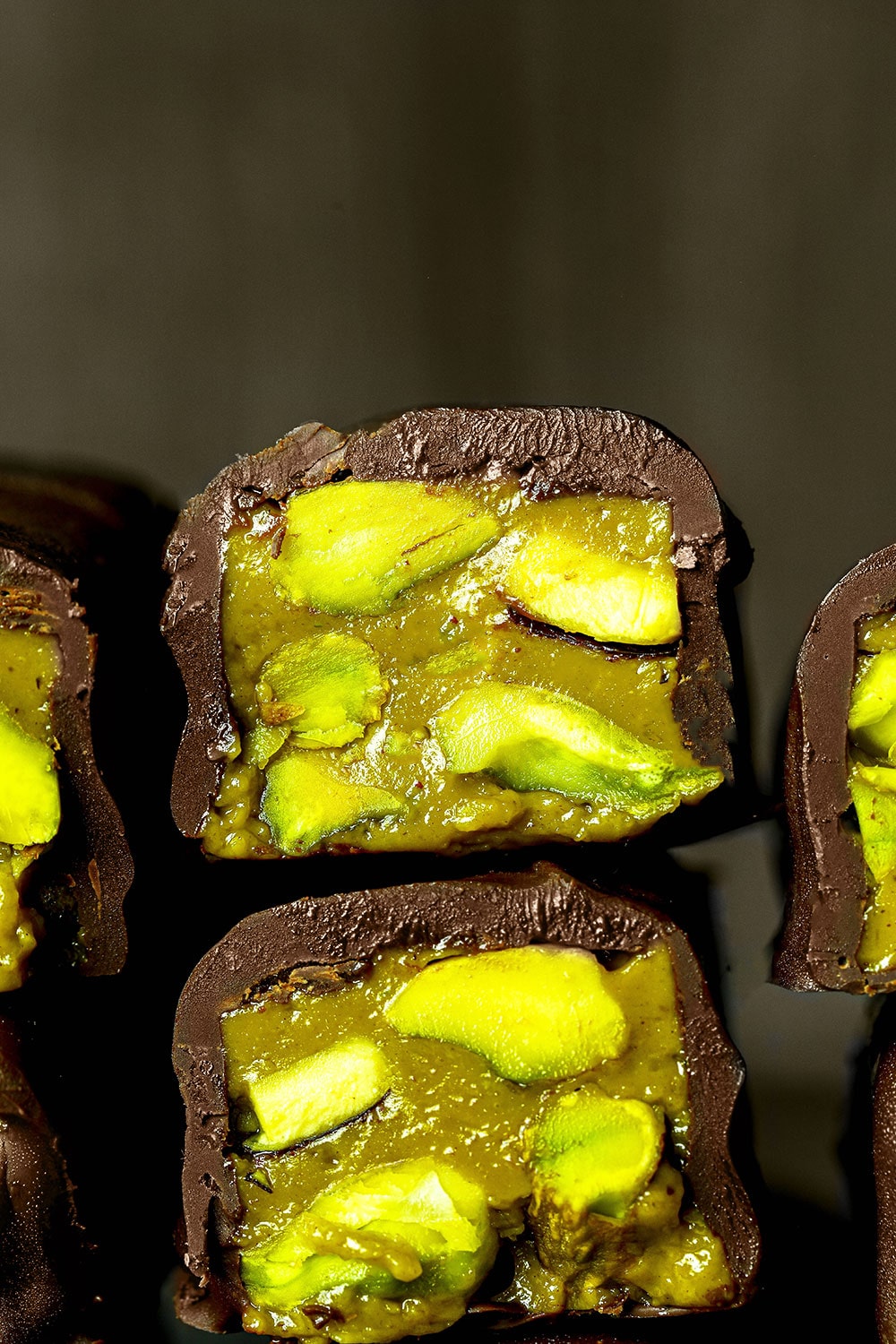 These pistachio butter chocolate bars are:
Vegan
Gluten-free
Dairy-free
A source of protein
A source of fibre
Packed with healthy fats
No-bake
Easy to make
Made with only 5 main ingredients (plus salt)
A great snack idea
A yummy healthier dessert idea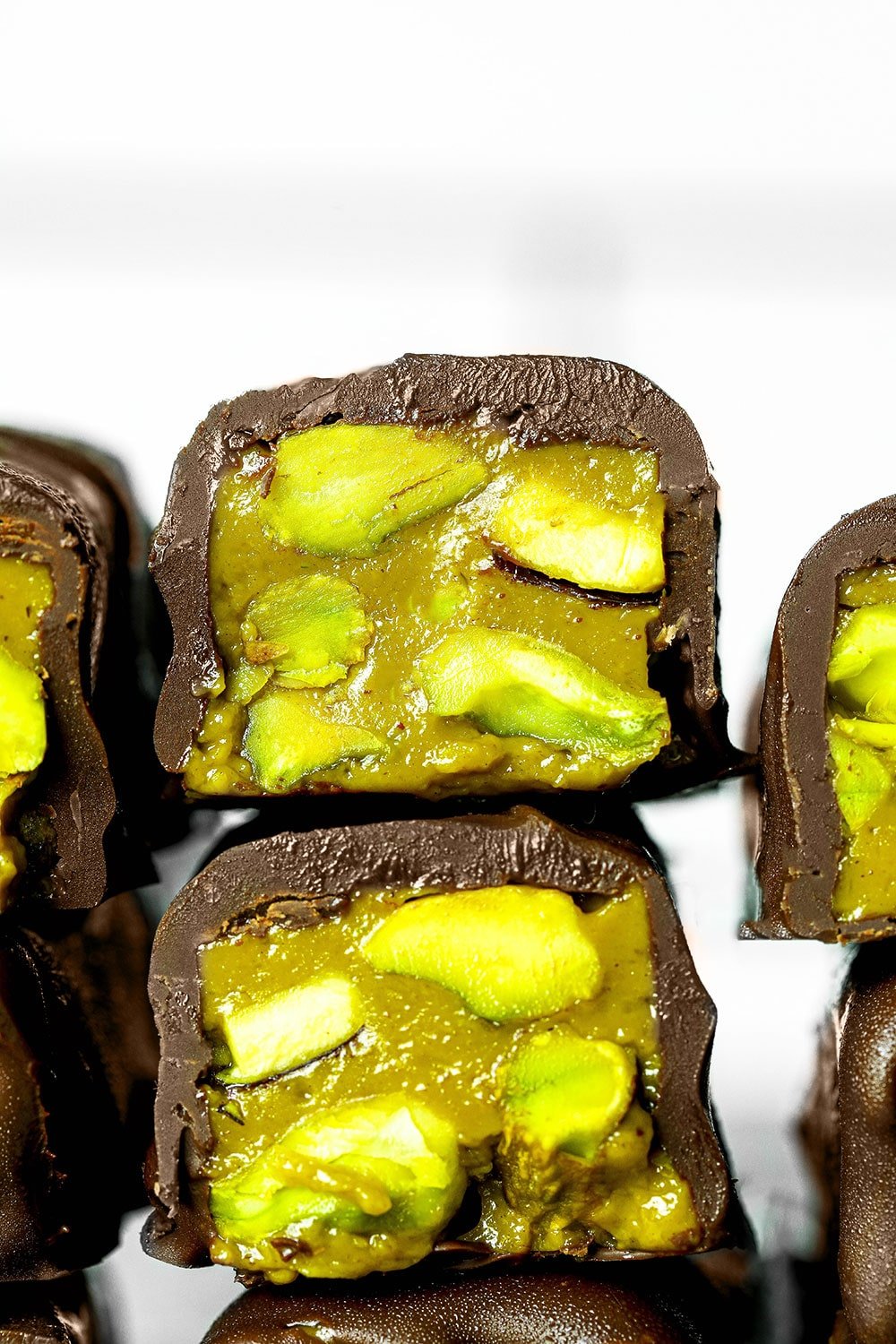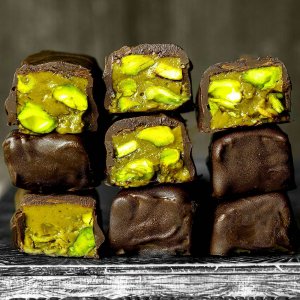 Pistachio Butter Chocolate Bars
These pistachio butter bars are my new favourite thing to make! They're simple, no-bake and only call for 5 ingredients. They also happen to be vegan, gluten-free and packed with nutrients. A must try for all pistachio lovers!
Ingredients
Instructions
Add the pistachio butter, melted coconut oil, maple syrup and salt to a bowl. Mix to combine.

Fold in the pistachios, then transfer into a loaf tin lined with baking paper*. Smooth over and freeze for a couple of hours.

Slice into bars, then cover with the melted dark chocolate making sure you cover the sides of the bars too.

Freeze again for a few minutes until the chocolate sets.

Store in the fridge in an air-tight container for up to a week.
Notes
* You also have the option of using a silicon muffin tin or regular muffin tin lined with paper cupcake cases.
Nutrition
Calories:
281
kcal
Carbohydrates:
15
g
Protein:
6
g
Fat:
23
g
Saturated Fat:
8
g
Polyunsaturated Fat:
4
g
Monounsaturated Fat:
9
g
Trans Fat:
0.01
g
Cholesterol:
0.5
mg
Sodium:
4
mg
Potassium:
327
mg
Fiber:
4
g
Sugar:
7
g
Vitamin A:
47
IU
Vitamin C:
1
mg
Calcium:
76
mg
Iron:
3
mg

If you like these pistachio butter chocolate bars, you may also like these recipes: