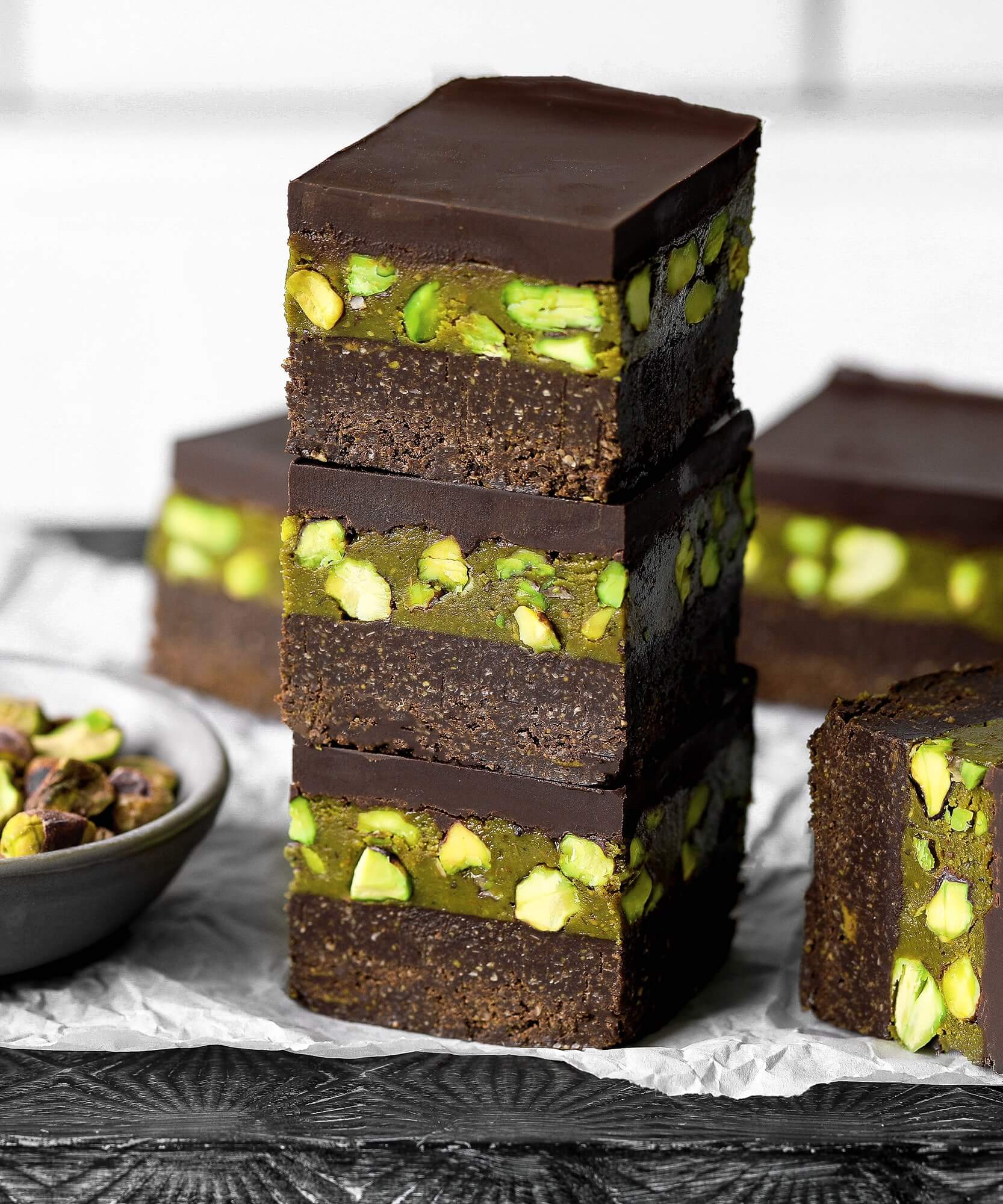 A super easy and decadent treat – these no-bake pistachio brownies are rich and chocolatey, but made with healthier ingredients!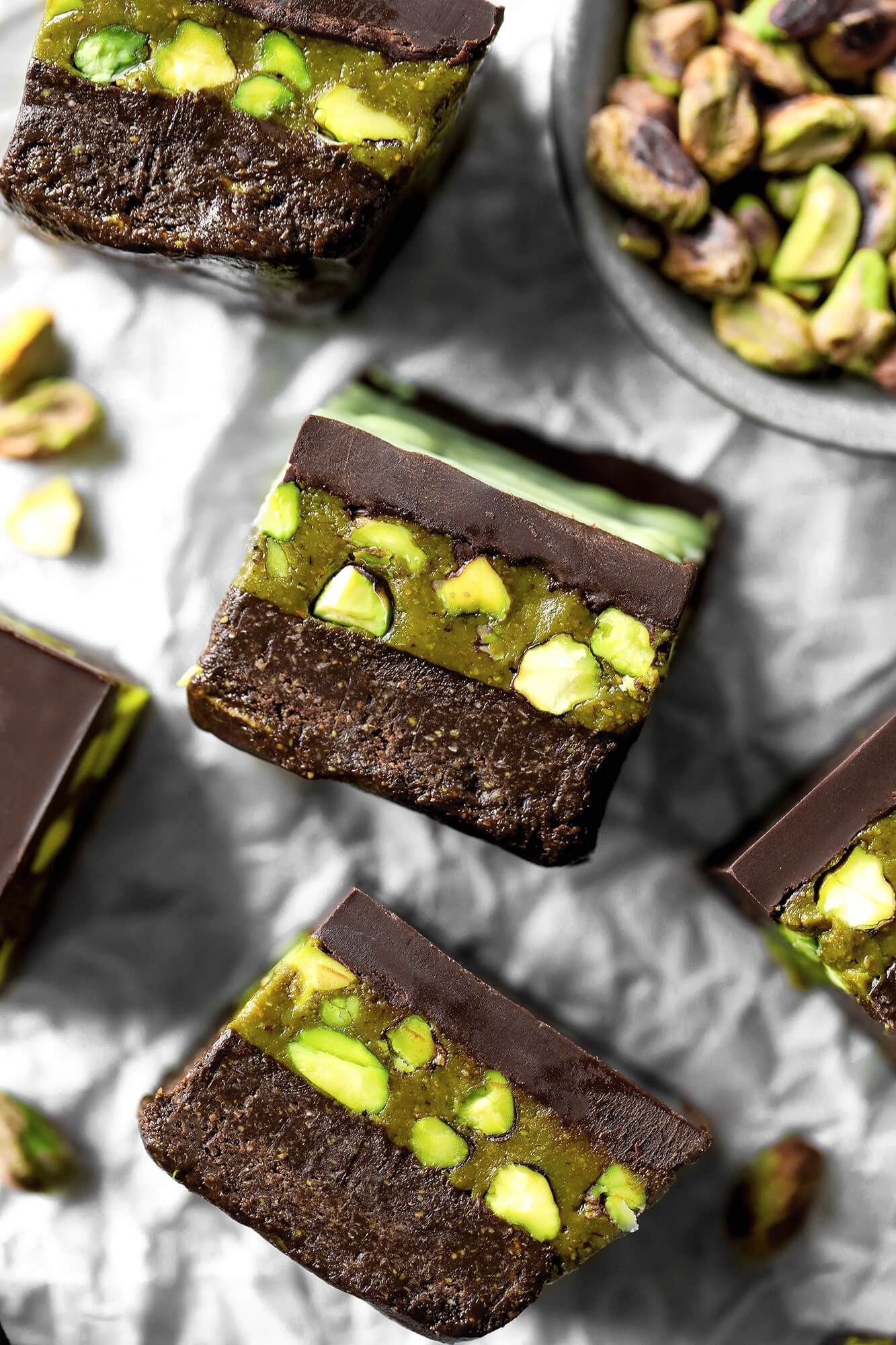 A simple no-bake base packed with oats, cocoa, a little maple syrup to sweeten and a bit of coconut oil to bind everything together. The centre is made up of pistachio butter, whole pistachios and a little more coconut oil and maple syrup.
Pistachios are such an underrated nut. It's by far my favourite nut. I do think it's so underrated and under used in the west. Whereas in the Middle East where I grew up, it's the most popular. They use it in so many desserts and even savoury dishes. But they're mostly enjoyed on their own – salted and roasted in their shells. By the way, if you haven't tried salted roasted pistachios, you need to drop whatever you're doing and go get some from your local supermarket asap!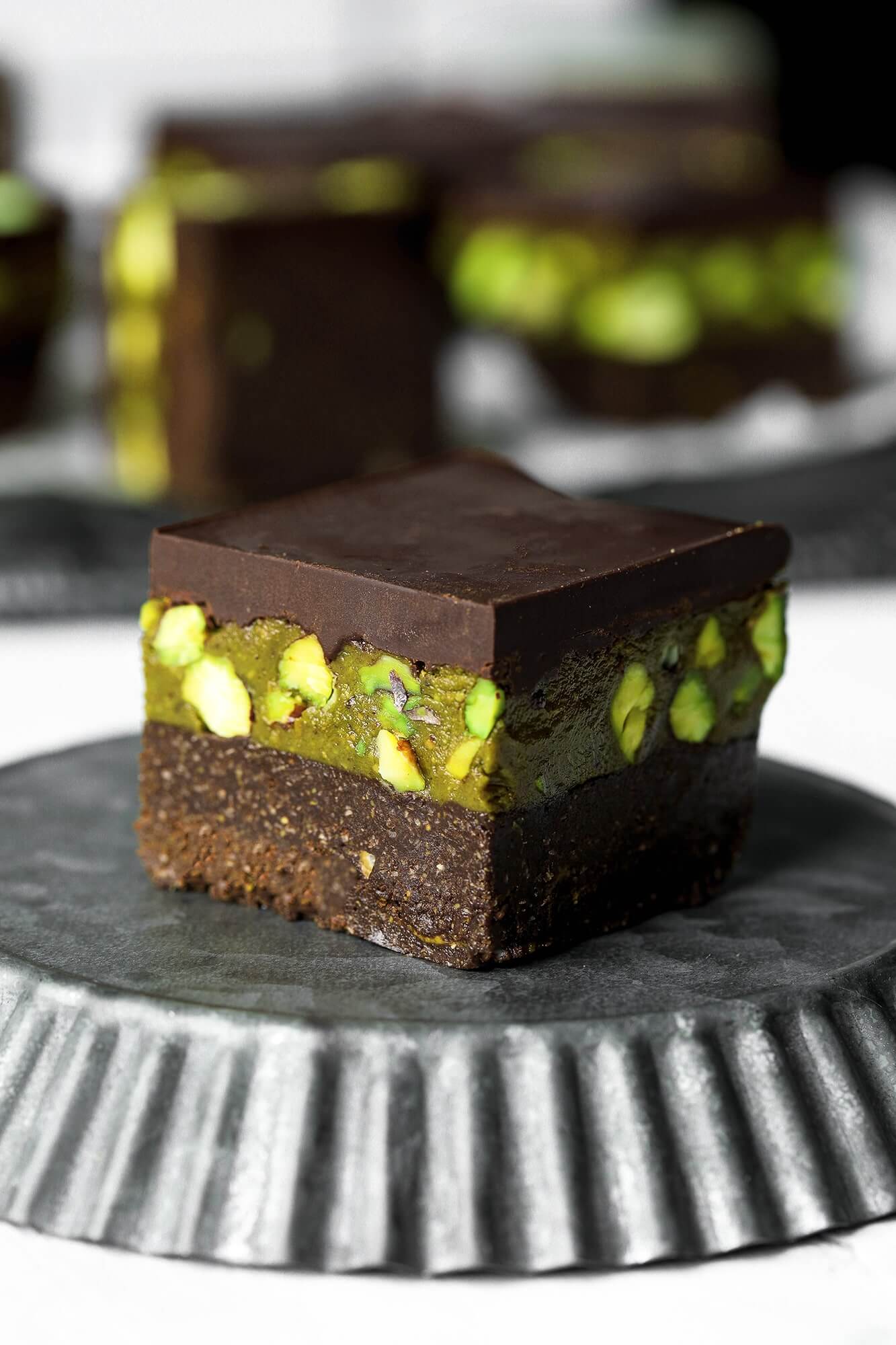 My no-bake desserts are generally the most popular recipes on the blog and the ones that usually get the best engagement on my socials. Not that I'm complaining, they're my favourite too! I love making them, shooting them and eating them more than baked treats. They're so much easier in general and are less likely to fail. They're so much easier to adjust and change around too.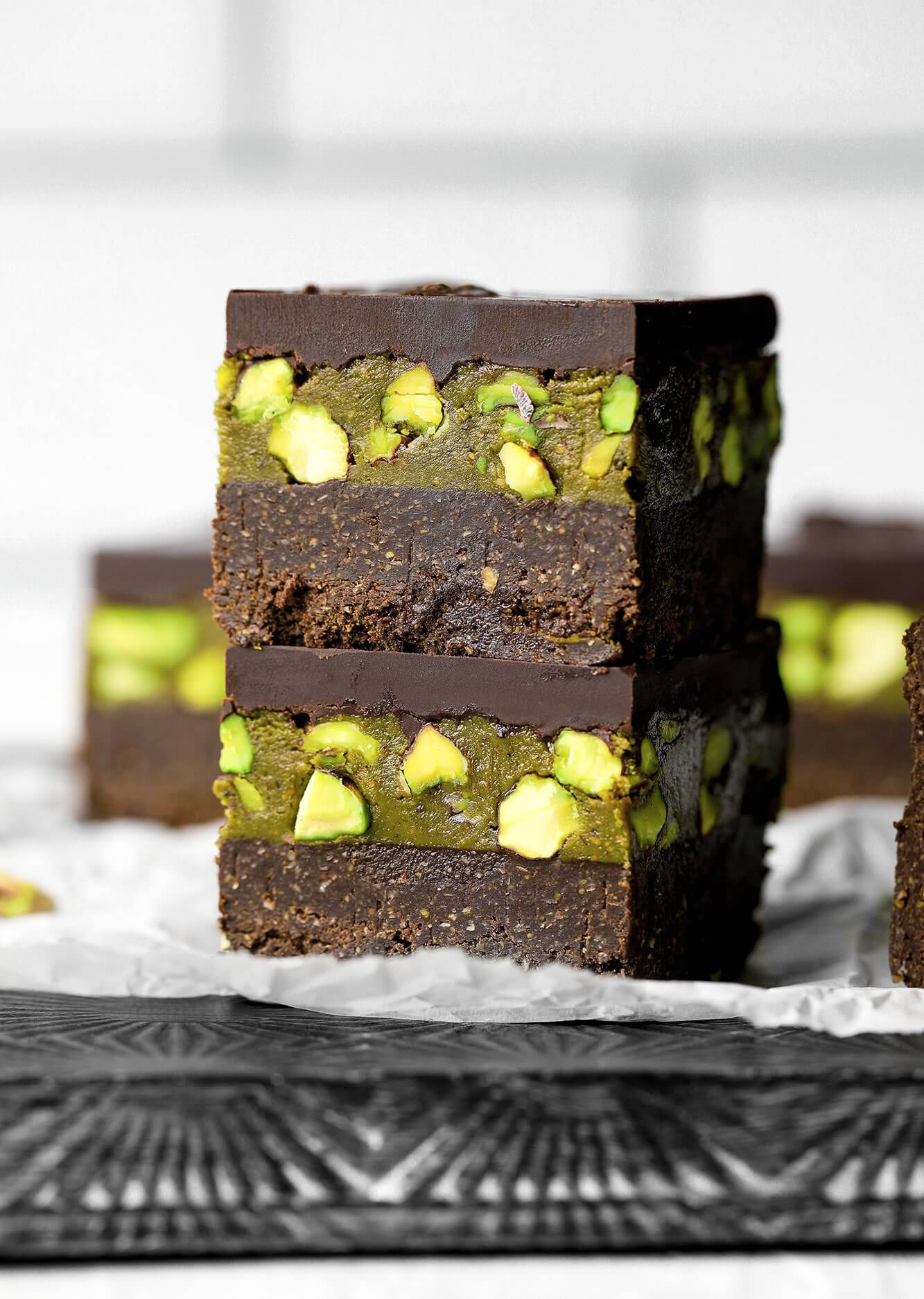 As well as being no-bake, these pistachio brownies are also:
Vegan
Gluten-free
Soy-free
Egg-free
Easy to make
Super decadnet
And made using healthier ingredients!
A must try for all you chocolate and pistachio fans out there!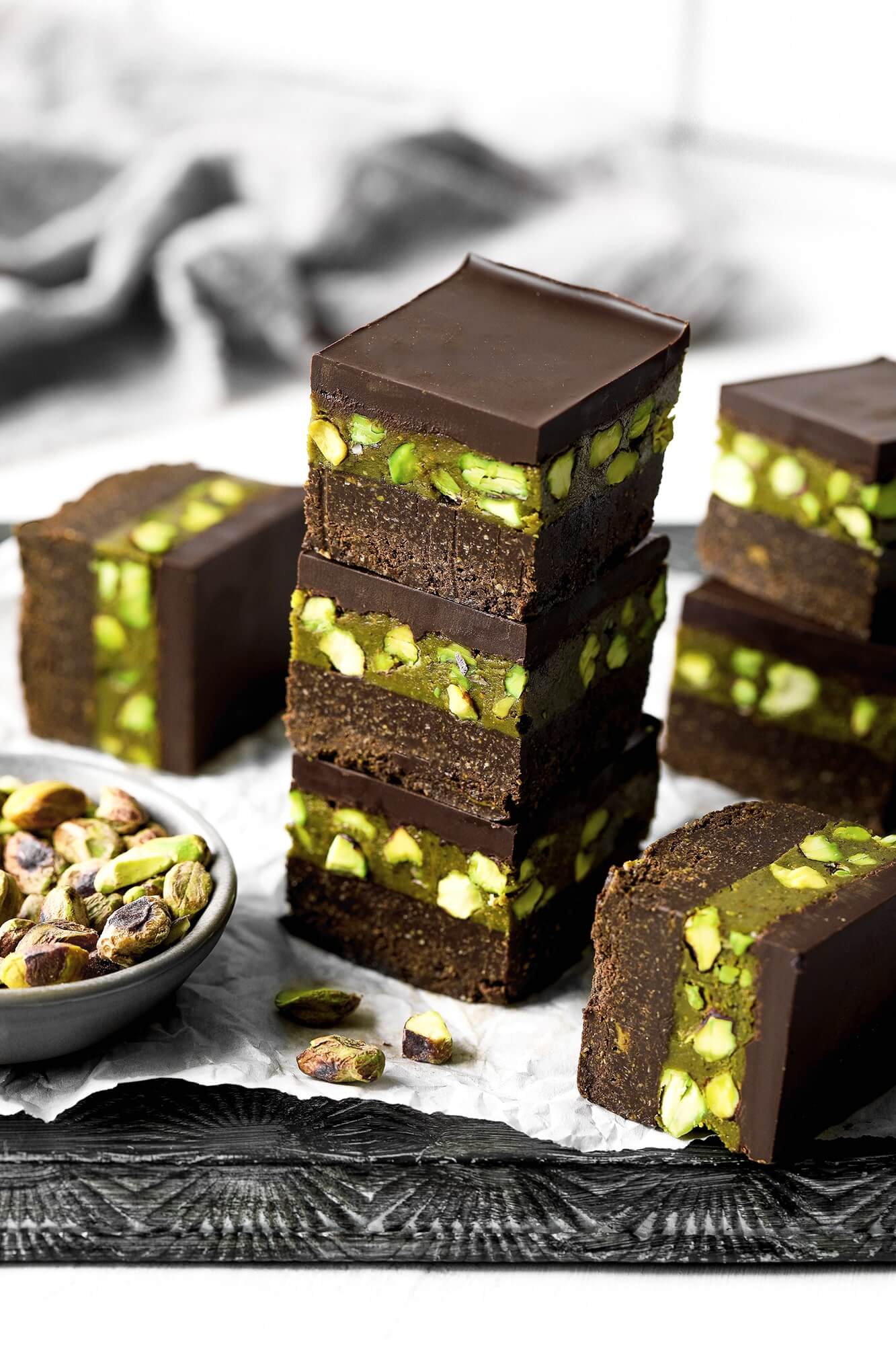 No-bake Pistachio Brownies
Make – 8
Ingredients
For the base
100g (3.5 oz) oat flour – plain oats blended into a fine flour in the food processor. Use gluten-free oats if necessary.
4 tbsp cocoa powder
Pinch of salt
4 tbsp pistachio butter
3 tbsp coconut oil, melted
2 tbsp maple syrup
For the pistachio centre
100g (3.5 oz) pistachio butter
2 tbsp coconut oil, melted
2 tbsp maple syrup
A pinch of salt
80g (2.8 oz) unsalted pistachios
For the topping
150g (5.3 oz) dark chocolate
1 tbsp coconut oil
Method
Mix the base ingredients in a bowl, then transfer into a loaf tin (I use a 22×12 cm loaf tin) lined with baking paper. Press down using a spatula or the back of a spoon.
In another bowl, mix together the pistachio butter, coconut oil, maple syrup and salt until smooth. Fold in the pistachios, then smooth over the chocolate base. Freeze for 1-2 hours.
Melt the chocolate and coconut oil in the microwave or using the double boiler method.
Once the Pistachio centre has set, take out of the freezer and pour the melted chocolate on top. Allow the chocolate to set for a few minutes, then slice and enjoy!