Middle Eastern Tenderstem® Salad
So many of us struggle to get in our recommended five-a-day servings of fruit and vegetables. I think mainly the problem is we don't always know how to fit it in and how to make them exciting, especially vegetables. To make sure I get my five-a-day in, I always make sure I have some form of greens on the side of my main dish. Whether that be salad, sauteed spinach, kale or colourful steamed, boiled or roasted veggies.
There is no question that fruit and vegetables are an essential part of our diets, essential being a key word here as they're so important for our health and wellbeing. However, it can seem a chore finding fun and exciting ways to include them into our diet. A side salad or plain boiled vegetables are fine every now and then, but they can become a bit boring if we don't spruce them up a little.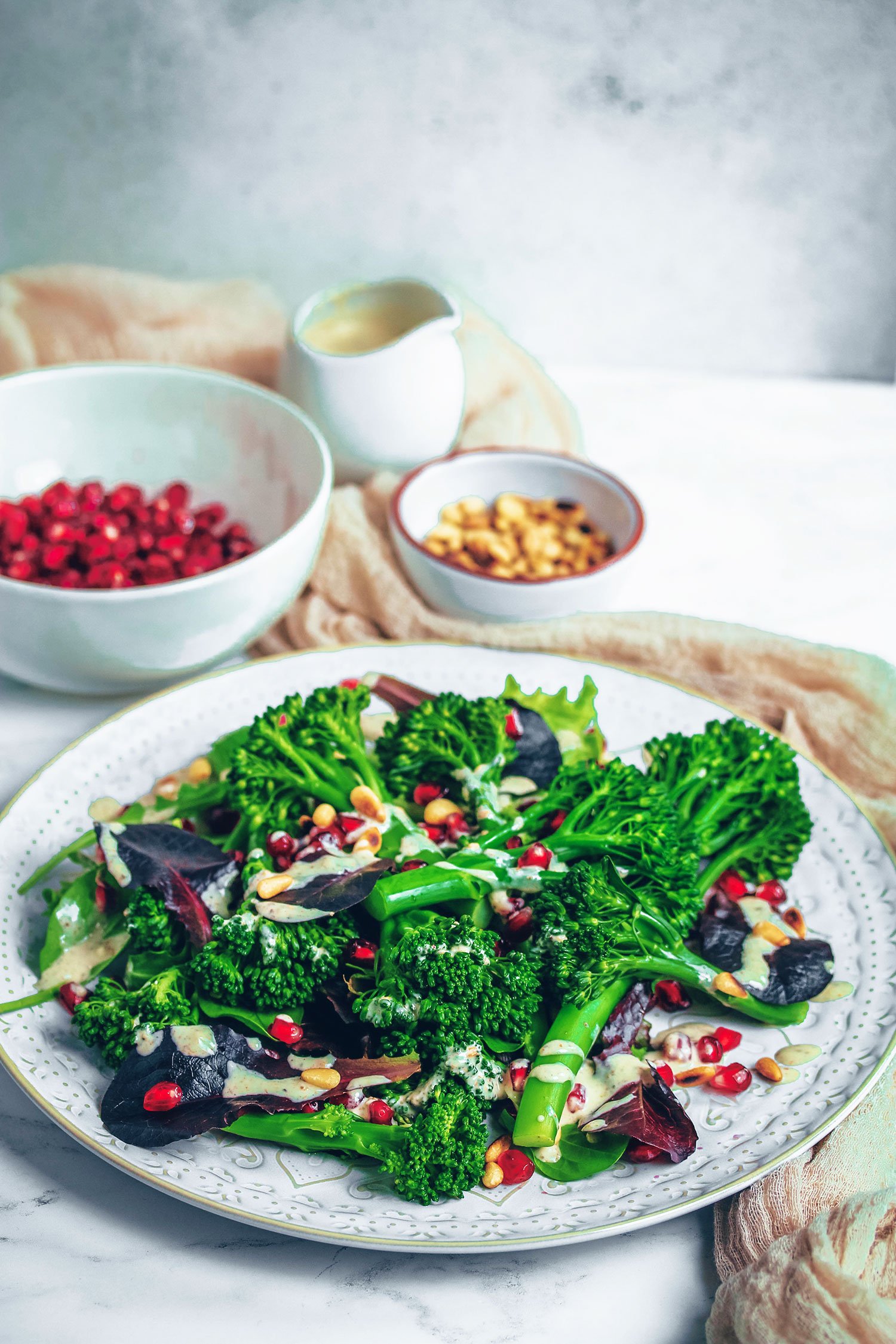 Tenderstem® have challenged me to come up with an exciting, yet simple way to incorporate their super healthy and delicious Tenderstem® into a side dish. Of course being brought up in the Middle East, my thoughts went straight to a Middle Eastern inspired side dish!
Middle Eastern food is known for its aromatic and healthy sides. From hummus, baba ganoush, tabouleh and fatoosh. They can be extremely healthy and so good for the taste buds!
This Middle Eastern Tenderstem® salad is so simple and straight forward to make. It will only take about 10 minutes to put together and it goes well on the side of any meal! You can enjoy it on the side of:
Meat or vegetarian sausages and mash
Pies and bakes (sheppard's pie, quiches, etc.)
Stews
Pasta, lasagna and pasta bakes
Steak (or cauliflower steak for vegetarians 😉 )
Rice dishes
Curries and dhaal
Sandwisches and burgers
& anything else you can think of!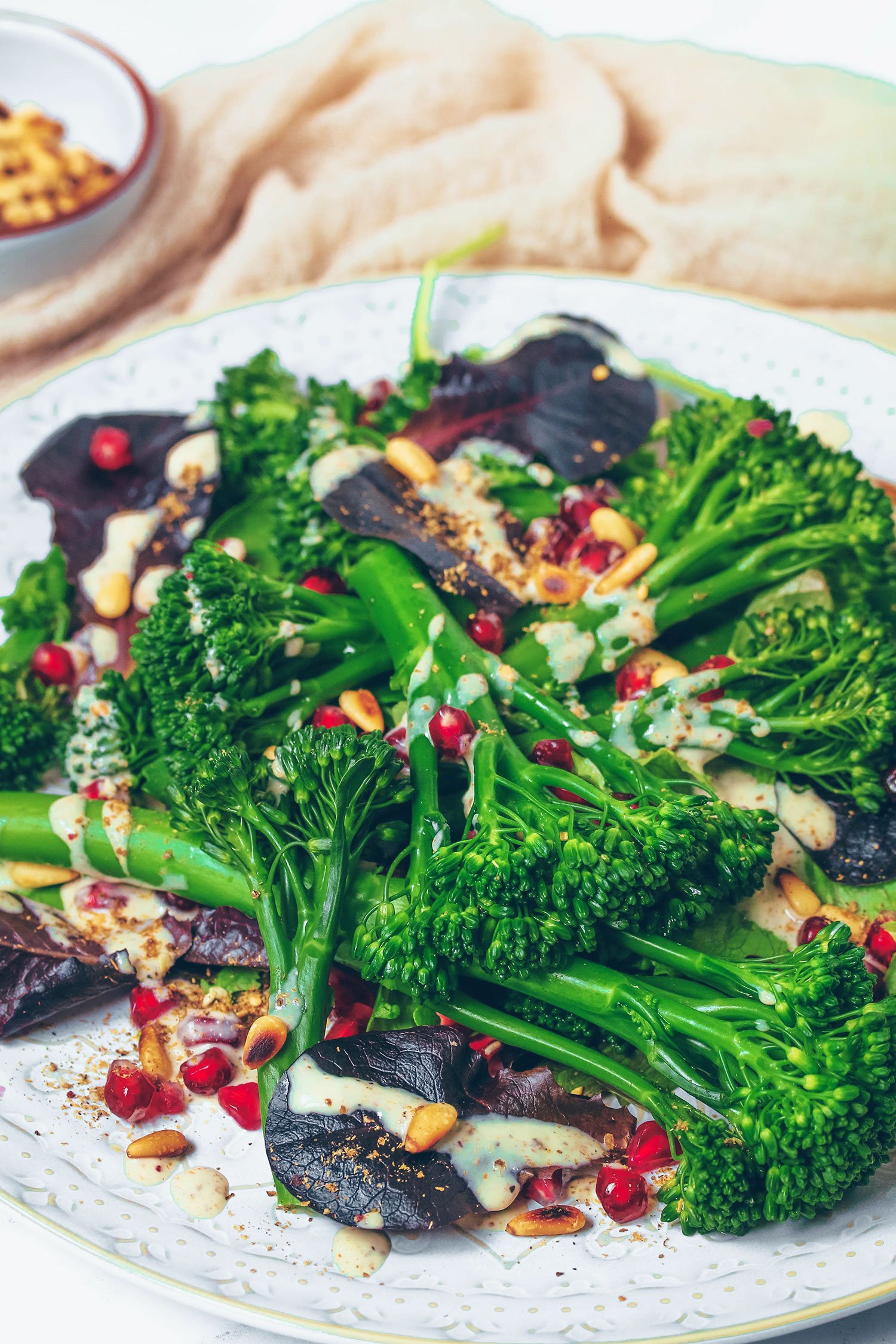 Many refer to Tenderstem® as broccoli, but it's actually a cross between broccoli and Chinese kale (genius ideas!). Most people tend to simply boil, steam or roast it, but you can do so much more with this versatile vegetable! It's really quick and easy to prepare – no chopping involved, just a quick rinse with suffice!
Don't be tempted to chop off the stem. As you may have gathered from the name, the stems are actually really good for you, and once cooked they're lovely and soft and not fibrous like regular broccoli stems tend to be.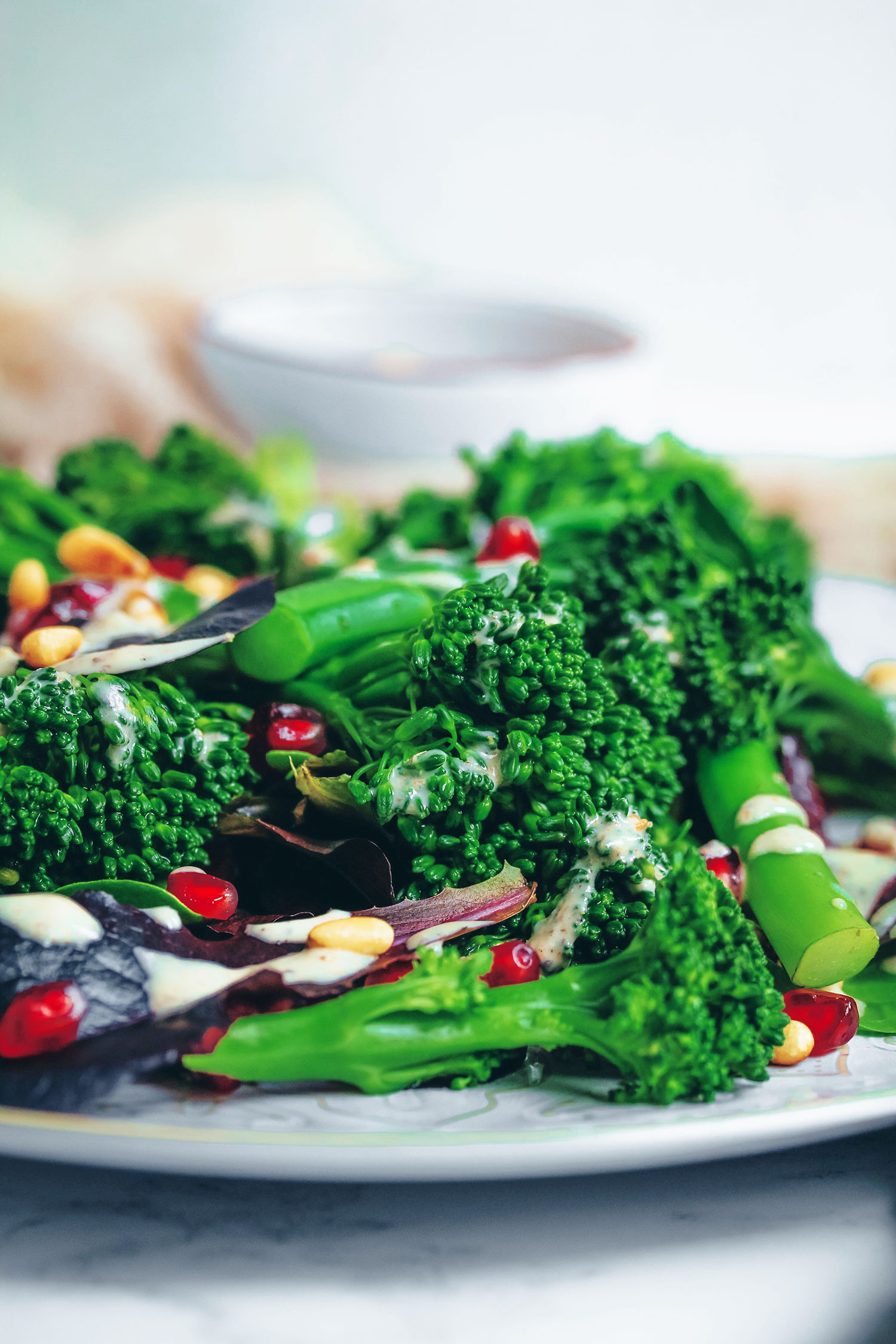 So for this Middle Eastern Tenderstem® Salad, I'm simply boiling the Tenderstem® for 3-4 minutes (don't boil for any longer, you'll get rid beneficial nutrients as well as its beautiful vibrant green colour!), then i'm tossing it with mixed salad leaves, pomegranate seeds, pine nuts and a delicious homemade tahini and za'atar dressing. Tahini and za'atar are both essential ingredients in Middle Eastern cooking and they work so well together.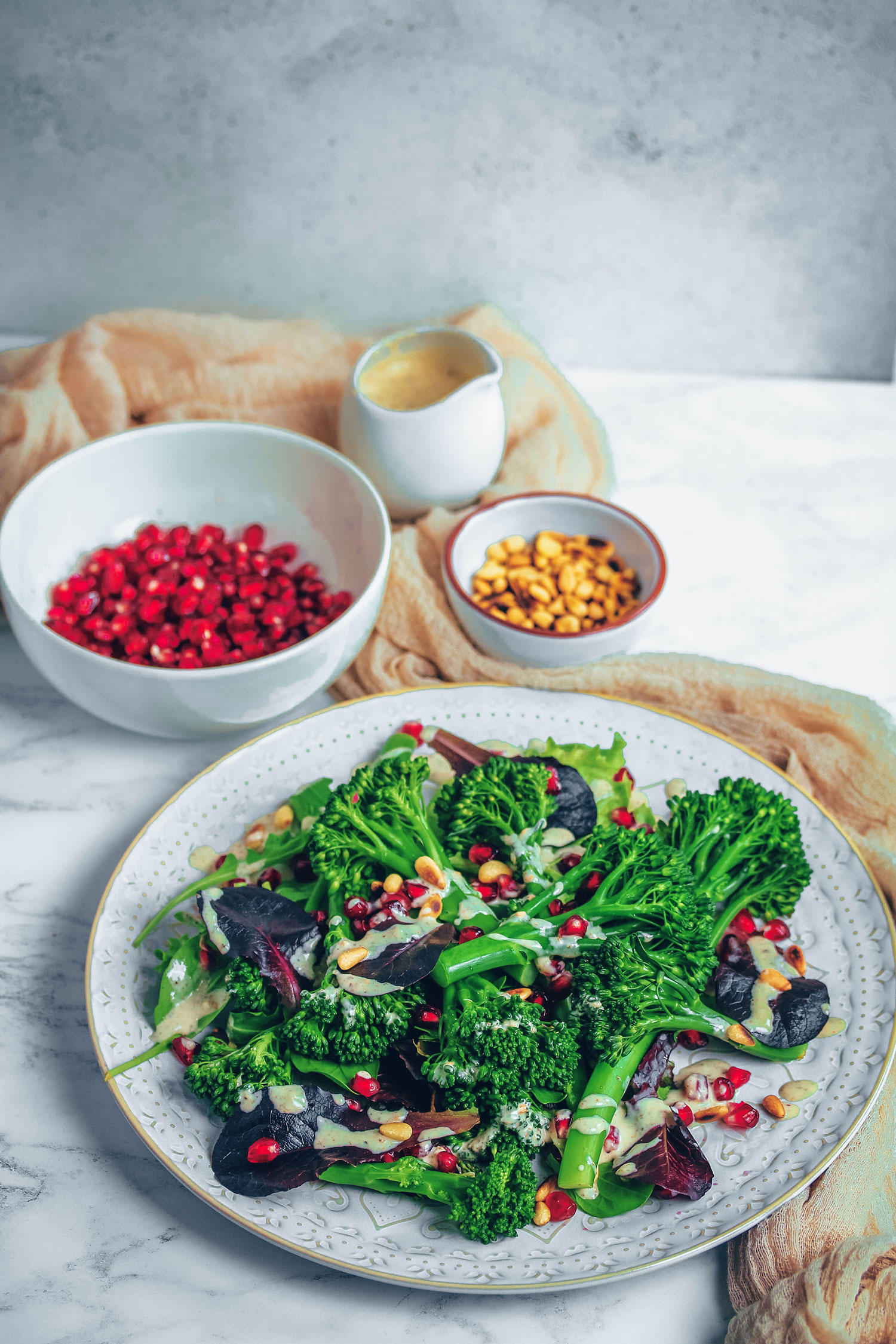 ---
Middle Eastern Tenderstem Salad
Serves: 4-6
Ingredients
400g Tenderstem
200g mixed leaf salad
100g pomegranate seeds
50g toasted pine nuts
For the tahini za'atar dressing
3 tbsp tahini
1 tbsp soya or coconut yoghurt
1 tbsp lemon juice
2 tsp za'atar mix
3 tbsp water
½ garlic clove, crushed
Salt & pepper to taste
Method
Add the Tenderstem to a pan of boilg water, lower the heat and simmer for 3-4 minutes. Drain and rinse under cold water for a few seconds.
Arrange on a plate with the salad, pomegranate seeds and toasted pine nuts.
Mix the dressing ingredients in a bowl, then drizzle a generous amount on the salad before serving.
Enjoy!
---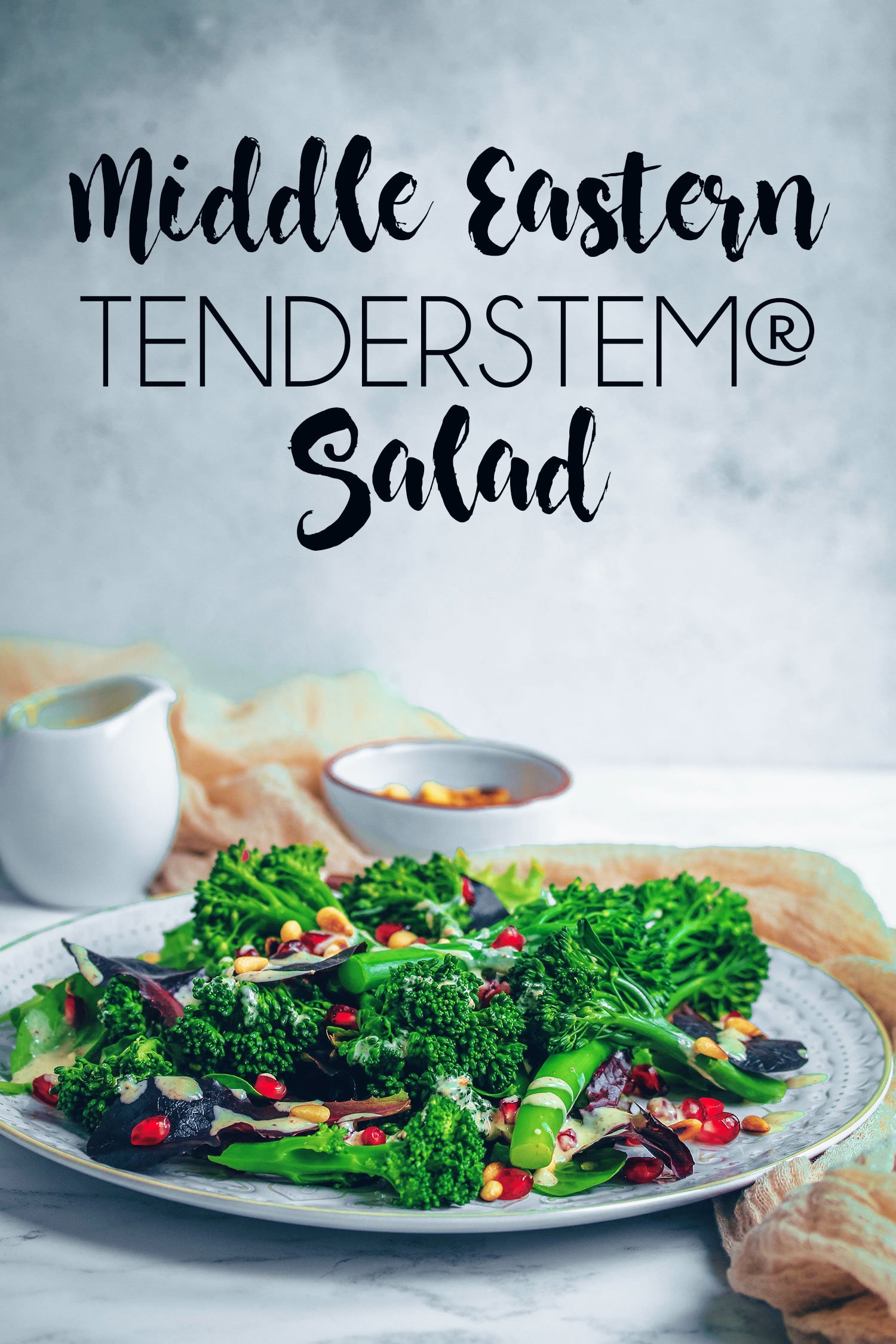 Thanks to Tenderstem® for sponsoring this post. Commissioned posts is how I'm able to continue working on the blog and creating recipes and recipe videos for you. As always, all opinions are my own.
Share This Post