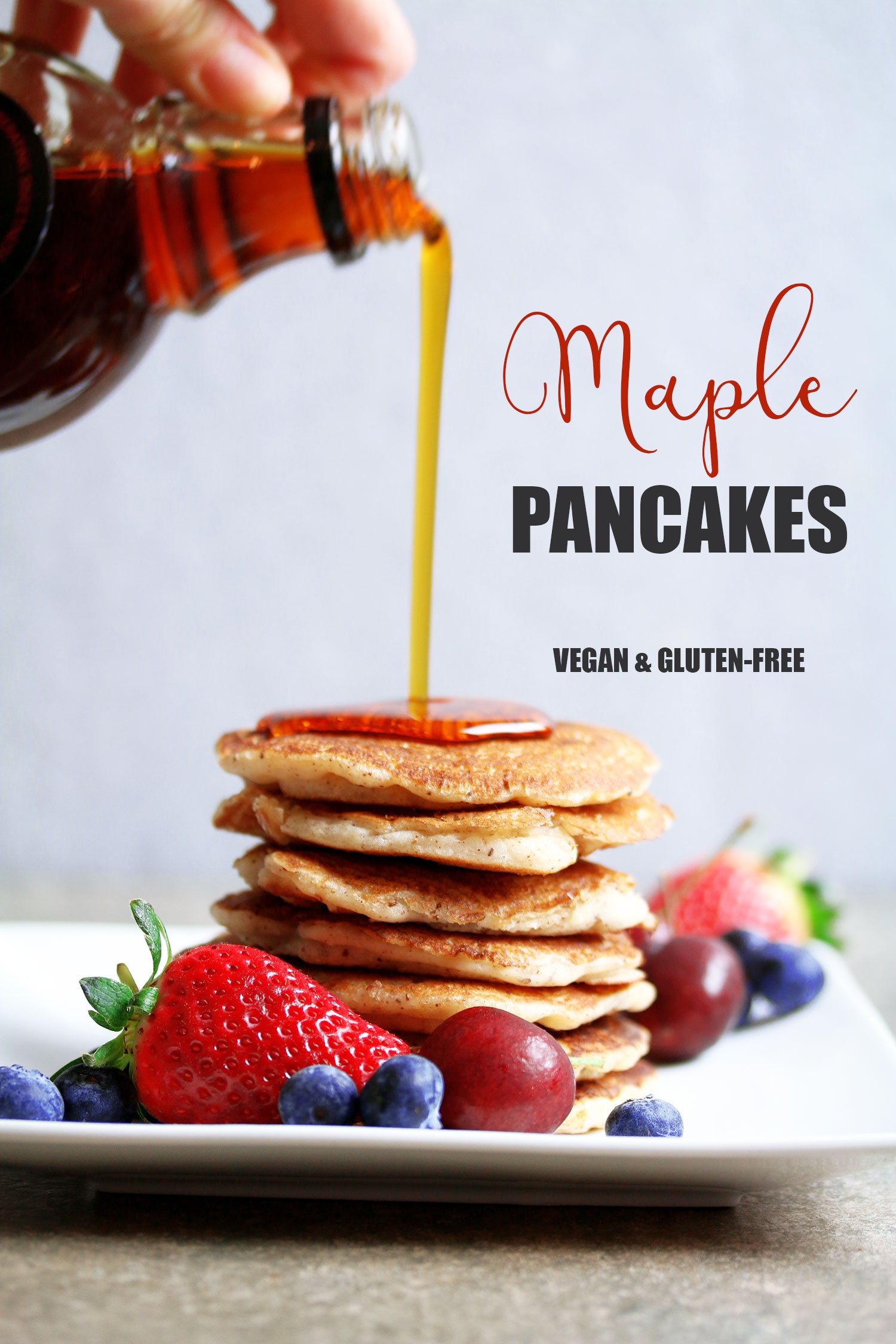 Maple Pancakes – Vegan & Gluten-free
I've made a few variations of a 'basic' pancakes recipe before (like my strawberry choc chip pancakes and English pancakes), but this recipe by far is the easiest! Pancakes shouldn't be complicated and they definitely don't need loads of ingredients and additions to make them taste good!
With pancake day around the corner, blogs and social media is saturated with pancake recipes. I wanted to post a recipe that's easy to make, requires very few ingredients and is both vegan and gluten-free. Many of the recipes I've seen are either gluten-free or vegan, but rarely tick both boxes. That's not ideal for someone like me who wants to avoid both irritants to keep my chronic auto-immune conditions and inflammation at bay.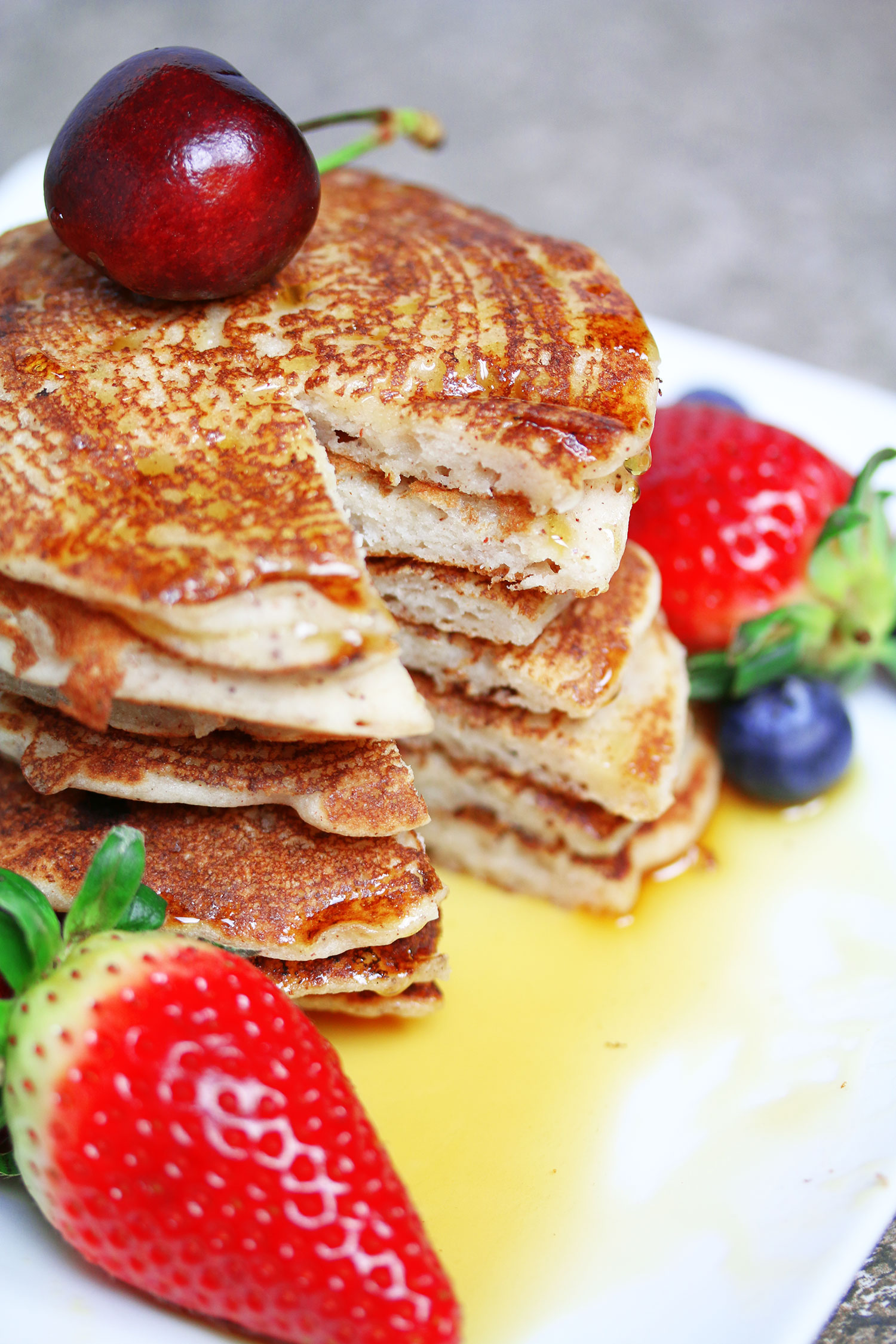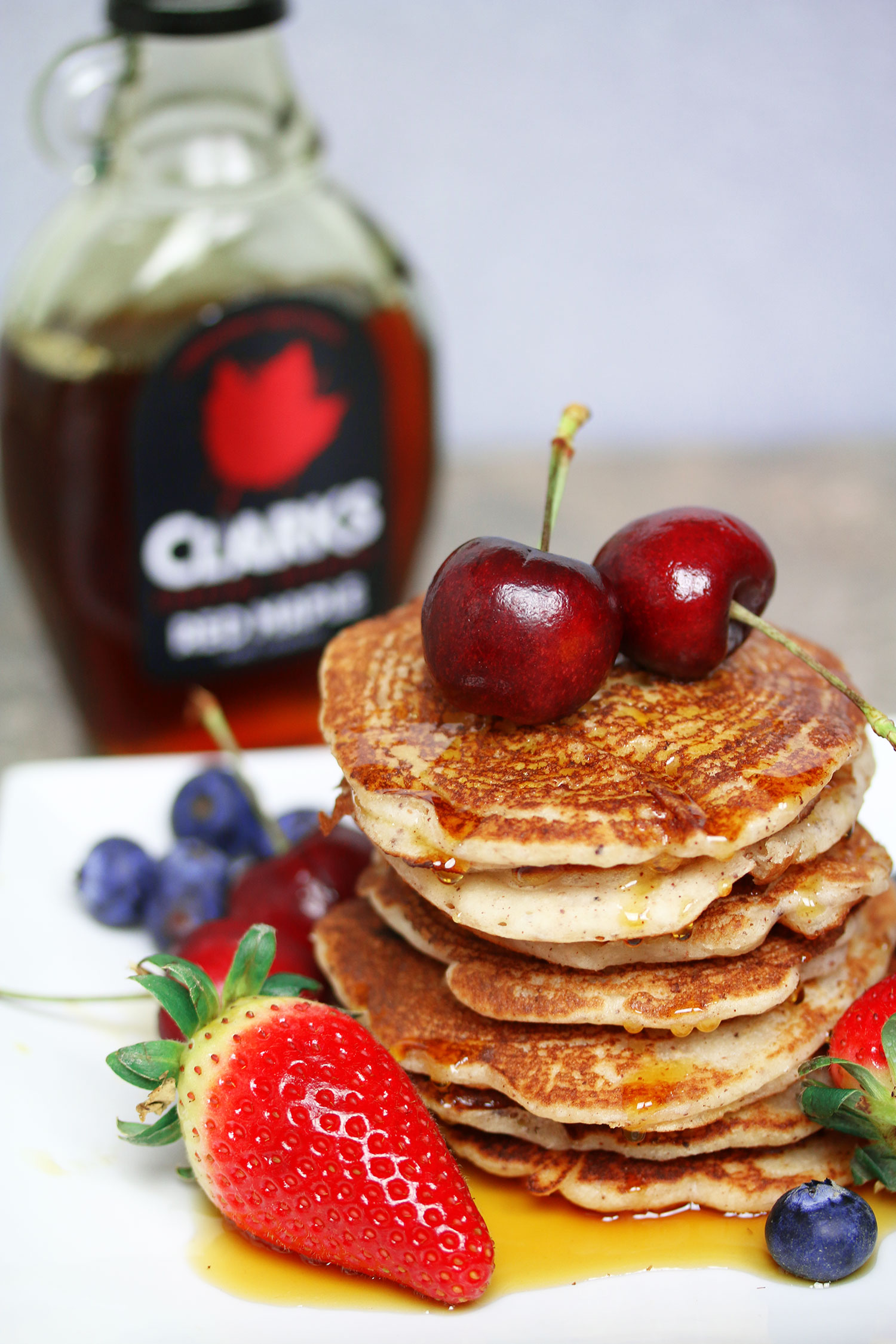 I used Clarks maple syrup to lightly sweeten the batter and used more to drizzle on top to celebrate the launch of their new special reserve pure Canadian red maple syrup – the UK's first red maple syrup! I always use their maple syrup in my recipes so I was thrilled when they asked me to try out their newest addition and create a recipe for them.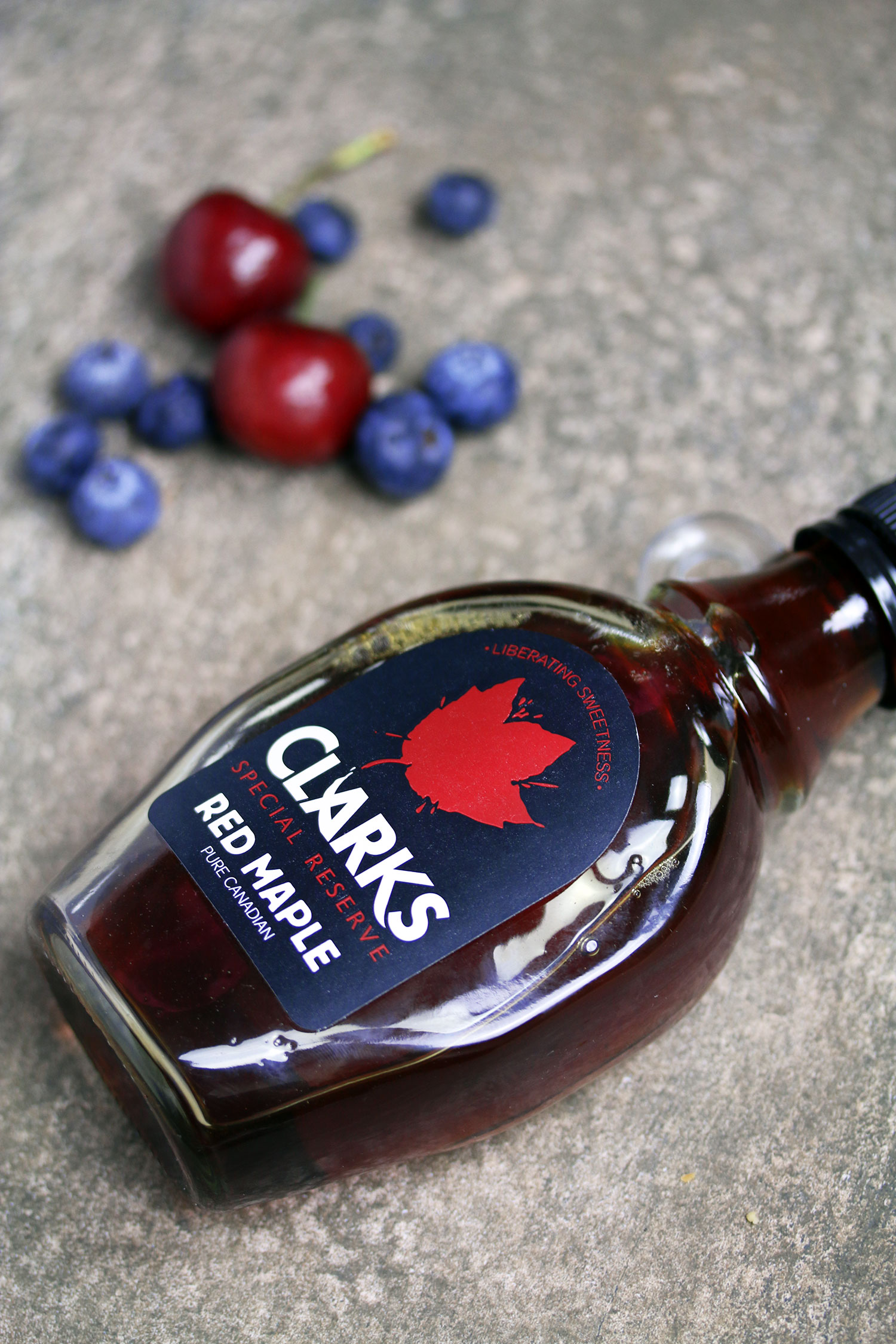 There is no doubt that maple syrup is the best way to sweeten pancakes with its unique sweet taste and delicious caramel tones. I also use maple syrup in a lot of my baking because I find it the best tasting vegan liquid sweetener, and it's thiner texture makes it easier to work with when it comes to baking and results in a less-sticky raw treats. Also, it's a lot more accessible to people. I've used other sweeteners in the past only to be told by my readers that they can't get hold of it anywhere!
If you would like to try Clarks new red maple syrup, it's now available to purchase from Sainsbury's.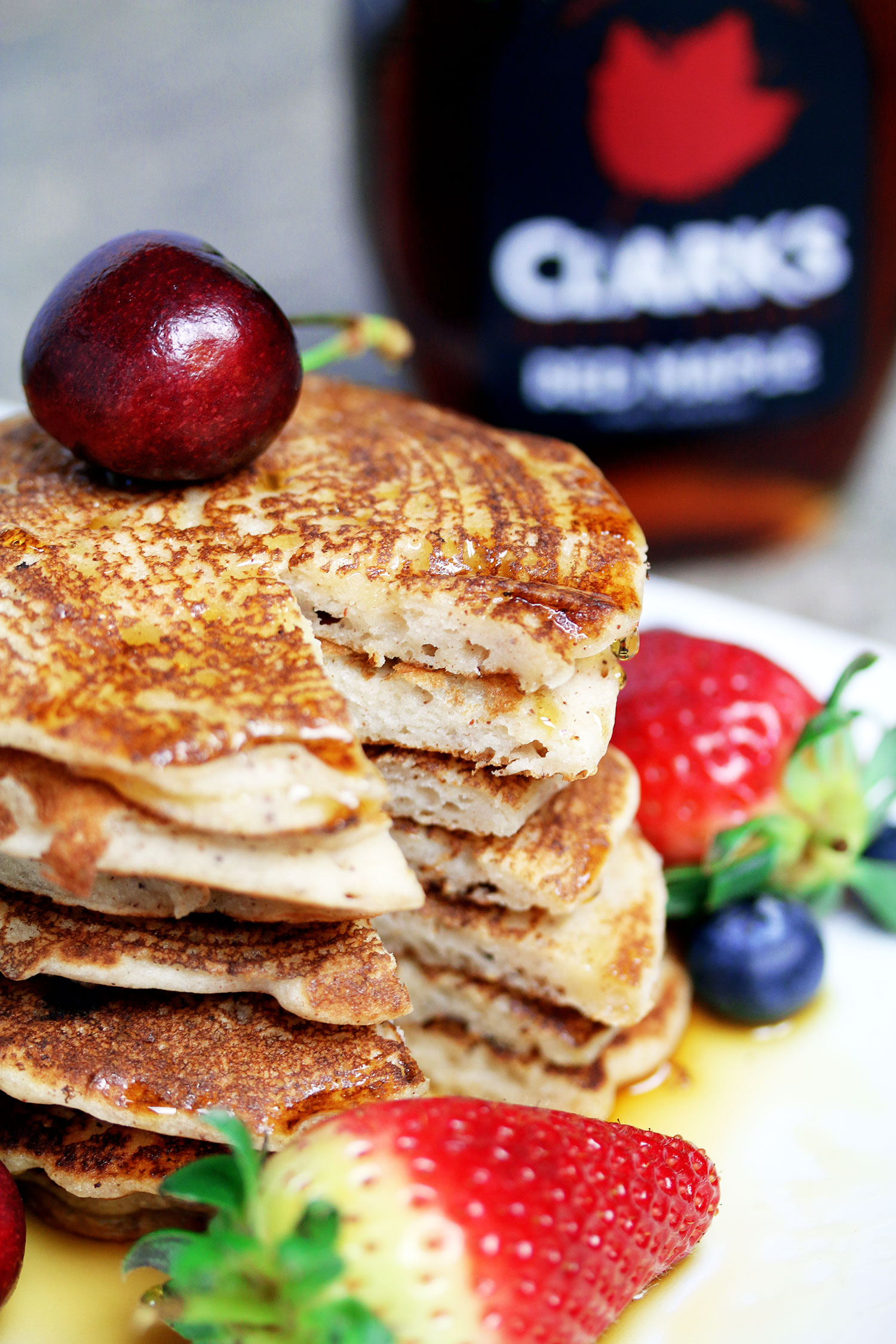 Maple Pancakes – Vegan & Gluten-free:
Serves: 2
Ingredients:
1/2 cup (75g) self raising gluten-free flour
Pinch of salt
1/2 tsp cinnamon
6 tbsp (100 ml) milk of choice
1 tbsp Clarks red maple syrup
1/2 tsp vanilla extract
1 tbsp coconut oil, melted
More coconut oil for cooking
Method:
In a large bowl, mix together the flour, salt and cinnamon, then pour in the milk, oil, vanilla and maple syrup. Mix to combine.
Heat about 1/2 tsp coconut oil on a medium/high heat. Wait for the oil to heat up before adding the batter.
Add 1-2 tbsp of the batter to make each pancake. Leave to cook for a couple of minutes, then flip and cook for another 1 minute.
Top with more maple syrup, berries and anything else your heart desires!
Enjoy!

This post was commissioned by Clarks; however all opinions are my own.