As an IBS sufferer I really have to be careful what I eat, particularly for breakfast. Usually if I start the day off wrong, my digestive system will play up the rest of the day no matter what I do. I would get this heavy unsettling feeling in my stomach, like a brick. It feels like the food sits there for hours and I start feeling so tired, sluggish and lethargic. Pancakes were one of those foods that I had to avoid in the morning!
I started experimenting with my own healthier version of pancakes and I've tried a few combinations that I really love to make (like these basic healthy pancakes). I usually use oat flour or protein powder as the base of my pancakes, but today I wanted to experiment with spelt flour…and I was pretty happy with the results! Spelt flour is not gluten free but it does contain less gluten than regular wheat flour which makes it easier to digest. It's also less processed, particularly if you use the wholemeal variety.
These strawberry vegan pancakes are moist, tasty and so easy to make. To turn these pancakes into strawberry chocolate chip vegan pancakes I finely chopped some strawberries and added them into the batter. Instead of using regular chocolate chips, I added in some cacao nibs for some crunch and a hit of antioxidants. I thought I would go all out and add a generous drizzle of Choc Shot, it tastes so good and makes anything look pretty!
These pancakes are vegan, dairy free, egg free and refined sugar free.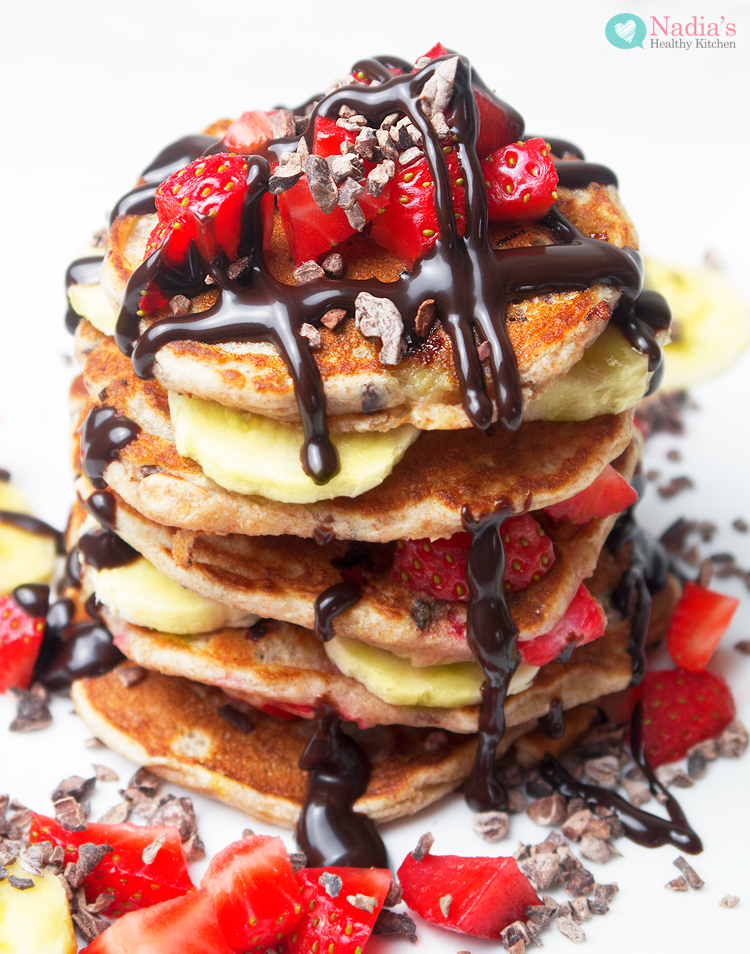 Strawberry Chocolate Chip Vegan Pancakes
Serves 2
Dry ingredients
1/2 cup (65g) wholemeal spelt flour
2 tbsp stevia (or sweetener of choice)
1/2 tsp baking powder
pinch of salt
1 tbsp cacao nibs (you could use chocolate chips)
Wet ingredients
1/2 cup milk (100ml) (I used almond milk but any kind will work)
1/2 cup chopped strawberries
1/2 banana, mashed
1/2 tsp vanilla paste (or 1 tsp vanilla extract)
Method
In a bowl, mix together the spelt flour, baking powder, salt, stevia and a pinch of salt. Give everything a quick toss.
Add in the mashed banana and milk. Mix until you have an even batter.
Fold in the chopped strawberries and cacao nibs
Heat a little bit of oil (I used coconut) in a frying pan.
Drop about 1.5 tablespoons of the batter for each pancake.
Cook for a couple of minutes on each side.
Serve with more chopped strawberries, sliced banana and cacao nibs. I squeezed some choc shot on top to make the pancakes extra chocolatey