Healthified Vegan Oreo Brownies
A delicious, moist and rich chocolate brownie topped with chopped Oreos. Need I say more? Oh, apart from they're also healthier than your average brownies. They're high in fibre with a hidden ingredient and sweetened with whole dates!
OK, I'll put you out of your misery. The secret ingredient in these vegan Oreo brownies is CHICKPEAS! Actually this shouldn't come as too much of a surprise since I've already used chickpeas, beans and lentils before in many of my sweet treats.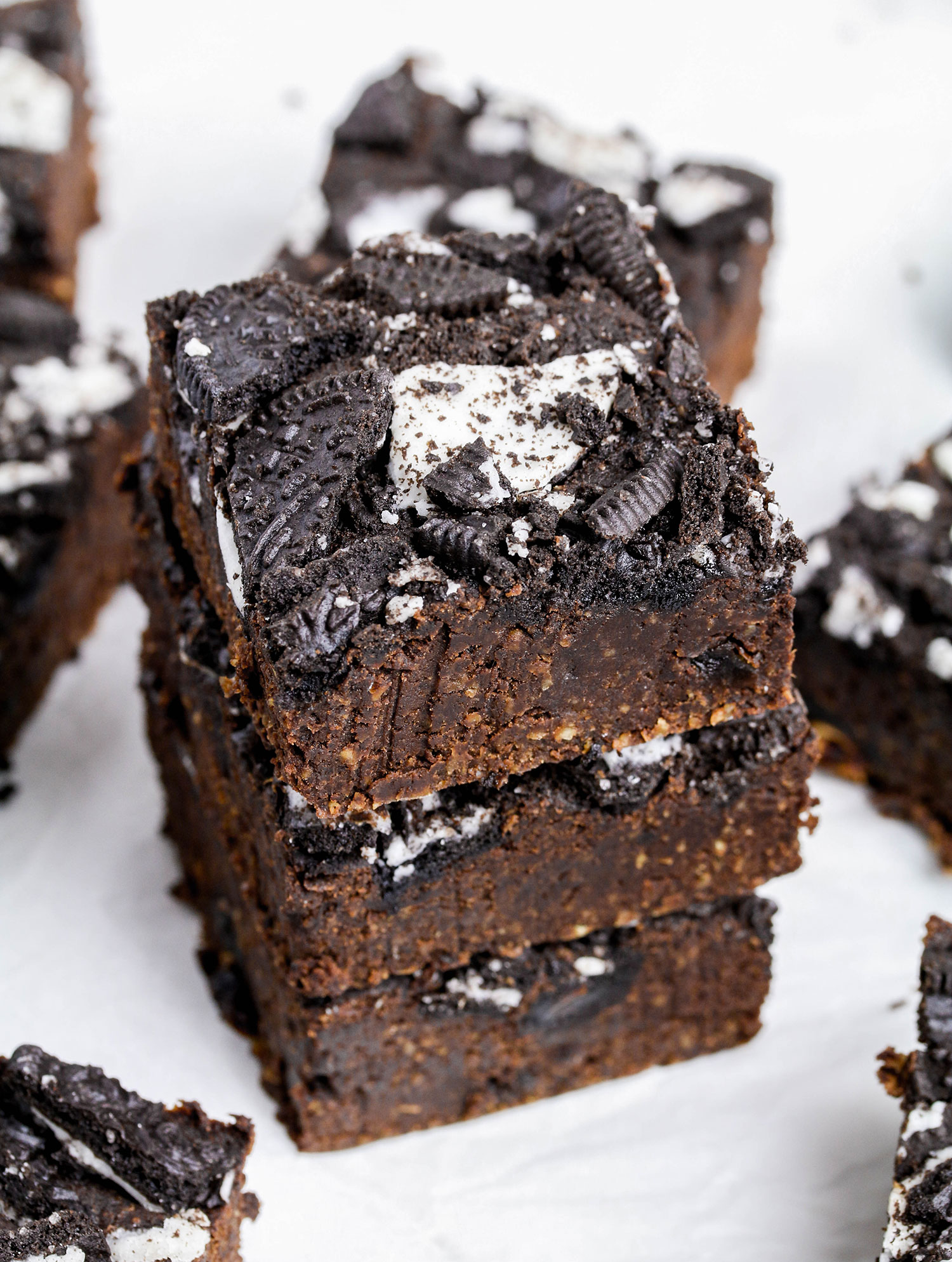 Tesco challenged me to nominate someone in my household who does the least cooking to create something using their new Go Cook, exclusively for Tesco products. Since it's just me and the hubby and I do all the cooking and baking, I'm sure you can guess who I nominated for this challenge. Today, the hubby is the star of the show!
I was contemplating what to challenge him to make. A main meal perhaps? Something quick and easy that won't put him off participating? One of the reasons he doesn't cook is because he's always swamped with work and constantly chasing deadlines. If I wasn't there to cook for him I can guarantee he would be eating takeaways or ready meals everyday! But I know he's not alone. So many people struggle to find time to cook, or they do have the time but see cooking as such a big, tiring and time consuming chore, but that's not necessarily the case.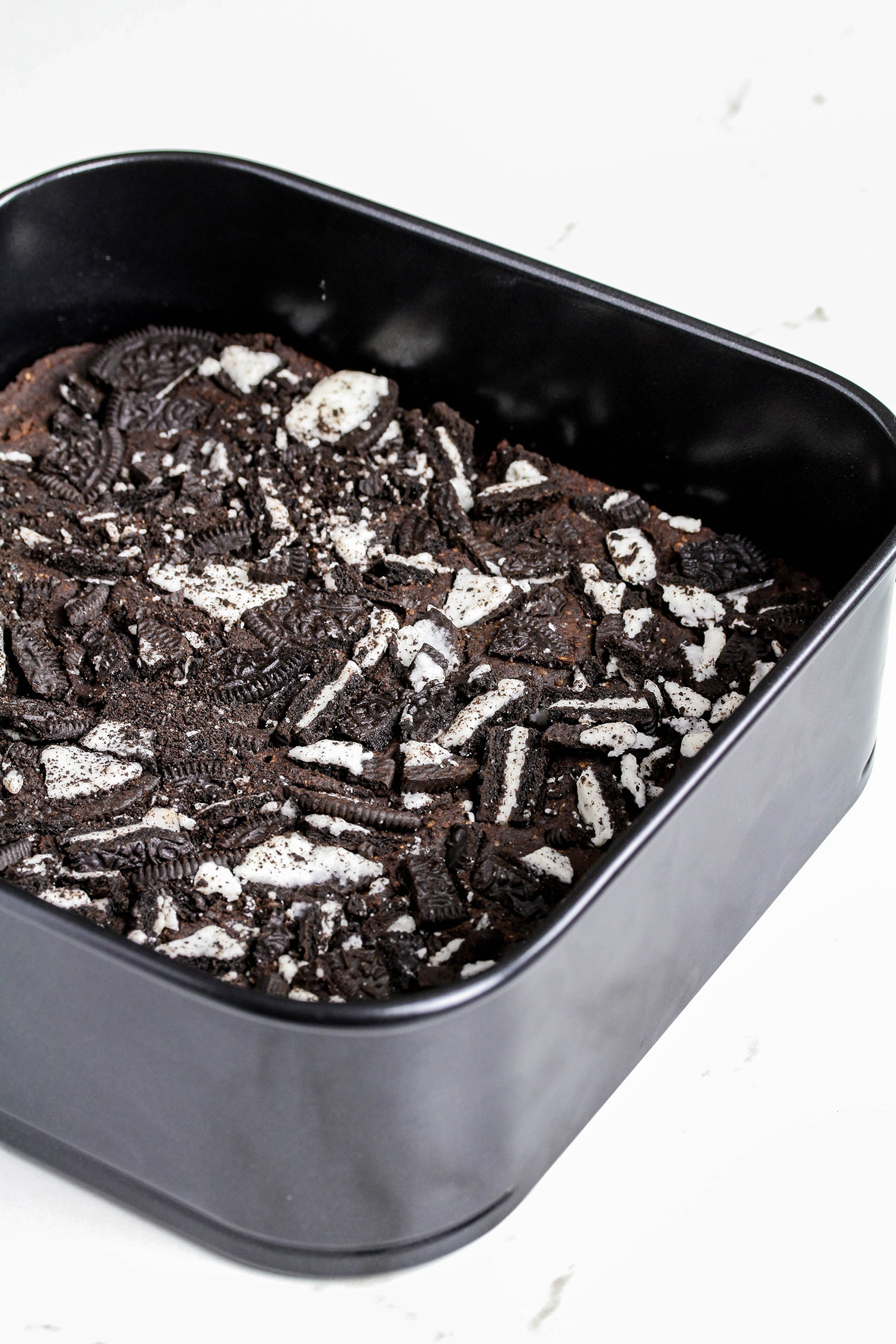 The Go Cook, exclusively for Tesco brand of premium cookware were designed to make it easier for people to cook. The brand includes everything from high quality pots and pans, bakeware, utensils, knives and food prep essentials so you don't have to shop around for everything you need to cook quick and healthy meals.
I decided to go with a baked treat, since the hubby has never (and I mean never!) baked anything before. Can you believe it? Unlike me, he's more of a savoury guy and doesn't have much of a sweet tooth, so I can see why it's taken him this long to bake anything. However, I saw this as the perfect opportunity to get him to lose his baking virginity!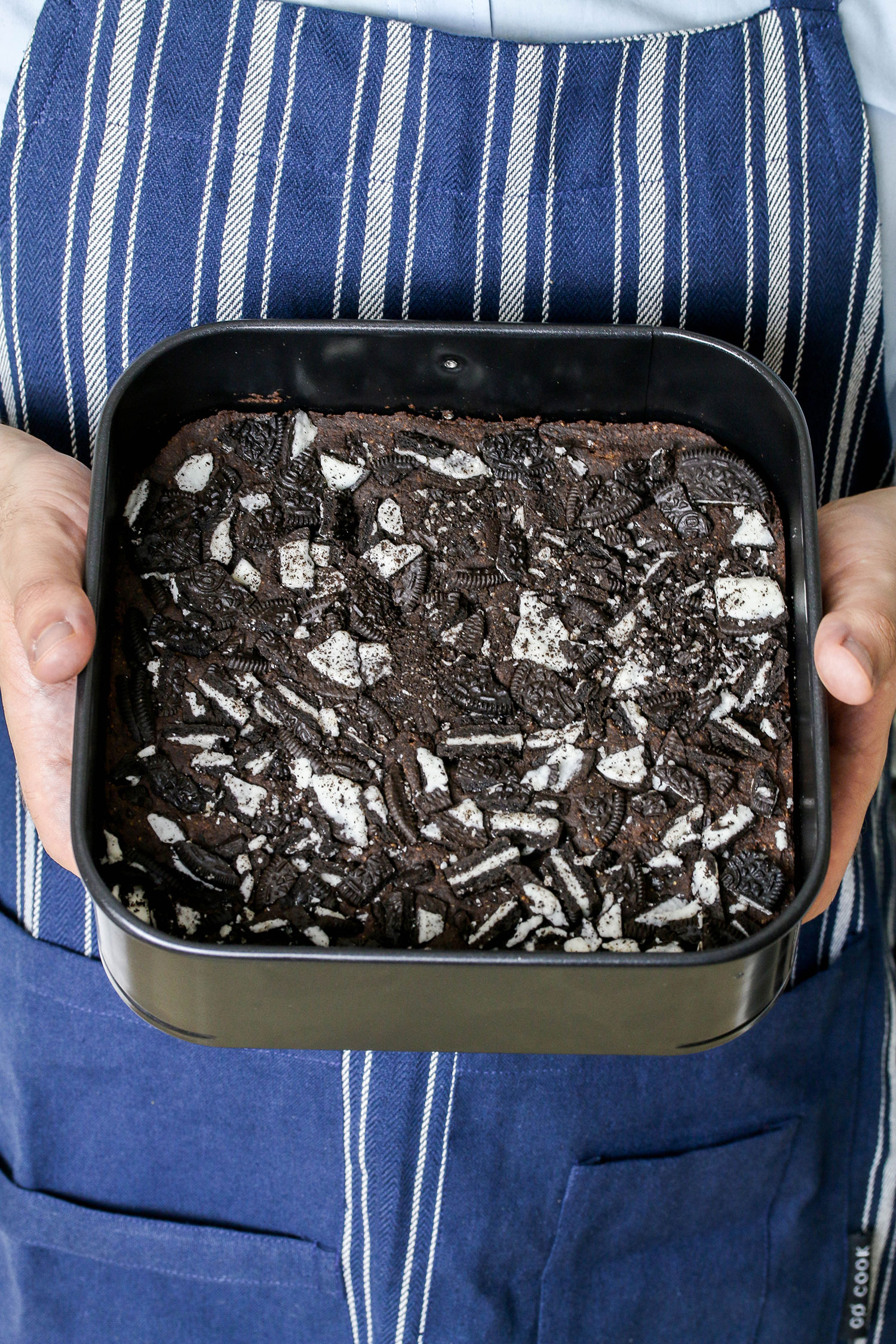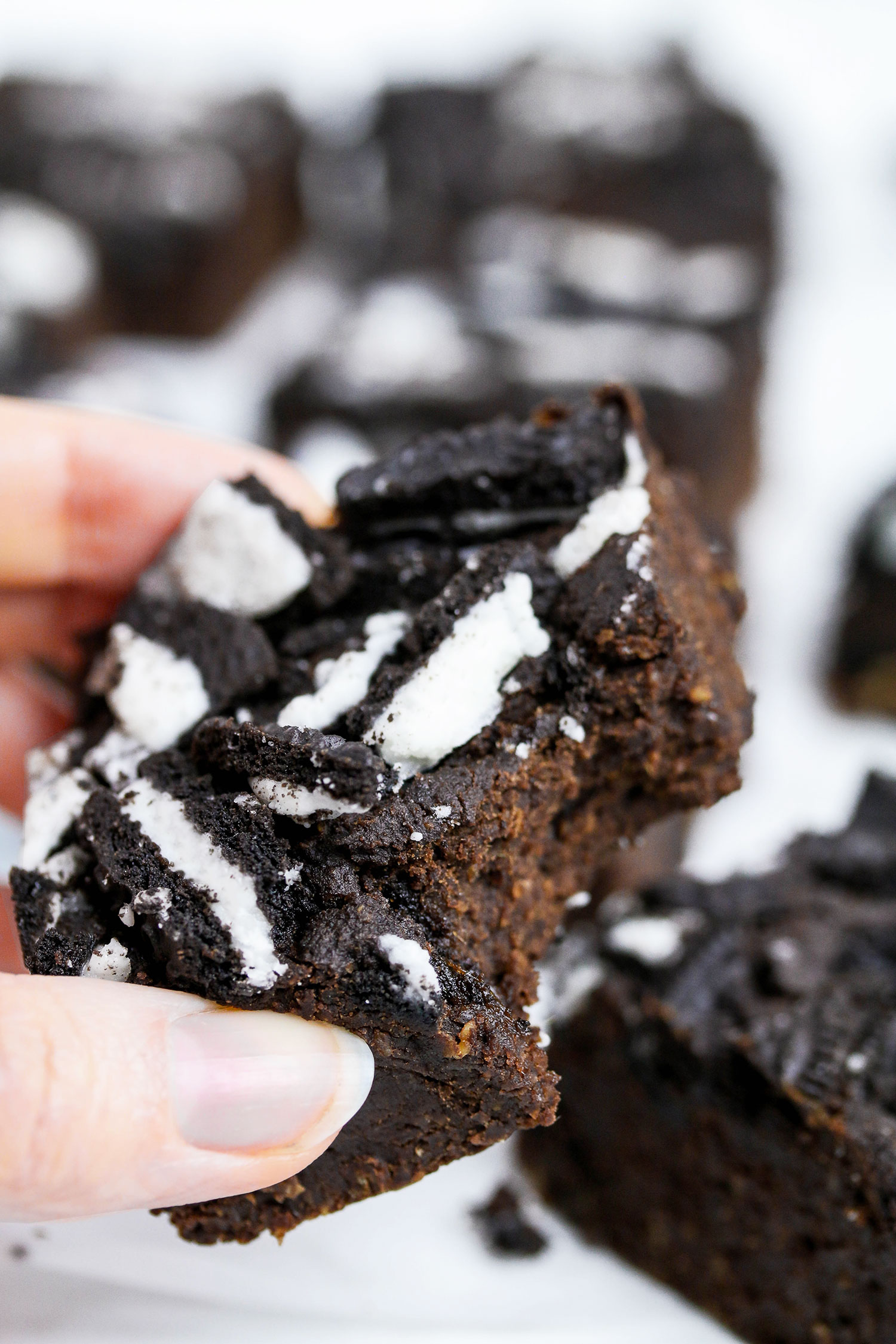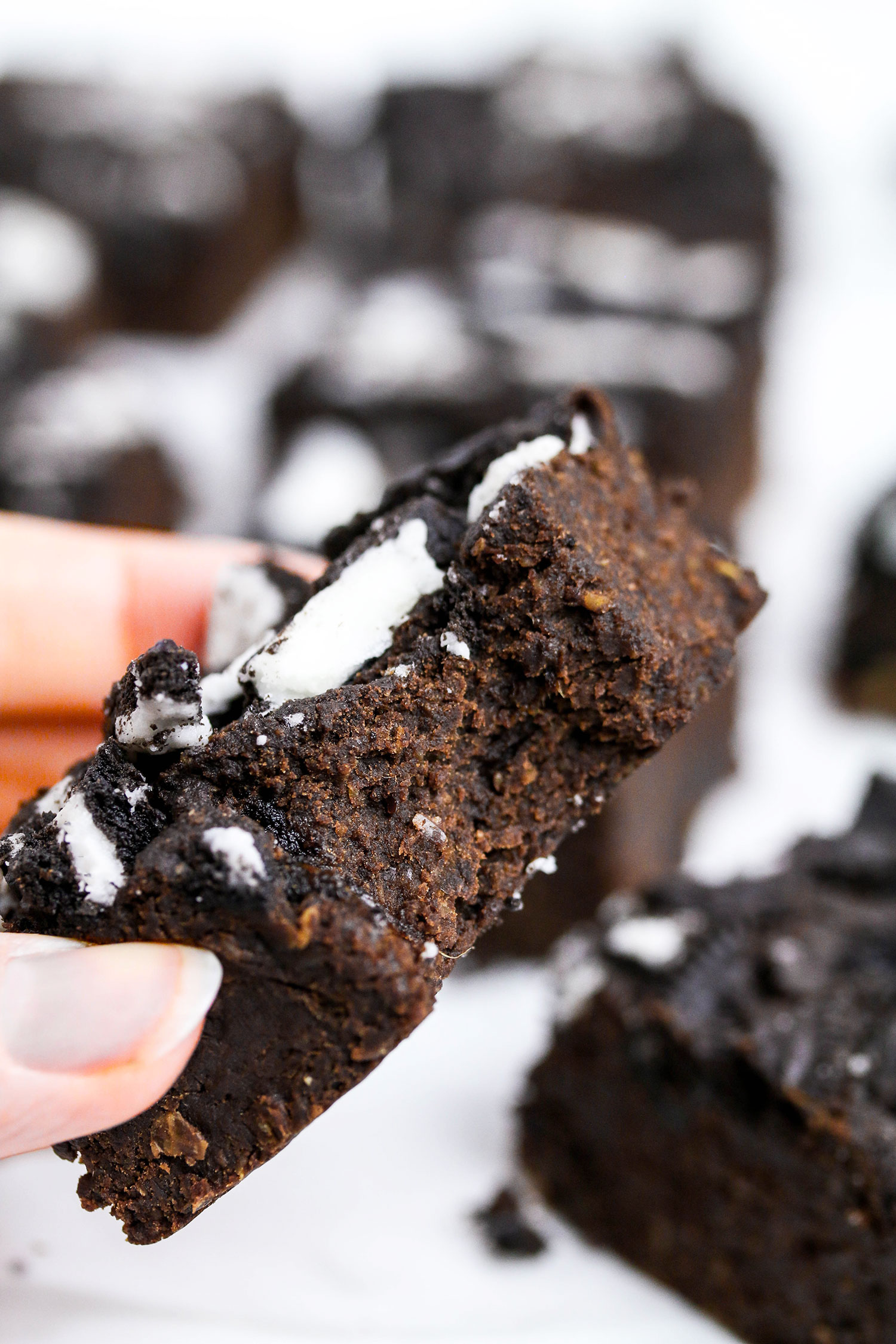 Unsurprisingly he chose to bake Oreo brownies. One of the sweet things he does really love is Oreos, so it was only natural he would suggest that, and everyone loves brownies. You can't go wrong there! So for this challenge, I picked up Tesco Go Cook Square Spring Form Cake Tin, Soft Grip Santoku Knife, Oak Chopping Board and last but not least the Navy Apron, because every baker needs an apron, especially a first time baker 😀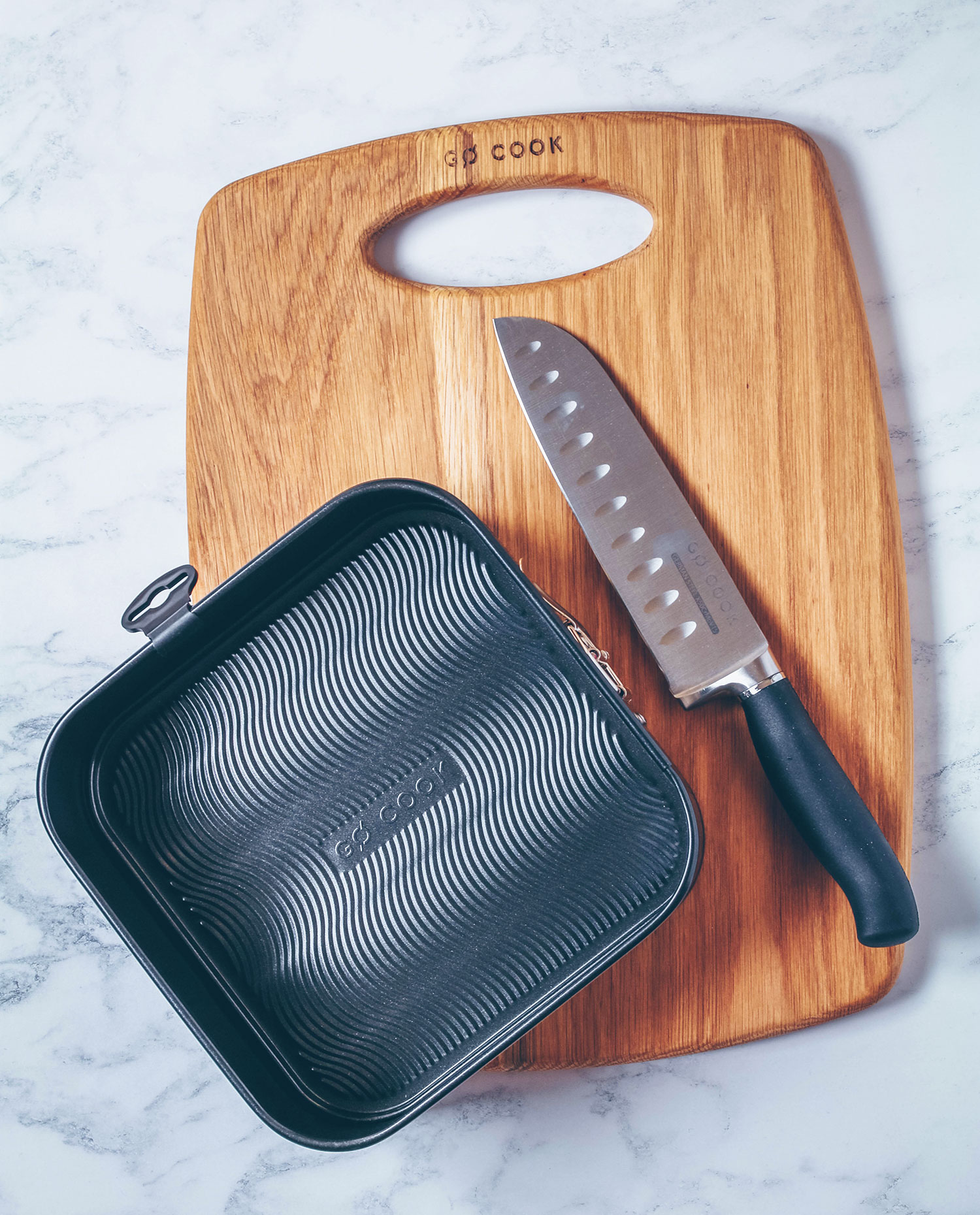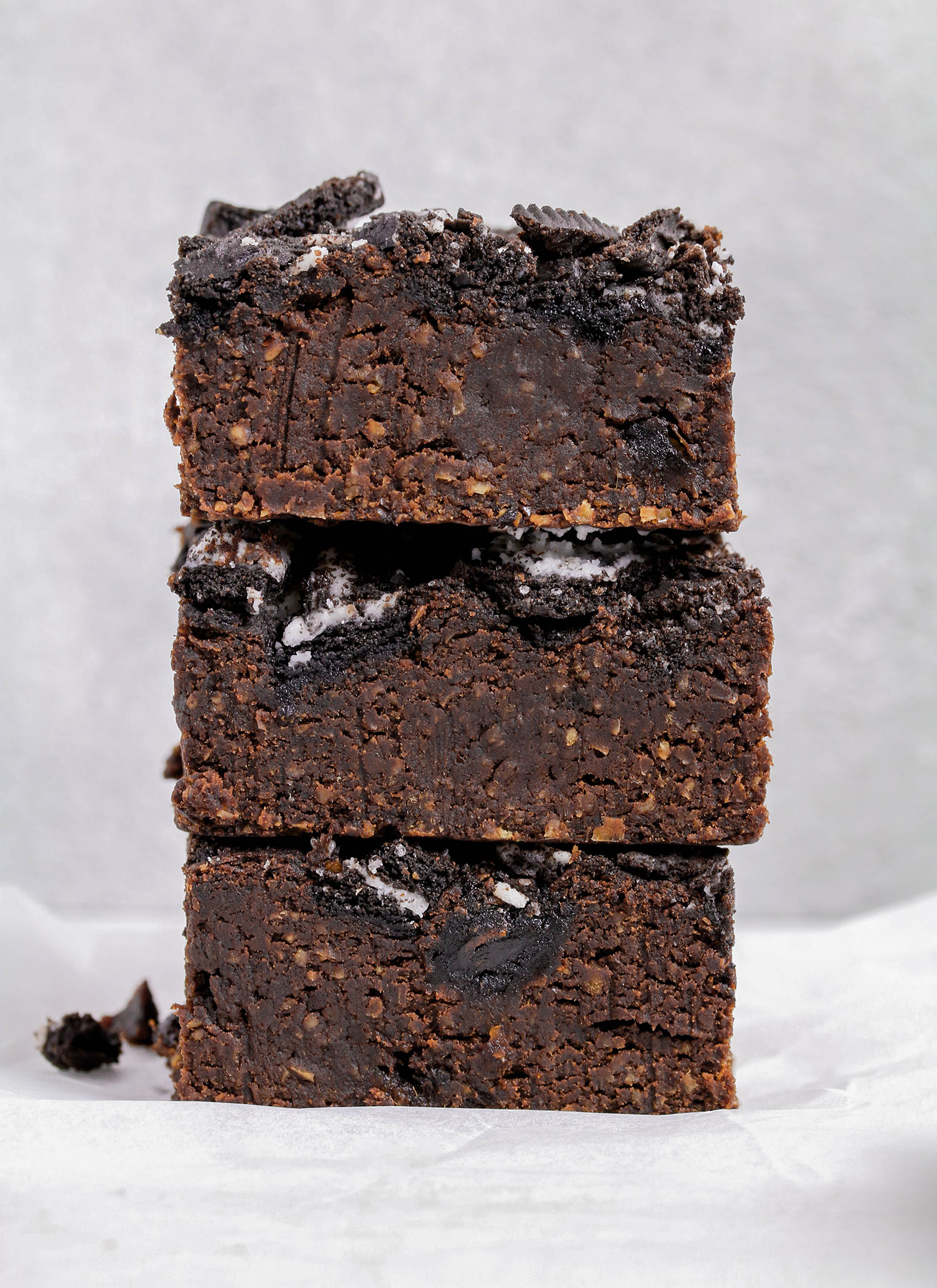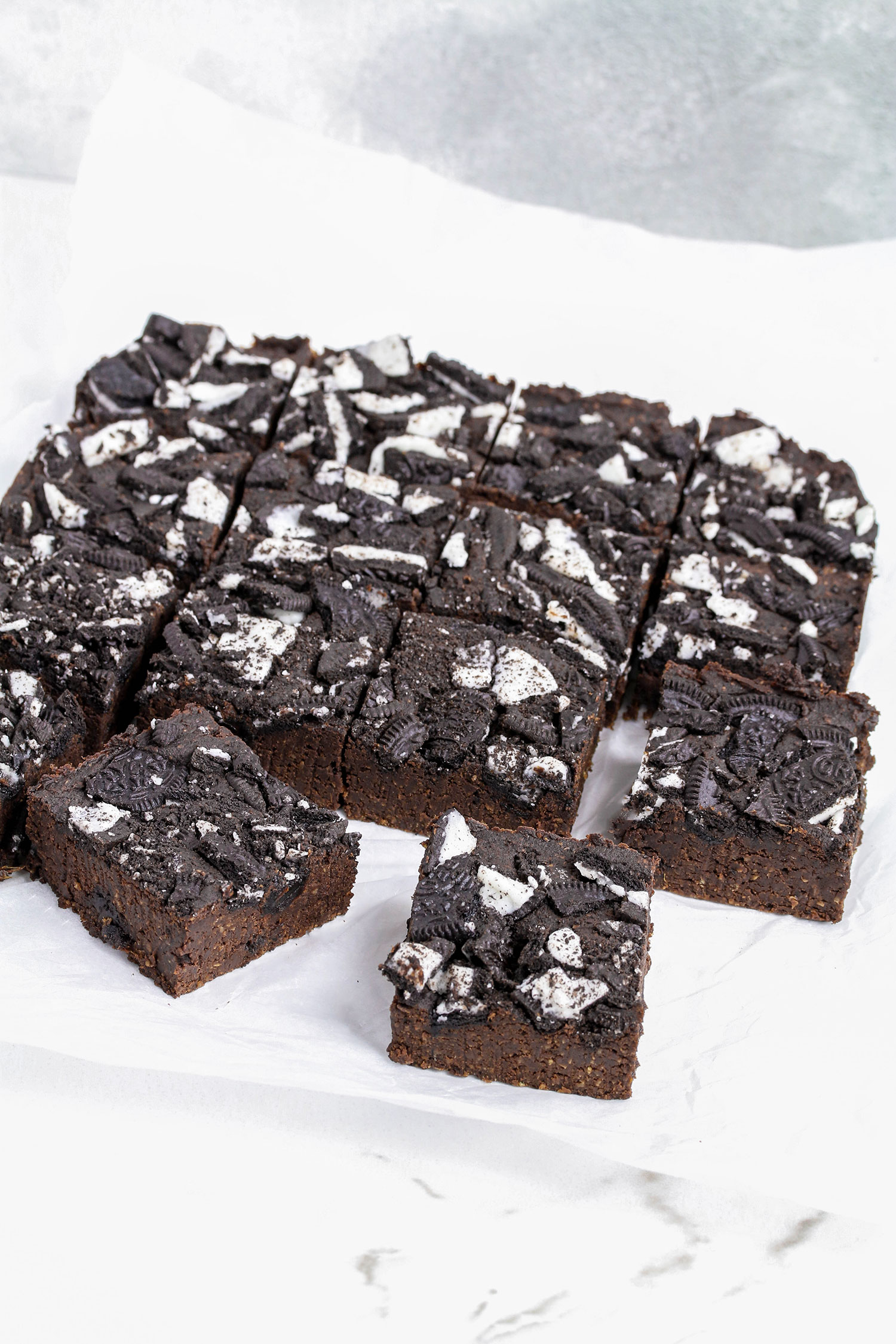 I'm pleased to say he really enjoyed the experience and absolutely loved the brownies! The Go Cook apron made him feel like a chef, and he thought the knife had a really soft grip making it more comfortable to chop with and the blade was super sharp allowing him to cut perfect brownie slices 😀
As a first time baker, he was worried about removing the brownies from the tin, but the Go Cook non-stick spring form tin we used made it so easy and straight forward! It really took out all the fuss and made the experience that much more enjoyable.
This challenge has made him want to bake again! Now he knows that baking is not as daunting as he thought and it was actually fun and relaxing. I might have ignited a passion for baking he didn't know he had! Watch this space, I might have created competition for myself!
We found the Go Cook, exclusively for Tesco products really practical, durable and very affordable. You can get hold of any of these products at any of the bigger Tesco stores or Tesco.com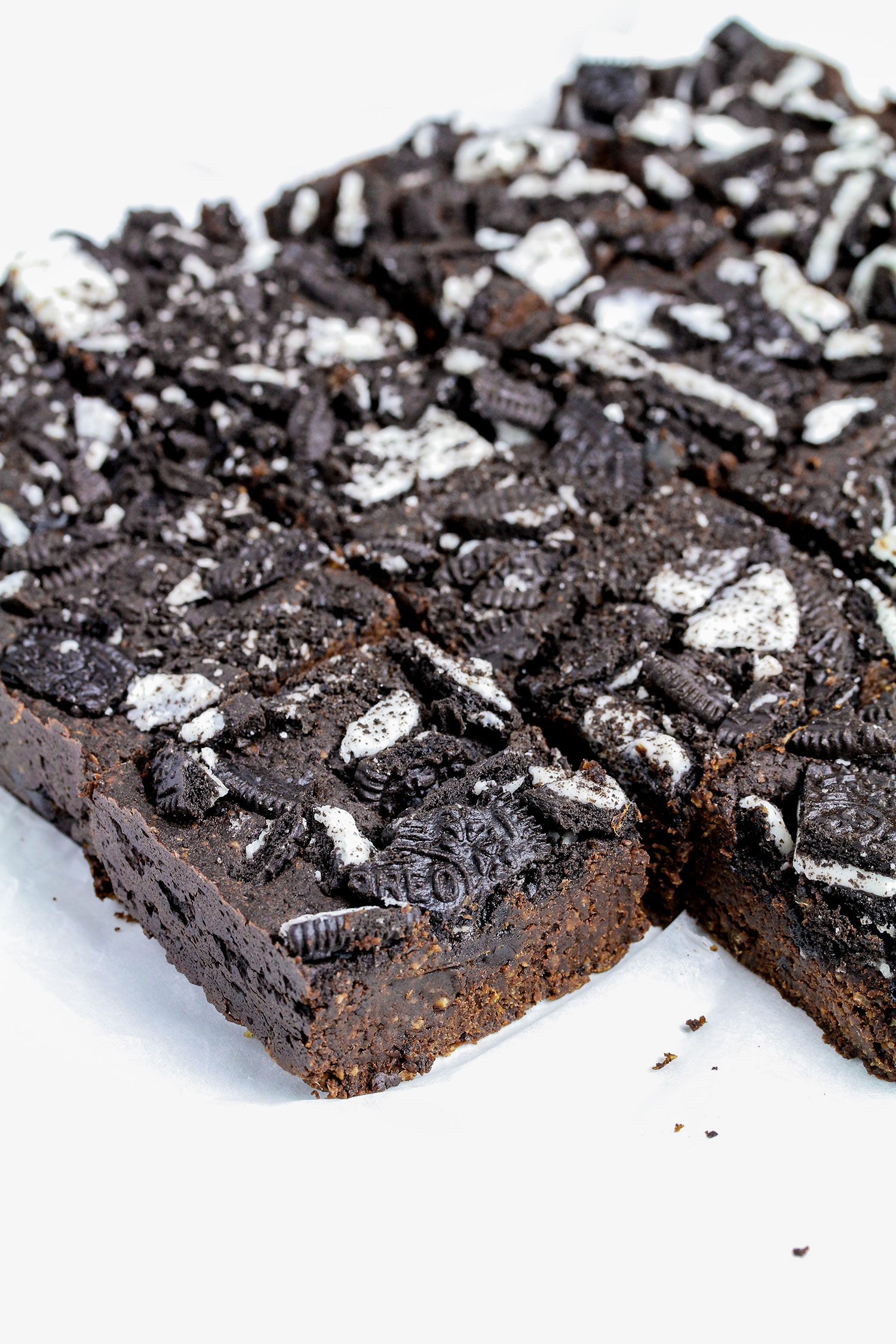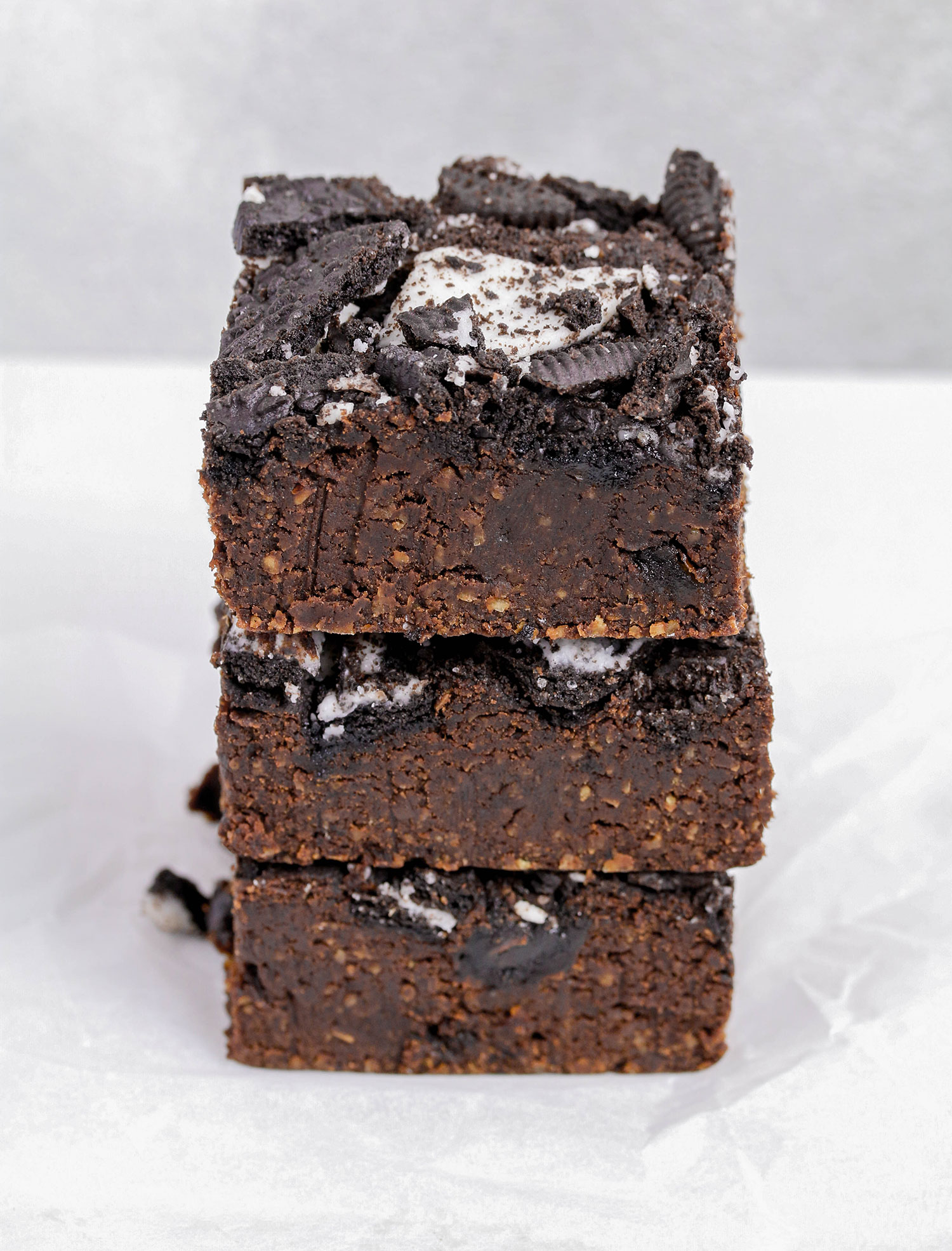 ---
Healthified Vegan Oreo Brownies

Makes – 16 brownies
Ingredients
2.5 cups (425g) cooked chickpeas
2 cup (275g) soft dates
2/3 cup (75g) cocoa powder
2/3 cup + 2 tbsp (95g) oat flour – plain oats blended into a fine flour in the food processor. Use gluten-free if allergic/intolerant
1/4 tsp salt
1/2 cup (120ml) coconut oil, melted
1/2 cup + 3 tbsp (165ml) milk of choice
Optional – 2 tbsp stevia
10 Oreos, roughly chopped.
Method
(WATCH VIDEO BELOW)
Preheat your oven to 180°C (160°C fan assisted)/ 350°F
Add the dates to a food processor along with the chickpeas, coconut oil and milk and blend until you have a smooth mixture.
Transfer into a large bowl, then fold in the oat flour, cocoa and salt. Mix to combine.
Give the mixture a taste to make sure you're happy with the sweetness. If it's not sweet enough, add 2 tbsp stevia or your granulated sweetener of choice.
Transfer into a lightly oiled Tesco Go Cook 21cm spring form cake tin.
Sprinkle the chopped Oreos evenly on top then press down into the batter using your hands.
Bake for 20-25 minutes.
Leave to cool completely before slicing.
Enjoy!
Store in an air-tight container for up to 3 days
---

Thanks to Tesco for sponsoring this post. Commissioned posts is how I'm able to continue working on the blog and creating recipes and recipe videos for you. As always, all opinions are my own.