These healthier fig rolls are my current favourite afternoon treat to accompany my cup of tea! They're so easy to make and only call for 7 ingredients. They also happen to be vegan, glute-free and dairy-free.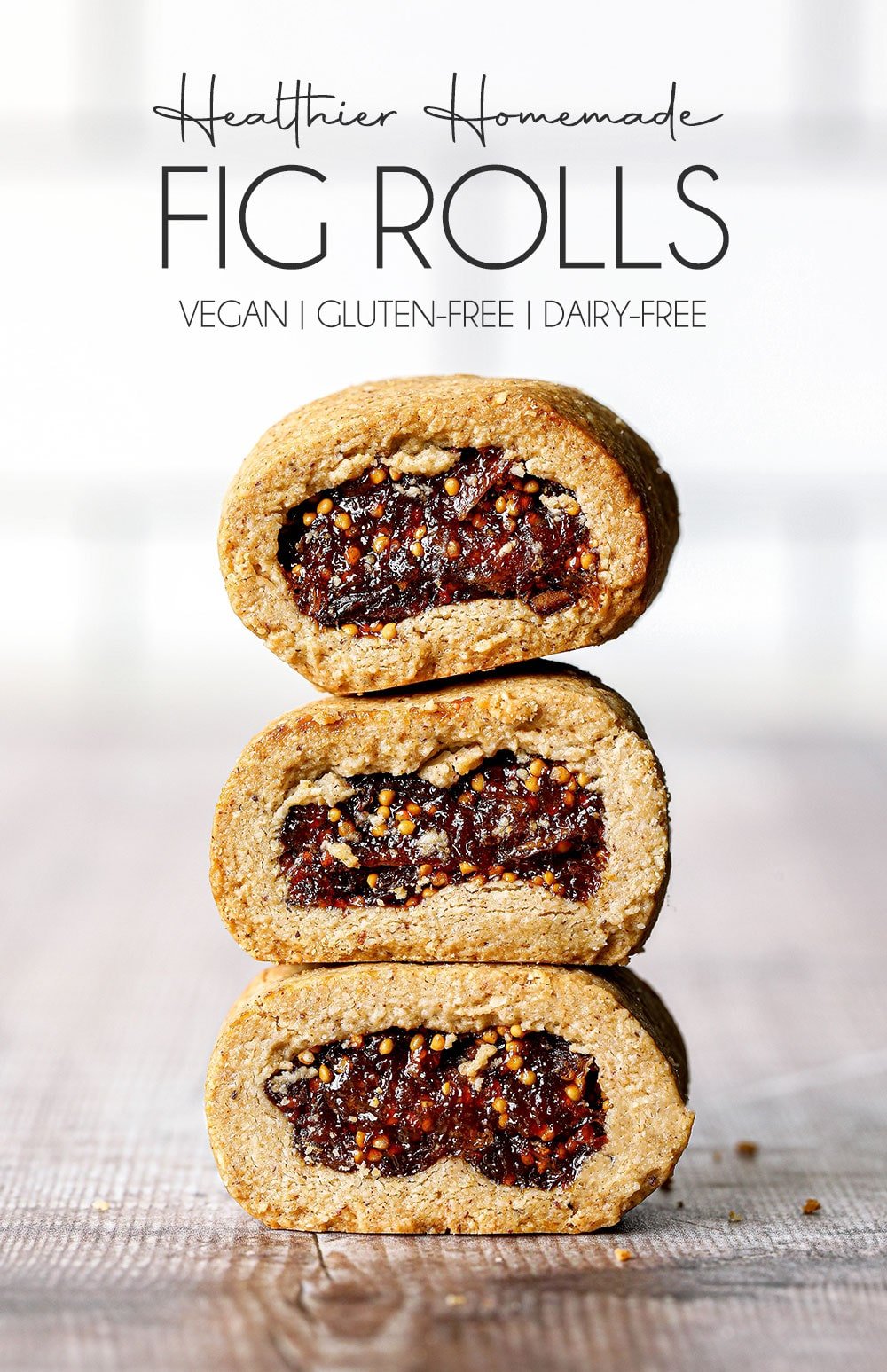 I started testing a fig roll recipe a couple of years ago and dabbled with it again here and there, but never really finalised a recipe I was happy with. A couple of months ago I had a mad craving for fig rolls, so decided to revisit the recipe and test it a couple more times.
I'm now finally happy with a recipe that tastes amazing, but is made with healthier ingredients making it better for you than shop bought fig rolls. I also used ingredients that made the recipe vegan friendly and gluten-free.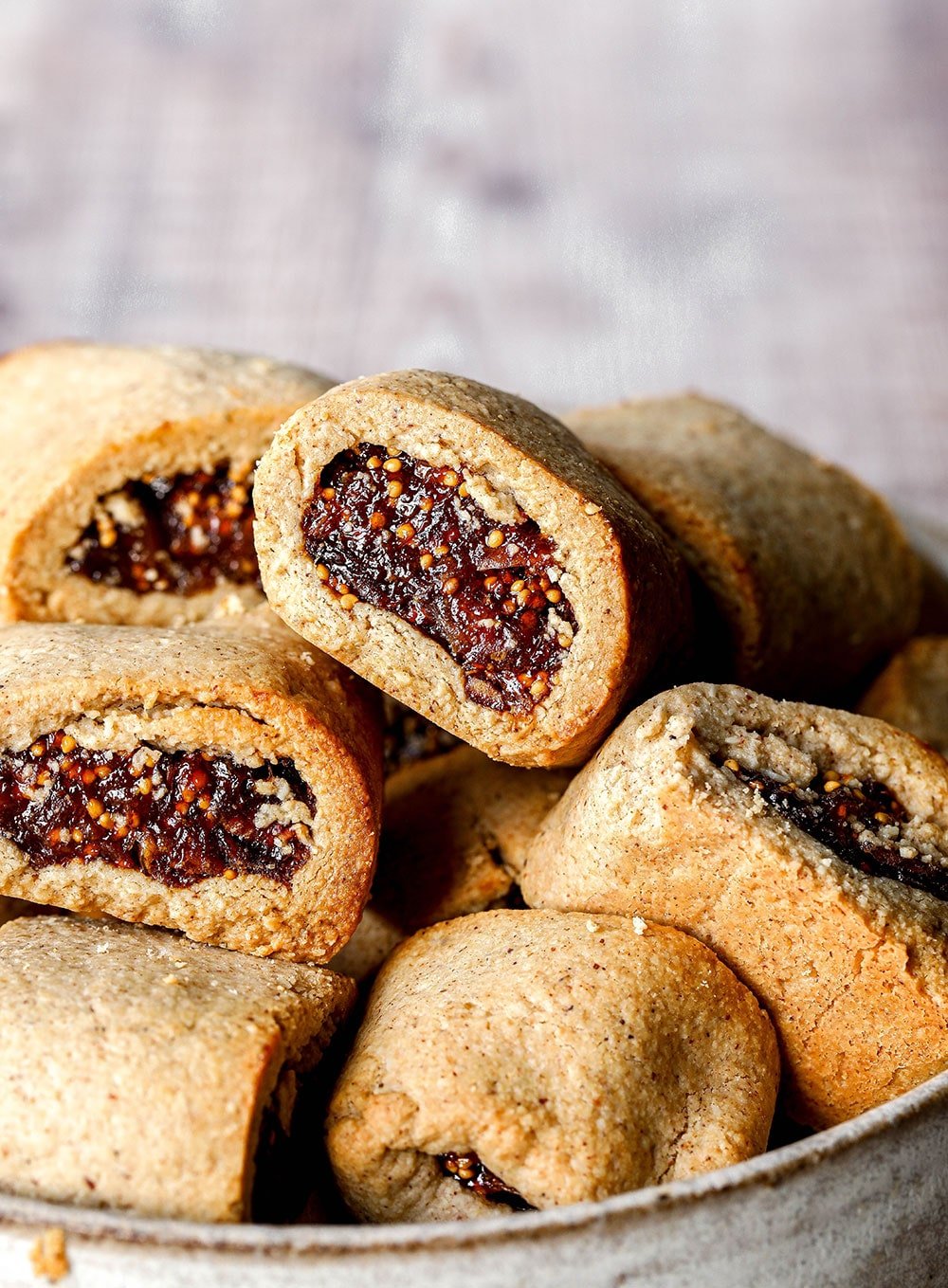 If you've followed my blog/social media for a while you'll know that I'm a huge fan of using dates as a natural sweetener in desserts. Like dates, figs also a great way to naturally sweeten treats. Using them means I don't need to add as much sweetener to make a recipe taste good. For example, I only use 2 tbsp of added sugar in this whole recipe.
The fig centre in these healthier fig rolls is made up of only dried figs and water. I cook them in a pan for 5-10 minutes to allow the figs to soften and break down creating a soft, spreadable paste.
I used a mixture of oat flour (that I made myself by blending rolled oats into a fine flour) and ground almonds instead of plain flour. Almonds are a great source of fibre, nutrients, healthy fats and also have some protein. Oats are also a great source of fibre and antioxidants. The mixture of the two coupled with a little bit of maple syrup and coconut oil create the most delicious, crumbly and soft biscuit. If you're anything like me, I know that once you try them you'll be making them all the time!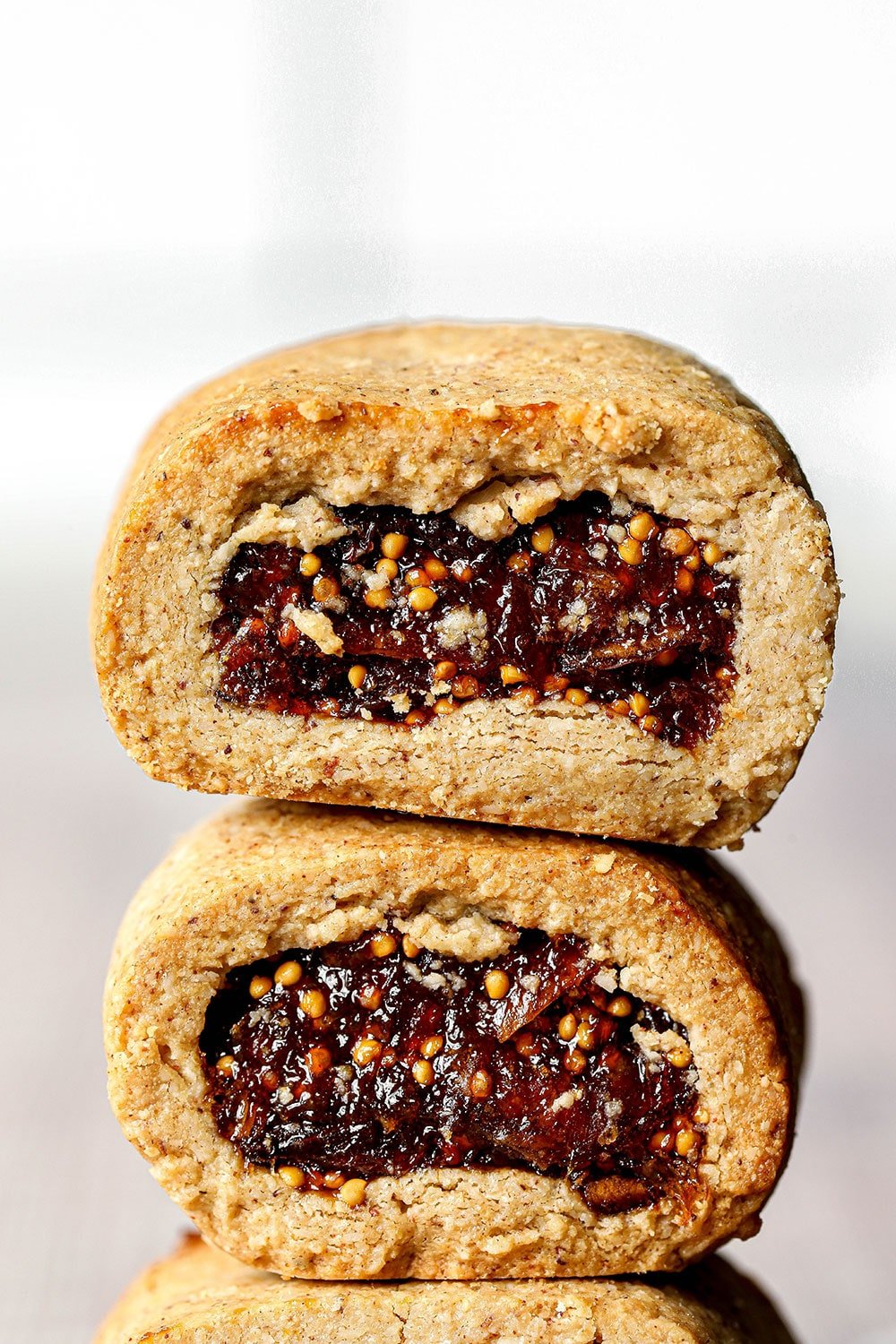 What you need to make these healthier fig rolls:
Figs – A source of fibre, nutrients and antioxidants. They're naturally sweet, so a great way to add sweetness to a dessert without the need for much added sweetener. The juicier the figs, the less water you'll need to turn them into a paste. If your figs are on the drier side, you may need to add more water.
Oats – Another great source of fibre and antioxidants. I love using oats as a healthier substitute for plain flour in baking. You can make your own oat flour by blending rolled oats in a high-speed blender into a fine flour. You can use gluten-free oats for a gluten-free recipe.
Ground almonds – A source of healthy fats and nutrients (like vitamin E & calcium) , I find ground almonds another great substitute for flour, especially when used along side oat flour.
Maple syrup – I only used 2 tbsp in the whole recipe to add a little extra sweetness, but it also acts as a glue to hold everything together since we're not using eggs in this recipe.
Coconut oil – Adds lots of moisture to the biscuit part of the fig rolls, but also helps hold everything together. You can use butter/dairy-free butter alternative instead if you prefer.
Salt & cinnamon – the salt is used to enhance all the flavours and the cinnamon goes really well with the taste of the figs!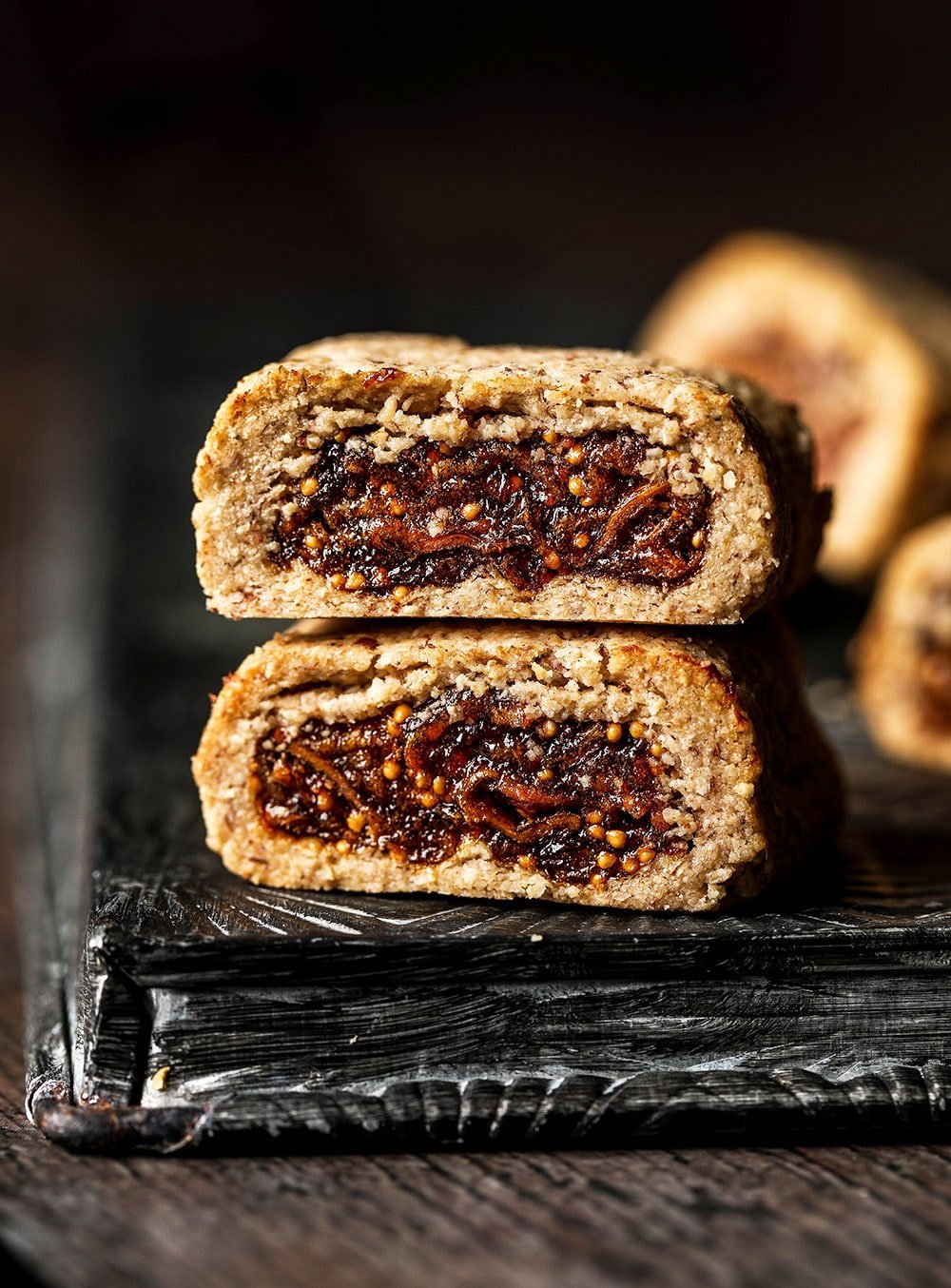 These healthier fig rolls are:
Vegan
Gluten-free
Dairy-free
Only call for 7 ingredients
Made with better-for-you ingredients like almonds, oats and figs
Easy to make
So tasty
The perfect snack to enjoy with your afternoon cup of tea/coffee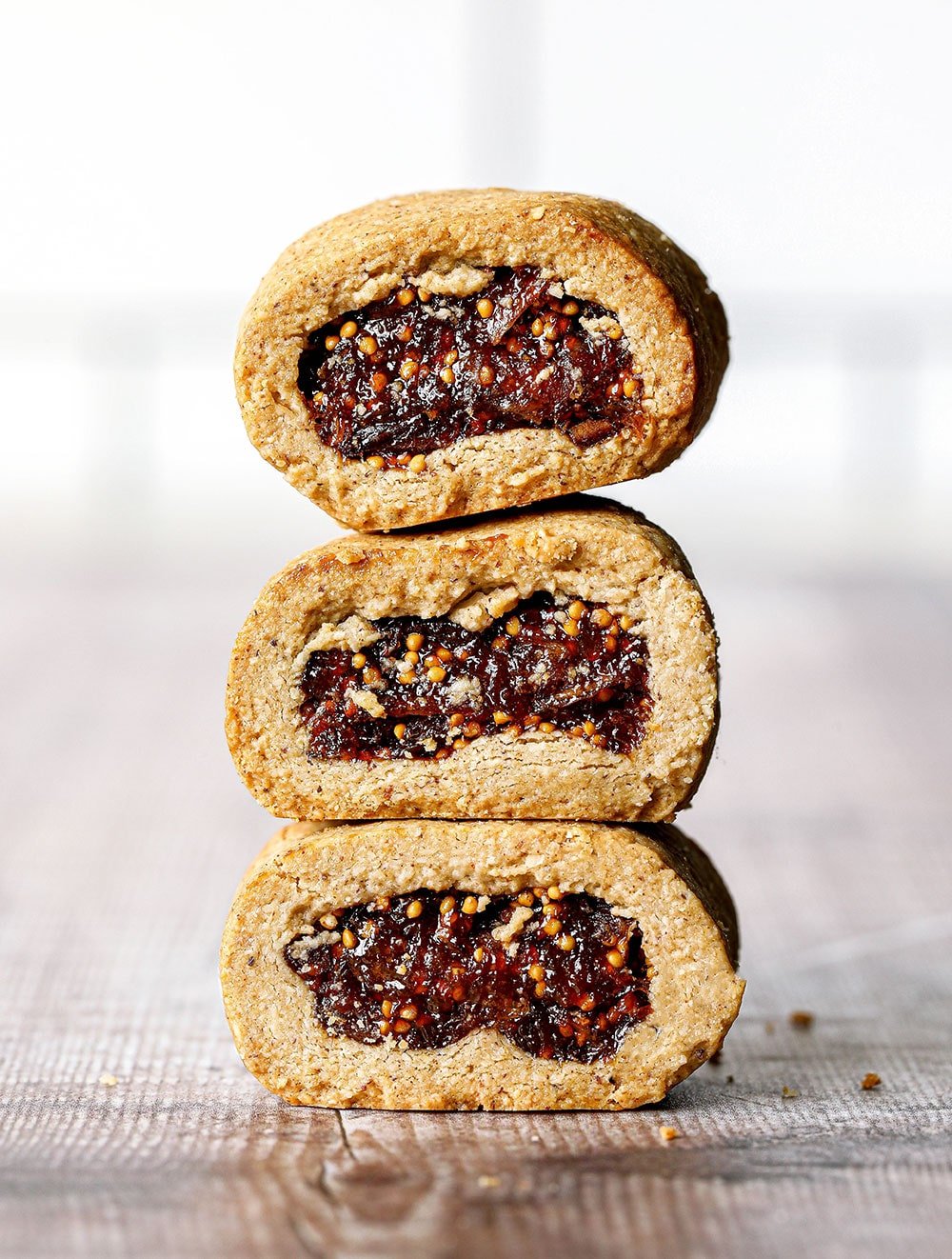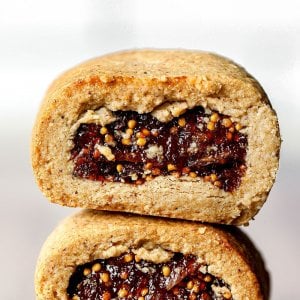 Healthier Fig Rolls
These healthier fig rolls are my current favourite afternoon treat to accompany my cup of tea! They're so easy to make and only call for 7 ingredients. They also happen to be vegan, glute-free and dairy-free. 
Ingredients
For the fig mixture
175g

dried figs

3-6

tbsp

water
For the biscuits
125g

ground oats/oat flour

50g

ground almonds

1

tsp

cinnamon

1/4

tsp

salt

2

tbsp

maple syrup

or other liquid sweetener

50g

coconut oil

or butter
Instructions
Preheat your oven to 180C/160C fan/350F

Add the figs and water in a large pan and cook on a medium heat for around 10 minutes. Use a wooden spoon or potato masher to mash the figs into a paste as they cook.

In a large bowl, mix together the oat flour, ground almonds, cinnamon and salt. Pour in the maple syrup and coconut oil and mix to combine.

Chill the dough in the fridge for 30 minutes to allow the coconut oil to solidify and make it easier to work with.

Roll the dough out into a 20×20cm square between two sheets of parchment paper. Slice down the middle to create 2 long pieces.

Divide the fig mixture between the 2 pieces of pastry. Spread along one side, then carefully start rolling into a tight cylinder. Place in the freezer for 15-30 minutes then cut into cookies.

Arrange on a baking tray lined with parchment paper and bake for 15-20 minutes until the edges are golden brown. 

Leave to cool completely and enjoy! 
Notes
Store in an air-tight container at room temperature for up to 4 days.
Nutrition
Calories:
105
kcal
Carbohydrates:
12
g
Protein:
2
g
Fat:
6
g
Saturated Fat:
3
g
Sodium:
53
mg
Potassium:
6
mg
Fiber:
2
g
Sugar:
7
g
If you enjoyed this recipe, you may also like these healthier date rolls!