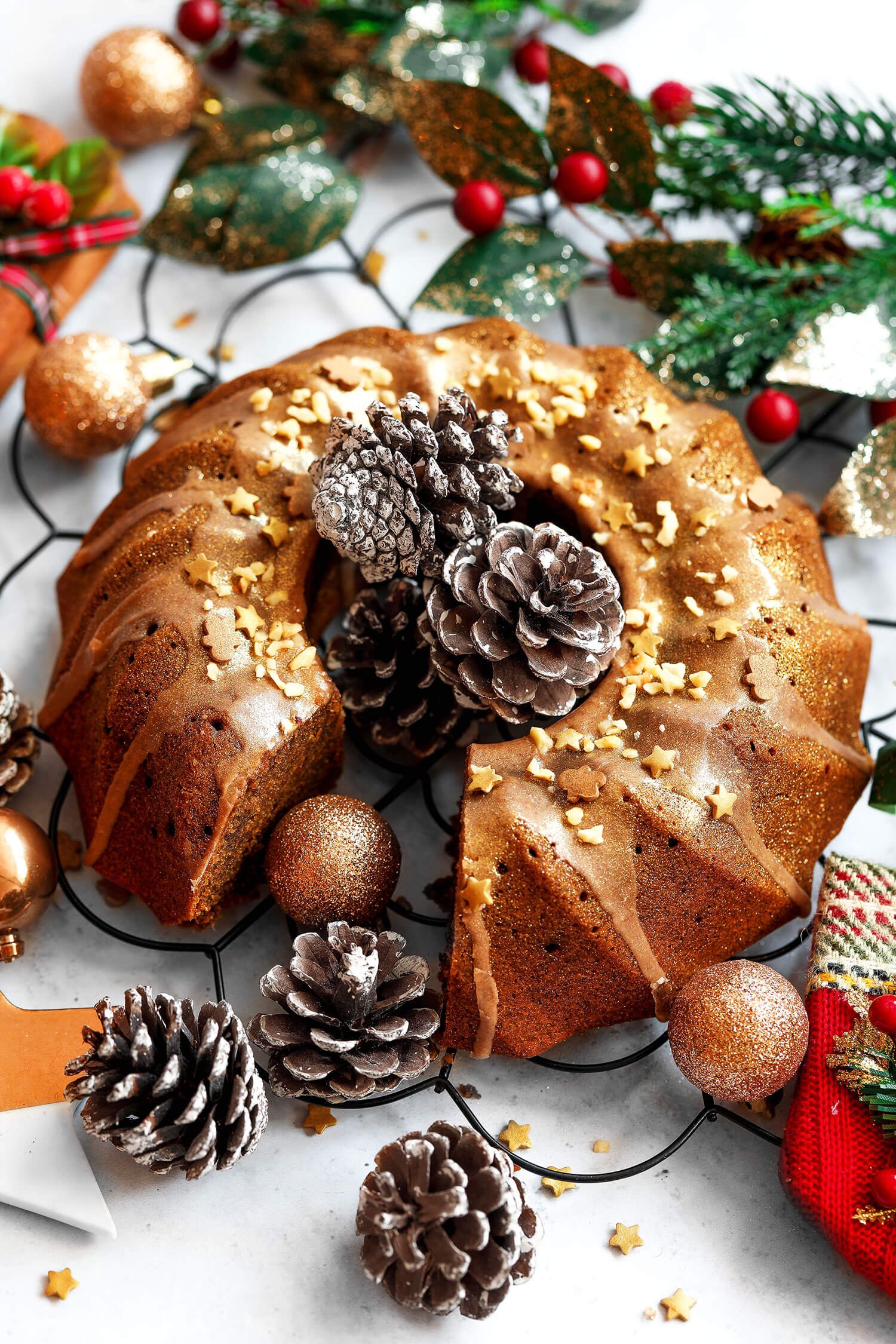 *This post is sponsored by FREEE*
Only a week left before Christmas! If you're looking for a last-minute festive treat that's both gluten-free and vegan (and delicious!), then you have to try this festive gingerbread bundt cake!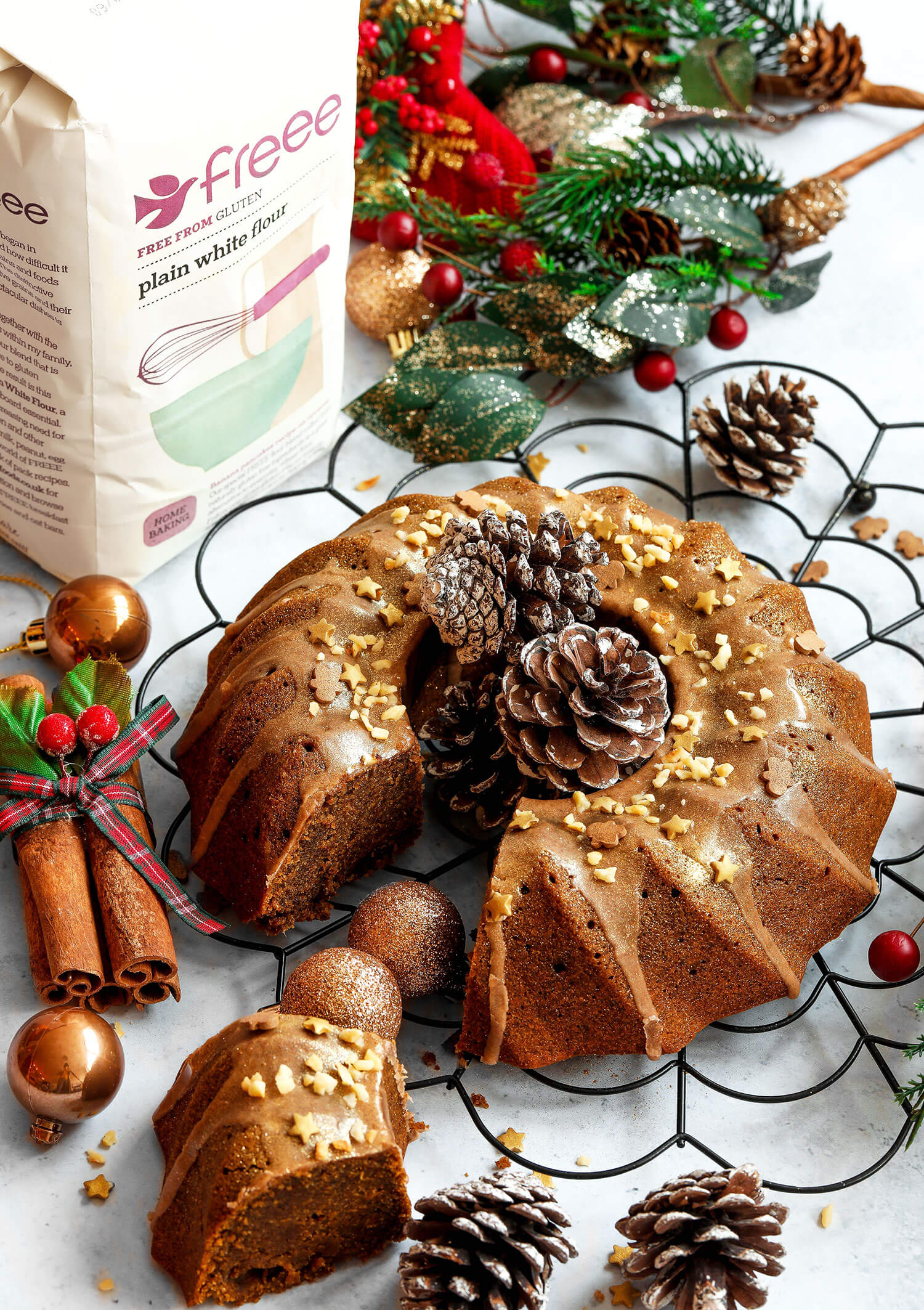 One of the best things about Christmas is all the yummy baked goods. What better excuse to bake than Christmas? And for me, when I think about festive desserts, the first one that comes to mind is gingerbread! Those warming and aromatic spices fill the house with so much festivity and cheer. Typically gingerbread is made in the form of cookies or gingerbread men (I actually shared my take on gingerbread cookies, which you can find here), but I wanted to incorporate it into a super easy festive cake that would make a great post-Christmas dinner table centre piece.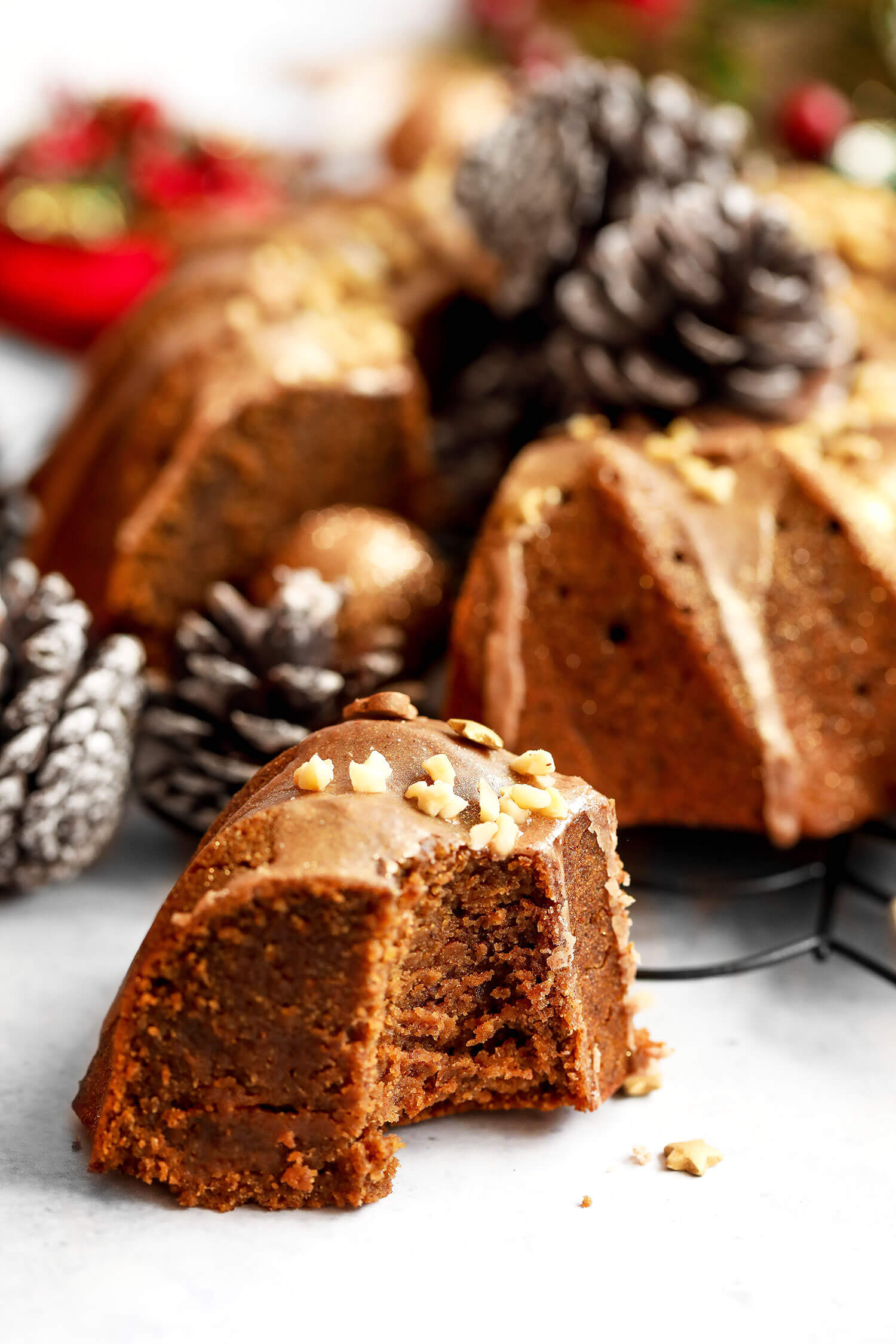 I bought a bundt cake tin a couple of months ago and I can't stop using it! A few days ago I shared a festive banana bread recipe and I was saying how much I love banana bread because it's moist and dense. Well bundt cakes tick both those boxes too, which is why I love making them so much. That as well as the fact that they look so much more interesting and exciting compared to your average round cake. They're like a big fancy doughnut! They look especially pretty when topped with a ganache or glaze.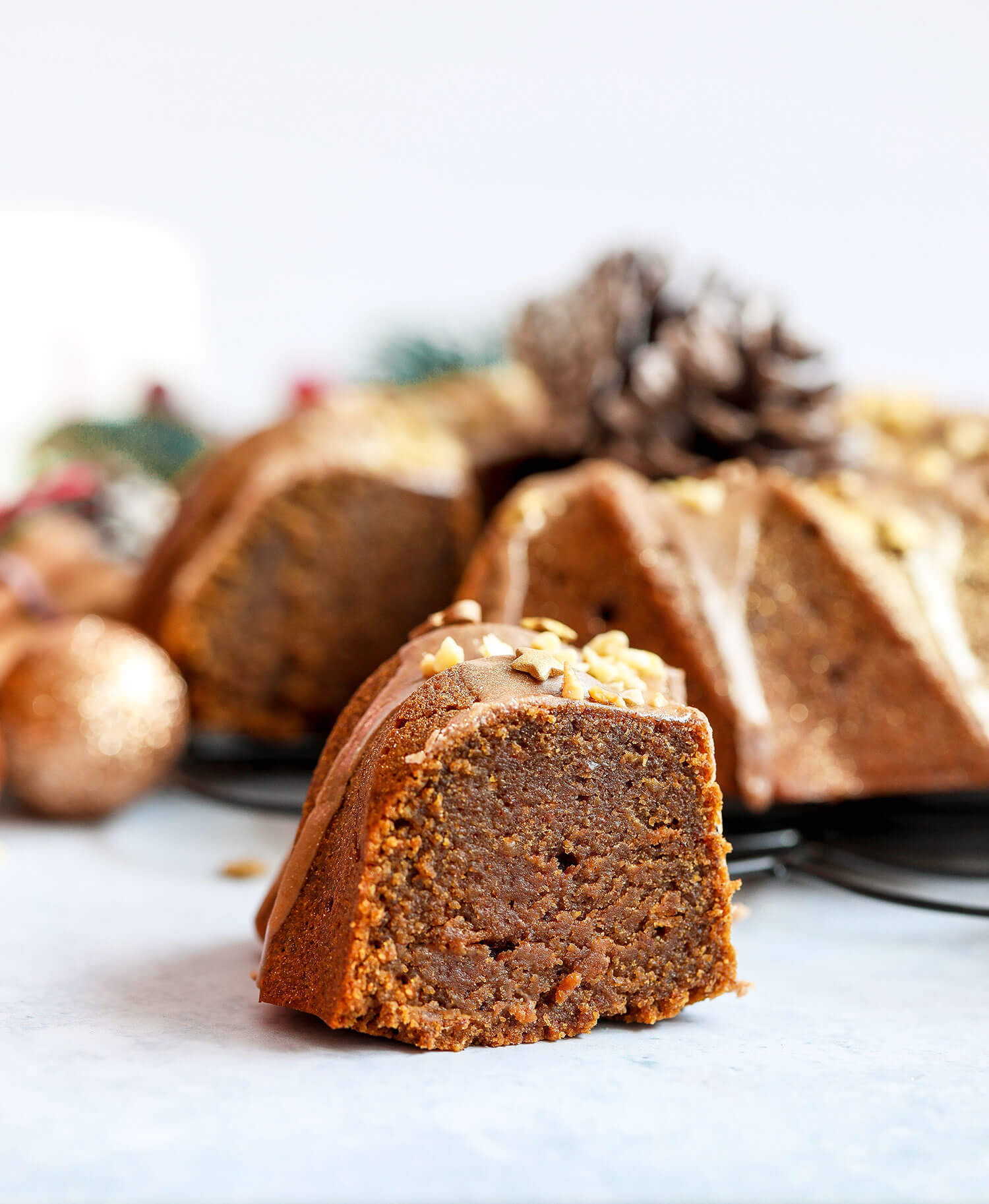 This gingerbread bundt cake is both gluten-free AND vegan! Made using a mixture of FREEE Gluten-free Plain White Flour and ground almonds. This is my fourth and final recipe for FREEE, who I've teamed up with to create delicious gluten-free bakes that everyone can enjoy this Christmas using FREEE flours. It's as easy as 1, 2, FREEE! They've designed their home-baking range to cater for special dietary requirements that make baking gluten free easy, reliable and delicious. Every product is naturally gluten free and made with care.
Be sure to check out the other three recipes I created for them, all vegan and gluten-free!
Their product range isn't limited to flours, they also have baking mixes, baking essentials, breakfast cereals (their Gluten-Free Chocolate Stars are a must try!), cookies, oat bars and pastas making them the home to the no. 1 gluten-free flour range in the UK. You can find their flours and other products stocked on their website freee-foods.co.uk and selected ASDA, Morrisons, Ocado, Sainsbury's, Tesco, Waitrose & Partners and Co-op stores.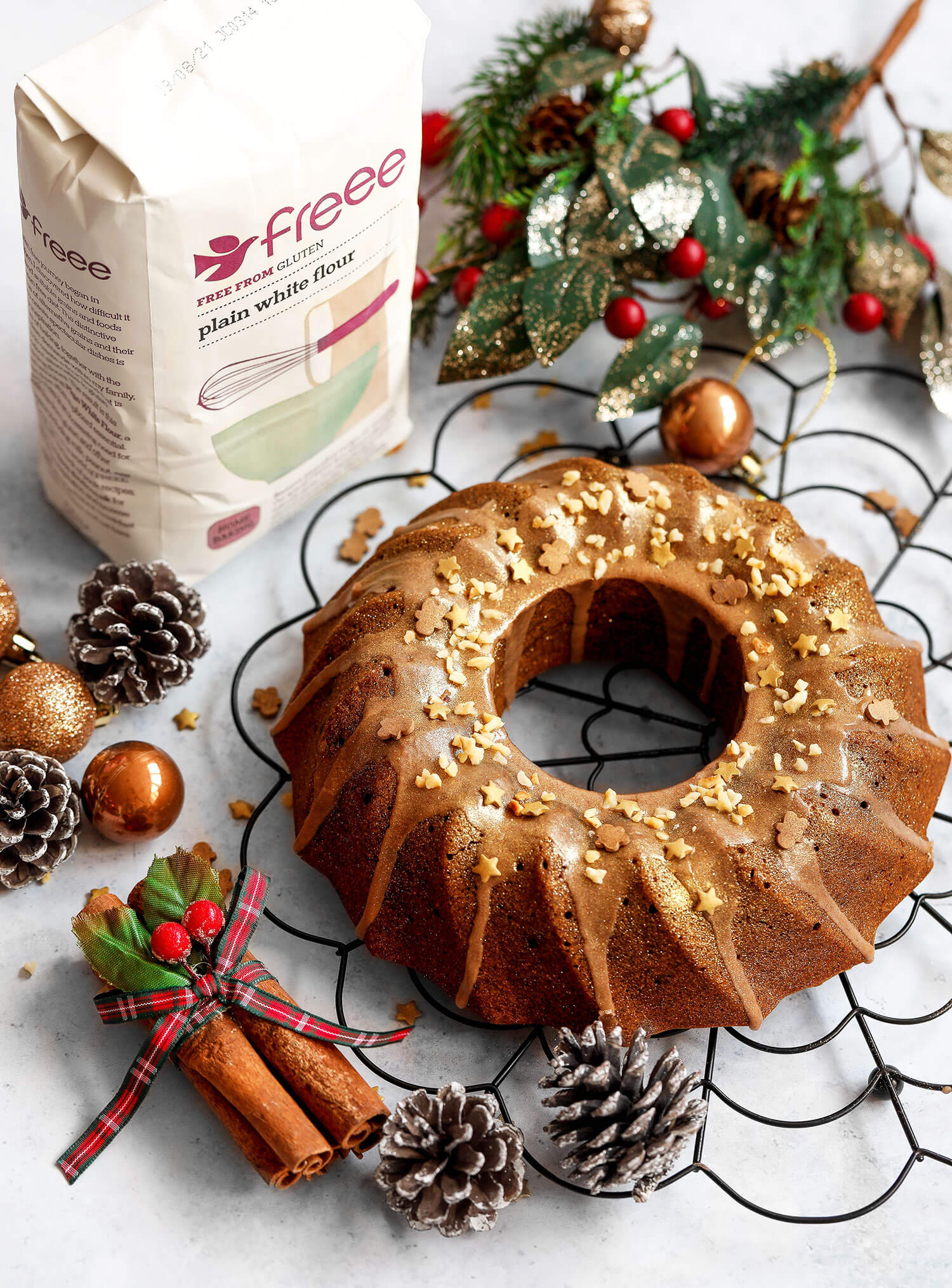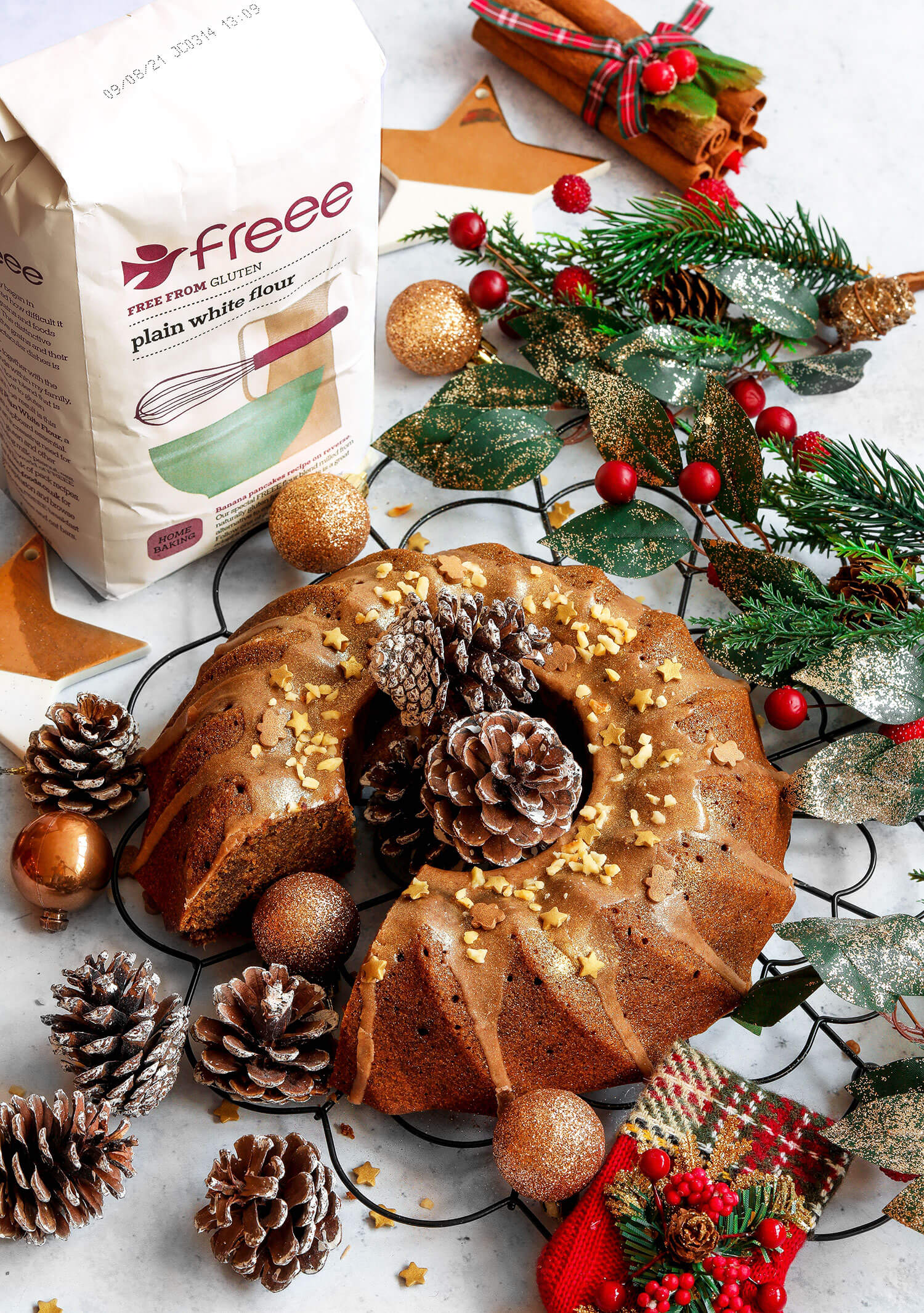 Festive Gingerbread Bundt Cake
Ingredients
225g FREEE Gluten-Free Plain White Flour
100g ground almonds
60g brown sugar
2 tsp FREEE Baking Powder
1/2 tsp salt
2 tsp cinnamon
2 tsp ginger
1 tsp cloves
½ tsp nutmeg
2 tbsp milled flaxseed + 5 tbsp water
80ml molasses or date syrup
120ml coconut oil, melted
180ml dairy-free milk of choice
For the glaze
35g icing sugar
Pinch each of cinnamon and ginger
½-1 tbsp plant milk
Method
Preheat your oven to 180C/160C fan
Prepare the flax eggs by mixing 2 tbsp milled flaxseed with 5 tbsp warm water and leave to set for 10 minutes.
In a large bowl, mix together the FREEE Gluten Free Plain White Flour, ground almonds, sugar, baking powder, salt and spices.
Pour in the melted coconut oil, molasses, set flax eggs and dairy-free milk. Mix to combine, then into a greased bundt cake tin and bake for 30-35 minutes. Leave to cool for at least 30 minutes before removing from the tin.
To make the glaze, mix the icing sugar and spices in a bowl, then add the milk. Start with ½ tbsp and increase if you want a thinner consistency.
Drizzle over the cake and enjoy!