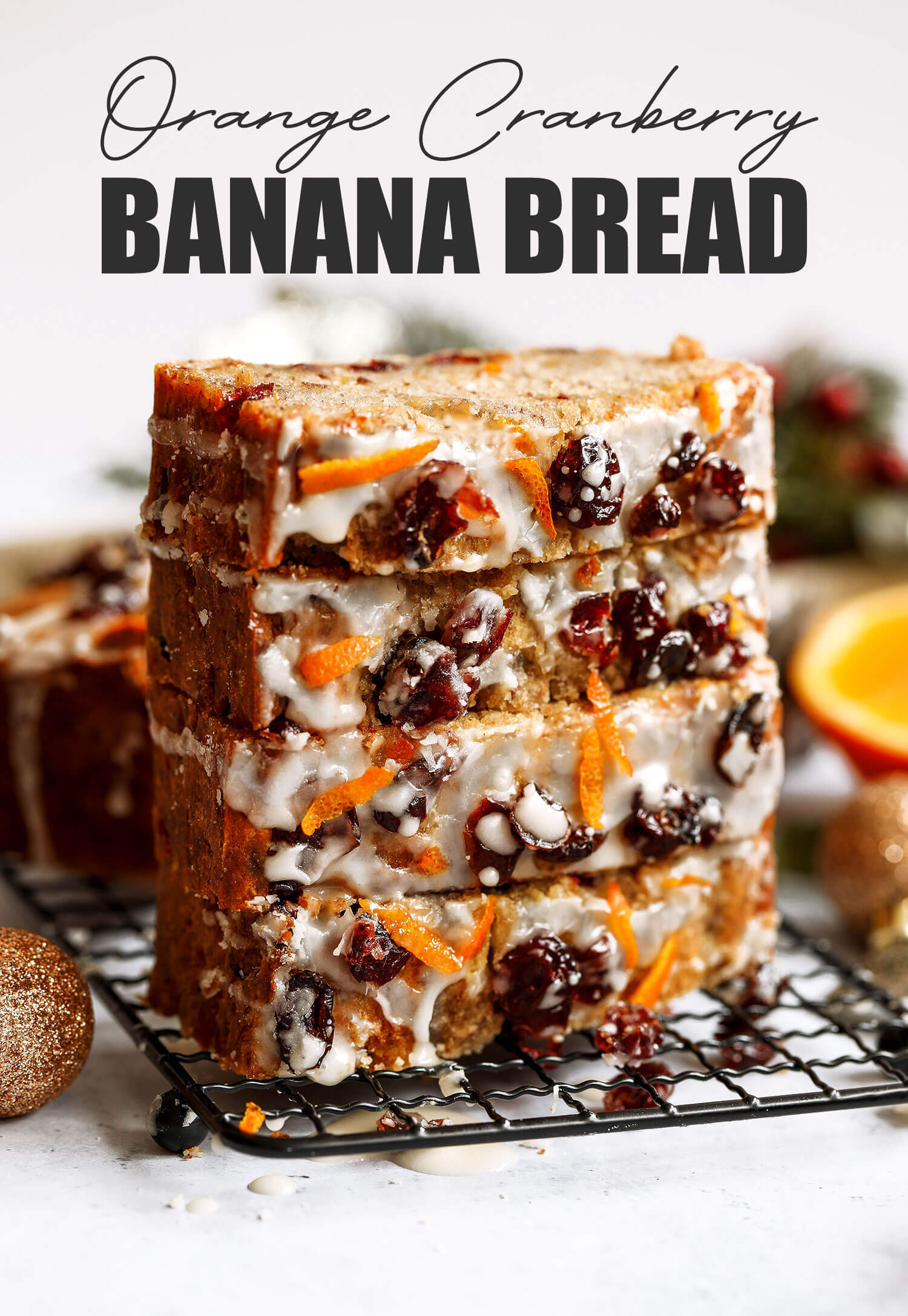 *This post is sponsored by FREEE*
You can't beat a good slice of banana bread – it never fails to impress, but only when it's rich, moist and packed with yummy flavours, like this festive orange cranberry banana bread is.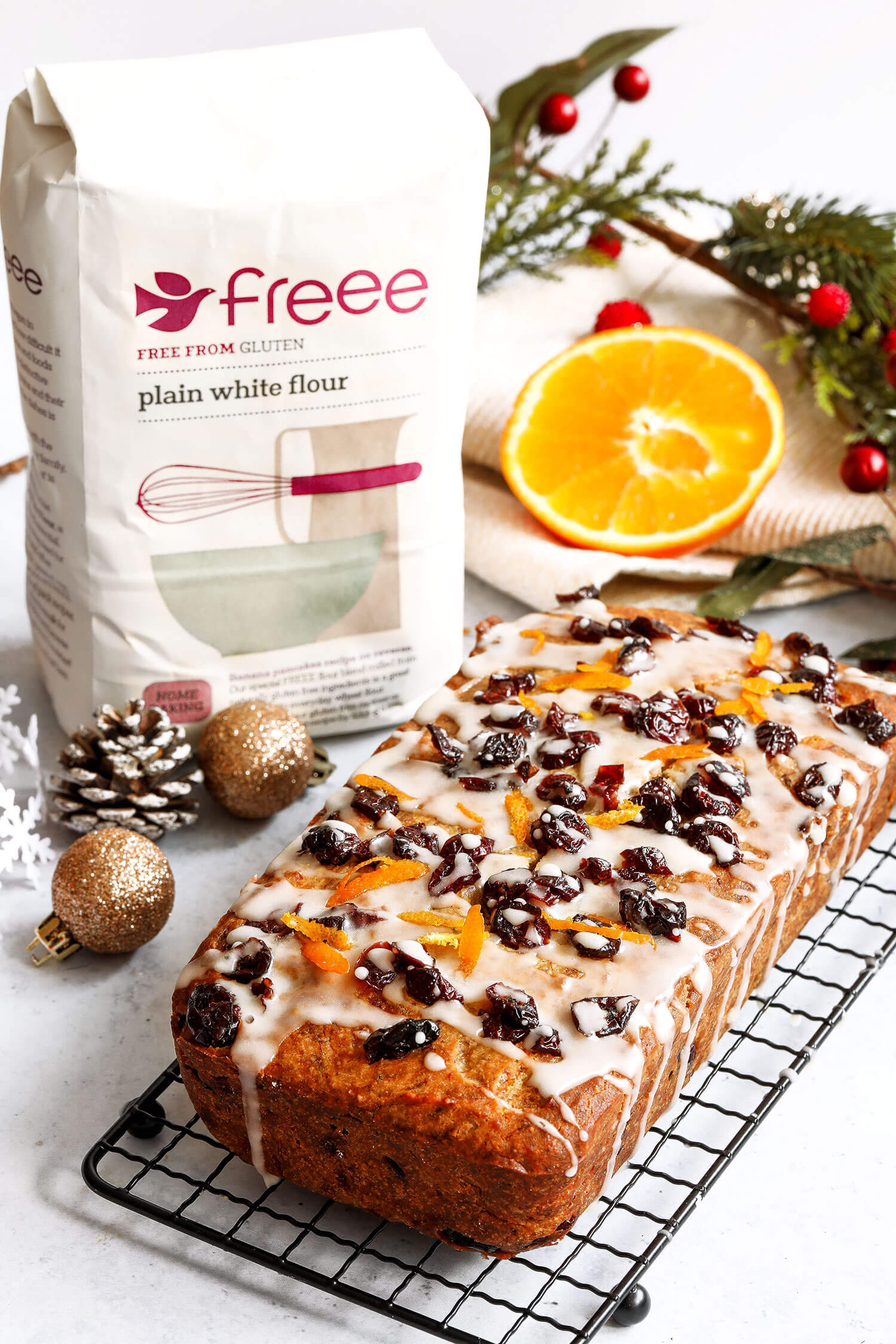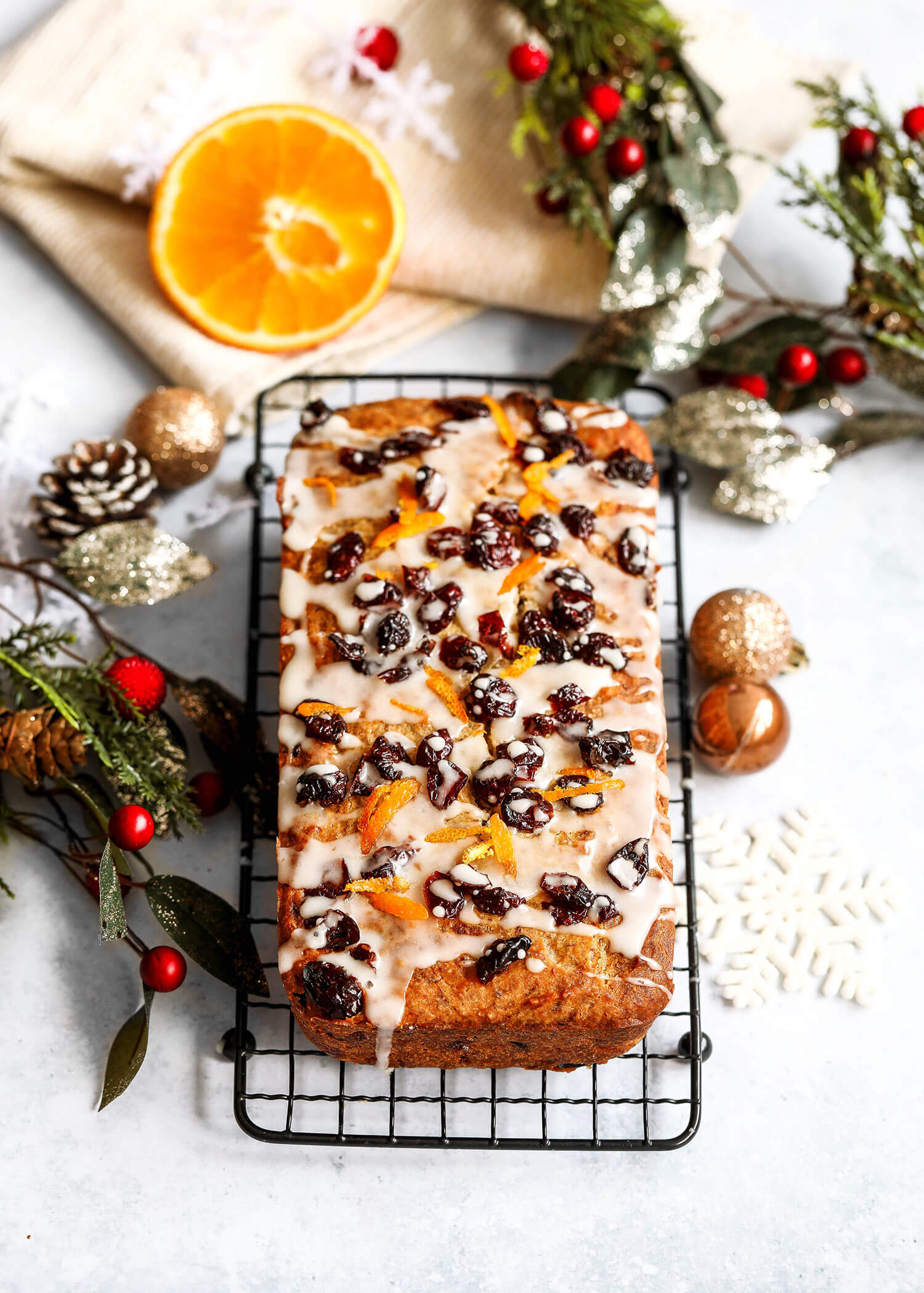 Even though I'm a HUGE banana bread fan, I somehow managed not to make one throughout both lockdowns when everyone else was going banana bread mad! I've recently been craving a moist slice of sweet banana bread though, so decided to make a festive version seeing that Christmas is only 2 weeks away! 😱
This banana bread is completely gluten-free and vegan. I used a mixture of FREEE Gluten-Free Plain White Flour and ground almonds to give it that moist texture. I also used flax 'eggs' and coconut oil to make it dairy-free and vegan. The orange zest and cranberries add so much flavour and make it so deliciously festive. The perfect treat for this time of year!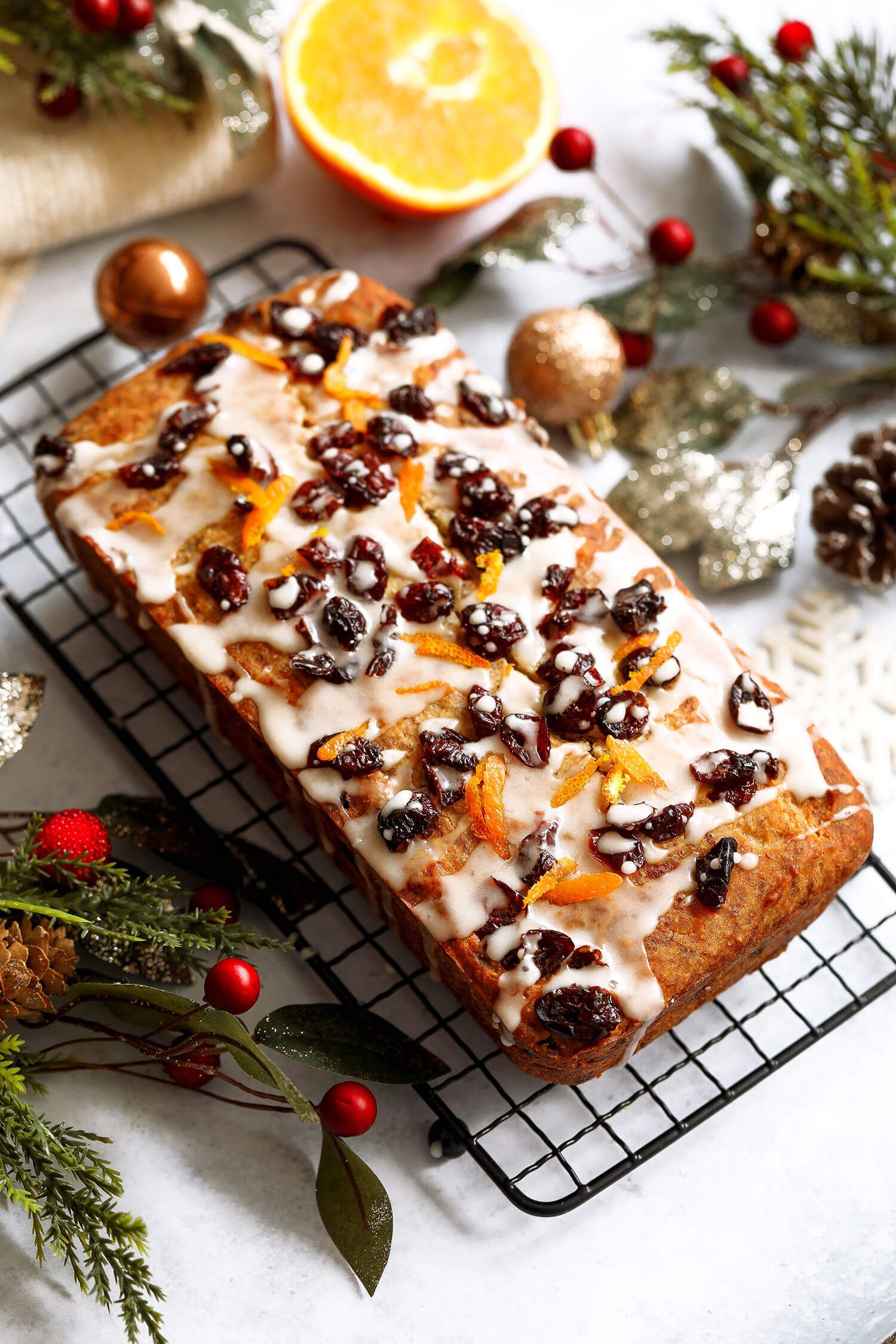 I topped it with a simple 2 ingredient orange glaze to add to the orangey taste and make it sweeter and more decadent. It's completely optional since the banana bread tastes amazing without it, but I would recommend it as it just adds a little extra something to the taste.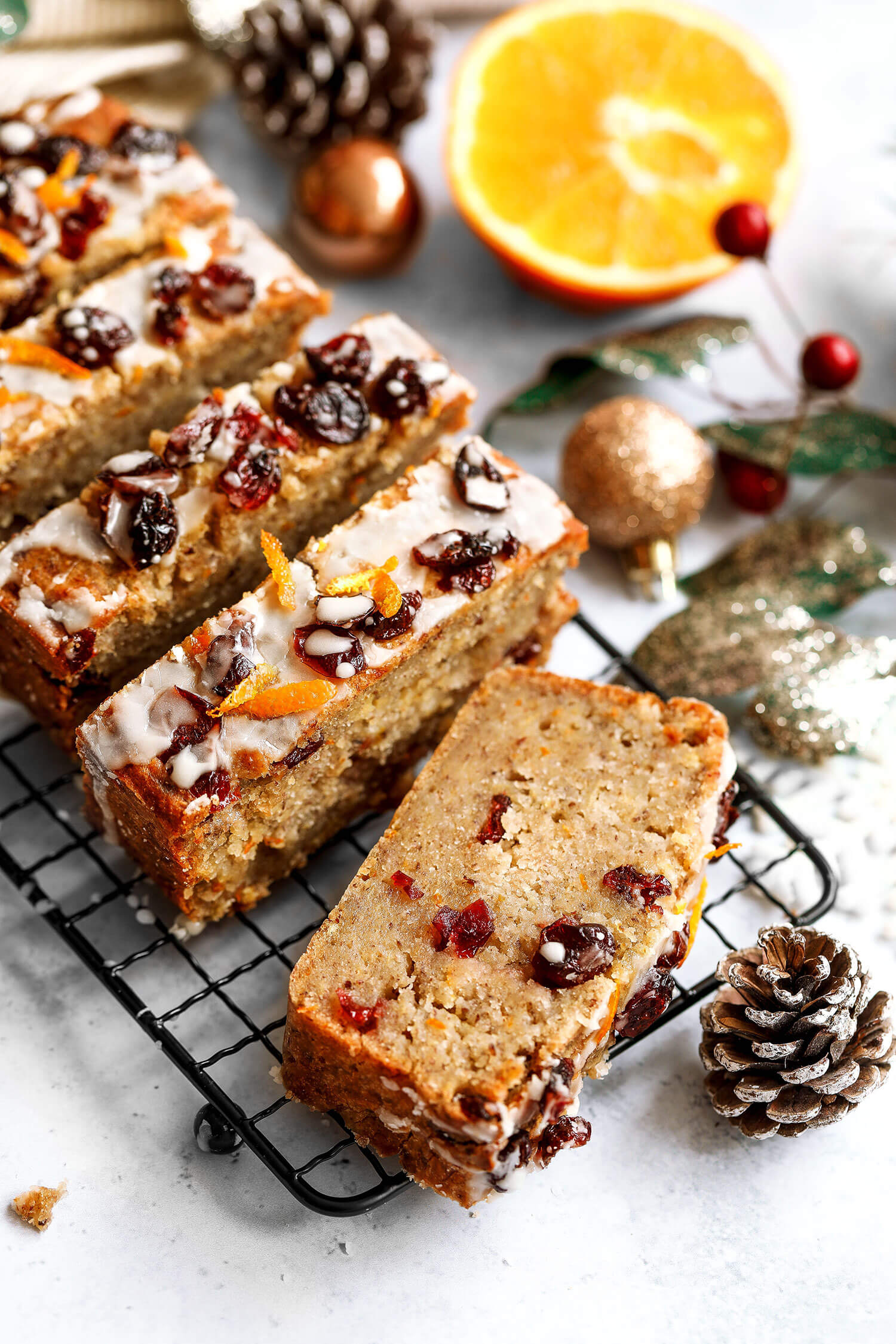 This is another collaboration with FREEE, who I've teamed up with to create delicious gluten-free bakes that everyone can enjoy this Christmas using FREEE flours. It's as easy as 1, 2, FREEE! They've designed their home-baking range to cater for special dietary requirements that make baking gluten free easy, reliable and delicious. Every product is naturally gluten free and made with care.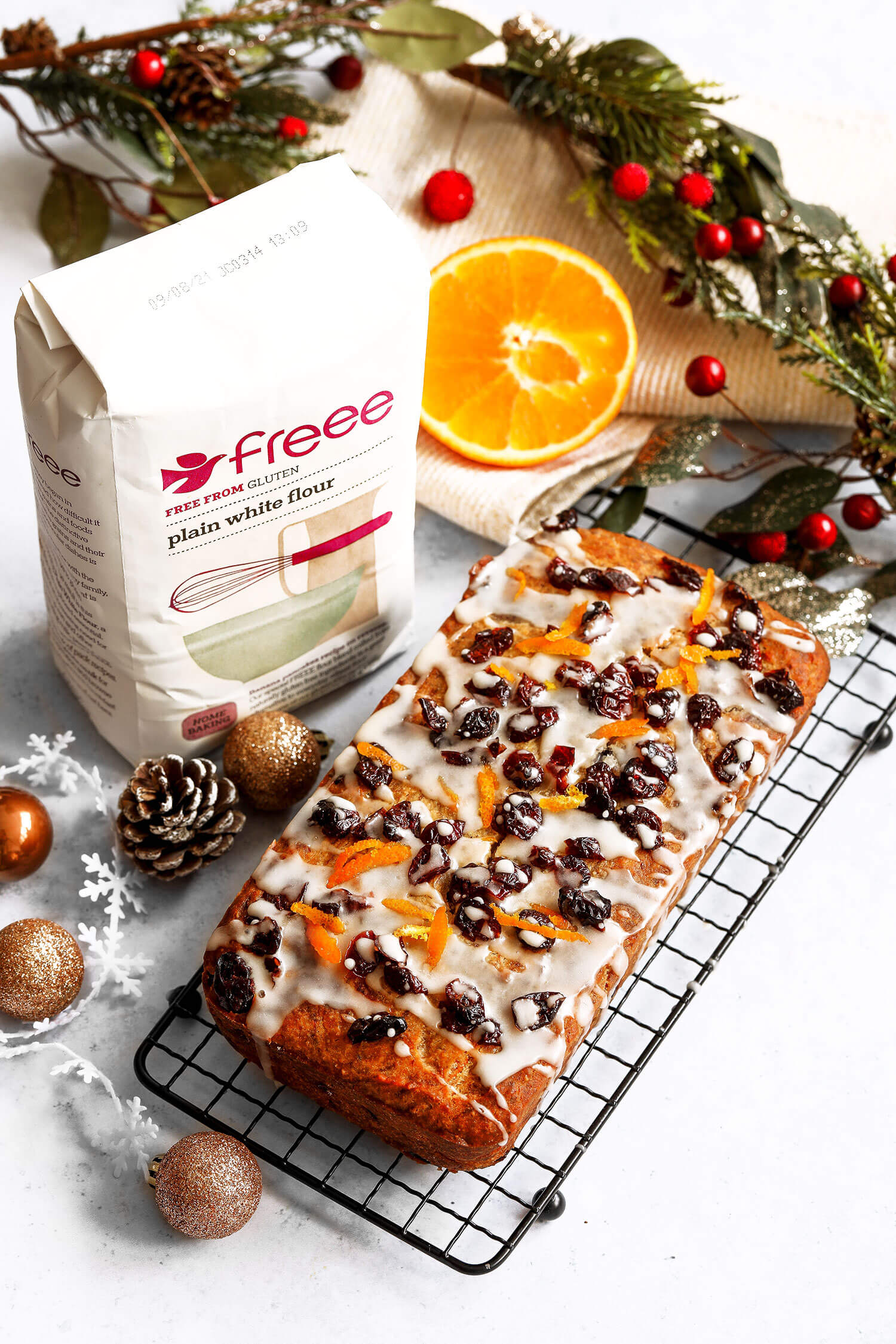 Their product range isn't limited to flours, they also have baking mixes, baking essentials, breakfast cereals (their Gluten-Free Chocolate Stars are a must try!), cookies, oat bars and pastas making them the home to the no. 1 gluten-free flour range in the UK. You can find their flours and other products stocked on their website freee-foods.co.uk and selected ASDA, Morrisons, Ocado, Sainsbury's, Tesco, Waitrose & Partners and Co-op stores.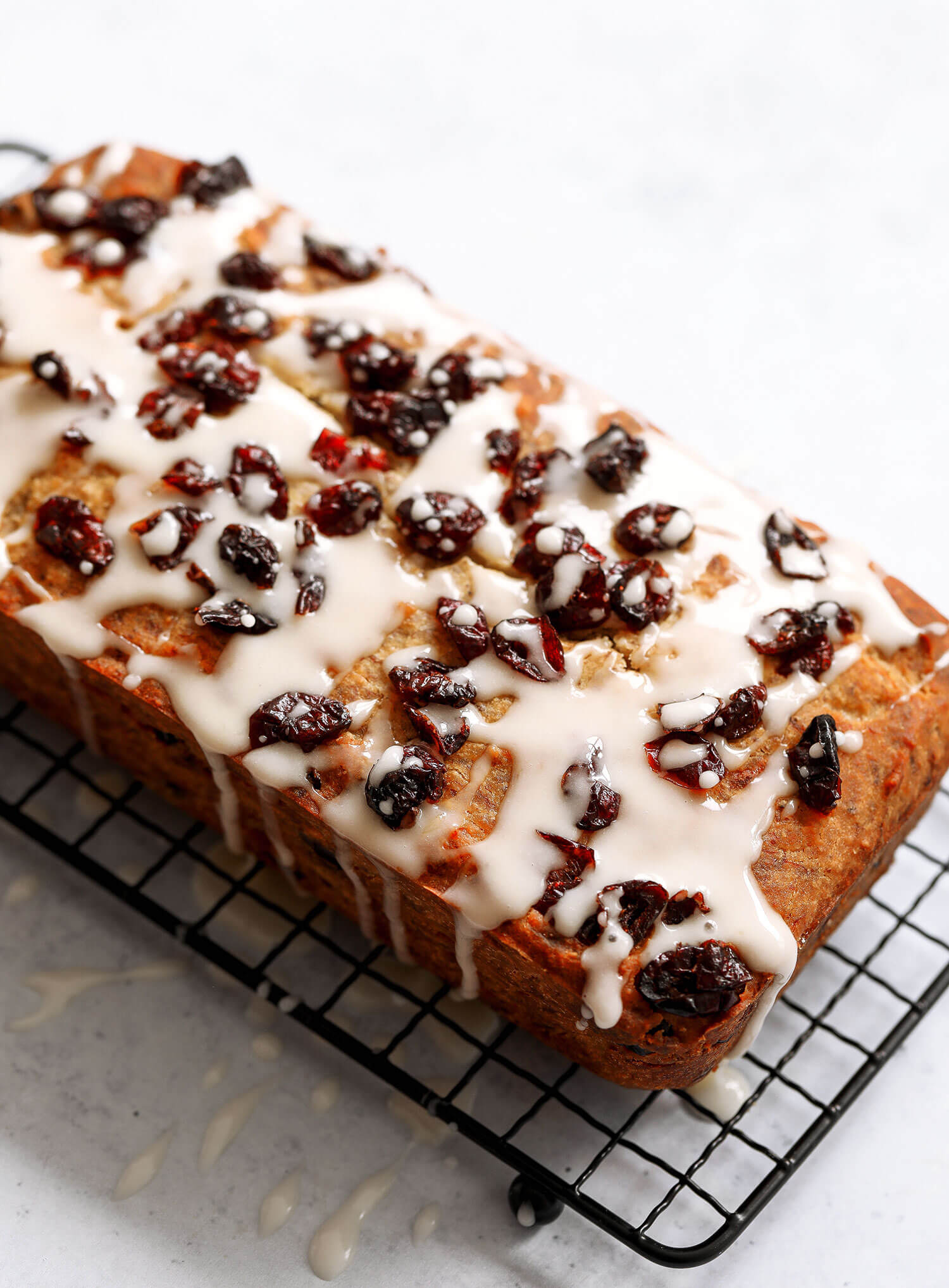 Festive Orange Cranberry Banana Bread
Makes 8-10
Ingredients
225g FREEE Gluten Free Plain White Flour
50g ground almonds
2 tsp baking powder
75g brown sugar
2 flax eggs – 2 tbsp milled flaxseed + 6 tbsp warm water
1/2 tsp salt
3 ripe bananas (around 335g), mashed
120g coconut oil or dairy-free spread/butter, melted
80g dried cranberries
Zest of 2 oranges
Orange glaze
35g icing sugar
½-1 tbsp orange juice
Method
Preheat your oven to 180C/160C fan
Mix the milled flaxseed and water in a small bowl and leave to set for 10 minutes.
In a large bowl, mix together the FREEE Gluten Free Plain White Flour, ground almonds, sugar, baking powder and salt.
Mix in the melted oil, set flax egg and mashed banana, then fold in the dried cranberries and orange zest.
Transfer into a bread tin (I used a 22×12 cm loaf tin) lined with baking paper.
Bake for 55-60 minutes. Leave to cool completely before glazing and slicing.
To make the glaze, add the icing sugar to a bowl along with ½ tbsp orange juice and whisk. You can add a little more juice if you want a thinner consistency, but no more than 1 tbsp in total.
Drizzle the glaze over the banana bread, slice and enjoy!