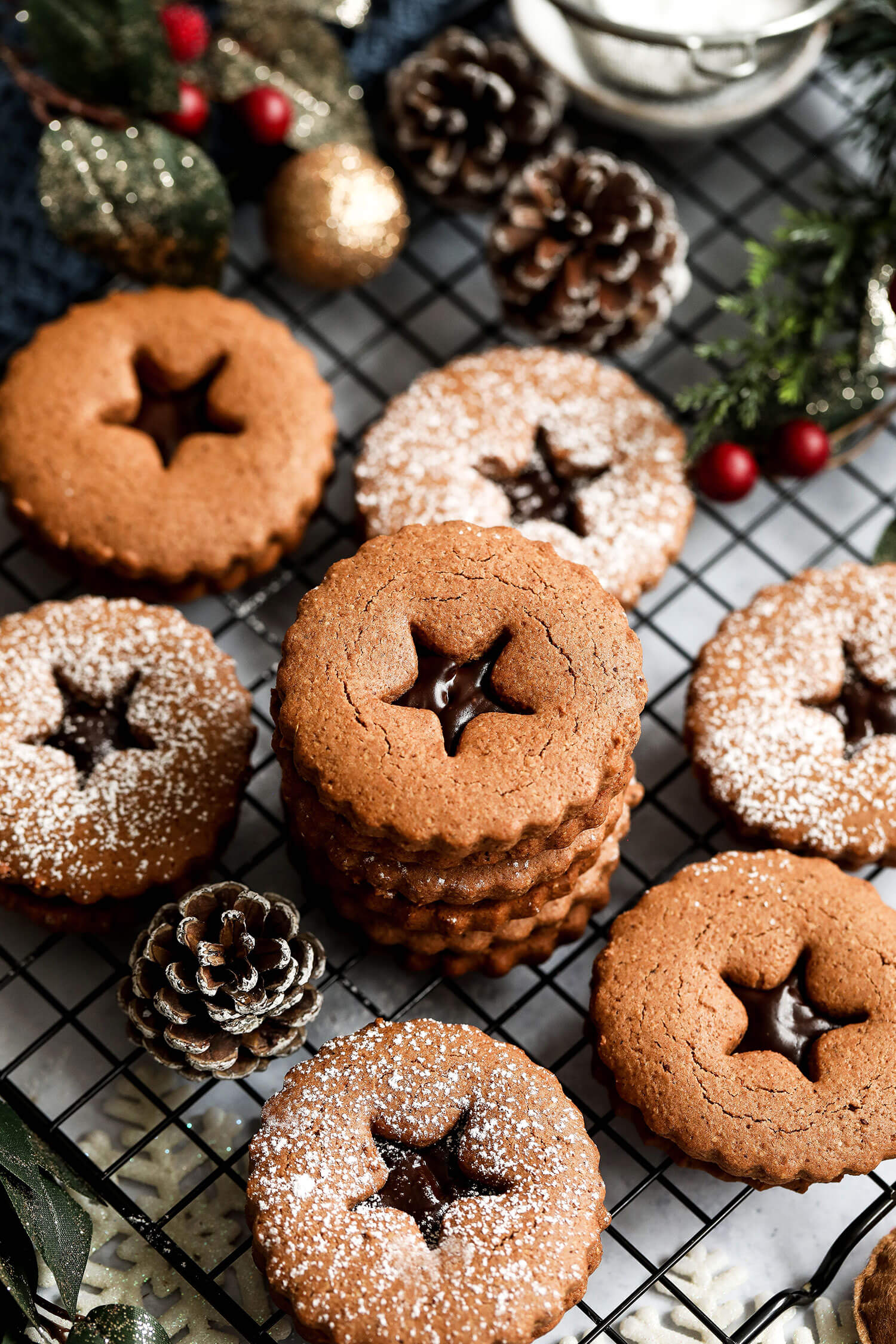 *This post is sponsored by FREEE*
This is my favourite gingerbread cookie/biscuit recipe, but instead of icing it like you typically would do with gingerbread biscuits, I've created a cookie sandwich with a smooth and velvety ganache in the middle. So yummy and moreish!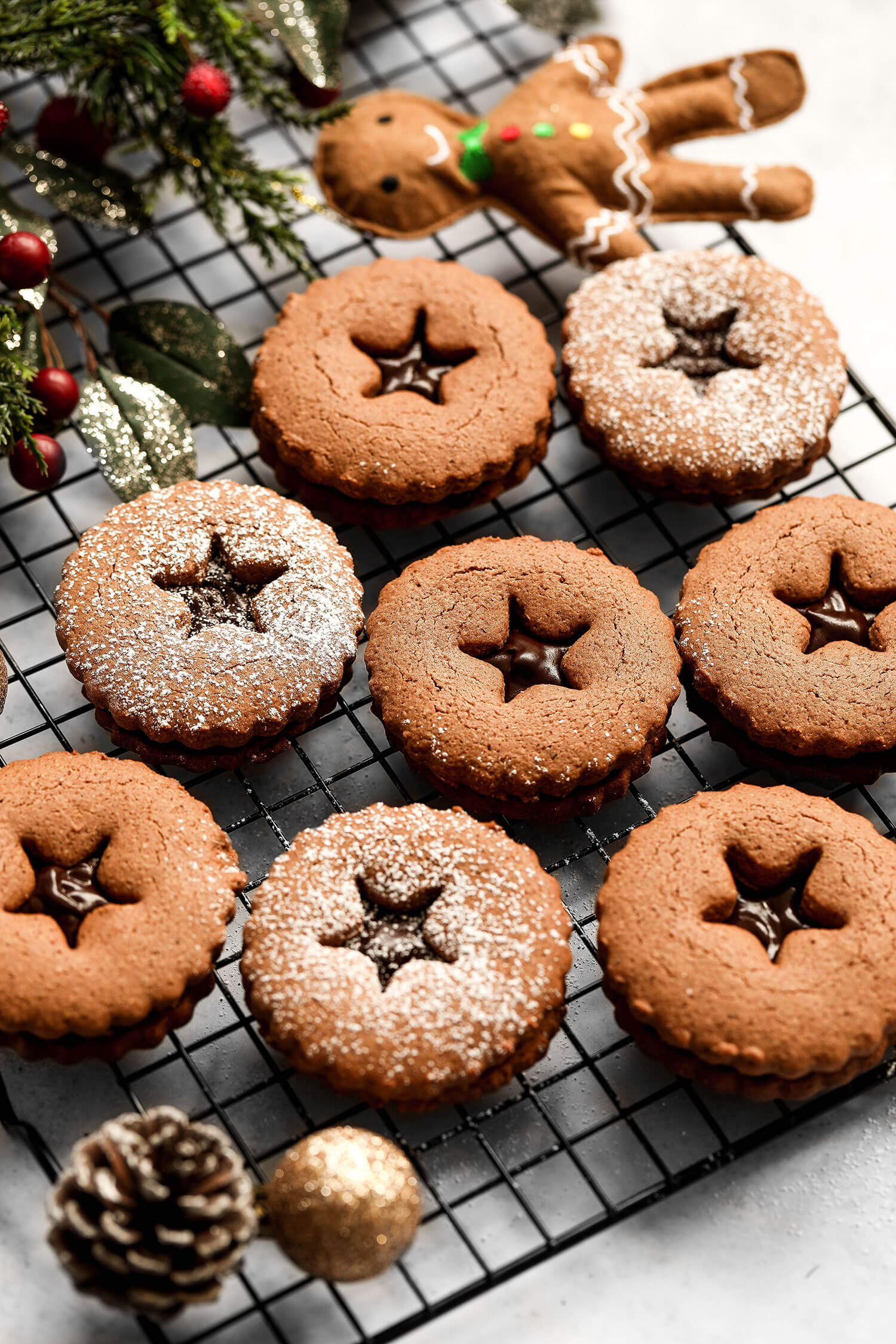 Biscuits have always (and I imagine they always will be) my favourite treat! I would always pick a good biscuit over a slice of cake or a brownie. I just love that crunch you get with a freshly baked biscuit. This Christmas I wanted to create a gingerbread recipe, but with a difference. I thought what could I add to gingerbread to make it even more delicious, and like I find with many of my recipes, the answer to that question is chocolate!
The mixture of the warmth of spices, sweetness of the molasses and bitterness of the chocolate complement each other so well. Add a crunchy biscuit to the mix and you know you have something so special. These gingerbread ganache cookies really are perfect treat for this year's festivities.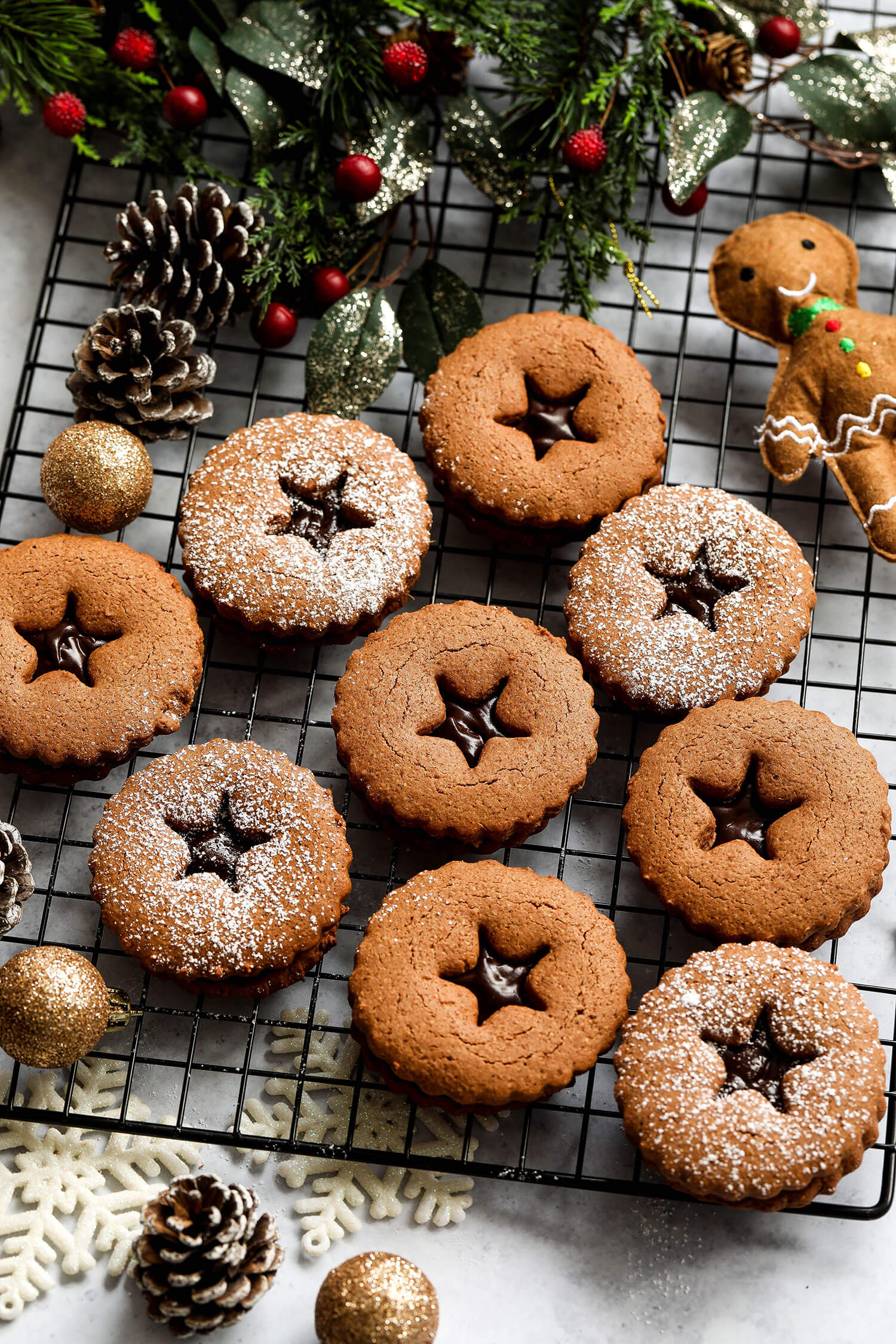 This is my second creation for FREEE, who I've teamed up with to create delicious gluten-free bakes that everyone can enjoy this Christmas using FREEE flours. It's as easy as 1, 2, FREEE!
As well as flours, FREEE also sell a wide range of products from baking mixes, baking essentials, breakfast cereals, cookies and oat bars to pastas making them the home to the no. 1 gluten-free flour range in the UK. You can find their flours stocked on their website freee-foods.co.uk and selected ASDA, Morrisons, Ocado, Sainsbury's, Tesco, Waitrose & Partners,Co-op stores. Their Gluten Free Porridge Oats are also available with Ocado and at freee-foods.co.uk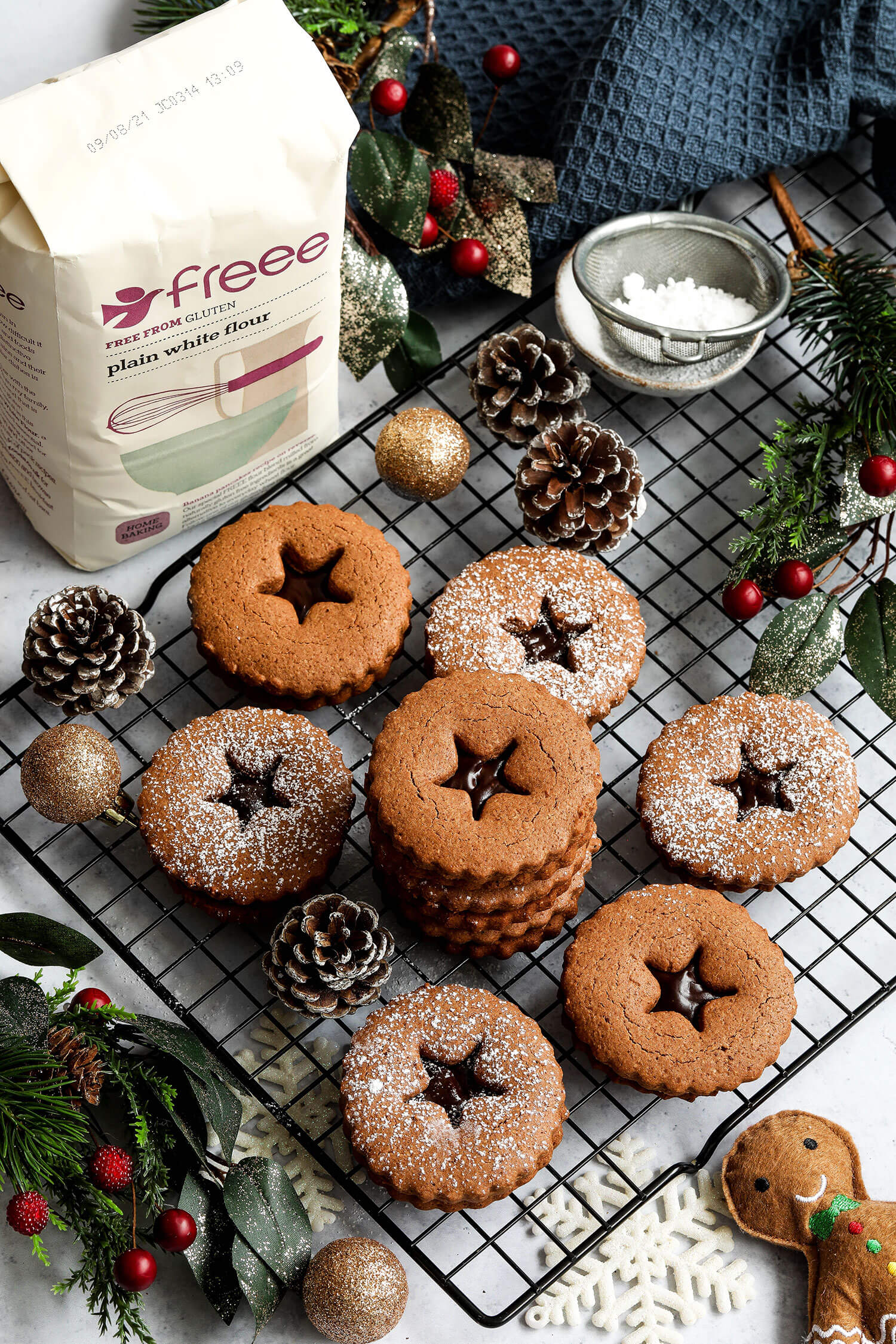 To make these cookies gluten-free, I used a mixture of FREEE Gluten Free Plain White Flour and oat flour using their Gluten Free Porridge Oats. I really love the combination of those two flours and I feel it works best when making crunchy cookies. The recipe is also completely vegan including the 2 ingredient ganache! It's really easy to make and a really fun activity to do together as a family, with your other half or with the kids!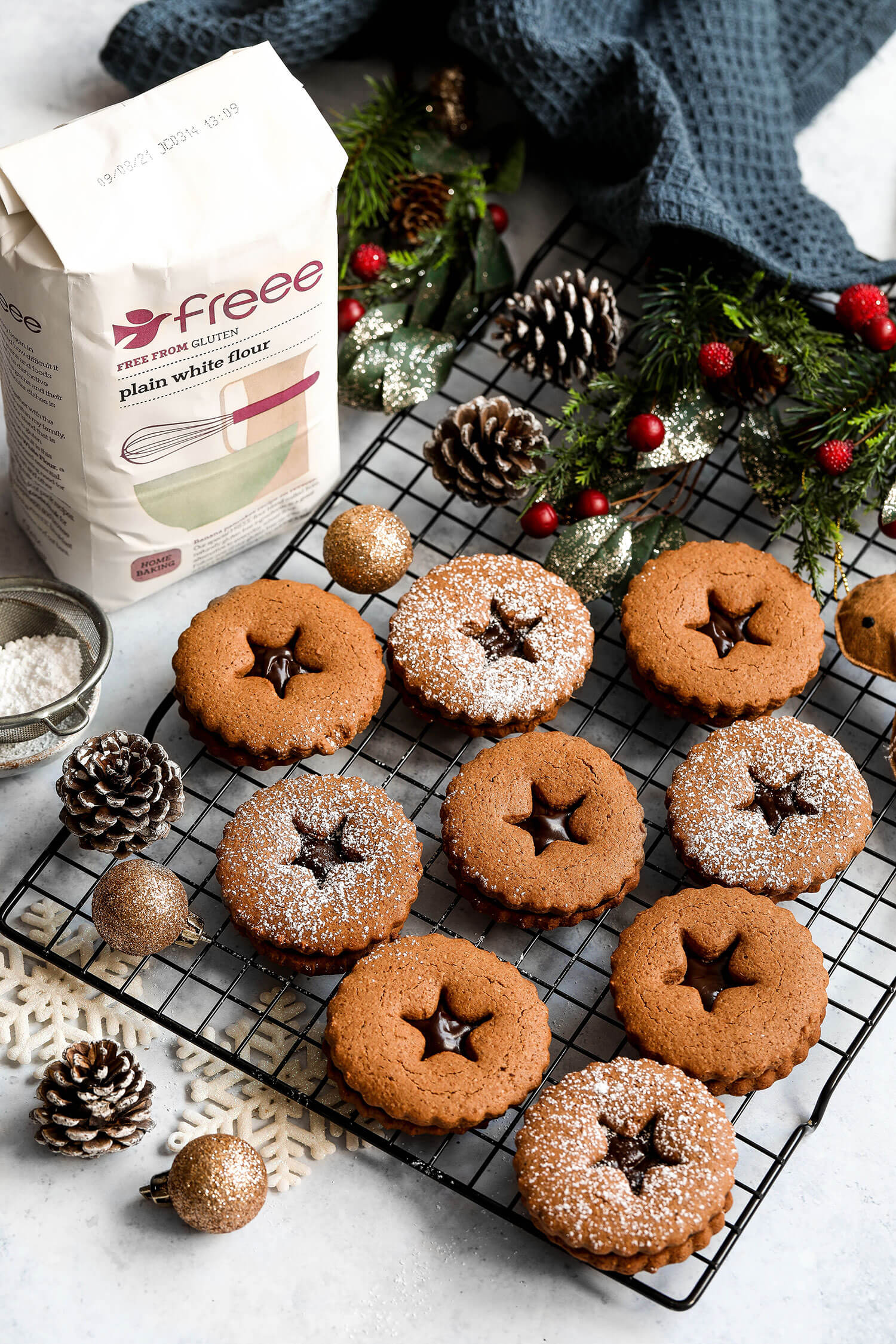 Festive Gingerbread Ganache Cookies
Makes 11-12 sandwich cookies
Ingredients
135g FREEE Gluten Free Plain White Flour
110g oat flour (FREEE Gluten Free Porridge Oats ground up into a flour in the food processor)
55g brown sugar
2 tsp ginger
2 tsp cinnamon
¼ tsp nutmeg
¼ tsp cloves
¼ tsp salt
1 tsp baking powder
55g coconut oil or dairy-free butter, melted
3 tbsp plant milk of choice
4 tbsp molasses
For the chocolate ganache
100g dark chocolate, melted
80ml plant milk of choice
Method
Preheat your oven to 180C/160C fan
In a large bowl, mix together the FREEE Gluten Free Plain White Flour, oat flour, sugar, baking powder, salt and spices.
Pour in the melted oil/butter, milk and molasses. Mix until a dough is formed.
If the dough is too soft, wrap up the dough in cling film and chill in the fridge for 30 minutes.
Transfer the dough onto a lightly floured worktop. Roll out to a thickness of about 1/4 inch.
Use a round cookie cutter to cut out the cookies and a small star shaped cutter to cut a star in the middle of some of the cookies to create the top cookie.
The baking time depends on the size of your cookies. I would suggest baking for 10 minutes then keep checking every couple of minutes from there onwards. What you're looking for is golden brown edges. Keep in mind that the cookies will become crunchier once they've cooled down so don't leave them in too long unless you want a super crunchy cookie. I like my gingerbread men crunchy so I baked them for 15 minutes. Leave to cool completely before adding the ganache.
Break up the chocolate into a heat-proof bowl and melt in the microwave. Heat the milk up in a sauce pan and take off the heat as soon as it starts to bubble.
Gradually pour the hot milk into the melted chocolate while whisking continuously until smooth. Transfer into a piping bag and pipe onto the bottom half of the sandwich cookies and top with another. Enjoy!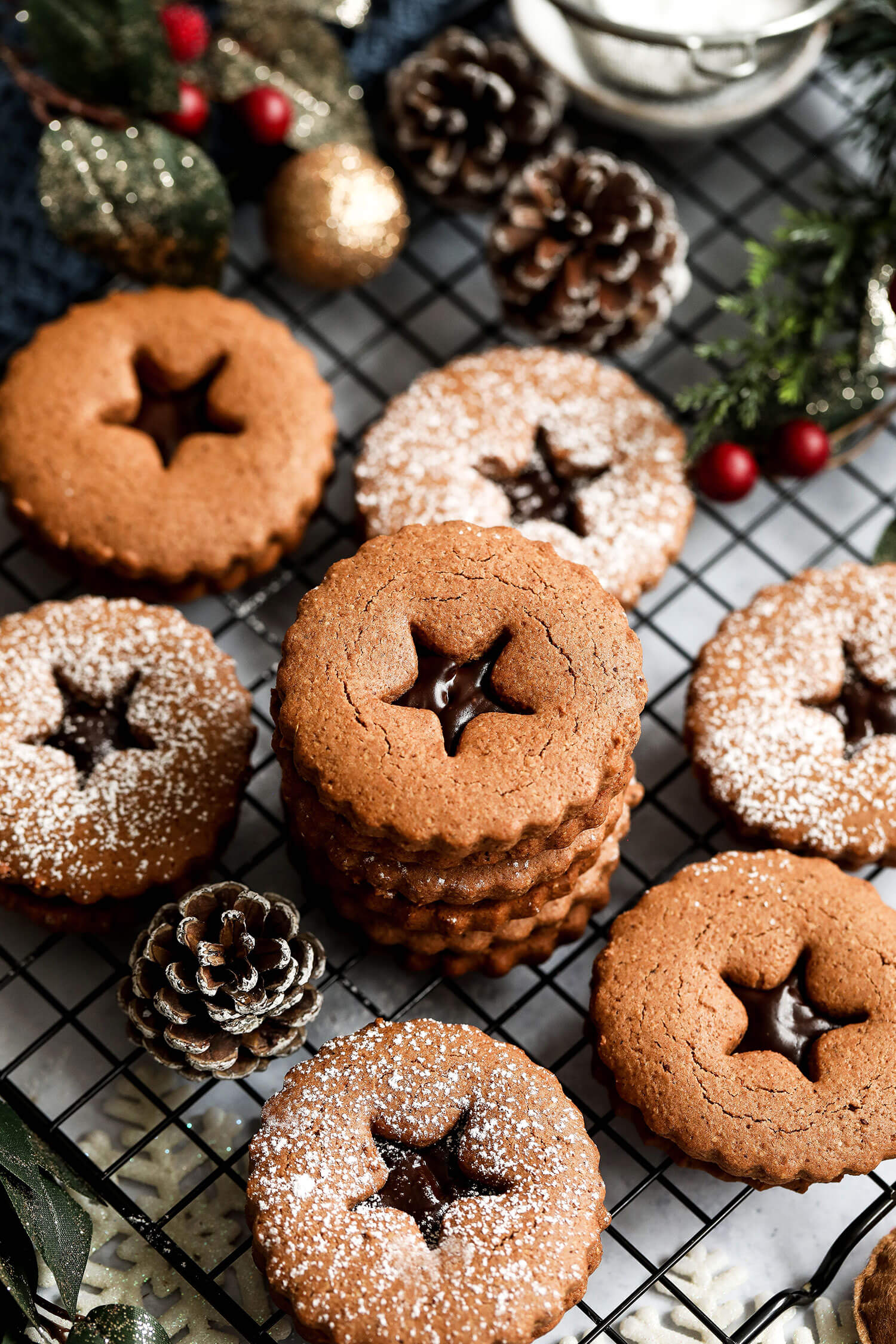 Share This Post