Healthy Chocolate Orange Tart
The combination of chocolate and orange seems to be a hit with almost everyone. In fact, I don't think I've ever come across anyone who doesn't like orange flavoured chocolate/treat. To me, dark chocolate with orange is one of the best things in the world! Usually I can stop eating chocolate after a square or two, but when it's orange there is no stopping me. I'll keep eating until you take it away from me! That's also true with mint dark chocolate.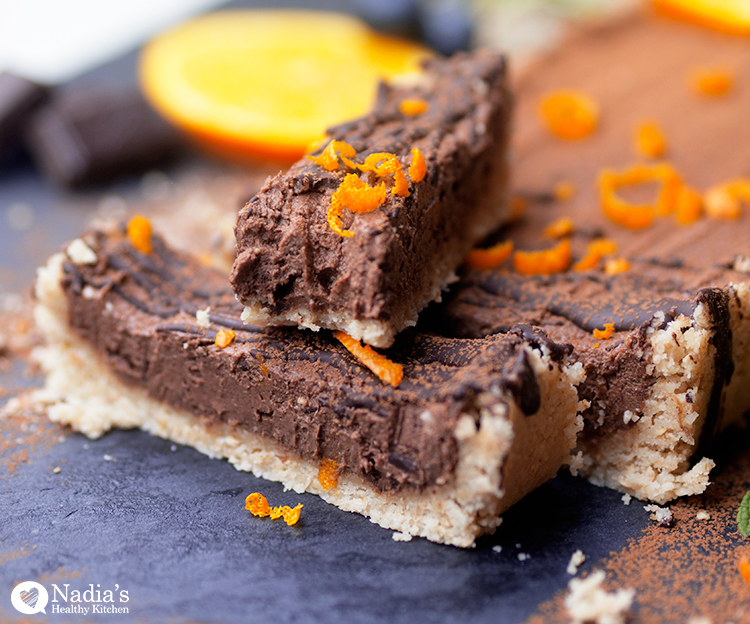 So I had the idea of creating a chocolate orange tart, because as well as orange dark chocolate, I also love tarts! Especially the chocolate kind. So rich and decadent! But of course I wanted to create a healthy version, one that can be enjoyed without leaving you feeling heavy and bloated.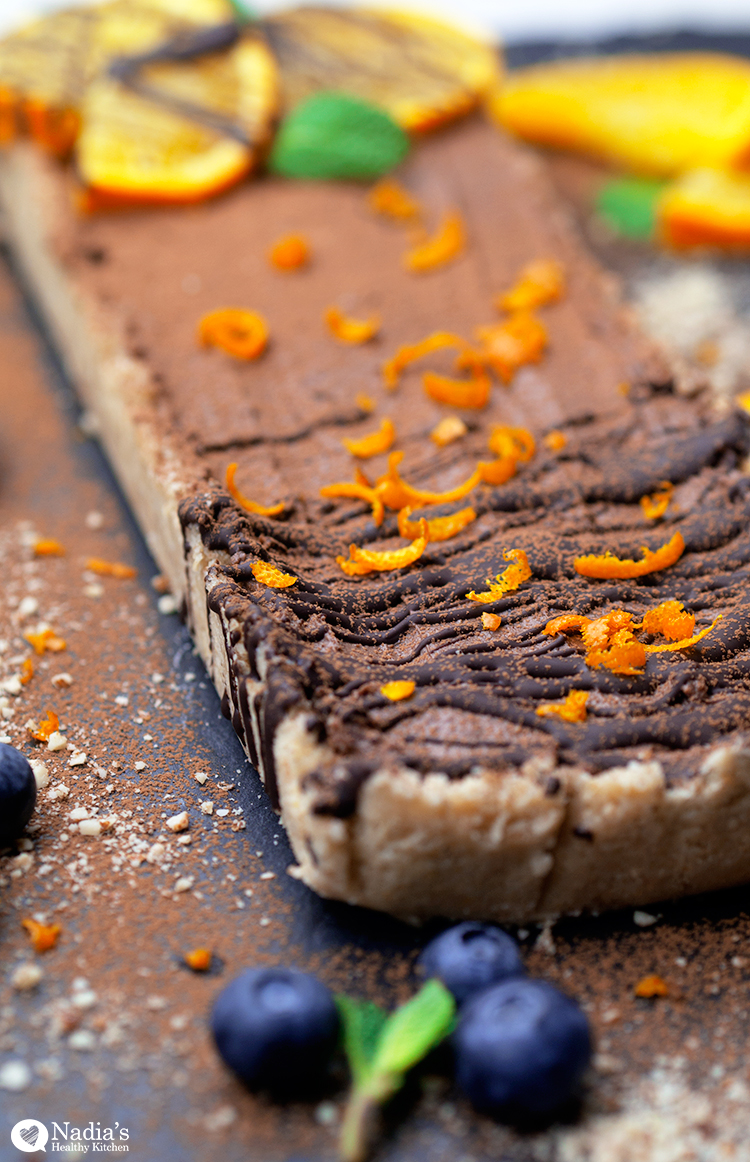 The base of this healthy chocolate orange tart is made of a mixture of ground almonds (high in vit E), oats (high in fibre) and coconut oil to help combine everything into a cookie crumb texture.
The filling is made up of tofu, which is high in protein and low in fat but is also great to use as it adds a scrumptious creamy texture. For the orange flavour, all I used is freshly squeezed orange juice and zest! And let's not forget about the chocolate – for that I used 85% dark chocolate but you can use any percentage you like. I think orange tastes so much more luxurious with dark chocolate!
To sweeten, I used homemade date paste which I made by basically cooking dates in a pan with a little bit of water and mashing them until I had a thick, smooth paste. I'm loving using dates like this in recipes as it adds more fibre and using the whole fruit is always better than using the processed form. You always have the option of using maple syrup instead but I would encourage you to try the date paste. It's really easy and quick to make.
This recipe it gluten-free, dairy-free and vegan.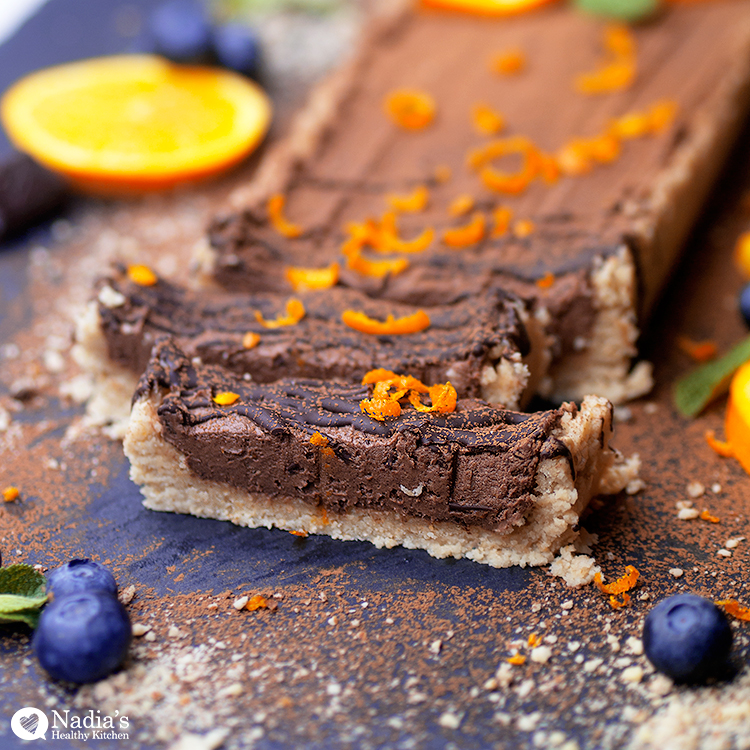 Healthy Chocolate Orange Tart
2016-02-20 17:06:40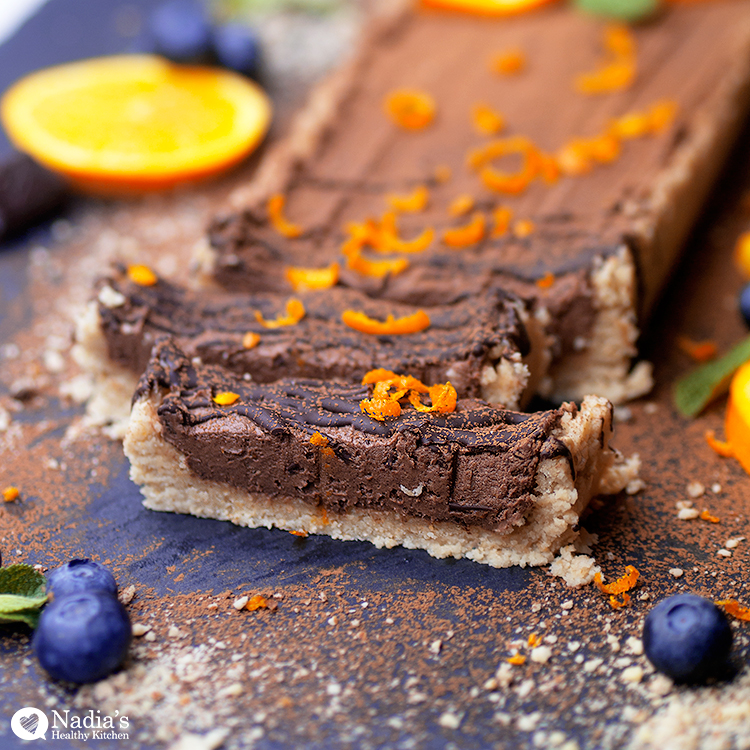 Serves 16
For the base
1 cup (100g) ground almonds
1/2 cup (55g) oat flour
1/4 cup (4 tbsp) coconut oil, melted
1 tbsp maple syrup
1/4 tsp salt
For the filling
300g firm tofu, drained
80g dark chocolate, melted
1/3 cup (5 tbsp) date paste* OR you can use 1/4 cup (4 tbsp) maple syrup
5-6 tbsp fresh orange juice
zest of 1 orange
pinch of salt
*Date paste
1/2 cup (60g) dates
4-6 tbsp water
To make the date paste
Add the dates to a pan, then start adding 1 tbsp at a time while heating on a medium heat. Mash the dates with the back of a wooden spoon and continue adding water until you have a smooth, thick caramely paste. Leave to the side to cool.
To make the base
In a bowl, mix the ground almonds, oat flour and salt. Pour in the melted coconut oil and maple syrup. Mix well then transfer into a lined cake tin of choice and press the mixture down firmly. I used a 12 x 4.5 x 3 loaf pan.
Chill in the freezer for around 30 minutes while you make the filling.
For the filling
Melt your chocolate, either in the microwave or using a double boiler method, and leave it to cool down to room temperature.
Drain your tofu then add it to your food processor. To that add the date paste (or maple syrup), orange juice, orange zest and salt. Once the chocolate has cooled, add it to the rest of the ingredients and blend everything together.
Once the mixture is smooth, give it a taste to see if you're happy with the sweetness and if it's 'orangey' enough for you. Otherwise add more sweetener and orange zest.
Take the base out of the freezer and pour the chocolate mixture on top. Smooth down then place back in the fridge and leave to set for a couple of hours (I prefer to leave mine overnight).
Decorate with orange slices, orange zest, cocoa powder, melted chocolate, crushed nuts or whatever else you prefer!
Enjoy!
Notes
Nutritional information (estimated per serving)
Calories: 159.3 kcal
Protein: 5.8 g
Fat: 10.9 g
Carbs: 11.8 g
Fibre 2.5 g
Nadia's Healthy Kitchen https://nadiashealthykitchen.com/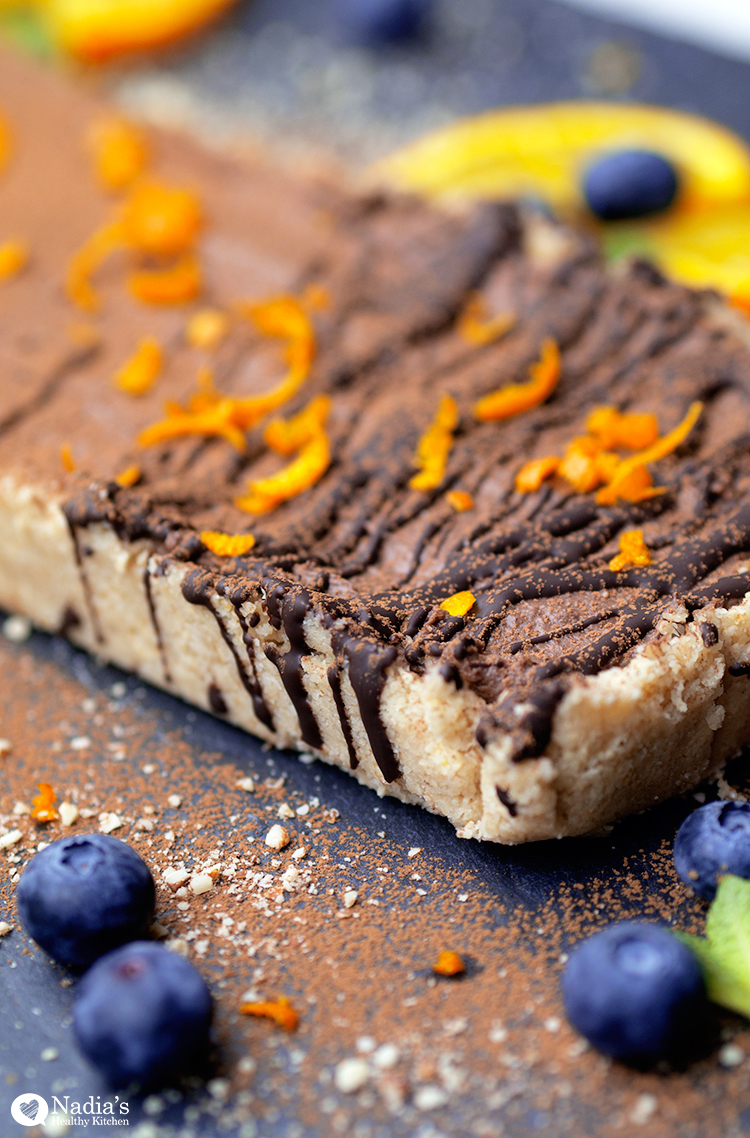 If you liked this Healthy Chocolate Orange Tart recipe, you may also like: