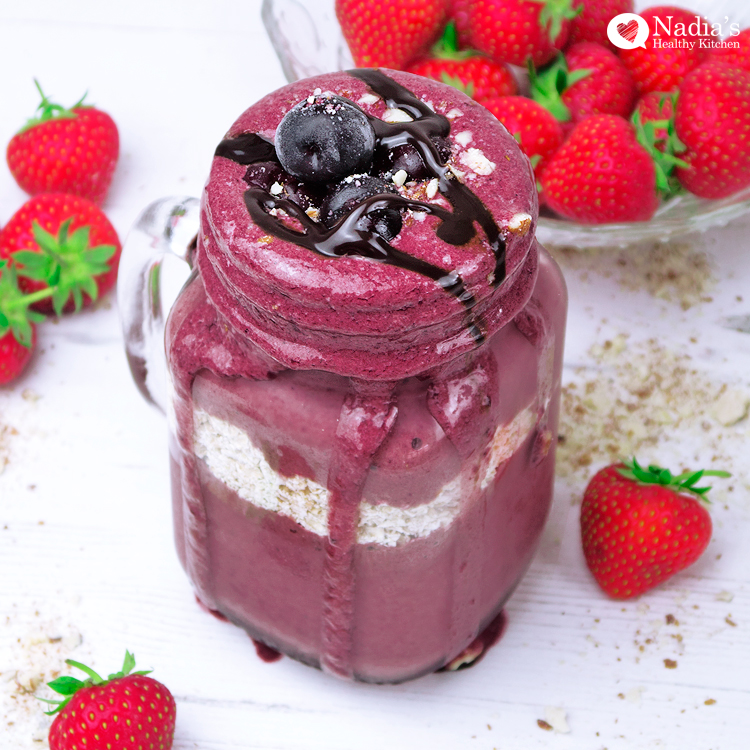 Chocolate Cherry Protein Smoothie
Smoothies are one of the easiest ways to get some fruit and veg into your daily diet. It's also one of the easiest ways to create a balanced meal with sufficient amounts of carbohydrates, proteins and fats! I always turn to my blender for a quick fuss free breakfast when I don't have much time in the morning for a sit down breakfast or just feel too lazy to make anything or even to THINK of anything to make. With smoothies, you can literally throw anything, no need to worry about the flavour combinations, most of the time anyway.
Today however, I wanted to make a specific smoothie – a chocolate and cherry smoothie! Those two flavours are definitely a match made in heaven!
Chocolate Cherry Protein Smoothie
I like to use frozen cherries (you can get them from supermarkets) for convenience and to make the smoothie thicker and of course using frozen cherries means you don't have to add ice. My freezer is so full of frozen veg and berries that there is no room for ice haha!
To make this smoothie a well rounded meal, say for breakfast, I'm adding protein powder and oats. Both are digested slowly which means they should keep you feeling fuller for longer. If however you wish to make this as a snack, say for a post workout snack, you can always leave the oats out if you think it may be too much for a snack. I've included the nutritional breakdown of this recipe (both with and without oats) which hopefully will be helpful to you if you're trying to reach a particular goal.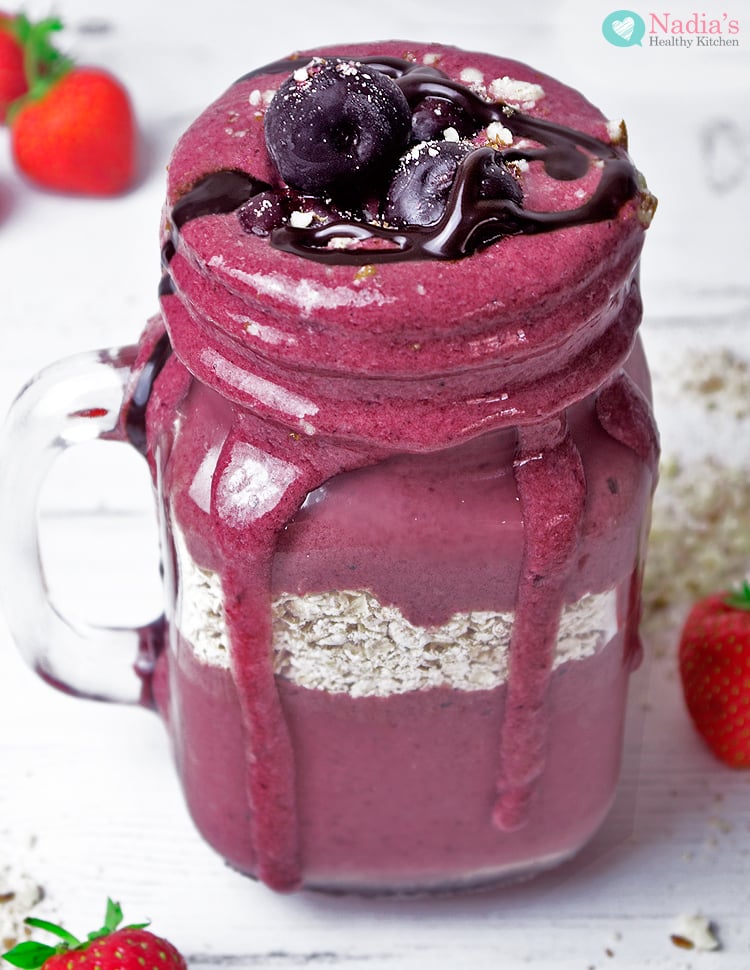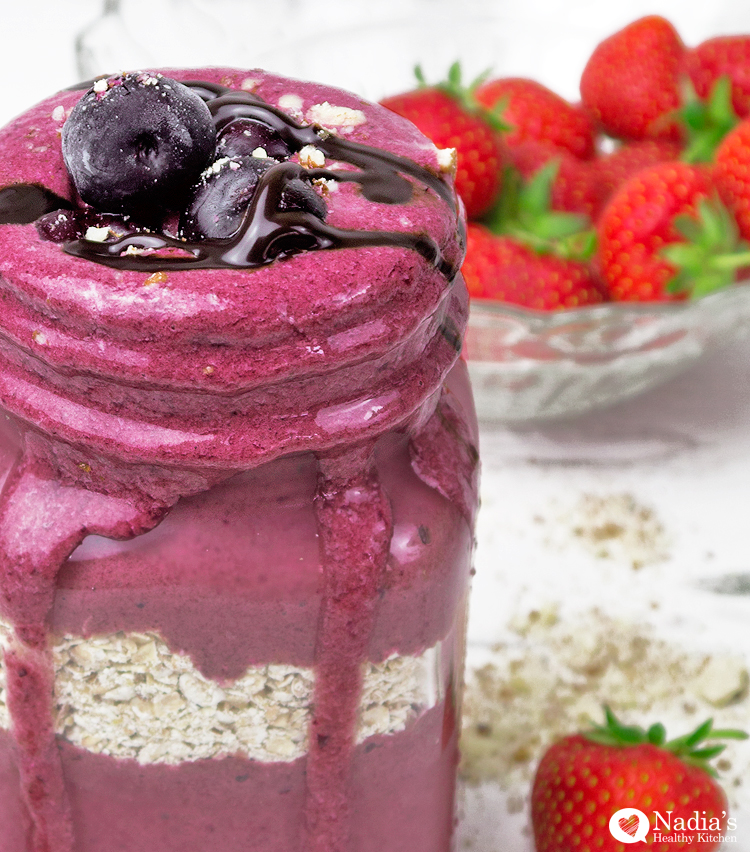 Chocolate Cherry Protein Smoothie
2015-06-24 11:26:46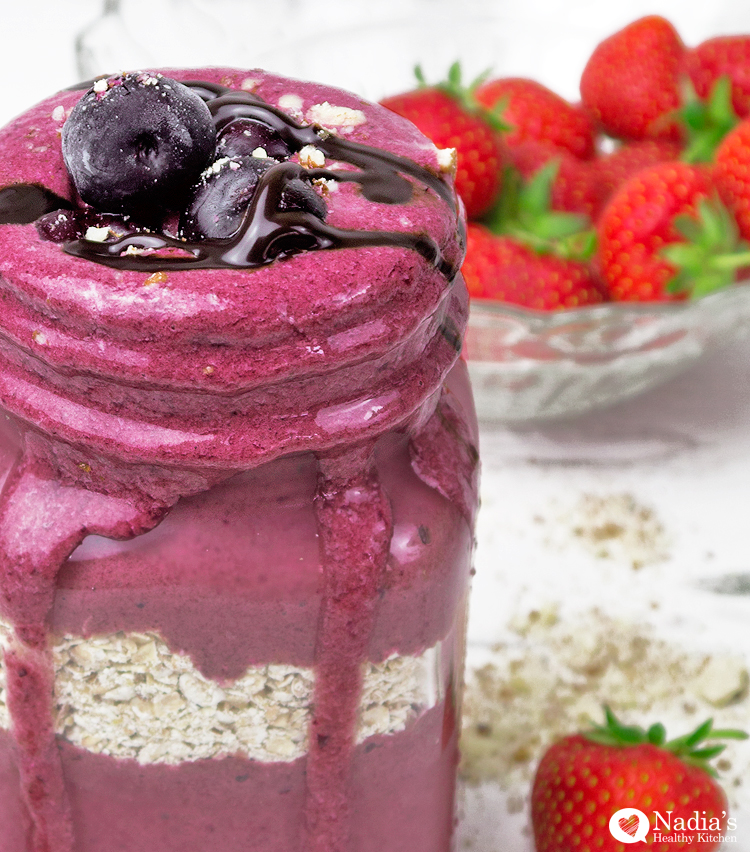 Serves 1
Ingredients
1 cup (155g) frozen cherries
1/2-1 cup (230ml) almond milk (I used homemade)
1 tbsp cacao/cocoa powder
1 scoop (4 tbsp) chocolate protein powder (or you can use any you like)
1/4 cup (4 tbsp) oats (if you're making this for breakfast)
Instructions
Add all the ingredients to your blender and whiz until smooth. If you want a little more texture you can leave the oats out and add them right at the end instead of blending them with the rest of the ingredients.
Pour into a glass or a mason jar for a meal/snack on-the-go.
Enjoy!
Notes
Nutritional information: (estimated with oats)
Calories: 300 calories
Protein: 23.8g
Carbs: 38.9g
Fat: 7.7g
Fibre: 8.2g
Nutritional information: (estimated without oats)
Calories: 214 calories
Protein: 21.1g
Carbs: 25.1g
Fat: 6.4g
Fibre: 6.1g
Nadia's Healthy Kitchen https://nadiashealthykitchen.com/
If you liked this
chocolate cherry protein smoothie

you might also like my Chocolate Banana Smoothie


Also check out these other amazing smoothie recipes