Chai Ice Cream Sandwiches (Vegan & Gluten-free)
I am a self-confessed cookie monster. I just LOVE cookies, biscuits, or whatever else you want to call them. I love the soft kind, crunchy kind and everything else in between!
What's better than eating one cookie? Eating two cookies, of course! And what's better than eating two cookies? Sandwiching some ice cream in between two cookies and creating ice cream cookie sandwiches!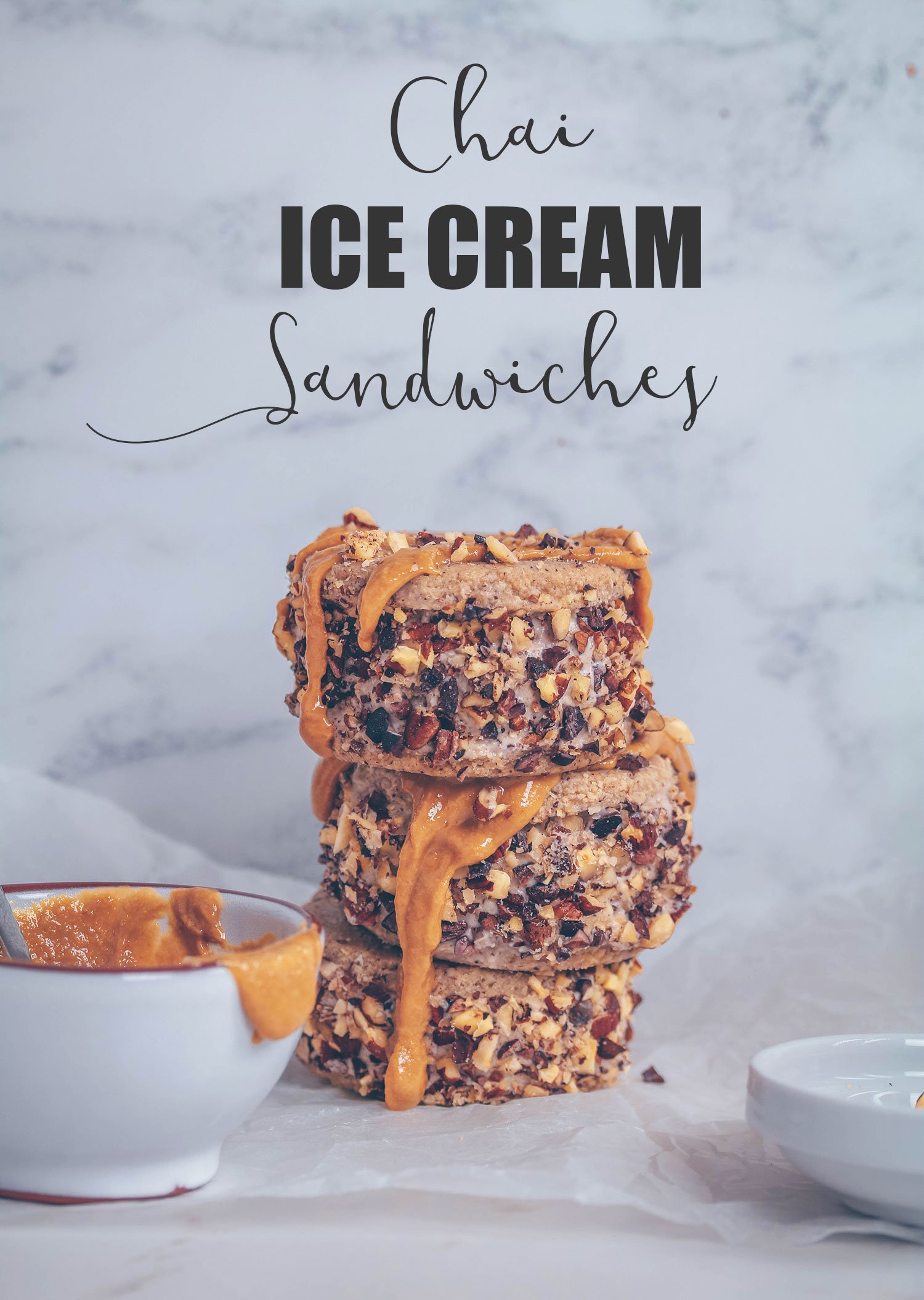 The first time I tried a cookie sandwich was on our honeymoon. We walked past a cafe in Spain and hubby asked me if I had ever tried an ice cream sandwich. He was like "you HAVE TO try an ice cream sandwich!" when he found out I'd never experienced the joy of eating one before. Of course, I fell in love with them straight away. What a genius idea!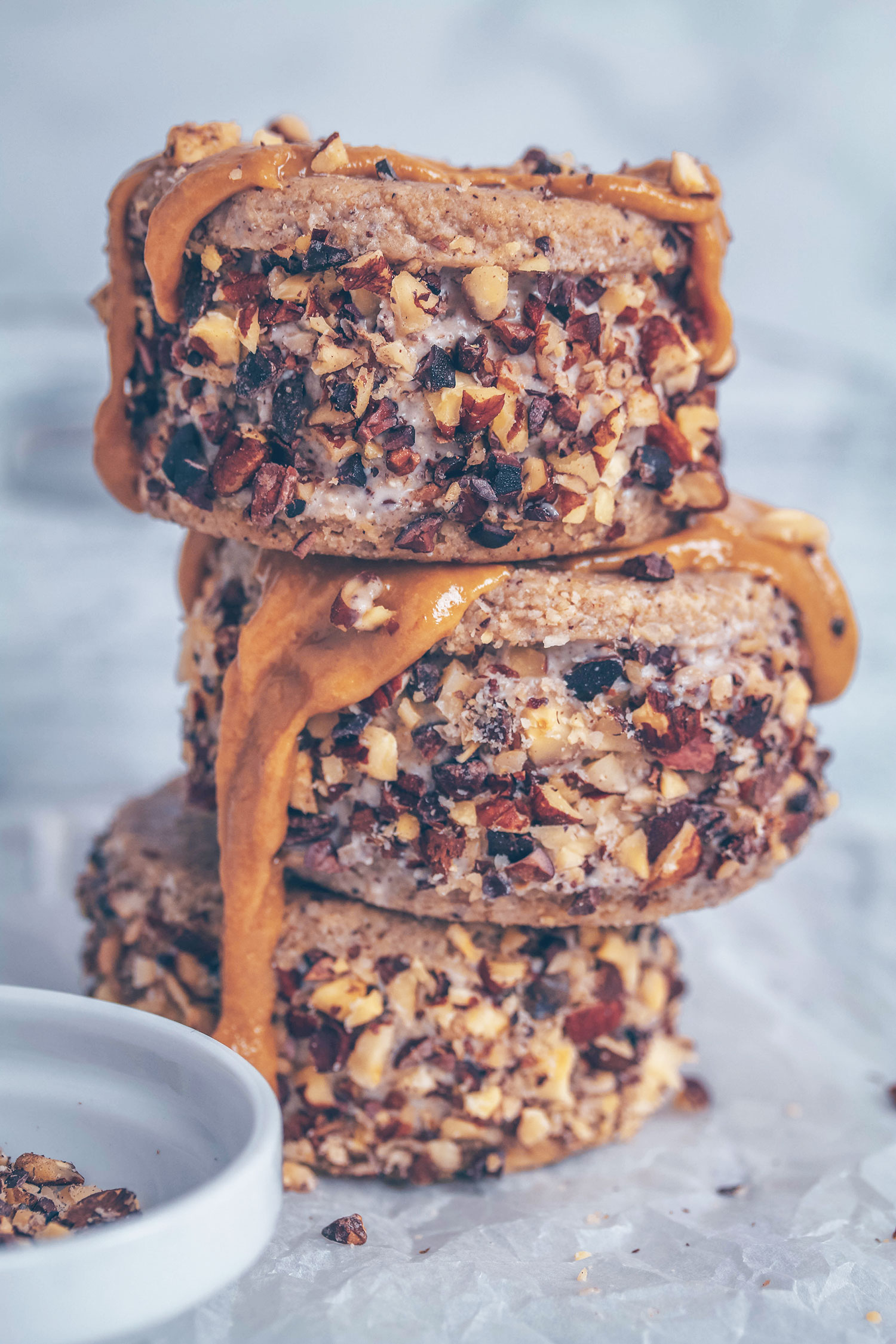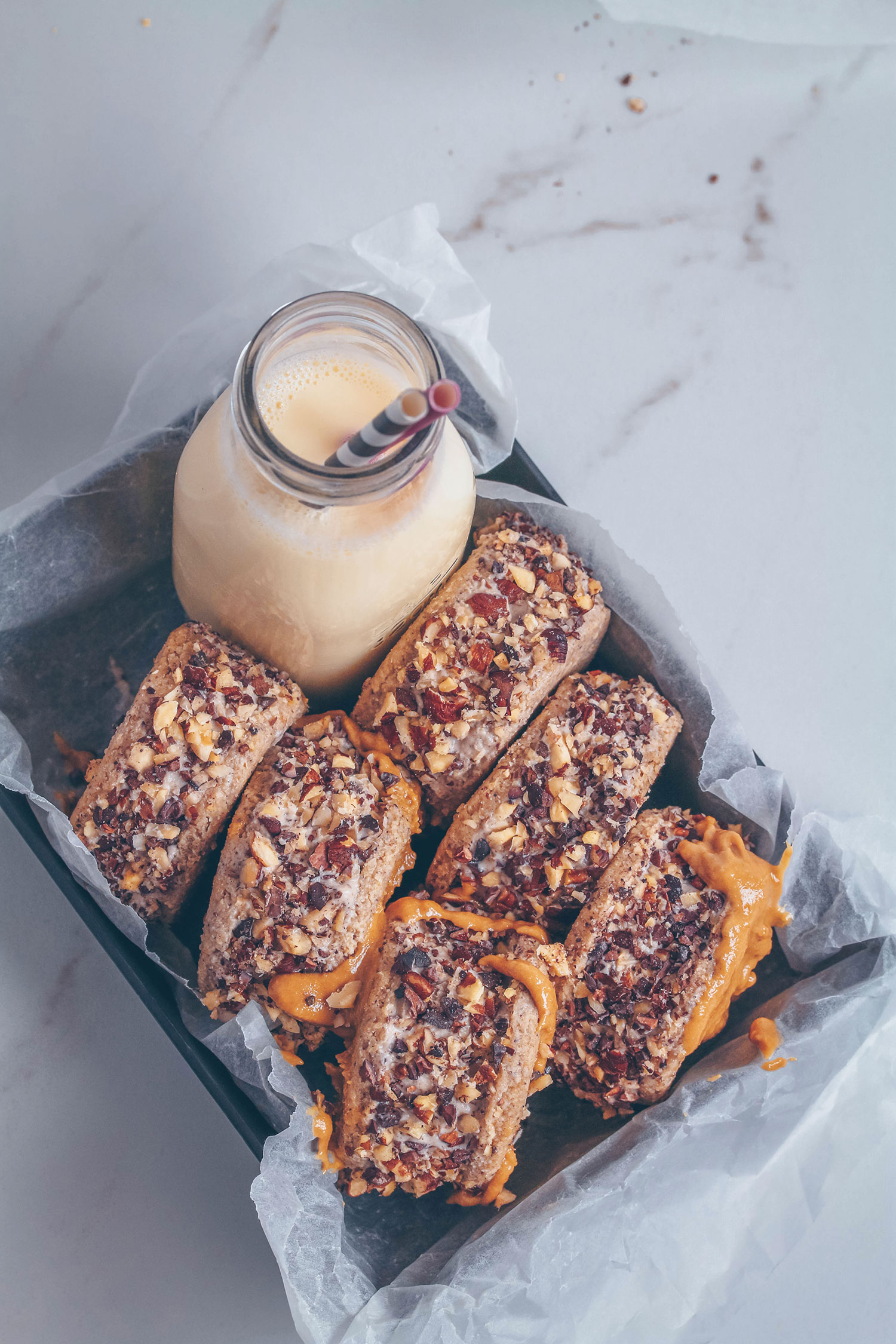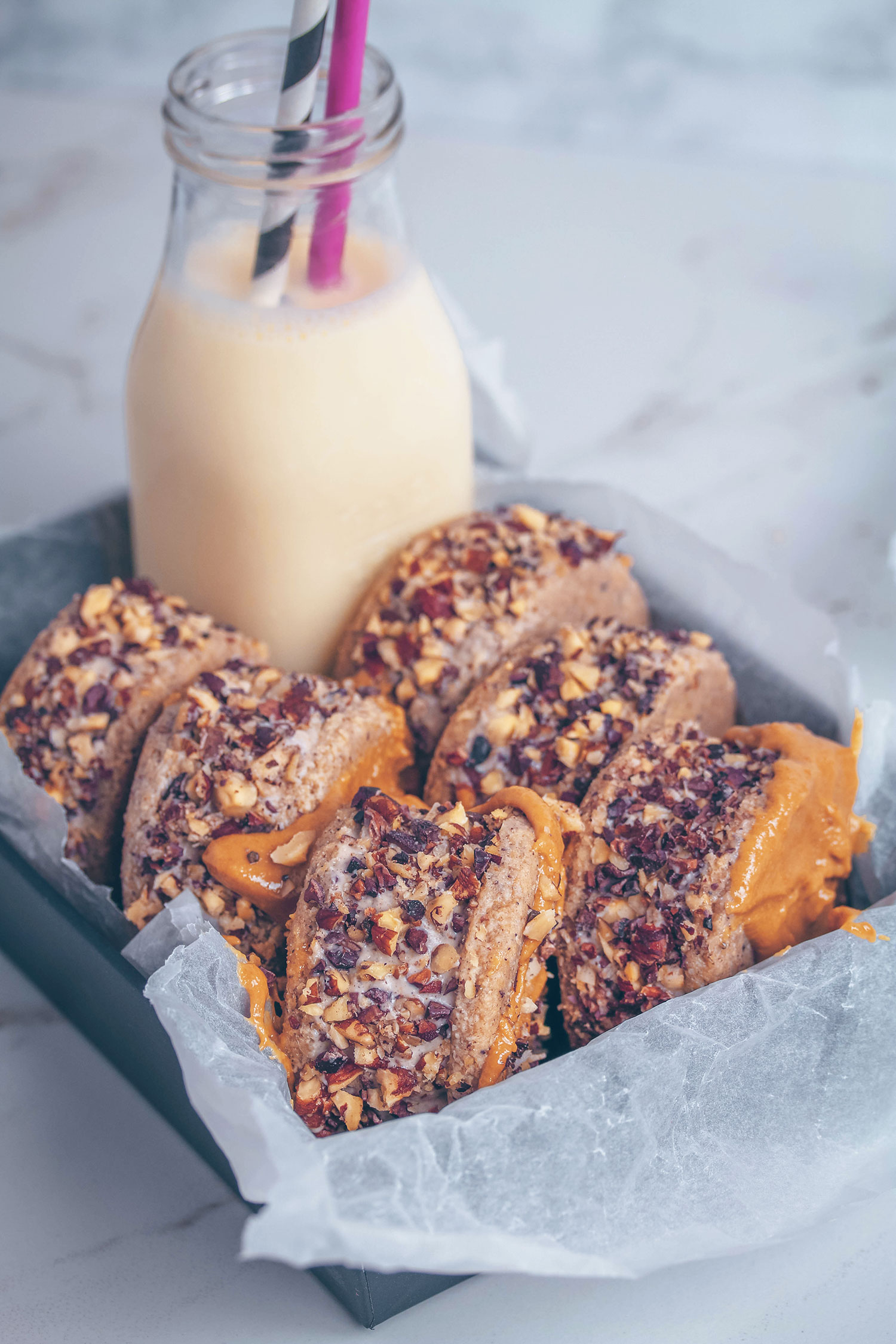 This will be my first 'autumny' recipe this year. I always used to think that eating ice cream during the cooler months was crazy. Mostly because growing up, my dad wouldn't let us eat it when it was cold outside. "You'll catch a cold" he would say. He was always worried that if we ate ice cream during winter (and during the school months) that we would inevitably fall ill and miss school days. I guess that fear of eating cold treats during the cooler months stayed with me until my adult years.
However, now I see ice cream as an all year round treat. So what if it's cold outside? The central heating is usually blasting anyway, so cold treats are never off the menu.
When it's no longer hot outside, the ice cream flavours I lean towards changes though. I gravitate towards richer, more comforting flavours rather than fruity ones.
Chai spiced ice cream is a good example! There's something about that mixture of spices that's just so comforting (and so yummy!).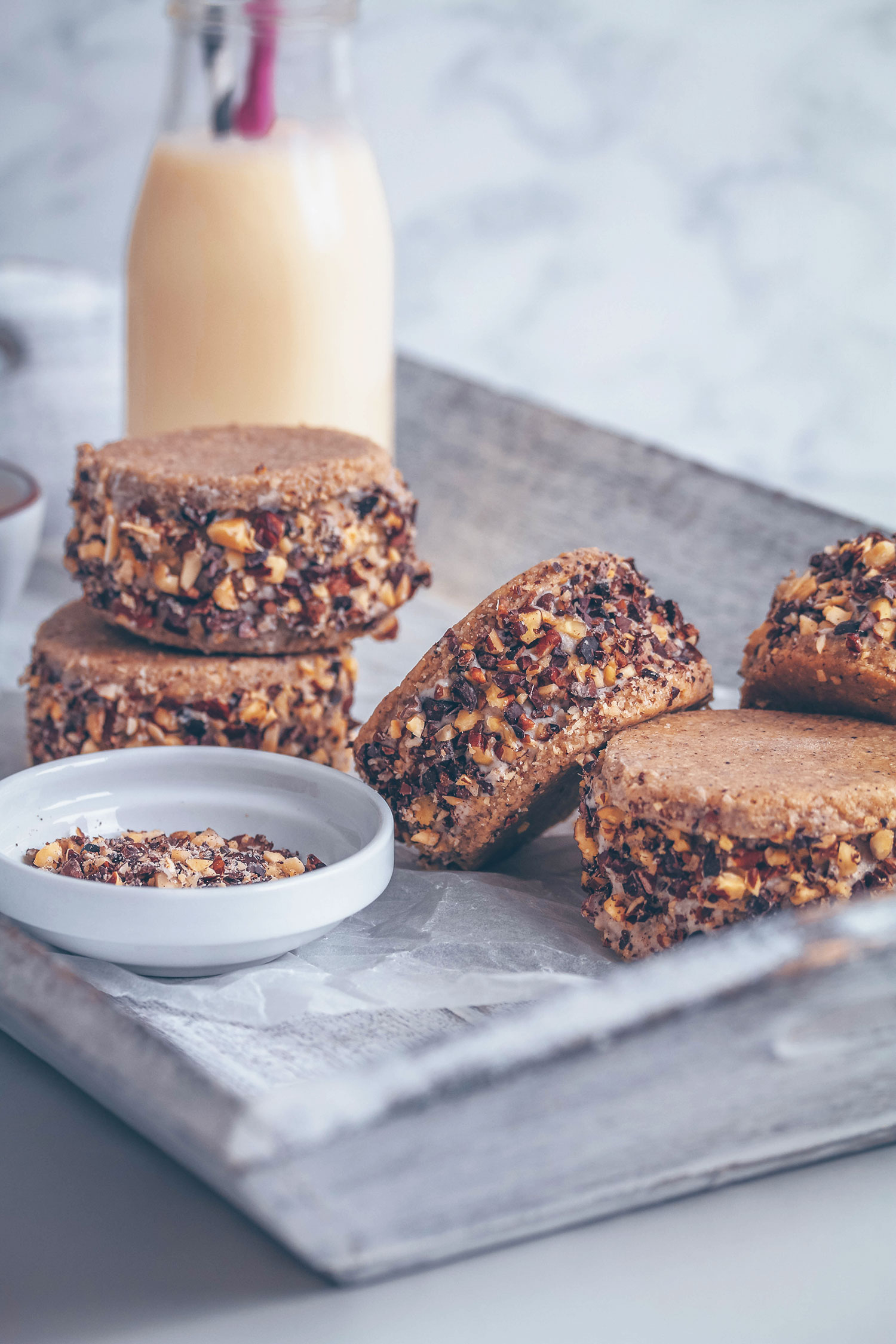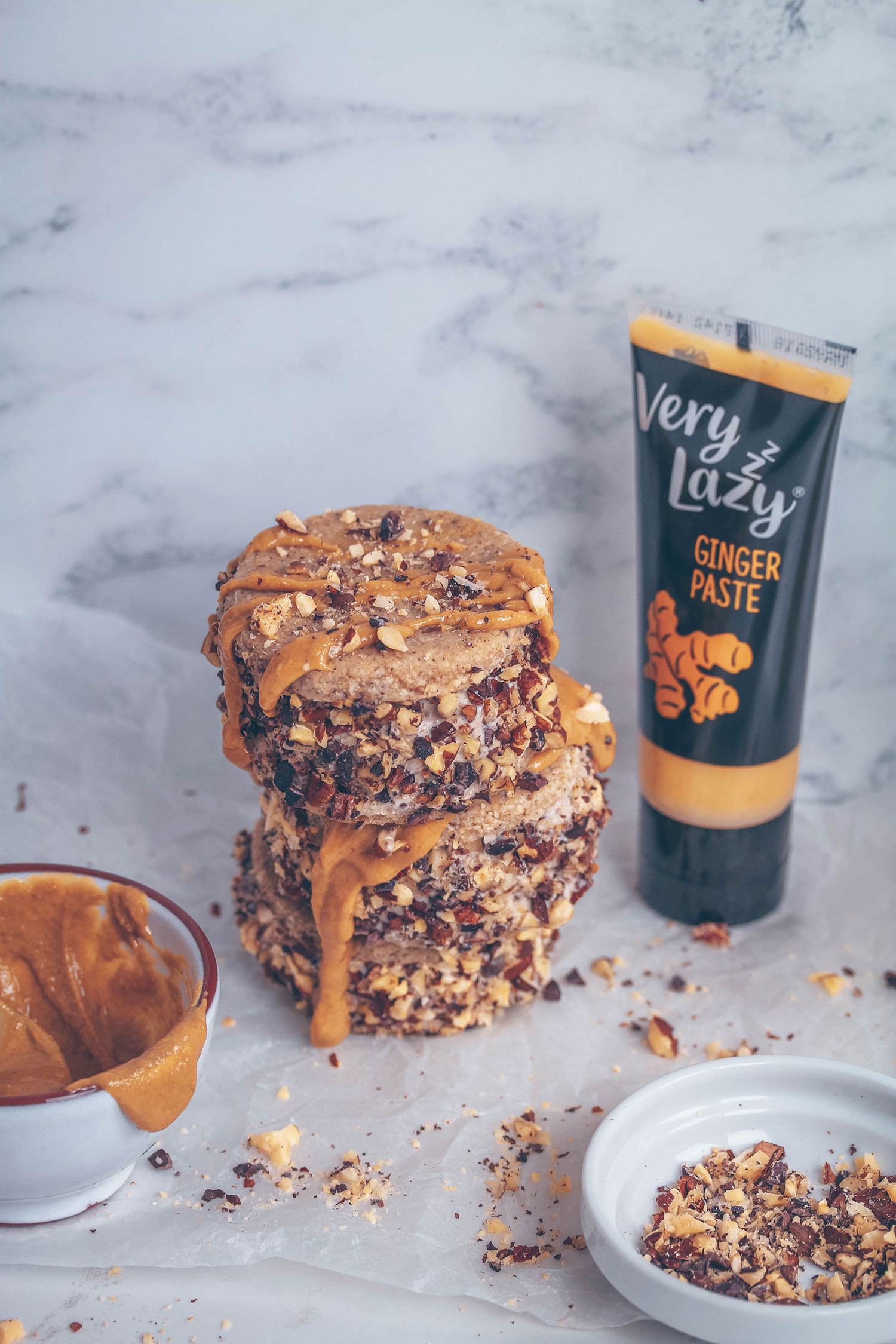 I'm using Very Lazy ginger paste to demonstrate that ginger and ginger paste is not only for savoury dishes. It's an easy way to add loads of flavour to a sweet treat. I find their ginger paste tubes so handy. Especially when I'm tight on time and need to prepare a quick recipe and don't want to spend time prepping fresh ginger. You just take the tube out of the fridge, squeeze out what you need and put it right back. So convenient.
Powdered ginger can be quite potent and bitter when using too much of it, especially in raw/no-bake recipes like this one. That's why I prefer using ginger paste. It gives these chai ice cream sandwiches a more fresh ginger taste, which I like.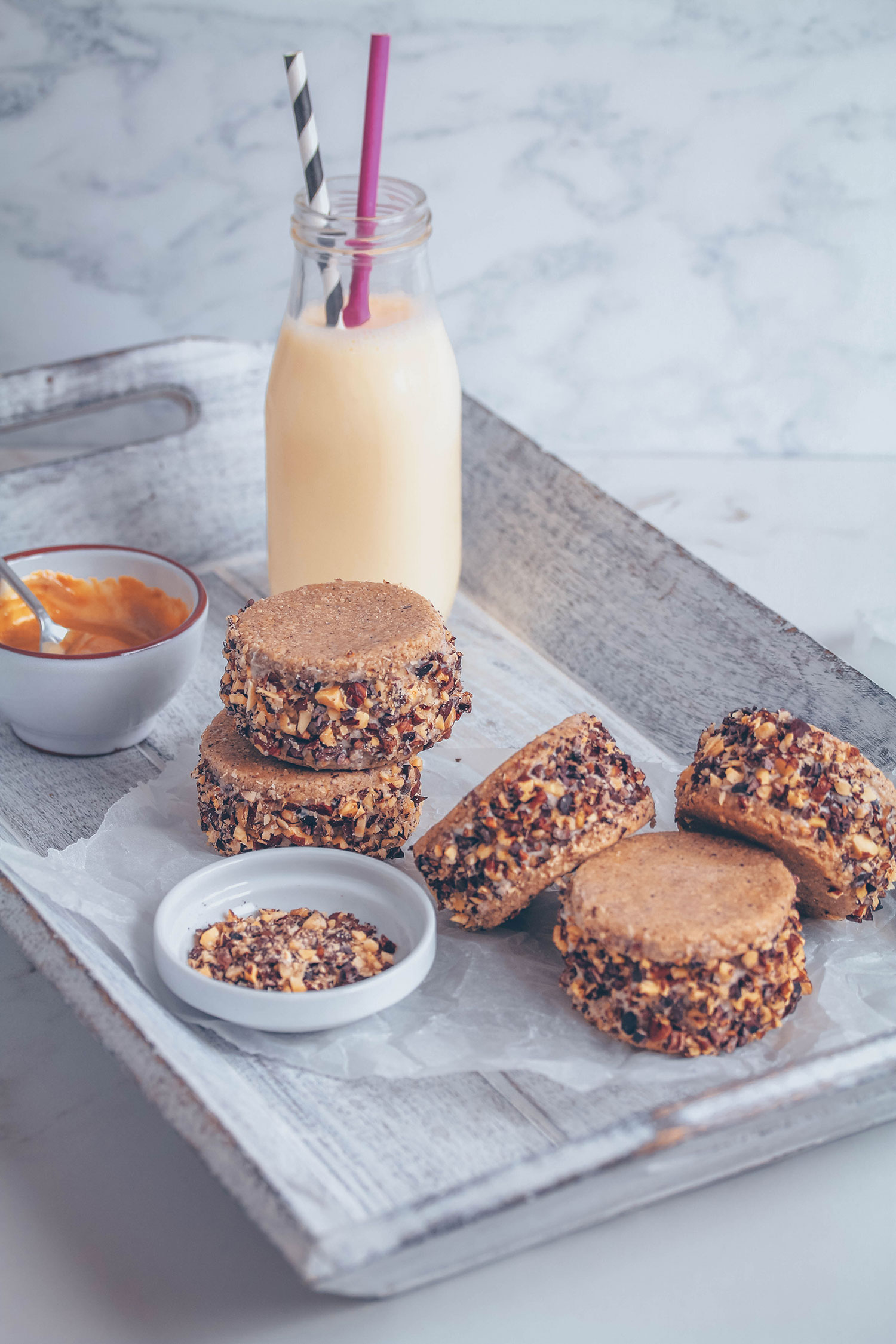 Ginger is not a flavour I was familiar with growing up. It's not used much in Middle Eastern cooking, but when I moved to England, my mum introduced me to ginger cookies. It was actually on the journey from Iraq to Manchester. I had horrible travel sickness on the plane to London, so when we landed she bought a pack of ginger biscuits for me to eat on the train journey form London to Manchester. Ginger can help with nausea, although I don't remember if it did much for my travel sickness, but I do remember loving them!
So today, I'll be showing you how to make my Chai Ice Cream Sandwiches – chai flavoured ice cream sandwiched between two raw ginger cookies.
These chai ice cream sandwiches are:
Easy
No-churn
No-bake
Dairy-free
Vegan
Gluten-free
And packed with flavours!
---
Chai Ice Cream Sandwiches (Vegan & Gluten-free)
Makes: 8-10 sandwiches
For the ginger cookies
125g oat flour – use gluten-free if allergic/intolerant
75g ground almonds
1/4 tsp salt
4 tbsp maple syrup
4 tbsp coconut oil, melted
1/2 tbsp Very Lazy ginger paste
For the chai ice cream
140g raw cashews – soak in water for 4 hours to make it easier to blend.
400g can full fat coconut milk
1/2 tbsp cinnamon
1 tsp cardamom
1/2 tsp cloves
1/2 tsp all spice
2 tsp Very Lazy ginger paste
1/4 tsp salt
4 tbsp maple syrup – use more if you want it sweeter.
Method
To make the ice cream – blend all the ice cream ingredients in a blender/food processor until smooth. Pour into a glass or ceramic dish and freeze for 4 hours.
To make the ginger cookies – mix together the oat flour, ground almonds and salt in a bowl. Pour in the maple syrup, melted coconut oil and ginger paste. Mix to combine.
Roll between 2 sheets of baking paper to a 1/4 inch thickness. Using a round cookie cutter, cut out your cookies and place them on a plate or baking sheet lined with baking paper. Freeze until the ice cream had set.
Take the ginger cookies and ice cream out. Using an ice cream scoop, scoop out the ice cream and place onto one of the cookies. Top with another cookie and press down to flatten the ice cream. Use a knife or spoon to smooth the sides.
Optional – roll in chopped nuts to make them look even more scrumptious!
Optional – drizzle with nut butter or date caramel.
Freeze again for 30-60 minutes.
Enjoy!
Note – Take your ice cream sandwiches out of the freezer 15-20 minutes before serving to allow them to defrost a little.
---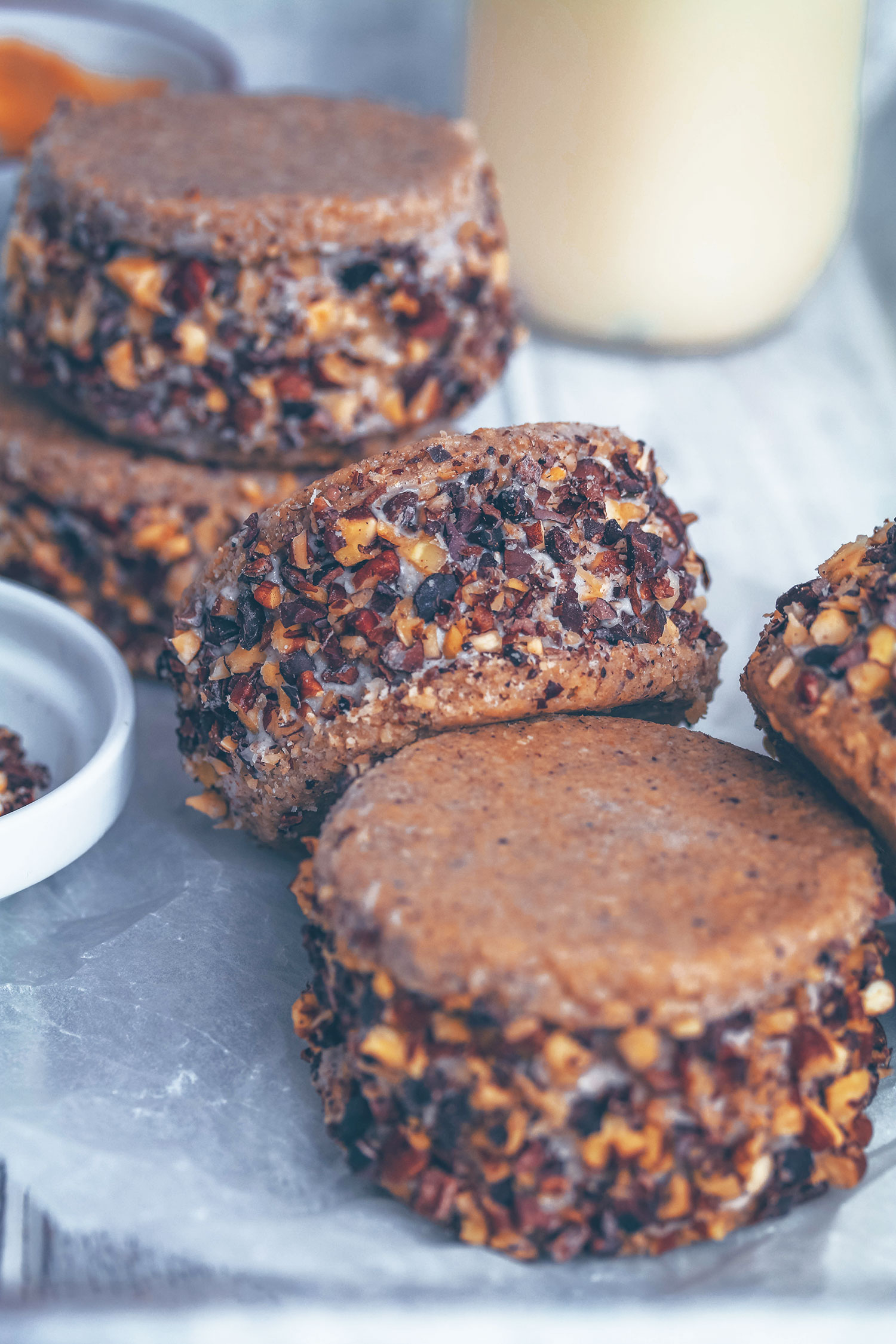 Thanks to Very Lazy for sponsoring this post. Commissioned posts is how I'm able to continue working on the blog and creating recipes and recipe videos for you. As always, all opinions are my own.