Vegan Vegetable Jalfrezi
*This post is sponsored by East End Foods*
A delicious and aromatic vegan vegetable jalfrezi packed with goodness and bursting with flavour!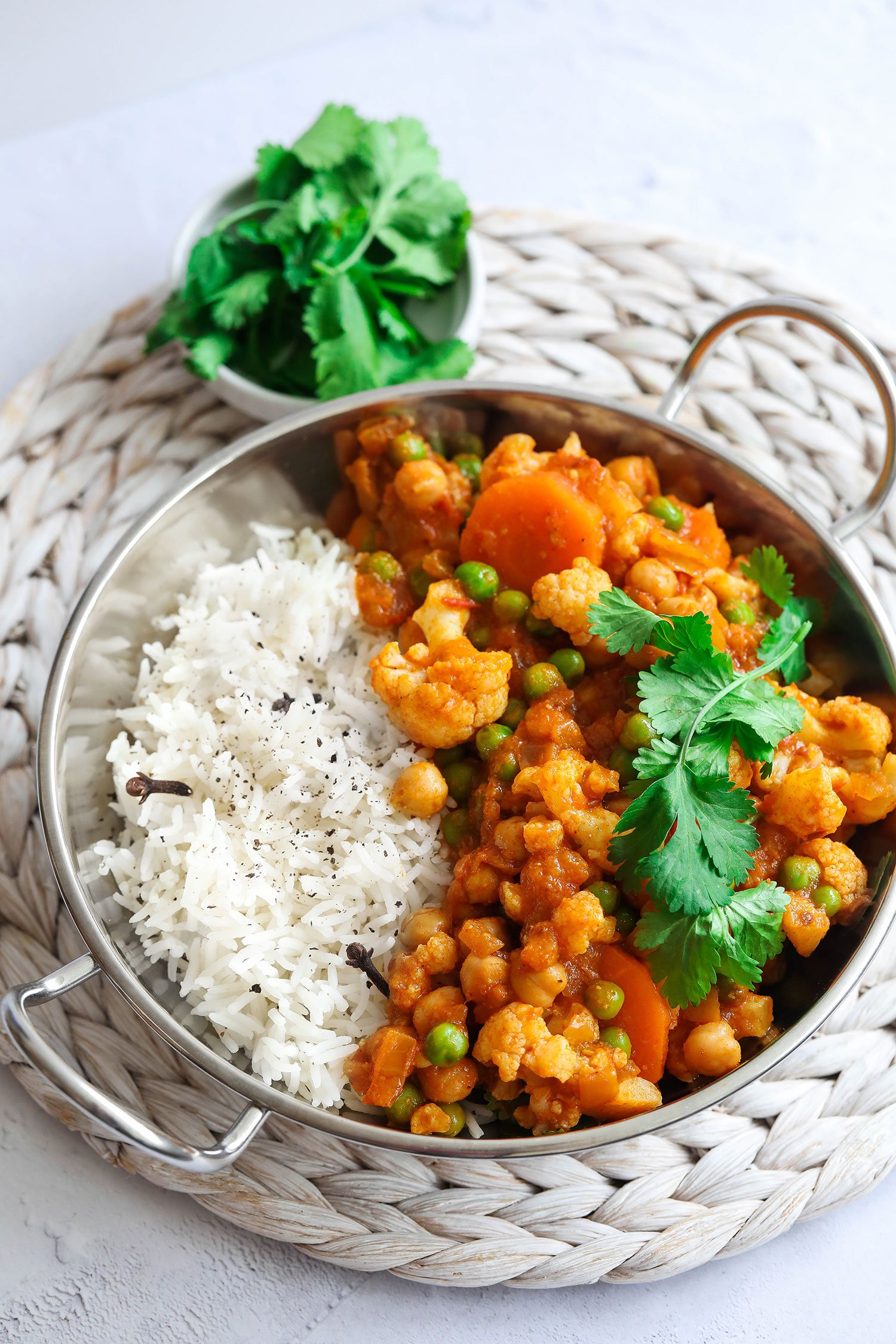 Today I bring to you yet another speedy dinner idea! This super easy Jalfrezi recipe only calls for 5 main ingredients and around 20 minutes of your time to prepare, including the chopping and ingredient prep. It really doesn't get easier than this!
I can't take too much credit for this recipe as most of the work is actually done by East End Foods, who have created a range of vegan and gluten-free sauces including a Jalfrezi sauce that I used to make this dish. All you have to do is prep and add in your protein and vegetables of choice. In this case I'm using chickpeas as my protein and cauliflower, carrots and peas as my veg. The recipe is so interchangeable and really you can add anything you want or have available in your fridge. I'm thinking baked tofu would be lovely, and that's exactly what I'll be adding next time 😍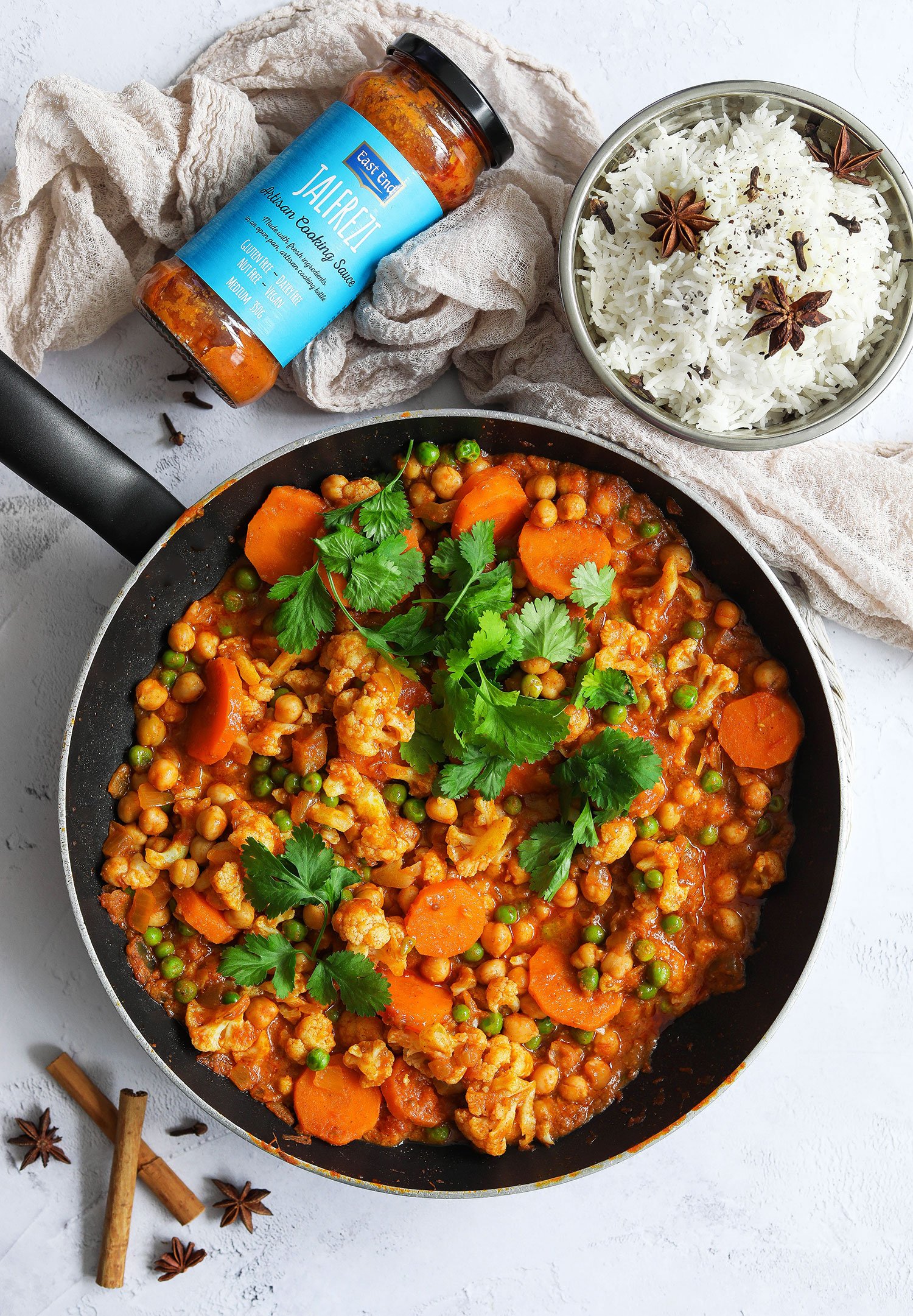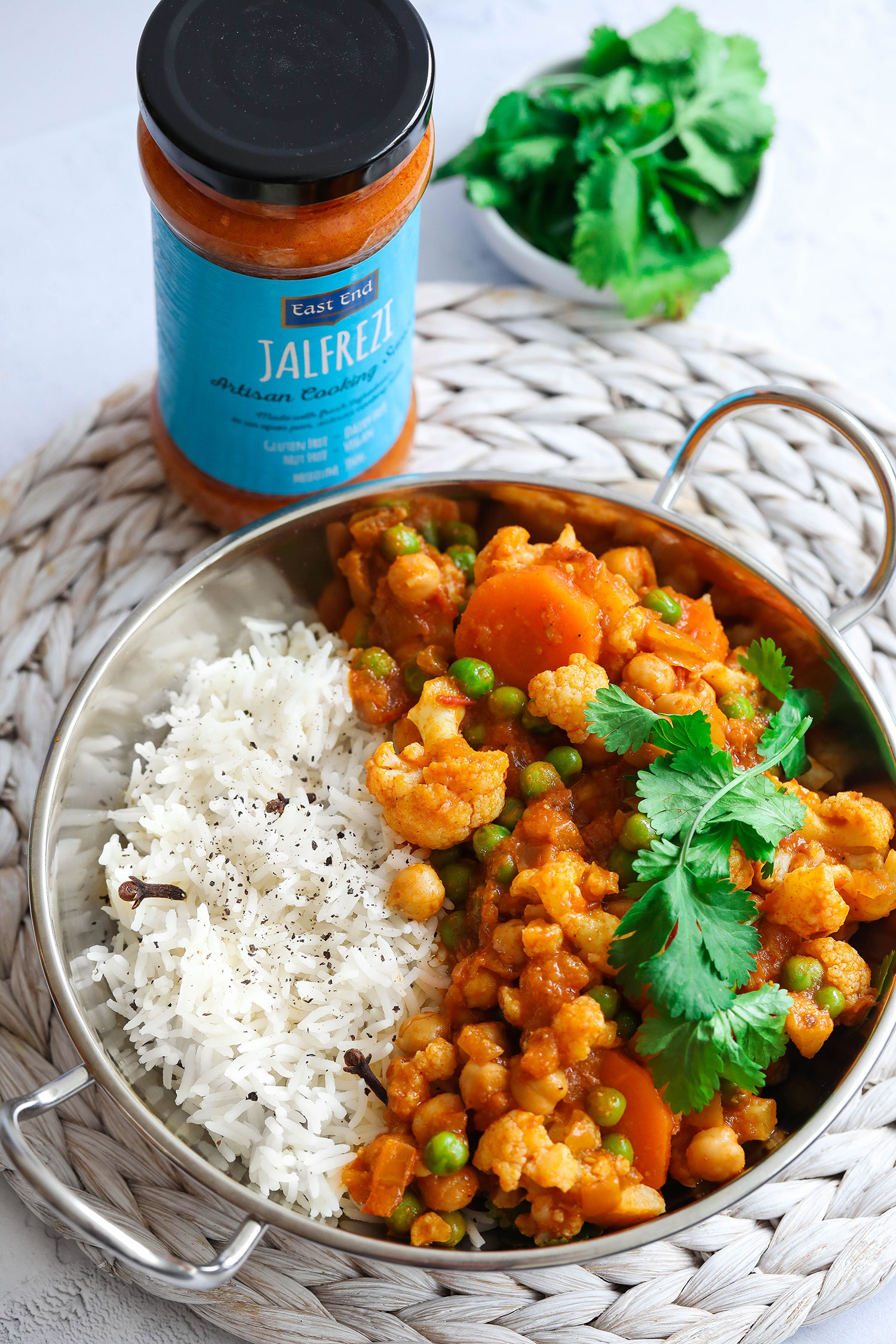 I have a few jars of these East End curry sauces in my pantry for a rainy day, and by rainy day I mean those lazy days when I just want to whip up something quick and easy but still want my taste buds to tingle and my stomach to be left happy and satisfied. The range of sauces include Korma, Tikka Masala and Butter Chicken as well as the Jalfrezi sauce. Don't let the name of the butter chicken fool you, all four sauces are completely plant-based and vegan.
This vegan vegetable Jalfrezi would make the perfect comfort Friday night dinner when you don't have the energy to cook and you're tempted to get a takeaway. Knowing you can have a freshly prepared curry in 10 minutes that's lighter and cheaper than a takeaway makes it so much easier to avoid temptation. To make this recipe even faster, you can leave out the veg and just add another jar of chickpeas. You'll have a meal ready in 5 minutes! You can serve it with rice, chapati or naan.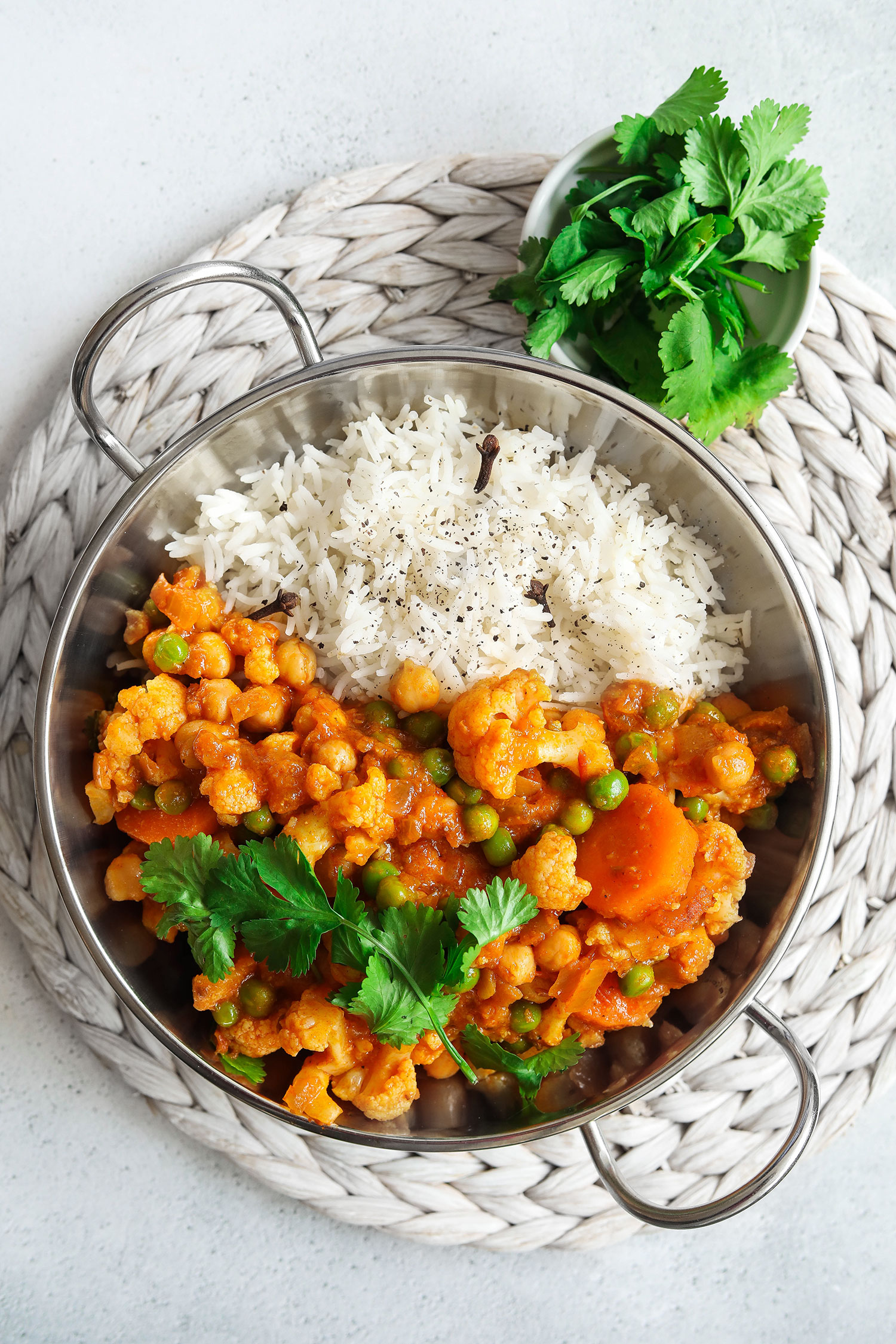 ---
Vegan Vegetable Jalfrezi
Serves – 4
Ingredients
1/2 head of cauliflower, chopped into florets
1 large carrot, sliced
1 can chickpeas, drained and rinsed
100g peas
2 jars East End Jalfrezi sauce
Method
Add the cauliflower and carrots into a large saucepan. Cover with boiling water and leave to simmer for 10-15 minutes, then drain.
Add the chickpeas to a saucepan along with the drained vegetables and frozen peas.
Pour over the jar of Jalfrezi sauce and cook for 5 minutes or until thoroughly heated through.
Serve with rice. Enjoy!
---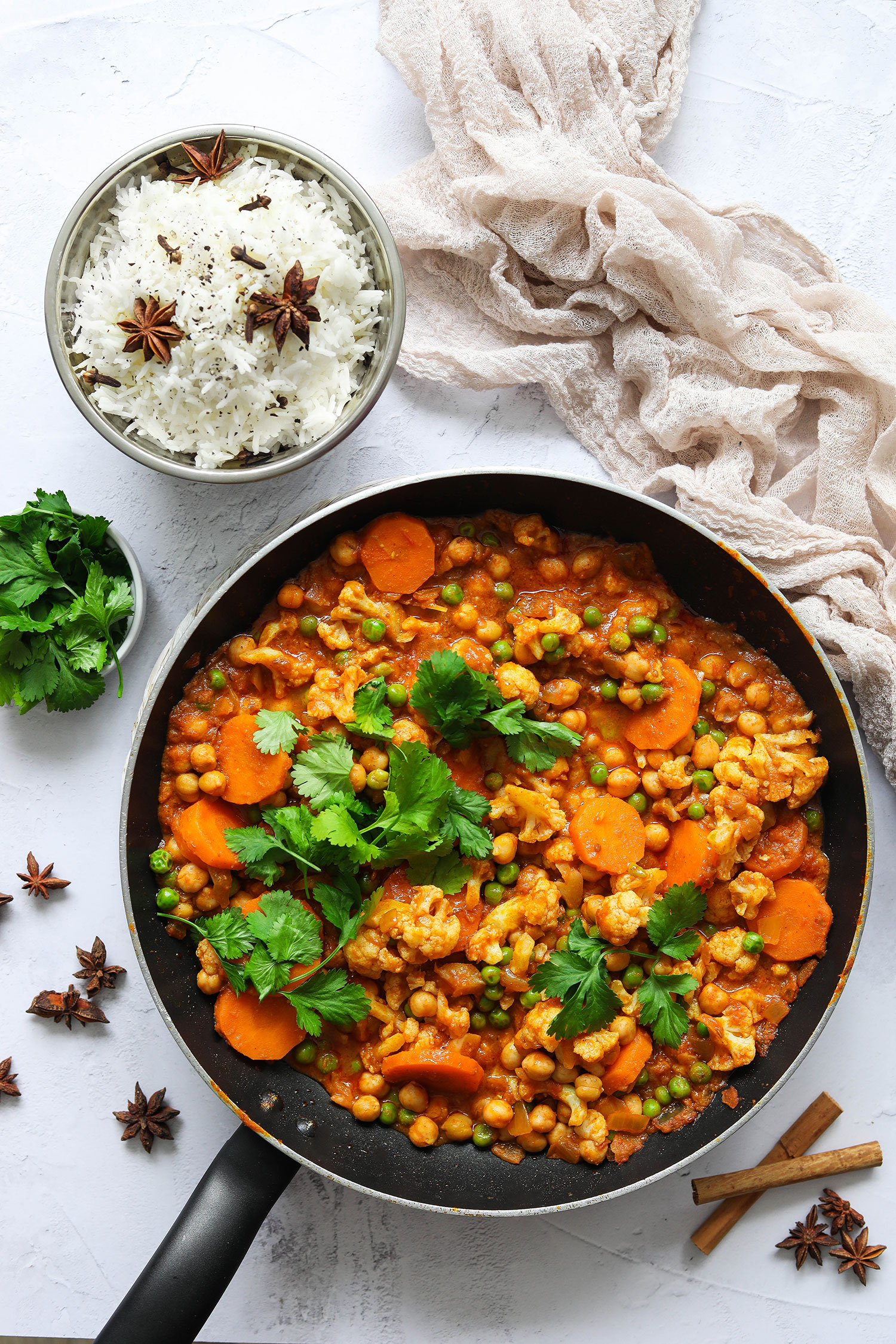 Share This Post