Vegan Peppermint Hot Chocolate
Now that December is in full swing, everyone is going crazy with festive recipes, which can never be a bad thing! Not long left to go now so I wanted to share with you this decadent vegan peppermint hot chocolate.
I've always been a warm beverage girl. Apart from water, I rarely drink anything cold. Everything I drink in between tends to be tea or coffee. However, about a month ago I decided to cut out caffeinated drinks, so I had more of a chance to experiment with other hot drinks.
Hot chocolate isn't something I usually make, in fact, up until recently I went years without drinking it! It always feels a bit too heavy for me with all the milk and sugar. I decided to try making homemade vegan hot chocolate using almond milk instead of dairy. To sweeten, I opted for xylitol as it's sugar free (but not calorie free!) and it's kind to your teeth. You can easily substitute with any kind of other sweetener like stevia, honey or maple syrup.
To give it that festive twist, I thought it would be fun to make vegan peppermint hot chocolate rather than plain, by adding a few drops of peppermint extract.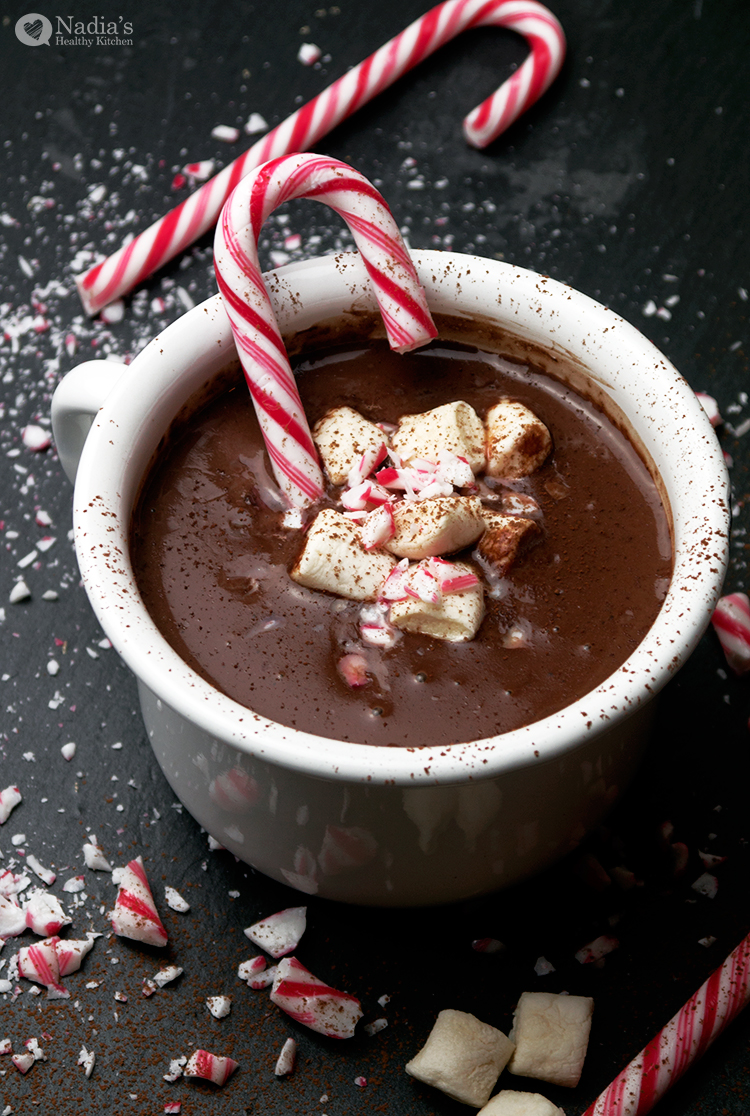 The first time I made this vegan peppermint hot chocolate, there was something missing. It was too 'liquidy' unlike the thick, rich hot chocolates that you get from coffee shops. It just didn't feel like 'real' hot chocolate. So the second time I made it, I added in some arrowroot to make it nice and thick and it worked like a charm!
Enjoy a delicious cup of warm chocolatey goodness on Christmas morning, and why not make some for your family while at it! Dairy-free, vegan and sugar free so you can enjoy a decadent treat without feeling heavy and bloated afterwards.
Vegan Peppermint Hot Chocolate
2015-11-25 05:12:53
Serves 2
Ingredients
2 cups unsweetened almond milk (or any type of milk you prefer)
2 tbsp cocoa or cacao powder
1 tsp arrowroot starch
3 tbsp xylitol, stevia or sweetener of choice - add more or less to taste
1/2-1 tsp peppermint extract - start off with 1/2 tsp and add more to your liking
Pinch of salt
Instructions
Add all the dry ingredients into a mug and mix.
Pour the milk in a small pan and heat over a medium heat.
Once the milk is steaming, add a couple of tablespoons of the milk to the dry cocoa mixture and mix well until you have a thick, smooth paste without any lumps.
Pour the rest of the warm milk into the mug of cocoa.
Add in the peppermint extract. Add 1/2 tsp to start off with then try it to see if you're happy with the taste. Add more peppermint extract to your liking.
Top with marshmallows, cream or dust with cocoa.
Enjoy!
Nadia's Healthy Kitchen https://nadiashealthykitchen.com/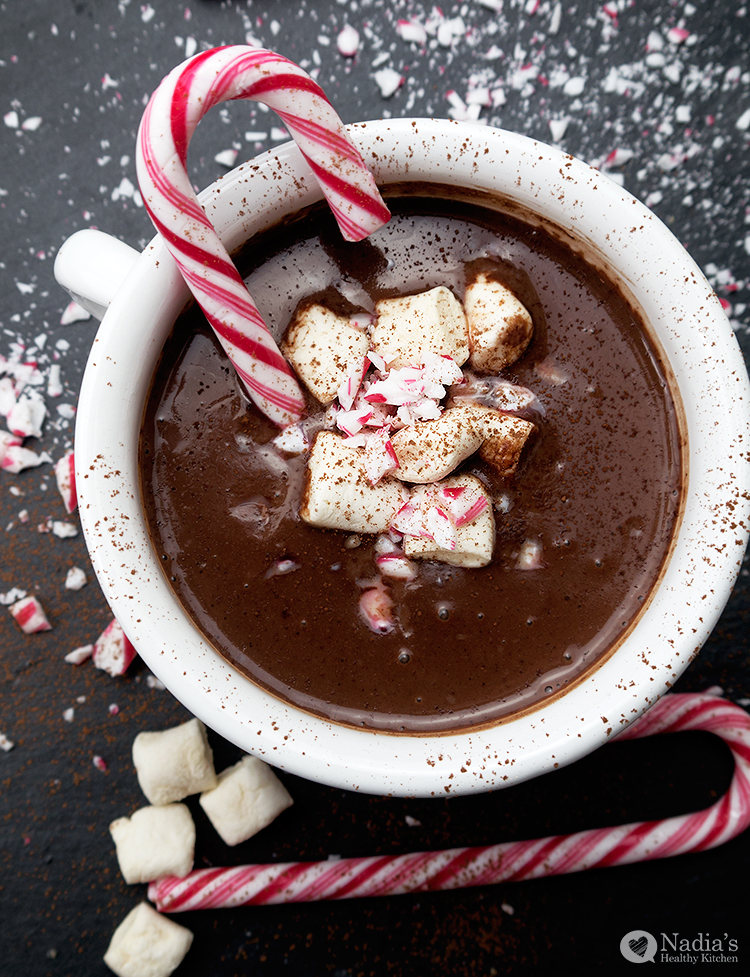 Here's another festive Salted Caramel Hot Chocolate idea from BakingQueen74.com
Check out some more of my Christmas recipes