Roasted Brussels Sprouts with Cranberries and Pecans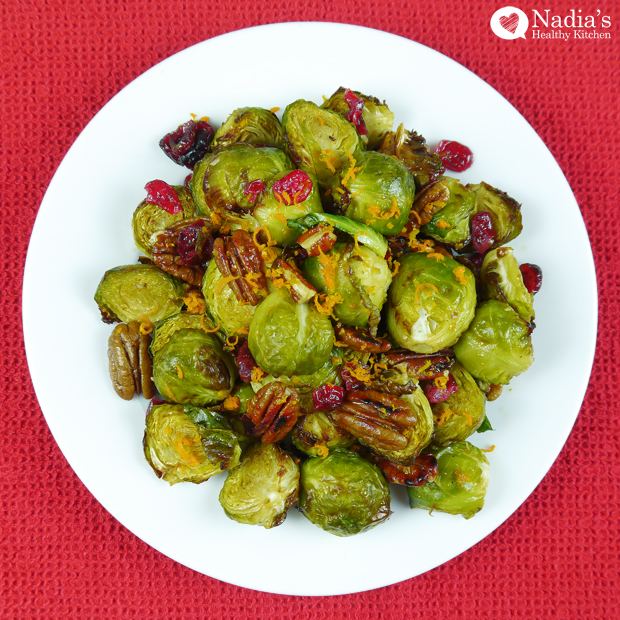 'Brussels Sprouts are for life, not just for Christmas'…
I feel that Brussels sprouts are neglected all year round apart from Christmas. I can only find them locally around this time and it makes me sad, because I LOVE BRUSSELS SPROUTS! I realise not everyone shares my passion for the humble sprout and I guess I can understand why. I always used to boil or steam my Brussels sprouts which I must admit did get boring after a while. That's before I discovered roasting them instead! Roasting is by far the best way to cook Brussels. It also gives you the opportunity to add lots of different flavours. Eating Brussels sprouts will never be boring again!
This roasted Brussels sprouts with cranberries and pecans recipe is what I'll be making for Christmas next week. It's full of flavour, different textures and there's no arguing that it's super festive. If your kids don't like Brussels sprouts…then they probably won't like this either haha! Especially not with the added cranberries. I would definitely say this is more of an adult kind of dish, but feel free to try persuade the kids to try it, you never know, right?
The toasted pecans add a lovely warm flavour and crunch while the cranberries, with just the right amount of tart and sweet, complement the rest of the flavours so well. I think orange and cranberries go really well together so I've added some orange juice and orange zest to the mix. Orange has the word 'Christmas' written all over it anyway, just another excuse to use it.
Finally, I added a little sweetness in the form of maple syrup to mellow out all the flavours 🙂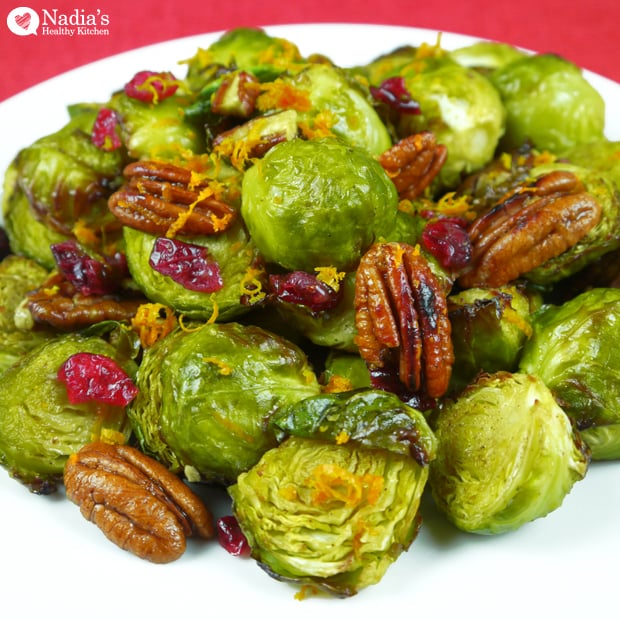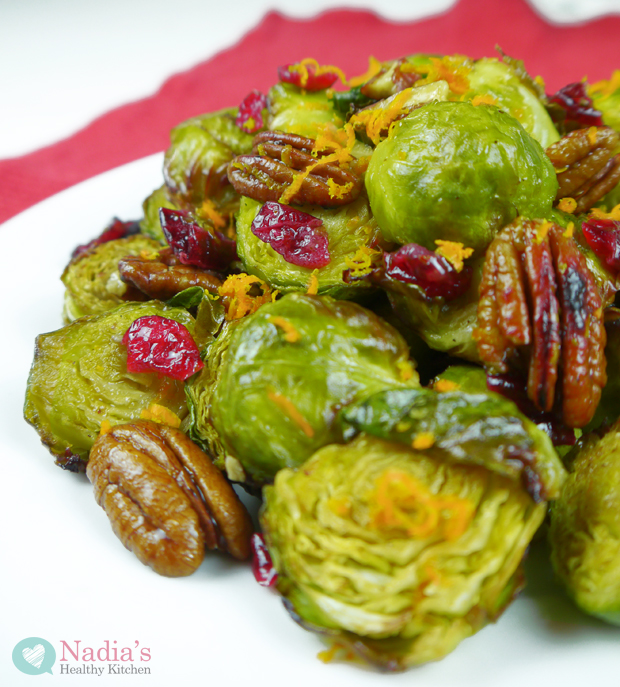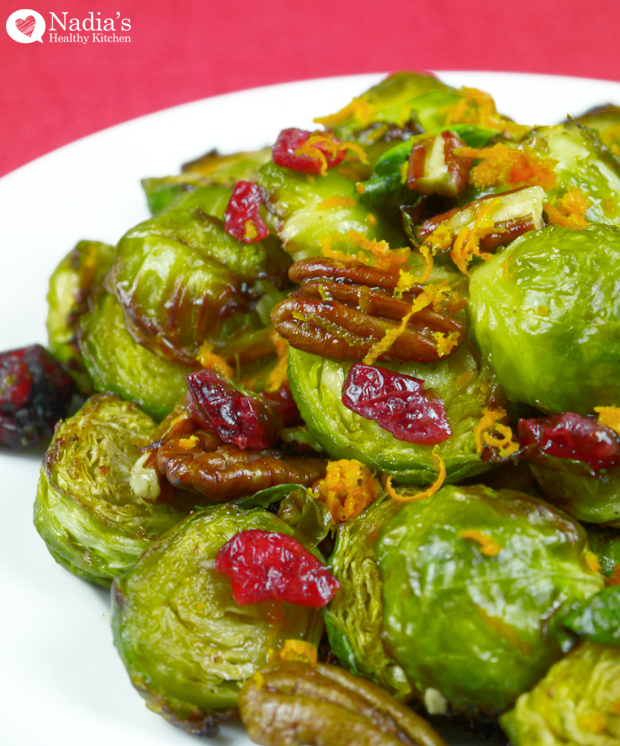 [recipe_box]
Roasted Brussels Sprouts with Cranberries and Pecans
Ingredients:
500g Brussels sprouts
2 tbsp olive oil
salt and pepper to taste
¼ cup dried cranberries
¼ cup toasted pecans
2 tbsp orange juice
1 tsp orange zest
1-2 tsp maple syrup
Directions:
Preheat your oven to 180*C (160*C fan assisted)/ 350*F
Start off by dry toasting the pecans. Heat a small pan over a medium/low heat then add in the pecans. You don't need to add any oil for this process. Make sure to keep an eye on them as they will brown quickly. Keep tossing until they've browned slightly.

Cut off the ends of the Brussels sprouts and slice in half, then throw them into a large bowl.

Drizzle the olive oil and season with salt and pepper.
Arrange them onto a baking sheet.
Bake for 25-30 minutes until golden brown.
In a separate bowl, mix together the orange juice, orange zest, toasted pecans, maple syrup and cranberries.
Once the Brussels sprouts are out of the oven, pour the dressing mixture on top, and serve.
[/recipe_box]

Check out some other of my
Festive

recipes: