Chai Spiced Oat Bars
Baking is my therapy. Whenever I'm feeling stressed or agitated, I always find that baking makes me feel better. The whole process of sifting, measuring, mixing, then knowing I'll have something yummy to enjoy at the end of it. It also leaves the house smelling so homely and inviting 🙂 my house definitely smelt good when making these Chai Spiced oat bars.
Growing up in Iraq, we use to drink 'chai' on a daily basis, but not the chai you're probably thinking of. You see we use the word 'chai' to refer to plain black tea. The word itself is derived from Mandarin Chinese. The Persians adopted the word and passed it on to other cultures, and that's why the word 'chai' is now used in many countries as a name for tea. The Chai latte that we get at cafes are actually inspired by Masala Chai, a tea, milk and spice blend originating from India.
Anyway, enough with the technicalities. Let me get back to these chai spiced oat bars…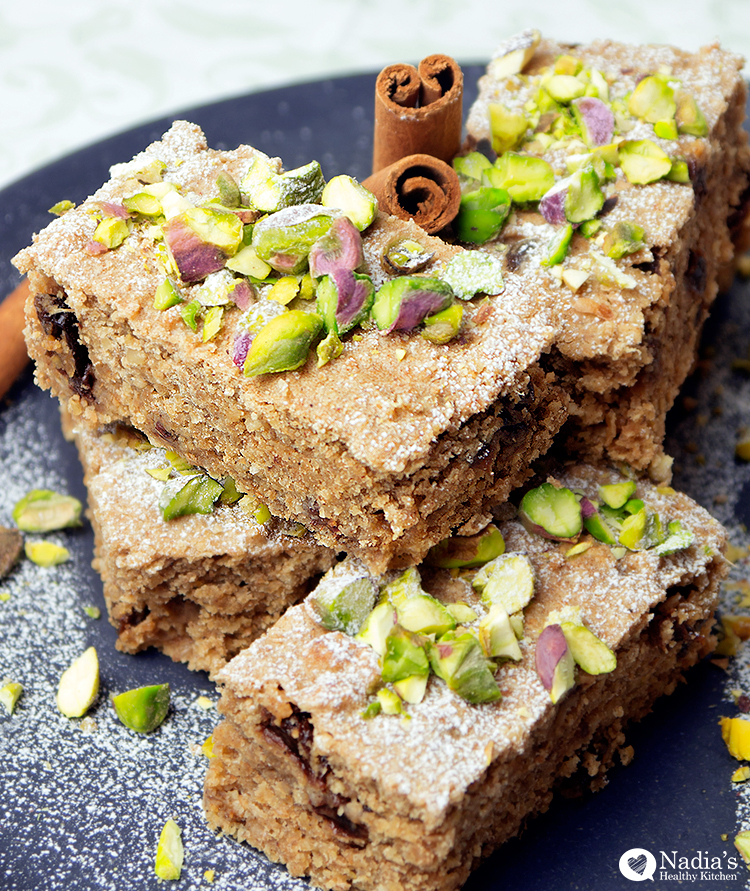 Are these chai spiced oatmeal bars healthy?
Yes!
Instead of using plain white flour, I went for wholemeal spelt flour
Instead of refined white sugar, I used coconut sugar
Instead of butter, I used organic extra virgin coconut oil
I also halved the amount of oil and substituted the rest with homemade applesauce to make them lower in fat, sugar and calories.
I'm a big fan of chai lattes, and 'chai' anything to be honest. Cinnamon and Cardamom are my two favourite spices, especially to bake with. I also added ginger and cloves to give these bars a more authentic chai spice taste.
To sweeten, I used coconut sugar – it has a low GI number which means it doesn't cause the blood sugar to spike the same way white or brown sugars do.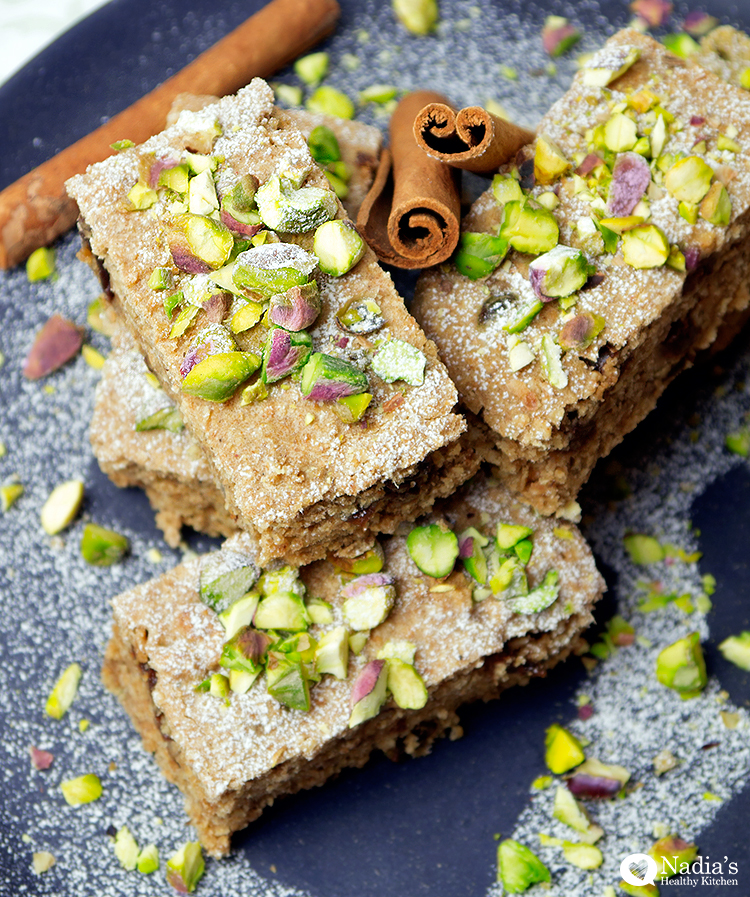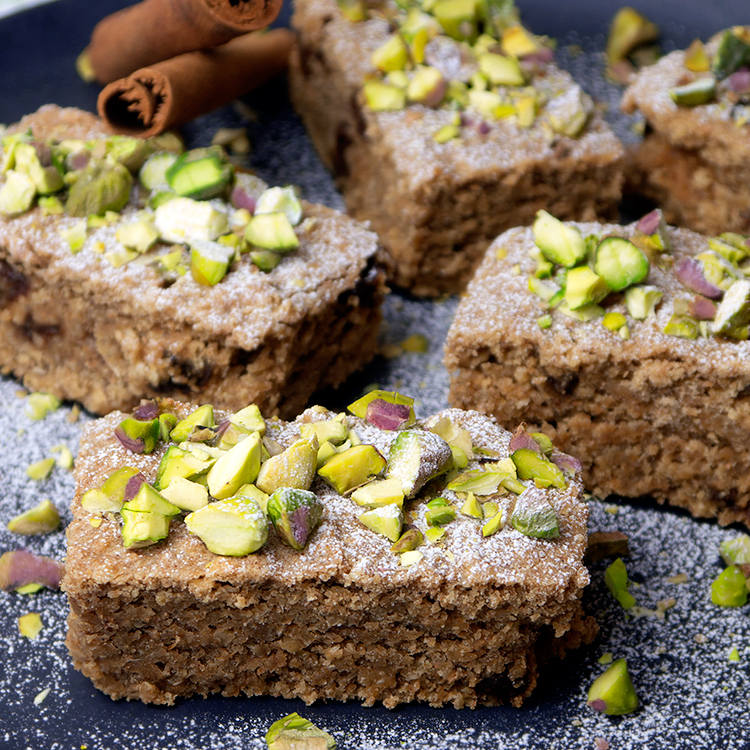 Chai Spiced Oat Bars
2015-11-03 10:46:28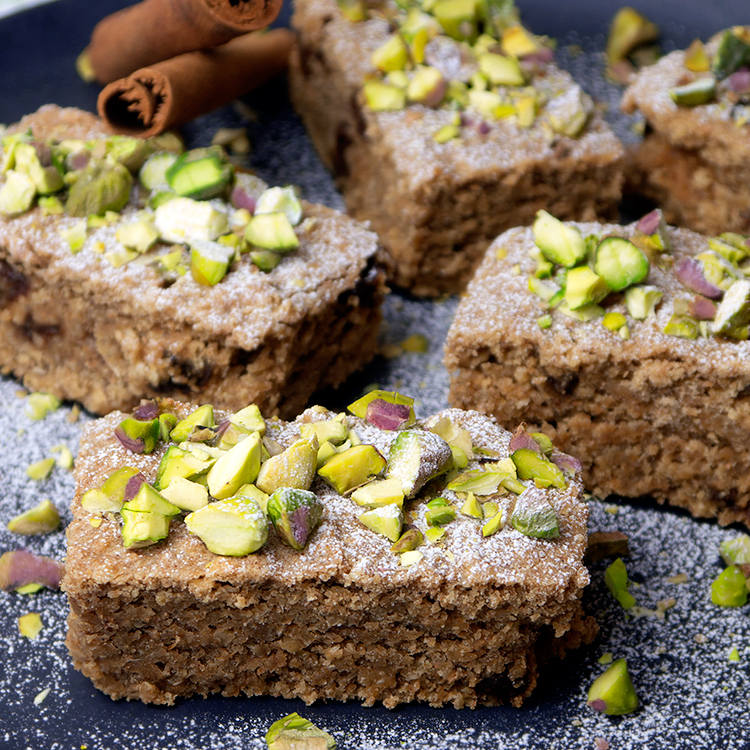 Serves 16
Dry ingredients
1 cup (130g) wholemeal spelt flour
1 cup (120g) plain oats
1/4 cup (40g) coconut sugar - or any type of granulated sweetener
1/4 cup (5g) stevia - or any type of granulated sweetener
1/2 tsp ground ginger
1/2 tsp ground green cardamom
1.5 tsp cinnamon
1/4 tsp allspice
1/4 tsp ground cloves
1/4 tsp salt
1/2 tsp baking powder
Wet ingredients
1/2 cup (110ml/8 tbsp) coconut oil - or you can use any other type of oil
1/2 cup (110ml/8tbsp) apple sauce - I used my homemade applesauce
1 egg
1/4 cup (4 tbsp) milk
1/2 tsp vanilla paste - or 1 tsp vanilla extract
1/2 cup (75g) raisins
Instructions
Preheat the oven to 180*C (160*C fan assisted)/ 350*F
Line an 8x8 cake tin with parchment paper
In a large bowl, mix all the dry ingredients together
Melt the coconut oil in the microwave or in a pan, then pour into a separate bowl. Leave to cool before adding the rest of the wet ingredients.
Mix in the egg, applesauce and vanilla with the oil
Pour the wet mixture into the dry mixture, then fold in the raisins
Once everything is well combined, transfer the batter into the cake tin
Bake for 20-25 minutes
Notes
Nutritional Information (estimated per slice)
Calories: 148 calories
Protein: 2.6g
Carbs: 18.2g
Fat: 7.8g
Fibre: 2.1g
UK Health Blog - Nadia's Healthy Kitchen https://nadiashealthykitchen.com/
These
chai spiced oat bars
are perfect for the Christmas season. You can eat them for breakfast, take them with you to snack on when you're on the go, or have them as a healthy tea time treat with a cup of tea.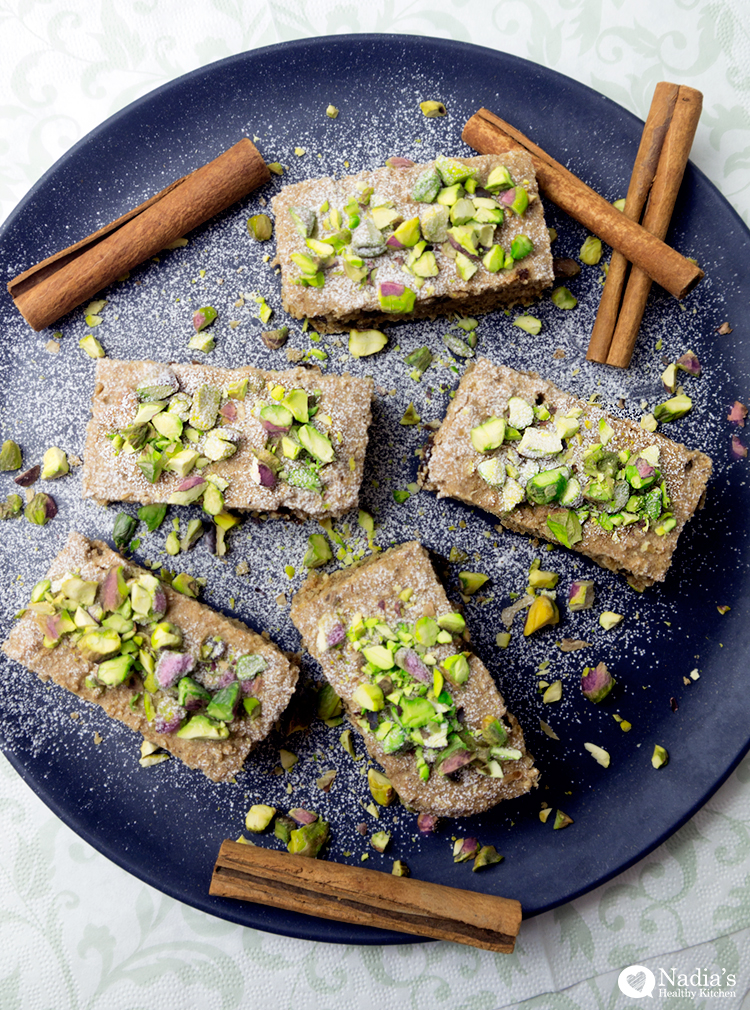 Share This Post