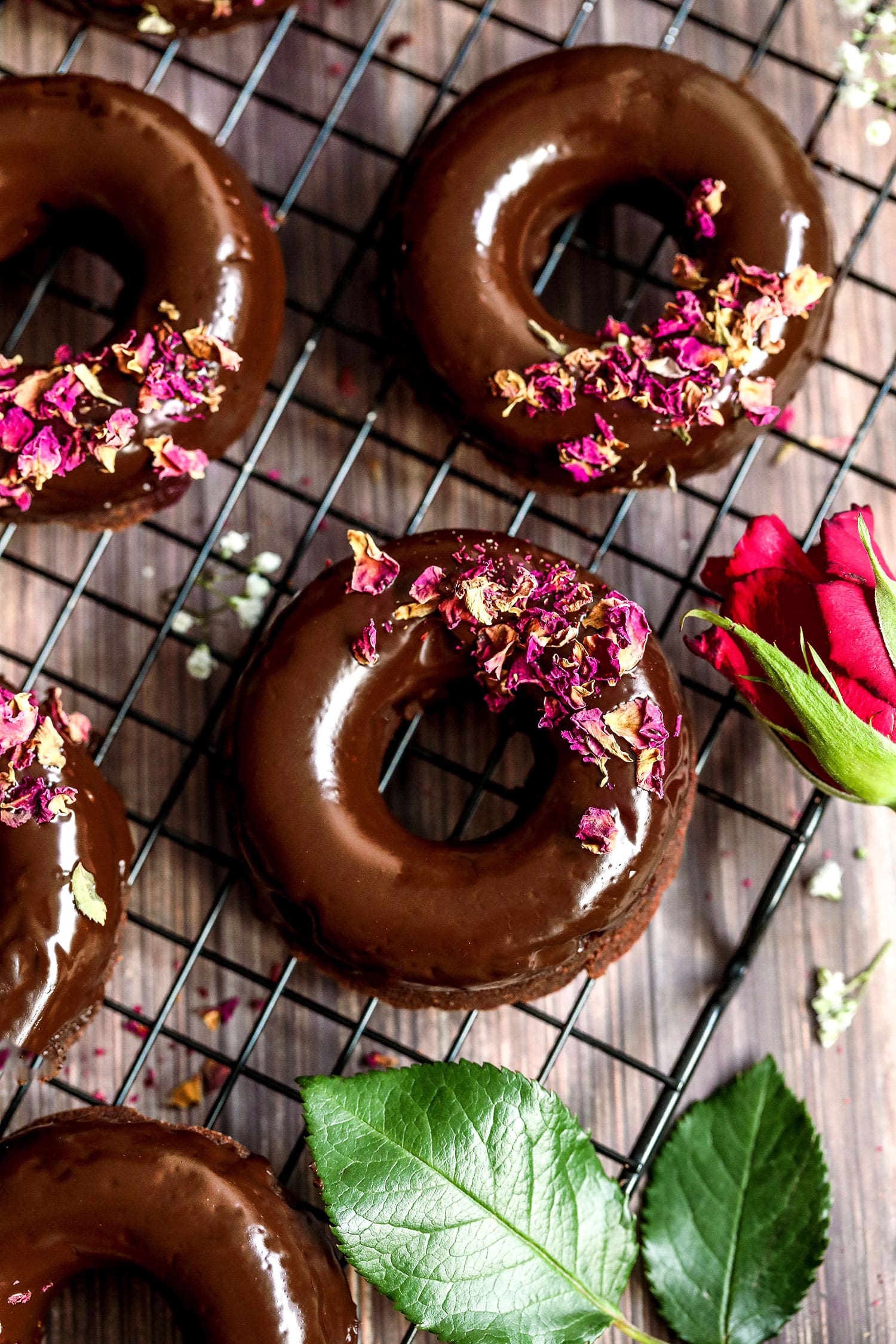 *This post is sponsored by Conscious Chocolate*
With Valentine's day just around the corner, why not make these cute vegan chocolate rose doughnuts for a special someone or a loved one?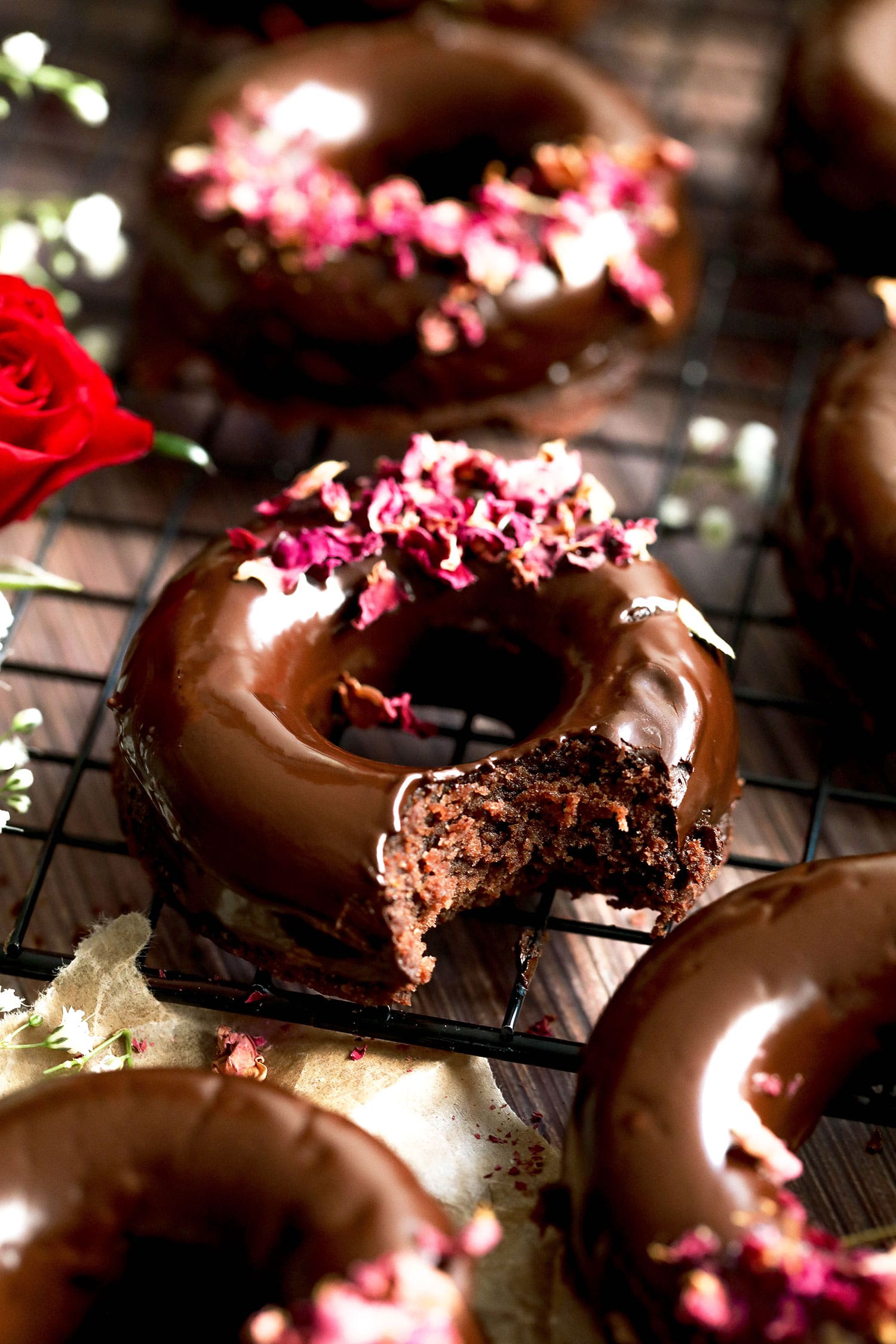 Healthier vegan and gluten-free chocolate doughnuts dipped in rose chocolate frosting for a decadent, yet light treat! The doughnuts are made with a mixture of gluten-free flour, almonds, cocoa powder and sweetened with coconut blossom sugar. They're baked rather than deep fired like typical doughnuts, so they feel much lighter and they're better for you!
I used a 'flax egg' as a binder to make them vegan, but you can use a regular egg if you're not plant-based as well as regular dairy milk. If you're not fussed about the doughnuts being gluten-free, you can substitute it for plain flour.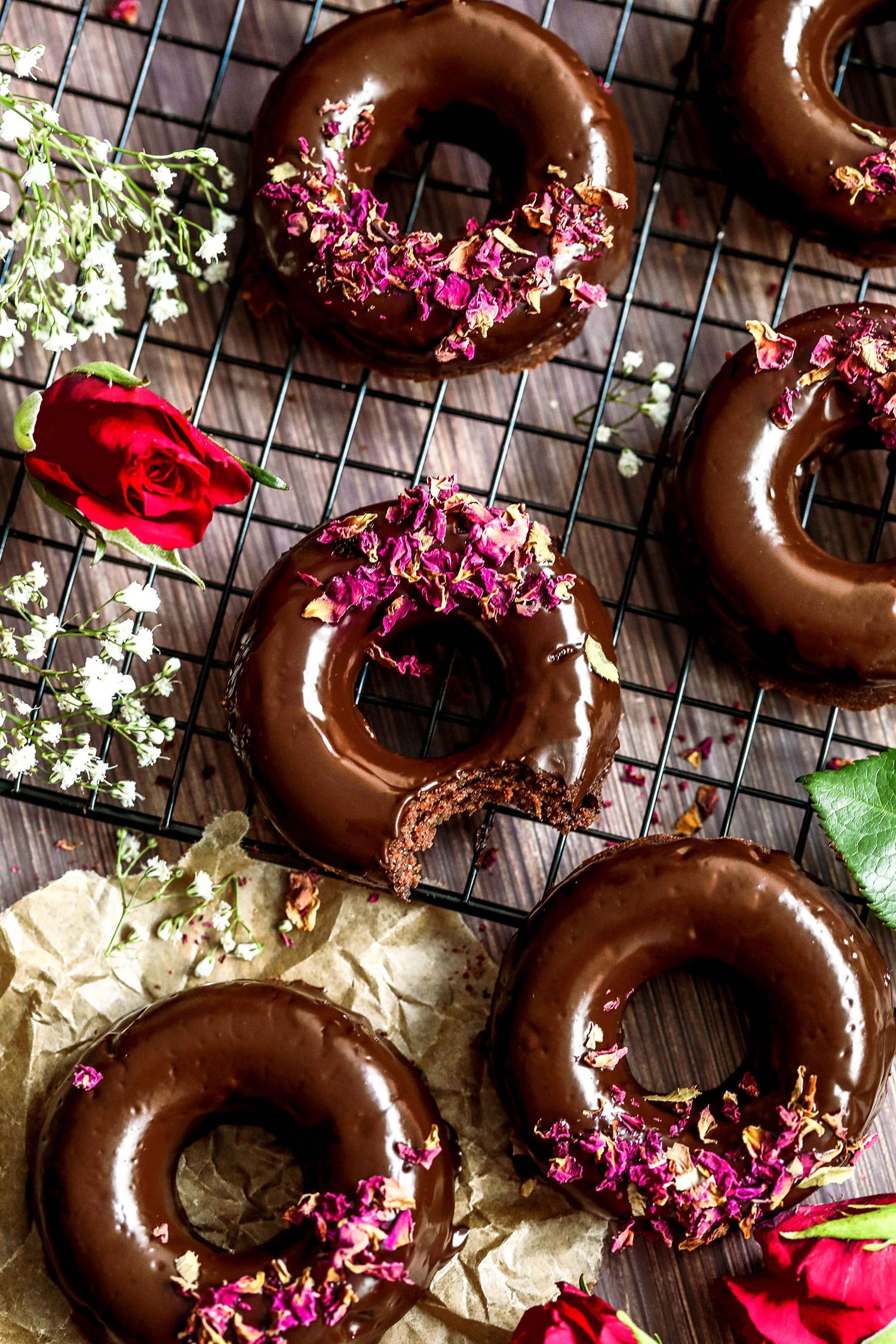 I created this recipe for Conscious Chocolates – their chocolates are handmade in West Sussex, UK from ethically-sourced, raw ingredients. They taste so indulgent, smooth and creamy and made without any refined sugar. Their entire range is organic, free from dairy, soya, refined sugar and gluten and so is suitable for vegans, but also raw foodies. All Conscious Chocolate packaging is plastic-free and their factory is powered by 100% renewable energy.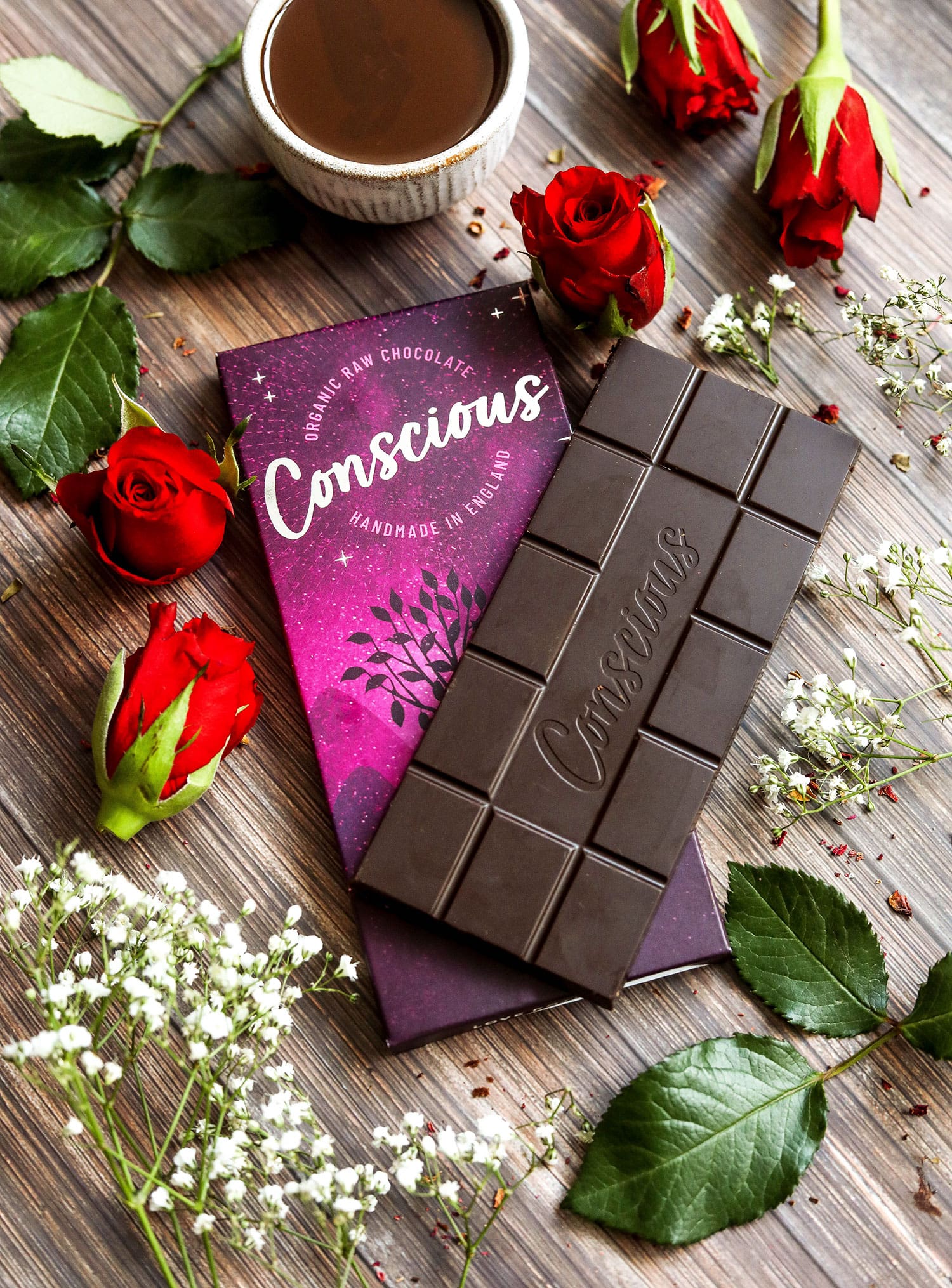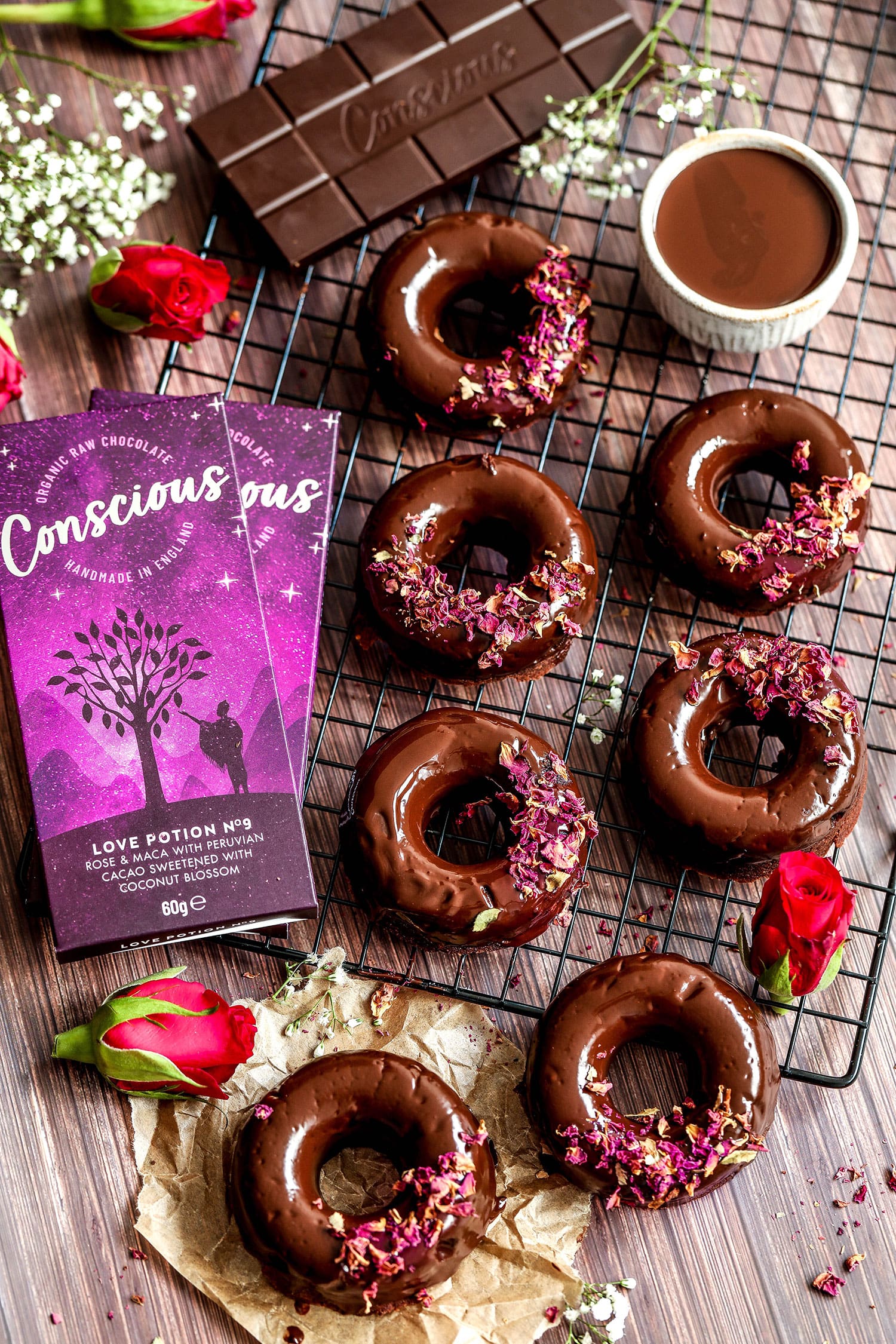 I used their Love Potion No.9 dark chocolate bars as the frosting. Made of 62% Peruvian cacao solids and a hint of rose essential oil from Bulgaria. The floral hints complement the dark chocolate so well and the flavour reminds me of Turkish delight dipped in chocolate! It's so so good!
Conscious Chocolate bars come in so many amazing flavours, including:
Peppermint
Four Nuts
Orange and Tangerine (my fave!)
Sour Cherry
Goji & Coconut
Citrus Zest
Chia & Coconut
Maca & Spirulina
75% Dark
85% Dark
And 100% Pure Dark
They also have chocolate covered snacks like date, nuts and figs. I love how creamy and smooth the chocolate is and how it just melts in your mouth. It's the perfect addition to your healthier, vegan and gluten-free treats.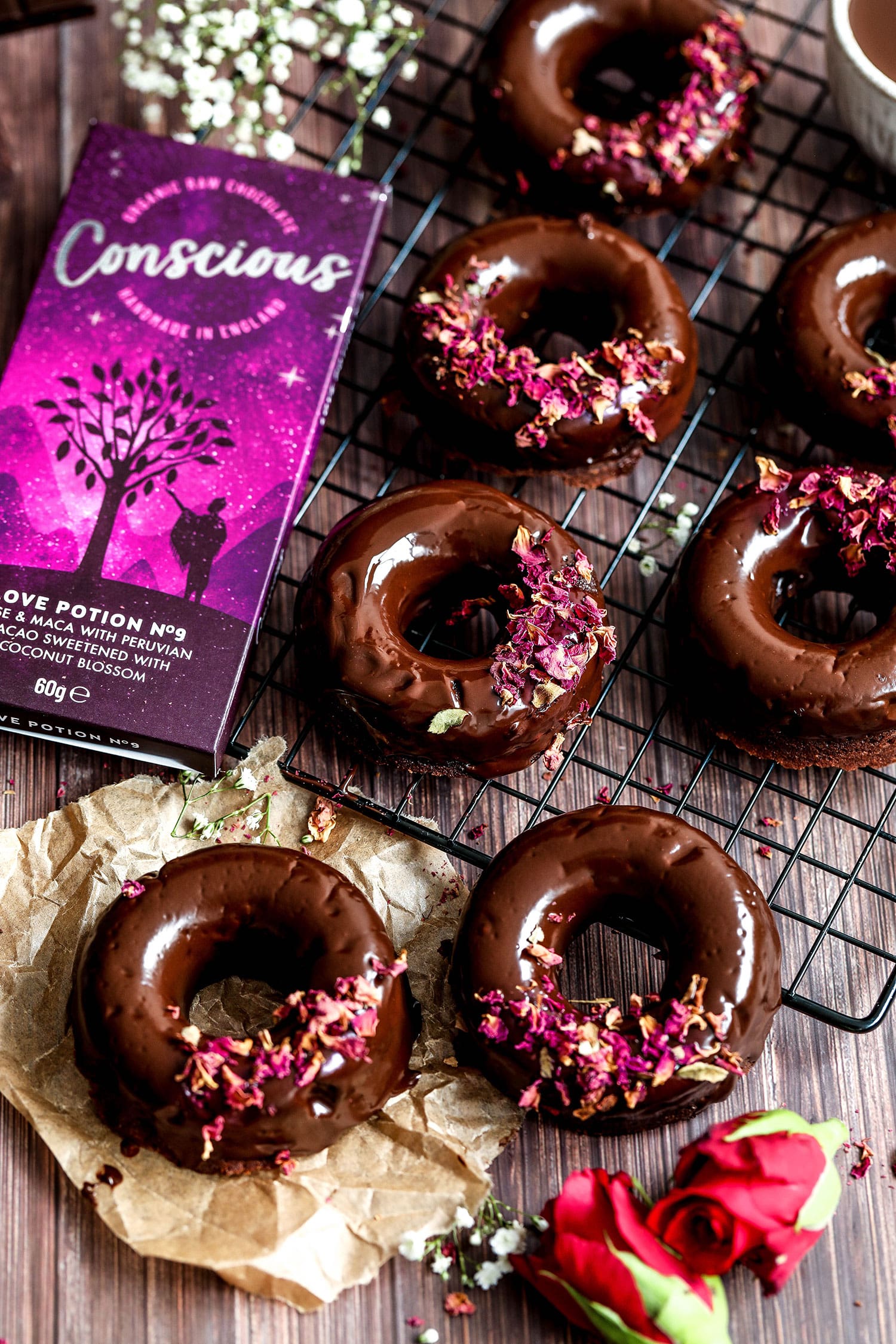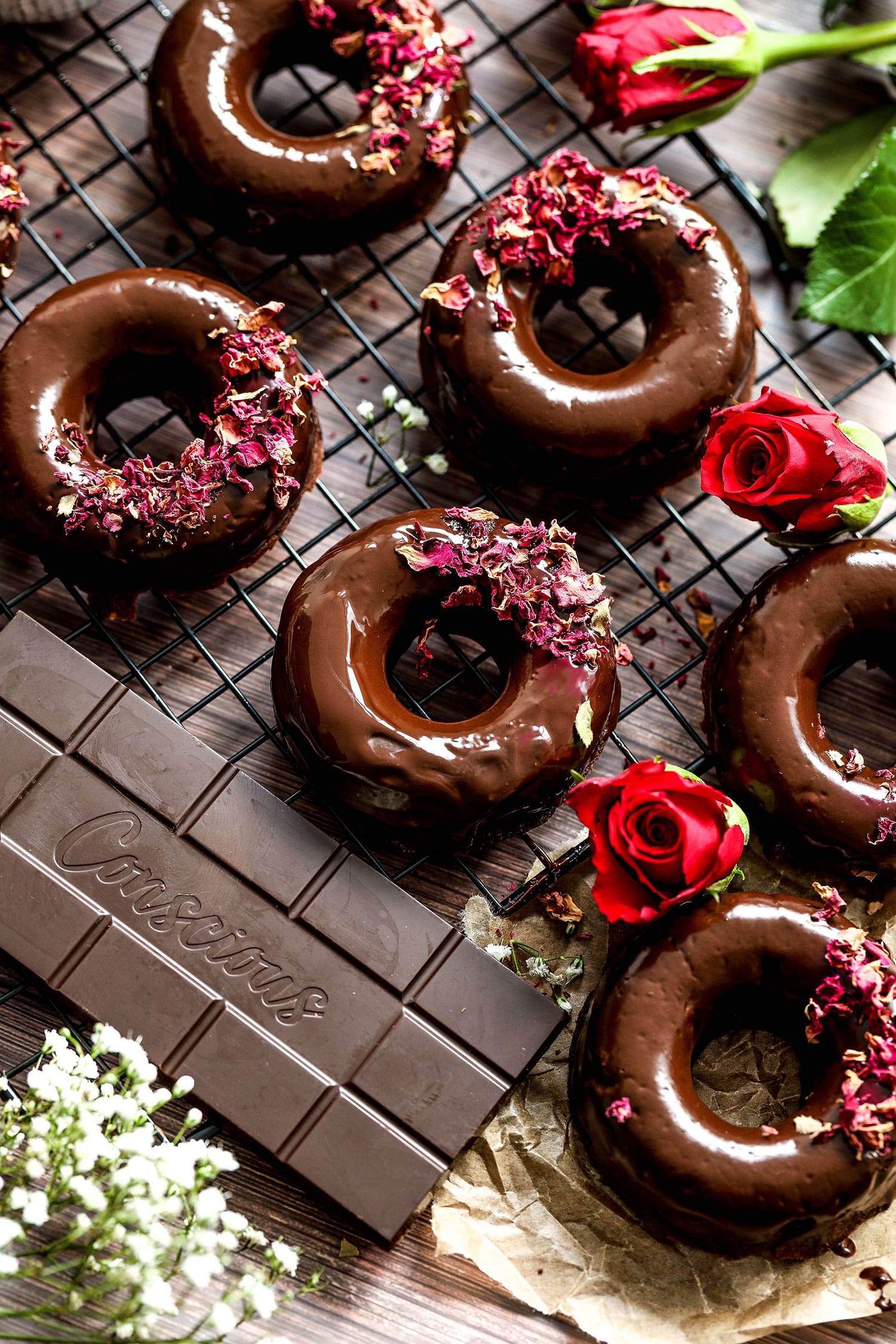 Vegan Chocolate Rose Doughnuts
Makes 6
Ingredients
100g plain gluten-free flour
20g cacao powder
50g ground almonds
30g coconut blossom sugar
1 tsp baking powder
1/4 tsp salt
1 tbsp milled flaxseed + 3 tbsp warm water
60g oil
100ml plant milk of choice
45ml maple syrup
Topping
3x 60g Conscious Chocolate Love Potion No.9 bars
1 heaped tsp coconut oil
Dried rose petals for decoration
Method
Preheat your oven to 180C/160C fan
Prepare the flax egg by mixing 1 tbsp milled flaxseed with 3 tbsp warm water in a small bowl. Leave to set for 10 minutes.
In a large bowl, mix together the flour, ground almonds, cacao powder, coconut blossom sugar, baking powder and salt.
Add in the oil, milk, maple syrup and set flax egg. Mix until combined, then divide between 6 silicon doughnut moulds.
Bake for 15-20 minutes, then leave to cool slightly before removing the doughnuts from the moulds. Allow to cool completely on a cooling rack.
Break up the chocolate into a heat-proof bowl along with the coconut oil. Melt in the microwave checking every few seconds to make sure it doesn't burn.
Dip the cooled doughnuts in the melted chocolate, then place back onto the cooling rack and decorate with the dried rose petals.
Enjoy!