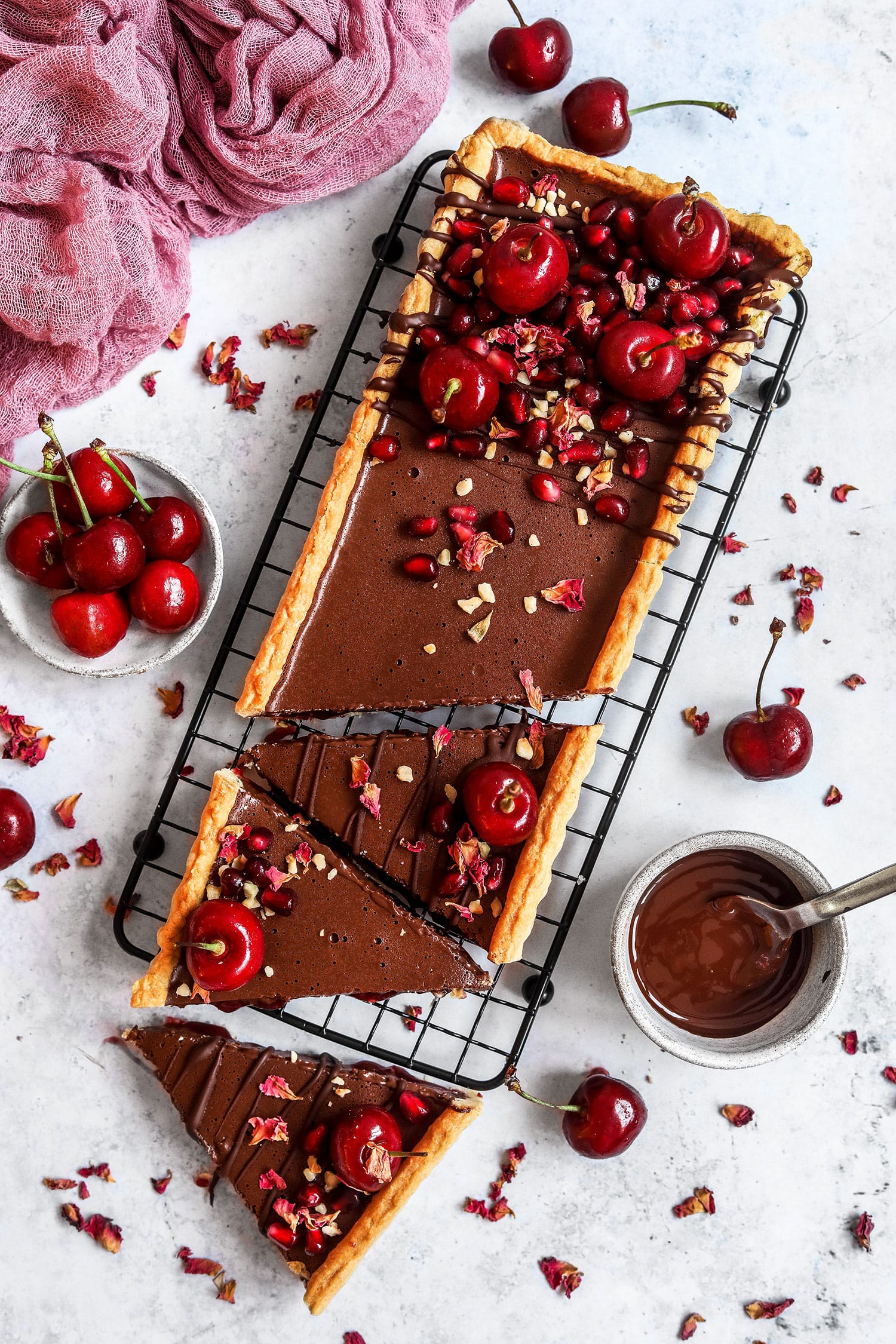 * This post is sponsored by Whittard*
A yummy and decadent tart that's perfect for Veganuary made using only 6 ingredients!
A flaky pastry base, a layer of jam all topped off with smooth silky chocolate – truly a combination made in heaven!
To enhance the cherry flavour even more, I used some Whittard Chocolate Cherry Brownie Hot Chocolate mix. I love using hot chocolate mix to add extra flavour my desserts. It's such a fun and versatile way to enhance the taste without having to use too many ingredients.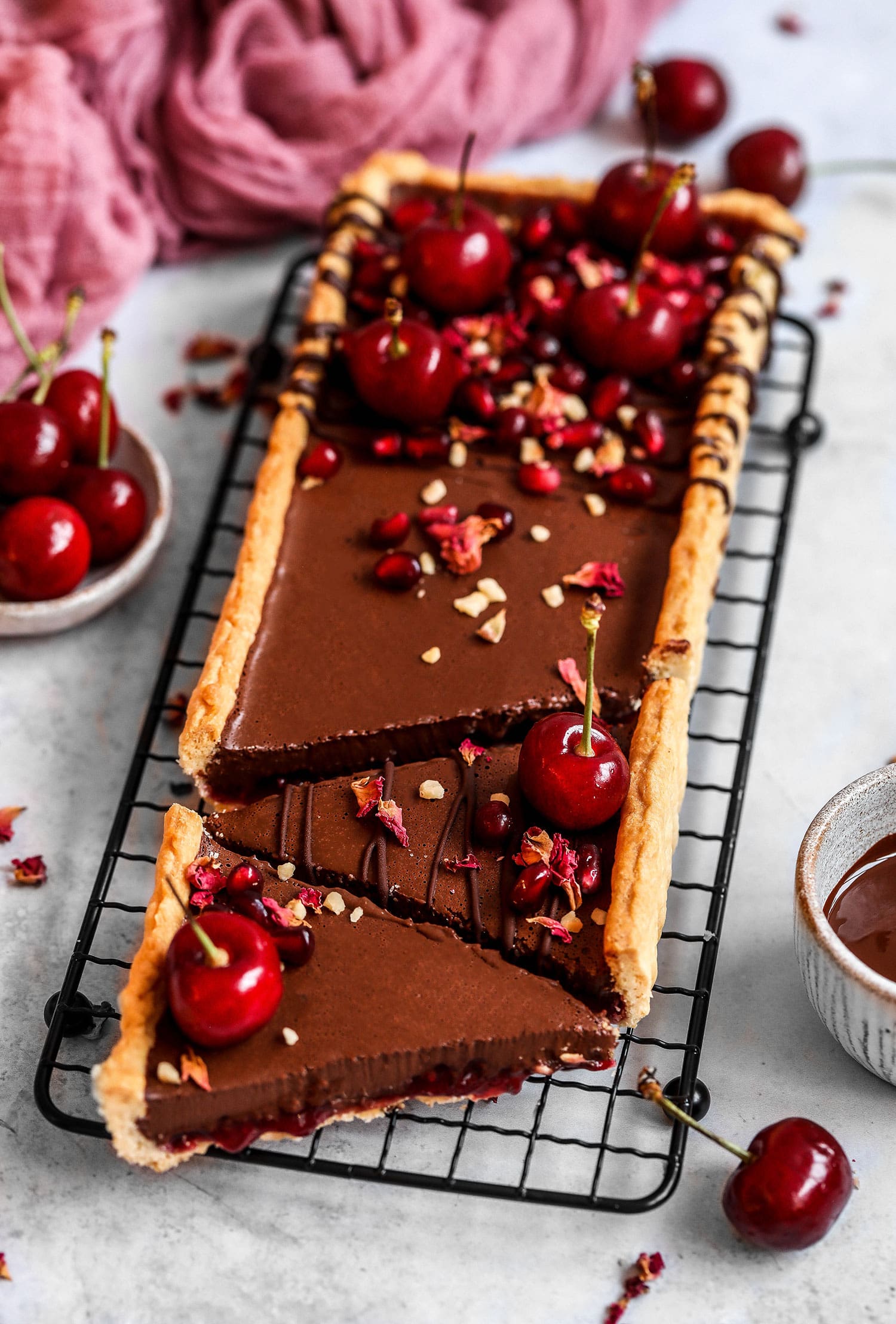 Whittard have just released a new limited addition hot chocolate mix in time for Valentine's day. Oh, and it just happens to be vegan! So it's also perfect if you're taking part in Veganuary and fancy treating yourself to something sweet.
Chocolate and cherry is such a yummy flavour combination and is one that is so underrated. Come to think of it, I've never used that flavour combination before and I'm kicking myself now for not doing so earlier! Chocolate and cherries are perfect for any romantic night, but especially fitting for Valentine's day.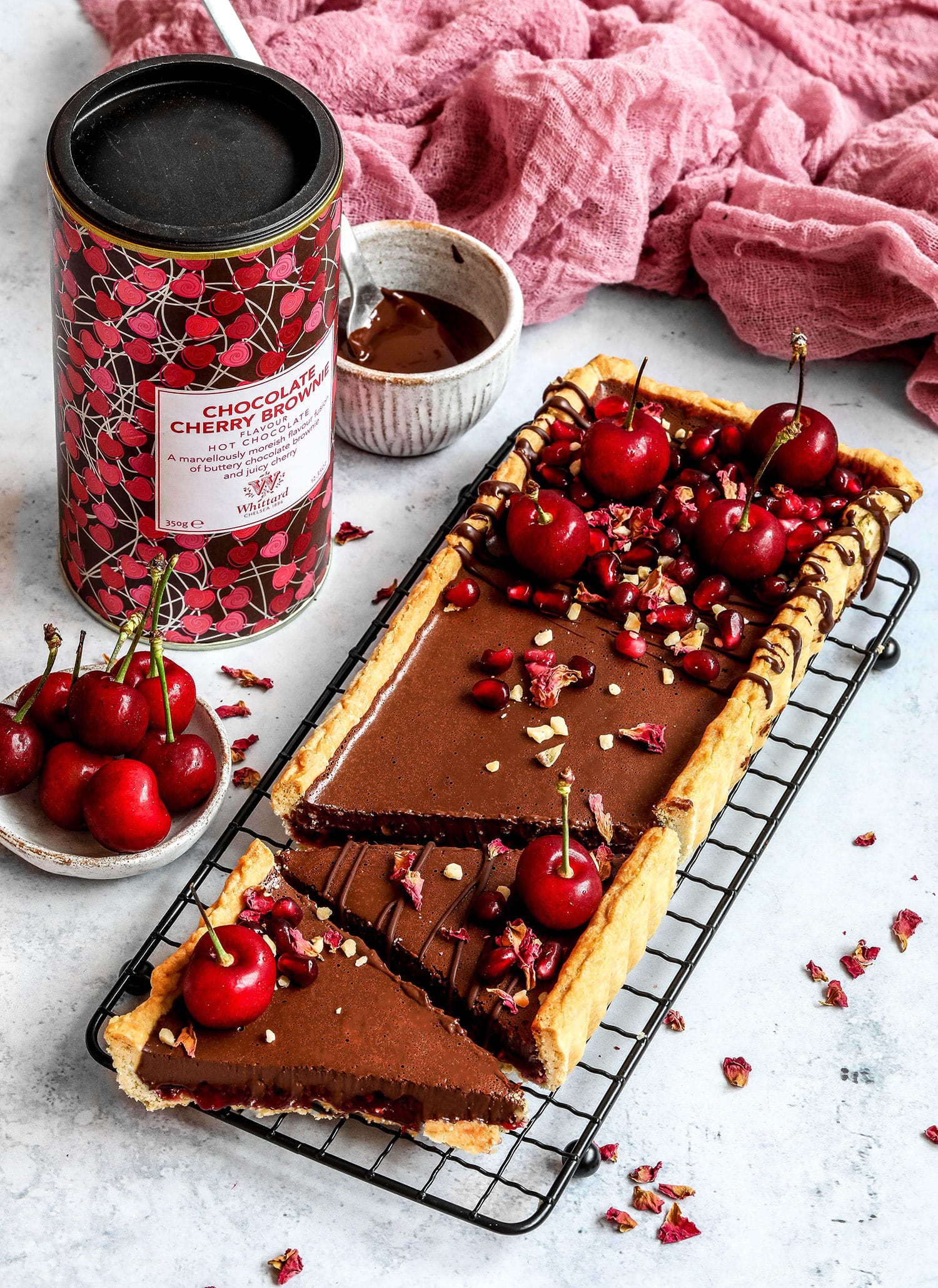 This vegan chocolate cherry tart would make an amazing treat for your other half on Valentine's day. It's super easy to make – all you need is 6 ingredients and only a handful of steps to create it! It also looks stunning topped with fresh cherries and a small drizzle of chocolate.
So if you're looking for a little something special for your significant half, or if you want to treat your friends/family or anyone else you're living with at the moment. We're all struggling and trying to get through these hard times, so it's never a bad time to make something delicious for a loved one to show them that you care and to put a big smile on their faces.
PS – You can always half the recipe and use individual tart tins to make this recipe for 2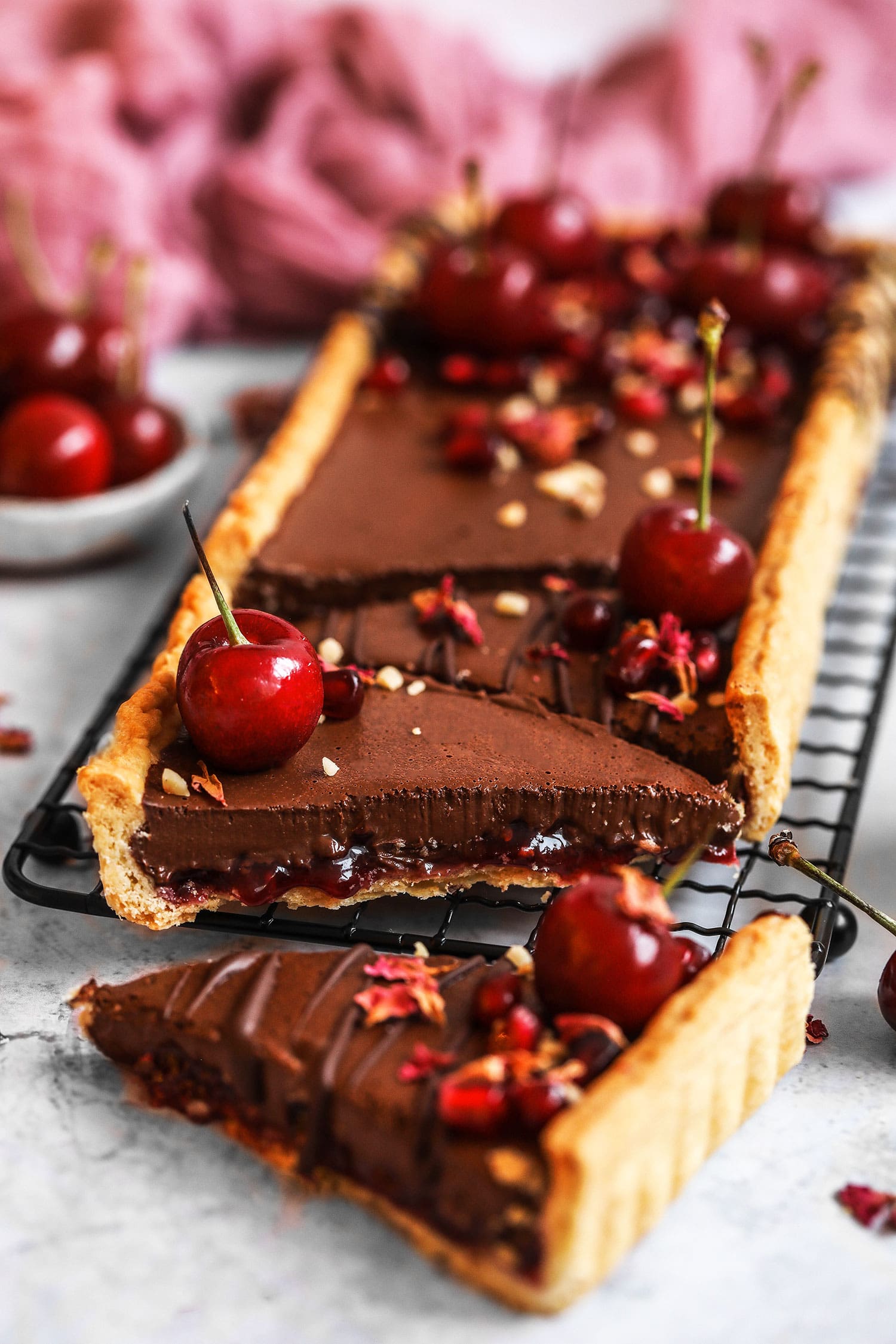 Vegan Chocolate Cherry Tart
Serves: 8
Ingredients
320g ready rolled short crust pastry
150g cherry jam
235ml coconut milk
100g dark chocolate
4 heaped tbsp Whittard Limited Edition Chocolate Cherry Brownie hot chocolate mix
Cherries for decoration
Method
Preheat your oven to 200C/180C/350F
Unroll the pastry to line a 36 x 12cm rectangle loose base pan. Line the pastry with baking paper and fill with baking beans.
Bake for 20 minutes, then remove the paper and beans and cook for another 5-10 minutes. Leave to cool completely, then evenly spread the cherry jam.
Meanwhile make the chocolate filling – break up the chocolate and add it to a saucepan along with the coconut milk and hot chocolate mix. Heat on a low-medium heat stirring continuously until the mixture is completely melted and smooth. Take off the heat and pour over the jam, then leave to cool for 10 minutes before moving to the fridge to chill for 4 hours or overnight.
Decorate with some melted chocolate and fresh cherries. Enjoy!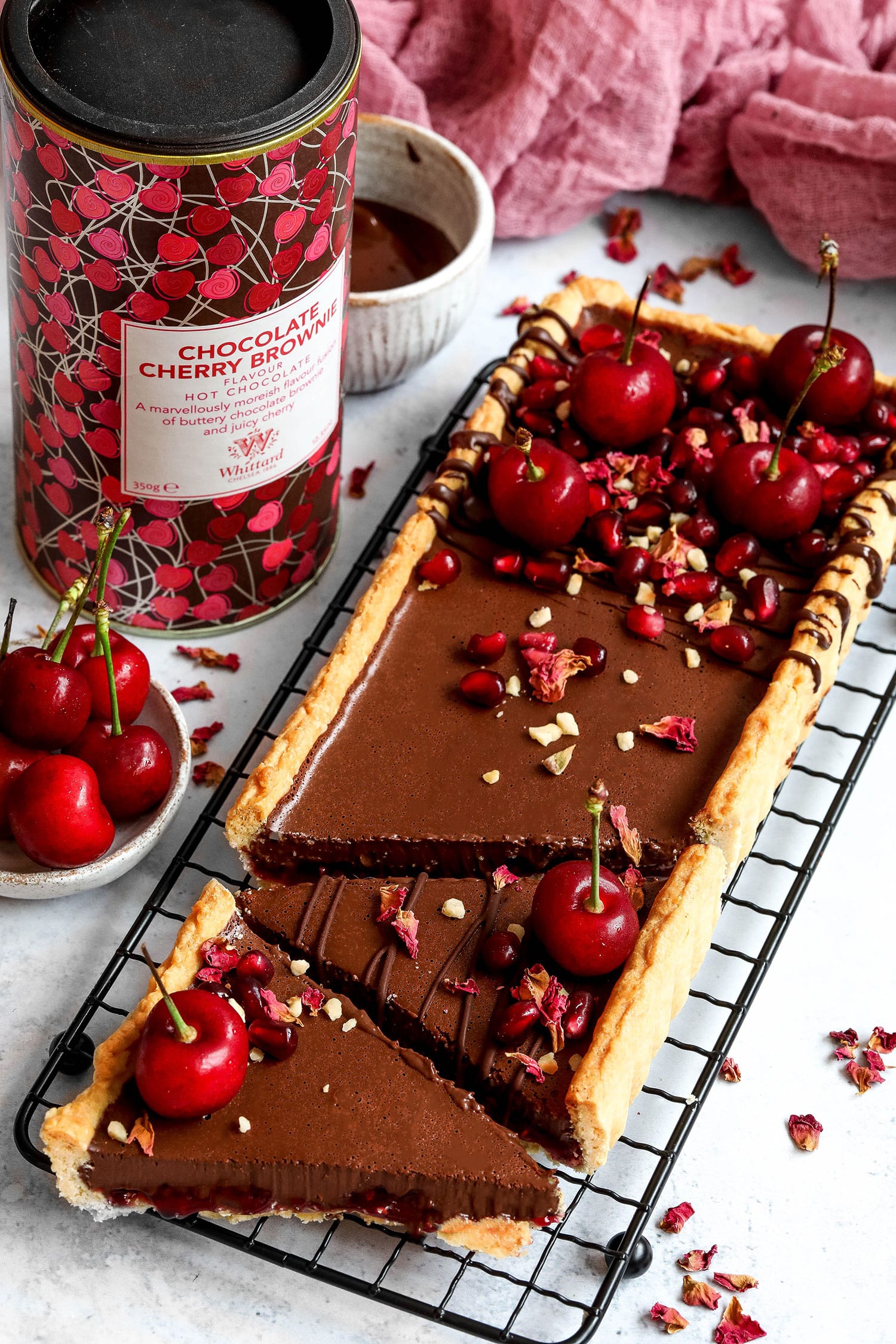 Share This Post