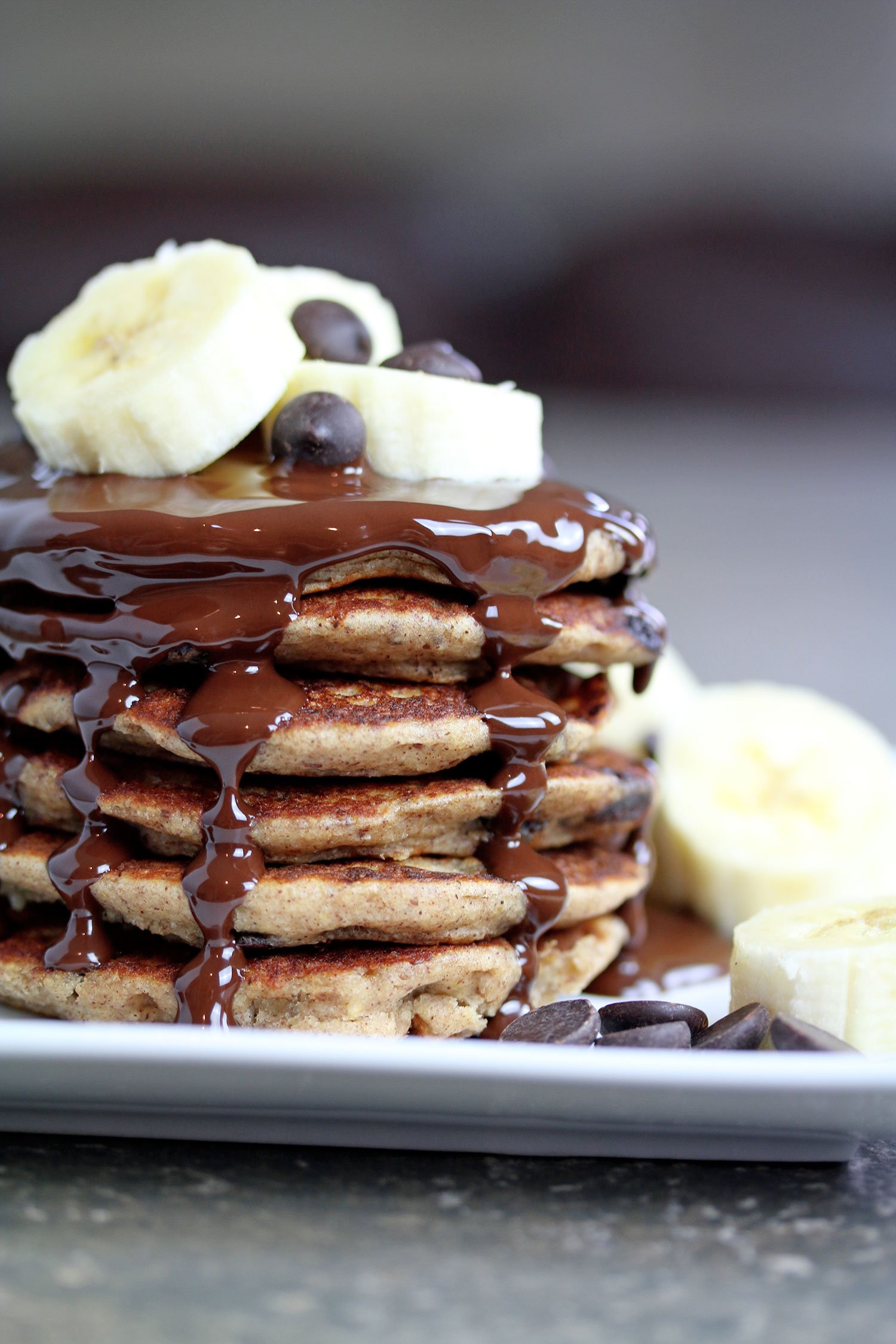 Vegan Banana Chocolate Chip Pancakes
Only two more days before Pancake Day! You didn't think I would let it pass without sharing another vegan and gluten-free pancake recipe, did you?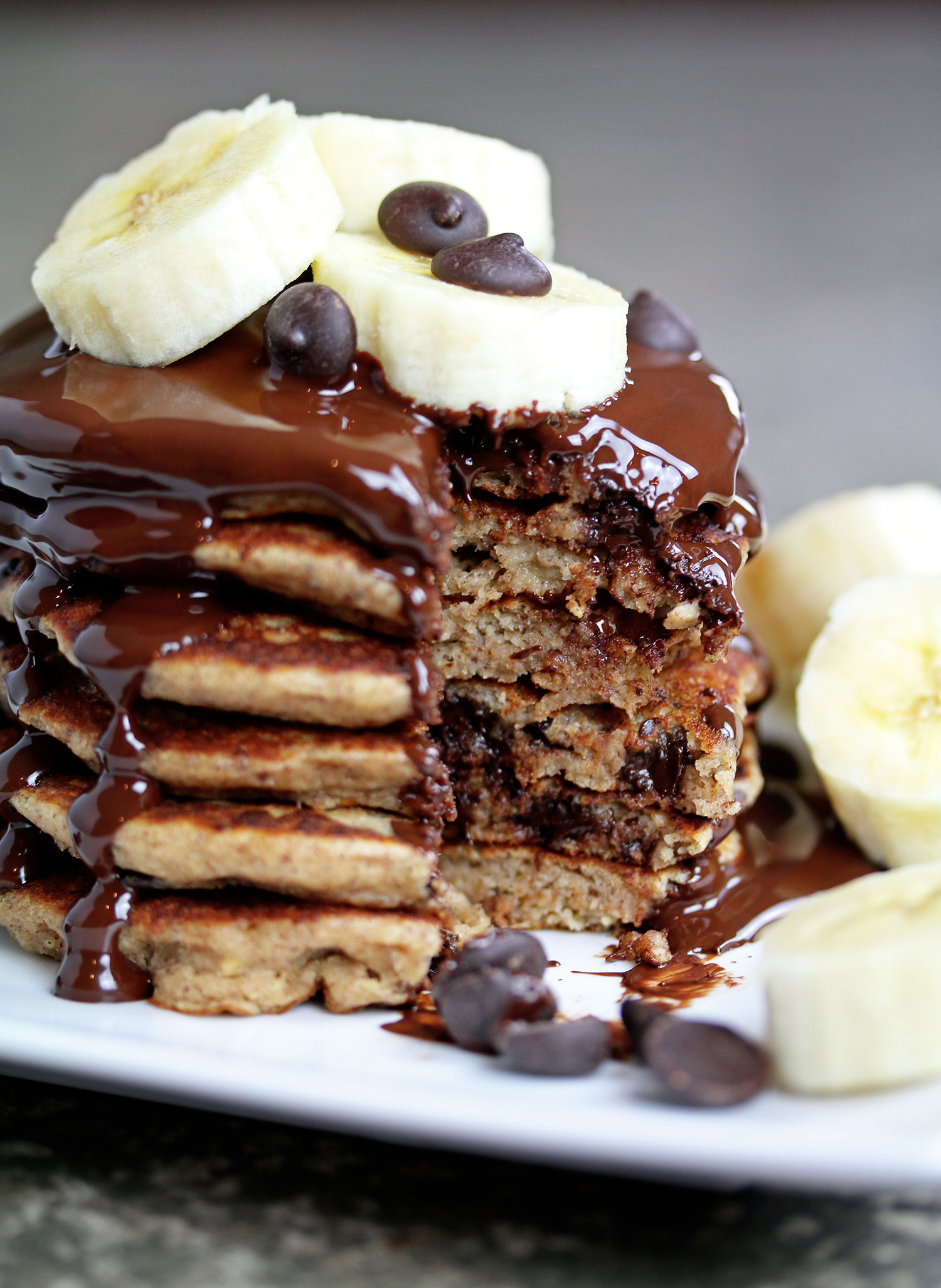 Last week I made a basic maple pancakes recipe with four basic main ingredients – gluten-free flour, milk, coconut oil and maple syrup. Today I'm sharing a slightly fancier recipe with a few more ingredients including chocolate chips, which is one of my favourite ingredients to add to pancakes. They instantly make them taste so much fancier and more luxurious. and who doesn't like having chocolate for breakfast?
What would make these pancakes even more luxurious and special? Drizzling them with melted chocolate of course! You can leave this step out if you think having chocolate for breakfast is pushing it a little, but I would highly recommend it. I mean, we only celebrate Pancake Day once a year, so go on treat yourself!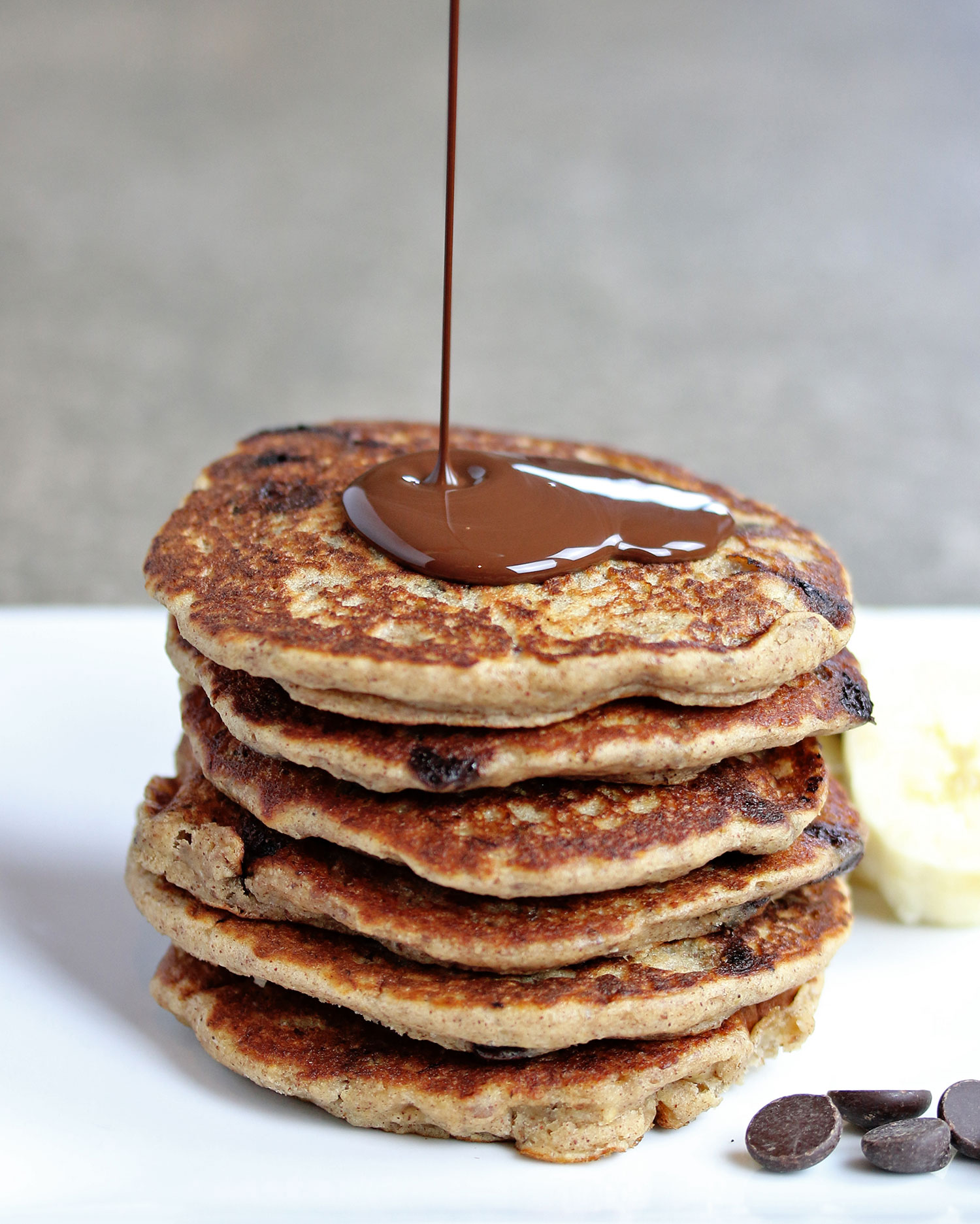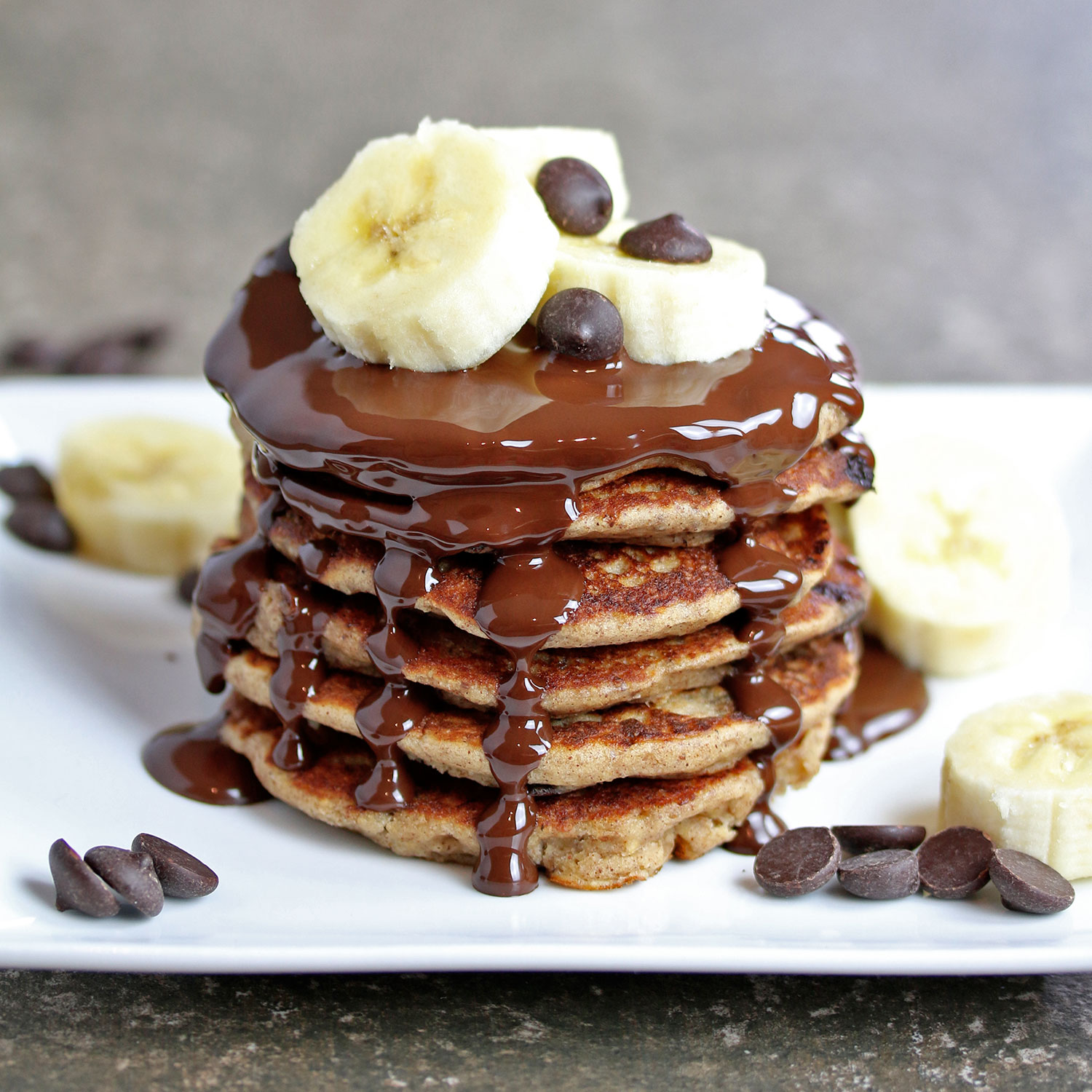 Don't let the name of these banana chocolate chip pancakes deceive you. They may sound naughty but they're extremely healthy made with oats, banana and Linwoods flaxseed with the addition of a little milk and oil as a binder and a little maple syrup to sweeten.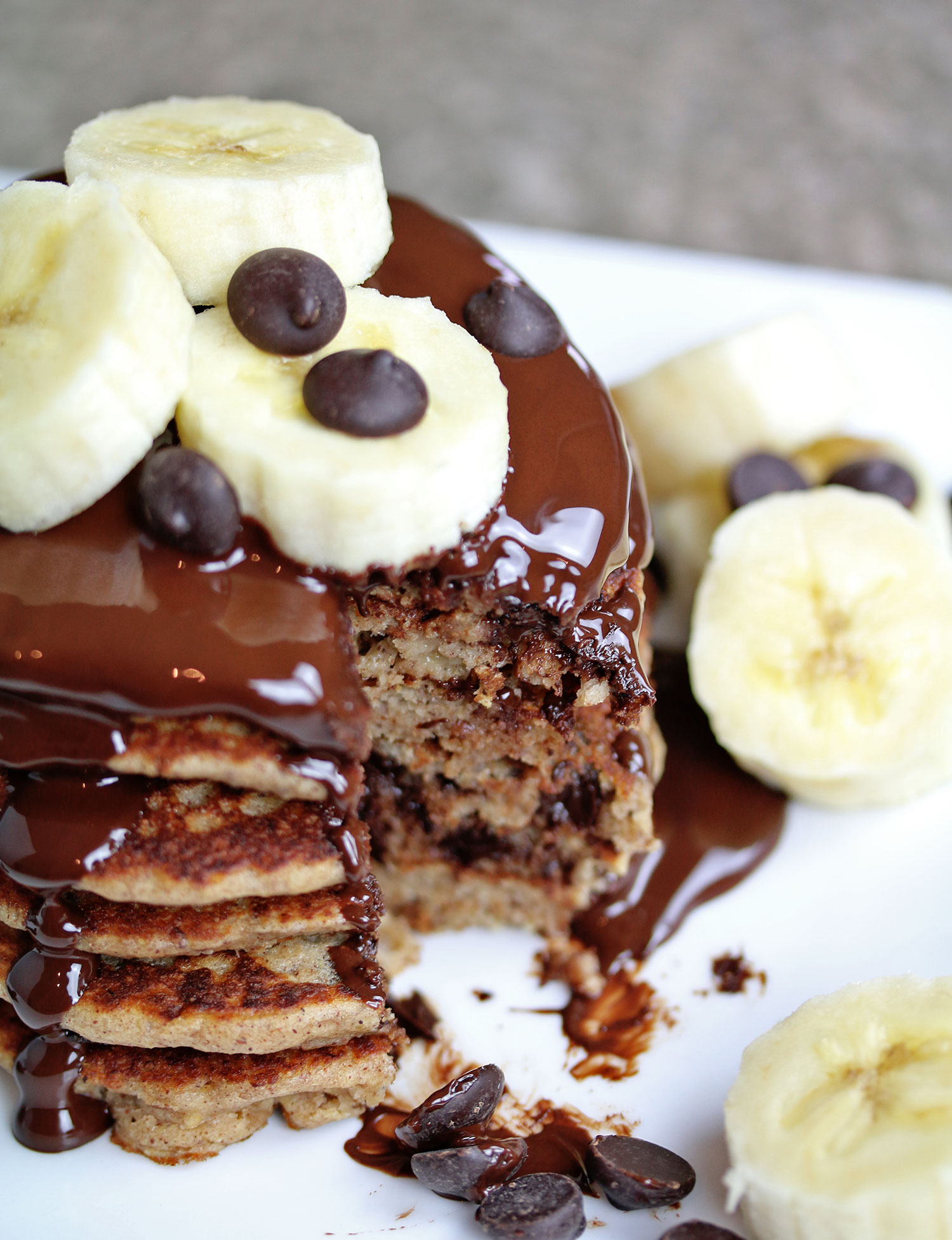 ---
Vegan Banana Chocolate Chip Pancakes
Serves: 2
Dry ingredients:
1 cup (110g) oat flour (oats ground up into a flour in the food processor – use gluten-free if allergic/intolerant)
1 tsp baking powder
1 tsp cinnamon
1/4 tsp salt
Wet ingredients:
1 flax egg – 1 tbsp Linwoods milled flaxseed + 3 tbsp hot water
1 ripe banana, mashed (around 100g)
1 tbsp coconut oil, melted
1 tbsp maple syrup or liquid sweetener of choice
1/2 cup (120ml) milk of choice
6 tbsp chocolate chips
Method:
Prepare your flax egg by mixing 1 tbsp of milled flaxseed with 3 tbsp of hot water. Leave for 10-15 minutes to set.
Mix the dry ingredients in a bowl then add in the wet ingredients. Mix well to combine.
Heat 1/2 tsp of coconut oil in a frying pan over a medium heat. Wait for the oil to heat up, then spoon 2 tbsp of the mixture for each pancake. Cook for about 1-2 minute, then flip over and cook for another 1 minute.
Top with more banana, chocolate chips or melted chocolate.
Enjoy!
---

This post was commissioned by Linwoods, however all opinions are my own.