Tofu Spaghetti in a Tomato Sauce (Vegan & Gluten-free)
My love for tofu knows no limits. I think it's such a versatile ingredient and a great one to include in any diet, but especially in a vegetarian/plant-based diet. It's a great source of good quality protein and an easy way to get a good chunk of your recommended calcium, omega-3 and iron daily intake. Also, it tastes sooo good! When seasoned correctly of course.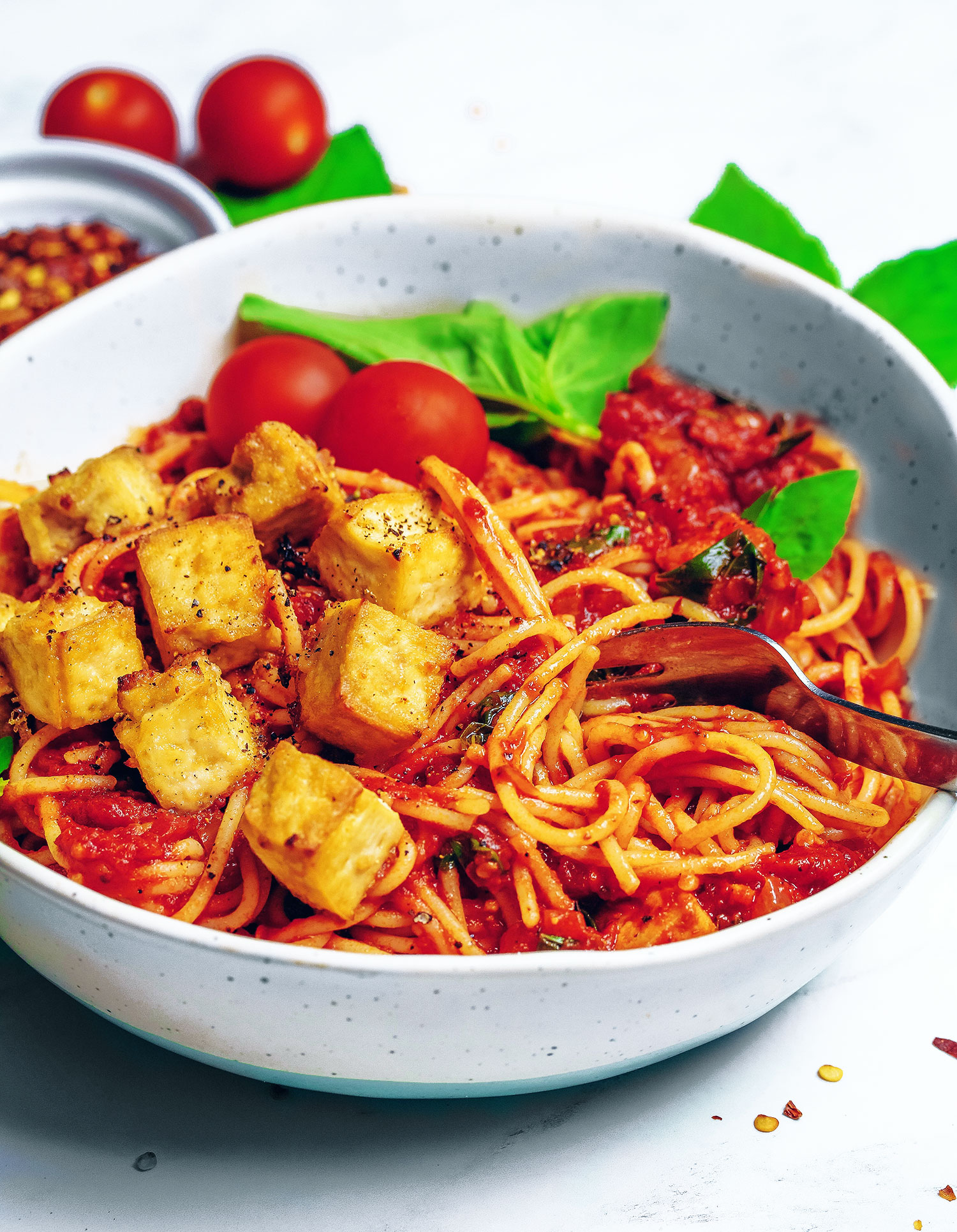 Tofu is seen as such a boring, uninspiring and flavourless ingredient. It's especially boring for a meat eater. Why eat tofu when you can eat chicken, right? But to be fair, my first few experiences of eating tofu were't that great either. Whenever I've had it at restaurants, it always tastes bland and the texture is too soft and 'soggy', if you know what I mean.
Baking tofu results in something completely different. Now the only way I prepare tofu is by baking it. The longer you bake it, the chewer it becomes. And I think to fully enjoy tofu, it needs to be chewy. It just has more bite to it and feels more substantial and meaty.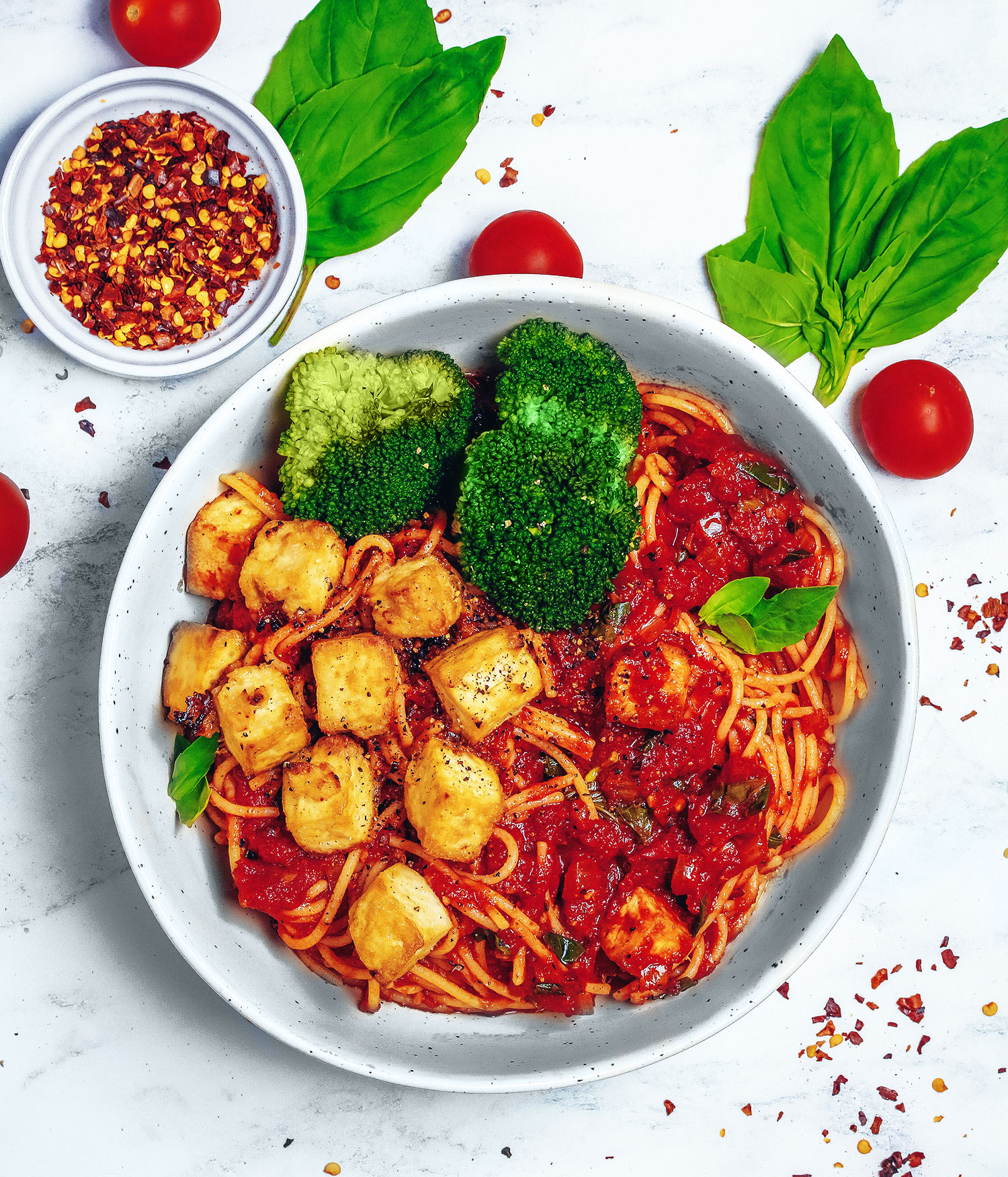 Spaghetti is one of my go-to comfort meals. You know those days when you just need something comforting that will give your mood a lift. Recently I've had a few of those days and spaghetti has been helping me get through them!
Spaghetti never tastes as comforting as it does with a rich, tomato sauce. It's a very basic sauce, but I like to add lots of lemon juice and chilli flaked to give it a nice kick. I also like to add a couple tablespoons of sun-dried tomato pesto for extra flavour and richness.
Whether you're in need of some comfort or not, this dish is a must try!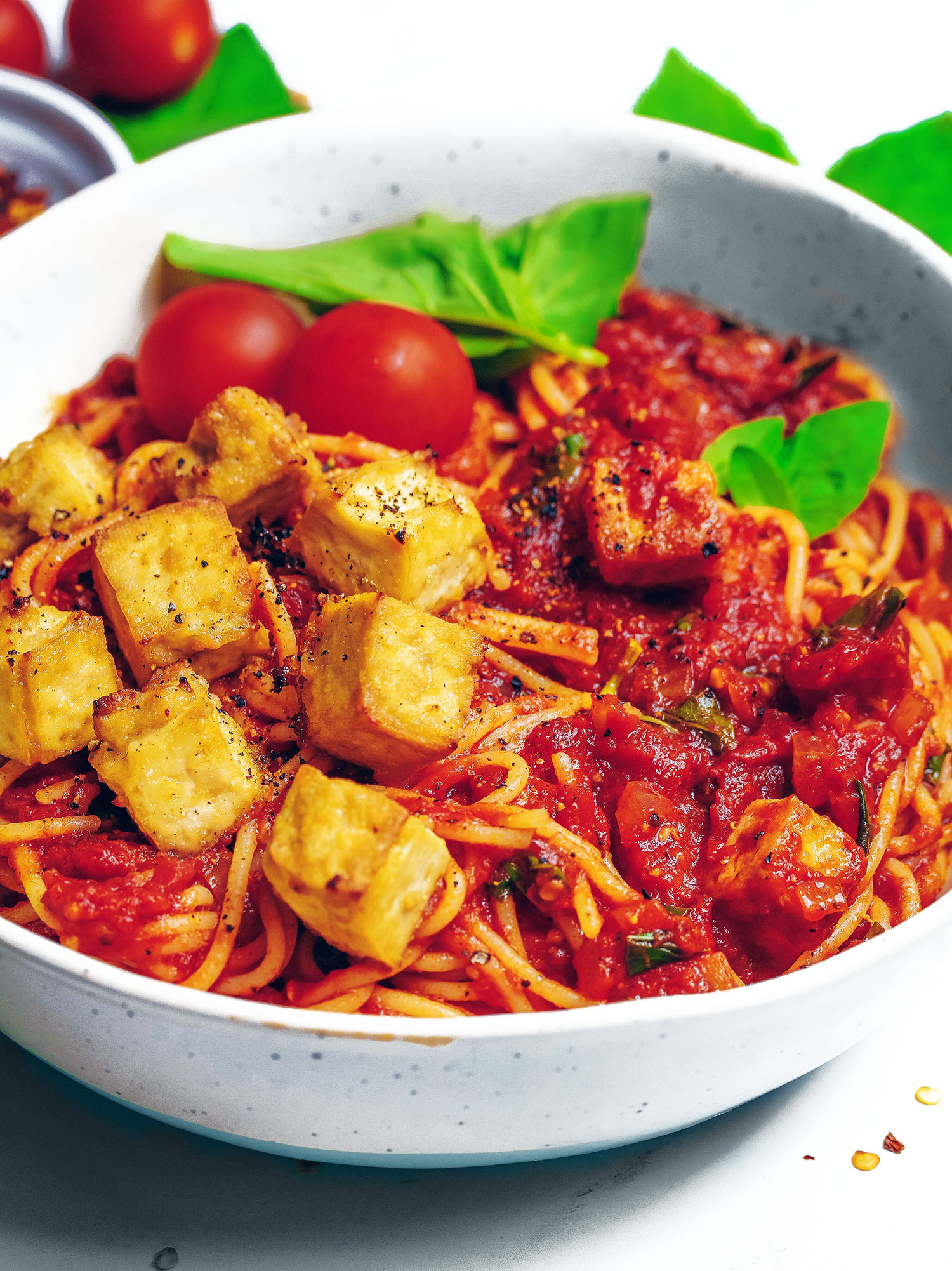 ---
Tofu Spaghetti in a Tomato Sauce (Vegan & Gluten-free)
Serves – 4
Ingredients
For the tofu
400g pack firm tofu, drained according to pack instructions
Juice of 1/2 lemon
1 tbsp olive oil
1 tbsp arrowroot starch
Salt to taste – or you can use 1 tbsp tamari
Black pepper to taste
For the tomato sauce
1/2 onion, chopped
1 tsp chopped garlic (about 2 garlic cloves)
400g can chopped tomatoes
2 tbsp tomato puree
2 tbsp sun-dried tomato pesto
Juice of 1/2 lemon
1/2 tsp chilli flakes – use more if you like it hotter!
Big handful of fresh basil, chopped
Salt & pepper to taste
To serve
300g spaghetti, cooked according to pack instructions. Use gluten-free spaghetti if allergic/intolerant to gluten
Cherry tomatoes
Steamed broccoli
Method
To make the tofu – Preheat your oven to 220°C/200°C fan/400°F. Slice the tofu into big chunks, then transfer into a large bowl. Add the lemon juice, olive oil and season with salt & pepper (or add the tamari if using it). Add the arrowroot starch and mix well ensuring the tofu chunks are evenly covered with the marinate. Transfer onto a baking sheet covered with parchment paper and bake for 25-30 minutes.
To make the sauce – heat 1 tbsp oil in a frying pan, then add in the chopped onions. Cook on medium/high for 5 minutes, then add in the garlic and cook for a few more seconds. Add the chopped tomatoes, tomato puree, pesto, lemon juice, basil, chilli flakes and season with salt & pepper. Cover and cook for 5 minutes then take off the heat.
Add the spaghetti and top with the tofu chunks.
Serve with plum tomatoes and a generous serving of steamed broccoli.
Enjoy!
---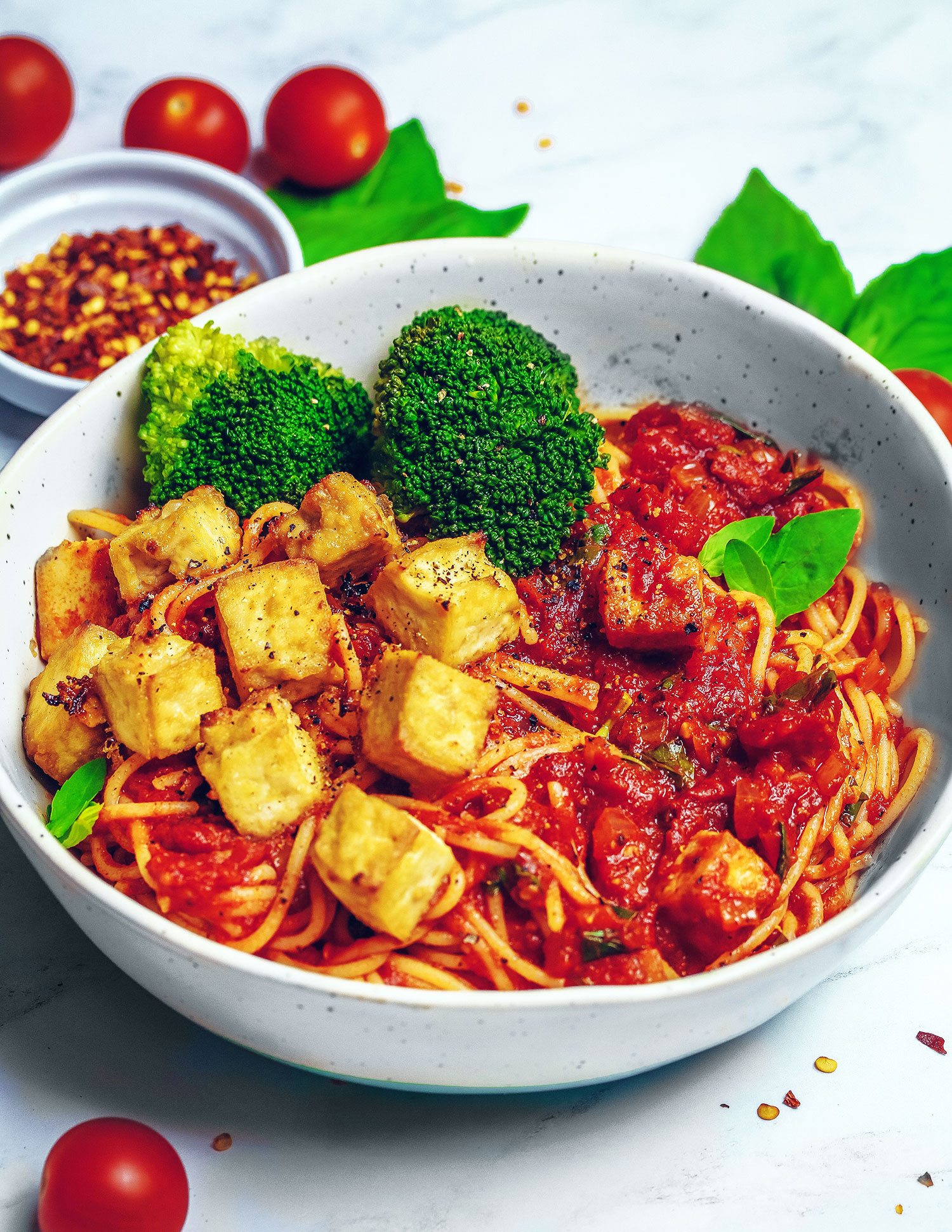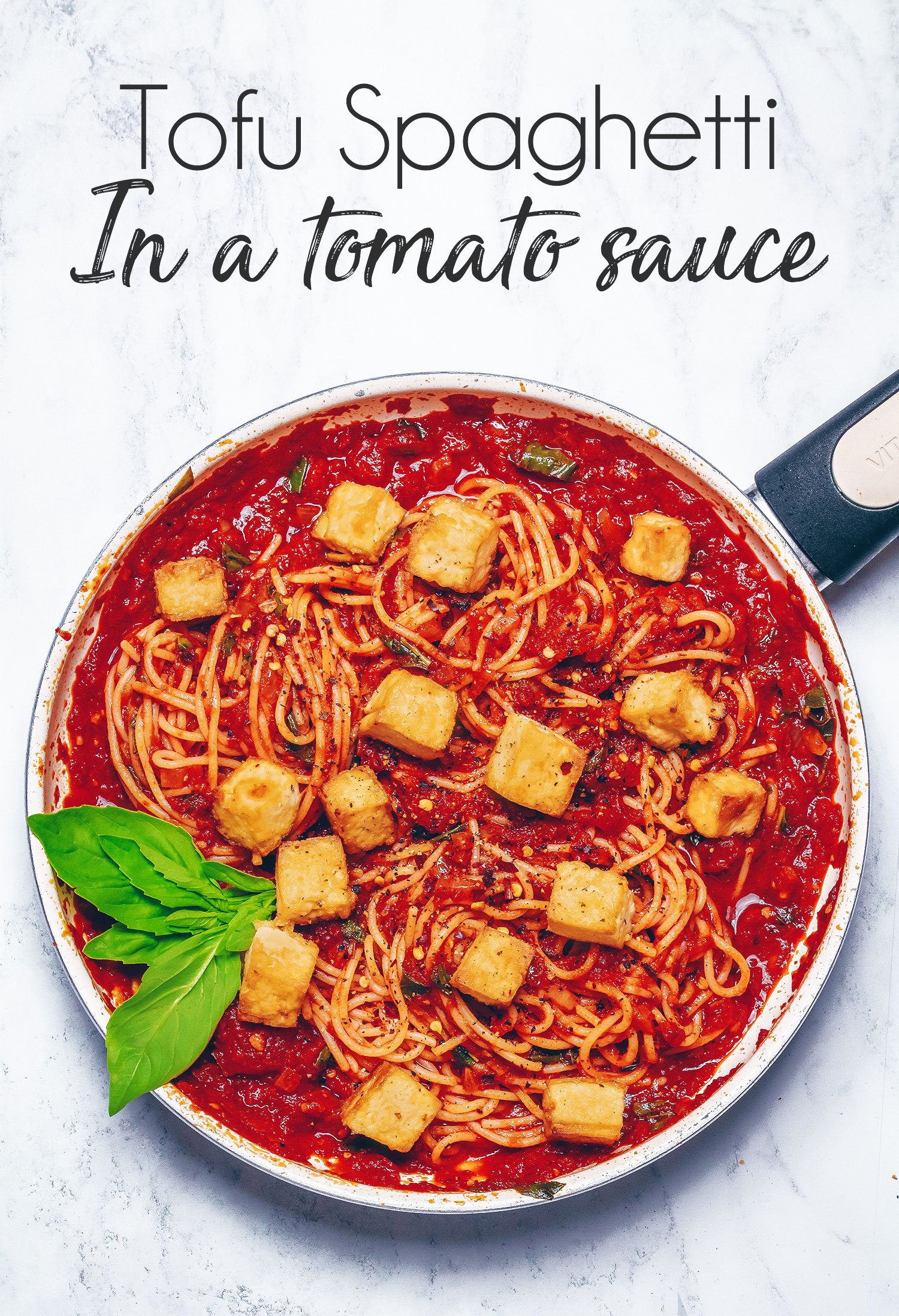 Share This Post