Salted Caramel Tahini Cheesecake
Who can resist salted caramel anything? Especially when it's full of healthy fats and fibre while being both vegan AND gluten-free! Not to mention it's in the form of a cheesecake. Are you drooling yet?
This is by far the best 'raw' dessert I've ever tried. It has just the right amount of sweetness without being over the top, sickly sweet.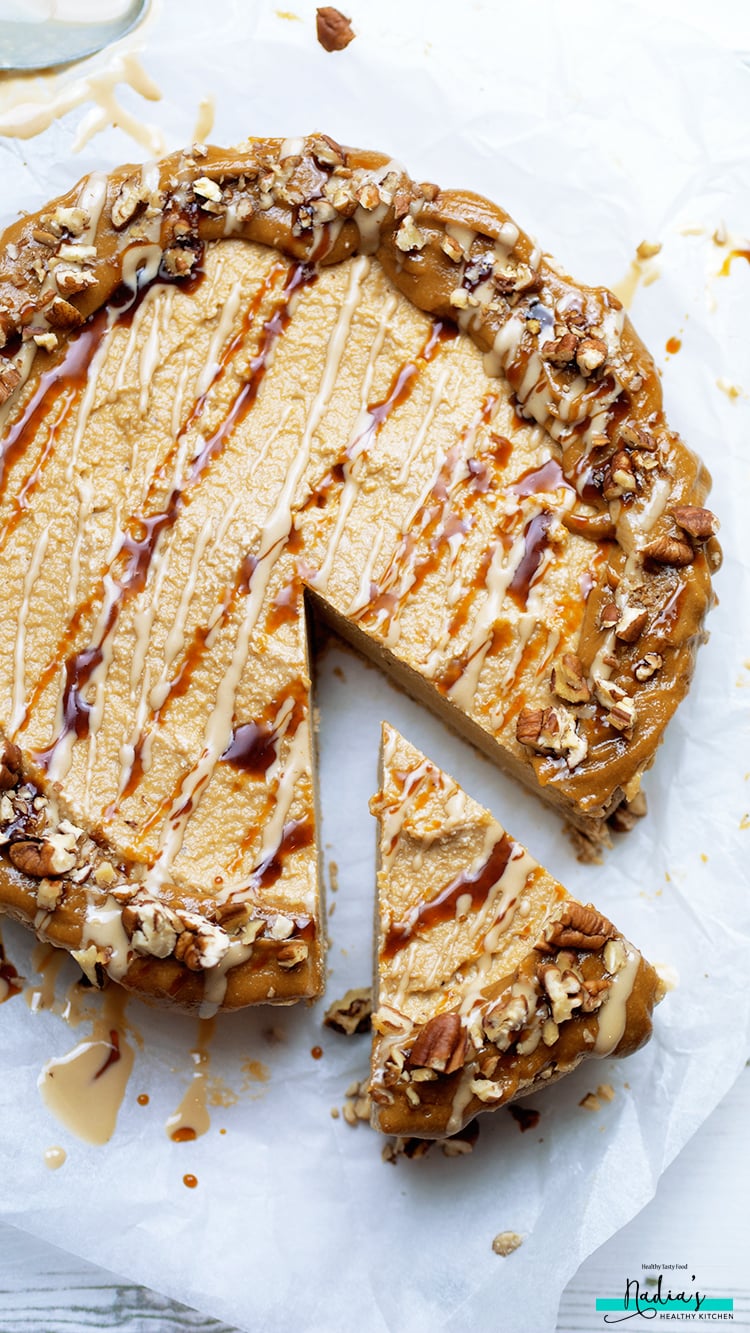 I've said it before and I'll say it again. Tahini and dates are one of the best flavour combinations EVER! It's like the Middle Eastern equivalent of peanut butter & jelly. Of course me being biased I think tahini and dates tastes better, but each to their own, right 😛
To make it super smooth and creamy, I used my powerful Froothie Optimum 9400 blender. Whenever I make a raw dessert I always use my trusted blender to get the perfect results! Sometimes a cheap food processor just doesn't cut it!
If you love tahini, never tried it in a sweet recipe before or haven't yet tried it at all, you NEED to try this recipe! I promise you'll love it 😀 Even if you're not vegan, don't need to avoid gluten or don't care about eating healthy, you'll still love this! It's that rich and indulgent!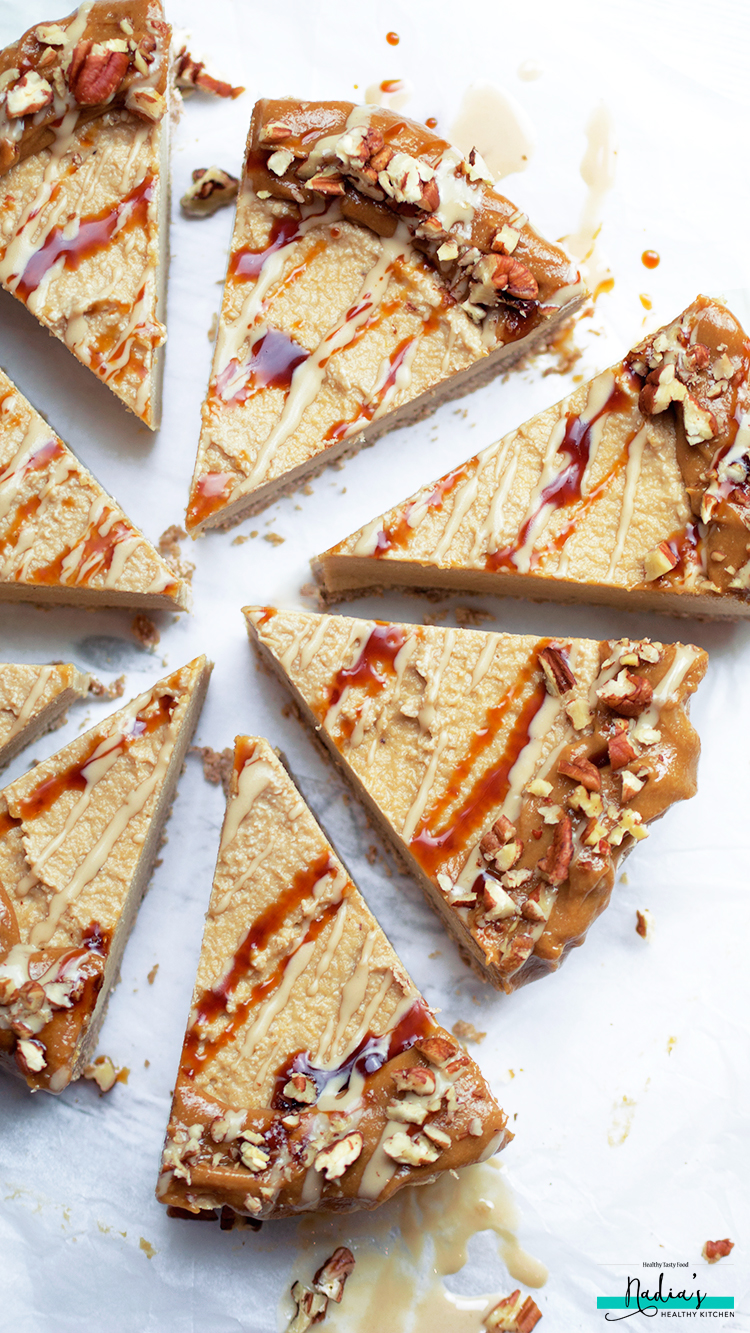 Note that just because it's plant-based and healthy doesn't mean it's calorie free! It's high in fat, albeit the good kind, but it's still calories and so I wouldn't recommend you go crazy and have 3 slices! It would definitely make a nice weekend treat, or something to make for friends and family. Hubby and I definitely wouldn't have been able to finish it all between the two of us. Actually, we could have, but it's probably best that we didn't! 😛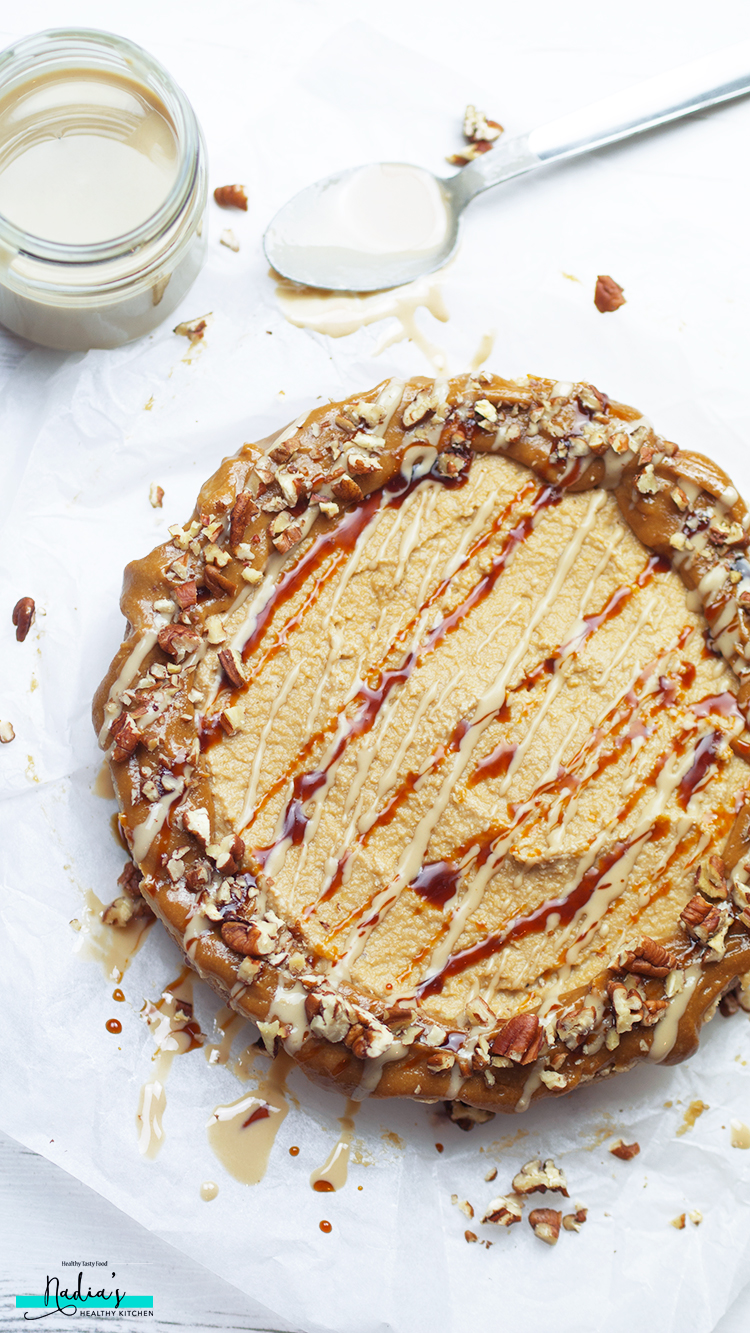 This Salted Caramel Tahini Cheesecake is:
Vegan
Gluten-free
Dairy-free
Refined sugar-free
Soy-free
High in fibre
Full of healthy fats
And tastes creamy and heavenly!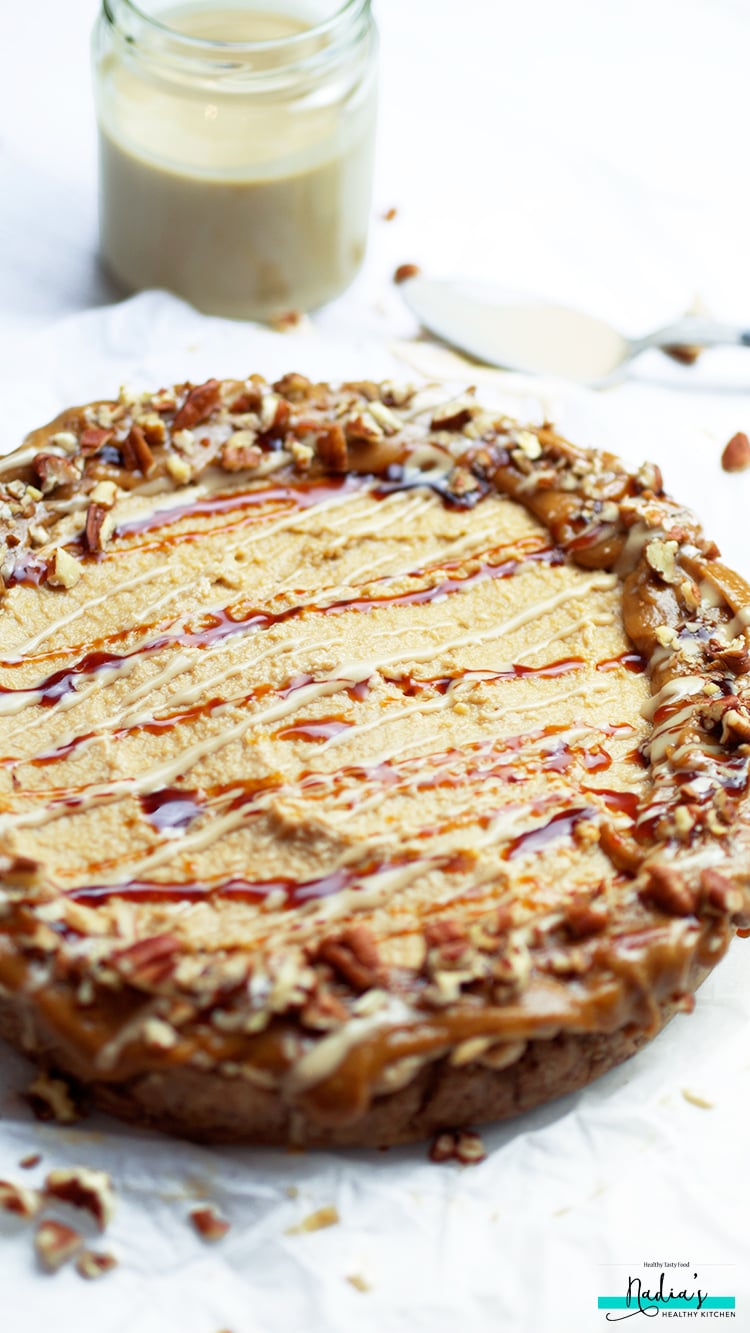 Salted Caramel Tahini Cheesecake
2016-06-20 12:09:25
Serves 10
For the base
1 cup (100g) ground almonds
1 cup (100g) oat flour (use gluten-free if you're allergic)
Pinch of salt
1/4 cup (4 tbsp) coconut oil, melted
1 tbsp date nectar
For the filling
2 cups (300g) raw cashews - soaked overnight or for 8 hours
1/4 cup (4 tbsp) tahini
1/4 cup (4 tbsp) coconut, melted
1/4 cup (4 tbsp) date nectar
1/4 cup (4 tbsp) milk of choice
1/4 tsp salt
1 tsp vanilla extract
Instructions
WATCH THE VIDEO ABOVE FOR INSTRUCTIONS
Nadia's Healthy Kitchen https://nadiashealthykitchen.com/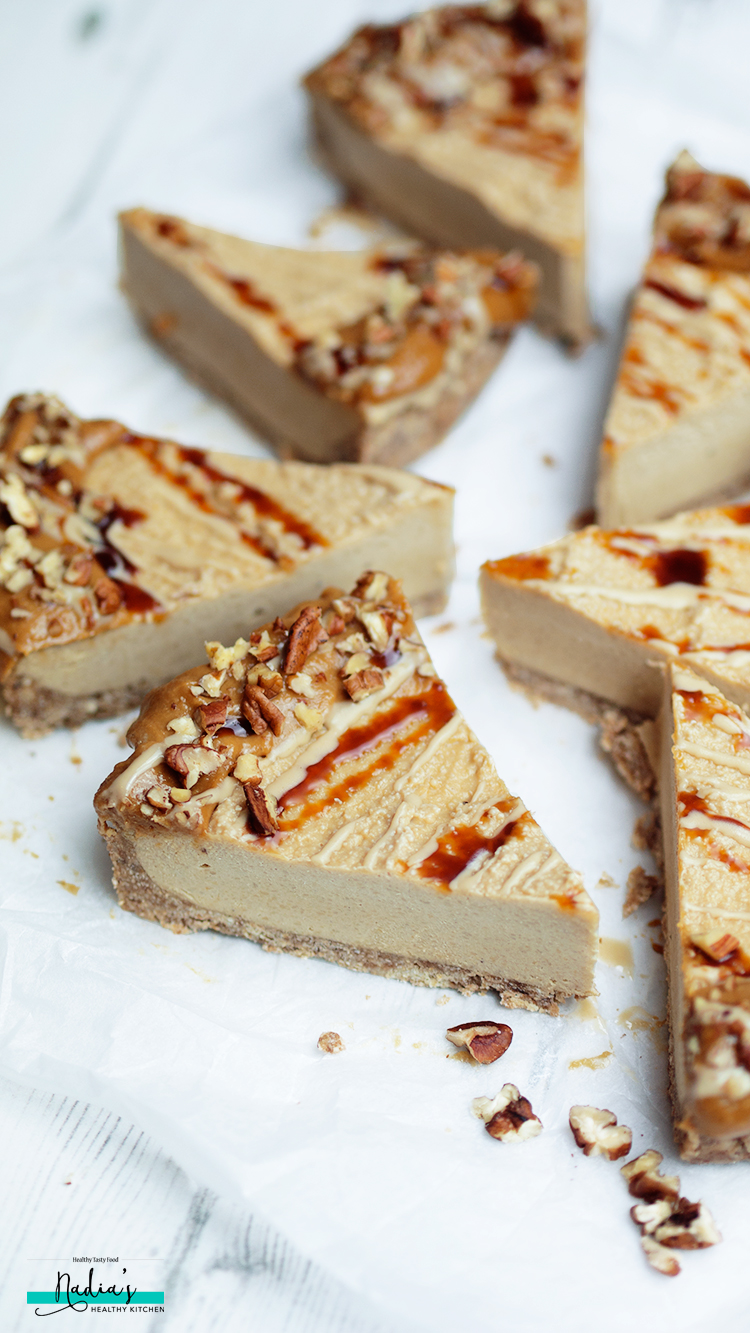 If you liked this salted caramel tahini cheesecake recipe, you may also like my other cheesecake recipes: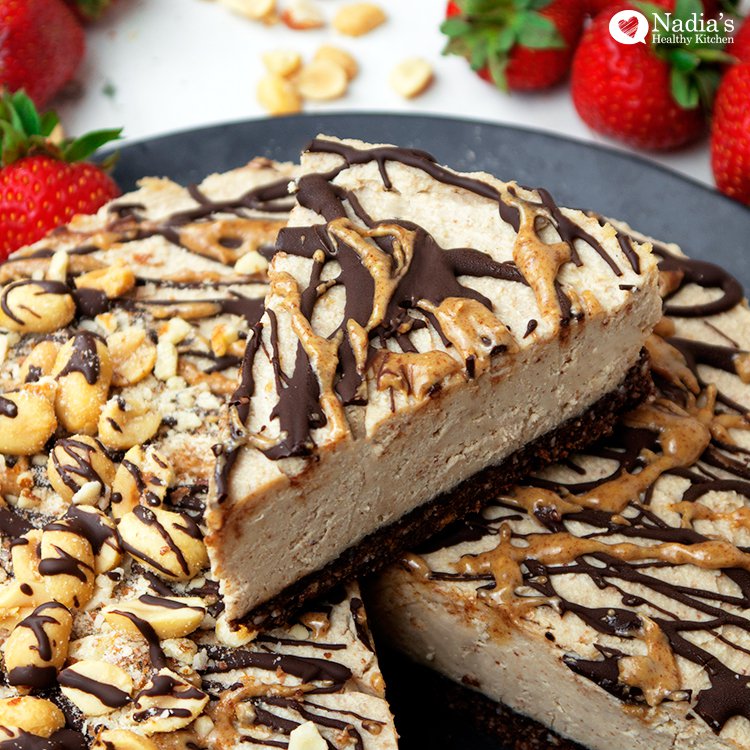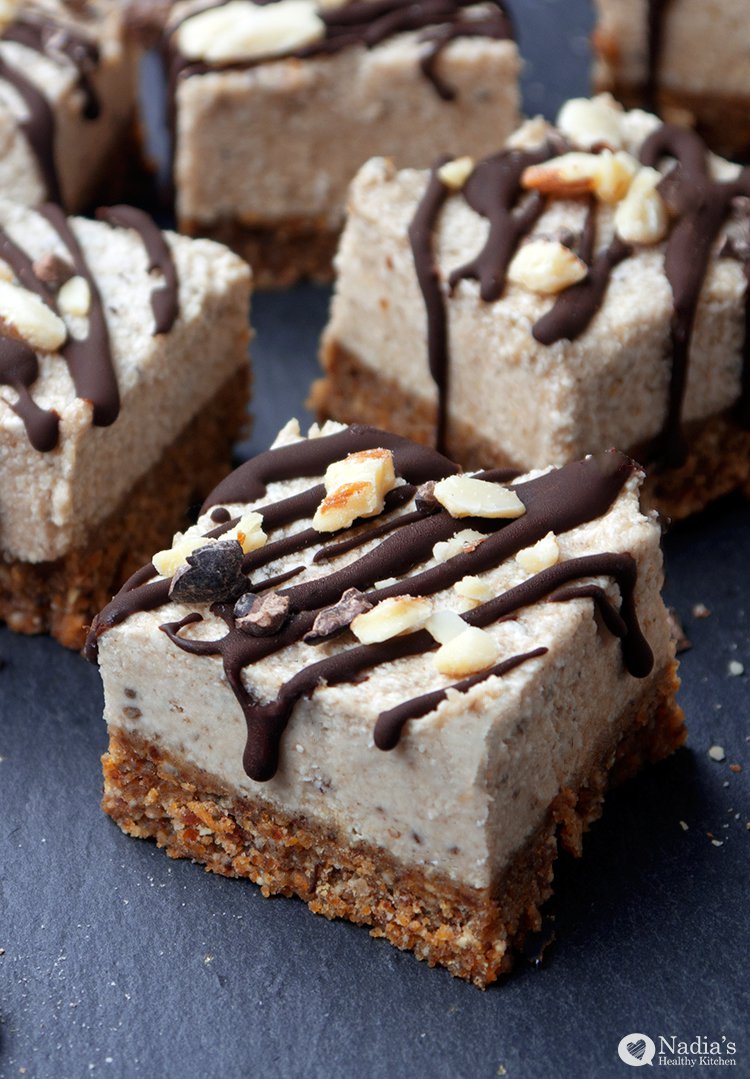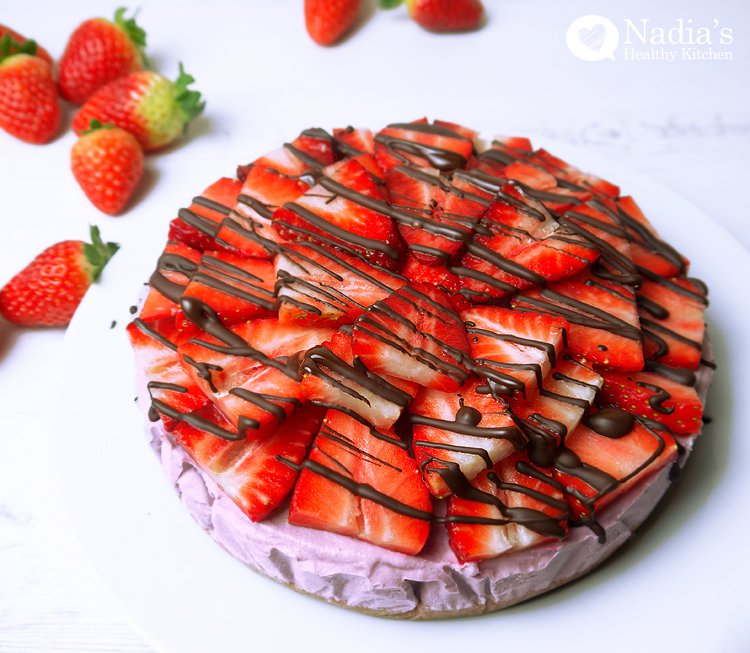 Share This Post