Raw Strawberry Cheesecake
Make sure you watch the above video for the recipe and an amazing giveaway!
Cheesecake without cheese, how can that be?
Here's a healthy, creamy and rich cheesecake recipe without using any cheese, dairy products, animal products, gluten or refined sugars! It's full of healthy fats and goodness. Please don't let the word 'fat' put you off. We all need fat in our diet. It has a crucial role in structural and metabolic functions and more and more research is showing how wrong we've been about fat in the past and how avoiding it is causing health problems and making us gain weight!
Not all fats are equal. The best type of fats are usually plant-based so things like nuts, nut butters, avocados, coconut oil and olive oil.
Over the last few years we've been bombarded with information demonising any and all types of fat and we've been told for far too long that we should avoid fats. Now most of us associate fat with obesity, diabetes and cardiovascular problems whereas research is now suggesting that sugar is the one to blame, not fat!
Fats help you feel full and control hunger and thus play an important part in controlling weight.
This raw strawberry cheesecake is full of those healthy fats. However, fats still contain calories and too much of it will make you gain weight so make sure you enjoy it in moderation. This raw strawberry cheesecake will easily make 10 servings.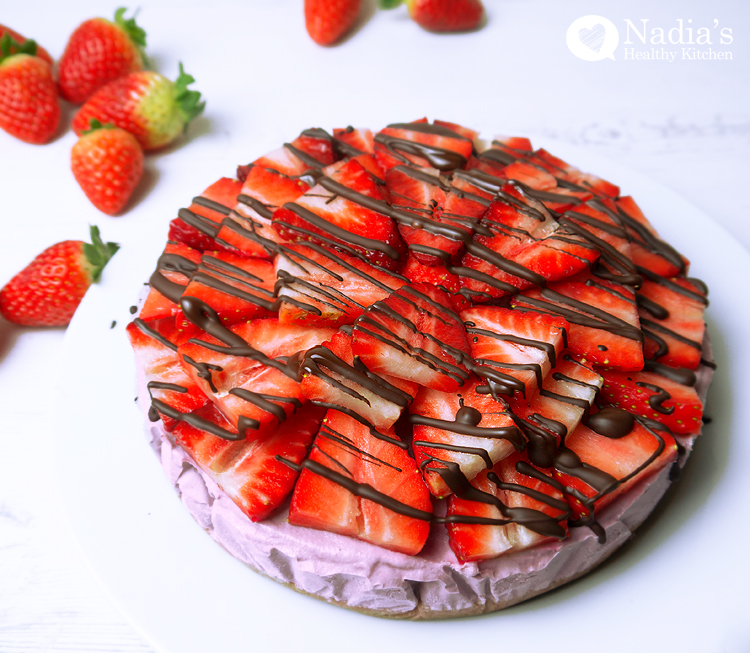 Raw Strawberry Cheesecake recipe
For the filling:
The main ingredient for the filling is cashews – raw, unsalted and soaked in water overnight. Soaking makes them softer and much easier to blend and makes the cheesecake lighter and fluffier. It also helps remove toxins and makes the nuts easier to digest.
Since this is a strawberry cheesecake it goes without saying that the other main ingredient is strawberries! I'm also adding some Organic Burst acia berry powder which gives it a lovely lilac colour as well as adding a lots of antioxidants at the same time.
We obviously need some form of sweetness for this to be classed as a dessert – instead of adding processed, refined, bleached sugar, I'm using pure maple syrup.
For the base:
I'm using a mixture of oat flour, ground almonds, coconut oil and just 1 tbsp of date syrup to help it all stick together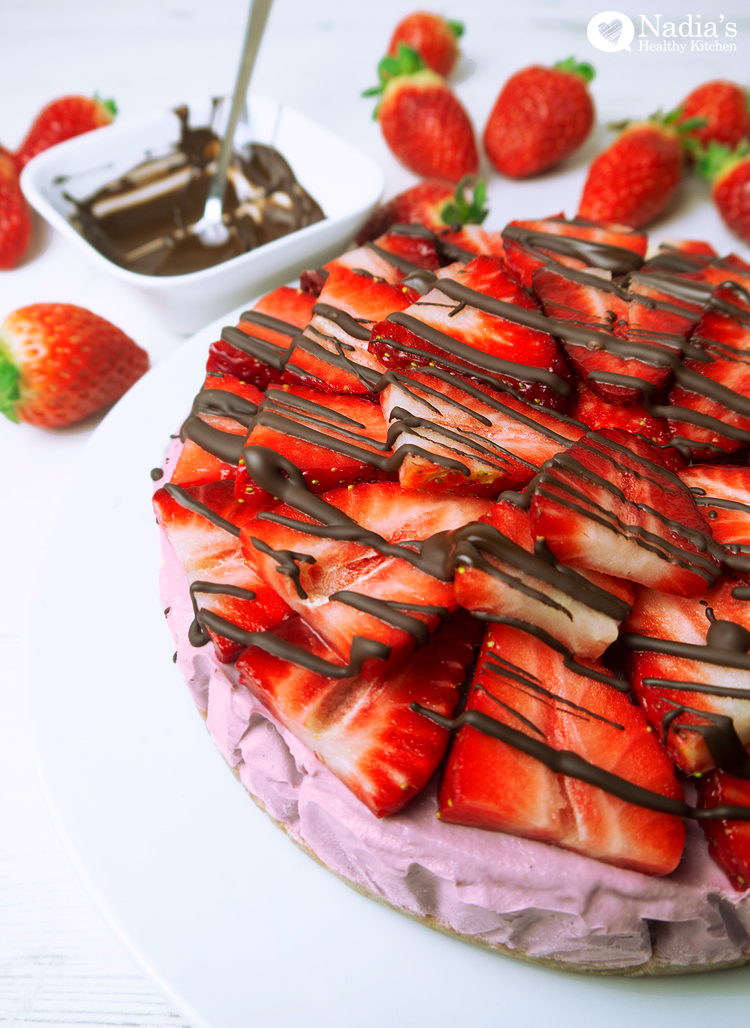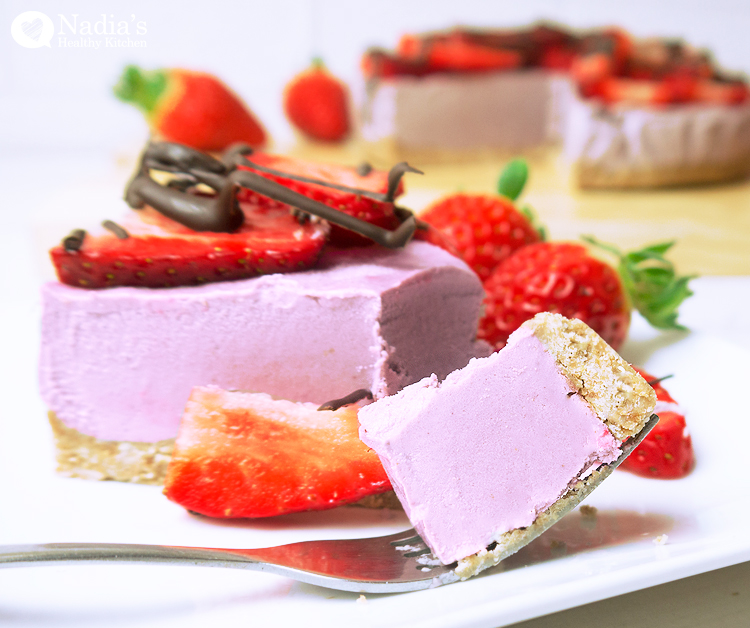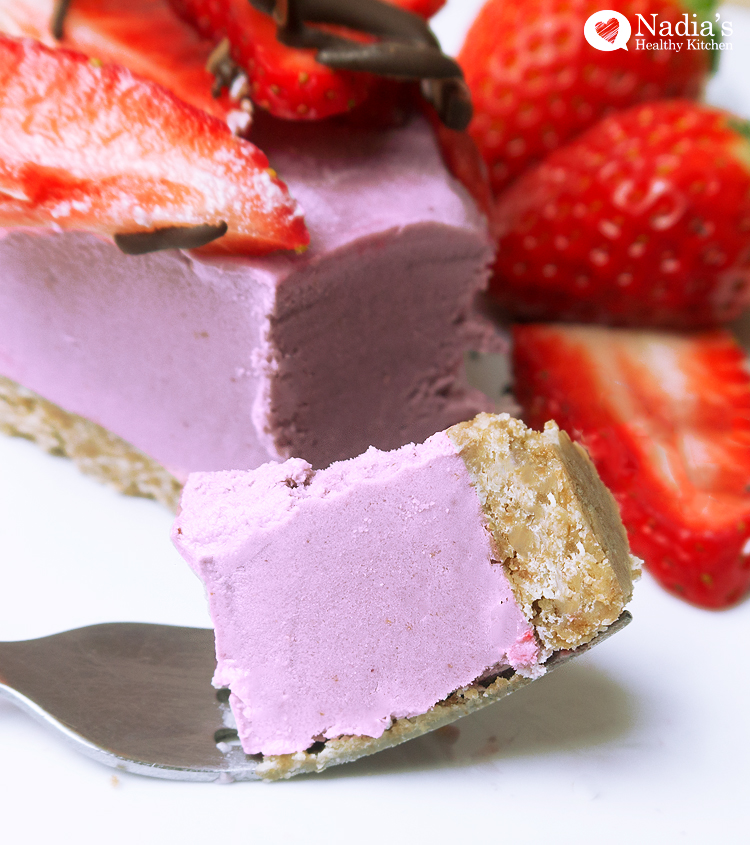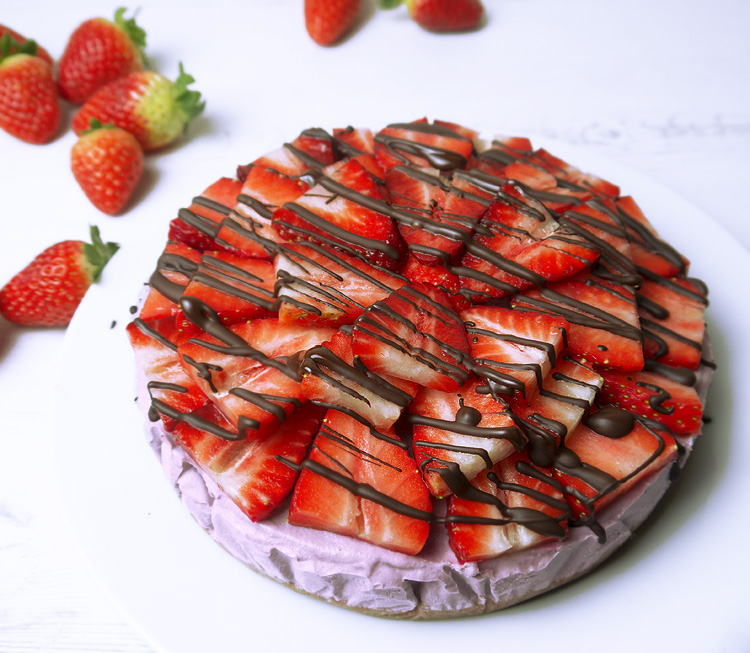 Raw Strawberry Cheesecake
2015-03-08 09:29:24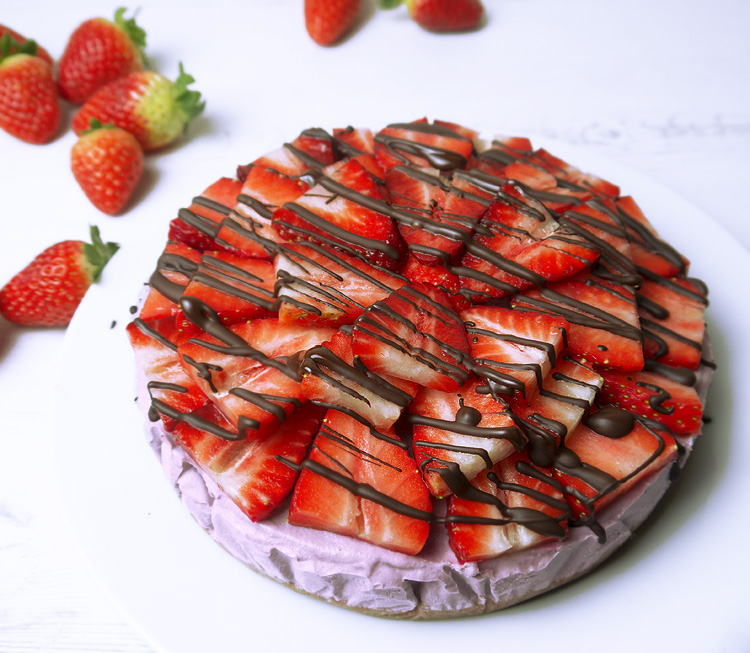 Serves 10
Filling
2 cups (300g) raw, unsalted cashews
2 cups (250g) strawberries
1/3 cup (75ml) maple syrup (add more or less to taste)
1/4 cup (4 tbsp) coconut oil
10 capsules or 1 tbsp Acia berry powder (I used Organic Burst)
1/2 tsp vanilla paste (or 1 tsp vanilla extract)
pinch salt
Instructions
First you need to soak your cashews - Add your cashews to a large bowl and cover with water. Leave to soak for at least 8 hours or overnight.
Make the base - transfer your oat flour, ground almonds, salt and date syrup to a bowl and mix well. What you're looking for is an evenly mixed, crumbly texture.
Pour the base mixture onto an 8" cake tin covered with parchment paper.
Press the mixture down using the back of a spoon or you can use your hands for a more even layer.
Place the base in the freezer while you make the filling.
For the filling - drain your soaked cashews and give them a quick rinse under the tap.
Trim the strawberries.
Transfer the cashews, strawberries, coconut oil, maple syrup, vanilla and salt into a powerful blender or food processor.
Blend until you have a smooth, creamy mixture. I used my Optimum 9400 blender which only took a minute or so. If you're using a food processor, you may have to pause and scrap down the sides to speed the up process.
Add the Acai powder and give it a quick pulse so it's evenly distributed.
Take your base out of the freezer and pour the filling on top.
Place back in the freezer and leave to chill for a few hours to firm up.
Take the cheesecake out 30 minutes before serving.
You can store the cheesecake in the fridge or freezer. It will be much softer if you store it in the fridge.
UK Health Blog - Nadia's Healthy Kitchen https://nadiashealthykitchen.com/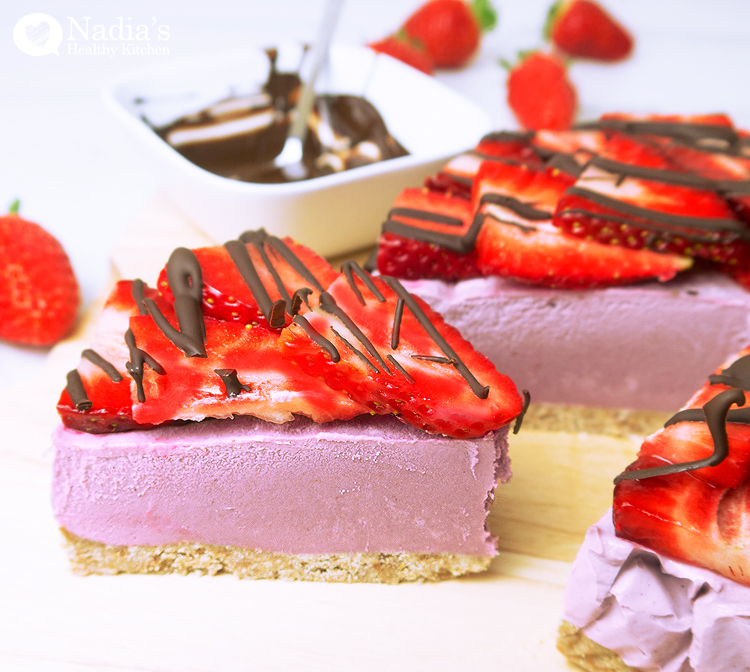 Share This Post