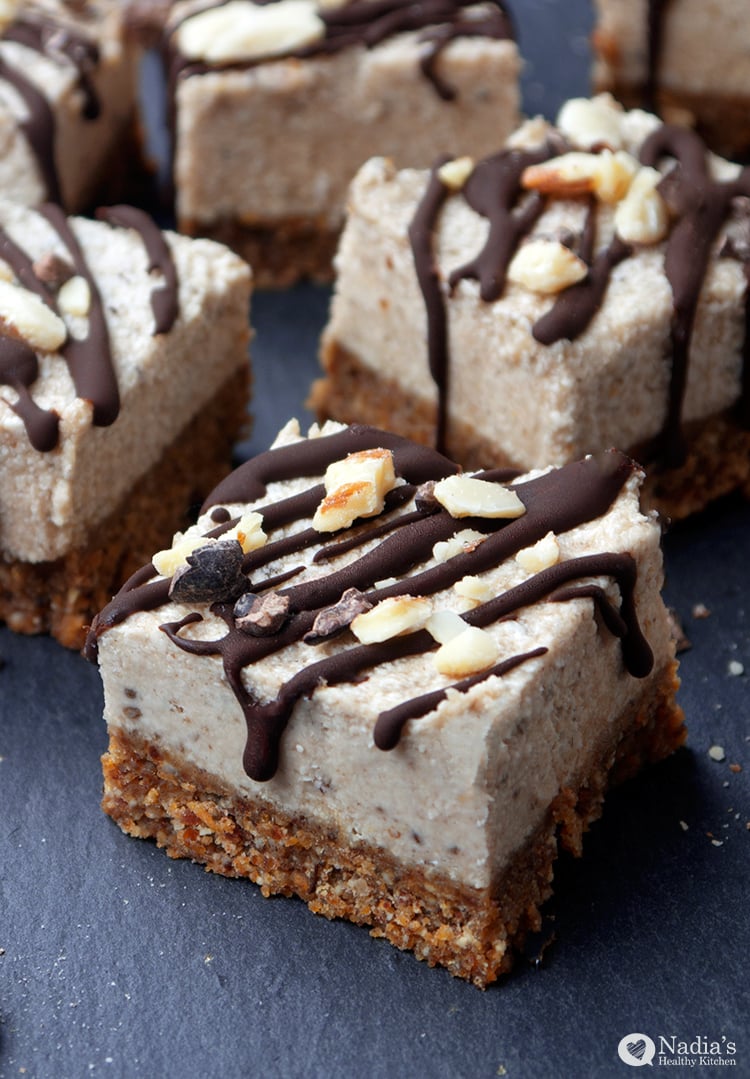 You can't beat a good BANANA flavoured dessert, especially when that dessert is a CHEESECAKE! I don't think I've ever had a banana cheesecake before but I had no doubt banana would go well with cheesecake. If you remember when I made my Tahini Brownies I said that the best recipes seem to be born from experiments gone wrong resulting in a whole new, but amazing recipe. Well this raw banana cheesecake recipe is another great example of that scenario.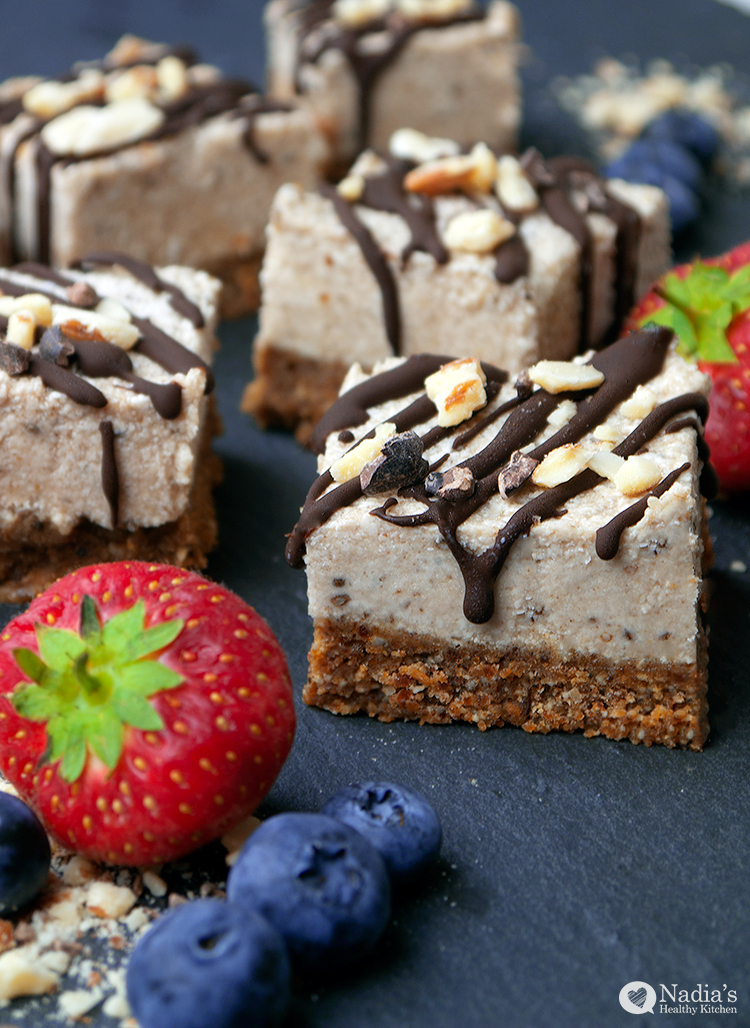 This recipe started out with me trying to make some banana, date and cashew energy balls but I wasn't fully happy with the texture of the end result, then I got the idea of turning it into a base for a cheesecake instead. Of course since the base had banana, it only made sense that the cheesecake filling had banana too! And so this raw banana cheesecake was born.
This raw banana cheesecake is, obviously, raw and also gluten free, dairy free, vegan and refined sugar free. It's full of healthy fats and nutty goodness.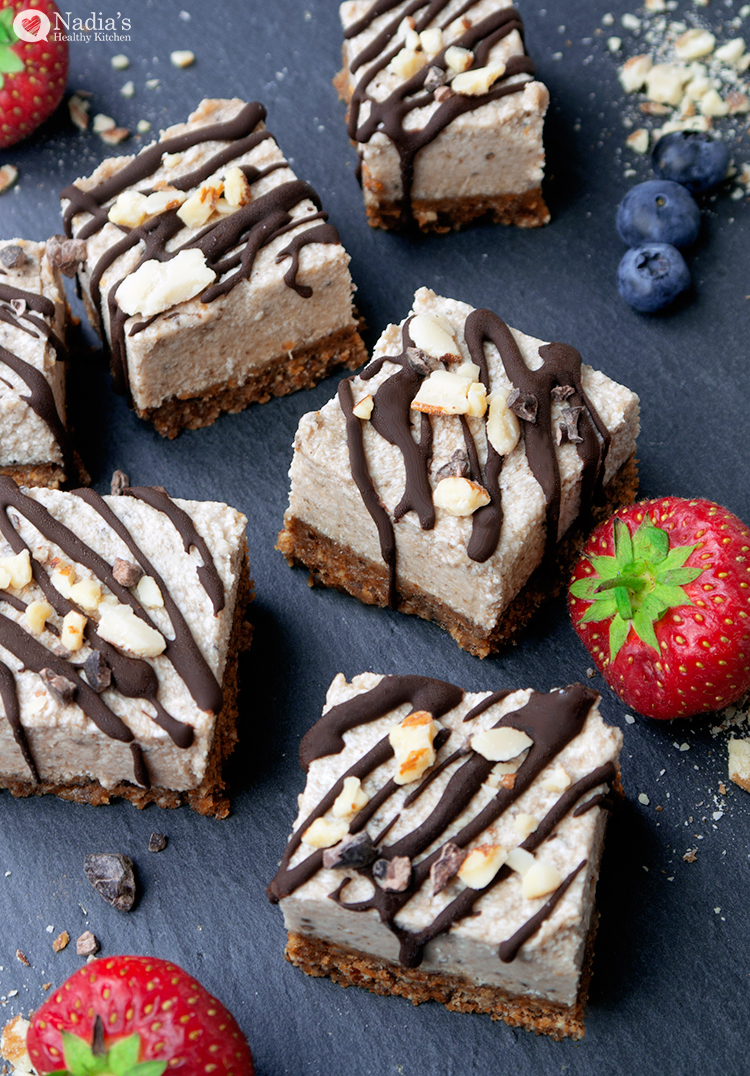 Raw Banana Cheesecake
Ingredients
For the base
1 cup (175g) dates
1 cup (150g) raw unsalted cashews
4 dried bananas (I used whole dried bananas but you can use soft banana chips, not the crunchy kind)
3 tbsp coconut oil
1/4 tsp salt
1/2 tsp cinnamon
For the cheesecake
1 cup (150g) raw unsalted cashews (soaked in water for 8 hours)
1/3 cup (5 tbsp) coconut oil
2 bananas, frozen
1/3 cup (5 tbsp) maple syrup
1 tsp vanilla paste (or 2 tsp vanilla extract)
1 tbsp chia seeds
Pinch of salt
Method
Depending on how soft your dates are, you may need to soak it in hot water for 10 minutes to make them easier to blend.
Add the dates, dried bananas and cashews to a blender/food processor and blend for a few minutes until a sticky, crumbly mixture if formed.
Melt the coconut oil then add it to the date and cashew mixture along with the rest of the base ingredients. Give everything another quick whizz.
Transfer the mixture into an 8″ cake tin lined with parchment paper and press down using a spatula or your fingers.
Place in the fridge for 30 minutes to set.
To make the filling, you need to soak your cashews for at least 8 hours in water for a creamier texture.
Drain and rinse the cashews then add them to your blender/food processor along with the rest of the cheesecake filling ingredients.
Blend on high speed for a few minutes or until the mixture is completely smooth.
Take the base out of the freezer and pour the cheesecake mixture on top.
Return to the freezer and leave it to chill for a few hours or until completely set.
Take your cheesecake out 20 minutes before you want to serve.
Decorate with melted chocolate, bananas, dried bananas, chopped nuts, or whatever else you fancy.
Enjoy!