Healthy Rhubarb Crumble Bars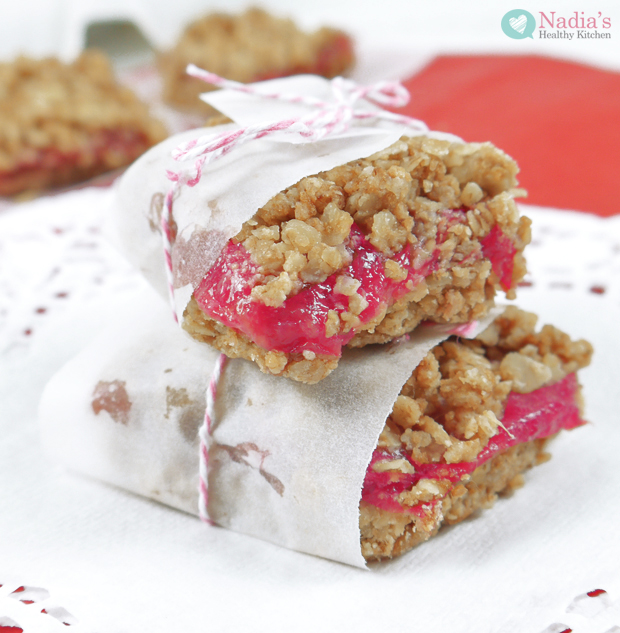 Whilst out food shopping a few weeks ago, I went to the frozen section to stack up on some frozen blueberries and noticed something new – frozen rhubarb! Instantly the image or rhubarb crumble appeared in my head and I decided there and then that I would make some soon. So I bought a pack, put in the freezer and fast-forward a few weeks and I had completely forgotten about it!
It's OK though, as the timing couldn't be better! I think some delicious tart healthy rhubarb crumble bars are an amazing treat leading up to Christmas and New Year's. They would also make a really nice food item to take with you when visiting friends and family 🙂
I must admit I'm not the biggest fan of fruit pies, or cooked fruit desserts. I prefer eating my fruit raw and cold; however, rhubarb is one of those fruit (a vegetable, actually!) that you can't eat any other way apart from cooked…so I thought why not give it a try. It's so deliciously tart and not too sweet. In fact, I only used 2 tbsp sweetener in the filling and it was just right! Traditional recipes use anywhere between ½ and 1 cup of sugar for the filling alone!
The recipe for the crumble is pretty basic. All you need is spelt flour (which you can find in most supermarkets), oats, coconut oil, coconut sugar, baking soda and salt.
These healthy rhubarb crumble bars are dairy-free and vegan.
Check out these other holiday treats: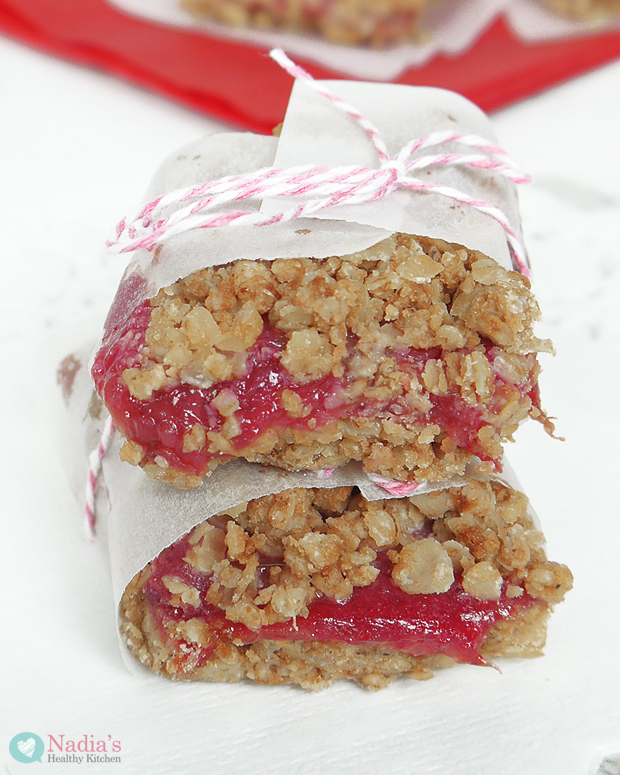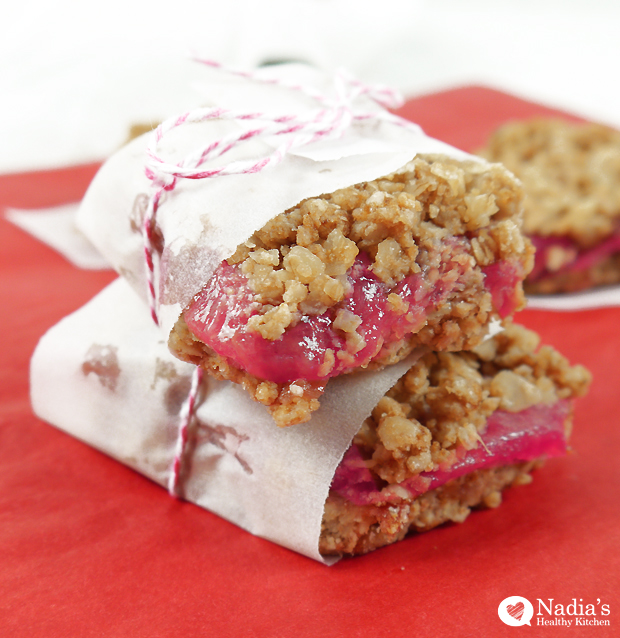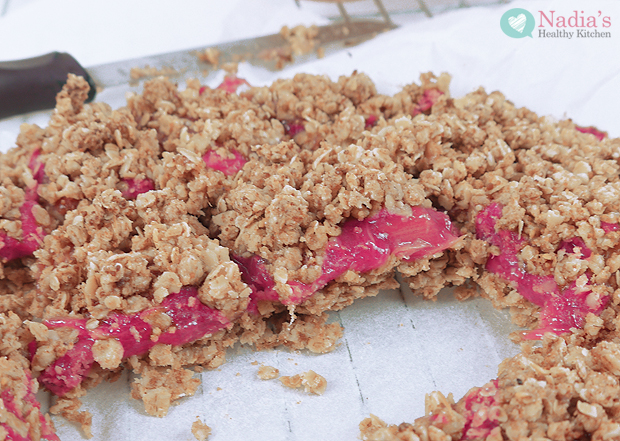 [recipe_box]
Healthy Rhubarb Crumble Bars
Serves: 16 small bars
Ingredients:
For the filling:
1 ½ cups rhubarb. I used frozen but you can also use fresh.
2 tbsp strawberry jam (I used St. Dalfour no added sugar spread)
¼ cup water
1 tbsp fresh lemon juice
1 ½ tbsp arrowroot
For the crumble:
Directions:
Preheat your oven to 180*C (160*C fan assisted)/ 350*F
Line an 8″ cake tin with parchment paper
Start off by preparing the filling. Add the rhubarb to a saucepan and pour over the water, lemon juice and sweetener of choice. Cook on a medium heat.
Bring to a boil then leave to simmer until the rhubarb is soft. Take off the heat and leave to cool for a few minutes then mix in the arrowroot powder.
Make the crumble by mixing the oats, flour, sugar, salt and baking soda in a bowl. Pour in the melted coconut oil. Use your hands to mix to ensure sure everything is combined evenly.
Press half the crumble mixture firmly into the bottom of the cake tin. Pour over the rhubarb mixture then sprinkle the remaining crumble mixture on top. Sprinkle a little extra coconut sugar on top.
Bake for 25-30 minutes.
IMPORTANT – leave to cool completely before slicing. For best results chill in the fridge overnight.
[/recipe_box]
 Nutritional information: (Estimated per bar out of 16)
Calories: 115 calories
Protein: 1.8g
Carbs: 15g
Fat: 5.9g
Fiber: 1.7g