Healthy Caramel Slices
Would you believe me if I told you you can make healthy caramel slices without having to use flour, sugar, oil or butter? Not only can it be done, but they will be out of this world delicious! You won't even be able to tell that they're healthy!
Now just because I use the word 'healthy' doesn't mean these healthy caramel slices are low in natural sugars, fats and calories. However; these sugars, fats and calories are good for you…every single mouth full! When I say they're not low in calories, they're also not exceedingly high either, with each slice containing around 200 calories instead of close to 400 if you were to eat the 'real' thing.
Every single ingredient used to make these healthy caramel slices is good for your mind and body. Not to mention your taste buds!
I used my Froothie Optimum 9400 powerful blender for the base and caramel layers, both of which took a couple of minutes of blending time. If you're using a less powerful food processor you may have to keep it going for longer, particularly the caramel layer. I made this recipe a few times with my Kenwood food processor and over all it took about 20 minutes as I had to keep pausing to scrap the caramel down the sides. I don't want to put you off but just wanted you to be aware that it may require a little patience depending on the food processor/blender you're using!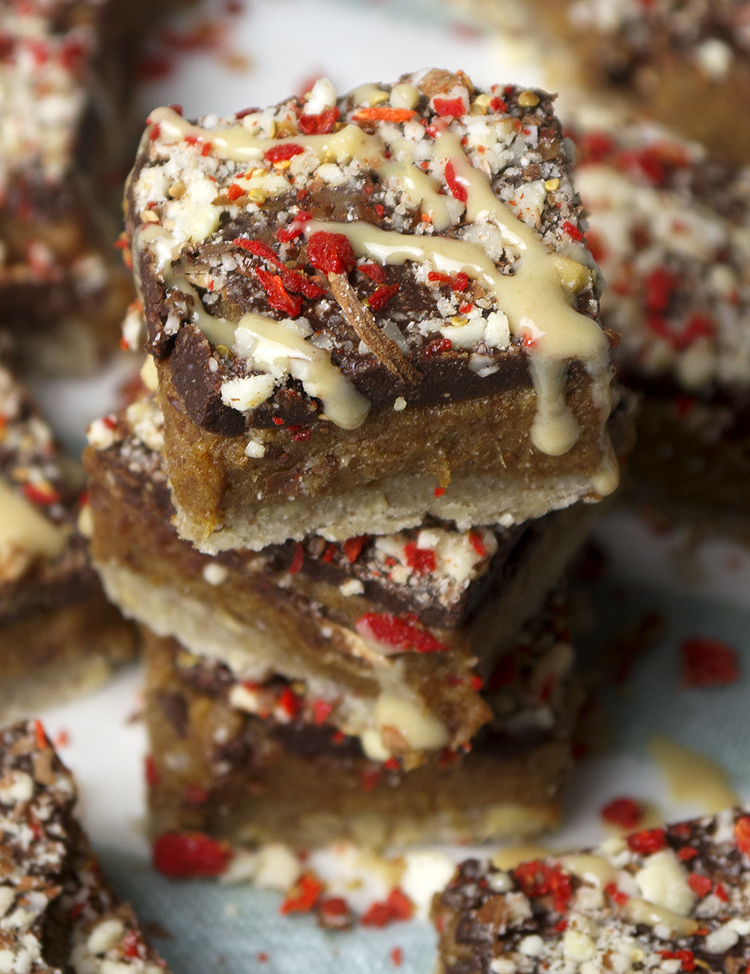 Instead of using flour for the base, I used a mixture of nuts and coconut flour to create a delicate, soft base that still holds together well.
For the caramel base, no sugar or condensed milk was needed, all the sweetness came from 1 humble fruit, dates, which already have their natural sugars and are high in fiber and vitamins. The use of coconut oil and cashew butter give them a velvety richness and of course add to the overall nutritional value of the slices. To decorate, I'm using some amazing activated nuts from Raw Ecstasy activating nuts makes them easier to digest and I think also adds something to their flavour.
To keep these healthy caramel slices vegan and dairy free, I made a chocolate layer using coconut oil, cocoa and rice syrup…it tastes so good!
These slices are also gluten-free and sugar-free.
Healthy Caramel Slices
2015-06-03 21:20:02
Serves 16
Caramel layer
2 cups soft dates
¼ tsp salt
2 tbsp coconut oil (Use odourless if you don't like the taste of coconut)
2 tbsp cashew butter (or you can use almond butter)
Chocolate layer
¼ cup coconut oil (Use odourless if you don't like the taste of coconut)
2 tbsp cocoa (or use cacao powder to make them fully raw)
1 tbsp cashew butter (or you can use almond butter)
1 tbsp maple syrup
To decorate I'm using some crushed activated almonds from Raw Ecstasy.
For the base
Add the pecans to your blender/food processor and plus for a few minutes.
Add the rest of the base ingredients and blend until everything is well combined.
line an 8"x8" cake tin with parchment paper, transfer the base mixture then press down using a fork (I found using my hands was easier)
Place in the freezer for about 30 minutes or until it hardens slightly
For the caramel layer
If the dates you're using are on the drier side, place them in a bowl then pour over hot water and leave them so soak for about 10 minutes to soften. Once soft, drain and give them a quick rinse under the tap.
Place the dates in your blender/food processor, blend for a few minutes then add the melted coconut oil.
Add the rest of the caramel ingredients and continue blending until you end up with a smooth paste. This may take a while depending on your food processor.
Take out the base from the freezer, spoon the caramel mixture on top and smooth using the back of a wet spoon.
Place back in the freezer for a few hours or overnight.
For the chocolate layer
Using a double boiler method, add all the ingredients to a glass bowl then place on top a small pan of boiling water. Lower the heat and mix continuously until everything is well combined and you have a smooth, lump free chocolate.
Pour over the caramel layer and leave to set.
Notes
Nutritional information: (estimated per serving)
Calories: 184 calories
Protein: 2.2g
Carbs: 21.9g
Fat: 11.4g
Fibre: 3g
UK Health Blog - Nadia's Healthy Kitchen https://nadiashealthykitchen.com/
Share This Post