Halva Overnight Oats
Halva is a delicious, dense Middle Eastern dessert made mainly of Tahini (sesame paste) and sugar, sometimes with the addition of pistachios. I vividly remember the taste and the flakey, crumbly texture of halva, but don't remember eating it that often. In fact, I don't think we would have had it at home so I must have eaten it at a relative's house but I honestly can't remember!
I have had it since moving to the UK, you can find tubs of halva in Asian/Indian shops. You can even find them now in health food shops like Holland & Barrett made of only 2 ingredients – tahini and honey!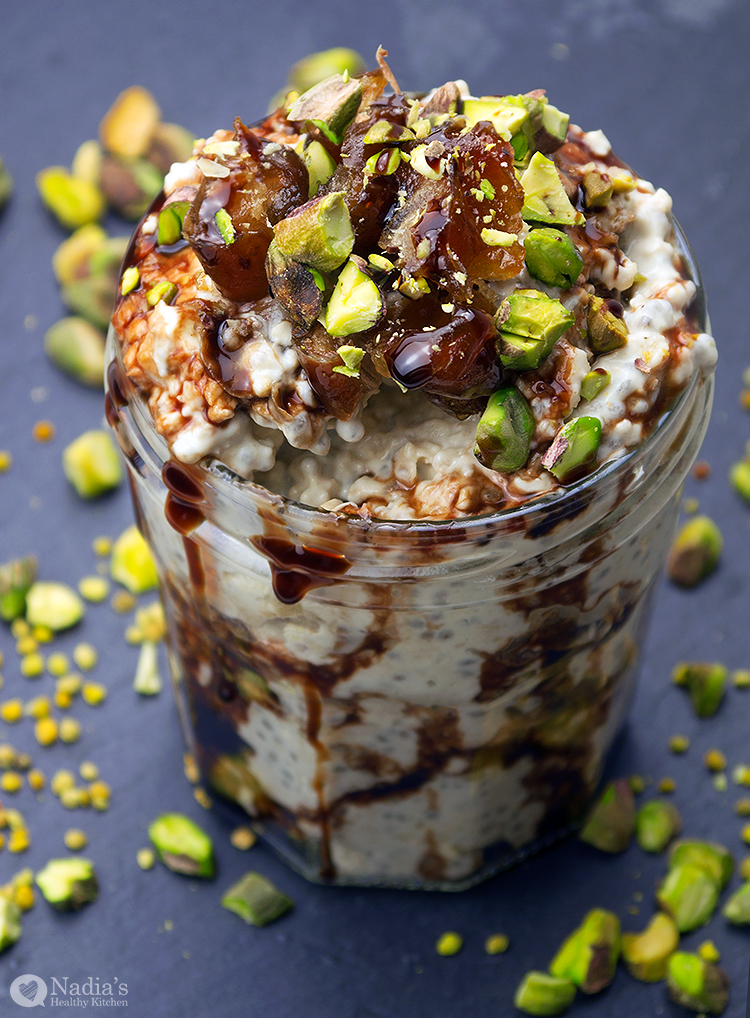 I'm a major tahini fan and love basically anything that has tahini – sweet or savoury! It's such a versatile ingredient with a wealth of nutritional benefits. One tablespoon contains 2.5g protein (including all the essential amino acids), a fair amount of some B vitamins as well as calcium, copper, iron, zinc, omega 3 & 6. So it's a great addition to anyone's diet, especially a vegan diet that may lack some of those key nutrients.
I usually add tahini to my porridge in the morning, and it really adds a 'halva' feel to it which I love. I thought I would take it to the next level and make halva overnight oats with the addition of date syrup and pistachios to make it more authentic.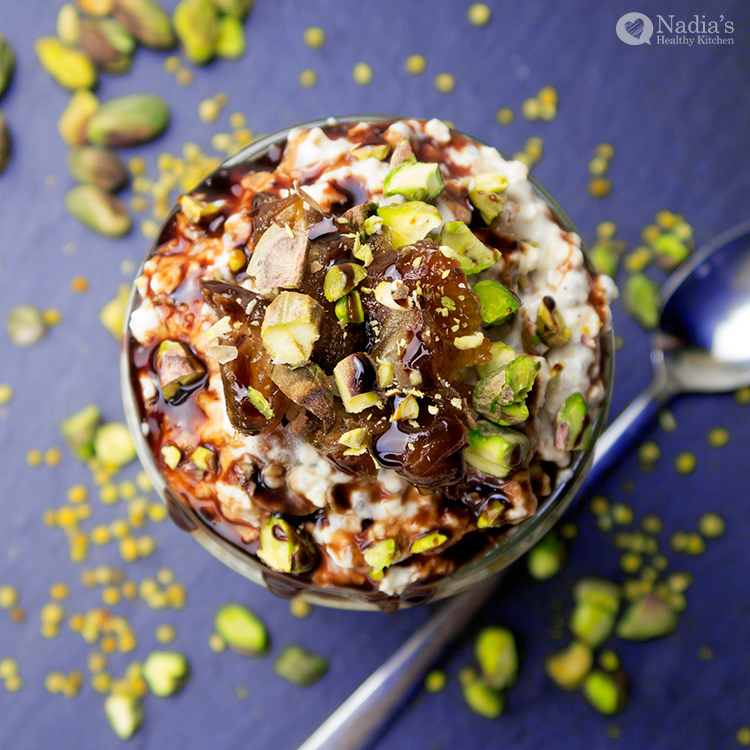 This recipe is great for people who struggle to find time for breakfast in the morning and just want to grab something quick on their way out of the door. Make this halva overnight oats the night before, store it in the fridge and have it ready for you to grab in the morning and enjoy on your way to your destination or even as a mid-morning snack.
It's gluten-free, dairy-free and vegan and tastes just like a dessert. There is absolutely no reason for you not to try it!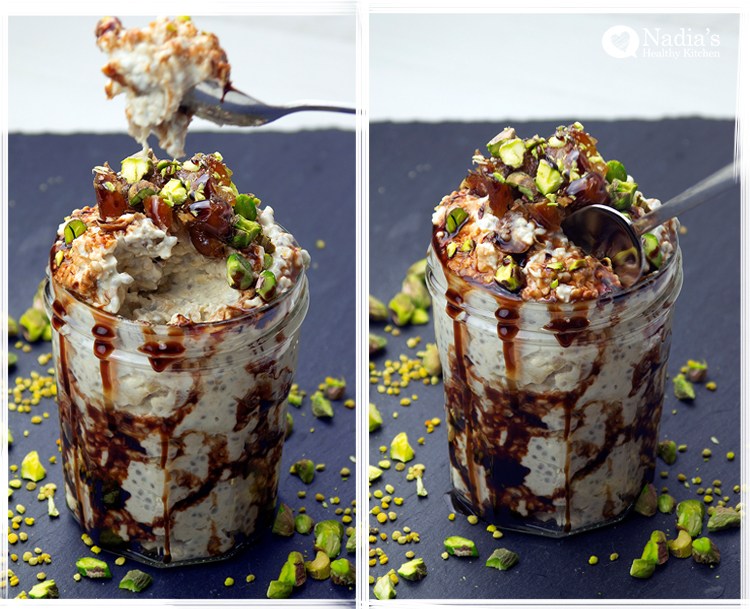 Halva Overnight Oats
2016-01-07 17:39:55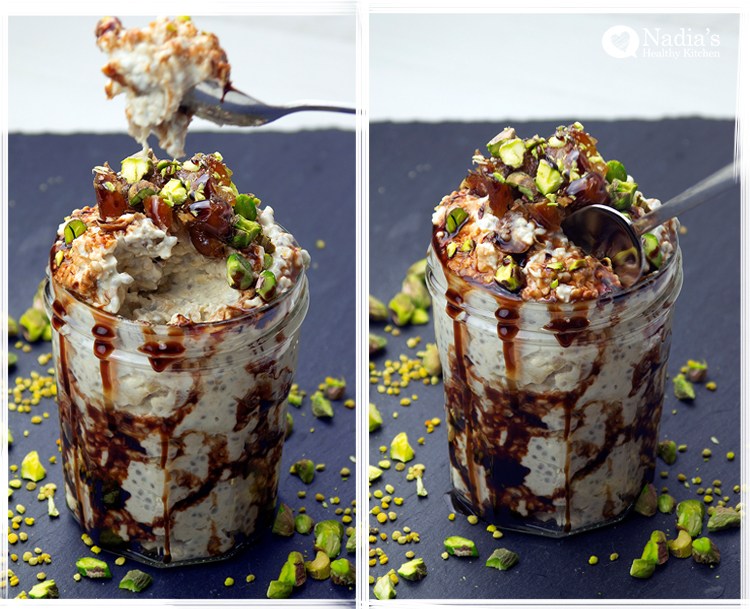 Serves 1
Ingredients
1/3 cup (35g) plain rolled oats
1/3 cup (5 tbsp) milk (I used unsweetened soy milk)
1/4 cup (4 tbsp) yogurt (I used unsweetened soy yogurt)
1 tbsp tahini
1 tsp chia seeds
3 dates, chopped
1 tsp sweetener of choice (I used date syrup)
Instructions
Mix all the ingredients together in a bowl, then transfer into a container or jar and leave to chill in the fridge overnight.
Wake up in the morning, open the fridge and find your breakfast waiting for you!
Enjoy!
Notes
Nutritional information (estimated per serving)
Calories: 368 calories
Protein: 11.2g
Carbs: 52.2g
Fat: 14.8g
Fibre: 8.6g
UK Health Blog - Nadia's Healthy Kitchen https://nadiashealthykitchen.com/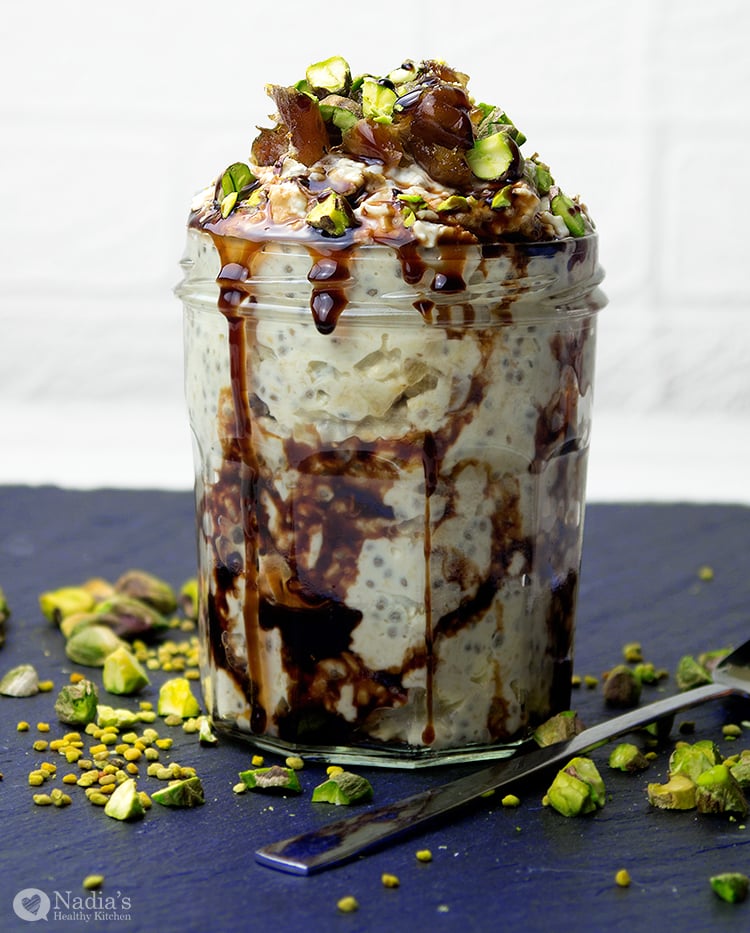 Want more Overnight Oats flavour combinations?
Share This Post