Cookie Dough Brownie Bars
A few years ago and before embarking on my health journey, I never thought healthier desserts existed. How can you have a dessert that's also somewhat good for you? It just couldn't be done, unless it was mainly fruit. Now I know the word 'health' and 'healthy' have different definitions to different people depending on their stand point. Just to give an example, I've come across people who don't even consider fruit healthy and avoid them at all cost because they're 'too high in sugar'. That notion still baffles me.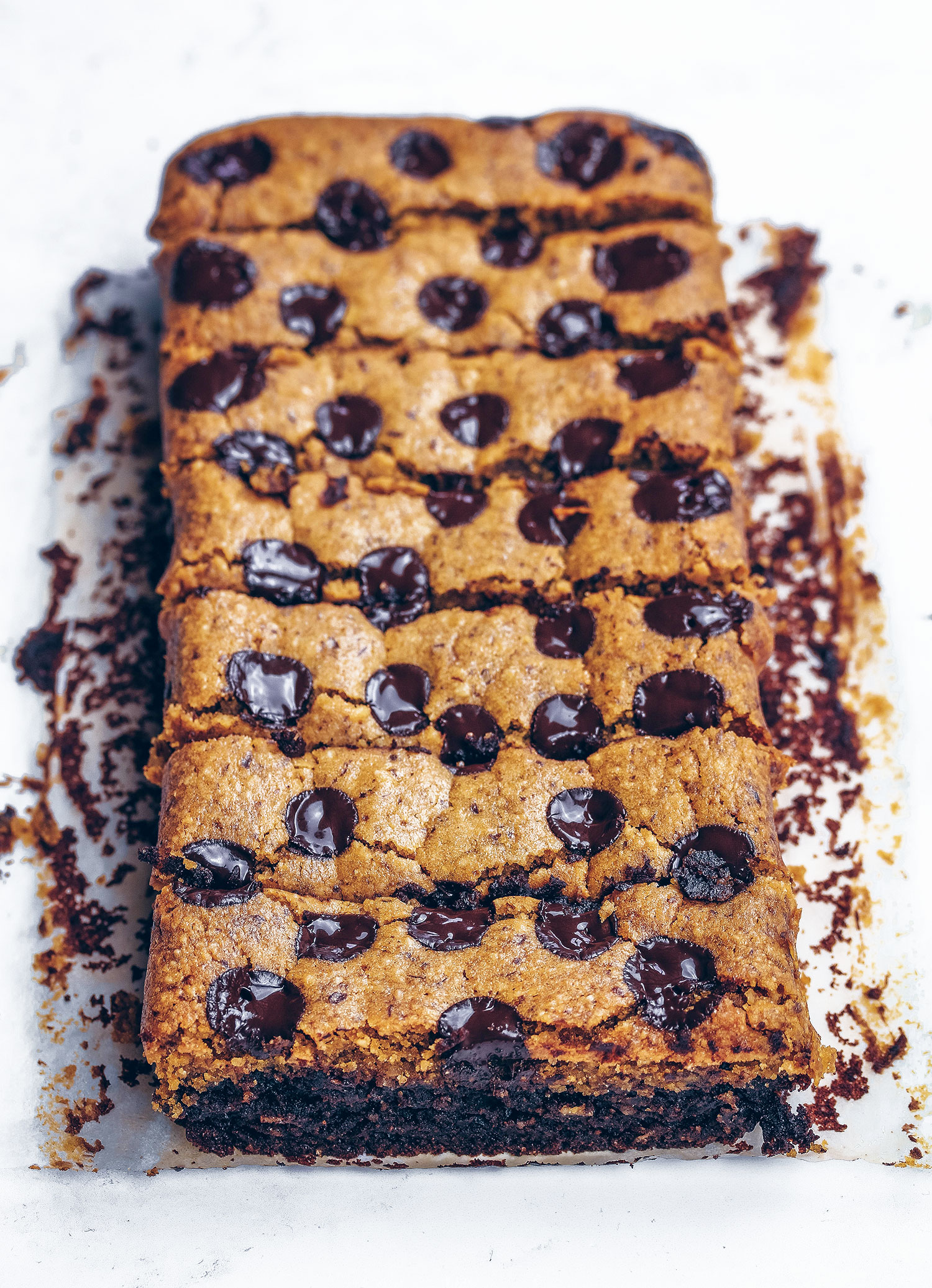 When I say 'healthier' treats I mean treats that are lower in sugar and saturated fat but at the same higher in things like fibre. Treats that contain more 'whole' ingredients like oats and ground almonds instead of refined white flour, or whole dates instead of white sugar. I understand that blending oats into a flour and whole dates into a paste is considered a 'process', but there is no denying that there is less processing taking place over all and the whole food still ends up in the final dish i.e nothing has been removed or added.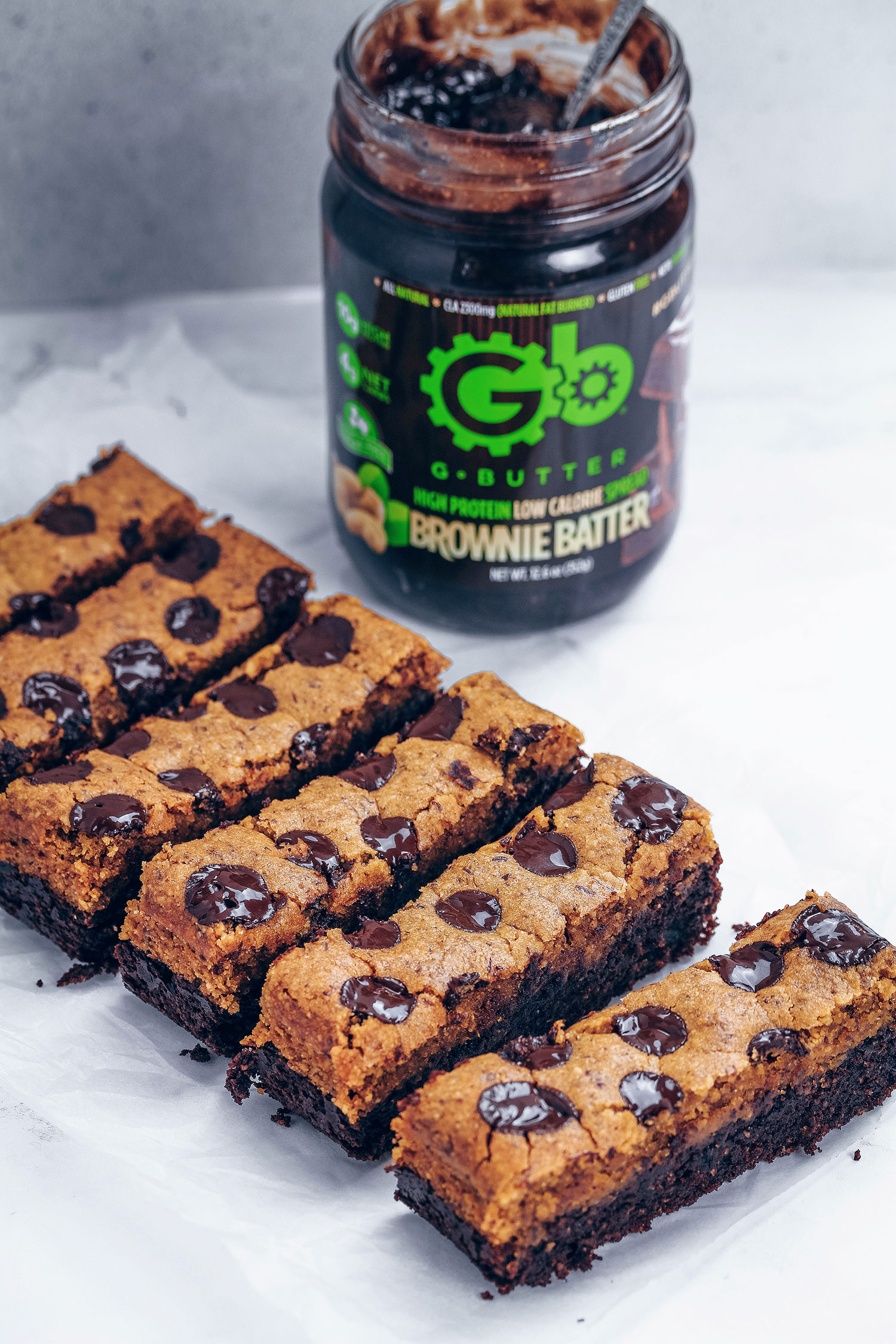 At the same time I understand that if you want to make a treat taste good, you will need to add a bit of sugar here and a bit of oil there depending on what you're making. I do honestly believe in moderation. I was so strict when I first started looking into improving my health and changing my diet. There were a lot of food I wouldn't eat and I was always so anxious around food. Now I've finally learned to enjoy both healthy food and the occasional treat. The main reason we eat is to nourish our body, but it's also important to enjoy it at the same time.
Bottom line is I NEED sweet treats. Yes, technically I could live without them, no question about that, but would I want to? No! Life would be so bring without having a treat or two every now and then. is I love my sweet treats. I grew up not having many treats, so when I moved to the UK all I wanted to do is eat cakes, biscuits and chocolate. So much so that I gained 10kg over the first 12 months living here. I really shocked my system and put it under a lot of pressure over a short period of time. I realised I had to find a way to enjoy food without harming my body.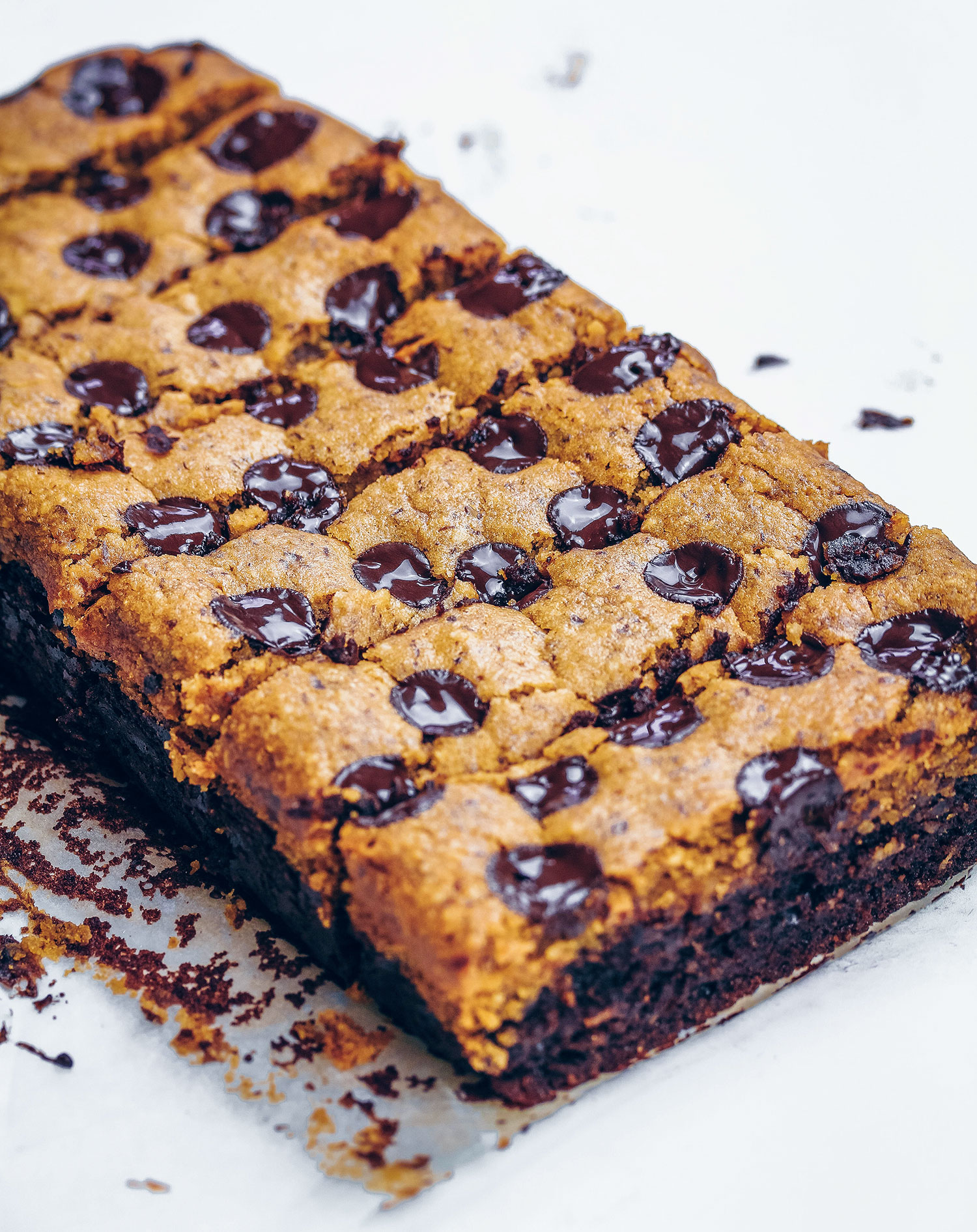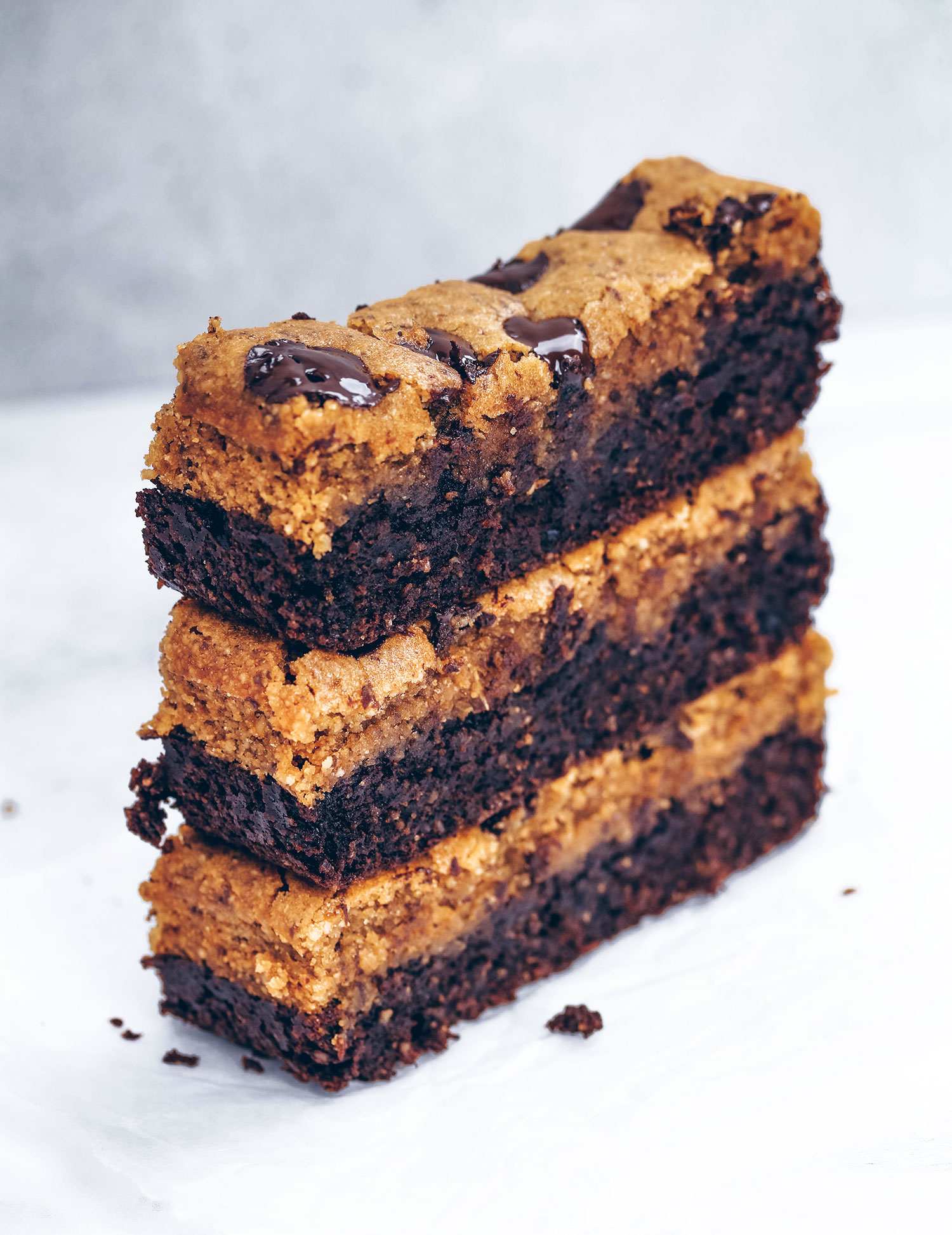 Now onto the recipe. Who would have thought healthy treats could taste so good! A brownie layer topped with a cookie dough layer and shaped into bars, because why not?
I recently discovered a new range of nut butters called G Butter that I'm now obsessed with. They make the most amazing high protein, low calorie spreads that come in the most mouth watering flavours. Flavours like birthday cake, sugar cookie, peanut butter cup, cookies&cream, and my favourite brownie batter. Saying that I was excited to try them would be an understatement.
Their butters are made with nuts, protein powder, sunflower oil and sweetened with stevia. They usually use whey protein isolate, but they're releasing a dairy-free/vegan range and they were kind enough to send me some of their pre-launch products for me to taste test, which was so sweet of them. And I have to say I was so impressed! Even the hubby loved them. I opened a jar as soon as I received the package and we were both sat in our kitchen with a spoon in hand digging into the jar. I have to admit we ate half a jar in one sitting. A jar that was meant for me to use to experiment with recipes. Oops. Sorry not sorry. It was just too good to stop eating!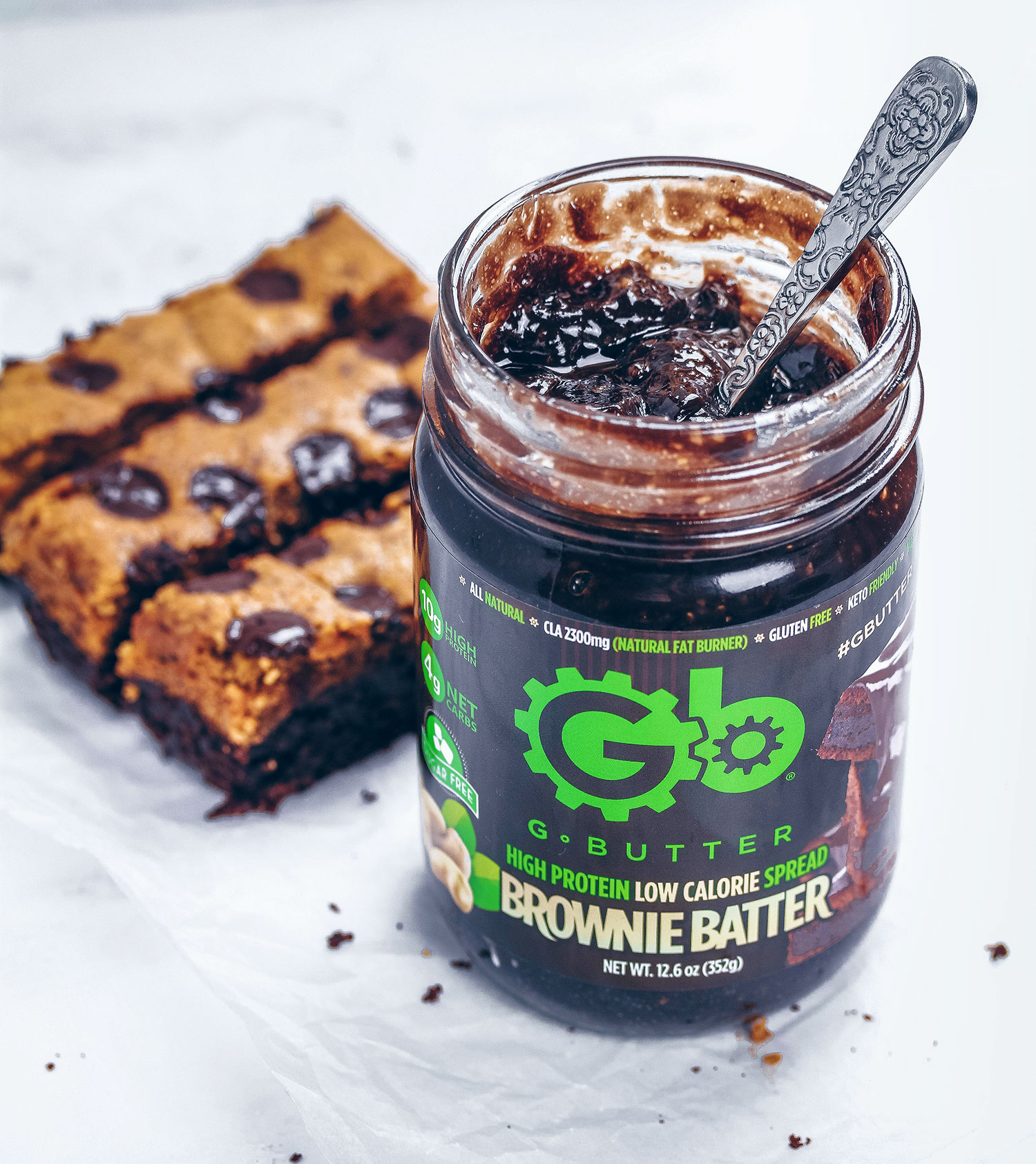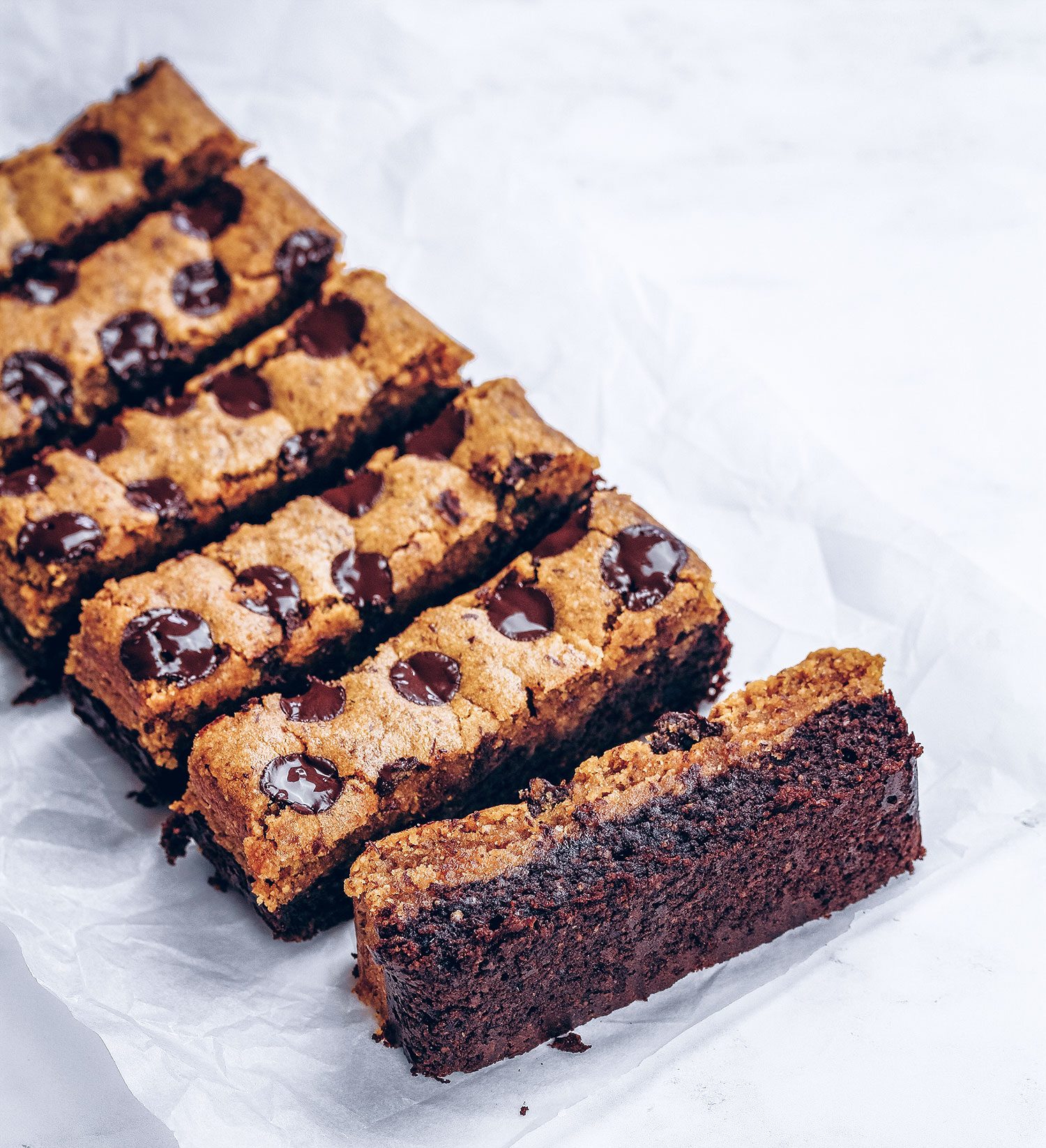 I love my nut butters and they feature quite heavily in my recipes, so I was so excited when the lovely people at G Butter contacted me asking to create some videos for them using their unique products. The first recipe was a no brainer, I had to make a brownie recipe! Not any old brownie though, no no no, a cookie dough brownie 😀
A brownie layer, topped with a cookie dough layer and sliced into bars, because why not? Everyone loves treats shaped like bars. I know I do.
If you love your nut butters as much as I do, I know you're LOVE these butters. They're so unique, delicious and so fun to use in desserts. I'm already excited to create my next recipe for them 😀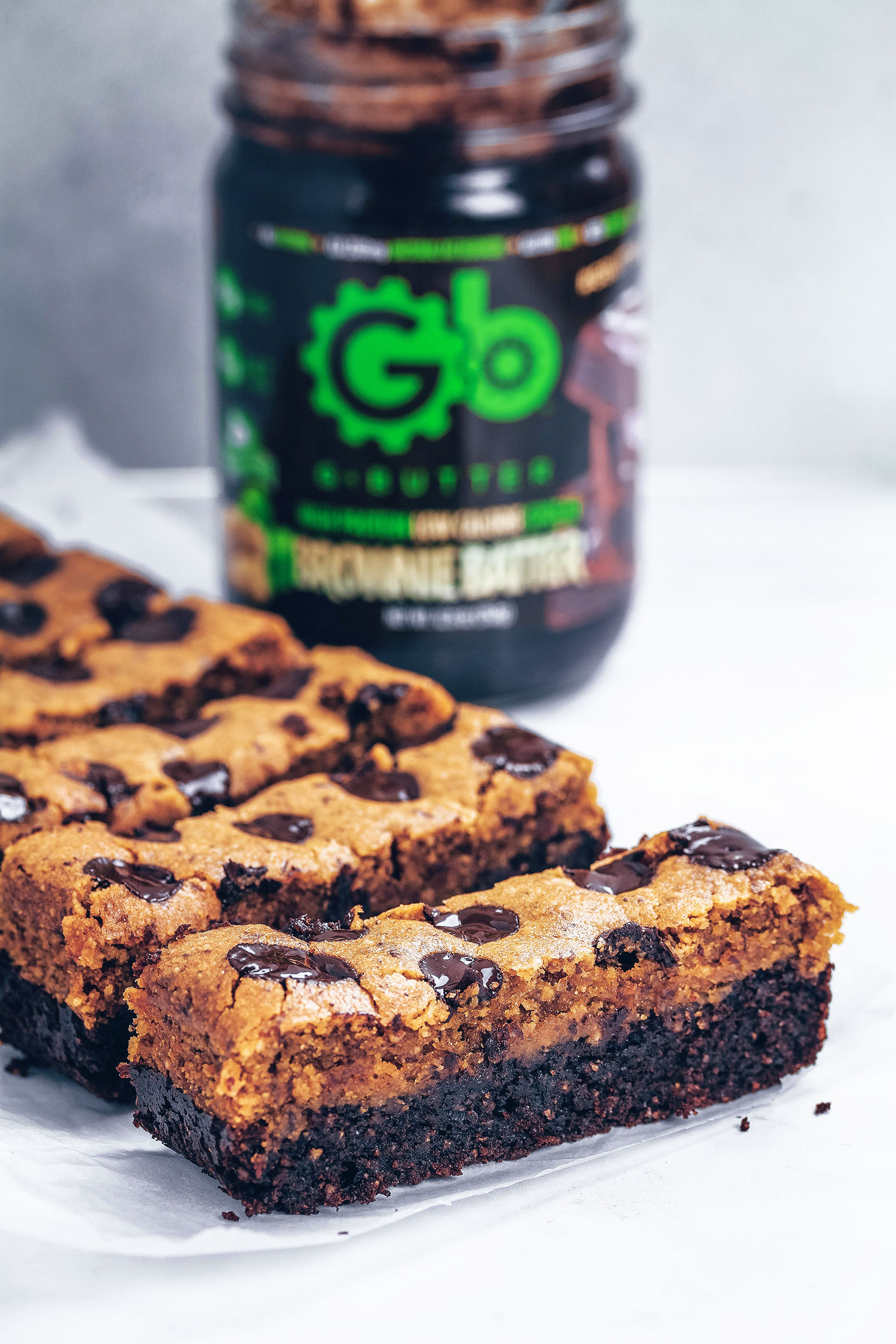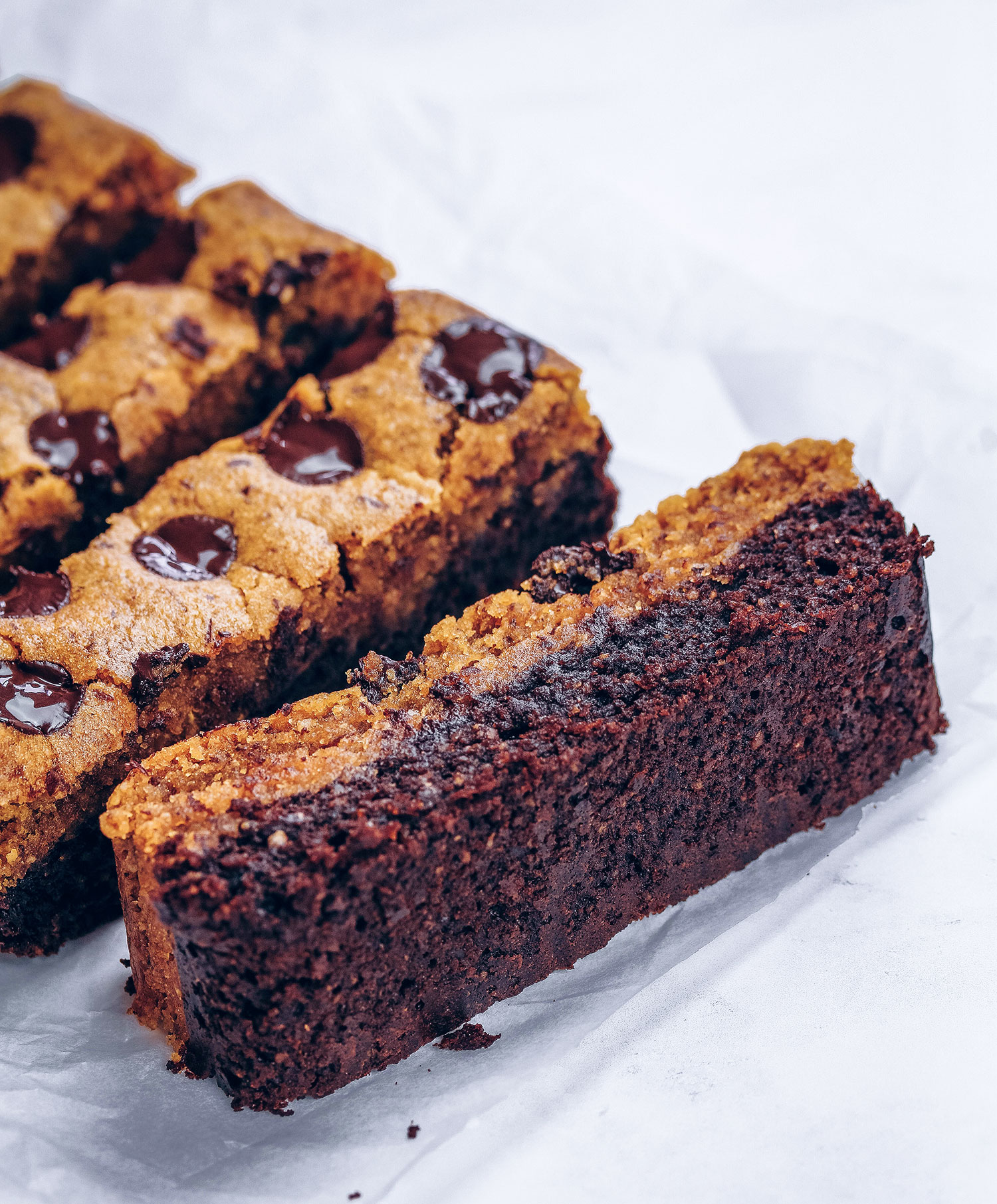 ---
Cookie Dough Brownie Bars
Makes – 8 bars
Brownie layer
1/4 cup ground almonds
1/4 cup oat flour – use gluten-free oats if allergic/intolerant
2 tbsp cocoa
1/4 tsp salt
1/4 tsp baking powder
1 flax egg – 1 tbsp milled flaxseed + 3 tbsp water
4 tbsp milk of choice
2 tbsp coconut sugar
1/3 cup G butter Brownie Batter or almond butter
Cookie dough layer
1/4 cup ground almonds
1/4 cup oat flour – use gluten-free oats if allergic/intolerant
1/4 tsp salt
1/4 tsp baking powder
2.5 tbsp oil
2.5 tbsp coconut sugar
2 tbsp milk of choice
1 flax egg – 1 tbsp milled flaxseed + 3 tbsp water
Method
WATCH VIDEO ABOVE
Preheat your oven to 180C/ 160C fan/ 350F
First prepare the flax eggs – add 1 tbsp milled flaxseed each into 2 small bowls, then add 3 tbsp water into each and leave for 15 minutes to set. You'll need 1 flax egg for the brownies layer and one for the cookie dough layer.
In a large bowl, mix together all the brownie layer ingredients, then transfer into a loaf tin lined with baking paper. I used a 22×12 cm loaf tin.
In another bowl, mix together all the cookie dough layer ingredients (apart from the chocolate chips). Pour this mixture on top of the brownie layer then top with the chocolate chips.
Bake for 25-30 minutes. Leave to cool completely before slicing into 8 slices.
Enjoy!
---
Thanks to G Butter for sponsoring this post. Commissioned posts is how I'm able to continue working on the blog and creating recipes and recipe videos for you. As always, all opinions are my own.