Coconut Edamame Noodle Soup (Vegan & Gluten-free)
A delicious, warming and comforting bowl of noodle soup packed with protein and vegetables.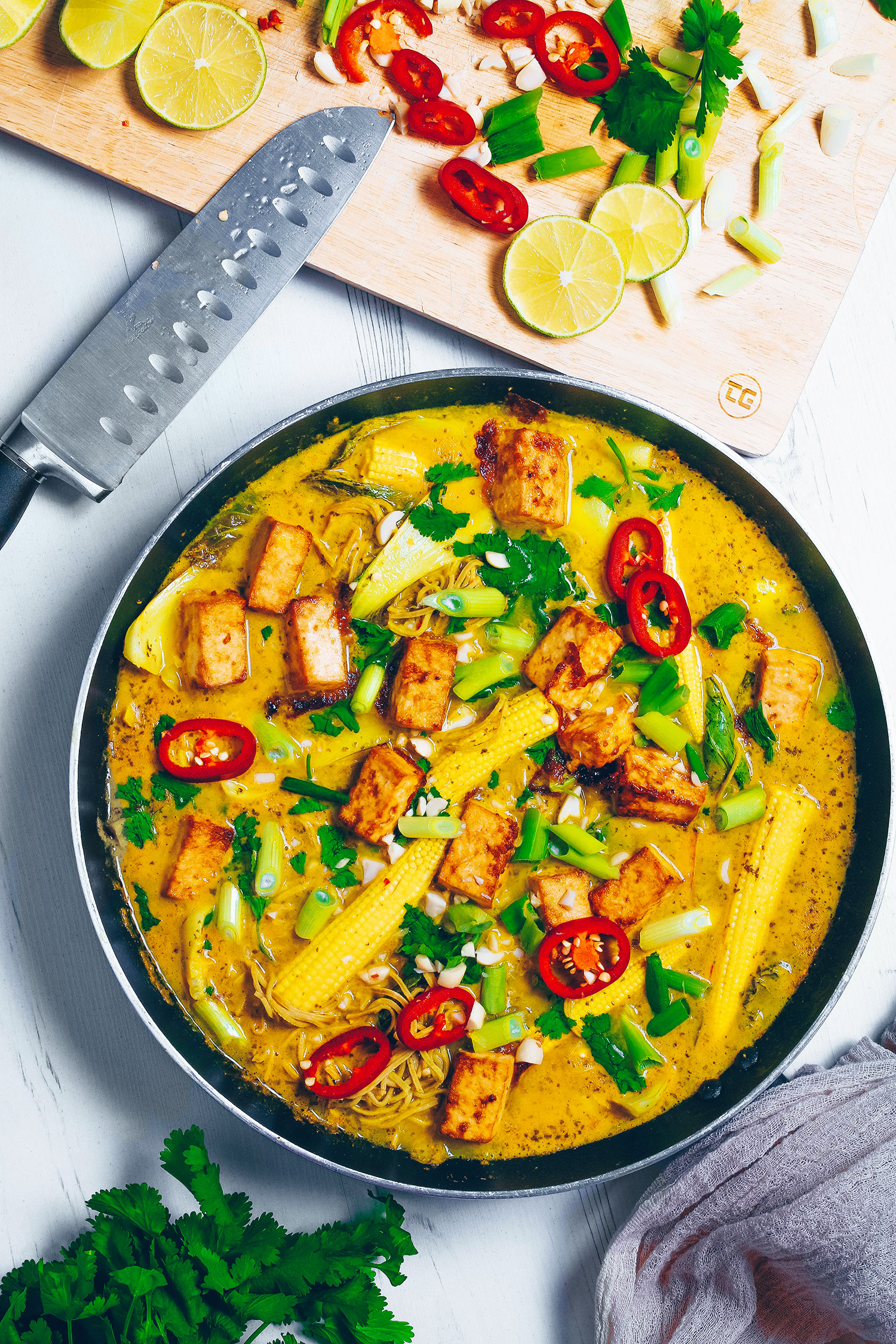 Whoever thought of adding noodles to soup is a genius! Two comforting meals merged together can only result in something even more amazing!
This Coconut Edamame Noodle Soup is all I've been craving the past couple of days. It really looked like spring was finally in the air and the cold days of winter were behind us, but it seems I spoke too soon! Yesterday and today have felt rather chilli and I have to admit I did resort to turning the heating back on, which I hoped I wouldn't have to do again until next winter. To make matters worse, the forecast is predicting snow (yes, snow…AGAIN!) over the weekend and below freezing temperatures in the evenings.
But it's ok. Another excuse to make more noodle soup! I can't think of a better way to warm myself up. It's like a big warm hug in a bowl to me 😀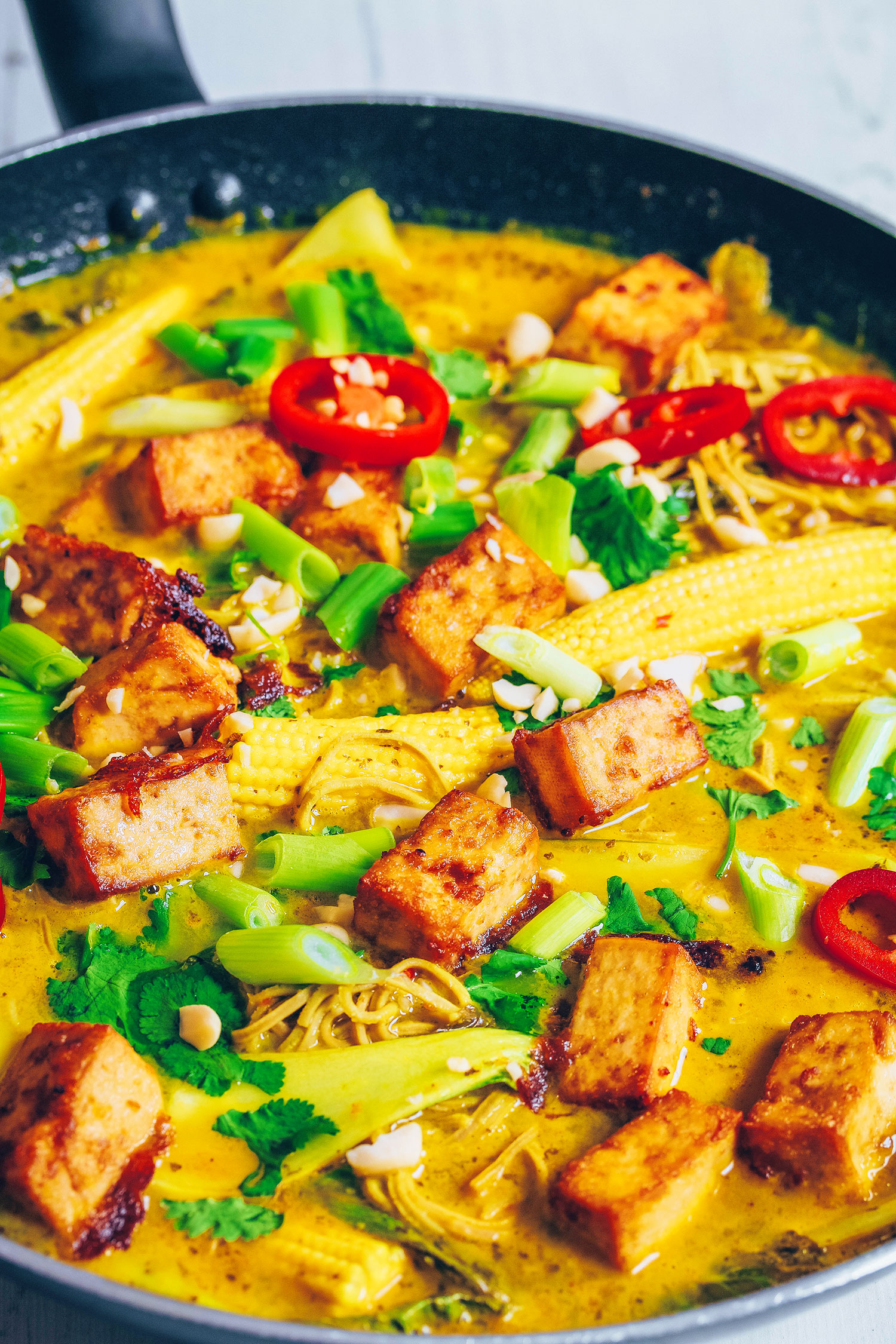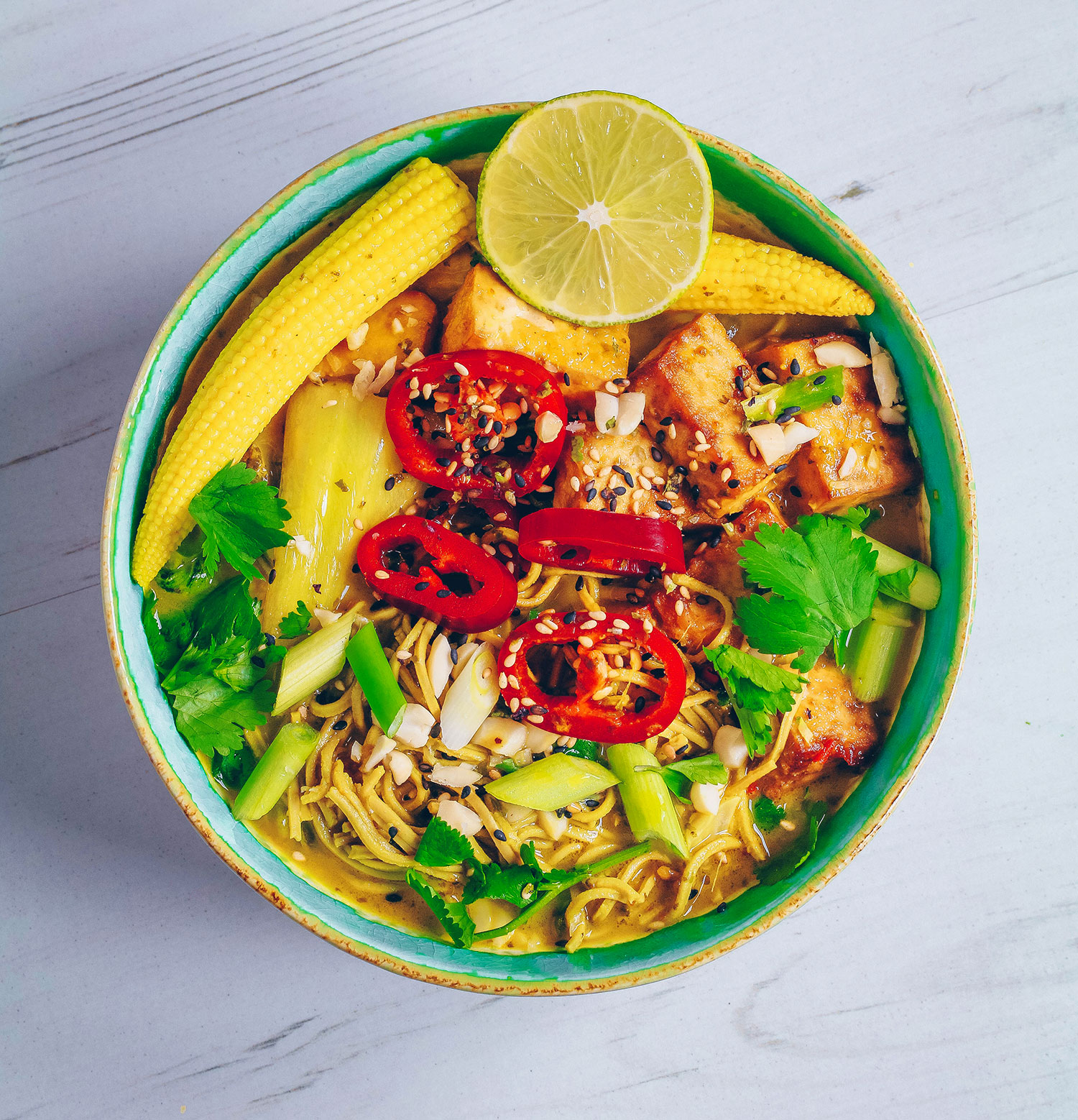 I used edamame noodles instead of standard noodles for this recipes a) to bump up the protein content and b) to make it gluten-free. This was my first time trying edamame noodles and I have to say I really like the texture. It's chewer and has more bite to it compared to regular noodles and just feels more filling without having to eat too much of it.
I also added in some baked tofu pieces because baked tofu is the best! A lot of people find tofu boring and to be honest, more often than not I haven't enjoyed tofu when eating out in a restaurant. The texture is always too soft and usually doesn't have much taste to it. The only way I cook tofu is by baking it. It makes it chewy and more meaty. I also always make sure I season it well because as well as eating healthy, I need to also enjoy my food. Because if you can't enjoy your food then what's the point of even living! Am I right?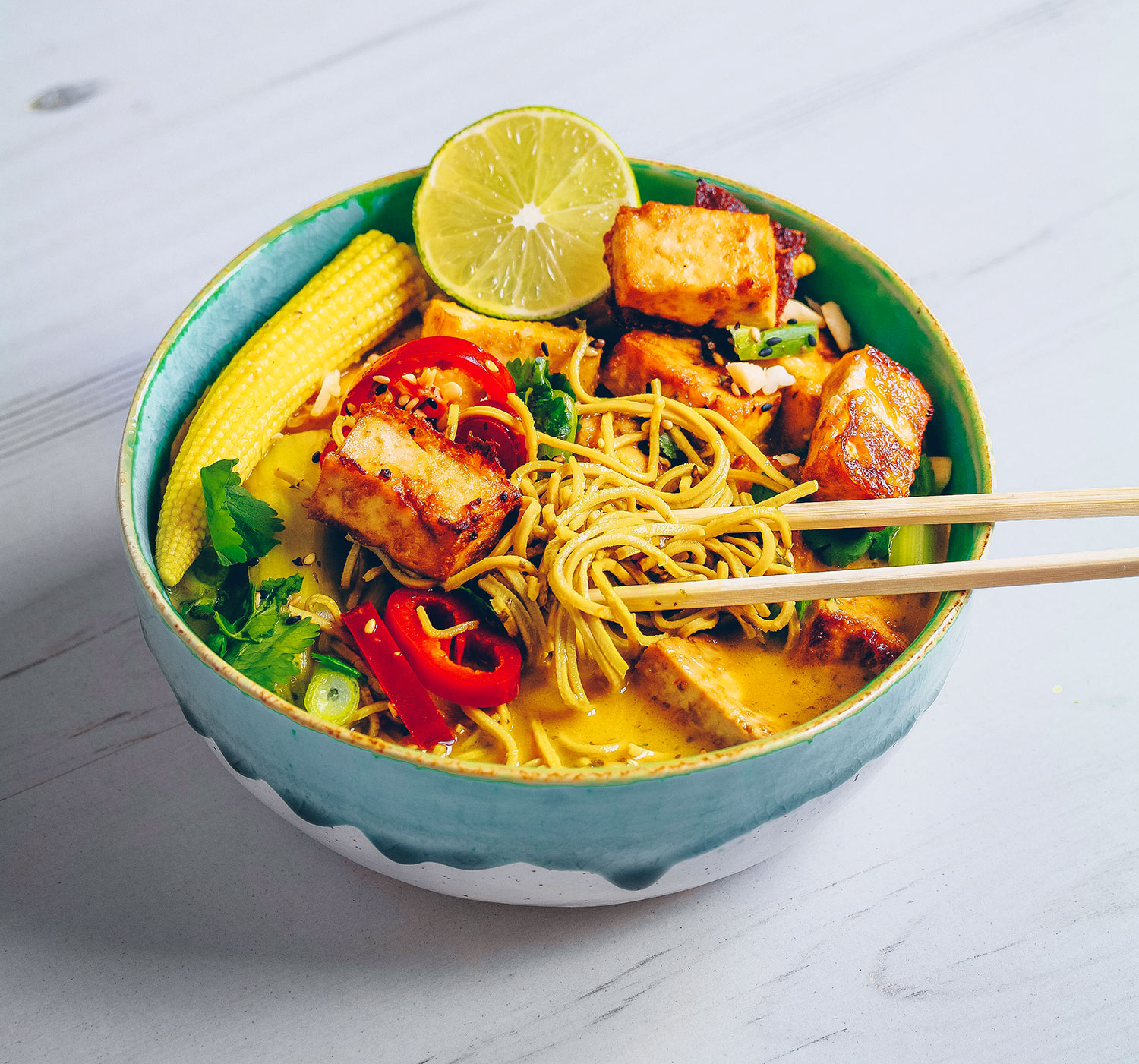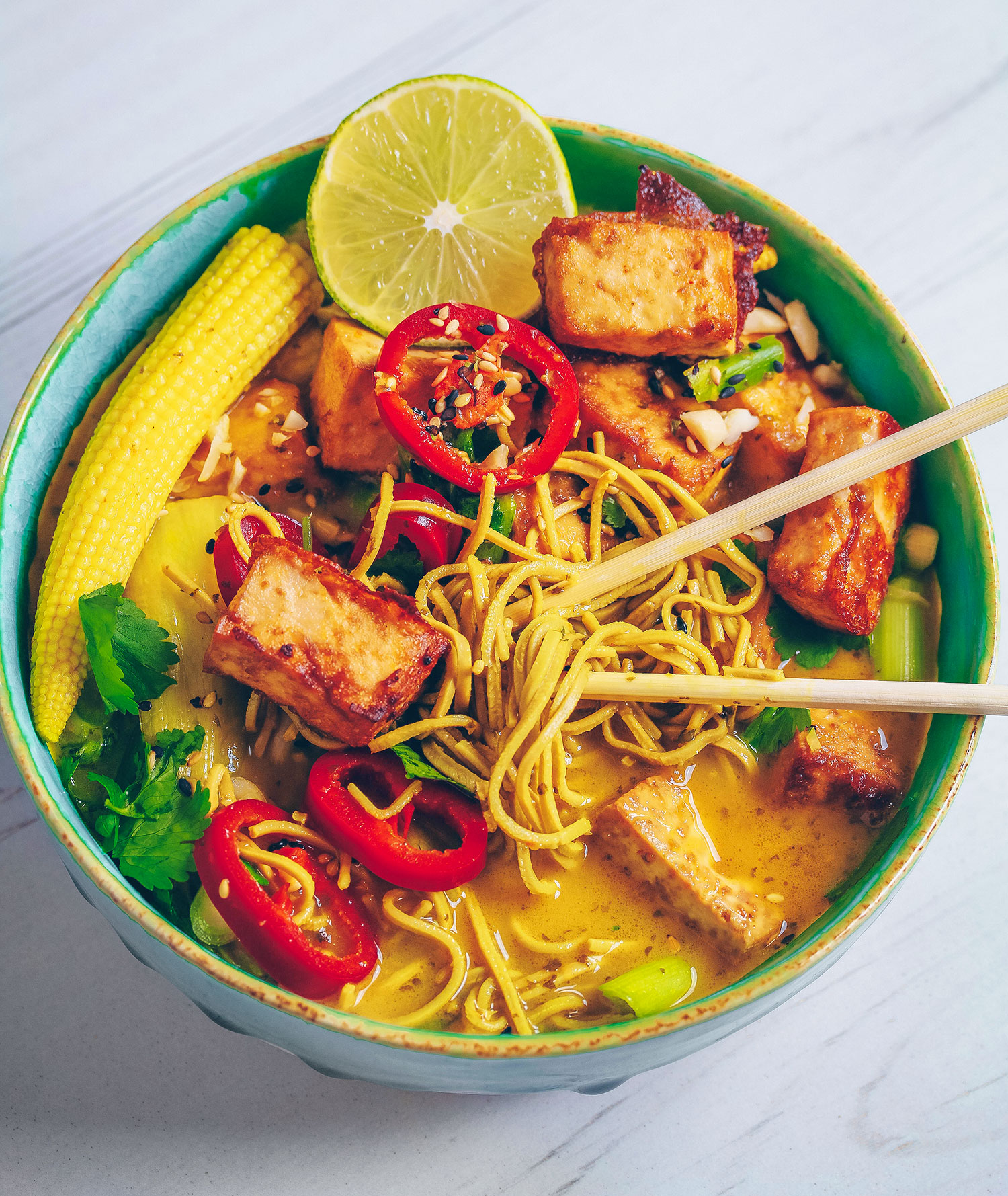 I used light coconut milk in the broth because high fat meals don't tend to sit well with me, but if you want a richer, creamer soup then by all means use full fat coconut milk. It does make a difference to the taste, but obviously it will bump up the calorie and fat content of the meal. It's really up to you, but both options work well.
I created a short video showing you just how easy this coconut noodle edamame soup is to make. Scroll down and watch (under the method heading).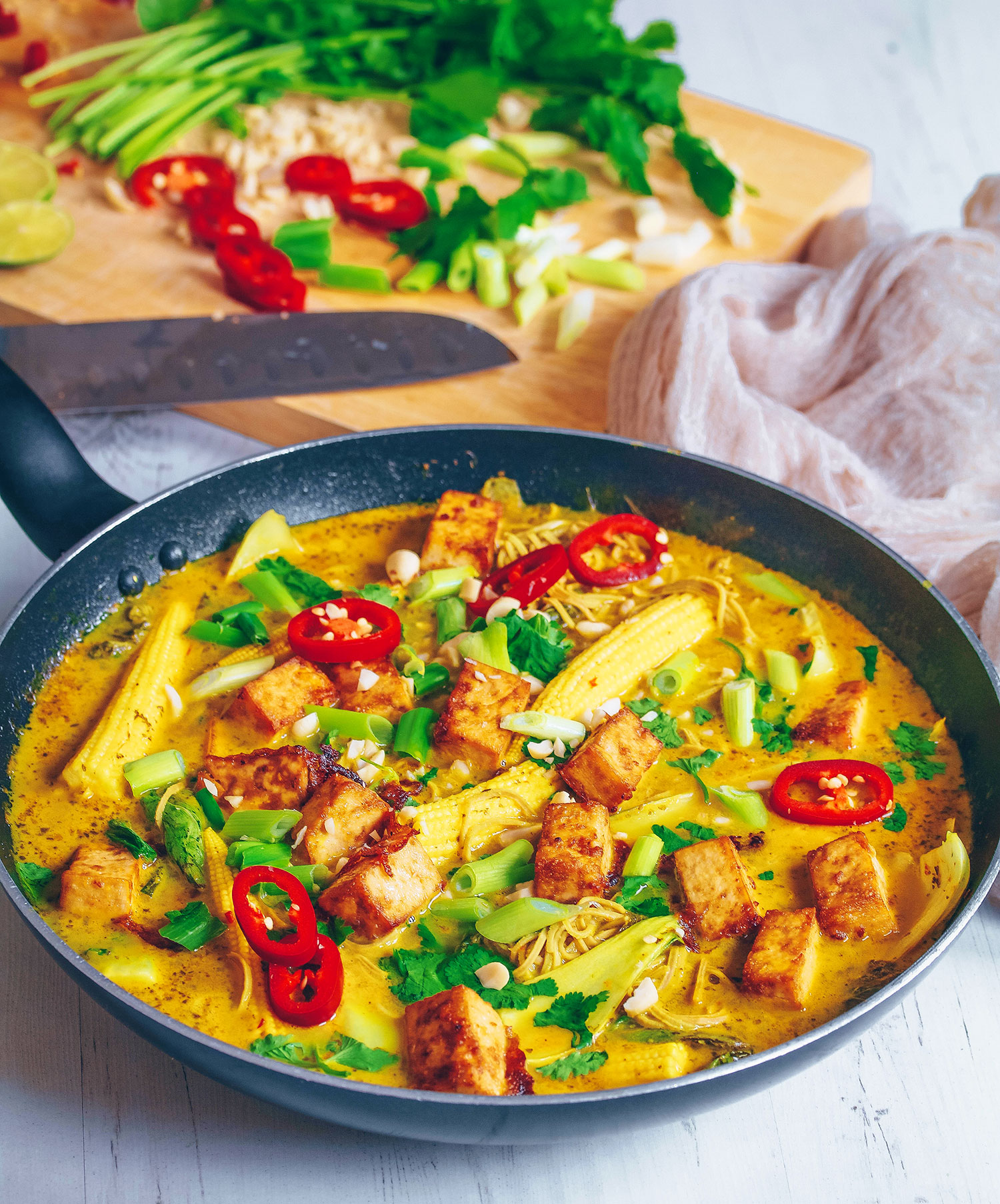 ---
Coconut Edamame Noodle Soup (Vegan & Gluten-free)
Serves – 4
Ingredients
For the baked tofu
400g block firm tofu, sliced into cubes
Juice of 1 lime
1 tbsp tamari
1 tbsp olive oil
1 tsp garlic powder
1/2 tsp chilli powder
1 tbsp arrowroot starch
For the noodle soup
Juice of 2 limes
1 red chilli, chopped
1 thumb-sized piece of ginger
2 garlic cloves
1 tbsp tamari
1/2 maple syrup
Big handful of fresh coriander
1 (400ml) can reduced fat coconut milk – or you can use full fat coconut milk
300 ml vegetable stock
1 tsp turmeric powder
235g pak choi
175g baby sweetcorn
260g edamame noodles – cooked according to pack instructions
To garnish – fresh coriander, fresh chillies, spring onions and peanuts
Method
Mix all the tofu ingredients in a large bowl ensuring all tofu pieces are evenly coated. Bake in a preheated oven at 220°C/200°C fan/428°F for 25-30 minutes.
Add the lime juice, chilli, ginger, garlic, tamari, maple and coriander into a blender and blend until you have a paste.
Heat 1 tbsp olive oil on a medium/high heat in a large pan, then add in the paste, coconut milk and turmeric. Stir to combine.
Now add in the pak choi and sweet corn and cook for 3-5 minutes.
Cook the edamame noodles according to pack instructions – I microwaved mine for a few minutes.
Stir in the heated edamame noodles into the soup and top with the baked tofu pieces.
Decorate with fresh coriander, chopped red chillies, chopped spring onions and peanuts.
Serve piping hot. Enjoy!
---

Share This Post