Chocolate Tahini Cookies
I'm absolutely obsessed with these cookies. I can honestly say these are the best healthy cookies I've ever made! They're so addictive! I've made these so many times over the last couple of years so I have no idea why it has taken me this long to share it!
These chocolate tahini cookies are so rich and indulgent but full of healthy ingredients that are GOOD FOR YOU!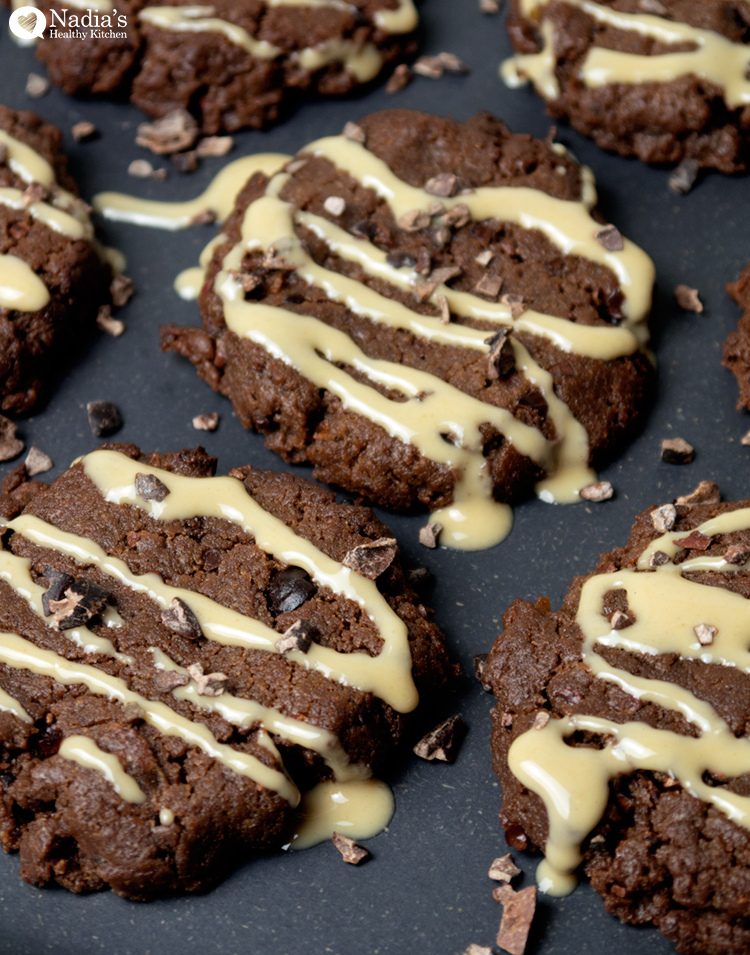 The main ingredient in this recipe is Tahini – you all know how much I LOVE my tahini 🙂 It's an excellent ingredient to add to vegetarian and vegan diets (or any diet, really). High in Calcium, Zinc, Vitamins B1, B2 and B3 as well as your 9 essential amino acids!
Now, just because they're healthy doesn't mean they have zero calories and you can eat as many as you want and lose weight! Tahini is high in fat, albeit the good kind of fat, but too much of a good thing can still be bad for you. Tahini is basically toasted sesame seeds blended into a butter – exactly the same concept as peanut butter, but better (in my opinion!).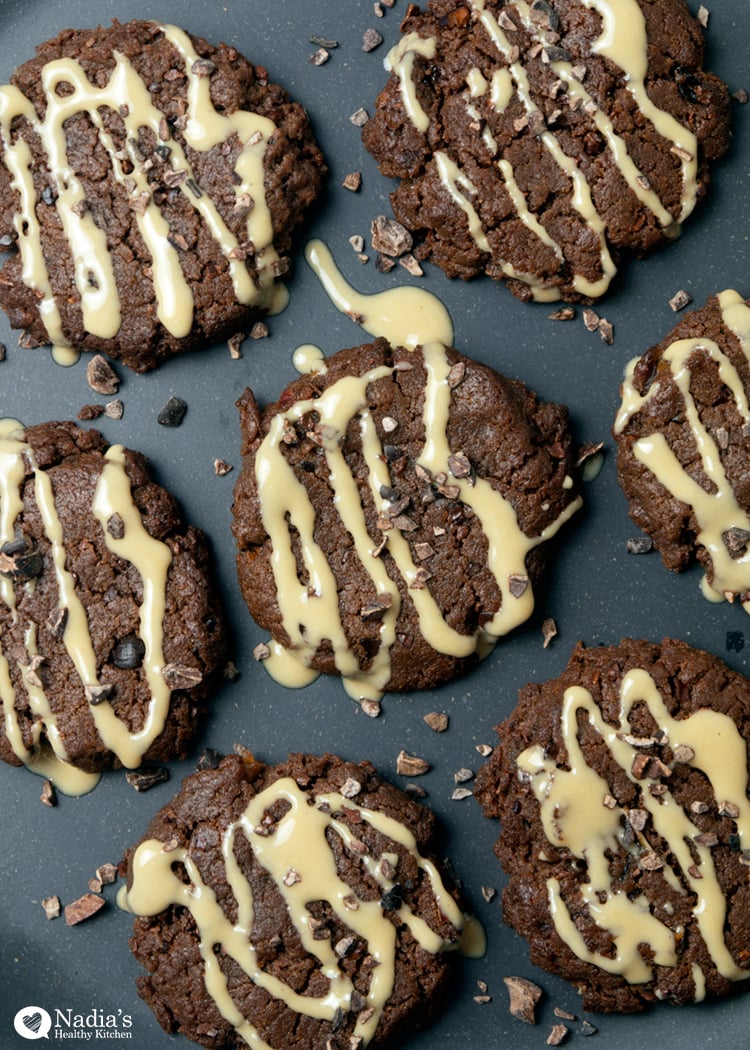 These chocolate tahini cookies are dairy free, grain free and gluten free. The recipe is actually based on the Tahini Brownies recipe that I posted a few weeks ago.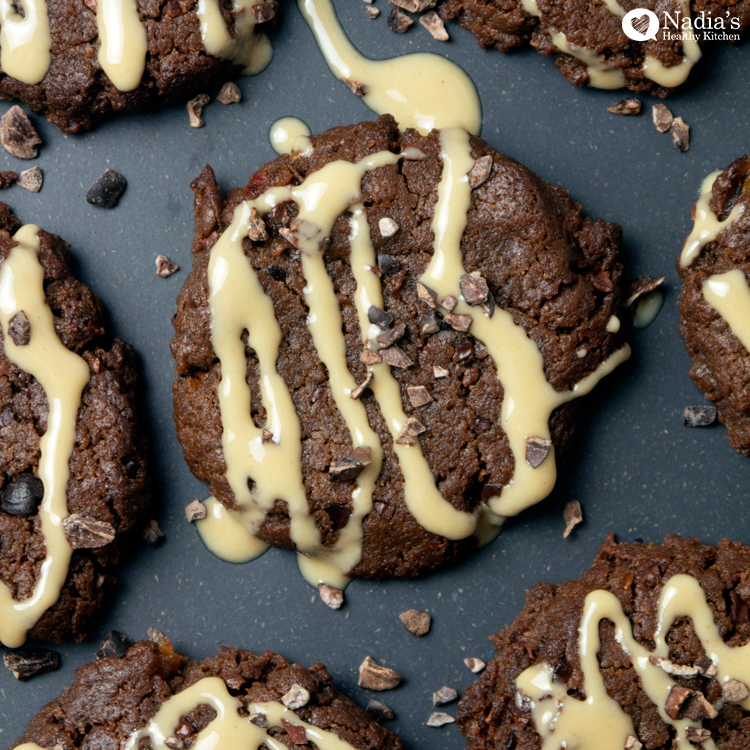 Chocolate Tahini Cookies
2015-10-16 11:51:00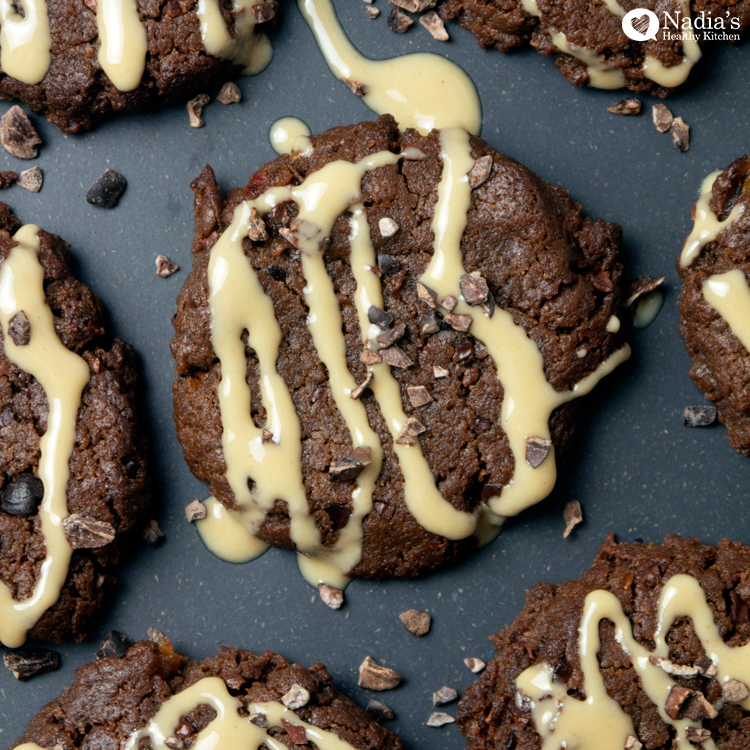 Serves 14
Ingredients
1 cup Tahini
2 tbsp cocoa/cacao powder
1/4 cup honey
1 tsp stevia
1/2 tsp vanilla paste or 1 tsp vanilla extract
1 egg
3 tbsp chopped dates
2 tbsp cacao nibs
Pinch of salt
Instructions
Preheat your oven to 180*C (160*C fan assisted)/ 350*F
In a large bowl, mix together the tahini, egg, honey, cocoa, stevia, vanilla and salt until well incorporated.
Fold in the chopped dates and cacao nibs.
Transfer scoops of the batter onto a lined baking sheet using an ice cream scoop or a spoon. Press down and shape into circles.
Bake for 10-12 minutes. They will look under baked when you take them out bur don't worry as they will firm up once cooled.
Nutritional Information
Calories: 141 calories
Protein: 3.7g
Carbs: 11.4g
Fat: 10g
Fibre: 2.3g
Nadia's Healthy Kitchen https://nadiashealthykitchen.com/

More Chocolate Cookies: