WATCH THE VIDEO (and make sure you subscribe to my YouTube channel for more easy & healthy recipe)
Fudgy Tahini Brownies
So these brownies were kind of an accident. Is it just me or are the best recipes usually the ones that don't go to plan, instead they result in something even better! I was trying to make egg free chocolate cookies, but they didn't turn out exactly the way I planned, so I decided to turn them into brownies instead…and here's the result!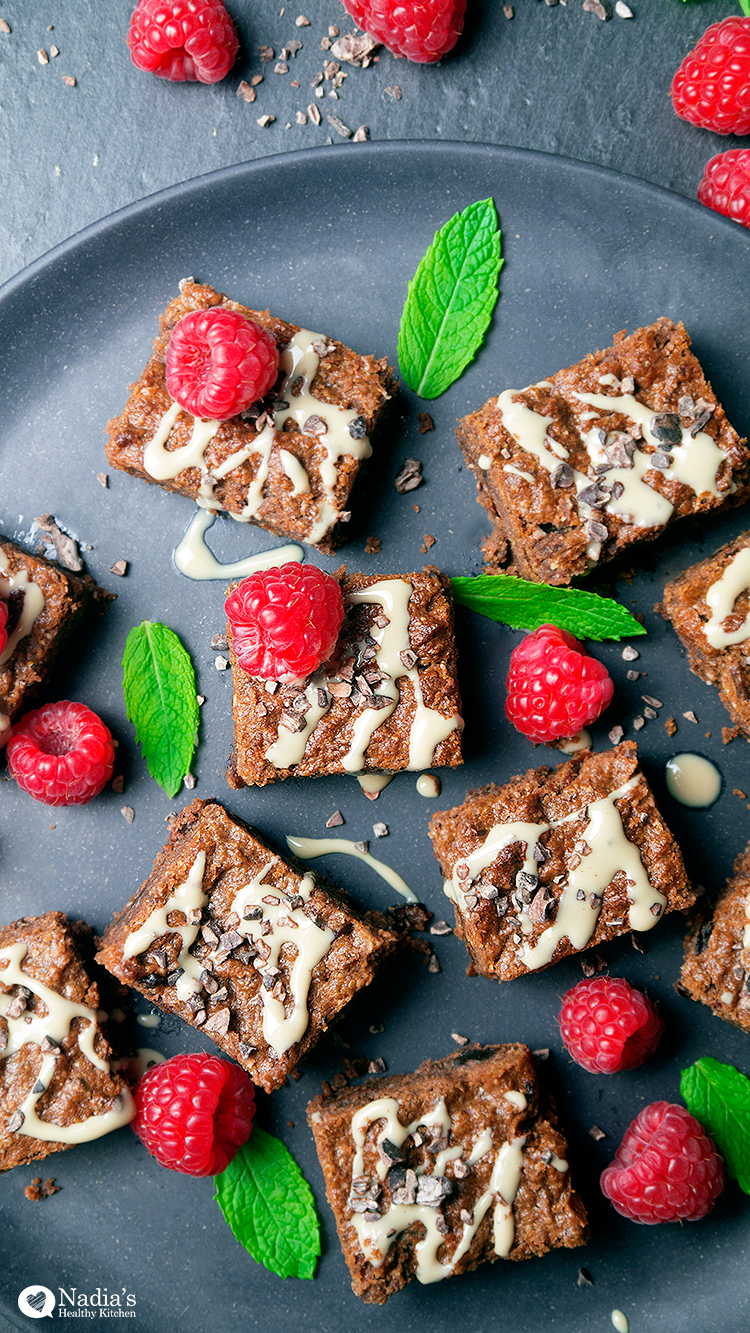 Tahini is my version of peanut butter. I would choose tahini over peanut butter any day! I eat it everyday, although most of the time it's in the form of hummus (I'm addicted to the stuff). Whenever I run out of hummus or i'm feeling too lazy to make some, I would simply drizzle tahini on my salads or veggies to add some creamy richness and flavour.
I love adding tahini to sweet and savoury recipes, and the great thing about it is that it's full of vitamins and minerals. It's one of the best plant-based sources of calcium (yes, you don't need dairy to get calcium!) and it's also a great source for magnesium, iron, vitamin E and vitamin B, making it a great addition to any vegetarian or vegan diet.
This recipe is vegan, gluten-free (make sure you use gluten-free oats), dairy-free and refined sugar-free.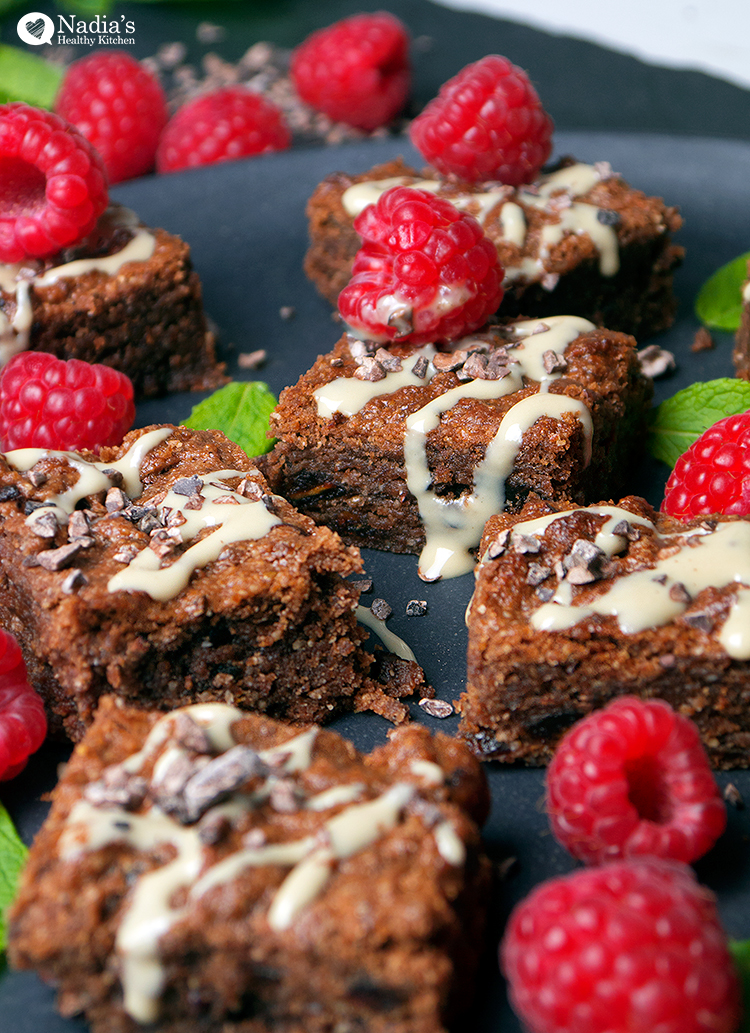 To sweeten these fudgy tahini brownies I'm using honey, but you can really use any liquid sweetener you prefer. I'm also adding in some chopped dates for a lovely caramely chew. For some crunch, I'm throwing in some cacao nibs, but chocolate chips would also work really well.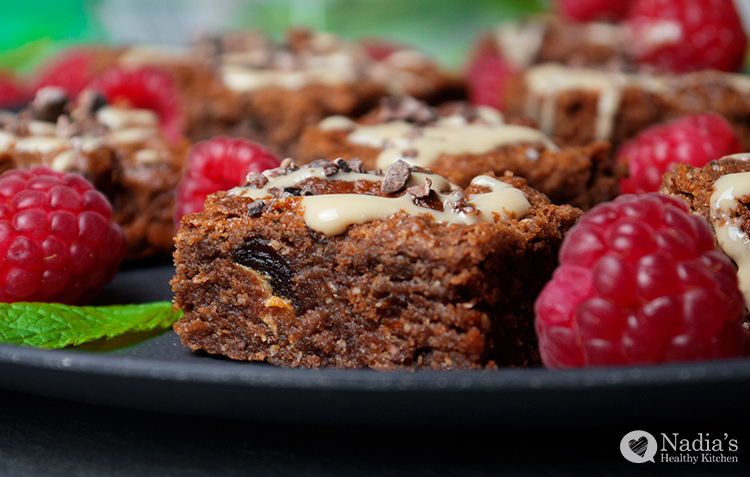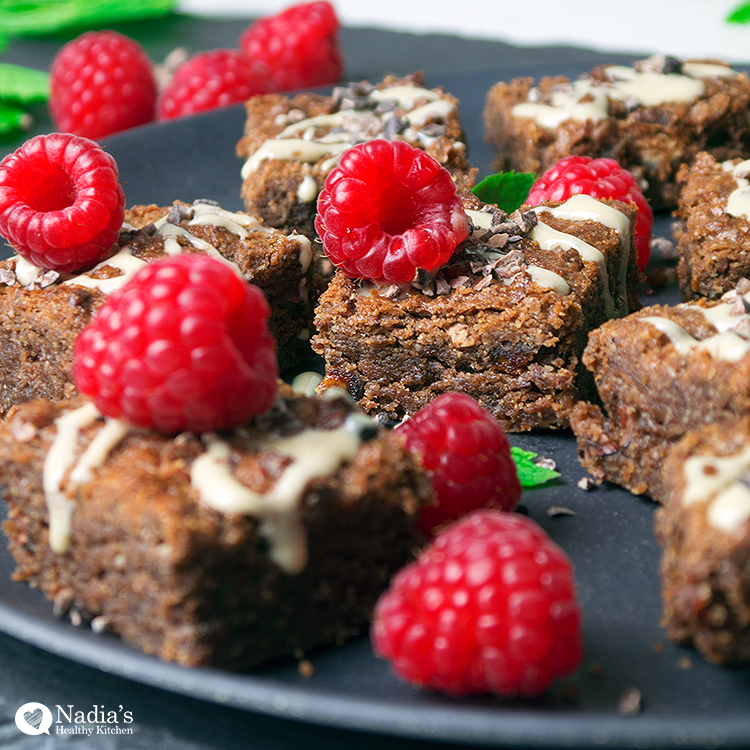 Fudgy Tahini Brownies
2015-08-30 12:55:45
Serves 16
Ingredients
1 cup (237g) tahini
1/3 cup (5 tbsp) honey (or other liquid sweetener)
1/2 cup (62g) oat flour (plain oats blended into a flour in a food processor/blender)
1 chia egg - 1 tbsp chia seeds mixed with 3 tbsp water
3 tbsp cocoa/cacao powder
3 tbsp chopped dates
2 tbsp cacao nibs (or chocolate chips)
1 tsp vanilla paste (or 2 tsp vanilla extract)
1/4 tsp salt
Instructions
Preheat your oven to 180*C/ 350*F
Prepare you chia egg - in a small bowl, mix together 1 tbsp chia seeds with 3 tbsp water. Leave to set for 10-15 minutes or until the seeds soak up all the water and turn into a gel like consistency.
In a bowl, add the tahini. To that, add the chia egg, honey, cocoa, oat flour and salt. Give everything a good mix.
Now fold in the chopped dates and cacao nibs (or chocolate chips).
Transfer the mixture into an 8" cake tin covered with parchment paper and spread out the mixture.
Bake for around 20 minutes.
Leave to cool completely before slicing
Notes
Nutritional information (estimated per slice)
Calories: 140 calories
Protein: 3.5g
Carbs: 13.5g
Fat: 9g
Fibre: 2.8g
UK Health Blog - Nadia's Healthy Kitchen https://nadiashealthykitchen.com/
If you liked these fudgy tahini brownies recipe you may also like…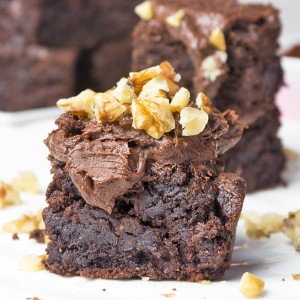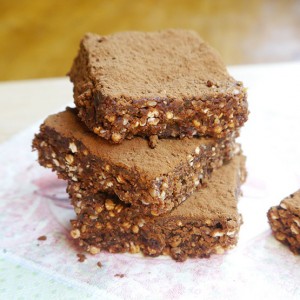 Here's a few more amazing Healthy Brownie Recipes
Share This Post