Chocolate Dipped Peanut Butter Cookies
You can probably tell I'm really into both cookies, or biscuits as we call them here in the UK, and chocolate!
It seems many of my recent recipes have either been cookies, or involve adding chocolate, but I'm pretty sure none of you mind because I know you all love both just as much as I do! 😀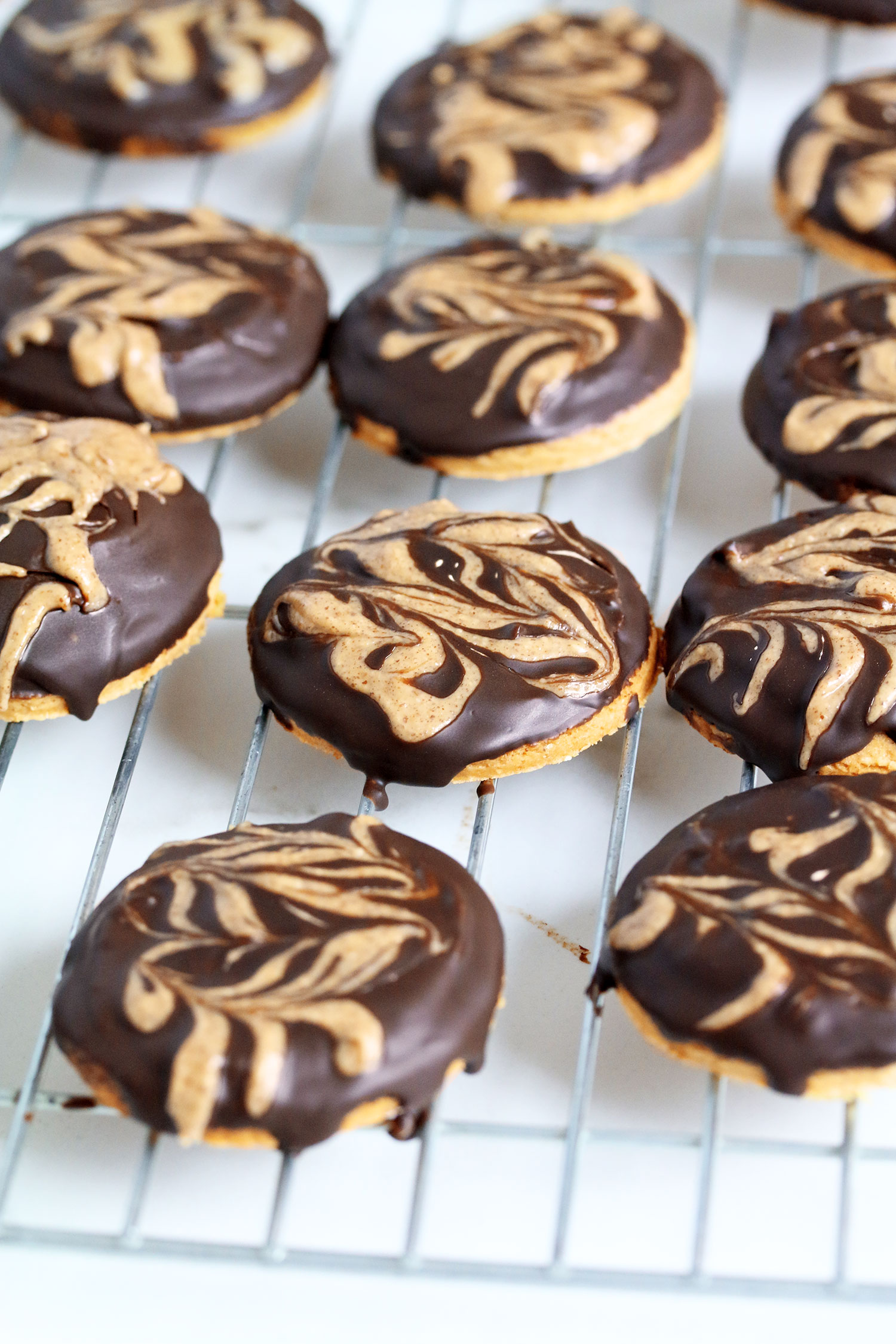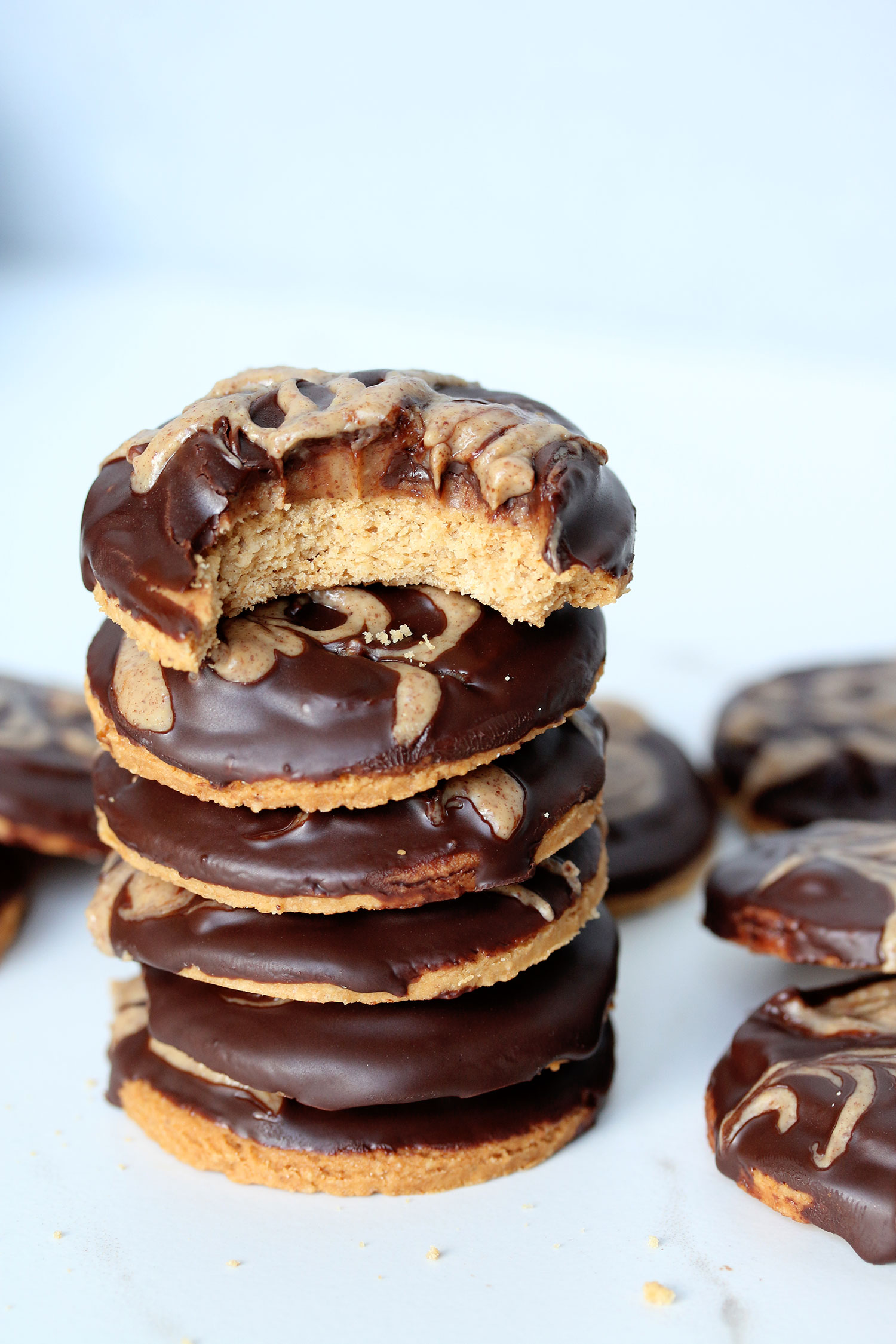 I've mentioned before how I prefer crunchy cookies over soft ones, so it's no surprise that I made yet another crunchy cookie recipe. This time topped with a layer of sweetened peanut butter and dipped in chocolate.
I keep meaning to make more colourful, summary recipes, but since the weather up here in Manchester has been quite dreary, rainy and miserable recently, I still find myself leaning towards comfort foods. Foods like chocolate and cookies, which aren't exactly the most colourful foods, but they're just what I need right now.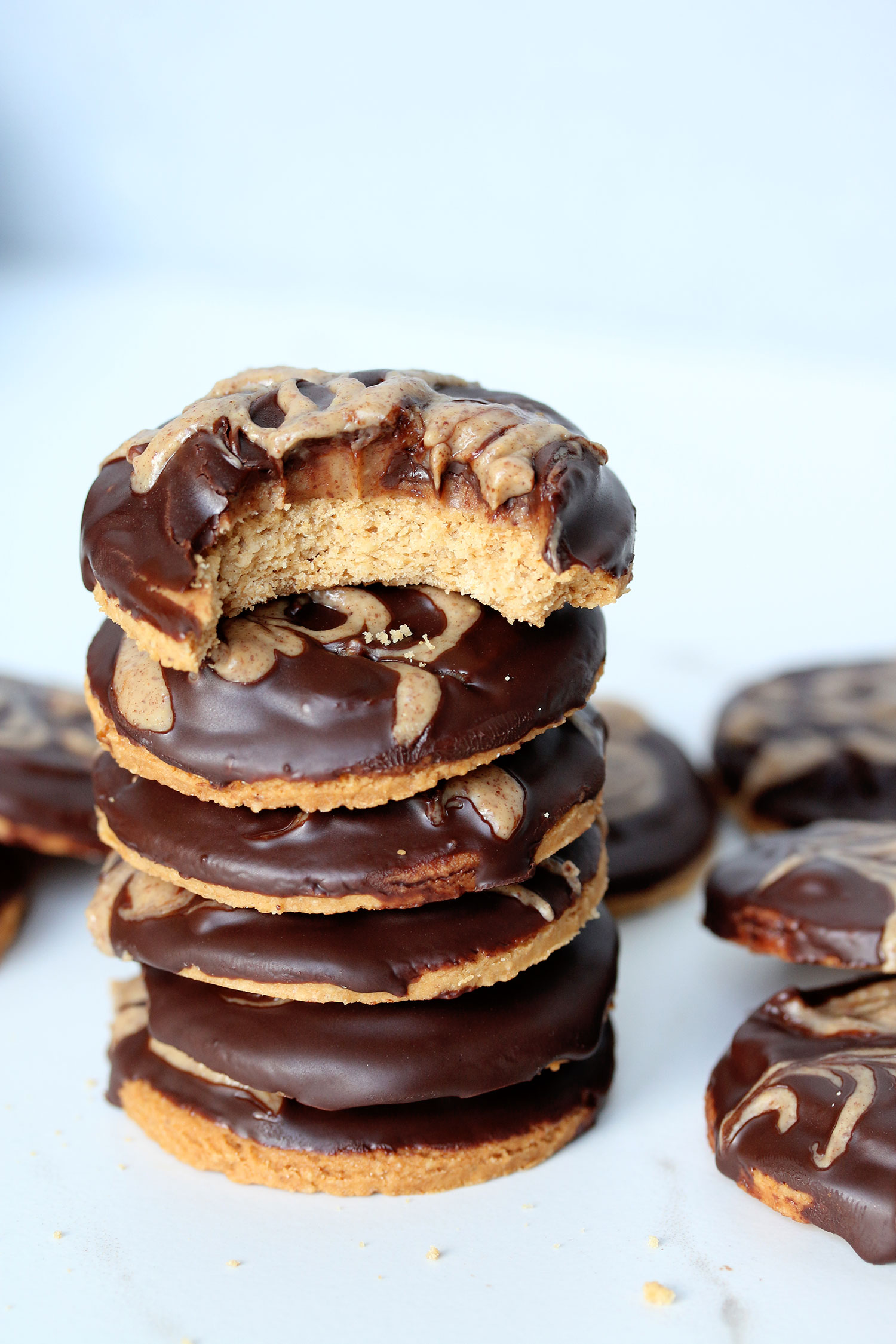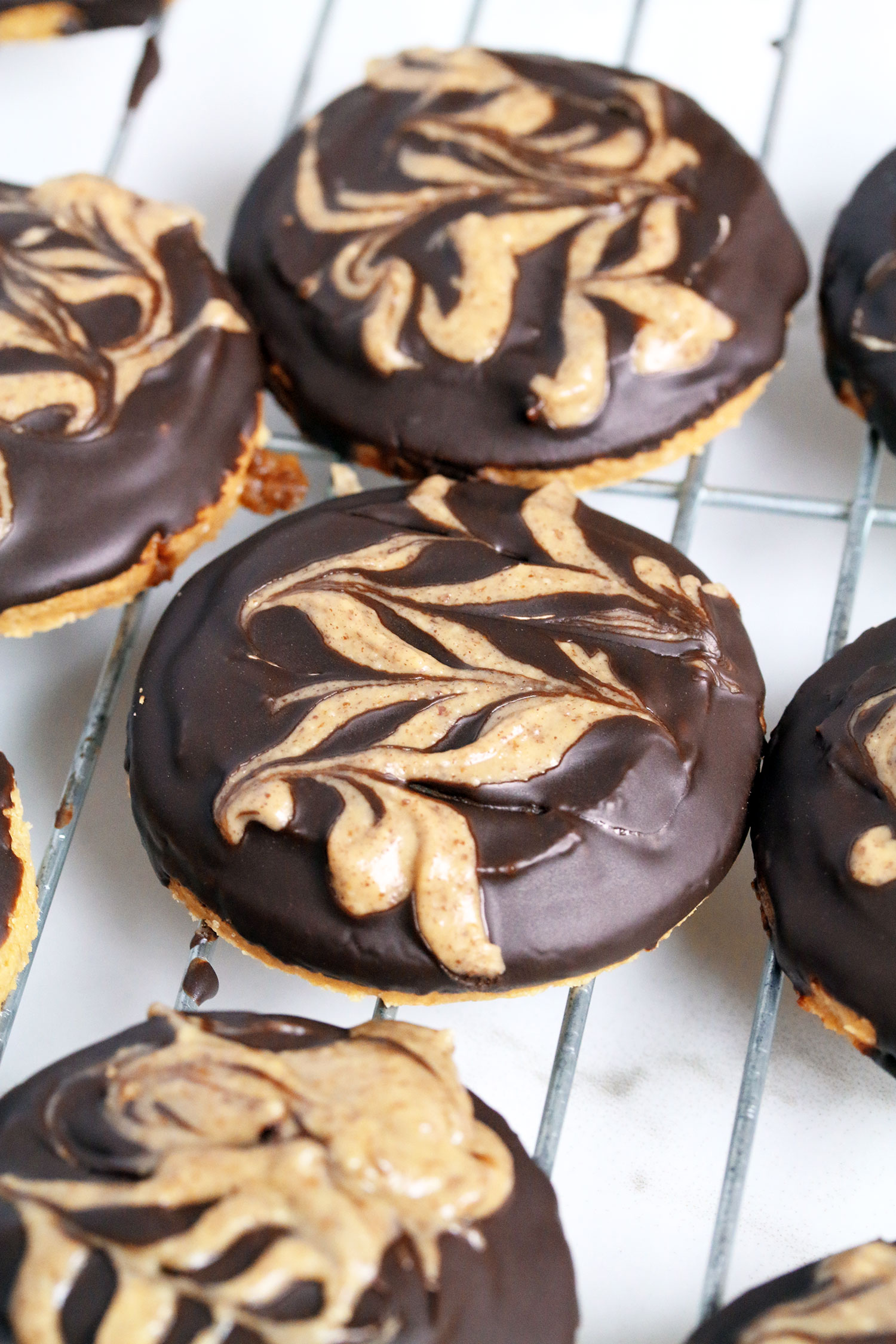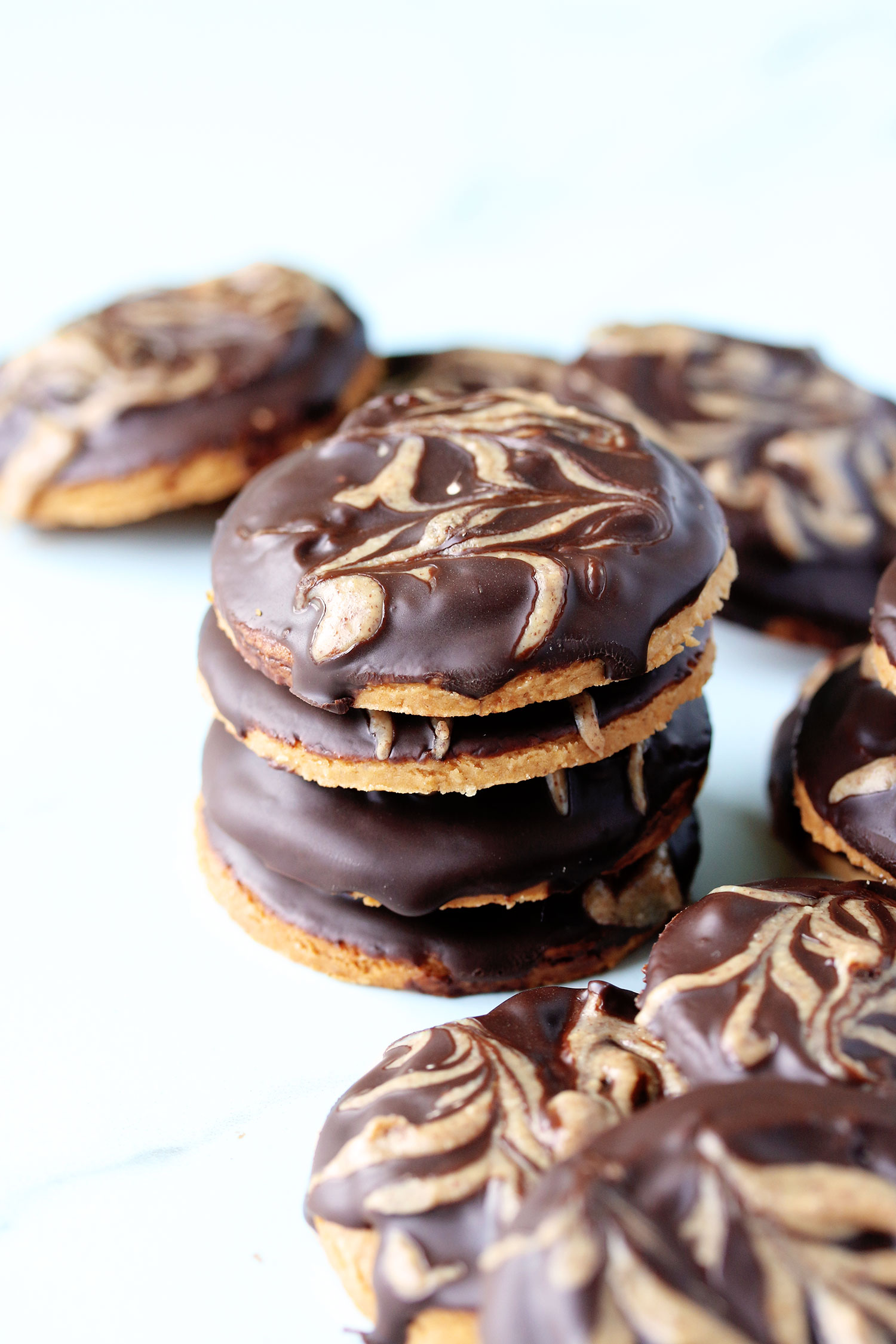 Watch the video at the top of the post to see just how easy these chocolate dipped peanut butter cookies are to make. If you're not a fan of peanut butter, you can always use another nut butter like almond or cashew butter. You can even use a seed butter for a nut-free version.
If you're craving more cookie recipes, click here for lots of cookie inspo.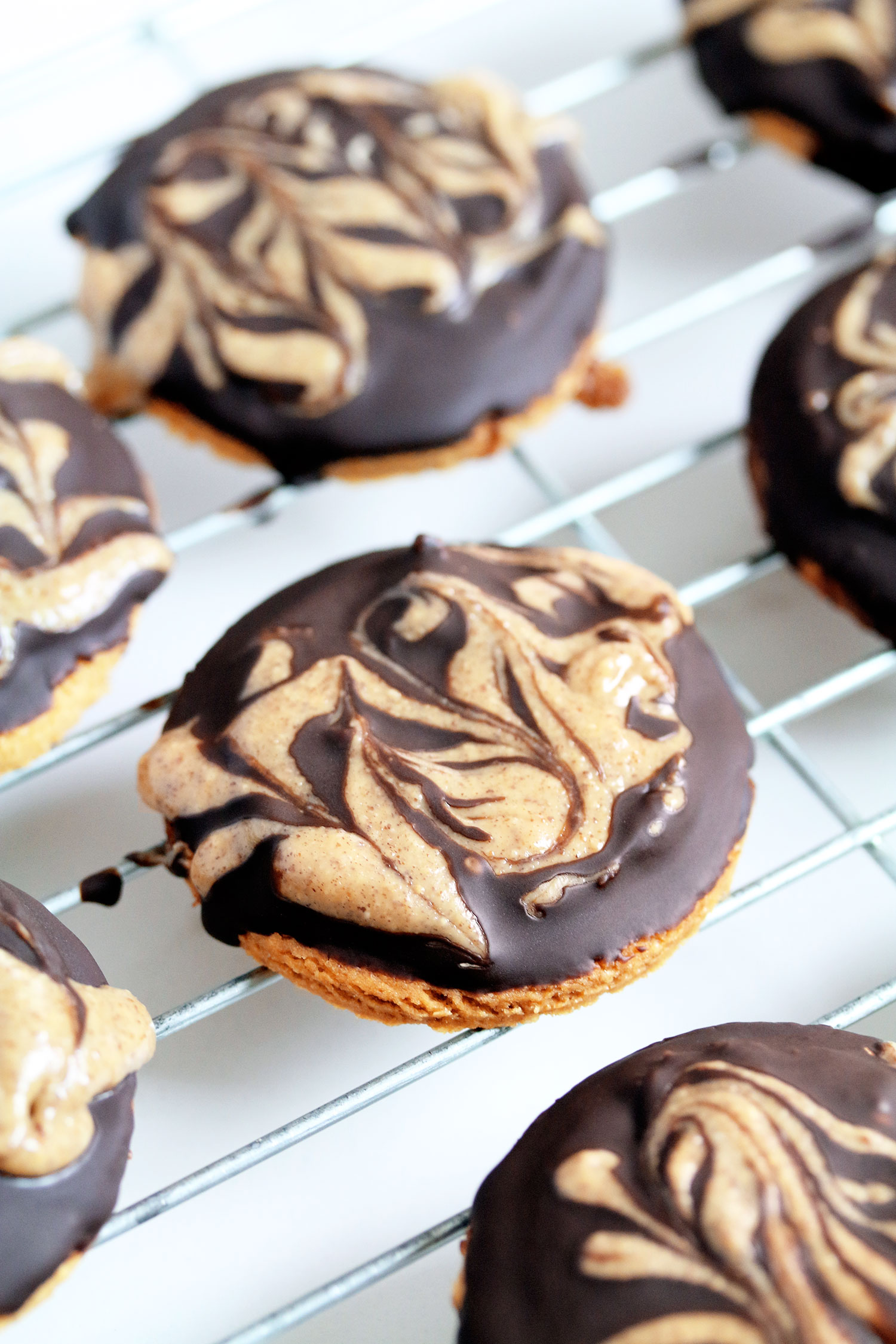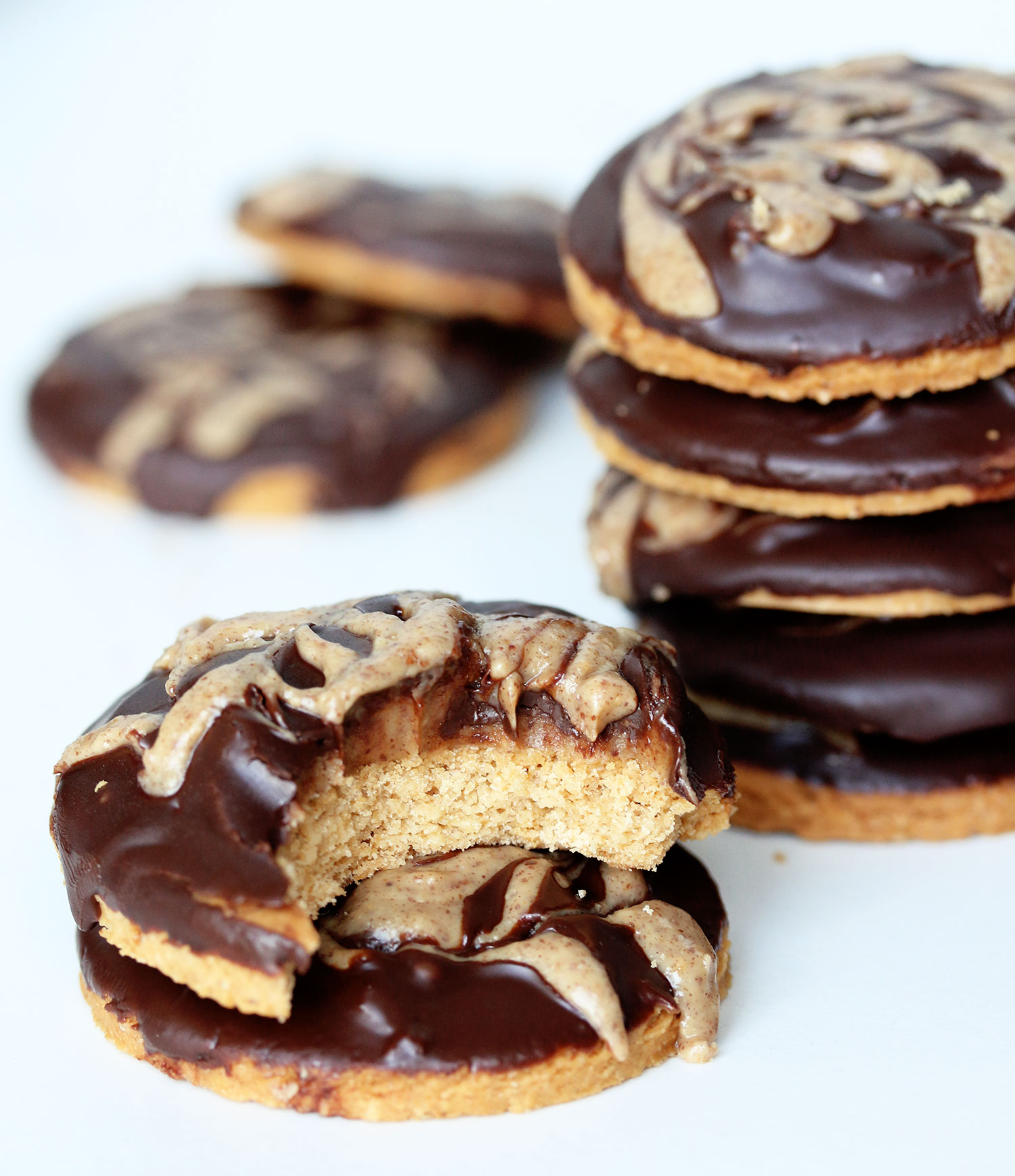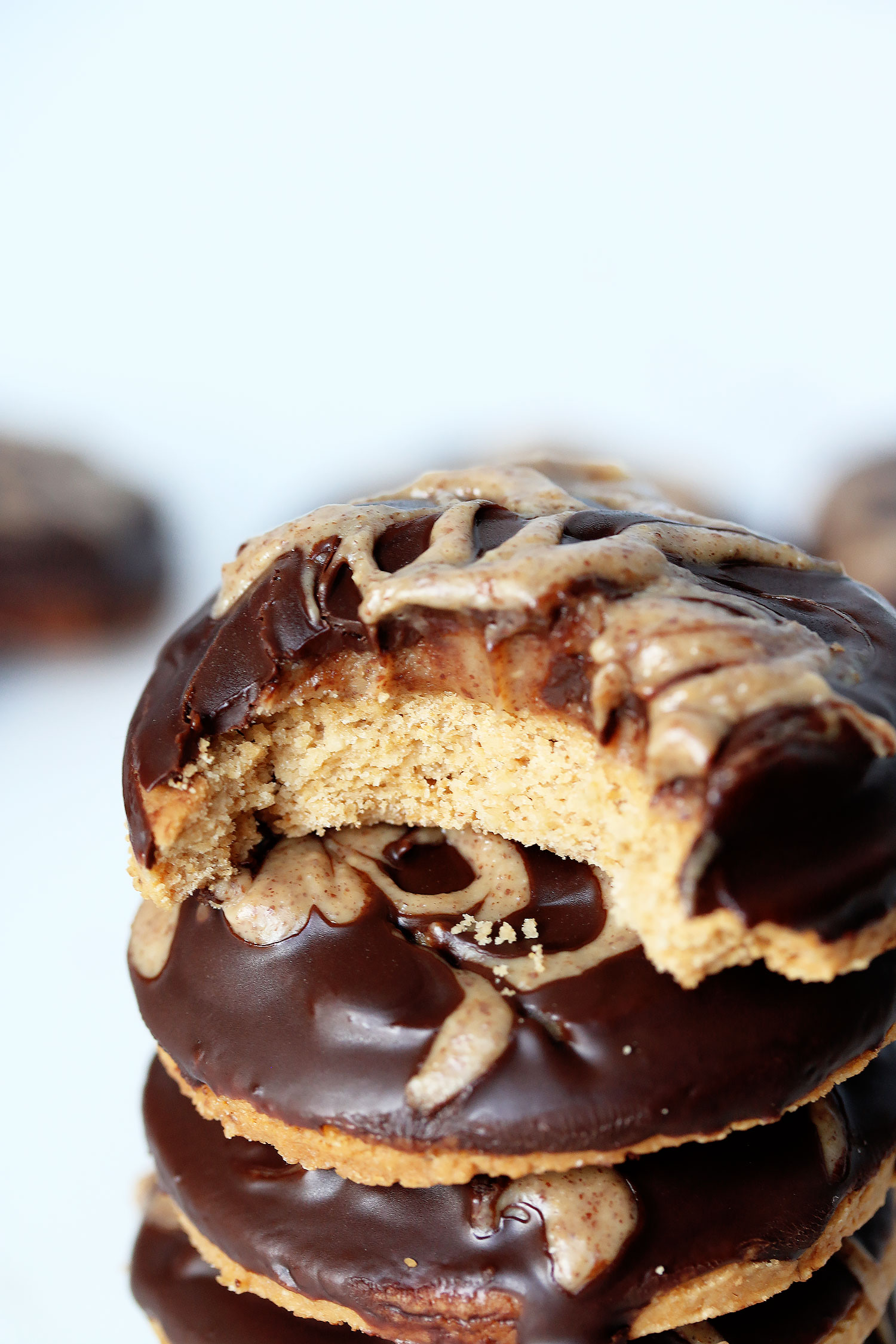 ---
Chocolate Dipped Peanut Butter Cookies
Ingredients
1 cup (115g) oat flour – plain oats ground up into a fine flour in the food processor. Use gluten-free if allergic/intolerant
3/4 cup (135g) plain gluten-free flour
1/4 cup (4 tbsp) coconut sugar or brown sugar
1 tsp baking powder
1/4 tsp salt
1/4 cup (4 tbsp) maple syrup
1/4 cup (4 tbsp) coconut oil
3 tbsp milk of choice – I used hemp milk
For the peanut butter layer
1/4 cup (4 tbsp) peanut butter
1 tbsp maple syrup or liquid sweetener of choice
Melted dark chocolate for coating
Method
Preheat your oven to 180°C (160°C fan assisted)/ 350°F.
In a large bowl, mix together the oat flour, GF flour, sugar, baking powder and salt
Pour in the melted coconut oil and milk. Mix to combine.
If the dough is too soft, wrap it in cling film and chill in the fridge for 30 minutes.
Place dough on a lightly floured worktop. Roll out to a thickness of about 1/4 inch.
Use a round (or square)
cookie cutters
to cut out the cookies.
Arrange on a baking sheet lined with parchment paper and bake for about 15 minutes. I like mine super crunchy so I left mine in for 20 minutes. Bear in mind the baking time will also depend on the size of your cookies so keep an eye on them as they bake!
Leave to cool completely.
In a small bowl, mix together the peanut butter and maple syrup. Spread a layer onto each cookie (see video at the top of the page), then freeze for 30 minutes. This will make it easier to add the chocolate coating.
Dip each cookie into the melted chocolate then place on a cooling rack. You have the option to drizzle with peanut butter and create a swirl using a tooth pick or a sharp knife.
Chill in the fridge until the chocolate sets.
Enjoy!
---
بسكويت الفستق السوداني بالشوكولاتة
١ كوب دقيق الشوفان – شوفان مطحون بالخلاط
٣/٤ كوب دقيق خالية من الغلوتين
١/٤ كوب سكر جوز الهند أو سكر ابيض
١ ملعقة صغيرة بيكنك بودر
١/٤ ملعقة صغيرة ملح
١/٤ كوب شراب القيقب، دبس أو عسل
١/٤ كوب زيت جوز الهند مذابة
٣ ملعقة كبيرة حليب نباتي
لطبقة زبدة الفول السوداني
١/٤ كوب زبدة الفول السوداني
١ ملعقة كبيرة شراب القيقب، دبس أو عسل
شوكولاته داكنة
سخن الفرن إلى ١٨٠ درجة مئوية
في وعاء كبير، اخلط دقيق الشوفان ،الدقيق ،السكر، بيكنك بودر والملح
إضف زيت جوز الهند المذاب والحليب. اخلط الى ان يتماسك العجين. ضع في الثلاجة لمدة 30 دقيقة.
استخدم قطاعات البسكوت المدورة لتشكل البسكوت
ادخل في الفرن لمدة ١٥-٢٠ دقيقة
في وعاء صغير، اخلط زبدة الفول السوداني وشراب القيقب. نشر طبقة فوق كل بسكوت ثم جمد
لمدة 30 دقيقة.
أضف الشوكولاتة المذابة
عوافي
---

Share This Post