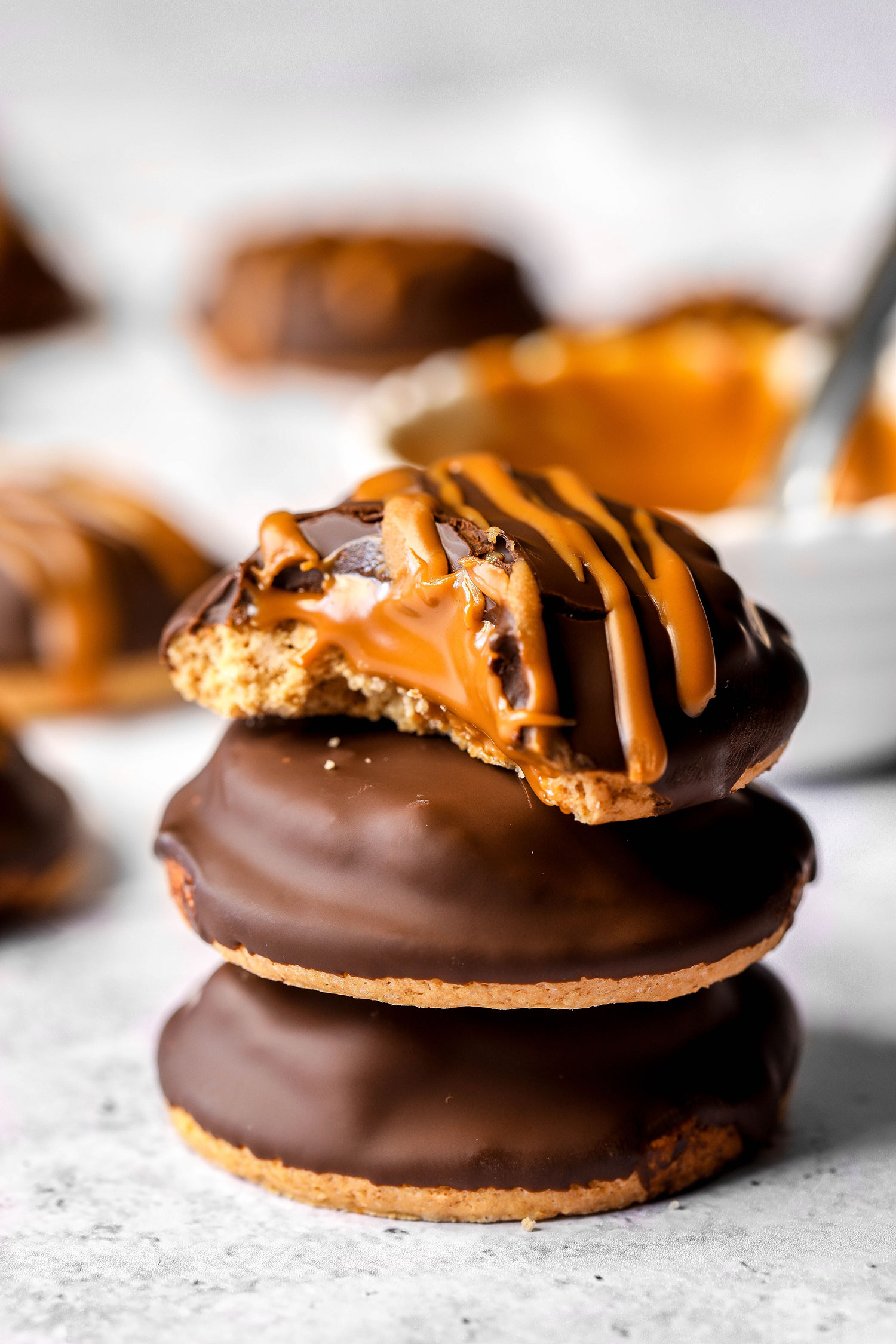 You can probably tell I'm really into both cookies (aka biscuits in the UK) and chocolate! In fact if I had to pick only one dessert/treat that I can eat for the rest of my life, it would be some sort of biscuit dipped or covered in chocolate!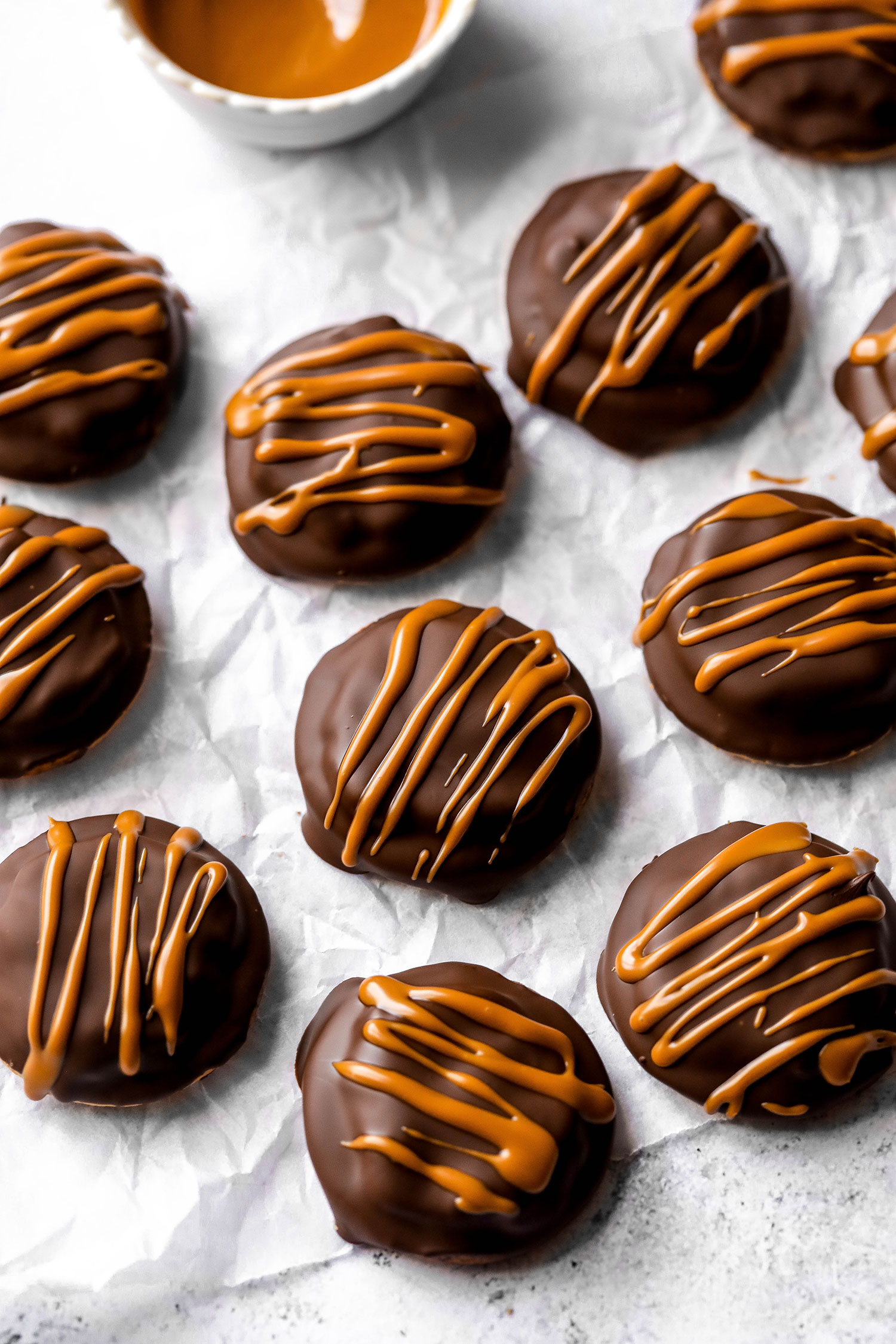 I posted these biscuits on my blog a couple of years ago, but I decided to make them again, film them and take new shots since my photography skills have improved somewhat compared to when I first posted the recipe.
These peanut butter filled cookies are both vegan and gluten-free. They're also really easy to make! A crunchy biscuit, topped with a simple 2 ingredient peanut butter centre, all dipped in dark chocolate. What's not to love?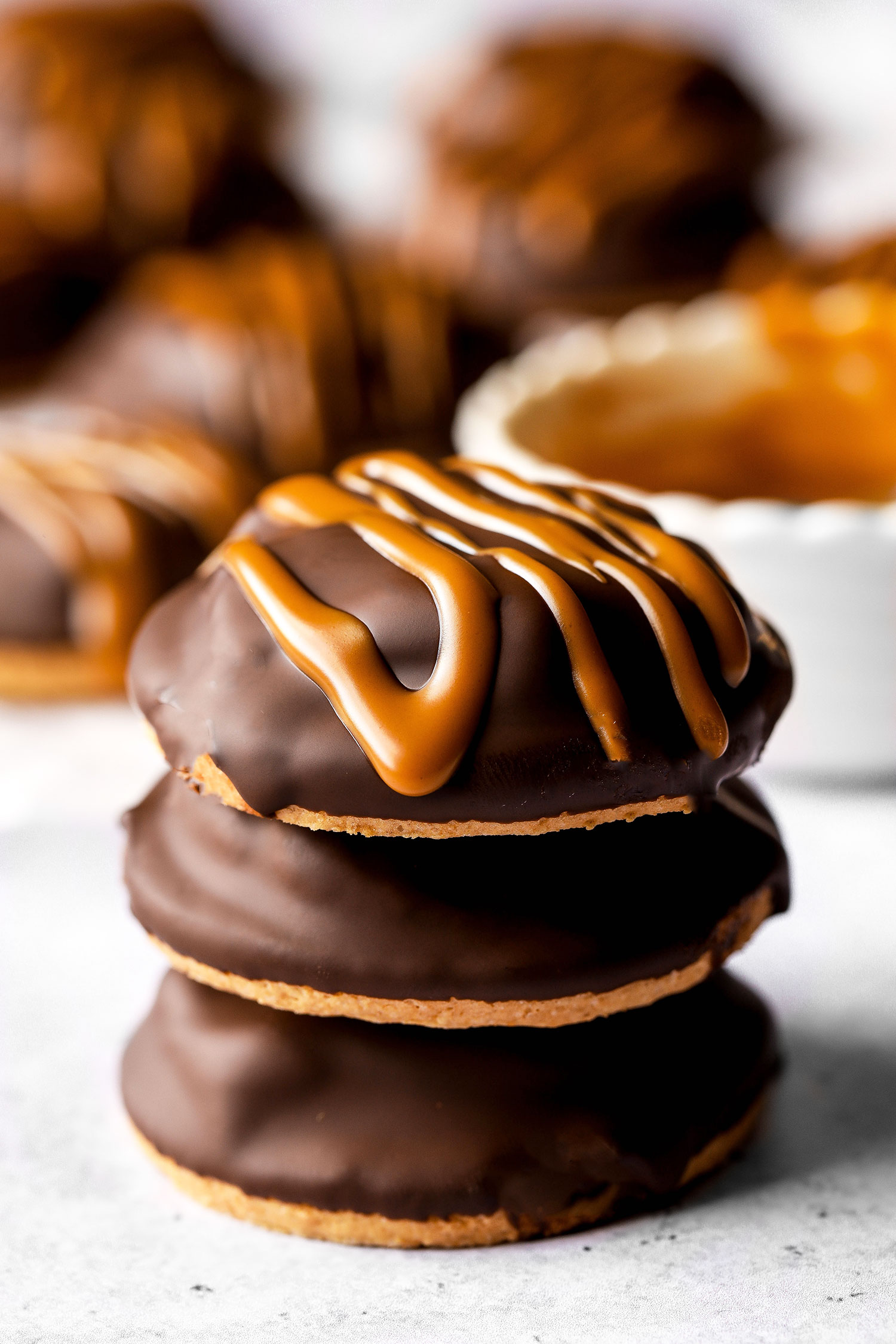 Watch the IG video I created to show you just how easy these Peanut Butter Filled Cookies are to make. If you're not a fan of peanut butter, you can always use another nut butter like almond or cashew butter. You can even use a seed butter for a nut-free version.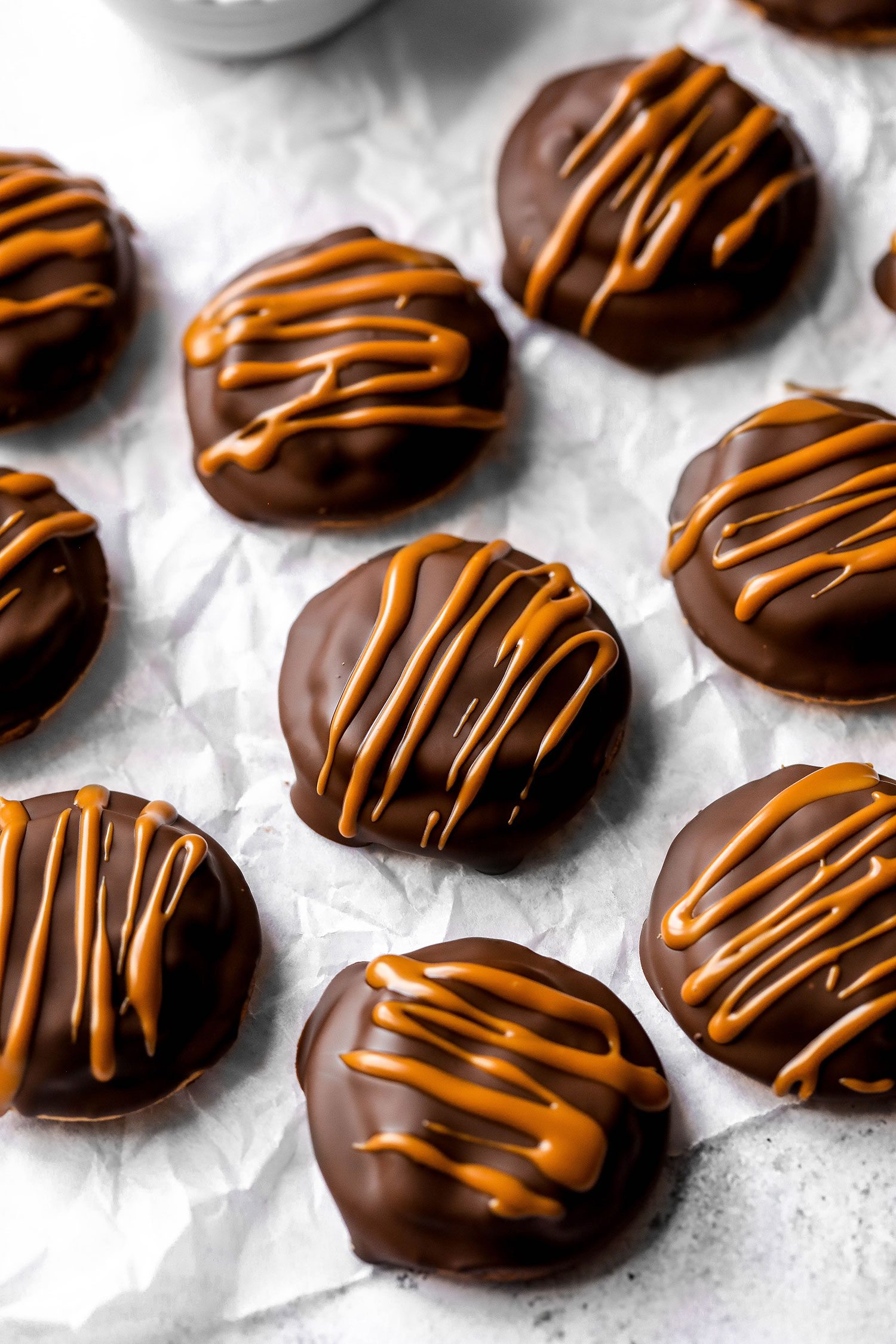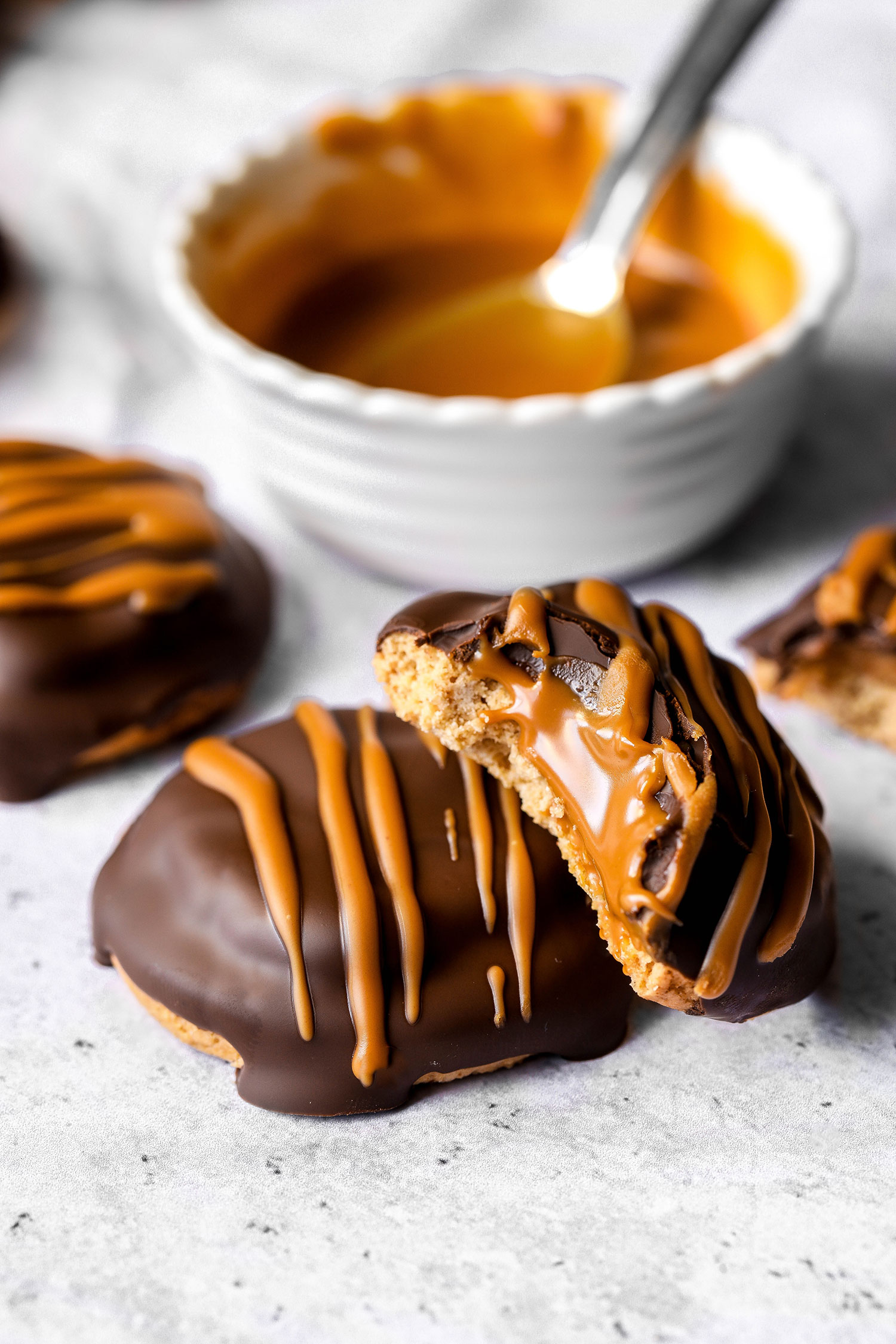 Peanut Butter Filled Cookies
Makes: 18-20 cookies
Ingredients
55g oat flour – rolled oats ground into a flour in the food processor. Use gluten-free oats if necessary.
80G gluten-free plain flour (I used Dove's Farm)
2 tbsp brown sugar
pinch of salt
1/2 tsp baking powder
2 tbsp maple syrup
2 tbsp coconut oil, melted
1.5 tbsp plant milk
For the peanut butter layer
5 tbsp smooth peanut butter
1 tbsp maple syrup
100g melted dark chocolate for coating 
Method
Preheat your oven to 180°C (160°C fan assisted)/ 350°F.
In a large bowl, mix together the oat flour, GF flour, sugar, baking powder and salt.
Pour in the melted coconut oil and milk. Mix to combine.
If the dough is too soft, wrap it in cling film and chill in the fridge for 30 minutes.
Place dough between 2 sheets of baking paper and roll out to a thickness of about 1/4 inch.
Use a round cookie cutter to cut out the cookies. The number of cookies depends on the size of the cookie cutter you use.
Arrange on a baking sheet lined with parchment paper and bake for about 15 minutes. I like mine super crunchy so I left mine in for 20 minutes. Bear in mind the baking time will also depend on the size of your cookies so keep an eye on them as they bake!
Leave to cool completely.
In a small bowl, mix together the peanut butter and maple syrup. Spread a layer onto each cookie, then freeze for 30 minutes. This will make it easier to add the chocolate coating. 
Dip each cookie into the melted chocolate then place on a cooling rack.
Enjoy! 
Store in an air-tight container at room temperature.