Chickpea Flour Pizza
Do you like pizza?
Do you want a healthy, gluten free, low carb pizza that's ready in minutes?
Then keep reading!
Pizza is one of mine and my husband's guilty pleasures and we love ordering one on a Friday night in. Relaxing on the sofa with a good TV show or movie and a cheesy, warm (usually tuna) pizza! But this only happens on rare occasions since one slice of pizza usually adds up to anywhere between 100-250 calories and if we're ordering pizza the chances are I won't stop at just one or two, or even three slices! So to make sure we don't feel like we're missing out, I make my own, healthified (if that's even a word?) version.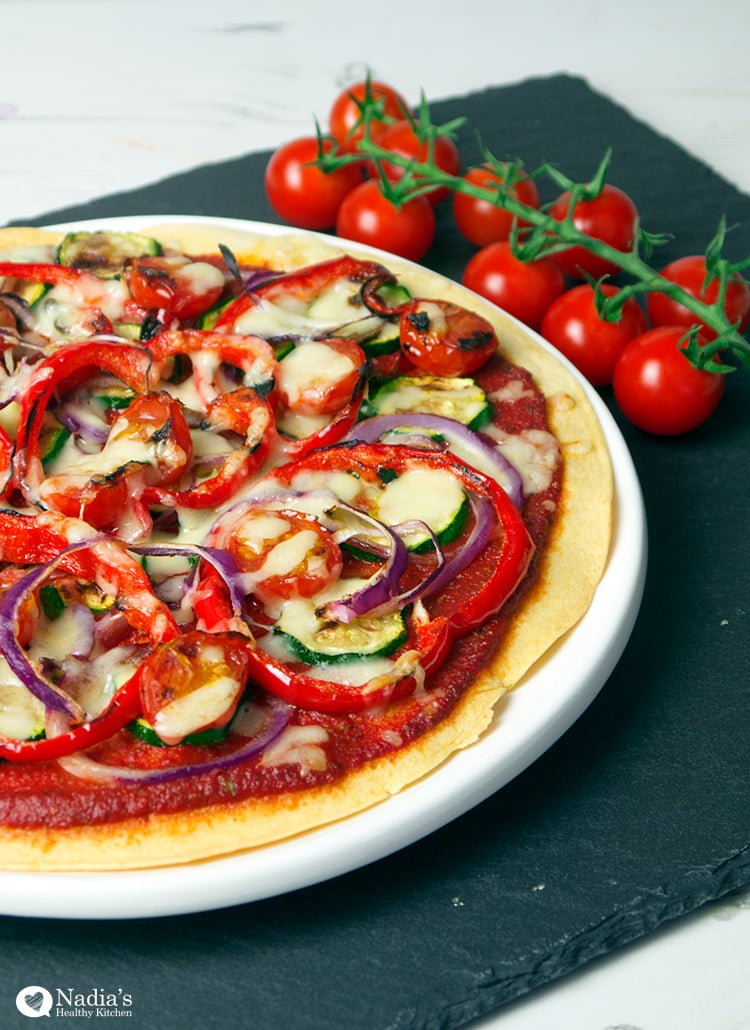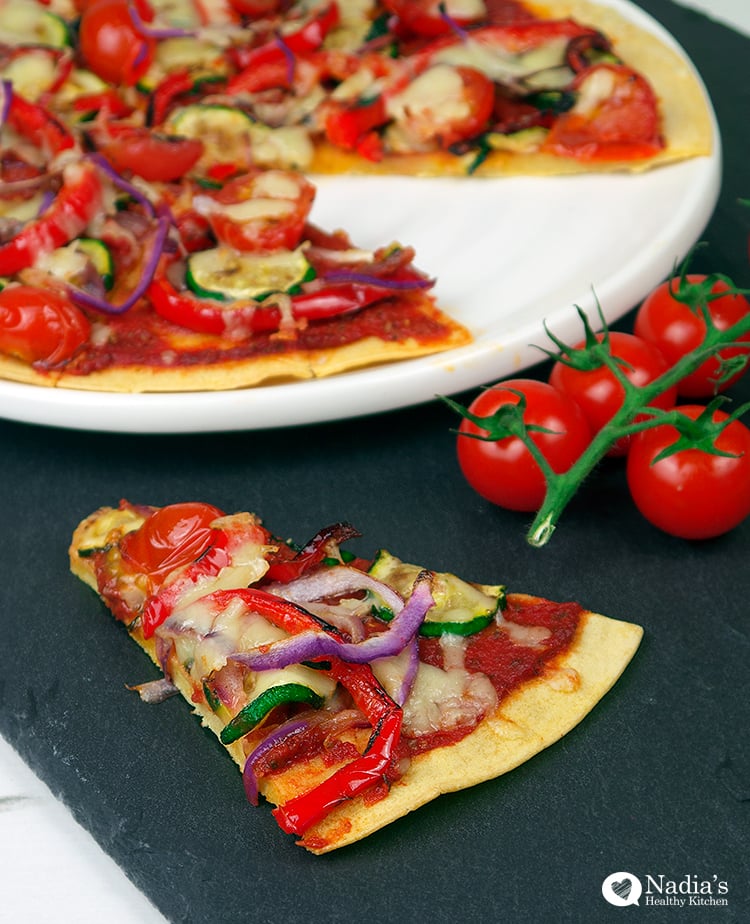 The toppings change each time depending on what we fancy or what there is available in the fridge but the base is always the same. High in protein, lower in carbs, gluten free and is ready in minutes! No waiting around for the dough to rise or double in size…just quick and easy.
For the gluten-free base, I'm using chickpea (gram) flour, salt and water…that's it! All you have to do is mix, cook it in a skillet/frying pan like you would a pancake, then add on your toppings of choice. I know pizza is known as a 'fast food', but if that's the case then this pizza should be defined as 'faster than fast food'! it takes a fraction of the time a normal pizza would take to make and it's healthy. You can't beat that!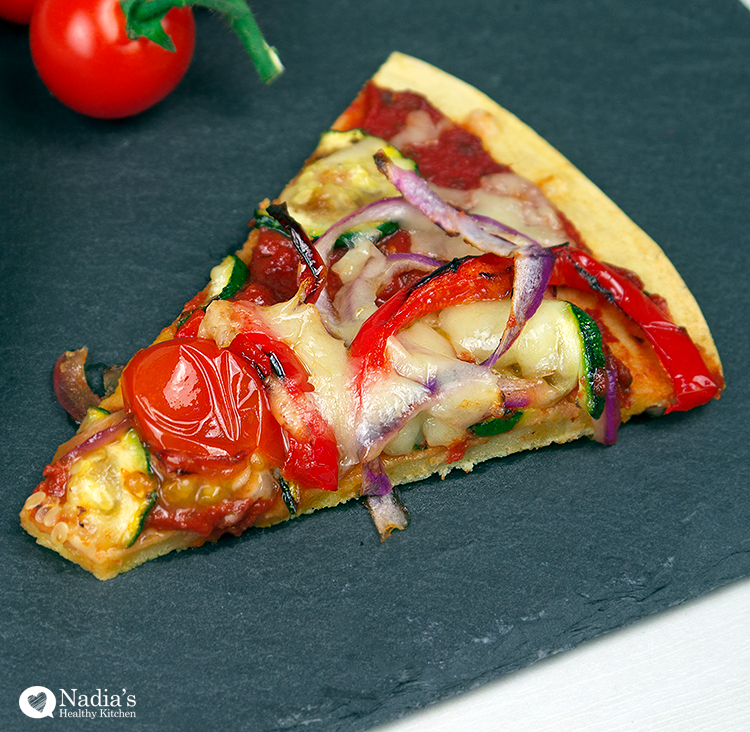 Like I said, I do like to order the odd takeaway pizza every now and then, but when you have a craving for pizza and you're:
On a tight budget,
Want to enjoy pizza without guilt or ruining your diet,
You don't want to wait for a pizza to be baked and delivered and want it right now,
Or want to eat pizza often without gaining weight or affecting your health.
Then this is the pizza for you!
I'm making two different versions – a vegetarian one and a tuna one. I usually make the tuna one as the hubby is a big fan and he requests it often. You can easily make this chickpea flour pizza vegan by leaving out the cheese and just using the tomato sauce and veggies.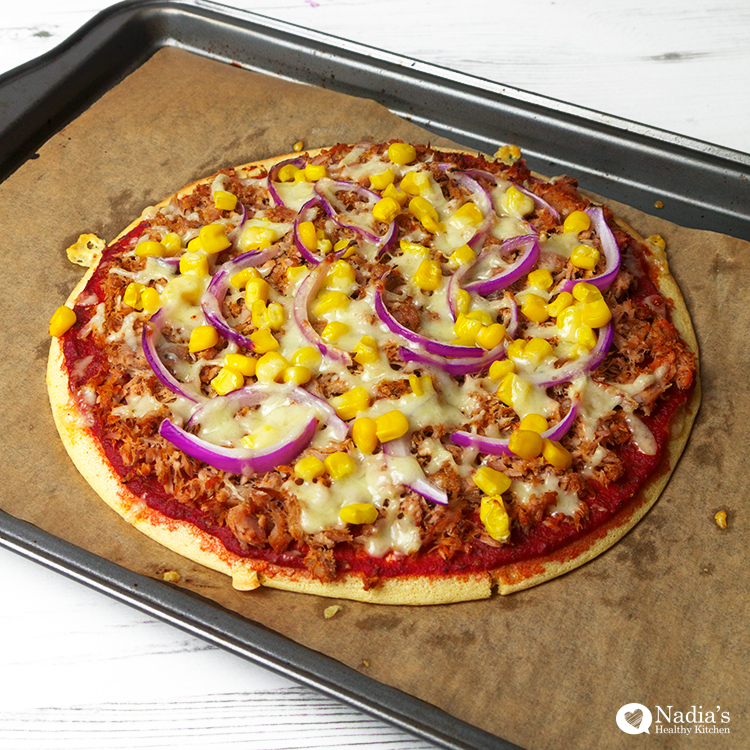 Chickpea Flour Pizza (Gluten-free)
2015-07-25 13:26:22
Serves 2
For the Chickpea Base
2/3 cup (105g) chickpea (gram) flour
1/4 tsp salt
1/2 cup (100ml) filtered water
For the Tomato and Oregano Sauce
2 tbsp tomato paste
1 tsp oregano
1/4 tsp garlic powder
Pinch of salt
2-3 tbsp water (depending on how thick you like it)
Toppings
Grilled vegetable pizza - grilled red pepper, courgette, red onion, baby tomatoes and shredded cheddar cheese.
Tuna pizza - 1 (160g) can tuna, red onion, sweetcorn and shredded cheddar cheese.
To make the base
Sift the chickpea flour into a bowl, mix in the salt then pour in the water. Mix until well combined
In a frying pan, heat a little bit of oil over a medium heat then pour in the batter. Roll the frying pan to spread the batter evenly or use a spatula.
Cook for 2-3 minutes, flip then cook for a further 1 minute.
To make the sauce
In a small bowl, mix together the tomato paste, water, oregano, garlic powder and salt.
Once the base is ready, spread the tomato sauce on top leaving the edges clear.
Arrange the grilled vegetables (or tuna, red onion and sweetcorn) on top then sprinkle the shredded cheddar cheese.
Bake under the grill for a few minutes, just until the cheese melts
UK Health Blog - Nadia's Healthy Kitchen https://nadiashealthykitchen.com/
Here's some more healthy pizza recipes
Share This Post